Pebbles, Jake, Joey & Friends from 2010-11
Seven is the lucky number! Seven shorter submissions here make a nice little album together
Pebbles the Maine Coon Kitten Thinks She is a Dog:
by: Lisa Martin
(Carver MA)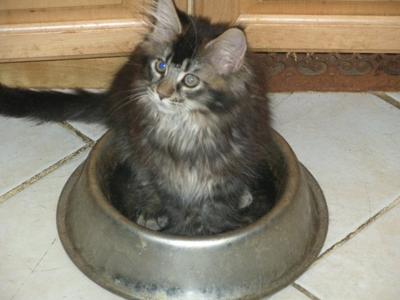 Maine Coon Kitten in a big dish
Maine Coon Kitten in a big dish:

Pebbles sat in our Yellow Labs food bowl. She posed for the picture.

Hi Lisa!
Pebbles is a doll. She is so adorable in this dog dish! She sure won't be small enough to do this for much longer. How does she get along with your Lab? They are such big, gentle dogs :)

comments:
People Are Crazy With Big Maine Coon Cats
by: ronjanaize
So precious! My moms friend is getting a big white Maine Coon Cat. She already has 18 cats - she keeping the Maine Coon Cat in the house.

coincidence!
by: Mandi
My Maine Coon is a few years old and was rescued by a couple of friends of mine and then given to me for christmas. I love her to death and her name is Pebbles!!! Wow, she looks just like your little kitten. Just wanted to share.

Pebbles:
by: Anonymous
We have a 15 week old male Maine Coon, they could be twins. Such a handful at this age, or any age for that matter. The dog-cat so they are called. Your's is adorable. Good luck.

Pebbles
by: Debbie
SOOOO cute. She looks alot like our TJ. No matter how quiet we are he comes running when our dog Tuggy gets a can in the evening. He cries and has to have a spoon full of the dog food.

precious!
by: Mic
Pebbles is so fluffy and cute! ADORABLE!

Pebbles
by: Lisa
Pebbles loves our two labs. She is starting to get along with our other two older cats. She is totally spoiled in our family. Pebbles is such a joy!~!!
Twas the night before Kittymass - Maine Coon Video
by June
(Indio, Ca, USA)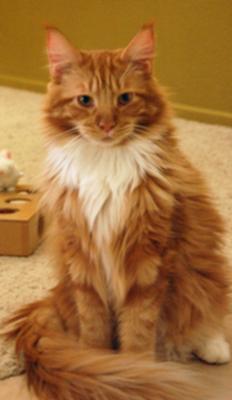 Hi Carrie,
Here is the link to my very short video I was asking about tonight.
Its a video based on our Maine Coon cats that have already been posted on your web page, Simba, Rocky and Sasha. Twas the Night before Kittymass


(update: video is now private)


Hope you can post it especially for Christmas Eve. Thanks for your help and have a very merry Christmas and best wishes for 2011.
Best regards, June

comments:
Family
by: Maine Coon Cat Nation
Hi June,
Oh, yes! I was wondering if it was the same Simba, but I was looking for a Simba sent in by you. Got it!

And thanks again for the adorable video!
~Carrie

A very merry Christmas video!
by: Virginia
Thank you for your cheerful Christmas greeting sent to us through your Kittymass video. It is Wonderful!

Simba picture
by: June Dickens
Hi Carrie, thank you so much for posting the Kittymass video. Simba is our daughters Maine Coon. She did post a picture of him weeks ago on your main page.
I believe he goes under the title Stunning Simba. Thank you once again and a very Merry Christmas and all the best for the coming year. June.

Merry Christmas Eve!
by: Maine Coon Cat Nation
Hi June,
How wonderful! You did a great job, and this is just perfect!
Thanks so much for sharing!
Happy holidays to you as well,
~Carrie

PS- Sorry, do I have a picture of Simba yet?

Baxter from Winter Park, FL
by Deborah
(Winter Park, FL)
Baxter
Baxter is a rescue male Maine Coon. He can be very cuddly when he wants to cuddle....but when he wants to be left alone, he lets you know.


comments:
He is handsome!
by: Anonymous
Nice picture.

Joey
by Leslee
(Massachusetts)
Joey was born in California and moved cross-country with me when he was one year old. He's a rescue kitty.

He took one look at me and decided I needed to be rescued, so he belted out the loudest meows I'd ever heard from a small kitten whenever I'd show up for shelter detail, and he wouldn't take no for an answer.


comments:
Maine Coons are great
by: Mischa Pappalardo
I think Joey is a great cat, I consider him my bruffur, ai hope he still thinks of me that way, (Ai luff u bro)

Adoption is the way to go!
by: Jane - Attleboro, MA
It's so nice to see a rescued kitty on here. There are so many Maine Coons in shelters (just look on Petfinder.com). I think it's great when people adopt one or take in a stray rather than buying from a breeder. Joey is lucky you found him!

He's got a sweet personality and a huge purr to match.

Jake
by Sue D
(Ontario Canada)
This is Jake. He's Mr Personality. An out-going cat, always into trouble and enjoys being the center of attention. Always funny, always Jake.

Stewie becomes Lewie
by Ellen
(Orange County, CA)
| | |
| --- | --- |
| The Stair Master | Lew in a tub |
We recently rescued our Lew (formerly Stewie) from a woman who's house had been foreclosed and was going to bring him to the Humane Society where he would have been most likely put down.
| | |
| --- | --- |
| One size fits all? | Waiting for me to come home from a work trip |
We has just lost our first Maine Coon Marley (he was hit by a car) and felt that by saving him is might lessen the pain of the loss. Well, Lew has done that and then some. He is a very sweet boy - complete polar to Marley.

Very shy but settling in great. Plays hard and then crashes hard. We was named after the character from family guy which he was nothing like and neither of us watched so the name had to change.

Lew is Polish/Yiddish for lion, thought having something similar to the old name would be easier for him.


comments:
Wow this one is unbelievable
by: Anonymous
He is huge! He looks like king of the coons!This kitty must be a TV stunt cat, right?

Frosty Powers
by Sheila Powers
(Pompano Beach, FL)
Frosty was found in a Denny 's parking lot in Roanoke VA. He was adopted and had a happy live till 9 years old. A stomach tumor ended his life prematurely. We so miss Frosty.


comments:
miss mine too!
by: Dianna
Hi, I had a Maine coon, silver and white looked a lot like this one. had him 16 years and he was my baby. Its been 8 years since he went to kitty heaven and I still grive for him. Rest in peace my "Fatsomean". ♥

The Best Cats
by: Connie Galbreath
I'm sorry about your cat. I just lost my Salt to cancer. He was 16yrs old. Your cat looked like my Salt. Wow they could have been twins.
Let's Connect!
Subscribe in a reader - Be notified of new posts!




Or, get The Daily Digest in your inbox:





Join our newsletter group by filling out the form to the right. From time to time I'll send out special tips, articles, news, deals and other free goodies!