October 2015 Photo Album
Welcome to our October 2015 Album! The nights are getting colder, so cozy up with these beauties!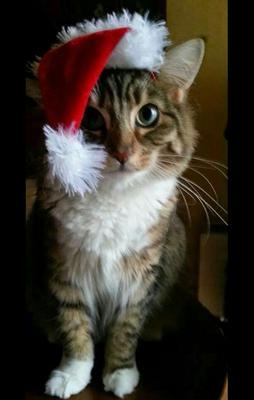 Merry Christmas
Queenie
By: Carolyn Dobson in Southport, UK
Queenie is adorable but regally aloof. she lives with me in Southport, England.
She loves chirrup ing at the birds in the garden and being brushed. she is more like a dog following me around helping me do jobs sleeping outside my bedroom door guarding me.
She is almost 2 years old but I can't imagine life without my best friend.
---
Update on Bella from Weymouth, Mass
By: Cori in Weymouth, Mass. USA
Still got such a fluffy belly!
Bella was premiered here in the September 2013 album. I just wanted to update how she is doing.
My lady is now 3 years old and has reached 19 1/2 lbs. I still can't believe it. She has my husband Tom and I wrapped around all four paws.
Her coloring, temperament and beauty is undeniable. I couldn't be happier with this wonderful animal. She is totally part of the family, and our lives revolve around her.
First thing in the morning we have to follow her to her food dish, or should I say, follow her huge fluffy tail, lol. We must, then, proceed to pet her while she nibbles some food. Then we have to play with her with her toy of choice.
She still likes to drink water from her paw...go figure?
She chirps, meows, makes weird cackle noises when she can't figure out how to get through the glass to catch those darn birds, and purrs whenever she is near us. This breed is such a wonder, and I couldn't love her more.
---
Presley-The Rescued King
By: Marsha G. in Texas, USA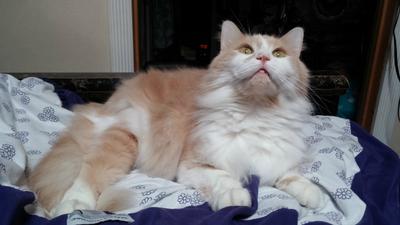 Presley the King
My name is Presley and yes I do feel as if I am the king! I was rescued at 7 weeks old by what I call my little momma (Mykala).
I am very well loved and live with my big momma (Mykala's mom) while little momma goes to ORU. I am 100% spoiled, loved, and pampered.
I will only eat certain flavors of Fancy Feast Gravy lovers, a half of can morning and at 3 p.m. (I do want it at 3 p.m. and make sure they know the time) then Fancy Feast dry during the day.
I am now 2-1/2 years old and weigh 18 pounds. At my last vet check up he said I was very healthy. I have my own blankies that were bought just for me and they are baby blankies because I like them to be very soft. I have to have a bedtime snack each night of a few cat treats.
Sometimes I give people the snobby look but after all I am the king! I get brushed daily and when big momma holds the brush and tells me to brush my face and I will rub my cheeks against the brush. I am very smart and understand both English and Spanish. When talked to I answer with different sounds for different words. I can say, ma, yell, no, and why then if I don't get what I want I will ignore you.
I am only an indoor cat but can hide well in the house when I want to pout. My family thinks I am so gorgeous and they're so happy to have me in their lives. I wish that all cats and kittens were as loved and spoiled as I am because then there wouldn't ever be an abused cat.
My little momma sends me cards from Tulsa where she goes to college and big momma reads them to me and always tapes them on the wall behind my water fountain so I can see what little momma sent me plus smell her smell.
Sometimes I talk to her on the phone. Thank you for your wonderful letters you send out my momma's have learned so much about my breed from all of your information.
---
Jasper--Born Into Poverty
By: Sheri in Washington State
Today
Jasper came from the local H.S. He was rounded up with thirty cats from one of the trailer courts after the students left this spring.
His intake forms list ear mites, parasites, eye infections, malnutrition, fleas, and Felv exposure (but negative), with slightly positive litter mates.
He is an only kitten and will be retested at six months. We were looking for a good candidate for an indoor-only cat after the traumatic loss of our 12 year old Tuxedo. We have an elderly heeler and took great efforts to introduce them positively and carefully.
It has paid off; they are thick as thieves. We chose Jasper because of his gentle bumbly personality that seemed perfect for our lifestyle.
With regular groceries he has a lot more energy and he has brought us joy and healed our hearts. The photos I included aren't the prettiest, he is very photogenic and I have hundreds of beautiful photos. But these show how he is.
(Note from editor: Sheri, I received one photo. Feel free to send more. Thank you for sharing Jasper's story!)
---
Theodore Edward Darcy (T.E.D) better known as Ted
By: Laura in Surrey, United Kingdom
Ted and his chair
I should probably start off by saying I live in the UK, Surrey to be precise and had grown up always dreaming of owning a Maine Coon.
I collected Ted when he was 16 weeks old from a fantastic breeder I would highly recommend. He was at the time a little "ball of fluff" that fitted into my hands and I would find most mornings had curled up under my arm some time through the night to sleep nearby. He was brave, bold and full of character from the word go; not to mention an appetite that I was sure would make me penniless in no time.
He is best friends with my sisters cat a bengal/siamese and they ended up bonding over a play tunnel and all we would hear through the middle of the night was them scurrying about and what often sounded like a cat version of laughter.
He has just turned 9 months and weighs a healthy 12lb. He spends most of his time indoors but when the weather is good and I am home I let him venture into the garden where he spends hours closely watching our rabbits, he sometimes has been allowed to clamber into the run with them and he bounces along behind them occasionally given them a "bop" with his paw, but he has never unsheathed his claws once. He is my big friendly giant in the making and may not extend his hunting skills past the spiders and flies that he deems more worthy of his hunting skills.
My family and friends often refer to him as the cat that wants to be a dog as he does all the things their dogs do. Run to say hello the second I walk through the door, sit and whine at the door when he wants some time outside, brings me his food bowl if he has yet again finished it all.
He is incredibly sociable and curls up with anyone on the sofa, but being my shadow where I go Ted goes. In fact finding a moment of privacy can be a challenge sometimes as he gets very upset if he is one side of the door and I am the other.
Ted has made my life full of smiles and laughter and i can not imagine my life without him now. To anyone considering adding a Maine Coon to their household I would say DO IT! It will be the best decision you ever make.
---
Raven Bartholomew
By: Kelly DeLancett in Oldsmar, FL USA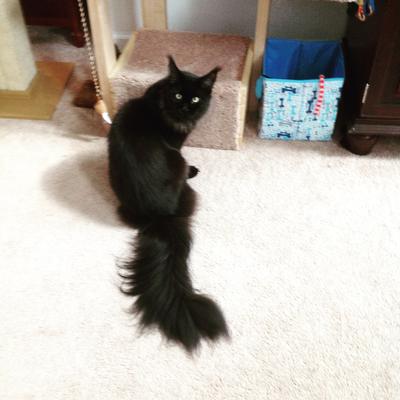 Our sweet boy is the most laid back, easy going and cool cat we've had- and our first Maine Coon too! He's spirited- sweet and as typical I understand with Maine Coon cats, just loves being close to his family.
We love our sweet boy! He's made our family complete!
---
Andy
By: Wendy in NC
This is our Maine coon mix, Andy who just turned 10 today. He is a big lover boy at 17 pounds. Andy rules the house and the dogs! He is a rescue that we have had since he was 6 weeks old. He is the most special kitty ever. Definitely a mama's boy! He lives in Hertford NC.
---
Tigger's Story
By: Dolores
About 3 years ago, I lost my beautiful Persian kitty, Nicklaus, to cancer. I was devastated by the loss. I had been feeding a stray kitten that was in the field behind our house. He was not a feral cat because he was extremely loving and friendly. After Nick passed, I convinced my husband to let me "adopt" this stray kitty. He finally said yes so I called our vet and took him in that same day. We just assumed he was a mixed kitty, but as he (Tigger) grew so did his fur, his whiskers, and the tuffs in his ears and on his feet. At our next visit 6 months later, our veterinarian determined that he was (or mostly was) a Maine Coon.
Tigger is now 3-1/2 feet long from nose to tail and weighs in at 18 lbs. He is between 3 and 4 years old. He is the most docile, precious and loving kitty. He is so patient with our grandchildren who just love to pick him up and carry him around. He has such a beautiful face and loves to snuggle. He is so much a part of our lives. He makes me smile everyday and I think that he was put in that field because God knew that when he took Nicklaus I would need someone to fill that very large hole in my heart. I cannot imagine life without Tigger.
Thank you for all the information you provide regarding the care, feeding, and grooming of these magnificent Maine Coon Cats.
---
Cat
By: Laura in Ohio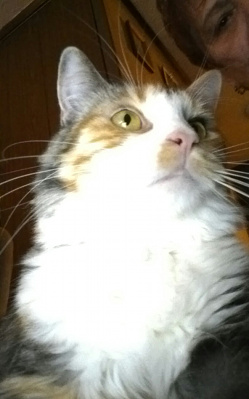 Hello!
I want to thank you for helping "Cat" nearly break her need to suckle on me, every chance she got.
I have found that if I get up to do a small task, or get her a toy, her need to nurse has been cut to minimal. Cat was a rescue and was slated for "the chamber". My son who volunteered there would not let that happen called and informed me I was Mom to a 5 month old kitten. That was about a year ago. She must have had a heck of a kittenhood because she is very nervous about everything and has nightmares that she looks for me for comfort.
Since last year, I've adopted Bill. A 9 week old kitten on the first of JULY. He is ALL KITTEN!!Bill loves to tumble and play with Cat, bringing her out of her shell and spooked mood.
Again, Thanks for information on how to break Cat's habit. I look forward to your articles weekly.
Have a Purrfect day,
Laura, Cat and Bill
Boardman, Ohio
---
Fiji Lorenzo
By: Monnie
This is my angel Fiji Lorenzo
---
Meet Rocky & Layla
By: Judi Romine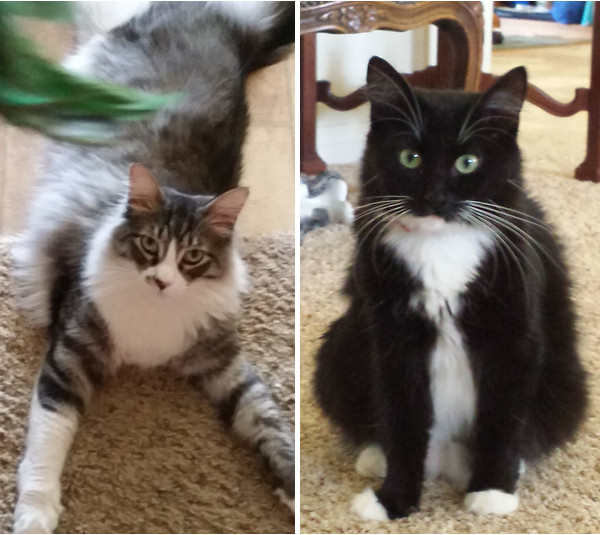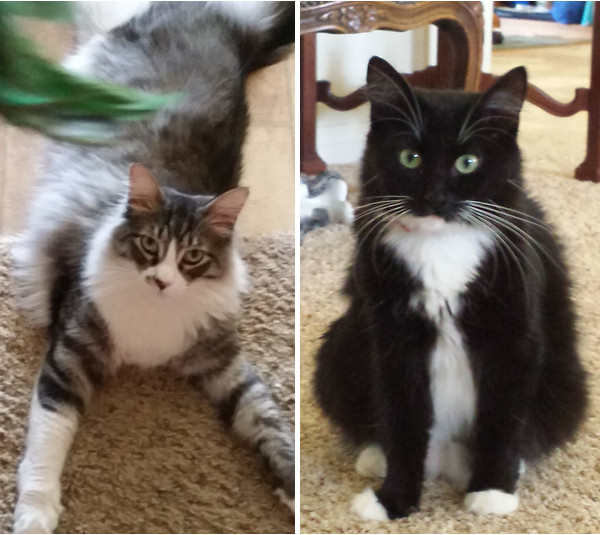 Rocky is a year old Maine Coon mix I adopted from a cat rescue. I had no idea at the time he was a Maine Coon mix but a little internet search pretty much cleared up any doubts. Rocky, a smoke tabby, has grown to be 39" long from the tip of his front paws to the tip of his back paws. His HUGE fluffy tail is always in the way. He shares his home in Temple City, California with me and Layla who is a Tuxedo cat. Layla, a typical female, keeps everyone on time with meals, brushing, and treats. Rocky on the other hand is all about play. He loves chasing feather toys during which time he turns into a furry rocket ship. He wakes me up in the morning by purring and licking my hand. He gets involved in everything I do around the house including running my bath water. I can't imagine life without them.
---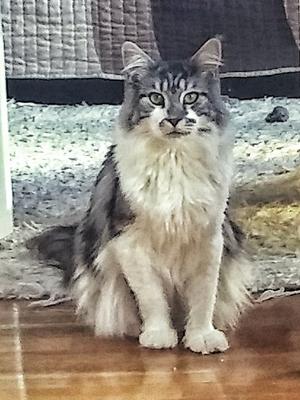 Zeus from Hungary
By: Szanto Gyorgy in Hungary
This is my friend, Zeus. He is 2 years old, very friendly and loves to be in limelight. He is clever and teachable and always want to hunt or play.
---
*Star*
By: Cassie in Ohio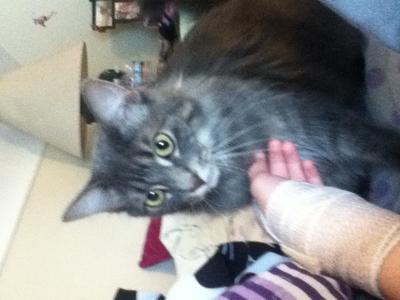 Star comforting my daughter when she injured her wrist
Our wonderful, fun loving Star leaped into our lives about a year ago. Literally, leaped.
As a kitten, roughly 4 months old, she jumped through an open window in the living room :) My 10 year old daughter, who named her, said "she chose us," and that we had to keep her.
Despite my husbands cat allergy, we decided to give it a try. She took to our home right away, and almost instantly became a member of the family.
Now, my husbands allergies seem to have disappeared, and we can't imagine life without her! On a side note, we later learned from our neighbor that Star was thrown from a van the day before she "chose" us :( Humans can be so cruel.
---
Oberon
By: A Smith in England
obi when we first got him
Obi was adopted in June this year and what a difference there is between when we got him and now. It has taken a lot of hard work and dedication to ensure he feels safe and loved but we are getting there.
He has gone from a terrified cat that would hide and cower when you went near him to a loving cat that loves to sit on the sofa with me having lots of cuddles while watching the telly. He follows me all over the house - he is adorable.
---
More about Loki-aka Evil
By: Mary Walsh in St. John's, NL, Canada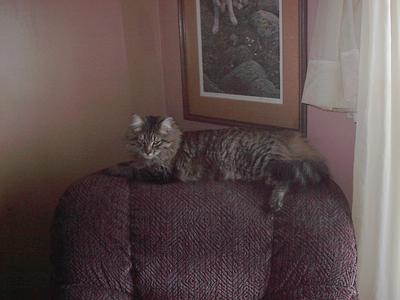 Our Loki was pictured in the July 2015 edition. He is now 18 months old & still thinks he's a kitten.
He loves to sleep in the bathroom sink licking the occasion drip of water from the faucet. After anyone has a bath or shower he jumps right in to roll in the bit of water left in the bottom of the tub.
He sleeps downstairs with our daughter & first thing he does is run up & down the stairs several times & ends up on the foot stool we have in front of the living room window watching for birds.
He is a wonderful bug catcher for the flies that once in a while get in the house. He tried to catch the ones outside the screens & gets frustrated when he can't reach them. We have a Jack Russell Terrier that thinks the world of Loki & they play fight all the time.
Loki takes great pleasure in jumping on Becker's (dog's name)back & riding him around like a pony. He weighs 17lbs now & I think he grows a little more every day. He also loves getting up in the windows if they are open so he can fit. Otherwise he falls off because he's too big for the sill.
Our daughter claims he's not a "Coon" but he has all the characteristics-tuffs on his feet, the pointy ears, the M on his forehead & most of all the long, long fluffy tail. Maybe from his picture (I'm sending more pictures) you can set her straight.
Just because he was found in a barn in Central Newfoundland while she was visiting family she thinks Loki could not possibly be a Coon Cat.
We love him dearly & he has actually captured my husband's heart & he is not "fond" of cats.
---
My Flipper
By: Lorna in Lincoln, Ne., USA
Momma's boy! Lorna and Flipper
I've had Flip for 9 months now. My landlord did not allow animals at my last residence. I told my counselor at the Veterans Administration, as I am an Air Force Vet and suffer from PTSD. So, she wrote me a letter for a therapy cat.
I found Flipper from a private owner, and wow I could not ask for a better baby. Yes, he is my baby! I recently moved in with my daughter and 5 year old grandson, and I was worried about the move and how Flip would adjust.
Needless to say, he is so laid back and loving - it was me that has the adjusting to do still! Flip is amazing. I had never heard of a Maine Coon until I adopted him. Gentle loving giant is what he is!!!!
---
Raisin
By: Karen in USA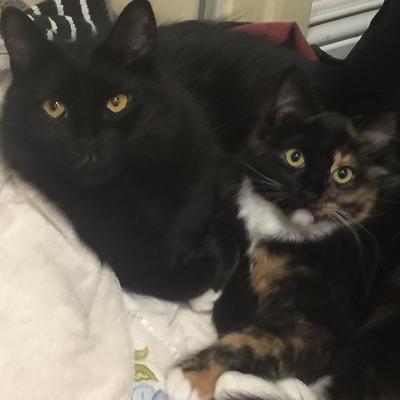 Raisin with his buddy Autumn
Raisin is a smart, good natured, and sweet coonie! He loves to snuggle with his buddy Autumn, watch geckos, and he even sits and plays pass the ball on command!
For more about Raisin (and more pictures) visit his social media!!
Facebook: facebook.com/raisinthecat
Instagram @raisinthecatandfriends
Kisses XOXO,
Raisin and his owners