October 2014 Photo Album
Meet our Featured Coonies for October 2014!
Here, "besties" Kennedy and Lincoln kick things off with a little help from Bubba, Simba and Nala, Skylar, handsome Luke, and more!
Kennedy and Lincoln
By: Jo and Chrisitne in New York, USA
Besties
Our Maine Coons look alike, but couldn't be more different. And it's true: Opposites attract ... and these two presidential cats are besties!!!
Kennedy is a 9 year old female tabby with a BIG attitude. She wants things her way, when she wants them and under her direction.
She has anxiety issues so wears a pheromone collar which helps a lot. She doesn't like crowds and hides whenever there is more than one guest in our house.
She is finicky as can be!!! Just when we think that we've found a treat that she likes and buy another package of them, she decides that she's over them. She is the alpha cat, but she is intensely protective and loving of her humans.
Lincoln is a 4 year old male tabby. He has the sweetest personality and temperament I've ever known in a cat. He is playful and full of energy.
He doesn't like to be held, but if we don't force affection on him he will find he way near us and have some part of his body touching us.
He likes to give licks and kisses and to make sure his older sister gets plenty of exercise. He has a basket of toys that he retrieves from ... balls are his favorite.
He had juvenile gingivitis and doesn't have front teeth, so he gets his teeth brushed almost every night. He hates it, but is resigned to it and it has maintained the rest of his pearlies in tact.
---
My Maine Coon... Bubba.
By: Cindy Fuller in Glendale AZ
Bubba is my heart! He was actually the runt of the litter and was very sick as a kitten. But a trip to the vet took care of that!
Bubba has 6 toes on each paw and is a fireball of energy! He cares nothing about human food and will only eat the dry cat food that he's eaten since he was a kitten. He won't even eat canned cat food!
He is such a joy and sleeps next to me every night on his own special pillow! I absolutely adore my Bubba!
---
Simba & Nala
By: Kat in Scotia NY
Nala at 14 weeks
We adopted Simba and Nala from an Animalkind agency on July 9th this year.
The story is that these kitties were feral barn cats, but you could fool me, Nala is an absolute doll and I don't think there is ever a time when she is not purring.
Simba is his own man, but when it comes to his human, Daddy is the one he wants to crawl up on and fall asleep on his chest.
I was told that they are part Maine Coon and I am secure in the belief that somewhere in there lies those genes.
Not sure if they will ever get "huge", but they have already earned a huge part of our hearts :)
---
Skylar
By: Jessica in NY
Skylar is our lovely year old Maine Coon. she's so funny to watch in her antics, hiding under rugs, chasing her tail, and laying on my computer!
If I'm laying on my bed shell come over and just plop in front of me. She loooves to play, sometimes she'll accidentally bite, but then she kisses it better, she's so cute.
---
Luke
By: Pat Leonard in Freeville, New York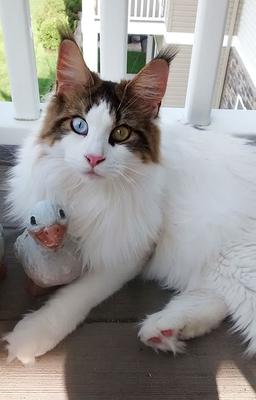 Luke is a pure-bred Maine Coon. He is just over a year old (born August 8, 2013).
He has one blue eye and one golden eye. I caught him snuggling up to a duck figurine on my mother's porch and he looks so sweet and beautiful! He has gorgeous ear tufts too.
He also has a "wonky" tail. We had him x-rayed and the tail bone comes out from his body and does a complete loop, like a pigtail. This means he cannot raise his tail. Instead it just hangs down. But even so, he is the most beautiful boy!
At just under 13 pounds, he still has some growing to do.
---
Khaleesi
By: Penny McCartney in Port Elizabeth South Africa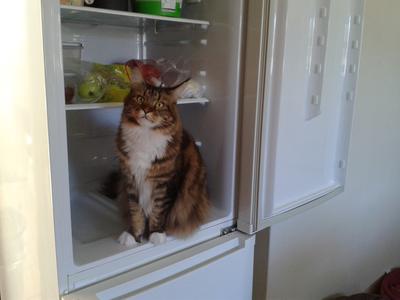 Hello my name is Khaleesi. I live with two dogs - one still a pup and giving me so much up hill, I also live with two humans who take good care of me.
I like cleaning with my mum specially when she cleans the fridge. That's what my photo is all about.
Also want to say to all you kitties in these photos you guys look awesome.
---
Oliver
By: Steve & Stacey Lattier in Bossier City, Louisiana, USA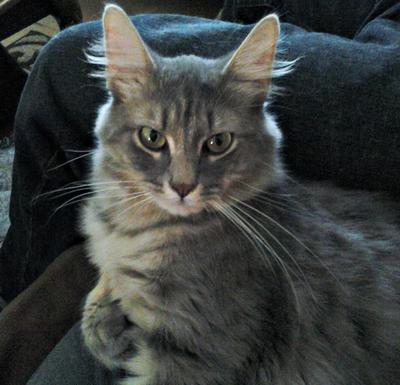 Oliver is our 1 year old rescue kitty. We were told that he is half Maine Coon.
We think he has many of the characteristics of Maine Coons, including having extra toes.
He is very sweet and loving and also VERY active! He is still growing, so we are anxious to see how big he will be.
---
Rytlock
already king of the household
We found our 5-month-old beauty at a shelter near Temecula, CA just two days ago.
His previous owner was elderly and wheelchair-bound, and found it difficult to deal with a rambunctious kitty who loved to bring presents home!
When we first met him and held him, he hissed upon seeing the other kittens in their cages and even tried to scratch the nice lady who worked at the shelter when she tried to return him to his cage so she could escort us back to the front desk.
After bringing him home, he acclimated within a few hours and just wouldn't stop purring! We think he is very happy to have his own place.
---
Anastasia the Rescue
By: Jennifer in Long Island, NY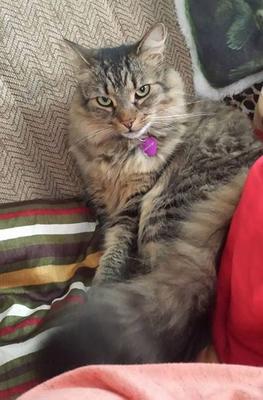 Anastasia may only be a Maine Coon mix but she is more Coon than not!
Everything about her describes the breed. Ear tufts, foot fur, magnificent tail and mane. And BOY does she have a personality. I rescued her from a shelter and was told they believe her to have a Maine Coon parent.
She will pester you and caterwaul and knock everything off the shelves in your home but the CUTENESS and elegance prevails. At 2 years old she is still small and I can't wait to see if she grows to be Coon size.
She is so laid back you would think she is part dog. Always getting into trouble, knocking over the garbage can in the middle of the night. Are you sure these cats didn't used to be RACcoons? Her tail sweeps the floor like a feather duster and never stops swaying and flipping back and forth.
Inquisitive and a total clutz. Very vocal and needy and codependent. But you can't help but LOVE her as much as she drives you crazy. I just love the maine coon in her and I will always be intrigued by it.
---
Bullseye At Her Best
By: Kelley in Fontana CA
Bullseye is an awesome cat she is three years old now.
We found her on the side of our house starving to death and had her ever since. Bullseye has brought me and my partner great joy.
My partner is a security guard and so bullseye has become security also. Having her in our lives has been a blessing from God.
---
Davy Crockett 3 yrs old
By: Kathy in New Jersey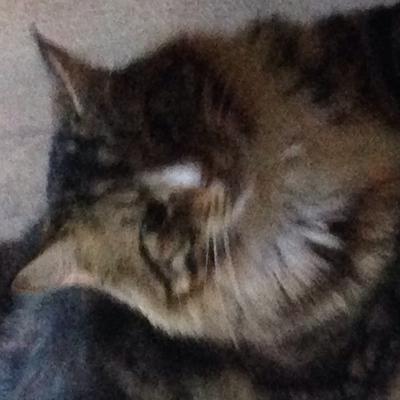 Davy chirps. I've never heard him meow.
He came into the house at 5 months old and walked up to my golden retriever and said "you will be my best friend."
They are inseparable. He is mushy and loving and wants everything NOW. If another cat swats at him he truly doesn't care just continues in the direction he was going.
He talks all the time unless he is sleeping.