October 2013 Photo Album
Welcome to our October Album of Featured Coonies!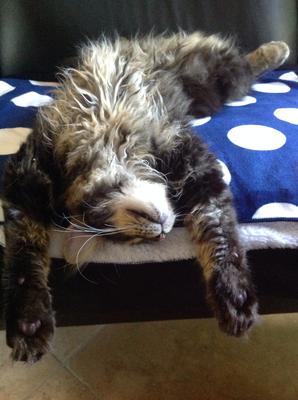 Dave Our Four Month Old Maine Coon
Loves his supervised outdoor time in our fenced backyard
---
Moxie & CJ
By: Dan in Saco, Maine USA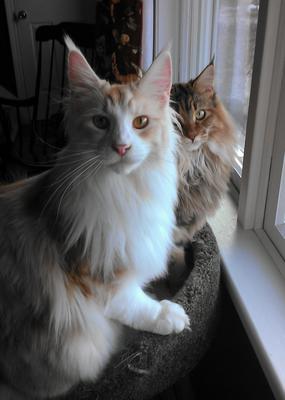 Moxie & CJ
Moxie & CJ adopted us a year ago and they have completely taken over our home and hearts! Moxie will be 2 in November, is 18lbs and it appears he won't stop growing.
I refer to him as a "K.O.U.S." (Kitty Of Unusual Size-for those Princess Bride fans). CJ is almost 1 1/2 and weighs about 13lbs.
Moxie is the more gregarious of the two, but they both sleep on our bed off and on throughout the night.
One thing Moxie does to entertain us is he sits on his haunches, looks up, raises his "arms" to the sky and "pulls" at the air 7 or 8 times. Does anyone know if this is a "normal" behavior for a Maine Coon?
And, no it isn't as though he's begging for food, he'll just stop whatever he's doing at the time, and do this.
---
My beautiful Kelimcoons Bella. Eowyn
By: Cori in Massachusetts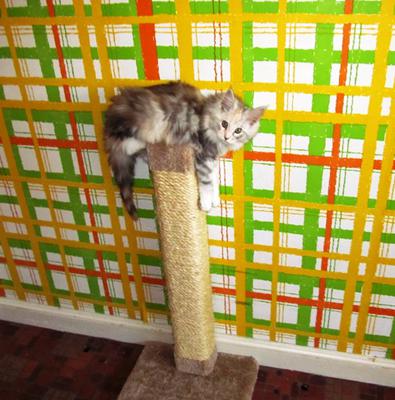 Balancing baby
We picked up our beautiful Bella from a breeder in New Hampshire this past December. She was 4 months old at the time.
We had been interested in her sister, Ruby, but when we met Bella my husband and I just fell in love with her then and there. She was so friendly and playful. Her siblings were all there, 3 brothers and her sister. They were also very active, but there was just something about Bella.
Kelimcoons family lets these beautiful babies live with them in their home. They feel this socializes them so much better for placement in their forever homes.
Bella has a brother, Sam, who is doing very well in some of the NorthEast Cat Shows. Best Maine Coon in one or two of them already.
I am such a proud Auntie, LOL!
Cori
---
Pumpkin
By: Sharon in Auburn, WA
Pumpkin lives in Kent, WA. He has a sweet personality.
Very vocal when it is mealtime, and when I am in the kitchen cooking, he is right there with me.
I have never seen such a devoted cat.
---
Kittytwo-My Sweet New Baby!
By: Debra Zemke in Redding, CA USA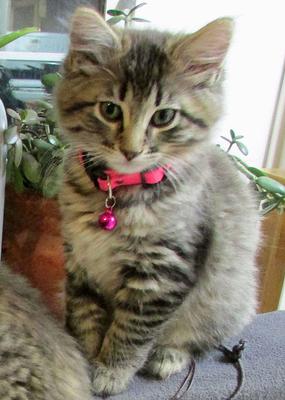 Kittytwo my beauty at 10wks.
I have been blessed w/the sweetest baby female MC!!
Kittytwo took to me right away even though she had been living at my daughter's for 5 wks.
Hours after I arrived she began making figure 8s between my feet and wrapping her very long MC tail around my ankles!!
She is so sweet & loving I could not have wished for a better little girl to share that unconditional love with!!
---
Peg and Josie
By: Leslie Land in Durham NC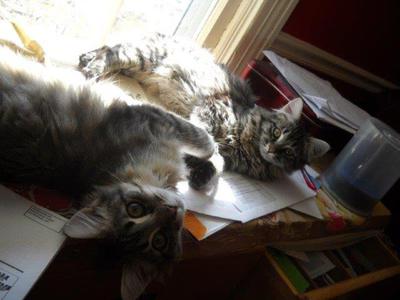 These 2 sisters were left in a box outside a vet office in Nov. 2012.
We ended up with them and love them so much.
They are very "chirpy", playful, and sweet.
---
Fall is my favorite time of year!
By: Lynda White in Madison, Indiana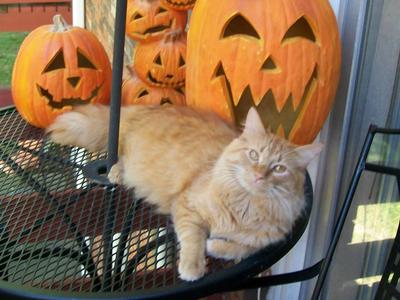 This is Tater and he loves fall; chasing the leaves as they fall or just bird watching.
As you can see he loves having his picture taken, and he hams it up for the camera.
I love him more than ever, he is the sweetest, most playful, ornery, and pampered baby that I've got.
---
Home at last....
By: Frank in Litchfield Maine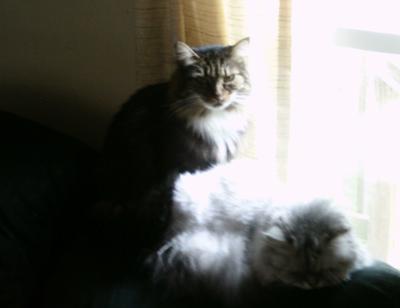 Home Sweet Home
These are my two Coons. Sammy (sitting up) is about nine months old. Sabrina, is eleven years old. They are both rescue cats, who along with thier two sisters (not coon cats)pretty much run the house.
Sammy was left behind by her owners when they were evicted from their home. She was left outdoors to fend for herself at about five months of age.
Upon moving into that house, I was told by neighbors that there was a cat running around who used to live in my home. after about five weeks I caught sight of her but contact was impossible. She ran off at the first sight of anyone.
With the help of a "have-a-heart trap,and a can of tuna,I put my plan in action. Within five minutes I heard the trap shut, and I went out to investigate. My flashlight, caught two little eyes staring out at me, and she was crying to beat the band.
I moved the whole thing into a closed room and opened the trap. Out came the cutest, scrawniest, skinnyist, cat you could imagine.She wasn't to fond of humans at first, but my silver coon, Sabrina came right in and went to work.
You would have thought Sammy was her own kitten, she started right off grooming and cleaning her. I was thrilled to realize she was a coon, I wasn't sure until she started talking. She is my forth coon so I'm familiar with their talking.
Well this is her three mmonths later about three pounds heavier, and sunning herself with her new BFF Sabrina. This is what I call a house warming gift.
---
Buddy
By: Midge in Indian Head Park IL
Hi, my name is Buddy. I was recued from a life on the streets by a kind lady and man who brought me to a lady who lost her long time Tabby.
He recently passed when she agreed to take me in. But I was a mess! I had stomach issues, never pooped regularly and was loaded with fleas.
Not to mention being attacked repeatedly by dogs and other animals I did not hear - and snuck up on from behind. I am a deaf cat and was 4-paw declawed, with my former people who did not like me, thinking this declawing would settle me down....it hurt and made me miserable.
They then put me out of their house, leaving a window for me to jump through.. my paws hurt badly because I was declawed and could never jump through that window to be in any shelter.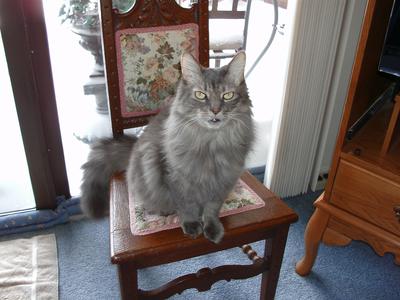 So I fended for food, ate mice and slept outside, til the kind people found me. They had their own cats and could not keep me, but they found me this nice and very sad lady who took me in.
I am soo happy in her place. She has a screened in balcony and I can be in and out as I please. I have fresh food and lots of it. There is a great bowl with fresh cold water, too! Lots of toys and then many places to sleep!
She save me and I saved her.......I am well now and all healed up from the animal attacks, but one thing lingers and that is my sneezing due to rhino issues. My lady purrson gives me L-Lysine treats to boost my immune system.
---
Love Of My Life
By: Donna Heil in Cresskill, NJ, US
My baby Kahlua is now 4 years old!!! It has been the best 4 years of my life! When you pick her up she melts into your body!
She is a big love if I am crying she will come over and lick my tears away! My vet ranks her in the top 5 cats he has ever seen!!!
---
Picasso "All White"
By: Julie Miller in Porter, Indiana, USA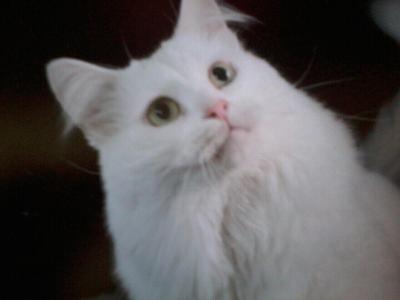 Picasso
Picasso is 4yrs old and a resue pet. He loves to posse for pictures hence his name "Picasso" He is just like our other Maine Coons Fluffy and Buster!
He is very mild tempered and has the tinniest meow. When he wants attention he sits next to you and "kindly" taps you oh so gently with his paw and gives a super cute look!
He is our favorite but don't tell the others.
---
Sadie
By: Tracy in Melbourne, FL
Sadie love to sleep upside down. Loves water and strings.
---
Jasmine
By: Jenn in Alabama, USA
A friend found her on the road and picked her up but couldn't keep her, so she came to me.
She's not quite a year and has had her first, and last, litter of 4 kittens. I believe she'll get bigger but right now she's 9 inches at the shoulder and about 10 pounds.
I've only had her for 2 weeks so we are just getting to know each other but she already curls up in my lap to purr and be brushed.
---
Timmie L of the Bay
By: Becky Burciaga in Fair Oaks, CA. USA
Timmie was the only girl in a litter of four...her three brothers were all given baseball players' names, but no one could think of one for her...being a girl and all...
Enter Tim Lincecum of the SF Giants who just so happened to pitch a no hitter the day I brought Timmie home... It was like it was meant to be...
She had her name (with a girl's spelling of course) and it just so happens that her twin brother, exact same coloring and markings is named Buster Posey. Timmie is now six months old and the love of her two legger mama's life!
---
Luke!
By: Sarah in Iowa
We rescued Luke from our local Humane Society, January 2009!
I have always had cats and although each cat certainly has his /her own sweet personality, I began wondering about Luke when he was about 4 months of age! I would call his name and he would RUN to me...just like our Golden Retriever!
When I bathed our Golden, Luke would jump in the bath with him and love the water! If I happened to be out of the room where Luke was sleeping or playing, he would literally begin to cry a mournful cry until I returned to 'his area'!!!
I love the trill he 'speaks'...in his up the scale melody...and, yes, we must now carry him with both arms as he has HOPEFULLY plateaued at a weight of 28 pounds!!!
He plays with our two older cats and he loved sleeping alongside our Golden Retriever, Patch, until he left us to be with our many animals in heaven! Luke is a pure joy to have and I just love him so much!!!
---
Meet Michael from Jakarta, Indonesia
By: Heni Mulyati in Jakarta, Insonesia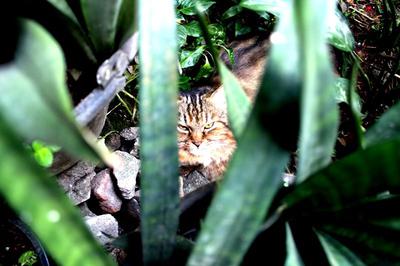 My friend gave me this cat few years ago.
I like Michael so much. He likes sleep under the trees or our small garden. Now he is five years old.
---
My 1st Kitten Coon On Harness
By: Ahmad Zul in Singapore
Good day Coon lovers....
My male kitten maine coon at the moment is 5months old. Name is ARES from Supercoon Cattery. Uniquely about ARES, all white in colour and his size quite huge and long. ARES is very attach with me cause he will follow me wherever I go in my house. I really have no regret owning a maine coon cat.... I've attached a picture of ARES just share how ARES look like.
Warmest regard
Ahmad (Singapore)