I got Journey from our local shelter when he was 9 weeks old. He was little and sickly.
Sophie is about 3 months old. Her mom was dropped off my friend's barn where she had 2 beautiful kittens (Sophie and Little Bear).
We brought Sophie home 2 weeks ago and she has been a treat! She is so playful and curious and has a purr that is MUCH too big for her little size.
A friend of mine mentioned that she looked like a Maine Coon so I started doing some research and sure enough she does.
Her mom and sister have the same fuzzy ears and distinct layer of fur around their neck as she does. I think she looks like a little bob cat!
She has already made herself at home in our family.
Bella was the kitten of a neighbor's cat. The mother brought her brother and sister to our house and left them here. At the same time, another cat showed up and was hanging out, also a female.
My kids found our kitten in the woods behind our house which are close. Therefore I am not completely sure if all kittens are from the same litter.
I never took the cat back to the neighbor, she had offered me a kitten shortly before and my son went down to tell her we kept one for ourselves and gave another to my niece. The kitten my niece has is short haired and has very defined stripes, ours and the brother have long hair.
Our kitty, Bella has many characteristics as a Maine Coon. Such as dog like behavior, playfulness, standing on back legs, almost having conversation, telling us when she wants food.
The first thing I noticed about our kitten is that she has unusually large paws. I almost thought she had mitten paws until I counted only 5 toes.
She also has a mane around her neck the fur is much longer and her coat is un-even. She has very defined striped markings which are sort of hidden due to her long hair.
I also think her ears are rather large and bob cat like w/ the fur sticking out. I decided to research and I feel she definitely has a lot of the personality traits of a Maine Coon.
She is very playful. She will play with almost any object she finds on the floor. While in a playful mood she will attack any part of your body that is moving, but always in a playful manner, never mean. She has done this often while I type at the computer.
I also thought it was strange that she allows my 3 yr old daughter to carry her around without a fuss. She is definitely a lap cat. The strangest thing she does which I've never seen is she stands on her back legs.
She follows me around every where. She lets us know when she wants something. I always say she reminds me of a little dog. She is definitely a "different" cat for sure!
---
Harry Cat :)
By: Laura
(UK)
We adopted Harry from the RSPCA back in July.
One of my first thoughts about him when I saw him was his beautiful ruff around his neck, his bushy tail and also the fact he is very solid, not fat at all but very rectangular and stocky.
One of my friends saw a photo of him and having a Maine Coon herself asked if he was a Maine Coon or Maine Coon mix.
We went through a few things such as the tufts of fur between his paws, his tail and so far I am unable to reach a decision!
If any of you are able to let me have your thoughts on him that would be great.
Thanks,
Comments:
Harry
by: Helen
Harry isn't quite as "bushy" as most purebreds, but he certainly is a handsome ginger cat and has the "coonie" look about his head. Laying on his back is a coon cat trait too. No matter what he is you will enjoy him.
Handsome boy
by: Marg
Harry is a very handsome boy, there is something about ginger cats I think. :-) He looks like he is Maine Coon X to me like my Charlie Brown. Yes, mine is ginger but lighter in colour and has whorls on his sides instead of stripes. Enjoy your beautiful boy. :-)
---
I Think Rueben Might Have A touch Of Coon
By: Diane Brenchley
(Christchurch New Zealand)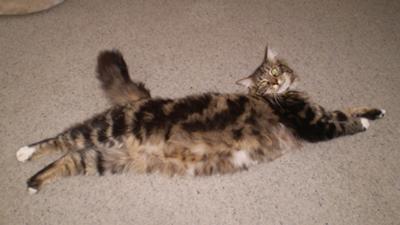 Rueben likes to stretch out and show off his glorious tummy
He is completly insane in a good way, he doesnt think he's a cat, he thinks he's a dog.
His favourite toy is a peg that he plays fetch with. He also likes straws and will pinch one right our of your drink if you're not watching it lol.
He was soooo tiny when we got him, his mother stopped feeding so we got him at 5 wks and was only 180 grams, he's about 16 mths now and weighs 5 kg of pure muscle.
He trills and chirps when you talk to him and if he wants something really bad like to go outside he yowls untill someone gets up and opens the door for him.
He is very people orientated yet doesn't seek your lap when you sit on the couch prefering to sit up on the back of the chair and keep an eye on you from above but will follow you around the house if you leave the room.
I love him sooo much, he is my furbaby for sure.
Comments:
Coooooooon
He looks just ike my Maine Coon....sounds like he is...est cats in the world i have two and i love them both!!!!
Ruben
by: Theresa
He looks like a Maine Coon. I was wondering how long he was because he looks long. My coon is longer than the average house cat. On all the main coon sites that I went on they all said that main coon cats are late bloomers and they don't start maturing until the age of 5. I do hope this is true because my boy is 2 / 3 and long. I am hoping he grows as big as other coon cats I seen. :-)
Thanks for your comments :)
My mother also had a part Maine Coon cat also and he was HUGE so there was no mistaking but Rubes' being so small at birth was hard to tell untill he hit one and just starting growing and yes he's amzeingly long, will have to try and measure him one day when he's stretched out...whichis often as he likes to show off, and yes they are the best cats to have, my husband isnt a dog person so Maine coons are the next best thing lol...he loves my 12 yr old son and spends a lot of time hanging out with him and playing hide n seek and will jump out when you least expect it lol.
---
Tonks
By: Rachael
(Newcastle, NSW, Australia)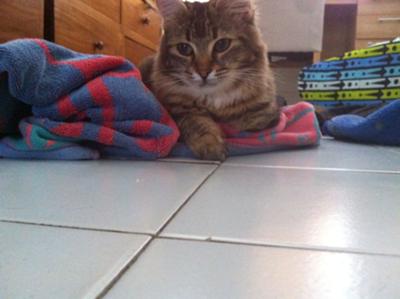 We adopted Tonks from a rescue service when we got her she had extremely short hair because her previous owner had given her a haircut.
All we were told was that she was a short haired cat! Imagine our surprise when she grew quite a long coat!
When we first got Tonks I was surprised at how friendly and affectionate she was! In fact in the first few days we noticed how much like a dog she was.
One such example is that she is always at the front door to greet us and loves to meet new people (especially males for some odd reason). Her favourite place to be is wherever we happen to be.
She is very vocal as well and likes to "talk" to us if we aren't paying her enough attention. She doesn't like water although she is interested in the shower (just not the getting wet part!)
At the moment she is around 9 months old and desexed. I believe she is a Maine Coon because of her tail and her friendly disposition!
I apologise for the poor quality photos, she doesn't tend to stay still for very long!
Comments:
Pretty Girl
by: Krying
Tonks is a real beauty!
Plume
by: Helen
What a beautiful plume she has. Does she "tail talk?" My Coonie tells me exactly how he feels with his tail.
Tonks
by: Theresa
You have a Maine Coon cat. You could see that it is a Maine Coon because of her tail and the famous M on her forehead. Maine Coon cats are very vocal; a little too vocal. :-) Your cat looks like my cat.
He spent a lot of time under my couch when I rescued him and was worried that he would never come out, but on the advise of the readers Last Chance did come out and became part of the family now - I wish he would go back under the couch. :-)
For a cat that was abused he learned very quickly that he is king. He is demanding and very subborn. His words and his facial expressions you know exactly what he is feeling. He will relentlessly let you know. Last Chance is not affectionate or lovable and I wish he was. He is his own cat.
He will lay next to you, but watch out if you try to touch him he will growl and attack and than walk away mad. My husband tells me all the time that he does love me in Last Chance way and wants to be next to me, but it doesn't mean that I should or he wants to be touched. He really isn't a nice loving guy, but I still love him.
---
Is My Cat A Coon
By: Gary
(Sacramento)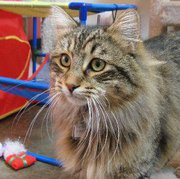 Bob
Hello,

I picked my cat up from a local spca, and do not really have any background on him.
Looking over this website, He looks very similar to most of the cats here. He is now about a year old, and I would not say he is any larger than a normal cat.
But his features and personality fit a lot of what you all describe. Was wondering if you could help and let me know if you think he has any coon in him.
I am attaching photos.
Thanks
Comments:
For Sure!
I reckon Bob just may be!
My little girl Millie is basically a female version of Bob! She also shares alot of personality traits and features of a Maine Coon - but she is normal size too! I got her from the Cat Protection Society in my state (in Australia) and they just said she was a Domestic Medum Hair. But I am not so sure!
I Agree
by: Susan
I agree. I have a male blue long haired cat named Rye. I think he is part Maine Coon and part Domestic Long Hair. He has both traits. He is a 17 pound kitty. But he also might have some Norwegian Forest Cat in him too somewhere. Not sure.
Thanks
I appreciate the responses. I got him when he was around 8 months and he was 8lbs then. Now is is about a year and a few months. I am just curious after reading on this site the they are full grown around 3 years old. I think it will be neat to have him big. Can't wait to see him grow. He is very playful now as he is.
At the very least
by: jessy
He's a handsome cat. And he does look like a Maine Coon. And you say he behaves like one too? Well, I'd say that's good enough.
My own marmalade mackerel tabby is at 5 months outstripping my 13-year old "miniature Maine Coon" (a joke), who is admittedly at 6 lb a runt, and his tail is growing nonstop. A real dustcatcher.
What a Beauty
by: Cat w.
He really has the Maine Coon look. If Bob has the personality, you are lucky indeed.
Size Questions?
by: Katie- Jacksonville FL
I also got my cat from the pound and they said he was a domestic short hair (yeah right) I took one look at those paws & ears...I knew exactly what he was!
I know you mentioned his size...what kind of food are you feeding him? I feed mine the Blue Buffalo kitten food, I know it's expensive but he has grown SO much in the short period of time I have had him. It also helps in making his coat so soft & smooth. I got him back in June of this year, about 2 months and only 2 lbs. He is a MC mix, not a pure bred MC cat. He is now 7 months and weighs 10 lbs.
Also do you ration out his food or always leave some available for him? I'm sure all cats grow at their own speed, he is very handsome and you can see the Maine Coon in him =)
Thanks All.
by: Gary P
Just wanted to add a few notes. We feed him science diet food. Seems he likes that the best. Some darn reason he does not like any canned or soft food. But his thing is temptations treats. We tried greenies for his breath but that was a no go as well. I have not weighed him but I would say he is around 10 to 12 lbs now. He is the baby of the household. He is very affectionate. Loves to lick and lick. My favorite thing is he loves to give massages. We always Chase each other around the house. Meaning one moment I am chasing him and the next its his turn to chase me. It's actually fun to try and jump out and scare him. But be prepared to have him do the same. Wired habits? Well chasing and eating flies.
---
Casey
By: Susan
(Arizona)
Casey
I rescued Casey from a no kill shelter 6 weeks ago along with another cat.
I think he is a Maine Coon mix because he is huge - 15 pounds - has a long silky coat, ruff around his neck and has huge paws with tufts of fur between his toes both back and front.
He is the sweetest cat - he follows me around the house and is aways near me whether I am watching TV or sitting at my computer.
He sleeps next to me and has a very quiet chirping meow for such a big cat. I am so lucky that he chose me when I sat down to look at cats at the shelter.
His previous owners moved and left him sitting on the doorstep. I just can not imagine someone leaving this awesome guy behind.
Comments:
Doorstep Cat
by: Helen
He Looks The Part
by: Dean
From his behaviors and that tail plus his size I would say he is probably part Maine Coon. I am glad he found you.
---
Gracie
By: Sue M
(Auburn, MA)
Gracie!
Gracie is a rescue kitty. She was found tied in a pillow case that had been thrown off the highway. She has two other sibling, both of whom have been adopted to "forever homes." This is her "baby" picture.
She is now a one year old who loves to talk, climb her cat tree, frolic with her housemate Molly (a tuxedo) and play in running water!
I do believe she thinks she's a dog...Gracie meets me at the door upon my return from work and occasionally "join" me in the shower for a quick rinse...her idea, not mine.
She is an awesome little friend!
Comments:
Gracie
by: Sharon
Oh my, she is cute. Cannot believe someone discarded her litter in a pillow case, despicable. So glad to hear she and her litter mates have their forever homes. She's a beauty.
Unbelievable!
by: Dean
I will never understand people doing that to any animal! Really! How hard is it to take them to a shelter or find a loving home for them?! Thank God she and her litter mates were rescued!
So...do you think she has Maine Coon in her genetic makeup?
by: Sue
Hi all,
Thanks for the comments....Gracie is wonderful!
So, do you think she has Maine Coon in her genetic makeup?
On another note, I love getting Tattle Tails through email...thanks to everyone!
Sue