October 2021 Album
Our October Album is full! Stanley, Sterling, Dusty, Mungo, Calvin, Jack, Mopsy, Miss Miggy and more are here to show off. Read their stories and comments!

Cruz
by Leigh in SoCal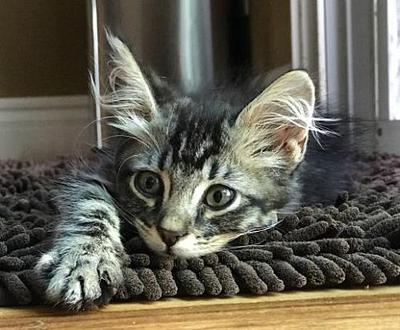 This is Cruz. We adopted him from a rescue group here in SoCal. My husband completed his name to Cruz Alejandro de la Playa. Adorable.
---
Romeo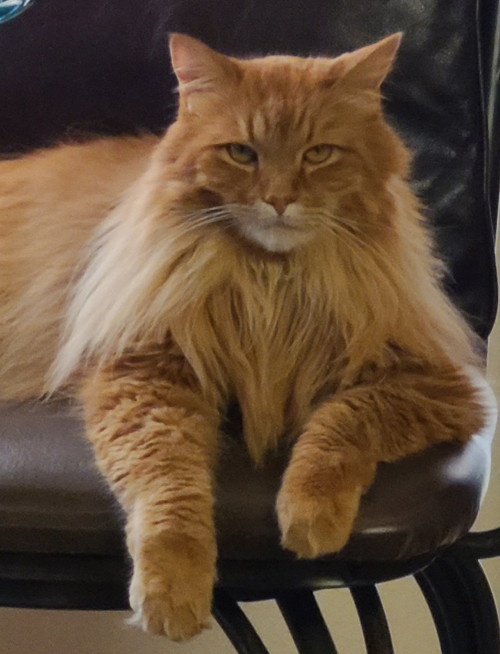 Romeo. Our beloved Maine Coon from Coeur d' Alene, ID. 6yrs old. Male.
Laura & Bruce Seidel
---
My New Fall Decor!
by Darleen Saunders
(Sacramento, CA, USA)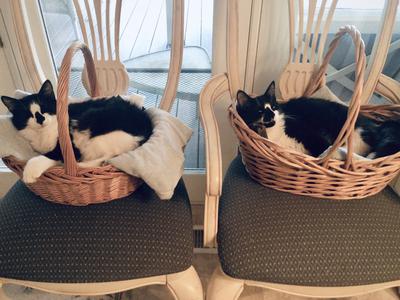 The boys love their new sleeping nest baskets.
I use these baskets for picking vegetables and set them inside temporarily before storing them for the winter.

But the kitties found them irresistible and repurposed them as sleeping beds. So much for cleaning up. They love their new beds, so there they will stay.
---
Cooper Coon Cat
by Debbie
(Hackett, AR)
| | |
| --- | --- |
| Sunbathing | Warm fire - warm belly |
| | |
| --- | --- |
| Getting ready for the cooler weather | Rest in Peace |
Our beloved Cooper was the sweetest cat I have ever known (a true gentle giant).

He was very quiet except when talking to his human dad. We lost him way too soon due to heart problems. He is greatly missed each and every day.
---
Grizzabella
by Elizabeth Slawson
(Aurora, Missouri)
My pretty girl
Grizzabella is three years old, and was born on Sugar Island Farm. She loves getting her hair brushed, bubbles, and her brother Charlie Cobblestone. She also loves snuggling under the bed covers with mom.
---
This is MY sink.
by Jocelyn Chaparro
(New Mexico)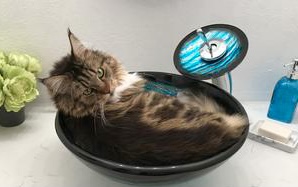 Awenita (Nita for short) is a 5 and 1/2 year old bred in Maine, living in Albuquerque with mommy and sister Tori and moving back to New England in a few days. Both girls fancy napping in sinks whether they fit or not.
---
The Twins
by Cindie
(St Thomas US Virgin Islands)
My girls are from Massachusetts but have been island girls since they were 8 weeks old. They follow mw everywhere in the house. They are such love bugs. Natasha and Gretchen are 5 years old.
---
Bella
by Becky Terrell
(New Port Richey FL USA)
Bella is 8 years old. We got her from a rescue. She is a joy for the two of us, but she is terrified of anyone coming to the door - or the mowers - or kids in the street on bikes. You get the idea.

She is a big time hunter. She loves to bring us geckos and tiny frogs, then we have to catch the dumb things and let them go outside.

Everywhere I go, she is right beside me. One of the best cats I've had, first Maine Coon!
---
Patsy
by Diana Dawson
(Sarasota, FL)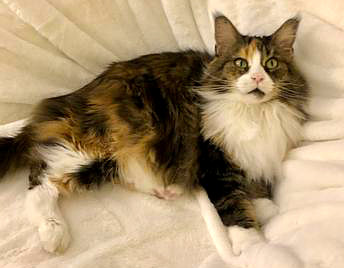 Patsy is 12. She is intelligent, beautiful, friendly, especially loves kids and is a good guard cat. She loves living in Sarasota with her devoted people.
Comments:
Patsy
by: Anonymous
Patsy is stunning! :)

---
Jack, The Maine Coon From Maine
by Robert Guzman
(Kent, New York)
Jack is my Maine Coon that was born in Maine. He's quite a character and we love him to pieces. He's about two and a half years old.
comments:
Look alikes
by: Debbie
He is beautiful. Looks a lot like our Cooper. ❤️

---
O'Malley on the table!
by Sheila A.
(Austin, Tx )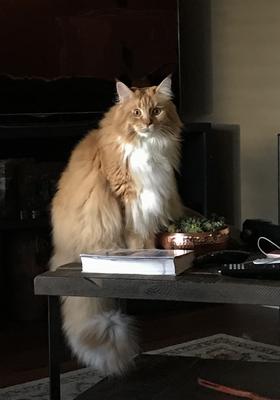 O'Malley "forgot" he is not allowed on the tables! This naughty boy is my favorite.
comments:
O'Malley
by: Beverly
So handsome & regal in presence!

---
Stanley Steamer
by Jewell
(Sarasota Florida)
Stan is six years old and the total boss of our two golden retrievers. I am convinced that he believes that he is a Golden. He is also the laziest at that we have ever lived with but is a total joy to us.
---
Quincy & Franklin
by Allison
(Parish, NY)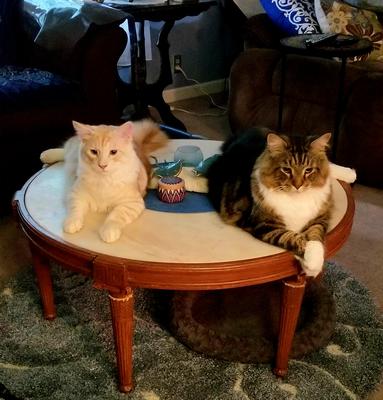 Quincy and Franklin
Quincy is 5 and Franklin is 6 months. They are full Maine Coons and share their dad.
---
Calvin
Jen de thierry
(New Zealand)
This is my beautiful boy Calvin. He is 10 years old and was a rescue. He is super affectionate, chatty, and follows me everywhere. Absolute love of my life 😻
comments:
So Handsome
by: Anna
What a handsome boy. He seems like a real character
---
Shandy-Fluff😻😻😻
by Sarah Larkins
(Ramsgate, Kent, England)
Shandy-Fluff is my fluffy Coonie who is eleven and a half years old.
She's been a loving family member since she was 10 weeks old and was joined by Ginge-Mate who is ginger and white short hair 😻🐈
Shandy-Fluff is definitely in charge at home and purrrs and chirrups
A lot😻
---
Buddha "The Boss"
by Beth Rexrode
(Bessemer City, NC)
My human mom rescued me at the young age of 6 months old. I was wandering the streets of a small town and I happen to go down her driveway.

I was really hungry, she took me in and I have been here ever since. I don't go outside because I know how dangerous it is, but that's fine I have a large screened in porch that I roamed around on.

I also watch all the birds eating out of the feeders, and yes my mom takes care of them also.
I'm so lucky too have such a good life, my mom takes really good care of me. I am 15 yrs old now and can't do the things I use to do, but that's ok.

I like laying around and being pampered, spoiled & loved. Its just me & mom, but sometimes others show up and I'm not a fan. I'm very happy here and hope to have many more years.
---
Holly
by Lisa Buoncuore
(Massachusetts)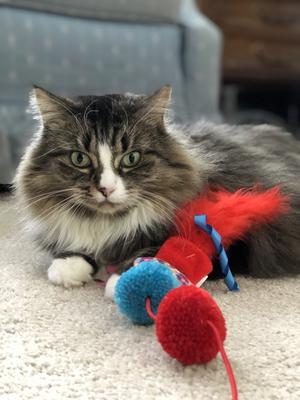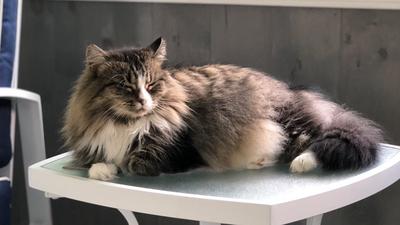 Holly is a rescue kitty and the Vet said she is a Maine Coon mix.

She has the beautiful fluffy tail, little ear tufts, and the affectionate personality of a Maine Coon.

Holly enjoys watching her Mommy work all day and meowing at just the right time to remind her to take a break for a cuddle and purr session.
---
Hello, I'm Mopsy!
by Maria Marchegiano
(Rehoboth Beach, De)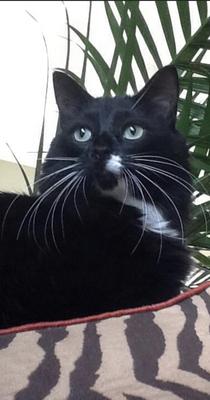 We had a feral cats behind our house when we moved into our new home in Rehoboth Beach Delaware.

We did TNR on about 10 cats. Then we caught Mopsy. It was February and he was a tiny little kitten so we decided to keep him.

At first he was afraid of everything and hid behind the toilet for two months. Now he runs the house!

He makes us laugh and smile every day and we can't imagine our lives without him!
comments:
Hi Mopsy!
by: Anonymous

Hi Mopsy!
---
Getting ready for Halloween
by Kevin
(Hicksville,NY)
This is Merlin ~ 7 years old and eats more than he should.
comments:
One of my Favs
by: Terry L
Merlin is no doubt a big and handsome boy! This is one of my favorite photos of him.
Merlin
by: Clara
That is one handsome dude, Mollie wants a poster size of Merlin for her wall, she's smitten with Merlin!!😻if he is available for dating site have my own transportation
---
Murphy striking a pose
Murphy is a 10 year old Maine Coon mix, who enjoys hanging out and being model occasionally.
comments:
Beautiful
by: Anonymous
Omg, looks just like our Mopsy!
---
Mungo
by Eileen
(North Vancouver, BC)
| | |
| --- | --- |
| Mungo | Mungo surveying his domain |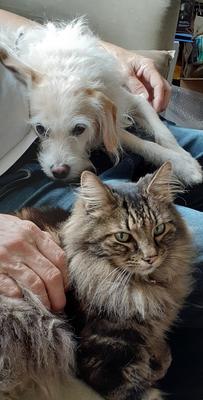 Mungo relaxing with his doggie brother
Mungo, our handsome guy is 14!

We adopted him when he was 3 and he's been ruling the family since he settled in.
Kids, grandkids & dogs, Mungo lets them all know just who is in charge!
---
Meet Kitty Our Mainecoony
by Barbara
(Massachusetts)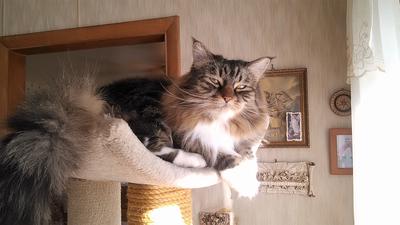 Kitty was adopted through a shelter sponsored by Pet Smart.

She is 11 years old this September and has never lost her kittenish playfulness. Kitty always wants to be near her humans.

She goes out for a daily walk on her harness and leash. Most recently we were out in the yard together and she chased after a chipmunk which landed her behind the shrubs.

At the moment she was in the shrubs still on her harness a fox came out of the woods. I said Kitty we have to go.....and when I tried to get her to come along she defiantly backed out of her harness because of course she wanted to play and hunt.

She then started heading in the direction of the fox looking at us from the back of the yard and I yelled STOP!!! She crouched down on the grass and I picked her up quickly and headed for the house.

Of course, she wrangled me like she was an alligator. She's 12 lbs, so I had to hold on to her tightly for dear life.

Thank goodness nothing bad happened but the timing of her getting out of her harness and then the fox appearing could not have been more in sync.

She now has gone out but as soon as she goes out and I say wait for me - she gets spooked starts meowing loudly with fright and heads back to the door to get in the house.

Hopefully when the snow flies she will venture out and not get so scared because she loves to play in the snow and make kitty snow cones with her paws which she licks off her paws!
---
Jackson Stepping Out to Enjoy the Fall Weather!
by Wendy
(Washington DC)
Jackson
I believe Jackson is a mix/Maine Coon. He has many traits for sure. The only thing is, he's so tiny! Barely weighs 8.5 pounds. I am not sure of his parents because I rescued him.

He is very shy but loves his fur-Mom. Playing in water and chatting at the birds are his favorite past times. He's something special!
---
Miss Miggy from Winter Garden Florida
by Dana Miiller
(Winter Garden, Florida)
Hello,
My name is Miggy. My Mom named me after her favorite Detroit Tiger! But I'm ok with it because I'm as tough as a tiger.

I'm 4 years old now and was found at 6 weeks with my 2 brothers. They couldn't find my feline mom so we were taken in and nursed and cared for so great that I'm a happy 13 lbs.

I'm not a big cuddler but am always in the same room with Mom and Dad.

I love my pool deck to get fresh air but I'm not a fan of summer weather in Florida. I love October and know that my season is coming!

Please enjoy my photo shoot pictures. Thanks for checking me out.
comments:
Hello from Michigan
by: Shannon Grooters
Hello Miss Miggy!
Our family would love to come visit again, and maybe do another photo shoot 📸🎞
Cutie Miggy
by: Aunt Leslie
Hi Miggy,
From your favorite Aunt and hide and seek partner! Always knew you were photogenic. See you soon!
Love,
Aunt Leslie & Cousin Woody
---
Sterling, Our Cuddly Clown
by Mary
(Denver)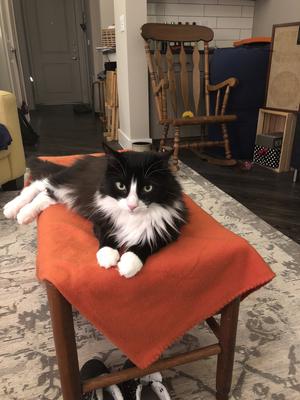 Sterling is six and managed to convince my husband and me to adopt him along with the pair of buff colored kittens we had planned for.

He sat down in my lap and that was that. Now we joke that he thinks he can do as he pleases because he blessed us with his presence when so many others had inquired about him.

Not fond of being on his own for long periods of time, he can generally be found wherever we are and he's quick to sit down on my cell phone, sewing or computer because he is the only approved laptop device.

We just love him to pieces, especially when he plunks himself down between us on the couch, rolls over on his back and drops off to sleep.

Sterling, we imagine, always reminds his siblings that he should always go first at dinner and treat time because he's six days older.
comments:
Telulah
by: Gloria
Telulah waits for her brother Bertie to do all the tricks, then she sits in front of him for treats.
She is so fluffy and sweet but is the boss. She sleeps most of the day and goes into the garden early evening.
She never goes out of the garden and comes in around 8pm for a drink and bed upstairs. She loves her brother and he is so lovely with her. She likes to bathe under a running tap or in the pond.

---
Bertie
by Gloria
(Deal)
| | |
| --- | --- |
| I'm so cute | What a beauty |
| | |
| --- | --- |
| With his sister who is a ball of fluff | My beautiful tail |
Bertie is a Maine Coon mix. He is adorable and clever.

He sits, gives his paw then chooses what he wants by tapping the box or packet. He takes biscuits from my hand like a dog, one at a time.

He loves the tap on in the bath to drink. He will walk with me if he thinks I am not so well, waits for me and walks back with me.
---
Morti from North Carolina
by Melissa Orr
(Charlotte NC)
We adopted Morti nearly ten years ago. She is a sweet and loyal companion.

Her favorite activities include sitting on our laps, playing with toys, carrying loofahs in her mouth as deliveries to us, and enjoying her food (and trying to steal ours).

She enjoys bringing us presents like her loofahs (she is indoors so her choices are limited). As a kitten she loved playing fetch too.

When I work from home she will let me know when she wants to help me work by pawing my leg.

She is most often in the same room as us but sometimes prefers time out in one of her two favorite boxes. Morti is the best cat we have ever had and we are grateful to have found her!
---
My Beautiful Big Girl Gerty
by Susan S
(Dacula Georgia)
Gerty always sleeps on our bed
She is the boss in our house and demands attention. She does sleep on our large greyhound's bed but gets off at night when he comes up.
---
Dusty says 'Hi' to all
by Jack Thompson
(Scottsdale, AZ)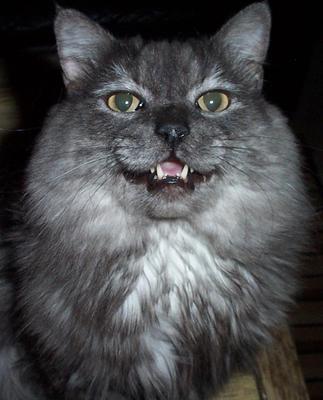 Dusty is the happiest, friendliest, most loving cat I've ever known.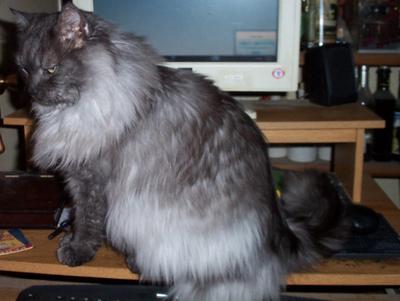 I adopted Dusty about 9 years ago from the Humane Society. I went there to adopt a small kitten, but once I saw him I knew I had to meet him.

Once we met it was love at first sight for both of us. So he came home with me and it was one of the best decisions I've ever made.

He's the friendliest, most social and out going cat I've ever met. He loves everyone, animals and people alike. He walks on a leash, loves to go for car rides, and loves to go to the vets as they lavish attention on him. He's the love of my life!
---
Spooky
by Pat Espinoza
(Firestone)
Spooky was rescued from a hoarder. He had many issues and needed a lot of medical care. We got him at 11 weeks old in 2014 he is healthy now and of course spoiled. He loves snow and spying on the birds through the fence.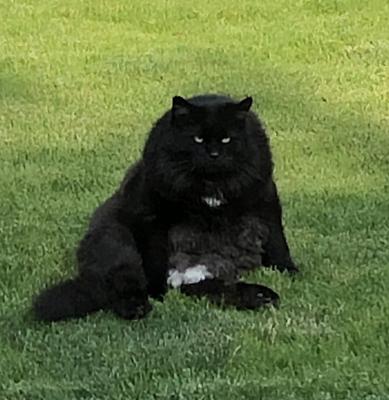 Spooky today
---
Drama Queen Dallas
by Jan
(Florida)
Dallas is eight years old, 23 pounds and not fat, just muscular. Loves her treats, likes sleeping on Daddy's shoes and telling Mommy and Daddy when it's time for bed. The two other things she favors:

Dallas likes to be brushed several times a day and sitting in her theater chair in Daddy's (and her) cave. Dallas is talkative and very lovable also.

Hi Jan, your picture(s) didn't come through. This happens sometimes when they are large files. There's more into on uploading photos here, or email me and we'll get it sorted out. Thanks for sharing!
---
Mr. Motts and Lady Luna
by Gazzer
(Los Angeles)
Shelter rescues have filled our home with love for five years now....
---
Return to Top of Oct '21 Album
Dec 10, 23 03:14 PM

New today: Meet

Ginny

from Lumacoon Maine Coon! Ajuna shares, "This is Ginny our three year old dramaqueen. She's a big softie once you get to know her, despite that look of doom in her eyes XD she wa…

Nov 10, 23 03:06 PM

New today: Meet adorable little

Juniper!

Nicole shares, "I went to the vet and they originally had her as domestic medium hair and once the vet saw her she said she has some Maine Coon in her because…

Nov 05, 23 08:36 AM

New today: Meet

Yellowstonecoon Tomboy Honey!

Jessica of Yellowstonecoon Cattery writes: "Hello, Maine Coon families! We are so tickled to share our beautiful Black Smoke baby girl with everyone! She…