November 2014 Photo Album
Our Featured Coonies for November 2014 are ready to celebrate! Come meet Grimm, Banjo, M-Pawz Leonardo, Maximillion, Tommy, Samson and more.
Grimm
By: Christene Macklin in Arvada, Colorado
Grimm is the most amazing cat I have ever known.
He truly is a gental giant. I look forward to coming home from work to hear GRIMM call mama!!!!
He clearly calls me mom or mama when he really wants my attention. I am never alone when doing chores.
Grimm is right there investigating and giving his approval of what ever I'm doing.
---
Banjo
By: Ally Chumley in Port Macquarie, NSW, Australia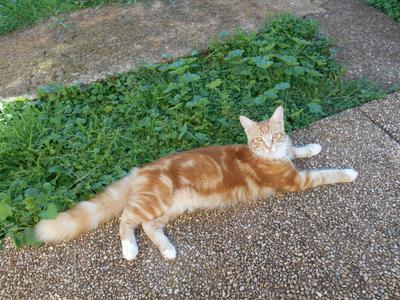 This is Banjo. He's not even twelve months old in this shot.
He has a very relaxed life on the farm. He is great with the chickens and guinea fowl - preferring to climb trees and annoy birds instead of chasing our laying flock.
---
M-Pawz Leonardo
By: Pam Bloomfield in Ozone Park, NY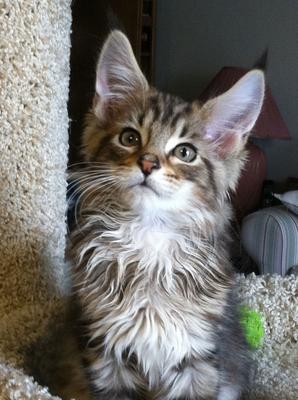 Leonardo 12 Weeks Old
Leonardo Brown Tabby.
---
Maximillion
By: Patty Kirkpatrick in Miami, OK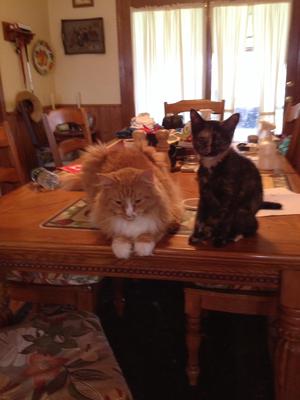 This is my sweet boy. Maximillion, a cat show reject.
And his new friend, part Siamese Patches.
---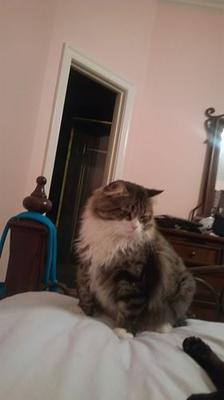 Tommy
Tommy is large and in charge! very vocal and must be the center of attention.
---
Samson 1 year old
By: Janice in QLD Australia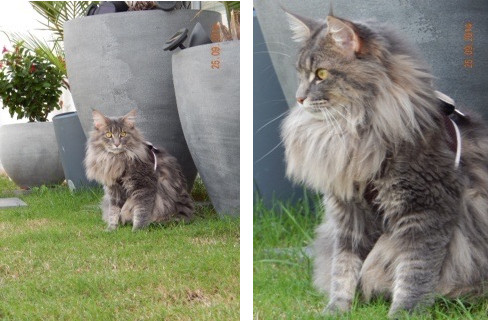 Samon is adorable. It took him a while to train us, but he has us trained perfectly now. We know when he wants fed and he can let us know when he wants out in his catio.
If we don't get the hint he will drag his cat toy through to us so we can have a play - his favourite is the Daa cat toy with feathers at the end.
If we are sleeping too long he will sit on my chest till I waken, to get his daily cuddle, and if I still don't get up he will open my wardrobe sliding door and play with my clothes. He is a very clever kitty.
---
Roja and Jones My Cuties
By: Marieke Paulides in Benthuizen, Netherlands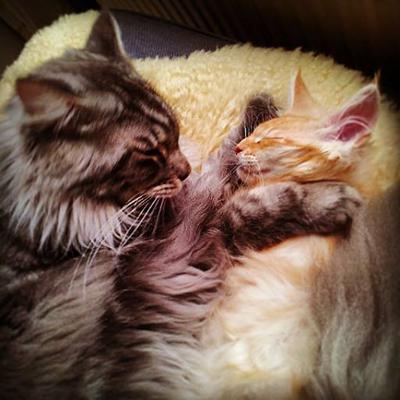 Let me introduce you our two Coonies: Blue silver tabby Jones, 1 year and Red silver Roja almost 6 months.
They are our first Coons. After we adopted Jones we fell in love with this breed. So after a few months we adopted Roja.
They are both adorable and best friends forever.
---
@thor_mc aged 13.5 months
By: JoAnna in Epsom, Surrey, UK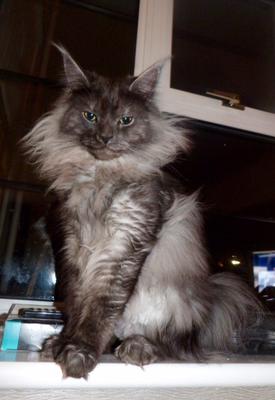 Thor is really growing to be the most wonderful Maine Coon. He is developing his voice more and more, I've never heard him meow but his chirpy chatter is getting louder and more frequent. Particularly at 7am when he wants his breakfast - he pushes his nose right up to my face and starts his morning chatter. His purr is also getting louder, as a kitten it was very quiet.
As you can see his coat really is quite long and luscious. He had his first professional groom last week and seemed to enjoy it. The groomer said she had never come across an MC quite that relaxed!
Thor has got more boisterous since the last update and the female cats aren't always in the mood for his continued playfulness so we are looking forward to welcoming a new male MC kitten in the house in the New Year, although I doubt this will stop him from trying to eat my toes each night when under the duvet.
Both Thor and his partner in crime 12.5 month old Thea always greet me at the door and I wouldn't be without either of them. Our longstanding DLH resident Ebba has also become more tolerant with Thor's playfulness which is lovely to see. XxX
---
Kiki My Maine Coon
By: Karolyn Brinton in Wenatchee WA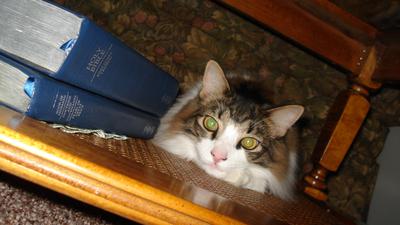 I was given Kiki by a sobbing woman and her husband about 3 months ago. They had had him since he was a little boy and then circumstances happened where they had to raise their 2 year old grandson who was allergic to him!
They interviewed me to some length and although I had not owned a cat for many years (husband did not like cats) I have raised and shown AKC German Shepherd Dogs, English Springer Spaniels, Pembrooke Welsh Corgis and finally settling on Pugs for well over 20 years... but that too was many years ago. I think they saw in me a real animal lover and a responsible caregiver for their beloved guy.
So Kiki came to live with Bree my black International Champion black Pug and I.
I am not sure he is full... He just turned a year and is only 14# but is really growing off of his favorite pirch! Everything I have read says he has a bunch of Coonie in him!
I love him to death...He is a bit aloof unless HE chooses to interact. He cuddles when HE wants to... Anyway here are a couple of pictures when he was about 8 months old.
What do you think?
Karolyn Brinton
Wenatchee WA
---
Ville
By: Christer Persson in Sweden
Ville is a big lovely Coon from Sweden! He is five years old.
---
Regal Thumper
By: Elaine in Austin, TX
Looking Regal
Thumper is a 3 year old Maine Coon mix.
His owner never had one before but adopted him from a shelter. She quickly learned there is no cat like a MC cat! He's a nut and she swears he is part dog. He comes when her friends come over and and is an attention HO.
He's a living hot pad sure to lay on top of you once you hit the couch horizontally and you'll be sweating before long! Love my Thumpadumpee!
---
Mr. Kitty Coltrane
By: Liz in Delaware
My husband and I adopted this beautiful Maine Coon kitty. He was dumped off at our local shelter. When I saw him I immediately fell in love with him. He's about 1-2 years old. Such a sweet boy. And now he has a forever loving home.
---
Fergus
By: Alison in Lanark, Scotland
Fergus is 16 weeks old and weighs 6lb.
I thought I would post a picture as there has been a lot of discussion around the 'ideal' weight of Coon kittens.
We've just seen the vet and she said he was 'perfect'. Yes you can feel his bones under all the fur, but cats are made up of mainly protein.
---
Boo The Coon
By: Carly McMacken in Tacoma, WA
Boo is a 14 year old Maine Coon who always gets her way. She has an attitude and a strong personality. She will always make her presence known.
She loves to cuddle and jump on places she shouldn't be which is evidenced by her fur. If one pebble is missing from her food dish she will let you know.
I couldn't imagine the past 14 years without my best friend who always knows how to cheer her humans up. I've loved every second of my crazy Maine Coon life!
---
Our Beautiful Niklaus!!
By: Cassie in Lakeland, FL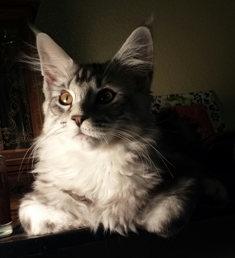 Niklaus
We adopted a Maine Coon Mix a couple years ago named Killian and he had turned out to be the coolest cat we ever owned.
We knew for sure that the next addition to our family had to be a pure-bred Maine Coon and my husband knew he wanted him to be gray.
I searched and searched and sent lots of inquirys for new kittens. I got a response back about a litter that had only been born the day before. She sent me a picture and I was SOLD!!! He was so adorable and I knew we would get to watch him grow through pictures so we made the decision and adopted Niklaus.
He has been such a great addition to our family. He is very very playful which keeps Killian occupied and also keeps our 10yr old Russian Blue Mix named Smokey a little younger!
He is also very sweet and loving and he loves to snuggle. We will be die hard Maine Coon owners forever!!
---
Bailey, Malibu & Shelby
By: Mervin in the Netherlands
The first time we visited the Maine Coon breeder, we were infected with the Maine Coon virus. We love them!
Our original plan was to get one Maine Coon, but at the moment we have three: Bailey (brown tabby), Malibu (black white) and Shelby (silver tabby).
Bailey and Malibu are brothers and 14 months old, Shelby is their little sister and 9 months old.
---
Ory
By: Julie in Pass Christislan, MS
catnapping
Ory is my buddy! He exemplifies typical Maine Coon characteristics such as companion behavior and constantly purring.
He loves to spoon while he sleeps. If my hair is wet, he will bite my hair. When I go for the morning paper or my husband is watering flowers, he'll faithfully follow behind us. He will also come to the back door when we call his name.
He is also feline, very agile showing great balance teetering on the edge of our fence. Often we'll find him atop the house or shed roof exploring his territory.
He hunts voraciously for vermin, rodents, birds, and even rabbits and snakes! He will not mess with raccoons, however. He also protects us from other cat attacks. He chased a black cat into a ditch recently.
He is funny, too. If he is dissatisfied, he will throw a small tantrum. He will let out a small chirp and slap at our leg or hand if we don't let him inside at his convenience. Otherwise, he is very gentle. He also swipes at the weeping willow branches when they rustle like a kitten although we think he's about 9 or 10 years old.
We have a great deal of enjoyment spending time with him and other two American short hair cats.
---
My Feisty Boy
By: Melissa Robbins in Cheyenne WY


My Tyson came to me at the time that we needed each other.
You see I just lost my beloved Tigger. He had gone to heaven and I was heartbroken very badly. My brother called me and told me that he had stopped at this yard, and at the home there were kittens that need a home.
My brother told me they were just about 3 1/2 weeks old and their mother cat had been hit by a car and had gone to heaven.
I told my brother on the phone no I'm not ready - you see I just lost my beloved Tigger, and it only had been four days that he had been in heaven. My brother had called me on a Saturday and then the next day of course is Sunday.
I did not know that my brother was on my porch and he could hear me cry over my beloved boy Tigger, well he came into my house and he said to me "sis let's go get the kitten he needs a home the people that have them do not know what they're doing the running around outside and they can get hurt just like their mom did. He needs a good home and you can give it to him."
My brother also told me he was not out yard sailing that day, but he and his wife went to Colorado to go have dinner and they got lost and found this home with these kittens. He said it was meant to be, so I went with him to Colorado on a Sunday afternoon and and there was my little boy.
I brought him home with me. He had a really bad upset stomach. I had to nursing back to health. He was four weeks old when I brought him to my home.
They were not gonna let me have him at first. They said he was too young. I said to the lady okay, then I got to talking to her about what I could do for him that she could not do. You see mama KEDIT already went to heaven and this lady was letting him run amok even eating dog food.
They had no idea how to take care of these babies. I told I am a very good woman and I love cats and he will have the best home ever. Tyson is still learning. Today he's learning how to be social. You see we all know when they're young like that it takes some time for them to learn and he's doing really good.
And yes he helps me and I helped him you know what I find funny about the whole story is Tyson's mother passed away September 26, 2012 and my beloved Tigger passed away September 25, 2012 and I am a firm believer in the afterlife for animals and I just know my Tigger got to meet Tyson's mother and they got together and made sure that I became Tyson's mother human mama.
---
Hobie Cat
By: Carol MacCallum in Murrels Inlet, SC
He was the largest, sweetest cat in the world! He was shy and such a gentle giant, over 24 pounds. We had him since his birth and loved him everyday of his too short life. He has just passed away from fibrosacoma. We miss him every day.
---
Miss Lucy
Miss Lucy
By: Debbie in Islip, NY
She was a rescue with papers.
She's little, she can flatten her self. I've never seen a cat do that.
---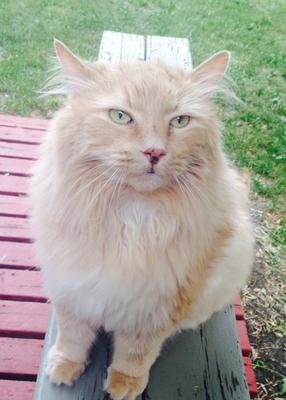 Everything is Bigger in Texas
My 30lb gentle giant, Texas, is the heart of our home. Greetings from Canada!
---
Luke...a cat, really? More like a dog!
By: Sarah Schminke in Iowa
300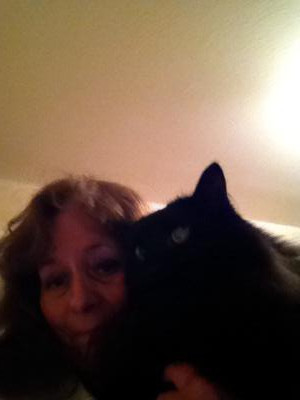 Luke and I!
We rescued Luke from our Humane Society at age of 9 weeks. He was just a LITTLE ball of fur.
He was a birthday gift for our 13 year old daughter, however, as is usually the case; the 'mom' that feeds, cleans and cuddles the kitten....is the one the kitten looks to as 'mom'! Yes, I am the mom.
Over the years I have taught Luke tricks....only because he seemed receptive to learning....just like a dog might act. Luke can roll over, sit up and beg for a treat, plays in the water when it's bath time, comes running to me when I call for him and sleeps with my husband and me at night.
Our LITTLE ball of fluff, about 3 pounds...is now a REALLY BIG ball of fluff at 26 pounds. He sports a lovely black mane and feathered toes...the Vet told us we were quite fortunate as Luke is indeed a Maine Coon.
Love my little, ah, big buddy...oh yes, and when my husband and I travel, we Skype to Luke and he answers with his lovely trill voice.
---
This is Harry Coonick
By: Anne Marie in West Midlands UK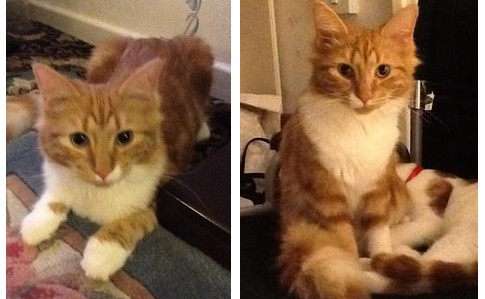 He is gorgeous. He is just approaching 6 months old.
He weighs nearly 4 kg and loves to play with feathers. He loves his brother very much and is very talkative and very intelligent.
He can open our swing doors as he hates to be left alone.
---
Cat Nap In The Middle Of Playing
By: Lori in Houston Texas
Marmalade is 7 months old busy all the time until she passes out just like my 3 year old granddaughter.
---
Superman
By: Gail Hyder in Missoula MT
He is very snoopy and into everything I do including cooking and typing on the pc.
When I use the bathroom he gets into the sink and calls me to turn on the water. If the litter box is even a little bit dirty he will sit and look at me till I clean it then he gets in and does his thing.
---
Scooter, My Precious Part Main Coon Cat
By: Ann in Laporte, MN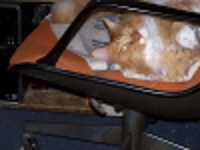 Scooter was born and raised here at my home. His mom was part Siamese and dad was a Maine Coon.
He follows me around like a dog. I had a leash and collar on him and we went for a walk around the yard, he just trotted beside me with his fluffy tail straight up thinking he was all that. Which he is.
When we go horseback riding I have to put him in the house because he would follow us. He is not scared of the horses at all. He rubs against their feet, walks under them.
And he doesnt have a normal meow, he yowls when he wants out and back in again. He loves water, plays in the sink if there is water dripping from the faucet. He plays in their water dish with his paw and the bird bath water I have outside.
He sleeps in the funniest positions too. He is a very loveable and sociable cat and greets people at the door. I call him my precious doll. He is my baby. He turned 7yrs old May 29th.