November 2012 Photo Albums
Welcome to our November Photo Album of Maine Coon Cat pictures! It was a very busy month!

Our four legged kid Monty
By: Renee and Andrew Richardson in Olympia, Wa, USA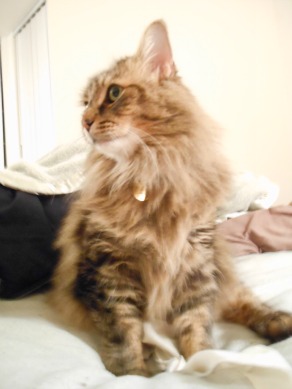 This is our rescue baby Monty. We adopted him at our local shelter days before he was scheduled to be euthanized.
He was a distinguished older gentleman competing with rambunctious kittens. He has been enriching our lives for four years now with no signs of slowing down.
He is so gentle natured and he loves to snuggle and play with his best friend Joanna the American Short Hair. He turns eleven this year and we are so grateful for our baby boy.
---
My Magic Betty and her babies!
By: Fantasymcoons in Zagreb, Croatia
These cats are the best in the world!
Comments:
Mickilla: Beautiful
Penny: There are no words! Just WOW!
Sue E: Your babies are amazingly beautiful. Thanx for sharing!
---
Meet Gizmo!
By: Terri Nagle in Tarpon Springs, FL
Gizmo is a 10 month old Coon that is a ball of fire and quite the little troublemaker!
---
Zephyr, my 6 month old Coon :)
By: Shawna in Chicago, IL
My baby boy Zephyr, sweet as can be.
---
Marco, the Sparkle Boy!
By: Sandra in Denver, CO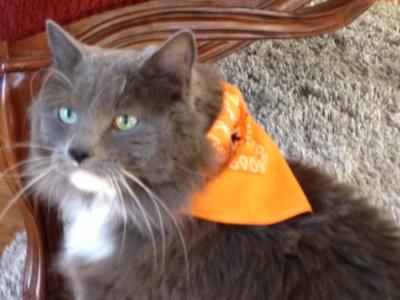 Ready to greet the Trick and Treaters. What fun.
I found Marco a local shelter a little over a year ago. He was "cute," but slender with short hair. He was supposed to be 4 years old, but over the following months he grew bigger and bigger and gained six pounds.
His fur grew out. He had either been shaved or just had a hair cut after being on the streets for awhile. After about six months it became clear that he is a mostly a Maine Coon Cat. He is smart and beautiful now. I feel so lucky to have found him.
---
Our Maine Coon Mix, Charms
By: Diane R in Lisle, Illinois USA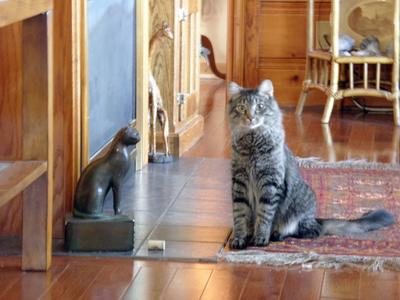 Adopted from Heartland Animal Shelter in Northbrook, Illinois, "Charms" is an 18 month Maine Coon mix.
He is very shy around people, but starting to warm up. He gets along perfectly with our other two cats, Jimmie and Annie.
---
Benji
By: Jasenka in Croatia,Zagreb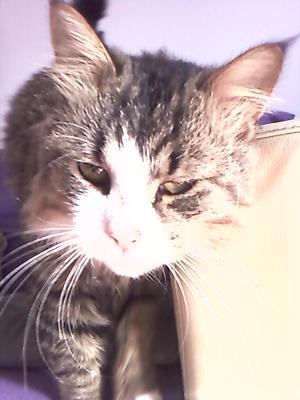 We adopted this male Maine Coon, and he become a big.. important part of our lives.
Benji is like a big spoiled teddy bear, always ready for hugging, eating..:)
11 months old ...and we are starting to wonder how big he will grow? :/
---
My baby girl... Calicoon Clair de Lune
By: Candace in Cookeville, TN, USA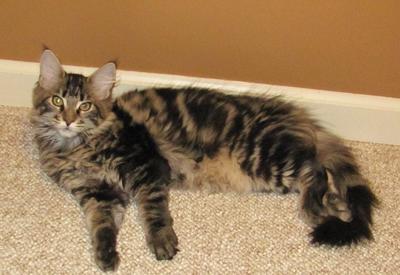 4 months old
Clair is my beautiful 7 month old Maine Coon kitten! She is a brown classic tabby with green-gold eyes. Her eyes are gold on the outside with a green ring around the iris.
She has tons of personality and charm and is always the life of the party! She loves playing with her older brother, Bodhi, my 12 year old Maine Coon boy. After a play-fest, they snuggle up together for a long catnap. She has certainly livened up the household!
She's always into something and loves "helping" me do anything from cooking to working on my laptop to taking a shower! She doesn't actually get in the shower, just patiently waits on the floor beside it until I get out.
She follows me everywhere! She and Bodhi will both sleep on the bed with me. If I get cold at night, I just throw on a Maine Coon!
---
He's my boy who completes my family
By: Jennifer in Brewer, ME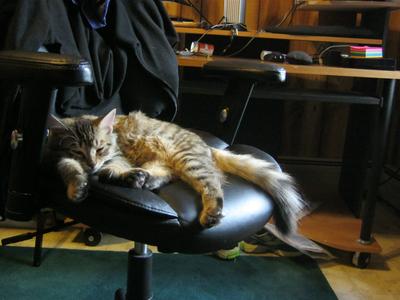 My boy at about 5 months
I found my Marcus at the Bangor, ME Humane Society when he was a little over 3 months old. He was a young kitten. Nobody knew anything about his background, his mom or litter mates or where he came from. All they know is an Animal Control Officer picked him up as a stray at a trailer park in rural northern Maine.
He's getting bigger. He's beautiful, fluffy, very playful and fun and loving. Strangely enough, although I did not "plan" or realize this when I got him, he has the perfectly canny appearance of a Maine Coon cat.
He's a gray and brown tabby with defined stripes, an M on his forhead, a growing tuft, like a lion's mane around the side of his face and ears just like the authentic pure breed Maine Coons. He has a super fluffy tail. His fur is growing and becoming soft and lush with the texture of the authetic breed that keeps them warm in the cold winter.
Isn't it odd that an abandoned kitten so young would have all the physical traits of a Maine coon cat? yet I have no way of proving or disproving his heritage or breed. One assumes he couldn't possibly be a full breed and was more than likely an accidental pregnancy, which means it's all but confirmed he can't be.
Yet he's gotta be a Maine coon. He has no "issues" riding in my car. He doesn't get freaked out. He loves to go outside and finds his way back. He's out-going and energetic and pretty sharp for a little guy as young as he is.
Comments:
Kim: He is so adorable, and looks just like my little Rescue Coonie, Buster. I know how much you love him, because I have never had a cat like my Buster. Enjoy him, he's a sweetie!
Sarah C: By the way u describe him, he is DEFINETLY a coonie. I got mine from a breeder and they sound SO much alike!! You lucked out finding him, he is too cute!!
---
Carmel Kat the Kar Rider
By: Jeff in Urbana, Illinois, USA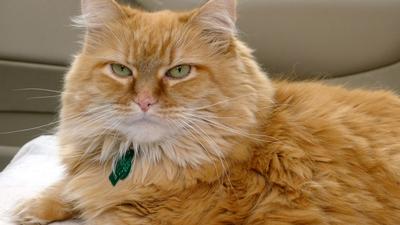 I got Carmel at the local Humane Shelter about two months after my previous cat Ms. Beasley was put down, October 2008. Beasley lived a long 19.5 yrs and was a wonderful kitty. I raised her from age 8 wks.
About 3 weeks later I missed having Beasley so much I thought I'd go look at the shelter and see what cat would choose me (always like to think of it that way). As soon as petted a few of the residents I knew in my gut I wasn't quite ready so waited another couple of weeks.
Upon my return I checked out kitties of all shapes, colors, and sizes but none were really speaking to "me". Then the receptionist said "we have a few adult cats in the back if you go through that door and to the left.
So, I went where she said. Again nice adult cats but I wasn't sure. I then saw another room with only 3 cats in cages. As I went in I talked to them all..... but one orange "Coonie like" kitty who had just been spayed (side was completely shaved as she was still lactating from recent litter they told me) was right at the front of the bars, rubbing away, talking a mile a minute. I opened it up and she practically jumped in my arms and started giving me chin rubs. SHES THE ONE! I knew it right then and there.
I told the front desk and they made me wait a few days since she had just had surgery, and of course they had to do a background check on me.
I picked Carmel up and she had no problem walking right in to her carrier as if to say "YAY, I"M GOING HOME". That was a week before Thanksgiving 2008.
Fast forward to now, Thanksgiving 2012, and I can't tell you how much I love her. She likes everyone, travels in the car like a dog, stays right in her yard when I let her out with me, Loves her belly rubbed, loves a good brushing, ....all in all....she's about as perfect as a cat can be. And Stunningly Beautiful as well!
She's a big lovable ball-o-fur and I'm soooooo grateful she chose me!
Jeff, Urbana Illinois, USA
Comments:
M.E.: I laughed so hard when I saw your cat sitting on the bathtub. Mine sits on there OR sits on the toilet when I take a bath, glad to see this personality is among all Maine Coons. Your cat is gorgeous, as are they all. Blessings for a fun Holiday Season. M.E.
---
Gingersnap!
By: Khris Blair in Connecticut
Almost a year old; she loves sunny windows and bird watching, sitting on your feet on cold nights,and purrrring when you snuggle with her. :)
---
Lucy Lou, rescued from the garbage dumpster
By: Lynne M. Elliott in Palm Bay, Fl. 32907
Lucy was found by a small group of children who heard wailing from deep within the confines of an old convenience store garbage dumpster.
My girlfriend worked at our local humane society and traditionally as young as she was the protocol was to put her down due to her tiny size and not enough people to manage her needs. My girlfriend took her home and fed her round the clock.
I saw one picture of her and though I had two dogs and one 8 year old cat (all rescues), I knew I had to have her and that she would get to own my husband and I.
As soon as she was 2 pounds, (the law) she was spayed and vaccinated and I went and paid the adoption fee.Since then my life hasn't been the same. Scotty the older cat literally listened tome as I told him that this kitty was his. When we couldn't find them I would invariably find him holding her down while he gave her a tongue bathing whilst she purred with delight. They loved each other and oddly she came from a home with more dogs than cats and taught him not to run they will give chase, so my older male cat started to enjoy his sunny and broadly dappled with shade backyard for the very first time without any angst.
Though I would call her petite compared to most Maine coons she has all of the markings and signs, every one, also loves the pool leaning in up to her elbows while cleaning her face.
I have 50 acres of oak hammock behind my home that will never be built on and we take our daily walks with joy and singing the "bunny trail" song.
Comments:
Debbie: What a beautiful girl you have!
---
Pippin
By: Yolande in South Africa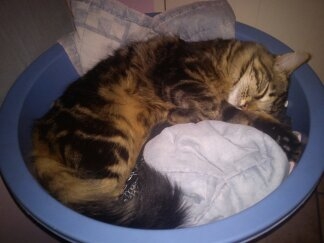 This little guy became part of our family when my previous kitty died from kindney failure. From the first day that I brought him home he brought the laughter back into my life.
He is a little clown who will let you cuddle him but not the sort to come and jump on your lap.
---
Meet Meesh
By: Jayne Hiltz in Goffstown NH
Meesh was doing his second stint at our local animal shelter.He had a list a mile long of negative things about him. Still, something inside me told me to give this big boy a chance.
That was a year and a half ago and I can say that Meesh has made great strides! He just needed the right home. I have a seventeen year old son with Autism and Tourette's Syndrome and despite how loud Neil can be, Meesh is his true buddy.
So great to see the bond that has grown between them. And it goes to show that sometimes kitties need a third chance. Third time was the charm!
Comments:
Lynne M. Elliott: How wonderful that he is such a buddy to your son. Look at that body language, sure tells me he is as content as can be!
---
Christmas kitty
By: Jayne Hiltz in Goffstown NH
Our Christmas kitty
This is Gabrielle. I am thinking she is mostly Maine Coon. We had just adopted her from the local shelter when the picture was taken.
---
Allie & Don Juan
By: Mary Vanoli in Amelia, Ohio
Allie
We got Allie from a shelter but she looks like a Maine Coon. She gets along great with my other 2 cats. She is about 2 years old now. This is a pic of her when she was a kitten.
Don Juan is our stray that we took in. He fell in love with Allie and vice versa. They are inseparable.
---
Happy Thanksgiving from Sherlock and Dr. Watson!
By: Dennis and Anita in Colorado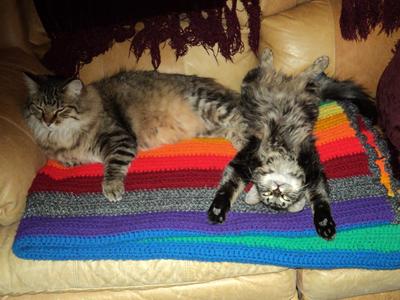 We are so grateful for our forever home and for turkey!
Our previous posts:
Sherlock and Dr. Watson
Comments:
Khadija: I like this picture specially the cat on his back. Love them!
---
Meet Cosmo
By: Terri DuLong in Cedar Key, Florida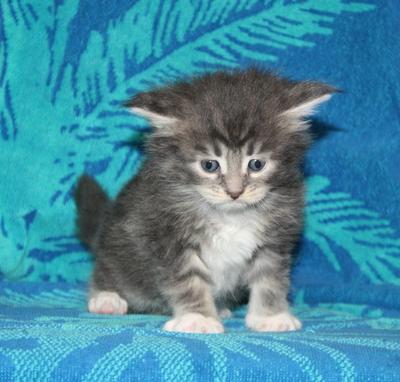 Hi, I'm Cosmo.....I'm a male, Blue Classic Tabby With White and I was born Oct. 19, so I'm only 5 weeks old and I'm waiting till January to go to my new home in Cedar Key, Florida.
My new mom and dad are going to come meet me at the breeder's house in a few weeks.
Comments:
Bev Turner: Absolutely adoreable.
---
Our New Little Peanut ... Piper
By: Wendy Roberts
Piper on the computer
We think Piper is a Maine Coon/Norwegian Forest Cat mix. We adopted her the day after Thanksgiving. She is about 3 months old. She was born in South Carolina and was found with 4 other kittens. A local rescue group found out about the kittens and they were brought to Pennsylvania.
She completes our little family. She has a 5 yr old brother now who is a beautiful Red Maine Coon. 2 days after bringing her home Kennedy and Piper run around playing and jumping. We are thankful that he was accepting. She loves snuggling around my neck and giving little kisses. She is a big love bug.
---
Meet Precious
By: Amy and Sheri in Sadsburyville, PA
Getting her toys out
We inherited Precious about a year ago, from PopPop. She's almost 3 years old. She acts just like a dog. He had taught her how to fetch and so that is her favorite thing to do.
She just loves to have people around her and gets very upset when she isn't with someone. She has to be in the middle of whatever we do. She just has brought so much love with her even though at times she can be our Wild Child.
She loves to sleep on her back and to be petted constantly. Our Maine Coon Cat is we think the best cat we could ever have. We love our other domestic cat Libby too, but she has never acted like our Precious does.
Comments:
Barb: What a beautiful Maine Coon.
---
My Barney as a kitten
By: Paula Wills in Penzance Cornwal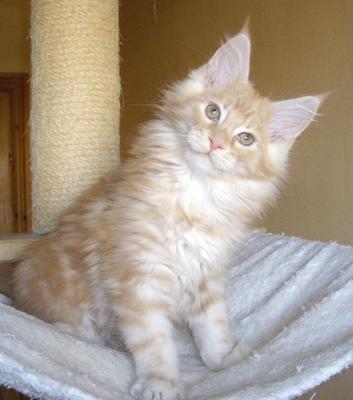 See me!
Barney Bear is a red silver tabby, very soppy and loves his cuddles and attention. He has just become a dad for the first time to my torite girl Rosie, and is very proud of himself.
---
Bruce Wayne
By: Anthony Octavius Corso in Wilmington, NC, USA
3 Weeks old
Bruce Wayne has a father that was a Maine Coon. He has all the specific temperaments of a Maine Coon. He's quite big for being a 9 Month old kitten.
He has fur poking out between his toes, and out of his ears. Sometimes he can be scary intelligent in the way he interacts with us and study's us. He loves to talk and trill, he's very loving and couldn't ask for a better kitten. We got him off of craigslist from a girl who's cat had gotten pregnant.
When we got him, he was neglected by this girl and had a ton of stuff wrong with him. He was so sick to the point he couldn't eat.
Luckily we took him to the vet and got him all straightened out. Bruce has become so attached to us that he gets sick if we are gone for too long. I've never had a cat before, only dogs, so Bruce has been a pleasant surprise when it comes to owning a cat.
---
Cupcake, the boss!
By: Kristina in Lowville, NY
We rescued Cupcake from our local SPCA four years ago. He has been the best cat ever. He is my best buddy and I don't know what I'd do without him. He is so funny and comical. He loves to lay flat on his back with a look like, "Whatta you lookin' at?"!
---
Grace
By: Michelle Hanson in Warrington, UK
Gracie is my beautiful 9 month old silver tortie. I got her when she was 13 weeks old from a registered maine coon breeder. She is very playful and loves to torment me, particularly when I'm trying to sleep.
She also has an unusual habit of suckling on my lip and when she's done she will curl up and go to sleep! She started doing this when she was about 20 weeks old and doesn't appear to be growing out of this habit just yet.
---
Molly the Maine Coon Mix Kitten
By: Jenni Siri in Ligonier, IN, USA
Molly 5 Weeks
This is Molly our cute fuzzy kitten. Her mama was a pregnant stray who we fed and she ended up having her kittens in our apartment. We secured great homes for mama and the rest of the kittens but we just had to keep Molly. She has become the love of our lives and a great playmate for our other (probable) Maine Coon mix cat, Buster, who is a gentle giant.
Molly is just so smart. At only 11 weeks old she already knows about 5 words and even sits on command! She loves to play, cuddle and leap on top of Buster, who is so very patient with her. She loves to drink out of the water faucet with Buster and is very talkative. She's outgoing and likes to see new things and meet new people. She's just a joy to have around.
I don't know for sure if Molly has much Maine Coon in her but she certainly looks and acts like it to me, either Maine Coon or Norwegian Forest cat, imo. Let me know what you think.
Thanks for looking at Molly's pictures!
Comments:
Arlene M. Baladi: OMG what a little sweetheart she is...adorable!
Jessy: What a cutie! Sure looks Coonish.
---
Loki
By: Heather in Australia
Three months old with gigantic ears and feet. This is our first Maine Coon and we plan on getting another next year.
---
Pure Joy
By: Janis Maxymof in Boerne Texas
I had a serious accident a few weeks after we got our kitten. I was in the hospital for about a month and I mised him terribly. My husband brought the rehab center where we had to have our visit in the ladies room in the lobby.
This picture is the minute I saw him. He had doubled in size but remembered me. Pure joy! And pure fun and joy since.
---
Lyn & Company
By: Lyn Ghent in Weston Super Mare, UK
15 Week Old Ted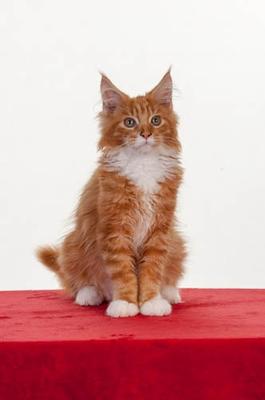 I've had enough of
this photo lark already!
Ok says Ted one eye shut,
they might give up!
This is Ted, our new addition, red/white 15 weeks old! As you can see getting thoroughly bored of photos now!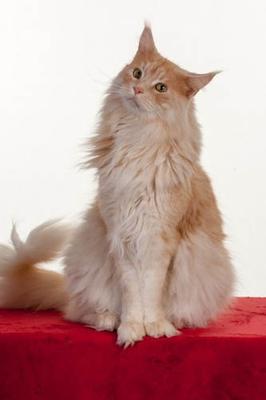 Arnie posing
for the camera!
Arnie!
This is Arnie, our 2 year old red/cream Maine Coon! A big softie, enjoys posing for the camera!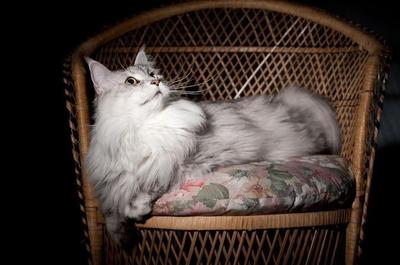 Crystal posing and
relaxing for the camera!
Crystal!
This is Crystal, our Silver Tortie Tabby, she is 3, and was our 1st Maine Coon.
Yum says Oscar!
More chews please!
Oscar!
This is our 1 year old red/cream Maine Coon, Oscar, mischievous and very lovable!
Comments:
Frances Hambrook: Lots of love from one Oscar pups to another x
---
My Beautiful Mr. Morty!
By: Debbie Helms in Chester County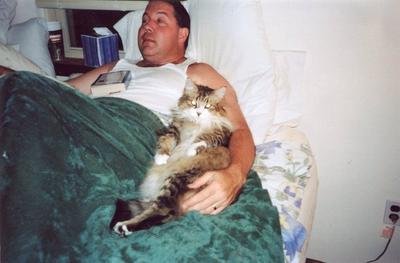 Mr. Morty and his
Daddy watching TV!
He is made out of love love love! I never had a pet so loving in my life. He loves his Daddy best and follows him around like a little puppy dog. They go out to get the mail together and take rides in the car.
And talk??? All he does is talk all day long. When we come home from work he tells us all about his day as he is waiting in the window for us. He loves to be combed by his Daddy too. He lies down on his back and raises his arms over his head and waits for it.
His favorite food is turkey so he had a nice Thanksgiving! I have a tabby cat from the SPCA and he watches over Miss Molly like a mother hen. He gives her kisses all the time. I pray we can have him forever!
Comments:
S. B. in Michigan Mr. Morty needs another Maine Coon: It is pure Joy To have Two Maine Coons WE know they are together like blood brothers... Best of friends
---
The Lion King
By: Ana L Duncan in Pensacola, Fl
You are supposed to growl!!!!
This is my boy Michael Phelps...yes, you heard it right.
He is a year old and amt Baby. He is a Blue Classic Tabby. I do have two more and they are female. One is a Blue Classic Tabby and and a Torbie. On this pic he is 11 month old.
---
Izzy & Libby
By: Laurie in Pittsburgh, PA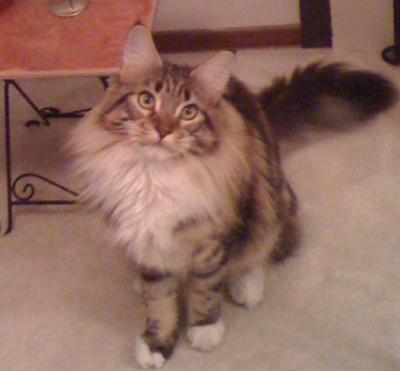 Izzy
Izzy turned 1 yr old in October. She is a brown/white Maine Coon. She has the most loving personality I have ever had in a Maine Coon. Her playing behavior is like no other too, she is crazy at times.
I have hidden the da bird mouse toy because she gets so aggressive & will do anything to get it...and then she will not let it go. She is my companion all day no matter what I do. I love her dearly.
Libby is Izzy's litter mate and a brown tabby. She is a big girl to say the least. She was twice the size of her littermates & weighs around 16 lbs already at a year old. She has a wonderful personality just like Izzy and is very vocal.
She talks all day long sometimes which is a welcome surprise. She will slip off sometimes by herself for some much needed no Izzy time. She's a special girl too & I love her also. Hope you enjoy the pics.
---
Ben & Max
By: Kim in Fort Myers , FL
Ben striking a pose
I am blessed to have 2 gorgeous Maine Coon boys in our home! Ben will be 2 in March and Max will be 5 months on Thanksgiving. They get along nicely, Max is a handful!! A true red headed little boy!! Hope you enjoy my photos!
Comments:
Lynne Elliott: They are both striking looking, you are lucky to have.
---
The Boys
By: Carole in Colorado
Aslan & Simba surveying their domain
I have 4 Maine Coons, 2 that are very large & 2 that are "normal" size.
The big boys are Aslan & Simba. The little guys are Cooper & Winston. All are rescues. They love to cuddle, play in the water & keep their pit bull in line.
They love to sleep w/ the pit bull & me on the bed at night. So it's pretty crowded.
---
My Baby Man....Scooby Doo
By: Jennifer in IL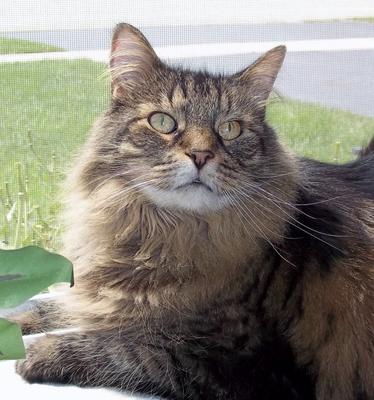 I adopted Scooby Doo going on six years ago.
I had taken my dog to the vet to get her nails trimmed and there was a cage in front of the reception desk that said, "Please adopt me...my name is Scooby Doo". I had never heard of a Maine Coon but fell in love with him at first sight.
His orginal owners took him to the vet and wanted him put to sleep but the vet wouldn't do that. They were getting rid of him because they had a new baby that was allergic to him. I took him home with me and he hid under the couch for two weeks and wouldn't come out. I finally found a treat that got him out for a few minutes and he went back to hiding.
One night, I was sitting in a chair with a blanket over me when I felt this thump on my lap. He had finally figured out that I wasn't there to hurt him and I wasn't going to return him and it has been love ever since.
Six years later, he is going on 15 years in March, and he greets me at the door when I come home from work. He has become my "little" shadow and follows me everywhere.
He is quite the lover and loves to curl up on my lap and sleeps with me every night. He loves to have "conversations" with me while I am doing things also. I don't know what I would do without my Scooby Doo....
Comments:
Kris: What a great story, and a beautiful cat!
---
Obe
By: Lisa in South Africa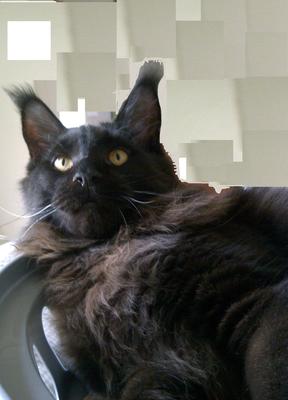 9 months old
This is Oberon Nimbis - we call him Obe.
The most loving boy you will ever meet, we live in sunny South Africa, his favourite past time being to knock stuff off tables and watch it crash and break, we can't leave anything lying around...
He's a black Maine coon loves love and cuddles but most of all loves to play... he is now 9 months old and growing rapidly.. we always know when he is up to something when we hear that brrrip sound... this is my first Maine Coon and by far the most favourite breed I've ever owned...
Love my boy to the moon and back!
Comments:
Patricia Speros: I know what you're saying about loving your cat for I also love mine very dearly, I'd be lost and I'm sure that you would be too.
---
Arya
By: Brooke in West Chester, PA
Arya is an energetic bundle of joy. At about two years of age, she is not completely done growing yet!
She enjoys climbing and exploring most of all! If someone is not paying attention to her, she will make her self known.
She loves talking back, and being apart of the group!
---
Fabulous Freddy-kins
By: Chrissy Kellems Silvas in Birch Bay, WA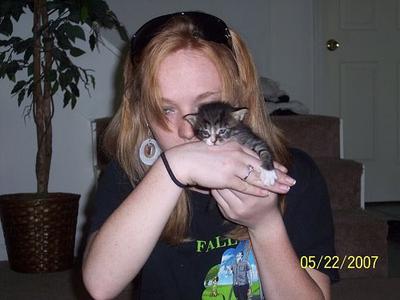 Baby Picture
Freddy is half Siamese and half Maine Coon and is 5 ½ yrs old. My brother purchased his parents just to have a mixed litter. Its a great combination the 2 breeds.
My brother still has Freddys folks and 2 of his sisters, and the rest of the litter is with other members of our families. Freddy is extremely talkative, and very lovable ~ but he also believes he is above the rest of house mates.
He is truly "my" cat and will also travel with me for work. I am honored and very thankful to be his guardian!
---
Jack Carter
By: Anne J in Spokane, WA, USA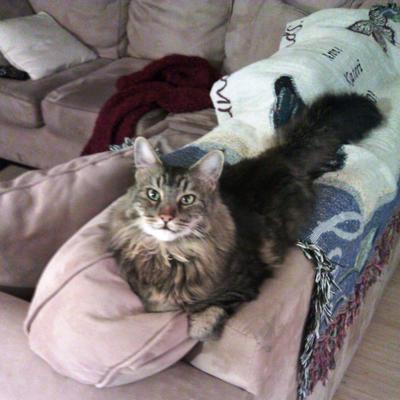 I had a Maine Coon when I was young and had always wanted to get one again. One evening I decided to google "Maine Coon Spokane WA" and a picture and description of the exact cat I wanted came up on Craigslist.
It was Jack...I added to his name... the Carter part, when he became mine. Jack Carter was exactly the cat I had hoped to find! A large, male Maine Coon, and best of all, he was free, already neutered and de-clawed, and needed a good home! I picked him up and brought him home and the rest is history!
We bonded the first day. He is most certainly my gentle-giant baby! :) He is a very affectionate cat, and I would say he is a lap cat (when HE wants to be:).
He has many typical Maine Coon traits and he rarely cries unless he wants to get my attention. He is also very kitten like--even at nearly 5 years of age. He is playful and definitely my best buddy! He has made my house a home.
---
My baby girl... Calicoon Clair de Lune
By: Candace B in Cookeville, TN, USA
Clair is my now 7 1/2 month old Maine Coon kitten. She is a brown classic tabby with green-gold eyes. She is such a little firecracker! Always into something... the center of attention in any room.
She follows me everywhere I go and loves playing with big brother MC, 12 year old Bodhi. Clair "talks" all the time in the cutest little chirps and trills, almost like she is narrating her day as she goes about it.
She is a big girl already at almost 10 lbs. Can't wait to see what a beautiful "lady" she will be as an adult! :)
---
My best friend "Drayven"
By: Muriel Austin in Sudbury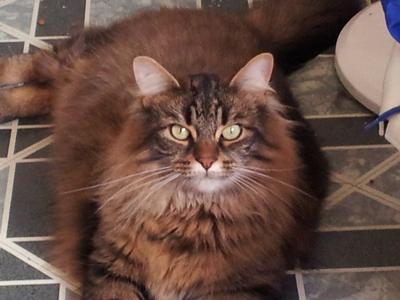 Drayven was a kitten from a cat mill that the SPCA saved. When I was looking for a other Maine Coon cat after my beloved Yin Yang pass away I never thought in a million yrs I would find one in a shelter.
He was about 6 months old when I got him and in order for me to get him I also had to take his brother. They havent been separated since birth and when they tried Drayven stopped eating and got very depressed so that the buyer brought him back to the shelter.
I agreed to take both Main Coons and as fate as it, Aries got attatched immediatly to my husband while Drayven became my shadow. From the first night we got them they both sleep with us Aries will lay beside my husband and Drayven as hairy, and big as he is sleeps on my head. Adopting my boys was the best decision I ever made.
The first two pics are Drayven, other two are Aries
---
Keith Richards
By: Lauri Roman in New Haven, CT
We found Keith and his mother Micki at our local no kill shelter. The wonderful woman who fostered them was there and was thrilled when she heard we taking them both.
Micki is a tiny tabby but Keith is half Maine Coon. He loves plaing fetch and watches and worry when I am out. They have made a cat lover out of my husband. We cannot imagine life without them!
---
Bullseye Update
By: Kelley in Fontana CA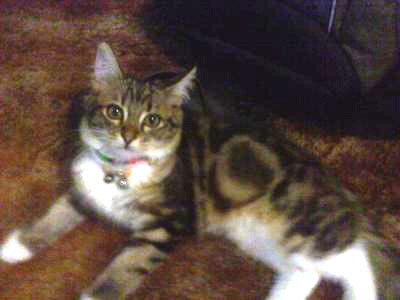 Bullseye is an awesome gift from God. She was starving when she came into our home and had eye infections and just needed alot of love. Angel and I love her very much.M/p>
She sleeps in homemade hammacks and she looks out the window now but most of all she is healthy. Each day she grows a little bigger.
Also we have noticed that she is double jointed and I have not ever seen that before.
---
My Handsome Ezra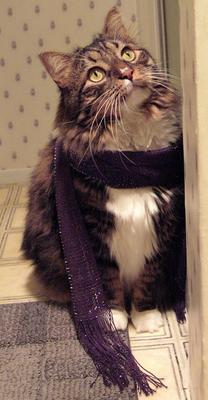 Ezra, All Dressed up!
By: Ella Testa in Lakewood, WA
Ezra is my 11-year-old baby boy who is an absolute joy. Personality since day one when I snatched up that scrawny kitten who spoke so adamantly and purred non-stop (Til this day!). It was love at first sight.
He is only half Maine Coon. His father was a huge, full-blooded MC. Ezra is about 25 lbs of solid cat, but a gentle giant who would never hurt a fly. He tolerates the noise and boisterous play of our toddler with absolute patience and extraordinary restraint.
I am so grateful for this big purry cat who is just a giant furball of love. He is an important member of our family.
---
Garfield
By: Michele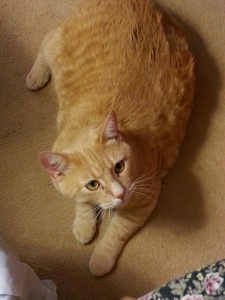 Garfield was a Wal-Mart free kitten 4 years ago, and my daughter and grandkids fell in love with this last, tiny kitty the lady had... so naturally, he came home!
He now weighs 24 lbs, has a really loud and different voice and purr, and is the biggest love in the world. He will actually get in between any of the other animals disagreeing and stop any potential problems... must be a Coon!!!!!
---
Samantha
By: DaOnne in Oklahoma City, OK
Samantha came to me earlier this year after her owner passed away. I've never had a Maine Coon just orphaned kitties. I've been intrigued since day one.
Sam loves to play in the water. And, when it's time to eat she does everything she can to get my attention. I love her little trill that she makes when she greets me or wants a special treat.
She has brought so much joy to me. I will be a forever fan of Maine Coons.
Comments:
Rita Miller: What is the rehoming fee? Any health or behavior issues? litter trained?
Note from editor: Hi Rita, nearly all of the cats on this site are already in their forever homes. This is a place for Coonie lovers to share photos and stories of their beloved pets. All the best in your search for a new fur-friend! ~Carrie
---
Twinkle Is Still Growing
By: Ray in Massachusetts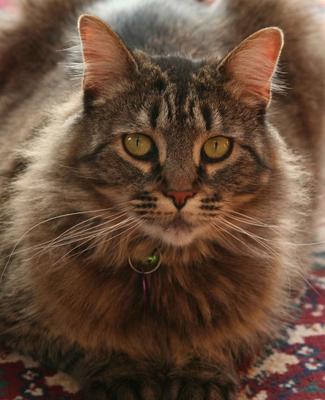 Twinkle is a Maine coon mix , favoring the Coonie side of her family.
She is two yrs. & 2 mos. old and measures over three feet from tail to nose. She has a long fluffy tail, and has long fur on her belly and over her ear openings, not to mention her feet, which have so much fur that she slides on the floors.
Twinkle is not a lap kitty, but likes to be around us. Her favorite play is hide and seek.
---
Hobie
By: Lia in FL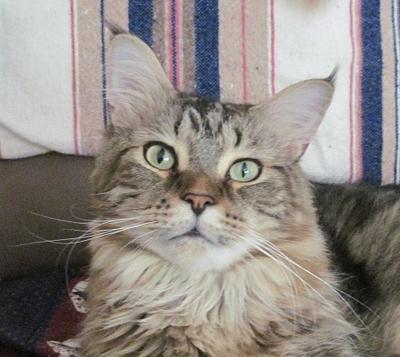 Our Hobie Cat is a beautiful classic brown tabby who kisses us everyday. He chirps and trills when we talk to him.
He loves his daddy who is his favorite human, giving him strong head butts and kisses all over his face. He has brought so much joy and love. He is a clown, doing crazy things to make us laugh.
I can't imagine life without him and our other Maine Coon of which I will also talk about in a separate submission.
Lia and Tim
Huckleberry
Our Huckleberry is a large, 19 lb male orange Maine Coon!! My husband and I love him as well as our other male Maine Coon (above), Hobie!!
Huckleberry is our toxic free bug exterminator, always on the hunt for bugs. He also loves to feed himself with his huge paws. He callows for us to play soccor with him.
He waits at the end of our very long kitchen while we skim pieces of dry food down so he can stop them and eat, very much like a goalie!! He also can open any door and get in.
He especially loves my long antique harvest table, which he loves to sleep on. He has his lovey time with me in the early morning hours, coming in and sleeping on the foot of the bed, enjoying me scratching his head and kissing his nose.
He and Hobie chase, torment, love, and stalk each other, coon chasing is big here at home. COONIDY 500 around here and more!!!
Comments:
Amy: My Lord! He is fabulous. He reminds me of Rum Tum Tugger from Cats!
Debbie Allison/ Monkey: Your cat is beautiful. Super beautiful. Are you going to breed him?
---
Quincy
By: Kris and Dan in MN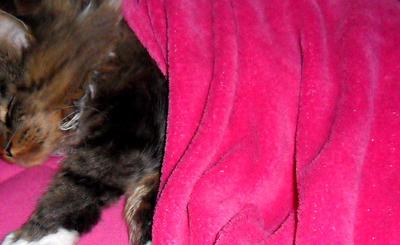 Quincy is our affectionate gentle giant. He's very talkative and is friendly with everyone he meets and very receptive to our other cat, Ashley.
(See Also:
Quincy's August Entry
Quincy's September Entry
---
Ashton AKA the Fluffer
By: Denise C. in Florida
Hi, my name is Ashton and I am a black Maine Coon from Florida. My Granma adopted me from the SPCA when I was 13 weeks old.
I came home to live with 3 other cats and 3 humans on October 31st. I love to talk and am always giving my opinions to my people. I love Temptations crunchy treats and refuse to eat any other kind.
I know how to open Granma's bedroom door and let myself in and out sometimes, but it's more fun to get Granma up to do it for me. I also like to go outside and chase lizards when Granma is gardening.
I am very spoiled and won't eat any other cat food but the crunchy kind! But I make up for it by being so sweet natured and personable. I follow Granma around all the time and try to help with housework, especially bedmaking!!
---
Here's Angel!
By: Mary in Orlando, FL
I found him in the yard under a tree, a tiny little wheezing sickly baby.
And he had these funny little "sprouts" that looked like curly whiskers around his head..after many visits to the vet and lotsa TLC Angel has grown into a healthy, gorgeous and very mischevious cat.
And the mysterious sprouts around his head? They turned into his lovely ruff. Angel is very affectionate, chatty, and loves to play. He doesn't like Halloween much, although he did make a very handsome fireman...Upside down in a nap, he could be mistaken for a shag rug.
Finding Angel was better than finding a winning lottery ticket!
---
Kitten and Lilac (All-White Brothers!)
By: Adam C. in Lowell, MA, USA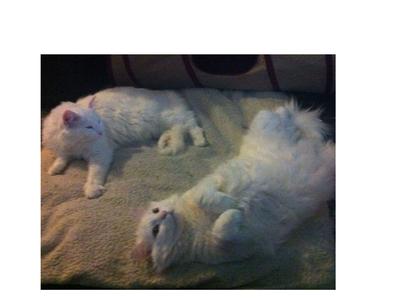 Kitten is the velociraptor in this picture!
Kitten and Lilac are brothers, both roughly 4 years old. Kitten has a weight issue, and is a massive 25 lbs! Lucky for us, the vet only recommends loosing 4 lbs or so, telling us he isn't as fat as we may think!
Lilac weighs in at a perfect 21 lbs, and the vet was surprised at his excellent shape!
Kitten is quite the lap cat. He loves to cuddle up with a human and a blanket, and it doesn't matter which blanket! Lilac, on the other hand, would rather sit behind you on the couch and swat you in the face lovingly with his tail.
We're pretty sure these boys are all Maine Coon; we inherited them from a dear friend who passed away suddenly. Kitten has adjusted incredibly well, but it has taken almost two years for Lilac to come out of his shell completely.
---
Doyle
By: Deborah Shany in Toronto, ON Canada
Doyle came to us at just under two years old. He will be three in March and weighs in at 18 pounds. He wakes us up each morning at about 4:30am by knocking over everything on the washroom counter. If that doesn't work, he starts flushing the toilet. Next comes the paw on our noses to see what's happening. We tried to keep the bedroom door closed but he scratches on that. HE JUST KEEPS GOING UNTIL WE WAKE UP !!!!!
Doyle does not purr, however, he grunts and very seldom meows.
He loves people and always makes his appearance when we have company.
He is a great bird cat, and has caught 3 birds on the balcony this summer. The first one did not make it but we managed to save the other two.
Doyle was adopted from a shelter by a couple but the woman did not like him at all and we find him very submissive.
He has a great big appetite and we feed him when he wants to be fed so he gets little helpings all day (always dry food on the side).
He is very sweet, handsome and we love him very much.
Deborah Shany
Comments:
Dianne: He is gorgeous!!!
Lee: He is beautiful Deb.
Joy McHenry: My Minka wakes me at 6 am. with a tap on my cheek, then two, a litle heavier, then a big chirp and a nose to nose attention demand... Are they not WONDERFUL irp.
Grayce Blair: Doyle is one big smart cat! He sounds like a lot of fun to have around! A beautiful cat!
---
To me the prettiest kitty in the World.
By: Debbie Allison in Douglasville, GA USA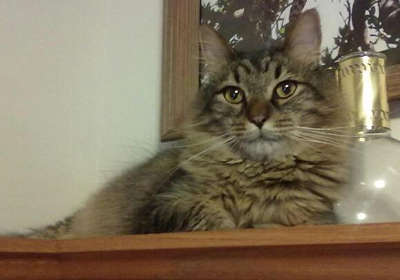 Monkey is the prettiest cat in the world. He chose me when he was four months young. I love him more and more everyday. Without his fun-funny dog like ways he would not be as special. Everyday is a new wonderful day of joy and love.
There are so many things I love about this cat. The first time I saw him he was four weeks old. He had a heart of a Lion. He ran across the street I was walking down and he tried to climb an oak tree that was a hundred times bigger than him.
Someone asked me if I wanted him, I said no. I already had Three much older cats. Two Weeks later he was at my mothers next to a busy hwy. I've had him since. Best kitty in the World. It took me Three months to name him. He earned the name Monkey! He jumps, climbs, gets into any and everything. He's even stolen my heart.
He is my third Maine Coon and he is priceless. Baker my first. He is in heaven. Boots, she is still with us. I had a Snowshoe and he was a Awesome cat. But, Back to Monkey, my love, my life, my dog-cat-monkey. I hope you enjoy him as much as I do.
Comments:
Loree: aww so beautiful
---
Charm
By: Irina in Oviedo, Florida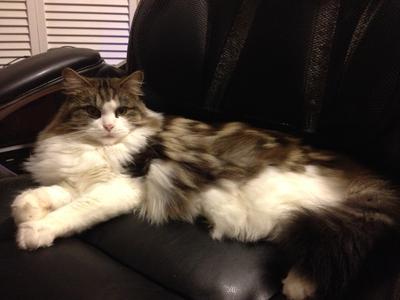 5 y.o female. We got her after she retired from breeding, brought the cat from NY to Florida, and now she is a member of our family.
Hates our Alaskan Malamute but their relationships are getting a little better.
Comments:
Jessy: Hey, Irina! That's my daughter's name. We have three cats and had until recently a Samoyed, now deceased, who loved cats. Not all of them shared his affection, enthusiasm.
Dianne: She is a beautiful, biiig cat!
Opal Rae: Irina, your Charm is so beautiful. I do believe my nine-years-old, Horatio, would fall in love with her.
---
Red White and Blue!
By: Stellla Gaylor in Edgewater Maryland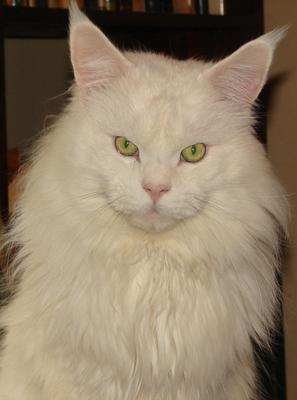 Willy a Solid White masking Blue
Ok not red but cream, a dilute calico, solid white masking blue, a white Odd Eye,(Willy's Daughter) and a blue Classic with White Cali's mother.
Papollo
By: Stella Gaylor in Edgewater, MD USA
Papollo is from Coonwyck Maine Coons, he is a solid cream and white male. He has produced stunning kittens for my cattery. He has the coat to die for but hard to keep from matting. He is a big old momma's boy.
Comments:
Anna: What a pretty MC. The coat is full and beautiful. Enjoy him.
Greta Velvet Aristocrats: we use special conditioner against matting, it helps.
Joy: A furminator will take care of any mats... It is an excellent tool.. Find it on Amazon for about $14 00
Judy UK: Bean - a beautiful MC who is very similar to our Amber except Amber's colours are more like an impressionist's painting - streaks merging from one colour into another. No solid blocks like your Bean's. A word of warning= if buying a MC that isn't a kitten, check their gums and teeth. Amber had bad gingivitis. When I remembered our dental hygenists telling us to clean our tongues, as soon as I'd done this the gingivitis had gone within a week :).
Carol: I love your boy. He looks just like my Scrappy I lost last Nov from heart disease. He had one eye and came from a scrapyard covered in motor oil. We couldn't even tell what color he was till after baths...He was the light of my life. Please let me know if you have any kittens you are having problems selling. Take care of your babies....
Barb: Magnificent Maine Coon!!
Maida: My coonie, Skylar, 7 years old and just recently adopted by me looks similar. So hard to keep the mats away!!! How on earth do you do it? Especially on the tummy.
---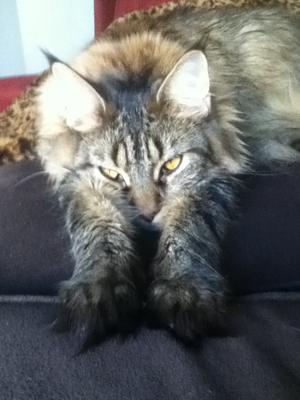 Bogey - thinking about catching Da Bird
By: Katie in Mesa, AZ
Bogey and his sister wait every night for their favorite flying bird cat toy to be let out of the laundry room!
Comments:
Cathi: Bogey must be cousin to our Michael! Love the "look"!
Roger Brown: Scooch has a bird just like Bogey's! And it comes out the same time everyday.......just like Bogey's.............maybe they're related....lol
Jessy: Bogey looks wonderfully wild.
---
Lilly
By: Adam M in Phoenix, Az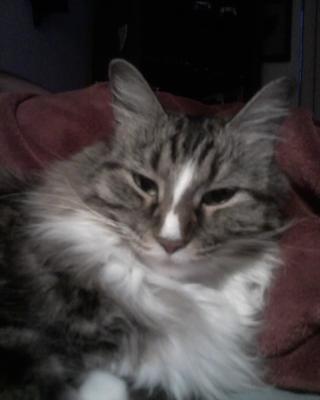 Lilly
Lilly is a very sweet and loving little 5 year old. I adopted her about 3 years ago and she was found in a forclosed home by the realitor. She was not sure to trust and let her guard down.
But as the years come by she gets more and more loving and shows her true self and is more comfortable in her forever home.
She always waits for me by the garage door for me to come home from work and or just out. I look forward to seeing her and her brothers and sisters who are Maine Coons too. She is my little buddy and always by me and followes me around the house.
If I leave on a trip my family lets me know she paces back and forth and waits to see me come in the garage which I always will return. I see it as my gain and grateful to have this sweet little girl in my life I will always protect her.
---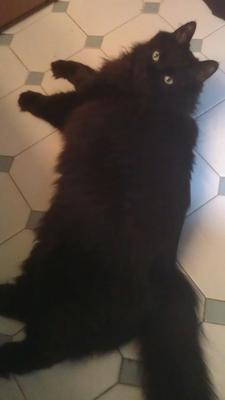 Baby
By: Maria in Chicago
We found Baby as an abandon kitten that was 10 weeks old looking for food and shelter in the garden.... We took him in and has been a blessing ever since for 7 years.
---
Wiley 1yr 5 month
By: Beth Davis in Ransomville NY
This is my baby Wiley going solo with out his Coyote R.I.P brother.
He is waiting for his new kitten buddy Zeus from Hollowcoonz Maine Coons from PA. So until Christmas I will make do with the small Siamese
---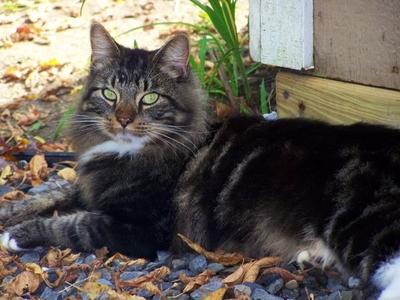 Socks
By: Greg and Davina Coleman in Albion Maine
He's our 3 yr old pure Maine Coon
Comments:
Ruth McConnell: Would love a MC with this coloration
---
Dillon, 6 months old
By: Deborah in Icard, NC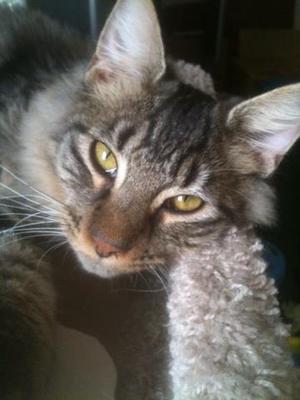 Dillon was a rescue kitty from Jefferson Parrish, Louisiana.
When the shelter he was in flooded during Hurricane Isaac, he and hundreds of other animals were shipped out to various shelters, throughout the US.
Dillon wound up at the Humane Society of Concord and Greater Cabarrus County, in NC, and I had the honor of adopting him while at a cat show in Hickory.
I've always loved Maine Coons and have wanted one for many years. He now has 3 feline siblings and 2 canine brothers, and has made a wonderful addition to my family. He is hilarious to watch, as he is into everything!
---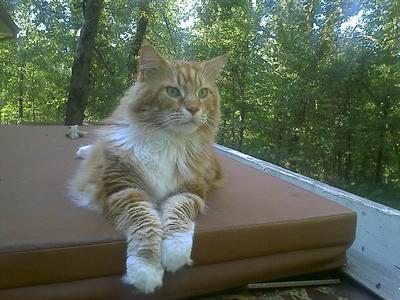 Dakota
By: Teresa in Linn Creek, MO
My handsome boy!
Comments:
Andi: Wow! He looks like a twin to my Dakota that I adopted at the shelter in Salina, KS ... right down to his "M"
---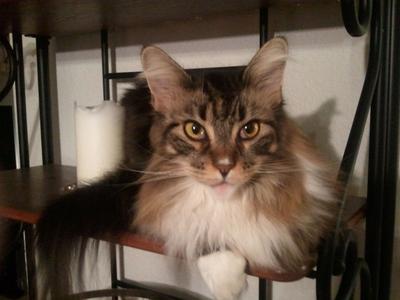 Dolly
By: Teresa in Linn Creek, MO
She is a princess!! Just ask her, she'll tell you!!!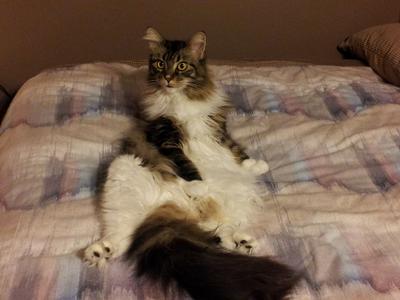 Caught red-handed!!
What? Can't a girl take a bath in private?
Comments:
Rita Noble: I know now that that position Dolly is in must be common for a Maine Coon... Mine always lays like that... Our was a stray, pumpkin and is so much like a dog, in facts listnes as well as our cocker... What beautiful pets they are....
Eva K: You are a beautiful girl. Congratulations on your being the November centerfold.!!!
---
Chloe
By: Amy in Sydney, Australia
I adopted Chloe when I was 8 years old she was living under an old house with her brothers and sisters. I would have liked to adopted them all but I choose her because of her colourings.
I came home from school and asked my mum if we could have a cat. She said no but I could not resist and the next day I brought her home anyway where my entire family fell in love with her.
I am 22 years old now and she is 14 years old, still as lively and healthy as ever! Very chatty and loyal to me. Her favorite things are watching Seinfeld with me and drinking my tea when I'm not looking!
Maine coons are the best breed of cat I have ever met, very intelligent, loving and playful.
Comments:
Lisa: I agree with you, main coons are the best cat ever, I have two 8 mo. maine coons and our house is alway full of adventure and lots of snuggles!
---
Chumly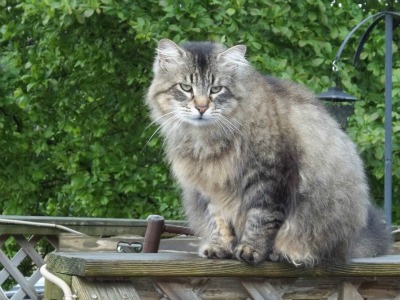 By: Melissa in New Riegel, Ohio
Rescued from small town streets by woman we adopted him from, was already full grown. Sleeps behind my computer and snores.
Comments:
Anonymous: Chumly reminds me of my Maine Coon - would like to get another one.
---
Henry, Hobie, Bo & Rory
Henry, isn't he gorgeous?
By: Carol Maccallum in
Maidens, VA, USA
Henry is my first Maine Coon and my best friend.
Because he's so awesome, I now have 4 of them!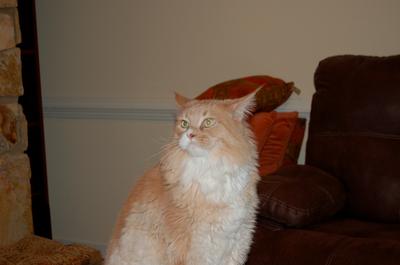 This is Hobie cat. He's a big guy, weighing in at 24.5 lbs.
He's a buff and white tabby. He truly is a gentle giant.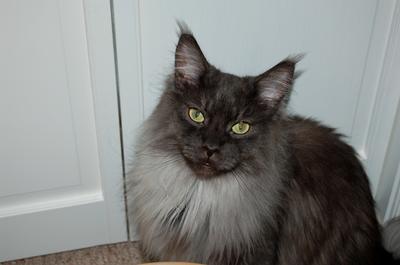 This is Bo. He's a gorgeous Black Smoke.
Before him, I didn't know Maine Coons came in this color. He's very sweet.
This is Rory. He's our youngest at 18 months.
He'll be big, he now weighs 17. We nick named him Sweetie because of his wonderful disposition.
---
Tigger
By: Sarah in Northampton, U.K
I got Tigger a few weeks ago I can't wait to see her grow, she is completely crackers when she's playing, but when its bedtime she snuggles under the duvet with us.
---
Huckleberry
By: Clint in Alberta, Canada
This is our 11 month old Maine Coon.
His name is Huckleberry (Huckleberry Hound Cat)
Comments:
Debbie Allison/ Monkey: This cat is beautiful. If you ever mate him please let me know. His beauty is wild looking...
Phyllis Ann Gatica: This is a beautiful coonie!!! Xx lovvve howw smart he looks!!
Kelly Fresh: He looks a lot like our cat Rebel. He is 2.5 year old and 25 lbs. We love him so much.
---
Tinkerbell - Queen of the Castle
By: Becky in PA
She was 4 years old when I adopted her, she was the runt of a litter from a breeder, and she was just kept as a pet instead of being bred. She is beautiful.
She is a Silver Tortie I think, but has one cream colored foot and stripes on her face. She has the face of a lynx, long with striking green eyes. Lover her to death.
The woman I got her from was also a hair stylist, and for some unknown reason, shaved her. I can't get her hair to grow out long again, I've had her for about 8 months. she is pedigreed, and you can see lynx in her face and has big, striking green intelligent eyes. Love Coonies!
Comments:
Susan: That's a big runt! Some people shave their Coon's backside because they tend to gather mats in that area. Sounds like her previous owner didn't appreciate her coon's signature long coat. Tinkerbell got very lucky with you!
---
Pagan & Pepper
By: Barbara in Cheshire
---
Our Cat Rebel
By: Kelly Fresh in Humble Texas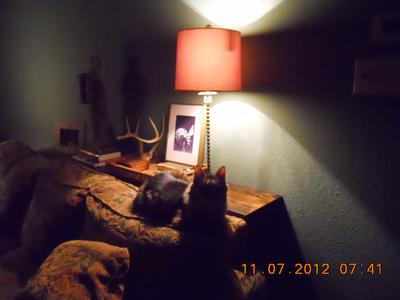 We got Rebel 3 months ago from a C.A.P in Houston, Texas. He's 2.5 years old with a weight of 25 lbs. He a great cat.
Darren & Kelly Fresh
---
My Babies
By: Nadia Beins in Malaysia
I have 4 cats, 2 female and 2 male. Prince, Princess,Pputeri and Bruster.
Puteri is 6 months and Prince and Princess are the parents. Prince is 5yrs old, Princess is 3yrs old and Bruster is 6yrs old.
Disclaimer: When you buy through links on our site, we may earn a small commission.
As an Amazon Associate I earn from qualifying purchases.
Our Coonies use and love:
Greenies
4.7 stars; 3.6k ratings
Furminator for Longhaired Cats, Large
4.7 stars; 15k+ ratings
Double Layer Waterproof Cat Litter Trapping Mat
4.5 stars; 56k+ ratings