Featuring Murphy!
Tattle Tails, Maine Coon Newsletter
February 3, 2012

In this issue:
Note from Editor:
Now that this is an archived newsletter, the links have been removed in order to keep this website neat and tidy.
Rest assured that each fresh newsletter contains all the live, handy links to articles and photo albums.
"I simply can't resist a cat, particularly a purring one. They are the cleanest, cunningest, and most intelligent things I know, outside of the girl you love, of course."
~Abroad with Mark Twain and Eugene Field, Fisher
Maine Coons In The News:
Did you know that Katy Perry is a Maine Coon Mama? The superstar recently tweeted a photo of Kitty Purry, her beautiful Coonie.
Kitty Purry was the inspiration behind Katy's first purfume fragrance, Purr.
And the photo was captioned with the word "Meow!" perhaps a nod to her new fragrance titled, you guessed it, Meow! Something tells me Kitty is living the good life![1]
Stewie, the worlds longest cat is in the news again. This time the news is not so light, and he needs our thoughts and prayers.
He has recently been diagnosed with lymphosarcoma cancer, which is a cancer affecting his right eye.
His owner, Robin Hendrickson, discovered a mass this past Christmas. 7-year-old Stewie will be undergoing radiation and chemotherapy at Veterinary Centers of America in Sacramento.[2]
---
Alice's Interview With... Murphy!
It's time for a reader favorite - Alice's Interview! Get to know Murphy, a very special and handsome boy!
"Hi Murphy! Thanks for taking the time to talk to me today! I'm looking forward to this interview. I've seen your pictures before on the site - you are a very photogenic kitty!"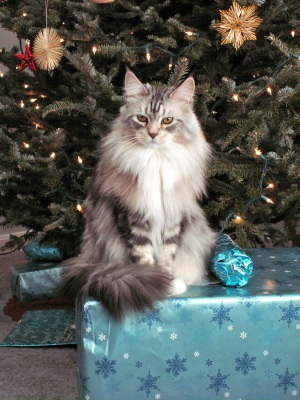 Thanks Alice! I love to pose for pictures, so my mom can get the best shots of me.
Have you seen the Christmas shot? That was some expert modeling work! I even patiently wait until mom can get her camera.
"So tell us a little about yourself: -- How old are you? Are you a purebred Coonie, or mix?
Do you have any nicknames, or maybe a longer name? What is your color?"
I'm 6 years old now, even though mom tells me I still behave like a kitten :) I am a purebred Maine Coon, and my official name is Pawstuctaway McMurphy. That's a mouthful!!
But mom calls me all kinds of other names, and, smart as I am, I answer to all of them with a happy 'mmmrrr': Murphy, Pookie, Murphlin, Smurph.... and some a little more embarrassing names like honey-bun, bunny-cat, etc. But we'll not go there :)
I am a Classic Silver Tabby with White.
"How did you come to live with Dunja? Did she choose you, or did you choose her?"
Well, I was living with my family at the Pawstuctaway house, and it was a LARGE coonie family.
I had 8 other brothers and sisters! Then along came my mom.
She was looking for a kitten to add to another kitten (my brother Chaplin) she already adopted and she always wanted a purebred Maine Coon, so she came to my house. She asked to see the Silver tabbies with white boys.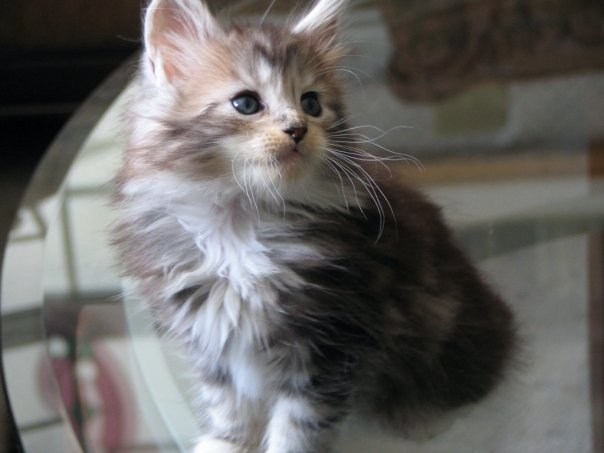 So out I came to meet her, together with another very cute kitten which was a little older than me.
Here's a picture of the very day she came to meet me. Well, I was only 4 weeks old at the time, and the other one was 7 weeks.
He was very handsome and really tried hard to charm my mom.... playing with her and even going into her lap and curling up!!
I thought for sure she was going to pick him. But somehow my mom was intrigued with ME!! I think it was because I worked my magic mojo. My mom says it was my sweet face, but I think it was the mojo :)
"Are there any other animals in the house? If so, do you love them, torture them, or tolerate them?"
Yes! I love other kitties and I am very glad that I have the BEST siblings ever! First, my number one bro... Chaplin.
He's a black & white medium hair cat with the most amazing tail.... even fluffier than mine! I call him big foot, because he's got those extra toes everywhere haha.
He's always good for a nice game of wrestling if I just chirp at him long enough.
Then there is my big brother Nelson. He's a brown tabby with white, a medium hair cat.
He's our boss, so whatever he says goes around here. I'm fine with that, but every once in a while I will get him to play with me too, a little exercise won't hurt him.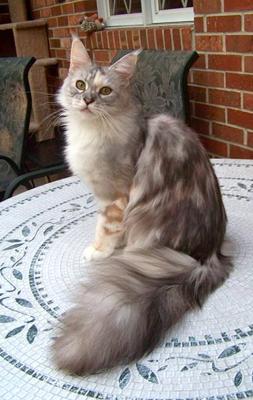 And finally we just got a new little sister, Candy Cane! She's a 1-year old purebred Maine Coon, sliver patch tabby with white.
People think we look alike, but NO WAY! I don't have any of her red coloring! She loves me, and I kinda think it's cool that we get to talk Maine Coon together.
She gets all my chirps and talks back. Of course we play together sometimes too, except she's really fast! I'll catch her one of these days.
Oh, and by the way, now that she's here, the fluffiest tail award goes to Candy. Sorry, Chaplin!
"What is your favorite way to bond with your people? Is there a special game you play, or place you like to snuggle?"
My mom was told that Maine Coons are not really lap kitties, that they like to lay next to you and not on you. Well, I beg to disagree!
I love to lay on my mom's lap and snuggle, especially when she watches TV. Sooooo cozy! Another favorite spot to snuggle is on top of my cat tower. Yes, people, I get the top spot!
Another fun way to bond with my mom is when she takes me for walks on the leash. I like to go pretty far, and check everything out, even go down the street.
I mind my mom pretty well when she tells me to turn back or come a different way. It definitely is a fun thing to do with mom.
Also, we do play a pretty fun game. It's called treats.
When I want to get my favorite chicken treats, my mom will hold her hand out and say 'paw' and I put my paw in her hand and leave it there until she makes a clicking sound.
And voila, she gives the treats to me! Cool, eh? Works everytime. Chaplin plays too. Candy still needs to learn this, but I'm sure she'll catch on to it fast. She's a smart one!
"Do you have any super-funny quirks? Anything that puzzles or annoys your people? Life as a cat has to include some mischief! Tell us how you stir things up!"
OH, I have tons of funny little quirks. Here's one.... I love to help my mom with the laundry!
If I am sleeping and my mom tells me it's time to put the laundry away, I will get up, no questions asked, and race her up the stairs to put the laundry away!
My mom tells me I'm a good little helper. Of course I am! The others just lounge around and sleep, so someone's gotta help, right?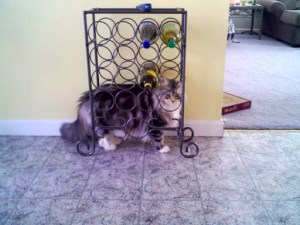 Also, I am a sleuth.... yup, that's my hobby. Here's what I can do: If you move or add ANYTHING to any room in the house, I will find it and sniff it.
I got a real talent here. Mom thinks I should work for CSI or something like that. If any evidence gets moved, I will find it haha!
Another not so cute quirk would be that I like to go into holes that are all together way too small for me.
That's how I got stuck under cement stairs one time. Mom wasn't happy, after a long time she finally could pull me out, because I couldn't get back out on my own.
She thinks I always get into some trouble like that, but hey, sleuths have to investigate!
"Anything else you'd like to share?"
I want to tell everyone that we have the most amazing outdoor cat yard, where we have lots of fun in.
We're completely safe from harm, because it's completely fenced in and we can even go into a shed.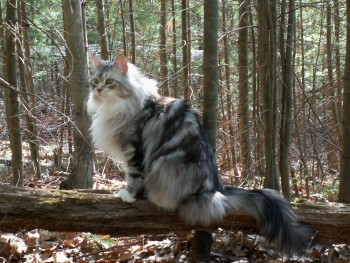 We love to go and hunt chipmunks and squirrels. That's always fun. Needless to say I am an amazing chipmunk hunter.
Mice inside the house.... booooring. Chipmunks in the outdoor yard......YEA!
Mom still gets annoyed with all of our disinterest in the mice population inside the house, but why deal with that when we have bigger fish to fry?!
Most of the time the chipmunks get away, so it's kind of a game of catch and release.
There's trees to climb, too, which got me into trouble a couple times since I can go way up high and it was a little, ummm, scary to come back down, but I did it! Most of my pictures are taken in our outdoor yard.
"Thanks for your time, Murphy! It was wonderful to meet you!"
Thanks you all for reading! I feel honored that you featured me. Mom is really proud of my accomplishment too!

To see more about Murphy and Candy Cane, visit their page, and even leave them a greeting!
---
What's New On The Site:
I recently added a new video of Alice & Leo to the site! Well, the footage is actually almost a year old, but I just learned how to edit, crop and add music to it! I think it came out pretty nice.
It's just a little montage of the two of them acting curious one day, a peek into the sweet nature of Coonies for folks who may not be familiar with the breed.
I put it on our top-viewed page, one that sees casual visitors just starting to learn about Maine Coons. 
The December and January Photo Albums are all wrapped up! I really like the new format of placing all the entries on one monthly photo album. It is so much easier to browse the site!
Some cats, such as Rainbow Bridge entries or submissions with a lot of words still get their own dedicated page (linked to from the Monthly Album).
You'll see that I've moved away from FaceBook commenting widgets on the Monthly Albums in favor of traditional a submit-comment style.
This is for two reasons: First, now anyone can comment, FaceBook user or not. Second, as the album grows (along with the number of widgets) it was taking forever to load the page! Now it will load quickly, no matter how long it gets.
As I continue to archive older entries into Monthly Albums you may have trouble finding your cat.
Rest assured, he/she is there! The location of your submission is likely to change to the album closest to when you sent it in.
And everything will be clearly organized on our main Photos & Videos page. Feel free to contact me if you can't seem to find where your cat has moved to.
---
Sweet Valentine Ideas!
With Valentine's Day just under two weeks away, this is the perfect time to get something special for your someone special!
Maybe it's a gift for your fur-baby, or maybe for the cat-lover in your life, here are some of my favorites: (I'll be getting the kitty pillow-pets for my two kiddos - kids looove Pillow Pets!)
---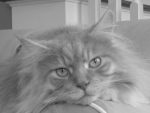 Leo's Valentine Tip:
"Most everyone knows that chocolate is poisonous to dogs, but what about cats?
Although we cats are not as likely to eat your Valentine's Day treats, if it happens, you'll want to call the vet immediately.
Chocolate is poisonous to us, and can be fatal. Be on the lookout for signs such as vomiting & diarrhea, hyperactivity, restlessness, frequent urination & or urinary incontinence.
More severe consequences include heart attack, muscle tremors, seizures, coma, and even death. So don't forget to keep your goodies well away from us!"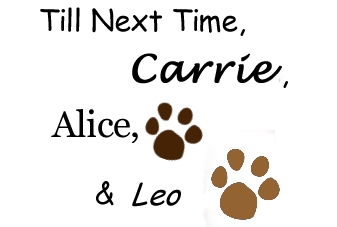 Return To Tattle Tails Back Issues Page