May 2015 Featured Coonies
Spring has sprung! Enjoy the daily additions to our latest album! Still haven't added your Coonie picture(s)to the albums? Click here to send them in today!
Odino from Eboli (sa) - Italy
By: Antonella Molino in Eboli (sa) - Italy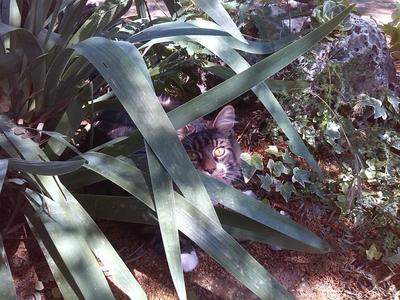 Hello everyone! This is Odino my Maine Coon, he is 6 months old.
I called him Odino because when I saw him for the first time it seemed to be in front of a deity so he was proud and fierce.
Now he lives together with another cat and two dogs.
---
The Care & Keeping Of Your Maine Coon Cat: It's hard to describe the love between a Maine Coon and their family. I know you understand! With such special family members often come special, breed-specific questions and concerns. Your loving Maine Coon is very unique, both physically and in purrsonality.
---
My Sweet Halle Mia
By: Marianne in Winter Haven, FL
Halle Mia
Halle (pronounced Haylie) was born right in front of my eyes on October 17th 2000.
She was absolutely beautiful and I fell in love instantly. I unfortunately lost her to cancer December 22nd 2014. She is terribly missed and I think of her every day. Many tears are shed for her dear sweet soul.
She was so kind and such a gentle giant. We had our routine where she would come to me at night when the kids were fast asleep and lay on my shoulder, just purring away.
When I got married, she totally and completely accepted my husband. Welcoming him in. She did the same when both of our beautiful children came into the world. As they got older and a little more rambunctious, she would go and find a quiet and cozy place to sleep the afternoon away. But even then, always greeting me with a little prrt and a big stretch. Then would come our nightly ritual. Oh how I loved those cuddly evenings.
Her cancer came swift (thankfully) and she didn't have to deal with pain very long. Had to make the hard decision to let her go and be in peace.
She went out of this world the same way she came in, in my arms. I miss you and love you Halle. You will always be remembered.
---
Mr. Muffin Aka Muffy, Loves The Camera - And Vice Versa
By: Carol And Don in San Clemente, CA
A Favorite Place To Lounge
We rescued Mr. Muffin (or did he rescue us?!) from the local animal shelter when he was 2 years old.
That was 7 years ago and we can't imagine what we ever did without him. He's spoiled rotten but still a VERY good cat.
He learned very quickly what he should and shouldn't do and he never misbehaves. He has the run of the house (indoor cat only) and is the center of our world! We love him so much!
---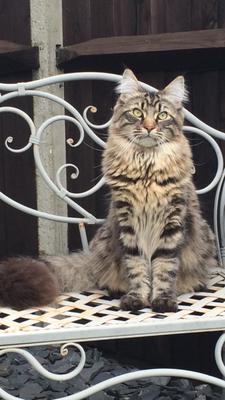 Sunning himself in the garden
Samson Enjoying The Garden
By: Natalie in Sandhurst, Berkshire UK
Samson is 10 months old and loves to spend as much time as possible in the garden.
He can spend hours chasing (usually unsuccessfully) insects and hiding in bushes from birds.
---
Marmite and Rolo Update
By: David in Cornwall, UK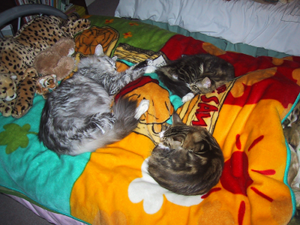 I have 2 Maine Coons, Marmite and Rolo (brown tabby with white brothers) as well as a variety of other moggies that decided they liked our food best!
I guess you know how it is... We had a 3rd Maine Coon called Zafira, a beautiful silver tabby with white, but sadly she died from acute renal failure after getting FLUTS- feline lower urinary tract syndrome when she was five. Our Maine Coons came from a breeder in Newquay called Jane Turner, who has emigrated to Canada- in the UK her pedigree name was Dotcom Maine Coons, but I've lost touch with her.
---
Amelia Earhart
By: Arianna in Boston, Massachusetts
During the biggest snow storm of this 2015 last February we drove from Boston to up Maine, we could barely see anything, to get our beautiful girl Amelia named after the famous woman pilot Amelia Earhart for her being brave and adventurous.
Amelia has been with us 3 months so far and she's the funniest (most hyper) sweetest kitten at 5 months ever. She share her days with brother Milo a Maine Coon mix (also called big teddy bear) and her doggie brother Jack.
She loves to lie down on mom or dad chest when we are watching tv to cuddle for hours.
She's from a champion line of beautiful Maine Coons, she's a Blue Torbie with Cream, at 5 months she weights 8lb and a huge tail.
Her favorite thing to do it is assist her mommy while working at the computer and try to catch the mouse (these modern cats!).
---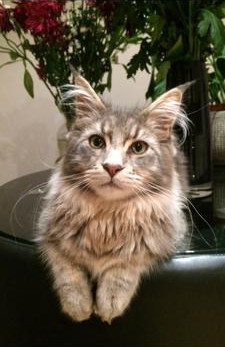 Hello I'm Norman :-)
By: Stuart in Chertsey
Hi, this is Norman. He's six months old and we think turning into a very handsome boy.
---
Spartacus (Sparty Cat)
By: Laura Kratt in Ottawa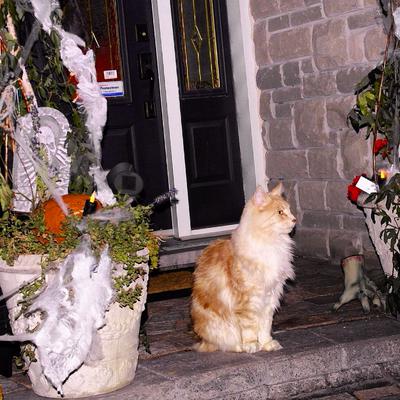 Sparty is a 3 yr old Male. At his last Vet visit, he weighed in at 21lbs. He is too big for the cat scales so they weigh him on the dog scale!
He is quite vocal. And his voice or trill changes depending on the situation or what he is trying to communicate, When he purrs he is so loud that he sounds like he is more than one cat.
He is usually shy around strangers but is comfortable and loving with his family and our newly adopted kitten.
He is a bit of a picky eater. He like's his Maine Coone hard food, some soft, or canned food, as long as it's fish based. Likes a fresh bowl of water every morning and for some reason, goes nuts over melon, mostly cantaloupe!
---
Tia - Approximately 18 years - Chatty Cat!
From: Melbourne, Australia
We are reasonably sure our beautiful Tia, who we have had for about 18 years, is a Maine Coon, or at least part Maine Coon and hoping someone can confirm that for us.
What a beautiful, warm, affectionate breed, totally against the traits that normally cause people to dislike cats. Tia talks to us constantly and certainly makes me aware of my place in the household :-)
(Note from editor: Hi There, your pictures didn't come through - This happens when they are large files, meaning high quality photos. There are tips here for editing photos for the web, if you'd like to try again.)
---
Binkers and Dolly
By: Kathy and Rick in Rensselaer NY
Binkers (yellow) Dolly (marble) were beautiful kittens that were abandoned in a field.
Hard to believe that someone could have done that but we are so glad because now we have them.
One day as my sister was walking her dog, they both came running out. She scooped them up and saved them and now they belong to us.
Almost like having 2 dogs in the house they way they behave. Such loveable cats too. We just love them!
Not sure what mix they are, but from what we have read and seen, they definitely have the character of a Maine Coon. They each have their own little quirks and are so lovable.
Every morning they have go in the bathroom and have to get a drink from the sink. Greet us every night we come home from work and give kisses. Always have to be wherever we are. They are just so much fun.
---
Boomer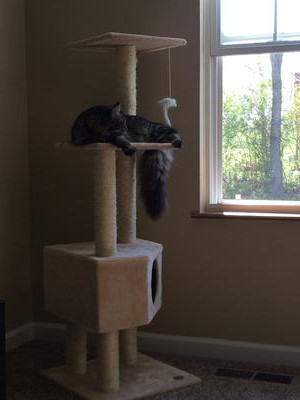 Boomer is what we think a Maine Coon mix.
He is about a year old now. His favorite toy is a paper wad.
He was bottle fed and the runt of the litter. He has stolen our hearts. Amazing cat.
---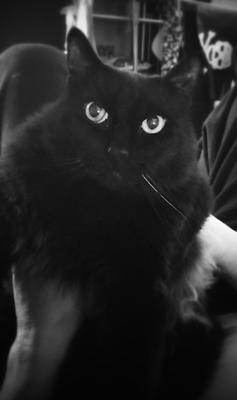 My Big Boys
By: Julee in Woodinville
Both my boys are lovers and always want our attention one loves the camera and his brother loves the camera.
---
T.C.
By: Donnie in Tolch
T.C 3years old and he loves to play.
---
Statuesque Beauty
By: Kim in Revere, MA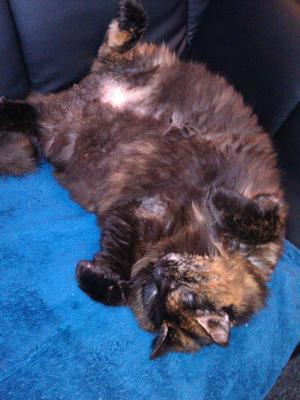 This is my girl Pozi. She is 13 years young. She is now an indoor cat. Love her to death!
---
Max My Ragdoll/Maine Coon Cross
By: Lynne in South Wales
Hi
I thought I would introduce you to my adopted rescue cat Max who is a Maine Coon/Ragdoll cross, though I think he's more Coonie, I have had him 3 1/2 months now and he is now 3 yrs and 3 months.
Max has a few issues. He is quite aggressive towards my 3 other cats - a Ragdoll, Chinchilla, Persian and her baby a silver grey tabby (father unknown ) She was pregnant when I got her.
Getting back to Max I am trying natural remedies at the moment. I have researched essential oils that are safe to use with cats and burn lavender oil and or ylang y lang and rose all calming oils I also put a drop on a soft collar it does seem to help.
You can tell when it is wearing off!!!! Max likes to be petted and have his belly rubbed ...within reason!! Not too fussed on being picked up. Sat on my lap once since I have had him, but will sit on the arm of my chair. And follows me everywhere..
Early days yet but we will get there.
(Note from editor: Lynne, your pictures didn't come through - This happens when they are large files, meaning high quality photos. There are tips here for editing photos for the web, if you'd like to try again.)
---
Dave
By: Angie Lucas in Fremont, MI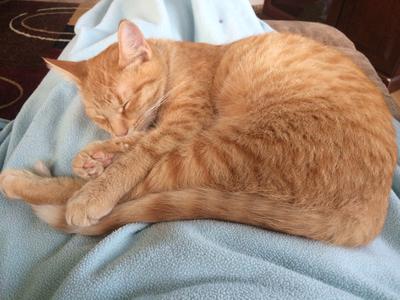 Dave is an amazing cat he was born 8/8/14 and weighs about 11 lbs.
He loves playing and snuggling and giving lots and lots of kisses, he lets my 3 year old do pretty much what ever she wants to him and he don't give 2 minds.
---
Honey Cat aka Big Cat
By: Debbie Watson in Milwaukee, WI
Honey was abandoned in the apartment building across the street from me.
I was having work done and the workers were living there and discovered him. They felt he and I would be the purrfect match.
I named him Honey so I can say Honey I'm home. He about 3 years old and owns the house.
(Note from editor: Debbie, your pictures didn't come through - This happens when they are large files, meaning high quality photos. There are tips here for editing photos for the web, if you'd like to try again.)
---
Love Buggs
By: Jessi Vigil in San Bernardino, CA, United States
My coon's name is Love Buggs a.k.a Toots. She is a black and white Maine Coon. She is currently a year old. Love Buggs is very loveable, playful, and she loves to rake selfies!
(Note from editor: Jessi, your pictures didn't come through - This happens when they are large files, meaning high quality photos. There are tips here for editing photos for the web, if you'd like to try again.)
---
Get Everything Maine Coon at Your Fingertips - Now: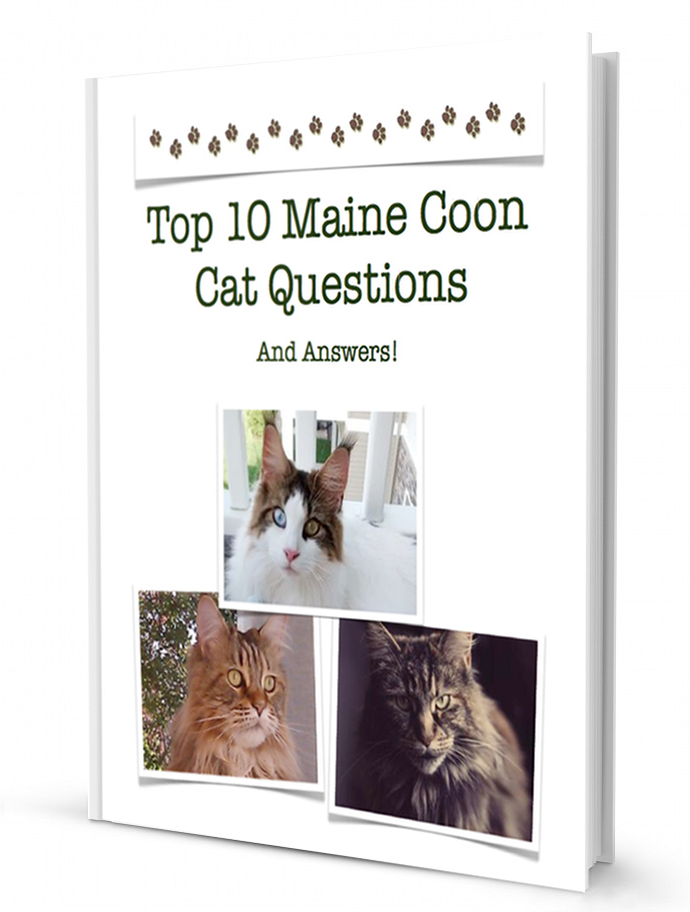 << The Care & Keeping Of Your Maine Coon is the ultimate guide to all the breed-specific needs of your Coonie. This unique breed has unique needs! A must-have.
The Top 10 Coonie Q & A's >>
is the essential handbook for all Maine Coon Questions, covering topics like nutrition and weight, "Is he a Maine Coon?," size, lifespan, and more.
Maybe-Maine Coon Cats For May:
Jynx
By: Sarah Blake in U.S.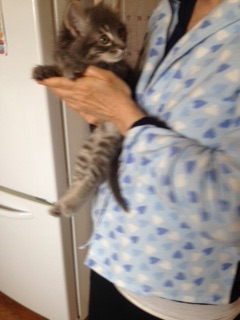 Hi! My cat is about 9-10 weeks old, he is 3.5 pounds, and we thought he might have a little Maine coon in him since there is one that is not neutered that is (very irresponsibly) let outside to roam.
He is a tabby with long fur, and although you can't really see it in the pics he does have tufts of fur behind his ears and a lions mane.
---
Rory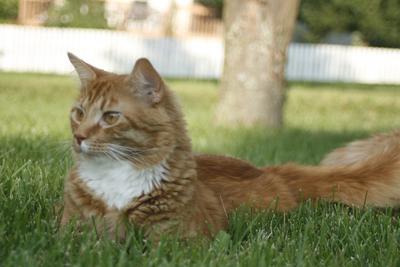 Rory might have some genetic material from a Maine Coon down the line.
Definitely not a pure breed as his brother has short hair and flame pointed color but Rory has the long tufts in his back paw "toes", a beautiful tail, beautiful coloring and a wonderful personality that Maine Coons also have.
Mijo
By: Tree in Canada
I was with my friend when she adopted Mijo from our local shelter, she took him home for a week but her boyfriend was allergic and couldn't handle it anymore so I took him in.
When we went to the shelter we asked his background story and one of the ladies said that someone had dropped him off in the night deposit box with a note that said he was an orphan because they found him all by himself at a month old.
I couldn't say no to my friend when she asked if I wanted him, even if my parents were super mad I got another cat. He was just to cute. He's going to be 2 this August and I wouldn't change anything for the world , even if he is Coon or not. <3
---
Quincy a Coonie?
By: Sondra in Vancouver, WA
Hello, This is Quincy. He will be 8yrs old on July 4th.
I adopted him and his Sister from my then Vet. He was actually the runt in the litter. He is a very long, rectangular cat, 22-24lbs, medium length fur (Winter time long maine & behind his front legs) very healthy, loving and smart.
He loves to ride on my scooter or walker. He will stand next to you and bump his hind corners on you until you give him attention.
When I say "love, love, love" he will come up and rub his head on mine.
---
Oliver an abandoned kitten
By: Rane Williams in Oklahoma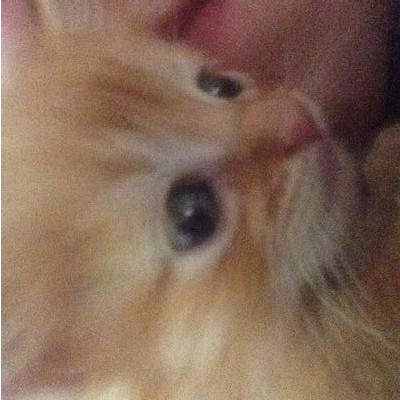 He was found abandoned.
I have a kitten I rescued before but they are not alike in looks my first cat is an American Shorthair.
Oliver is obviously not he is a small size but older than he looks about 6 or seven weeks at least loves to play. His eyes are now a greenish color.
---
Life of a Queen
By: Melanie in South Carolina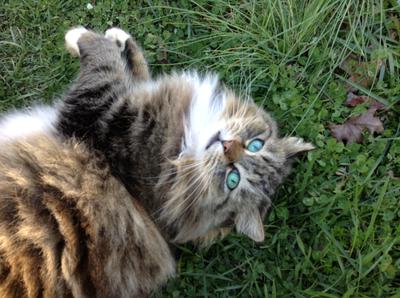 Darla
Darla came to me about 5 years ago. She just showed up one day so I am not sure if she was a stray or escaped from someone's home but it is hard for me to believe that no one would want this beauty!
She has a big heart and a big personality and all my cats know she is the queen.
A friend told me a while ago that she thought Darla could be a Maine Coon so I began to do a little research. She does have the tufted ears and feet and big bushy tail, although she is not a large cat at all.
She probably weighs about 6 or 7 pounds currently. She seems to be very friendly to my guests, but she is very territorial when it comes to other cats!
She makes a sort of skittering talk to me only, especially when she wants to play- which is often! Maybe you guys can let me know what you think.
I just wanted to share a little about my little queen- thanks for reading!
---
Willow - Maybe Just Part Longhair, But...
By: Susan Barr in Evansville, IN USA
Willow was a stray altho we think she was actually dumped or abandoned, because she was already spayed & declawed when we found her.
Why anyone would dump such a beauty is beyond me, but it may be because everytime she gets mad or something doesnt go her way, she pees on my bed. I guess you would say she has a behavior problem, but its something I'll just have to learn to live with since the vet says she's only about 3 yrs old.
She is also affectionately known as Room Cat because she has attached herself to me and refuses to leave my bedroom for very long, and rarely. Very, very affectionate, almost obsessively so.
The main thing that makes me think she might have MC in her bloodline is her feet with the very large tufts of hair between her toes, the tufts of hair inside her ears (no bobcat-looking tufts at points of ears), the large ruff of fur around her shoulders & her large busy tail, which actually isnt that bushy in these pics because she was ill several months ago & lost some fur.
---
Chaos and Mayhem
By: Elisa in Woodstock, GA
We got these boys from the shelter when they were 11 weeks old.
They both fit in one hand and we thought we has a couple of creamcicle kitties. Then they kept growing and growing.
Four years later Chaos (with the white vest) is over 20 pounds and his brother Mayhem is about 15. They have all the manners and traits of Maine Coons down to the ear tufts and "feathers" in their paw pads.
They are incredibly loving and just wonderful.
(Note from editor: Elisa, your pictures didn't come through - This happens when they are large files, meaning high quality photos. There are tips here for editing photos for the web, if you'd like to try again.)
---
Related: