May 2013 Maine Coon Cat Pictures
Welcome to the May 2013 Photo Album - It's blooming with beauties!
Brutus and Rusik - 8 month Old Brothers
By: Nass Athans in Melbourne Vic AUS
Brutus 16 weeks
After the passing of our beloved all black Maine Coon Jet from Lymphoma last year, his all white brother Ice was very lonely and sad.
We waited a few months before we decided to find him a new playmate and were lucky to find a breeder not far from where we had originally bought Ice and Jet.
It was a difficult choice to make as we found both kittens adorable, but at that stage, we were only looking at one kitten, so we chose the little blue smoke kitten who would become Brutus.
A few weeks later we decided to check if the classic tabby kitten had been sold - it was still available so we got him too and he became little Rusik.
Initially there were some difficulties with the three boys getting along, but Coons being such sweet natured cats, eventually all settled down and now they're all best of buddies. :)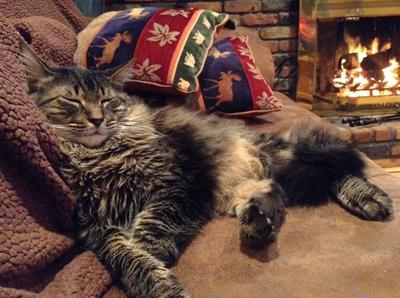 Ozzy
By: Mike in New York , L.I.
9 year old Ozzy. 17+ Lbs.
---
Lizzy, What a Great Momma Cat
By: Cathy Johannes in Auburn, KS, US
Momma & One Week Old Daughter
Lizzy is my first breeding Maine Coon Cat. She is such a good Momma Cat. She is a very loving and attentive mother. She protects her little ones and keeps them nice and clean. She is so funny. When she decides to move the kittens, she also movies toys for them as well.
We have enjoyed having her! We also love watcher her kittens play and grow. Their sill antics and play keep us amused and brings us great joy. It is very hard to let the kittens go to their new homes when they are old enough!
---
Djamo, Eros and Aquilla
By: Christa Heyvaert in Belgium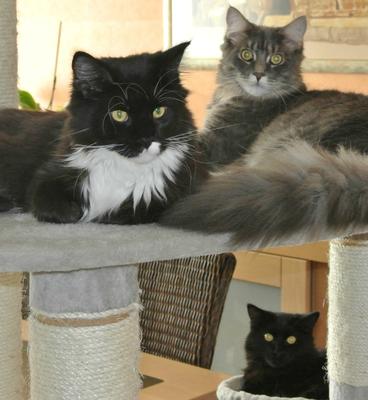 Djamo, Eros and Aquilla are three brothers who were born on 14-09-2012 at cattery Matanny in Terneuzen.
Eros is a black devil who is not the virtues of the three. Djamo the Blue Tabby who does not prefer his food is therefore the smallest of the three. Aquilla is the gentlest.
---
Loki watching PBS Kids Show
By: Magda Mae Bowman in Freeport, FL


Every morning Loki spends some time on his stool watching the PBS Kids Show sometimes for as long as 15 minutes. He gets very animated himself with his head and paws along with action that he's fallen off but gets right back on.
Playing solitaire is another of his favorite pastimes. If I stop moving a card he looks back at me, then down at the mouse as if to say let's keep playing. He tries to help move the mouse which is OK except when his needs his nails cut.
He's 17 weeks old with a lot of energy and loving traits, veery affectionate.
Magda Mae Bowman
Freeport, FL
---
Little Hawkeye
By: Mary Sorgi in Saukville, WI USA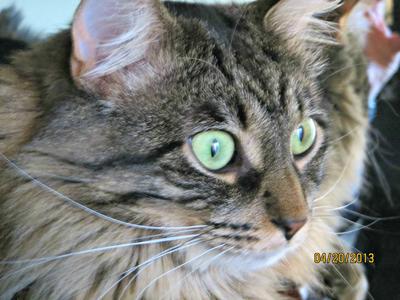 I have Hawkeye, a surrender at a vets office where I work.
He had crystals in his bladder and is on OS food for the rest of his life, came to the office at only a bit over 4 pounds at a year old.
He loves to play with feather wands and laser lights. He has toys, but likes to play with me better. I have had him now for a month and a half.
---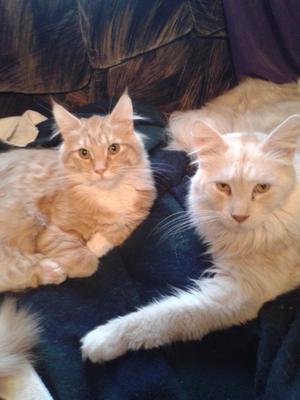 Zeusifer
By: Beth Davis in Ransomville NY
Just getting big at 8 months - 10 lbs.
---
No pictures please!
By: Liesbeth in Netherlands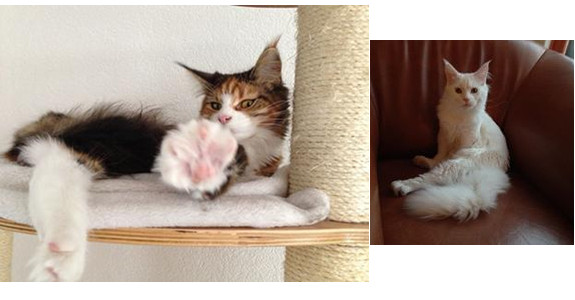 No picture please!
I have not done my hair yet.
Yes - what is your desire?
Missy - the diva - is cuddly and normally in the picture.
Kaspar - the pasja - is sweet and generous
both almost 9 months old
---
My 3 Maine Coon cats
By: Guylaine Fallu in Baie-Comeau, Quebec, Canada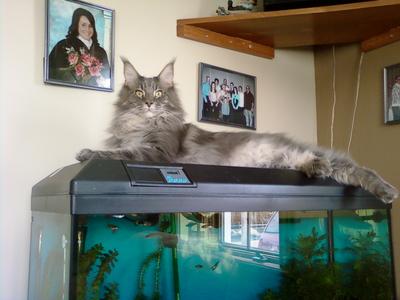 I am the owner of 3 beautiful Maine Coon cats.
The first one is a 6-1/2 year old brown and black classic tabby named Lacocoon Stan.
The second one is a 5 year old blue classic tabby named Lacocoon Timmy.
And the last one is a 5-1/2 month old solid black named Lacocoon Marvin.
They all come from Lacocoon cattery in Lacolle, Québec,Canada owned by Danielle and Jean Lacroix.
You can see their beautifull cats at: www.lacocoon.com
---
Meet Miss Magic
By: Shelli Kirkpatrick in Eugene, Oregon
I sent in our Magic's photo last fall. At that time, she was 5 months old and 7-8 pounds. She just celebrated her 1st birthday and our "little" girl is a nice sturdy 15 pounds. Her size is not the only thing to blossom, but her personality has too.
We recently went on a week long vacation, and according to my sister who kitty sat for us, she would walk through the house calling for us. When we arrived home, she greeted us at the door with her trilling talk and followed me through the house talking to me until I stopped to pick her up. Magic was a bottle baby when we adopted her (her mother had been killed when she was 1 week old) and she wants to be held like a baby in her morning "love" times.
I am a full time student, and she is my faithful study partner, sitting for hours next to me while I do my homework. Magic plays for hours with her favorite toy, a plastic spring cat toy. She carries it through the house and calls to it when it goes underneath the sofa. We just love our sweet girl! You can follow her escapades on instagram @SHELLIKK
---
Sofi
By: Mane in Cordoba, Argentina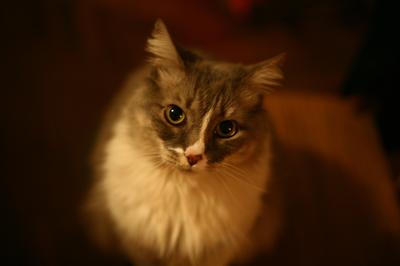 This is Sofi - She sleeps on her back, talks to people, plays with everything and loves everyone!
---
Miss Persia enjoys the spring catnip plants in bloom
By: Tina C in Central Point, Oregon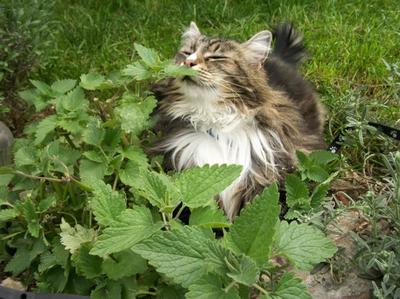 Miss Persia enjoying the catnip plant
Miss Persia was a rescue. She was placed at the pound at about two years old. I had lost My precious Regis on June 7, 2008 and I never cried so hard and I was so lost.
One day I decided to go to the pound and look and hold kitties. I didn't know I would bring Persia home but when I saw the teardrop shape on her nose, I knew that this was some sort of sign that she knew we needed each other.
I asked to hold her and she put her head under my arm. They told me she was quiet and timid. She was scared and I didn't know if I could love again.
When I woke up the morning after I got her, she was sleeping near my head. It didn't take long for me to fall in love with her.
She is very vocal. She loves to go outside and watch birds with me. She sometimes sings with me or maybe she is trying to drown out my voice. I love her so. I think Regis would approve although I will never forget all that he taught me.
I created an area in the backyard when Regis was alive. I called it the lawn patch. Just a bit of lawn under the bushes and many plants including many catnip plants. Miss Persia does enjoy the catnip plants. That is our time to enjoy nature and just be with the world.
---
Jeronimo 1st time out in a yard
By: Anna Reed in Athens Greece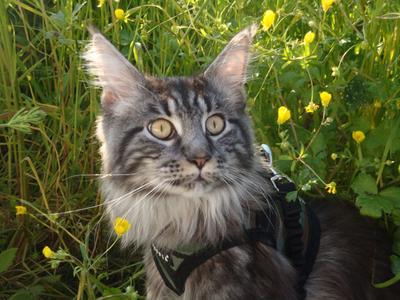 Jeronimo is now 10 mths old. He is about 5 kilos-so for a male Maine Coon he seems to be a bit on the small side BUT full of big boy energy and curiosity.
We went out to my in-laws home out in the country side and we took Jeronomi along for the weekend. We were worried that he would hide somewhere since it was his 1st time out (on a leash).
I must say he checked out the whole garden... chased butterflys and spied over the fence using his meercat stance!!
---
Beau - All Grown up!
By: Roberta in Victoria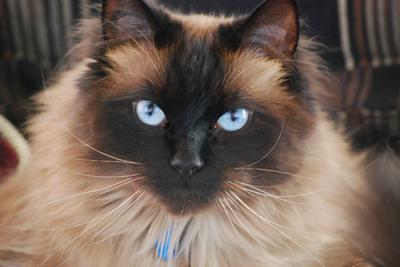 Beau has never lost his kitten playfulness. He still fetches (wine corks are a fave), dances with sunbeams, and has never met a twist tie he doesn't love.
He has the Siamese markings but a chirpier voice and will follow me around all day commenting on what he sees. And until I met Beau, I didn't know that cats snore.
---
Isaac
By: Jenna in Ontario, Canada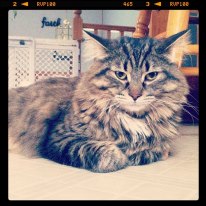 Isaac is a very handsome man. He loves looking at himself in mirrors, blank TV screens and glass (anything reflective). He is even known to skype with me when I'm away!
He loves people and is very sociable. He loves meeting new people and being picked up. He even loves kids; he once let a friend's two year old ride him around in my living room!
Isaac is almost two years old. I got him from a family friend who couldn't take care of him. He was four months old, and weighed less than four pounds when I got him. He was full of fleas and worms, but we quickly nursed him back to health. He now weighs over 20lbs and is very active and playful.
He loves toys that are shiny or make a crinkle noise, and loves any kind of paper. His favorite is reciept paper as it makes a crinkle noise while he carries it around. He also loves to take reciepts out of garbage cans, purses or any where they may get left and shove them into shoes.
Follow-up Submission:
Isaac found his way to me two years ago, when a family friend couldn't find a home for the last (and only male) of the litter. When he came home with me, he weighed only 4LBS and had a bad case of worms. He was full of fleas--I've never seen so many on such a tiny cat!
Isaac is 22LBs of 100% handsome, and measures 36 inches from the tip of his nose to the tip of his tail.
Isaac has all of the traits of a maine coon cat. His size is impressive, and most people who see him cannot believe how big he actually is. He stomps around the house like he owns everything, and is truly "The man of the house". He is sociable, meeting everyone at the door when they come in, and at gatherings and parties, he makes sure to rub up against everyone. He has even been known to skype with me while I'm away at school!
Isaac enjoys hiding his toys in people's shoes, and looking at himself in reflective surfaces (mirrors, glass, television screens etc).
Isaac was named after the oldest brother of the band Hanson, but his behavior and poise earned him the nickname Isaac "Handsome"!
---
My Brown Tabby
By: Heather Dunlavey in Wilson, NC, USA
My mom had gotten Rowdy in 1999, when I was three she found him on a naval base in Lamore CA. All his life he didn't know he was a cat with meow you could he all the way to the edge of the yard.
He was my best friend all the way till the end. We had found out that he had inoperable cancer in his bones. We gave him pain killers to last a little longer. Christmas of 2012 (13 yrs later) was here and we knew it would be his last. He changed completely. He hid in my moms closet didn't want to be socialized with my other cats or to be petted. It was like he just gave up.
It was hard to see my brother being broken hearted. I still talk to him before I go to bed.
---
Regan
By: Myranda in Maryland, United States
Regan is the funniest little girl who is blending in nicely with her wild adopted brother and sassy sister.
There's not a day that Miss Regan doesn't get in our faces and demand to be loved and acknowledged.
She loves to sit directly on laps during movies or anytime an opportunity presents itself.
---
Salem ShaedowDancer
By: Shaedow in Westmanland, ME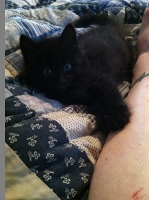 Salem
ShaedowDancer
I acquired Salem from a private party who claimed she is a purebred Maine Coon.
She fits all the descriptions of a Coonie, including being wherever I am, following me everywhere, and having a beautiful, loving personality (she's a big time lap kittie!!)
---
Cloudy and Toby. The twins with opposite personalities!
By: Lindsay in Chateaugay, NY
Cloudy and Toby are part Maine coons about 7 years old. We adopted Cloudy and Toby from a newspaper ad as kittens. Out of the whole litter they were the only two with that color and they looked so similar.
Cloudy is slightly darker in fur than Toby. He also has quite a bit more fur especially around the scruff. He loves everyone and allows anyone to pick him up and cuddle him. He is never afraid to tell you when he wants attention and when you give it to him, he has quite a big purr. His nick-name is fatty (although his weight is average for a Maine Coon)because he loves to eat.
Toby is a little lighter in fur color than Cloudy and is slightly smaller. He's on the skittish side. Over the years he has come out of his shell a bit more and more. He is a playful cat and loves jingly things.
I also have found out despite his skittishness, he loves his belly rubbed and during the night he will play and chase his brother around the house. His nick-name is pop-tart because every time someone opens a pack of pop-tarts he comes running.
---
Maximillian Has Arrived!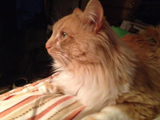 I rescued Max from the Petsmart after a grueling adoption process! He's mine.
It's taking some time, but little by little we're getting through what must've been a traumatic experience for him.
I'm also grieving over the loss of my Tom & Jerry cat, Angelo. But we help each other. He's a magnificent cat!
---
Nickie the Cat Stalks a Buzzard
By: Helen in Yankeetown, FL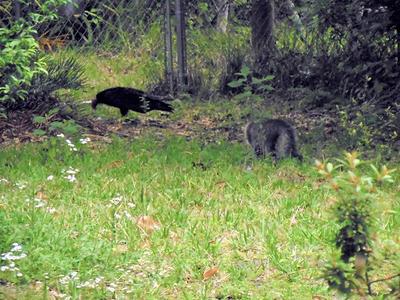 Nickie was named for the Christmas Nicholas, since that's when he adopted us. He advanced to being Nickie the Bird in the tree and I sent you his photo.
Now he has added Buzzard Stalker to his list of achievements. He actually spent some 20 minutes stalking this buzzard in our back yard. Fortunately the buzzard had something he was eating on and as Nickie moved closer, in spite of my NOs, the buzzard would pick up his food and toss it away from Nickie and then move and eat on it again.
Fortunately the rains came and Nickie ran for the house through the two doggie doors and that was it. Buzzard left with his eats.
Nickie never leaves the back yard. Have a Silky terrier named Boogie and he and Nickie dutifully stay in the yard. Not as amazed by Boogie as I am Nickie. Something different every day.
---
RickiLove
By: Lucie Leniston in Absecon, NJ
Ricki loves the mail basket!
Ricki is about a year old torti and was adopted from our local vet. She was adopted once as a kitten and returned because she wasn't a lap cat. She spent the next 6 plus months in a cage awaiting for me.
She's great friends with my black tom cat, Winston and our cocker spaniel, Baby Cakes - she is curious but cautious, loves to eat, watches TV and the microwave and is not very graceful.
She loves to play - especially at night when we're trying to sleep. She only had one meow sound and it's very loud.
---
Princess Trixie!
Our 13 year old Trixie who we adopted from out local shelter. She has been a cherished member of our family for the last 10 years! We love our Trixie!
---
Other Pix of Prince Charlie, oh yes, and me..
By: Nancy Hemsworth in Saint John, New Brunswick
Charlie is 11.4lbs of silky soft fur... and growing steadily since I adopted him. He has a gently and loving personality and loves to cuddle with me when he sees fit.
Charlie is also very much a kitten, running and chasing whatever prey (toy mouse) etc. he can reclaim from under the couch, bed, washer, you name it. He is the purrfect companion..never complaining (will hardly never) LOL.
He follows me from room to room meowing up at me and looking at me with those big green intelligent eyes "what's wrong MOM, not up on your Cat Chat"..but I am working on it Charlie, "I swear".
Everyday is a new adventure as I get to know more and more about my furbaby and he opens up to me. When I first got him he hid under and away anywhere he could find. Very timid and scared if there were any sudden moves on my part, or noises.
I believe he had been abused, and it will take time to work though that, but we are doing well "aren't we Charlie?". He currently hides away for a bit of the day, but I am not sure whether that is just cat behavior or if it will ever stop. Anyway,that's ok Charlie, mom loves you just the way you are...A beautiful and Purrrfectly Royal Maine Coon Cuddly.
Well that's it for now folks..
Prince Charlie and I
over and out!
---
My Little Diva
By: Ashley W. in Pennsylvania
This is princess Kira, she absolutely loves attention and just cannot get enough of it. She is the most amazing cat in the world, she is great with meeting new people.
She loves being held and cuddled, and loves playing with lasers and toys, and kisses on the nose. Only bad thing I can say is she does not get along with other animals, she is the type of cat that needs to be the only and dominant animal in the house.
I have tried to bring other cats and dogs in my house but she lets it be known quick that she is not a happy camper! Shes my feline companion and my bff <3
---
More Maine Coon Cat Pictures: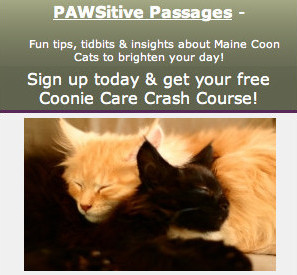 Maybe-Maine Coon Cats For May:
Blaze,that wonderful Crazy Cat!
By: Jennifer Desaulniers in Vallejo California, USA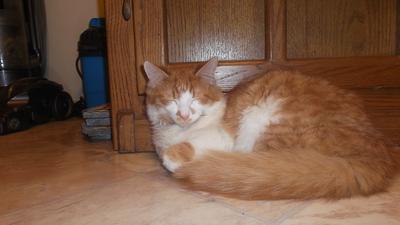 I work at the Humane Society of the North Bay in Vallejo, and I absolutely fell in love with a fluffy orange kitty I now call "Blaze".
When I first adopted him in March of this year, 2013 I thought he was a Domestic Long Hair, that is until I got him and got a closer look at him and his personality!
He is fluffy and robust and he has that tell tail "M" on his forehead, not to mention the big furry paws. He has quite the personality too! He has many "doggish" ways about him including playing fetch, begging for my dinner, and going for walks on his leash! He is one of the most social cats I've ever met, and he is ALWAYS seeking attention!
He is also an awesome hunter (mostly flys LOL) and an excellent climber. I do believe that Blaze is a Maine Coon/Domestic Long Hair mix, and he will, and always be, a loving and beloved part of our family!
---
Is She Part Maine Coon?
By: Adam in Tamworth, England
We had this little beauty (Lilly) from a young age from friend who said the cats father was a rare breed but could not remember what breed he was at the time.
We didn't follow it up because we just wanted a cat and it didn't matter what she was, a neighbor asked us recently if she was a Maine Coon but I had no clue what one was, so I googled them and found that she had some similarities, she is larger than most females and seems to still be growing at the age of 3 and developing new characteristics within her coat.
Her first litter was mixed long and short hair kitten the boys being very muscular and strong cats, her second litter which will be ready to go next week look very much like the Maine Coon kittens I have seen. Lilly has some bold characteristics in her nature and is not fully tame. What do you guys think?
(Note from editor: Adam, your picture(s) didn't come through - This happens when they are large files, meaning high quality photos. There are tips here for editing photos for the web, if you'd like to try again. I was unable to sent you an email.)
---
Simon
By: Brian in Saratoga Springs, NY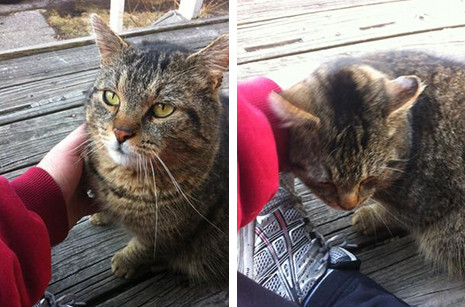 Simon was a stray that kept coming to our downstairs neighbor who leaves out food for said cats. We never paid much mind to him, but he was always there when we left for work and there when we came home.
One day while walking our pug Macy he started meowing and rubbing up against her and that was it. He has never left her/our sight. He actually followed us down the street like a dog meowing.
He had a wound on his back so we took him to a local non for profit group to get him looked at and fixed and that was the first time I heard of the name Maine Coon, they said he must have some of it in him due to his size (14.5 lbs) and coloring. Came to find out that he had already been fixed and because due to the wound he tested positive for feline aids. We were happy that its not terminal. We've since taken him home and he is fitting in real nice with me my wife and our pug Macy.
So is he part Maine coon? Who knows. What I do know is that he is very affection it, playful and very very vocal or like we like to say "mouthy" He follows us everywhere and when we are not in the same room as him he comes crying looking for us. When I respond to him it actually sounds like he's trying to talk to me. When he gets on the couch he'll start kneading the blanket and has this stare like Jack Nicholson in the shining. He always rolls over on his belly and is just the most handsomest boy. We are very happy to have him in our family and if he is a Maine Coon well it just makes for a better story.
---
Nala
By: Kristen T. in Florida, USA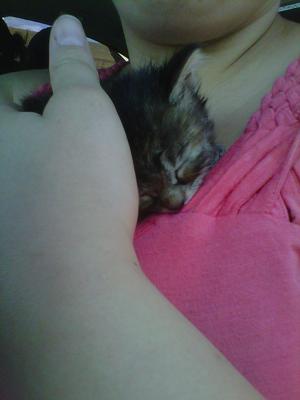 This is Nala. She was found in a parking lot when she was just under two weeks old, and is now currently four and a half weeks old. Her fur has continued to grow longer, and she is quite the fluff ball! She looks a lot different from the DSH kittens I have raised and fostered in the past, and has a much different personality.
After taking her to the vet, they said they couldn't really tell what she is yet, because she's still so young. Yet, comparing her to the pictures of kittens her age that are DSH, she looks much fluffier. Her fur is also extremely soft and wispy.
I don't think she is a purebred anything, but I do think she has a mix of something different in her blood.
She is extremely friendly, and has adjusted to being home a LOT better than any other animal I have ever worked with. She's very social, loves to talk/respond to your voice, and lets us know, very loudly, when she wants food or needs to potty.
I would just like to know if she will grow up to have longer fur, or if she will be shedding away all the fluff to have short fur.
---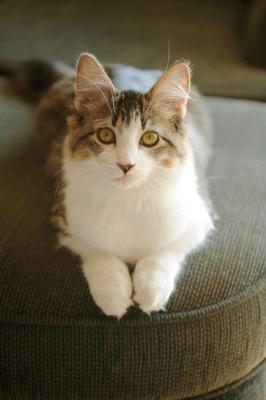 Happiness is a cat.
Happy Cat, our rescue love
By: Laura in Nashville, TN
She is the best cat ever and we named her Happy because that is what she makes us.
---
Ron
By: Aquila in Bend, OR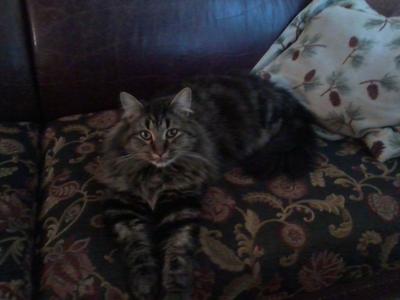 We found Ron on Craigslist. Thought we were just getting a short hair, normal house kitty. Boy, were we in for a surprise. He just kept getting bigger and fluffier.
He is now just over a year old and weighs over fourteen pounds. He has almost all of the Maine Coon traits. His neck and tail are the fluffliest parts of him. He has long whiskers and tufts between his toes.
He has a great personality. He gets along great with our other cat and loves other people. He is super friendly and follows us around the house. He just likes to be in the middle of it all. Big, goofy but smart, friendly, happy, acts like a really big kitten still.
He definitely picked my husband for his main person but he loves everyone. I would love to hear your thoughts. Here is one kitten picture and a couple recent pictures.
---
Is Dragon Slayer Able to Claim Maine Coon as Part of His Family History
By: Sandie in Kissimmee, Florida
Dragon Slayer Mane
Dragon Slayer thoroughly enjoys playing with lizards. Not a day goes by without discovering another dragon to slay on the porch. You just know he has a huge Cheshire cat smile on his face while playing with lizards/dragons. Hence, his name, Dragon Slayer.
Once Dragon Slayer escorts you to the bathroom, he immediately hops into the tub or climbs into the shower stall and lounges. He sleeps with his furry tail tucked near his mouth. His ears do not appear to be lynx-like but there are small tufts on top. His fur is of varying lengths and his front feet appear to be quite large.
Dragon Slayer was hanging out at a Real Estate office on the main street of a small town. He had been on his own for about thirty days according to the locals. His long fur was well kept and had no matting. He had no chip implanted and the vet said he was about six months of age. He will be going to be neutered on April 18th. Currently is is about 24 inches from tip of tail to tip of his nose and weighs about 9 pounds.
---
Bob - is he a Maine Coon cross?
By: Laura Rich in Cornwall, England
Bob
Hi there!
This is Bob (named after the book Street Cat named Bob!) I read it on honeymoon and it really touched me!
He is 6 months old and lives with myself, husband and our other cat Coco who is 3 and a girl...they are finding it hard to get along at the moment - have been co-habiting since Christmas so hoping they will start to become a little more friendly soon! I think Bob just seems to have alot of energy and our girl cat is quite the opposite.
Bob intrigued us about a month ago when he started to mature more - he (in our opinion) seems very large for his size! He has quite large ears which I understand is a maine coon trait and his tail is amazing - it is massive and akin to a fox's tail.
We thought he was going to be long haired but it seems he is now semi-long haired? Extremely soft fur.
He is sooo affectionate - he butts us in the nose all the time when snuggling in and I have never known a cat to be so good at catching balls mid air! He is also obsessed with the taps, the shower and the toilet! Anything water, he is in to! He is very playful and outgoing and just generally a handsome little chap.
We would love to know what you think about his breed as we think he could be Maine Coon cross? I would love to hear any feedback advice you have!
Many thanks
Laura
---
George
By: Dawn in Peoria, IL
Sir George
It was brought to our attention that George may have some Maine Coon in him. We always thought he wasn't a "normal" cat due to his personality.
First off, physically, he doesn't have the tufts of hair between his toes, but he consistently "chews" the hair off between his toes. He is also a pretty large cat, but nothing the vet says to worry about (13 lbs). He has been categorized as a DMH. He doesn't have the big whispy tail, but his tail is SO animated it has a personality all it's own. His coat is so soft. I have never felt a cat with such a silky coat. His shedding is also minimal.
Personality wise - he has a full range of noises. He will talk back, and his meows are different for each of his moods. He has a low growl when he's mad or annoyed, and vibrating purr-like when he's being silly, and a really fast repeating meow when he's happy.
He is very skittish around anything that he is not used to. When someone comes over to visit - he hides in one of the bedrooms, and is super affectionate when my boyfriend or I come into the room, but gets scared if anyone else does.
He is a rescue cat, and we do believe that at one time he was swatted down a lot when jumping on things, because he will not jump onto our laps and just recently started jumping on the couch while we are sitting on it. He will allow us to pick him up and set him on our lap, and his motor just starts going.
He is also very passive. You can basically do anything to him, and while he will let you know he doesn't like it (with his low growl) he never does anything physically to you.
I love that we have invited George into our home, we just want to find out the most about him that we can, so that we can make sure he is treated the way he should be.
---
More Maine Coon Cat Pictures:
The Rainbow Bridge Album:

A Maine Coon leaves a mark on one's heart that is never forgotten. These are some beautiful tributes to amazing family members.

Cats In Sinks:

What is it about cats in sinks? Perhaps it's the size, the shape, the way they produce fresh water, or maybe it's just because it is so fun for a cat to be right in the way!
Related: