May 2012 Maine Coon Cat Pictures
Welcome to the May Photo Album! The weather is warm and beautiful, but not as beautiful as these Maine Coon Cats!

Honeycoon Briscoe Blue
By: Robin Rittenhouse in Clover SC. USA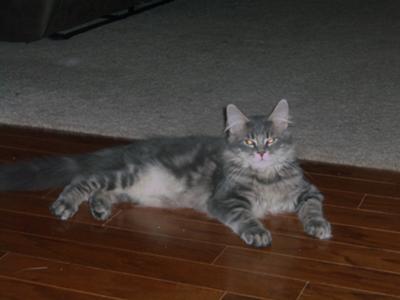 Meet Honeycoon Brisco Blue. He is a Blue Classic Tabby born on 10/31/12, thus his name Briscoe Blue. He is now 6 months old and weighs in at 8 lbs.
He was my birthday and Christmas present from my husband purchased from breeders Karen and Ira Multer with Honeycoon.
He has been a wonderful addition to our family with his little chirp and curious nature. He has the sweetest disposition and as charming as can be, always wanting attention.
I love best when he snuggles with me and adds his little chirp to his purr as he settles down for sleep. What a beautiful breed!!!!
Comments:
Sharon: Beautiful! I love seeing the blues and silvers; we have a blue classic too. His name is Elliot. Pics: Photos of Elliot
---
Max chillin' out
By: Barbara in New Oxford, Pennsylvania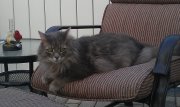 Max chillin out on the patio.
Max was a stray, he was living under a co-worker's shed. She began to feed him, and he was a little shy and scared. She couldn't take him into the house due to allergies.
I came to meet him and he warmed up to me right away. Took him to the vet, before bringing him home to meet my other cat.
That was 7 years ago and since then my other cat has passed on, but Max continues to be my loyal companion. He is very much a "people cat" and sometimes almost dog-like. He's got a personality like I've never seen and has to be in the same room wherever I am.
He is a blessing to me.
Comments:
Pat in Ocala: I was sorry to hear about your older cat - I'm sure she had a happy life with you. Max was fortunate that you came into his life. He is a beautiful cat! May you have many more happy years together.
---
Spunky
By: Vickie C. in Oceanside, CA
My husband found him at a shelter and fell in love with him, brought him home at 6 weeks old. We had a hard time at first because he Had to be neutered before we took him home. Long story ...... He was very sick, we thought that he wasn't going to make it but he did. He's now about 2 years old.
---
Merlin
By: David in South Africa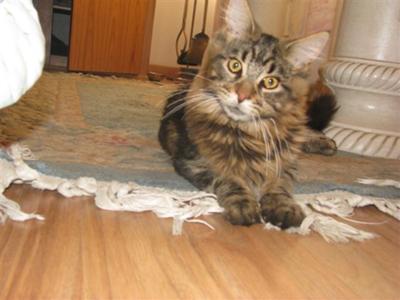 Well his name is Merlin because he is a magic cat and I have so many questions. My main concern is I have a sweet female cat that loves the outdoors and I am so scared that my Coon can get diseases from my outdoor cat I have decided to keep him indoors as my previous cat contracted feline lukemia and it terrifies me and I am currently building a cat enclosure 12meters by 6 meters just for Merlin and wonder if it would by fair to enclose my female too.
Merlin is now 6 months old and time for him to by neutered, he is so beautiful I would have loved to see if he had kittens be that won't be I suppose. He is friendly & lovable keeps me mentally sane as my cats is my mental health medicine and calms me. I can give cats more love than what they want because sometime I stroke them so much that I irritate them to a point where they attack me without nails.
I was heartbroken after my cat Tiger died. My youngest son got me Merlin and he didn't come cheap from the breeder.
Would love to chat via e-mail to a person with extensive knowledge of Maine Coons.
ps: My female is also a cool cat her name is Jessy
---
Harvey Milk,
Coming To You From Australia!
By: Janie McGeorge in Melbourne, Australia)
This is my 7 month old Maine Coon, Harvey Milk. He is the first pedigreed cat that I have ever owned, having always had rescued moggies in the past.
Because Maine Coons are a relatively new breed in Australia, there aren't many that need rescuing, let's hope it stays that way!
Harvey is the most loving, hilarious, devoted companion I've ever had. I can't wait to spend many long, happy years together.
Comments:
Kerri: He is a beauty!!!! You should be very proud of him...which I'm sure you are! I can only imagine how much bigger he will get. Please submit updates.
Karen: He is beautiful Coonie. Just looking at him he is going to be a big georgous cat when grows up. We are from Coburg Melbourne.
---
Coockie and Mist
By: Heidi Mathias in Sao Paulo, SP, Brazil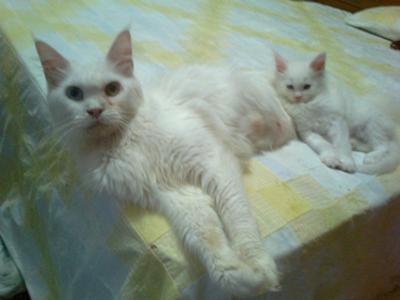 Mist was born on March, 18, 2012. She's the only girl of a 4 kittens litter.
Very sweet like her mama, Coockie. She loves to chase her brothers and play with her toys.
(Editors Note: See Coockie and all four kittens in our March Album, and for more about Heidi and her cattery, visit our feature on this cattery: Sons Of Horus!)
Comments:
Sharon: What a beautiful kitten, just gorgeous.
Penny: That's just to sweet.
---
Benny and Ozzie dudes with Catitudes!
By: Mari in Lake Stevens, WA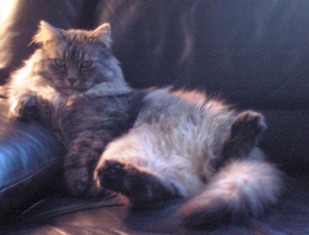 Benny's funniest pic ever
I adopted Benny from a local shelter just over 7 years ago. I'd always wanted a Maine Coon, but refused to 'purchase' a cat from a breeder!
The instant I saw him I knew he was the real thing. As those first weeks passed it became more and more obvious how MUCH of an MC he is! He displays each and every one of the characteristics of an MC, both physically and personality-wise!
He's even a polydactyl on one paw. He's extremely talkative, his personality is as big as he is!
He's always at the center of everything, he follows me all around the house, comes when I call him and even is waiting at the laundry room door as soon as he hears the garage door opener (my husband says he comes flying out of whichever part of the house he's in to get there!), and will actually yowl through the door if I'm not fast enough at getting inside. LOL He is literally my dog-cat.
When I lost my petite non-MC elderly female a couple of weeks ago I knew it was time for Benny to have an equally sized MC brother.
A few short weeks of perusing the local shelters websites and Ozzie was found and brought home where he and Benny have literally become "Brothers from another mother". Fabulous to see them together! :)
---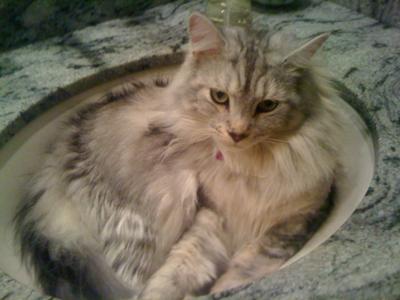 Captain In The Sink
By: Toby Johnston in Newport RI
He is a silver Mackerell one and half years old
Comments:
Teresa: What a pretty cat! My Maine Coons also love to sleep in the sink.
---
Sophie
By: Sybil Duron in Lakeland, GA, USA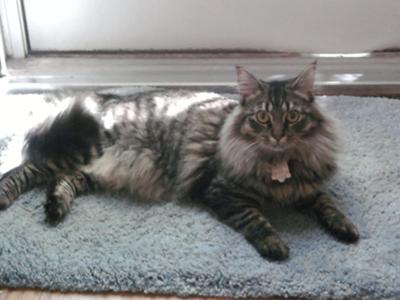 Sophie trying to get some sun!
I was given Sophie by a lady that lives in Florida and she was 9 weeks old when I got her.
She loves to fetch her "jingle ball" and loves the water in the bathroom sink. We play peek-a-boo and she loves to be affectionate but on her terms...and usually first thing in the morning before I get up. She licks my fingers and lays her head very intentionally flat on my hand or arm.
I am disabled and have some ladies that come to my house to check up on me and she actually put herself between me and the nurse when she was taking my BP...!!! I have never seen another cat behave in the intelligent way that she does and she is truly my sunshine. Thank you for listening and posting her picture.
I was told by a vet that she looks full blooded Maine Coon but I only know she is my "little girl". Sincerely, Sybil.
Comments:
Frances: She sounds wonderful, and looks just like my Oscar. Maine Coons are most definatly, a cut above your average moggy, although I don't tell my other 3 that. I hope you have many happy years together.
---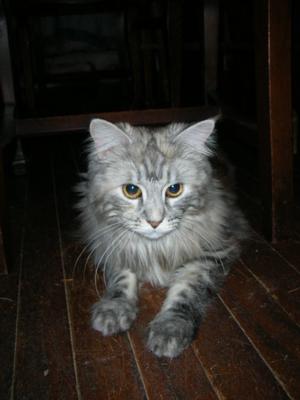 Lacey
By: Tim Wargo in Philadelphia
She is shy, but very sweet. Lacey greets me when I wake up and when I get home.
Comments:
Pat in Ocala: Lacey is a very pretty kitty. Some cats are shy, but with time she may mellow out.. I hope you and Lacey have many happy, heallthy years.
---
Rufus and Patch
By: Viola Cruz

I'm Viola Cruz I have three cats. Misty Cloud, who is a long hair domestic and Patch who is a shorthair and he's 3. And then there's little Rufus, or Rufie Lou, or Rufus Louis. take your pick. *lol*
I have never had a purebred cat before, so if I make any mistakes, please don't hesitate to let us know what we're doing wrong.
Viola
Comments:
Dee Kangas: Cats are Cats whether pure bred or mixed, they want to know they are loved. So do not worry about making mistakes, it is obvious that you love him and provide him with a loving home!
---
Mr. Thomas.... KING of the cat tree
By: Kay in Ocala, FL- Marion County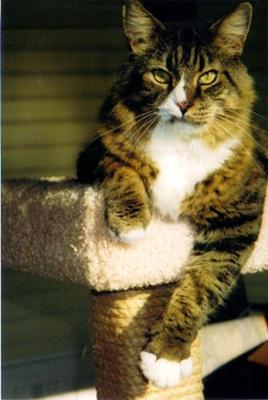 king of the cat tree
He has many names that I call him, depending what he is up to? His first name is Mr. Thomas, (aka) Mr. Stretch, Tommy Kitty, Mr. Rollie, etc.
Thomas is 15 years old and has the deepest purr,(it reminds me of a lion purring). He absolutely loves people and baby kittens and is so sweet, good natured and absolutely afraid of nothing.
Being born in the woods behind our home in Massachusetts, he was 5 months old when he found us, and never left, to my great joy! He is 18 lbs and has never killed anything. One day he brought a one day old baby mallard duck home (unhurt) that had lost its' family to a fox the night before. I brought the duckling to the bird rescue the next day.
There are too many things and so many stories I could tell you about, like when he got sprayed by a skunk and let me give him a bath in the tub...willingly!!!! Never again though! He is a character! and we love him so very much.
I love your website!
Kay
More About Thomas:
Mister Thomas (AKA) Mister Stretch, Mister Rollie, Sweetie Man, Tommykitty, etc., all names, for obvious reasons. He is 15 years old. Thomas found us at 5 months old, brought to our home in Massachusetts by his old coon cat father who was living in the woods and was abandoned when a neighbor from Maine moved back to that state and left Tommy's father behind 6 years earlier.
Two days later, Tommy's father came by with Tommy kitty, I think, to say good bye...we never saw him again. We think he wanted Tommy kitty to have a good home. Actually, we are the ones that were blessed, what a cat! So funny, so sweet, never killed anything, he just liked to watch the chipmunks and birds.
One time, he came home with a one day old baby Mallard duckling in his mouth and presented it to us as the duckling was peeping away. Thomas, wide-eyed, sat there so sweet. We had known where the nest was and found that a fox had killed the entire family of Mallards that lived out back by a small pond the night before and apparently, the baby hatched the following morning and Thomas heard it peeping. That was the sweetest act of kindness that my husband and I had ever seen, incredible that a cat would do that but not really, is it? Coon cats are special and very smart.
Mister Thomas is an exceptional guy and we thank him for his presence in our family. I can't make the bed or fold the laundry on the bed, without Mister Thomas knowing and totally hindering my chores. I mean, sometimes it takes me an hour to make the bed and when he gets those LONG claws into the sheets or towels or socks, I decide I'll come back later. Of course..he looks at me so innocently!!!!
I could go on and on about the antics of my wonderful Mister Thomas...I could write a book about him. Thank you so much for this website, it is a joy looking at all the pics and seeing that others love their special family members...just like we do.
Kay
---
Our new baby, Poco Taz
By: Pam in Dearborn, MI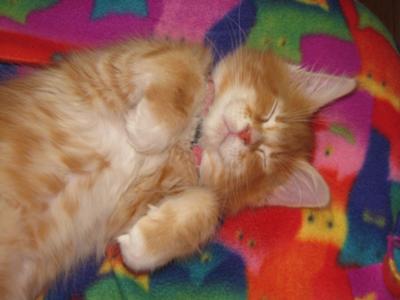 Poco Taz
We just picked him up on 5/11. We love him!
Comments:
Debbie: That kitten is adorable!!! I am trying not to get a kitten right now, and this makes it hard.
---
Gypsy Rose
By: Becky in Indianapolis, IN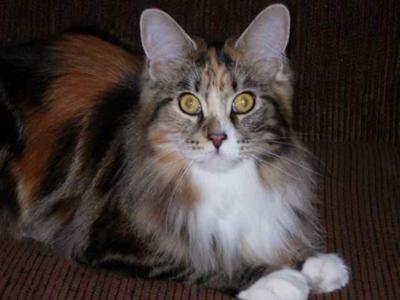 After we lost our cat of almost 14 years in December, 2011, we decided to try to get a Maine Coon.
I didn't have much luck finding one for a few months, until we found a little girl about 8 months old at a cat show. We picked her, changed her name to Gypsy Rose and brought her home!
Wow, what a cat!!!!!!! She is the most intelligent cat I have ever seen. She knows where we hide things (like her stick with feathers on it) so she can't reach it--but she can!!!!
She is always into something, but one look at her face will melt your heart! She loves to play (mostly at 5am) and watch birds! She comes running when you come in the door and follows us everywhere-she can be asleep (we think, anyway), and we sneak into the kitchen for a snack, turn around and there she is looking up at us "Where's mine"?
She loves to eat yogurt out of a spoon for a snack, and of course she loves water. She hates getting combed or brushed, so I put on gloves; she stands up for a snack, and then I comb her belly while she gets the snack--You have to be innovative with this one!!!!
She is a pretty girl and knows it-I am looking forward to retiring soon and staying home to take care of my "baby" for a long time!
---
My Silver-Tabby Maine Coon Little Boy "Puff" & His Best Friend "Salem" My Bombay
By: Joseph S in Kenosha, WI, USA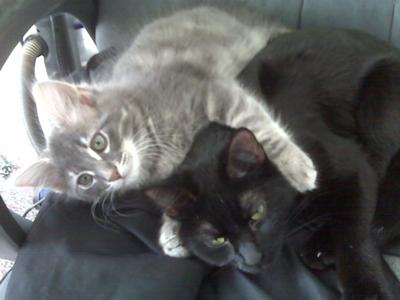 The look on her face is like....
To him, Salem is his best friend... but i'm pretty sure to her, Puff is her biggest nemesis! lol This pic was taken when he was 8 weeks old, he is MUCH bigger now and easily dominates her in their play sessions!
One thing I've learned in my experience with felines and canines is dogs have owners..... but cats have "Staff" and they have us well trained! :-)
Salem is a little priss in regards to EVERYTHING! While Puff is more like a dog than anything, as long as he can lay by your feet and get his forehead scratched he is happy!
Both of their personalities are huge and both are an absolute joy to be around!
Comments:
Debbie: I am owned by 2 Bombays and 2 Maines. It is fun to watch how they play with each other. Looks like your cats are happy too!
---
I'm being followed by a Moon shadow
By: Moon in Brunswick, Maine
Hi! My name is Moon. I'm a 5-year-old Coon cat who is very lucky that my forever mom took me in.
It took me a LONG time to realize that my forever mom was going to keep me no matter what and not let me go. I wasn't exactly the sweet, adorable kitty my mom says I am now. It took a long time for mom and I to decide on food that I liked and that didn't cause me distress. Took me weeks to realize my mom wasn't being mean to me when she had to clean me after each litter box trip.
But we both learned together about this and so much more and I'm so happy she took the time to learn. I also love to talk and show off how cute I can be by rolling on the floor and showing my fluffy tummy off. Mom says I'm quite the character.
I'm glad I got a forever home without having to go to some place called a "humane society." I'm a very lucky Coon and will follow my mom around wherever she goes while she sings "I'm being followed by a Moon shadow" to me. Now it's time for a little catnip and some play and some snuggles and kisses (my favorite things!) before bed.
---
Rabbit!!
By: Janelle in Michigan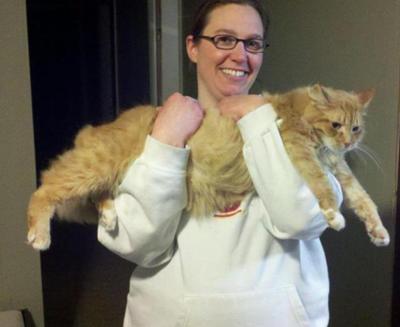 He's just a little guy!
I got my Maine Coon about four months ago and I fell in love instantly! He is one of the coolest cats I have ever owned.
He's playful and talkative and very entertaining! I will never get a cat except for Maine Coons from now on!
---
Flash
By: Jackie Derra in Grand Marsh

My Flash is 3 years old as of the 10th of May. He is 10 lbs and full of energy. He is always waiting for me when I get home after work.
---
Olivia: Lost and Found
By: Carrie in New Jersey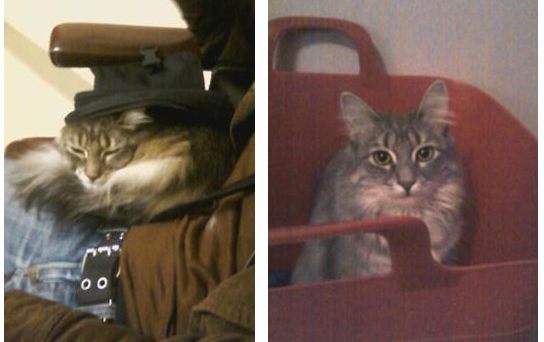 Olivia got out last week due to workers in the house who opened a screen, though there were signs saying not to because of our three cats.
I trilled and trilled, called her name, knocked on doors, and put up hundreds of flyers. I had the neighbors and police looking for her as well. Such wonderful people. (I made cookies for the whole town, I think) I was out all night long, every night, into the morning. I was desperate to find my baby.
I had the help of a 12 year old girl and her father, who walked the streets with me, searching for Olivia. The little girl was afraid of cats, yet did it anyway because she saw I was so sad. I even taught her about cats while we were looking, and she was so interested...I think she wants one now.! :) She even got me to climb and jump a 15 foot fence in order to look in a park behind our house..let's just say I am no longer 12, and it didn't end well for me!
After four days, a very hungry, tired, wet Coon poked her head out of the bushes near our porch, and I trilled to her, and she ran to me. I took her to the vet that day, and she's fine. She has reorganized her "cave" in my closet, and I got her a bunch of new toys. She is remarkably okay.
She jumped right back up into the same window she went out of when she got home after her bath, but has a very different expression on her face now. "I've been there".
My beautiful girl.
One picture is us at the vet...I brought her in a cat carrier, but she decided my little black bag was a much better idea. Don't ask me how a 13 pound cat fit her butt into it, but she did!
The other is the regular, helpful Olivia, a few days later, chiding me on laundry day.
Comments:
Ginni P: So happy you found Olivia. My cat Lola is an indoor cat and we havce just put in stage one of her new cat run. She was a bit reluctant to use it at first but now loves it and is the Mayoress of Walpole Lane...nothing escapes her attention. Lola sends Olivia a big chirp!!
Deidra Varvel: So happy you found her. A happy ending!
Anastasia Brukman: I am SO HAPPY you found your darling baby girl. I would of been devasated beyond words. A lovely touching story.
Cathy: Oh my gosh, I am so, so glad you found your sweet baby! Afetr all you have ben through with her. I would have had to do the same if my Willowmouse got out. I don't think I could have done anything at all until I had found her. They truly are our babies
Carrie: Thank you all for your kind words. It doesn't always end so well when a pet goes missing. We are so incredibly lucky that she is as smart and resourceful as she is. No matter what I did to find her, she was the one that made it back. She's very brave. True Coon :)
Sherry , Wanda: I am so glad you found your baby! My Tiberius got out of our house-still haven't figured out how he did it- about two weeks ago. We searched for about two hours and found him-after it started to rain and was dark, of course. So glad your story ended well.
---
Arky
By: Lee Riches in Melbourne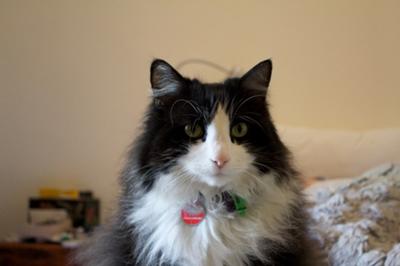 Arky is 7... Or 6. m not sure I have inherited him. He's decidedly stressed at the moment, on account of moving house. I've moved house, he's come with me of course. I don't think he's up to negotiating lease contracts just yet.
Anyway, here he is.
---
Thomas, My Coonie Mix
By: Lily in Stanford, South Africa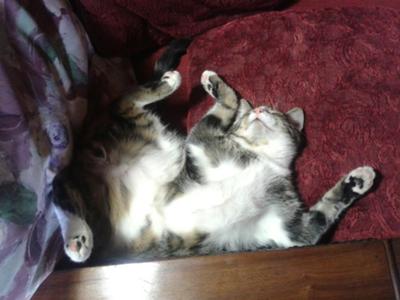 Thomas sleeping in his favourite position!
I love cats, all cats but my two adult moggies are particularly independent. I've had a life long fascination with Maine Coons, mostly because of their looks and their size but never realized what absolute sweethearts they are. I started looking for a rescue MC or Wegie, but living in a small town and in South Africa, these cats aren't that common!
I saw an ad for the beautiful Maine Coon x American Shorthair kittens and arranged to collect my baby. I met the breeder's husband half way on the four hour journey. On our way home, he escaped from his basket and sat on my lap for 3/4's of our way home. By the time we reached home, I was in love!
Thomas has turned out to be an absolute joy! He is very curious and very funny and has managed to befriend both my other cats. During the first week, he deposited himself on my old cat's chair (who has a reputation for being very grumpy)! I should add that Old Cat was on his chair at the time!
My young female cat moved out for two weeks, but has since decided that she wouldn't mind having a friend and they spend many hours playing together. We can hear them communicating with many little purry chirps and they are very cute together.
He has even managed to charm our Great Dane! Whenever I go to the bathroom, he isn't far behind and when I go for a shower before work he sits on my clean clothes just to make sure that I will not forget about him during the day. He talks a lot and has become the designated alarm clock and meower for their meals.
He has inherited many Maine Coon characteristics: He talks a lot, he loves water, he is my devoted follower and friend and it is almost like having a dog except that he is a whole lot cooler! He gets along exceptionally well with all animals and is not intimidated by doggie strangers!
At six months he has outgrown my female cat and will be as big as my male cat in a month or two! He already weighs 4.6kg's!!!! That's approximately 10 pounds! I can't wait to see how big he will become!
---
My New Companion
By: Reggie Johnson in Las Vegas, NV, USA
My husband died just a month today and I am still in grief and my neighbors told me to get a dog or a cat to keep me company.
So yesterday I went to see Tiger Lily and just fell in love with her. She is so sweet and intelligent and well trained. She's about 4 years old. My neighbor has a friend who rescues animals and Tiger Lily was one of the animals she rescued.
She said she doesn't want to be around other cats but didn't mind to be around with dogs. Because in her house she would stay in her bedroom where the dogs are. I don't know if she's a pure bred of Maine Coon or mix.
It's our 2nd day together and I guess I am ready to give her a new home.
Comments:
Maddy Dowling: Dear Reggie, I am so happy for you that you and Tiger Lily are in each other's lives! MY "Tiger Lily" was with me for 15 years. Now, there is Oliver. Such little creatures have a way of filling the empty spaces with endless joy. Have the most wonderful of times with little Tiger Lily!
Dennis & Anita: Reggie, We are so sorry to hear for the loss of your husband... Take it a step at a time... Sounds like an angel has been sent to you, in the furry form of Tiger Lily! You will be okay! She sure does look Maine Coon-ish! Dennis & Anita
Carol: So sorry to hear of the loss of your husband. Will pray for God to comfort you and give you strength! I am sure you'll find comfort in the form of your new furry friend, Tiger Lily. She reminds me of our Rambo! There is never a dull moment with a coonie around! Bless you.
Sherry, Wanda: I have a Maine Coon named Tiger Lily and she looks very simalar to yours. Wonderful cats the Maine Coons. Enjoy your new baby
Misc. Comment:
Sheila Dudley:
the way to tell if maine coon is forward between eyes look for letter M.
Disclaimer: When you buy through links on our site, we may earn a small commission.
As an Amazon Associate I earn from qualifying purchases.
Our Coonies use and love:
Greenies
4.7 stars; 3.6k ratings
Furminator for Longhaired Cats, Large
4.7 stars; 15k+ ratings
Double Layer Waterproof Cat Litter Trapping Mat
4.5 stars; 56k+ ratings