Marley Katt, Adria, Desmond & Friends from 2010
2010 Maybe-Maines! Here is the place to meet archived submissions from Marley Katt, Kayden, Adria, Desmond, Loretta and Nessie!
Do you think they have some Maine Coon in them?

Marley Katt
by Donnie & Janeen
(Seattle,Washington,USA)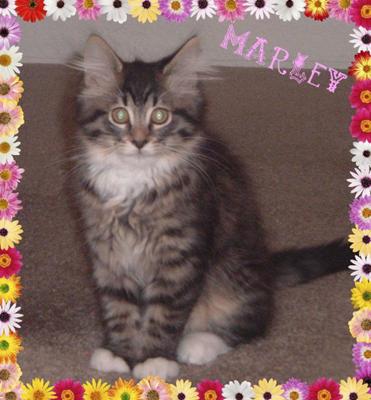 Miss Marley


comments:
Pretty Girl
by: Maine Coon Cat Nation

Hi Donnie & Janeen,

Marley Katt is so pretty! Cute name, too. Did you know this is posted in our section on "Is she a Maine Coon?" Did you have a question about her?

Thank you for sharing her. She's a beauty, come back and update us as she grows! We'll be sure to add her to our gallery of kittens, too!

~Carrie

Its a tough life, but someones got to live it
by Bob and Wendy
(Killingworth, CT)
My name is Kayden and I am 16 weeks old. I came to my new family after living on the street's of NYC for the first 8 weeks of my life.

My new family found me online at a shelter and adopted me right away. I think I may be a Maine Coon, I have many of the traits the Maine Coons have, like being very playful, I love to be held and love all of the other pets my family has.

Oh and I have extra toes on my front feet. Now I have a home and as you can tell I'm loving life.


comments:
Kayden is adorable!
by: Anonymous

He has big big paws!!!

Welcome, Kayden!
by: Maine Coon Cat Nation

Welcome to the world, Kayden!

It sounds like you really scored a great family! They are clearly taking fabulous care of you.

Look at those big feet! You may very well be a Maine Coon mix. (polydactylism is a dominant trait which means one of your parents has it too. Registered Maine Coons have had those genes bred out so they would comply with show standards)

You have lots of fur between your toes and in your ears so you may have some Coon in you! Thanks for dropping by! Great photo, too.

Is my new kitten part Maine Coon??
by Estelle
(Los Angeles)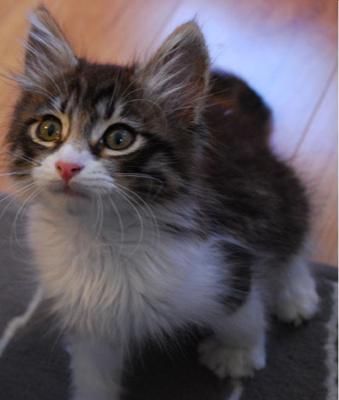 Jax
I think he has most of the Maine Coon characteristics and he's definitely got the personality down pat. I just wanted to get some opinions from people who know and love this breed! Thanks for your help!!


comments:
my kitten
by: terry

hi has a 81/2 inch tail only 4 mts old real so sofa fur the ears hairy under his chin looks kile some one cut the hail short & has white fur over the right eye as a letter v on it.

Exceptionally Beautiful Kitten
by: Jessy

Very typy, too, I think.

Jax is cute!
by: Anonymous

What a cutie pie!

Little Jax
by: Maine Coon Cat Nation

Hi Estelle,

What a cutie! It's so hard to tell with a young kitten, if he might be part Coon. Maine Coon cats are a natural breed anyway, with all colors possible.

A pure-bred kitten is clearly a Maine Coon, with it's ear tufts & pedigree, too. And some adults are clearly Maine Coon cats, some not so clearly.

It's possible for any fluffy kitten to be suspected of being part Coon. For Maine Coon mixes, it's just so hard to tell just by looking at them, especially kittens!

Sometimes when they get older they get a distinctive mane, or ear & feet tufts, or a super fluffy tail, or all of these.

As for appearance, cute young fluffy kittens are just impossible to pin down as part Maine Coon- unless they have those distinctive ear tufts (fur that sticks up on the top/tips of the ears, not just coming out of the ears).

Based only on his photo I'd have to say he sure could be. If you've researched the characteristics and feel he has most of them, the decision is up to you, if you want to introduce him as a Maine Coon mix.

Just like human parents, you know him best! Thanks for sharing Jax, and send us more photos as he gets bigger!

~Carrie
Adria
by Kimber
(WA)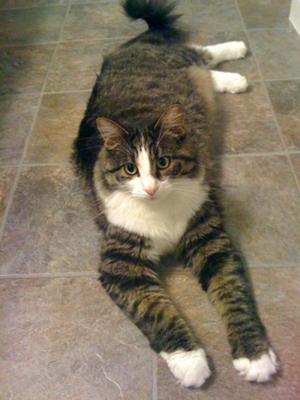 | | | |
| --- | --- | --- |
| | | Adria and Kita |
I got Adria from the shelter when she was just 3 months old. She was so tiny, only 4 pounds!

I thought she was just going to be a little cat...boy was I wrong! She just turned a year old and she weighs 12 pounds!

Since I got her from the shelter I don't know her breeding, but she sure does have some Maine coon in her! She has hair in between her toes and she's super fluffy.

She doesn't really have an M on her forehead, its kind of a W though. She's very friendly and let's you pet her for as long as you want. Let me know what you think!


comments:
Nice Tummy!
by: Maine Coon Cat Nation

Hi Kimber,
Adria is one good-looking girl! I love the tummy shot. You're right that there isn't a way to know her lineage, but she certainly could have some Coon in her. If that's what you think, that's what matters!

She doesn't have to have an M on her forehead. Actually, the M is just a nice Tabby marking. Tabby Coons will have it, but so will other Tabby cats. It's not an indication of a Maine Coon.

Our Alice is all Black, no M. And Leo is a Tabby, so he has it.

Thanks for sharing Adria, she's a beauty!
~Carrie

Desmond
by Alex Thompson
(Maine)
he is very friendly, doesn't struggle to get down when you pick him up, and he's really fluffy, and has gray


comments:
time should tell
by: Anonymous

the other cat in the picture is his brother, i have seen the mother of them and it is not a coon cat, but i am not sure of the other one, he is the only long haired one of his litter, he has tufts on his ears but not, or not yet in between his toes, and he is very gentle, he will just lay wherever you put him, his tail is also very very fluffy.. if that helps, but time should tell

Fluffy boy
by: Maine Coon Cat Nation

Hi Alex,
Desmond is so precious! He is very fluffy so I can see why you are wondering if he has some Coon in him.

I see another kitten in one of these pictures. Is it a littermate? Where did the kittens come from? If you have met the parents, or know the owners of the parents, that may give you your answer. A Maine Coon kitten has two registered Maine Coon parents.

Another possibility is that he is a Maine Coon mix, with only 1 parent being a Maine Coon. Although, most Maine Coon owners are responsible about spaying/neutering. If he's part Coon, the whole litter is, too.

If you don't know the parents, and the kittens were at a shelter, it's unlikely they are pure-bred. As he grows you'll have a better idea if he's a mix. Look for tufts on his ears, between his toes, and that shaggy look. Along with that gentle personality, too. Time will have to tell.

He is adorable, and I'm sure he'll bring you tons of joy. Thanks for sharing him! We'll be sure to add him to our photo gallery of kittens asap!

~Carrie

Nessie
I adopted her last week from a local shelter. She has a very shy personality but I think she was abused by her previous owners. She is very sweet and cuddly. I haven't weighed her because she is so skinny and I am trying to get her to a healthy weight. She has very big paws.

comments:

reply
by: Anonymous

yes, sorry I was thinking she is a mix from the stripes on her legs, the shaggy fur and fluffy tail, and her size.

I wanted to see if others who are more familiar with the breed agree. She is slowly coming out of her shell, I give her lots of attention with hopes she will not be afraid of me.

Nessie In Her New Home
by: Maine Coon Cat Nation

Hi,
Nessie looks like a sweet girl! I would expect her to be shy for a while, so that's ok.

Since you submitted this to the Maine Coon Traits section, I think you are asking if she's part Maine Coon.
From the looks of her, she could be a mix. After she settles in a bit more she'll probably reveal her personality to you.

I must say I love the expression on her face. She is clearly so relieved to be home!

~Carrie

Loretta
by Michelle
(Pompano Beach, FL)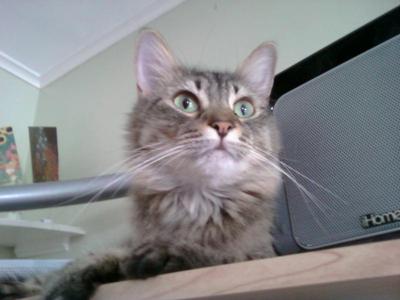 Adopted her from a Cat Rescue in Fort Lauderdale, FL

LOVES WATER...constantly in my water glass, the tub or sink, sitting IN the sink...

She doesn't have the pointy fur ears, but furry toes, and the personality traits above fit her 100%!!


comments:
Loretta's Eyes
by: Jessy

... look very Maine Coon: round and slightly tilted. BTW she's pretty.

Lovely Loretta
by: Maine Coon cat Nation

Hi Michelle,
Loretta really has "that look," that's for sure. She could be a Maine Coon mix!

As always, it's going to be a mystery, but I can definitely see why you are wondering.

Thanks for sharing her!
~Carrie

Rescued 7 month old Male Coon named Chelsea from a kill shelter
by brandy
(Plano,TX)
I rescued Chelsea a week ago. He is 7 months old but he is larger than my friends 3 yr old cat.

I swear he acts like a dog playing dead, constsntly under my feet, he has a weird fascination with water of all types, always up in my race rubbing and and purrs like he runs on batteries.

He's silly and likes looking outside and picking things up with his front paws to walk item across the floor.


comments:
Very Cute
by: Anonymous

Thank you for providing this information.

Main Coons
by: Hollie

Ah, my Maine Coon is the same... she loves looking out the windows, is fascinated by her water dispenser, picks up her toys and balled up paper with her front paws, has a really deep purr and meows like there's no tomorrow. She's a rescue too. :)
Good on you for rescuing rather than going to a breeder or pet store, more folks should do that.
Let's Connect!
Subscribe in a reader - Be notified of new posts!




Or, get The Daily Digest in your inbox:





Join our newsletter group by filling out the form to the right. From time to time I'll send out special tips, articles, news, deals and other free goodies!