Newt is my 6 year old Coonie....I was originally fostering him and fell in love with him right away and wound up adopting him when he was a year old.
He has such an awesome personality!! Very vocal, playful and very persistent when he wants your attention.
She is about 1 year old. She loves to play and snuggle and enjoys children. Stripey has a best friend Cheetah who has 2 kittens, and she loves to play with them. She has "adopted" a small black calico kitten named Moonlight and is a wonderful mother.
Stripey showed up at my front door one day and it was love at first sight. I've never seen a Maine Coon like Stripey before: small, short legs, but still with fluffy fur and the trademark "M" in her forehead.
Whenever she sees me she will roll on her back as if she was a dog and wants me to rub her tummy. Stripey has her shots, is not declawed, and is soon to be spayed.
She lives in a great big barn with lots of hay to snuggle up in. Her favorite thing to do during the winter is play with rabbits and sleep. In the fall she loves to chase leaves. In the summer she loves chasing bubbles and sunbathing, and in the spring Stripey likes to chase birds.
Stripey loves to be combed and brushed. Once in a while she is treated to some leftovers and is very happy. She will cheer you up when you are sad or have had a bad day. I love her so much and will never give her up. Anybody who doesn't have a Maine Coon should get one, because they have so much love to offer.
Reggie showed up at parents house a couple of months ago. We tried for over a week to find him a home.
I couldn't stand the thoughts of him going to a shelter. (I feared the worst outcome.) Reggie so far has been like no other cat I have ever owned. Very loving and does mind my three dogs at all.
He Is On The Left
I got him as a kitten for $20 from an owner whose cat had a litter of kittens. He was the only long haired one.
He has an M on his forehead. Tuffed toes and ears. He isn't very vocal but occasionally chirps and trills and has an odd sounding muffled meow he hardly uses. He is playful and also very lovable.
He loves trying to eat our people food and when he wants to cuddle he tries sleeping on my face! He is about 4 months younger than my female tabbi tortie cat but already as big!
---
The Adventures of Wendell
By: Belinda in Savannah, GA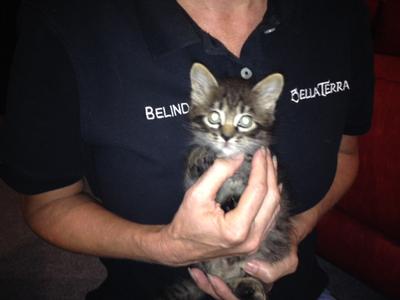 On a beautiful Saturday afternoon in mid-October 2013, we acquired a new kitten. Not intentionally mind you, it was more that he acquired us.
During a cookout this little 4 to 5 week old kitten just strolled right into the party, rubbing up against the legs of a guest. He had absolutely no fear of humans.
Our guest brought the little bundle of fur to me in the kitchen to be fed. The poor little thing had obviously been alone for a day or two, and he was pretty hungry.
So a couple of hours later, with full tummy, a warm towel, and toy to snuggle, he went to sleep in our closet. Having two adult cats already, I didn't trust leaving him out in the general population.
The next day he and his new belongings moved into the garage. Now, I use the term garage loosely as this is actually the Man Cave and is fully carpeted with a large screen TV, surround sound, recliners, and such.
Thinking such a small kitten couldn't have wandered far from home, I walked the neighborhood going from door to door, and no one was missing a kitten or had knowledge of a feral female cat in the area.
The plan at that point was to find a home for the little fellow, but the garage was a pretty nice set up for him, even though he would be alone while we were at work. I had no luck with finding him a home and I refused to take him in to the local pet store for adoption. This caused a bit of discord in our home, but after a week - when he was given his name - I knew we were keeping him.
Wendell is very different both in appearance and in temperament than our two other cats (Spooky and Tassie), both of which are rescues.
Spooky is our older male cat who can be affectionate, but isn't really all that concerned with what his people are doing. Tassie was somewhat traumatized as a kitten before we found her. She will sit in my lap from time to time but mostly is content to keep to herself and go into hiding at the least bit of unusual noise.
Wendell, on the other hand, is right in the middle of pretty much everything. He can be a little skittish with strangers at first. He is almost a year and a half old and weighs 15 pounds, and seems to be growing still.
The first thing I noticed about him as a kitten was the size of his feet, they were as large as the feet of our full sized cats, and the length of his whiskers. He loves to play. If we are upstairs in our bonus room he will bring his ball upstairs and drop it, expecting it to be thrown. If we are busy he will take the ball to the top of the stairs, drop it, and chase it down. He is very intelligent and can figure out cat "toys" that dumbfound the other two.
He is fascinated by our printer and I swear he is going to figure out how to turn it on and off before much longer. He is not a lap cat, but will sit right beside me. He sits on the bathroom counter while I get ready for work. He wants to be involved in everything.
He sleeps with me every night and when he crawls up on my chest, usually around 3 a.m., he always touches my face with his paw. He won't go to sleep unless he is touching me. I know we will never know with certainty is he is part Maine Coon, but is there a possibility that he might be a mix?
---
Frankie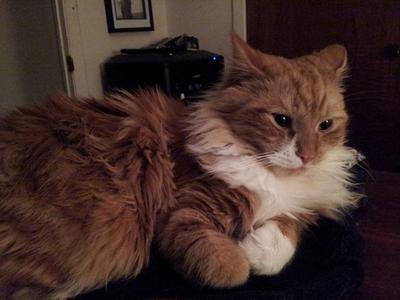 9 months old shares MCC characteristics, both physical and behavioral.
Mane, feathered tail, rectangular body. Alpha male, dominated my 12 year old tortoise shell from the start, now rules the house.
Very affectionate, sleeps with me at night.
---
Gomez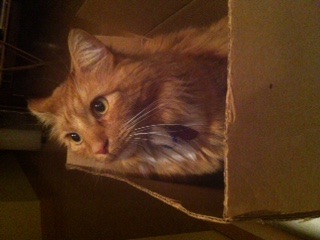 Gomez is very friendly and curious! When someone rings the doorbell, he has to go check it!
He also comes to the door to welcome us! Even if he's a very large boy, he has a little girl meow! He's a very special and sweet cat!
---
Harley and Jack My Talkative And Mischievous Boys
By: Danielle in Tacoma
I adopted Harley at 9 mos old, he already weighed 10 pounds but looked very thin. Harley is 11 mos now and 13 pounds.
I have another cat Jack that the vet recognized as a Maine Coon mix he is 15 lbs at almost 2 yrs old and very much a talker!
I wanted a playmate for him that was close to his size, and personality, so I searched for months for a Maine Coon or Maine Coon mix. That's when I found Harley he is the most quirky kitty, he opens cabinets for Jack , he meows constantly like he is carrying on full conversations with me.
At 3 am every morning he comes running into my room meowing and walks all over me bumping his head into my chin. He doesn't like to be held, but is happy to sit on my chest or lay across me as long as I don't put him there.
His meow is loud and although very similar to Jacks it's very different from other cats I've owned.
My house is very loud with both my very vocal boys talking all the time! I've been told that Jack is a Maine Coon mix but Harley appears more like a full Maine Coon to me, his owner relinquished him due to a divorce and claimed he was a Maine Coon, does he look full Maine Coon to you?
Jack is the one eyed tuxedo and Harley is the tabby.
---
Aramis
By: Paul Garner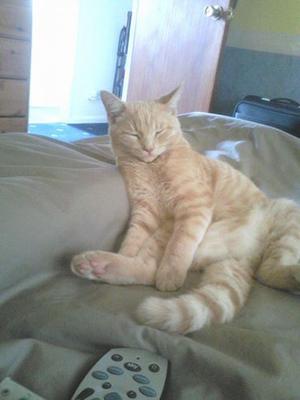 Aramis is approximately 9 months old and has a ferocious appetite and big paws.
The lady i got him from reckons his dad was a Maine Coon which would explain a lot I will send some pictures so you can give me your opinion.
---
Maine Coon or Maine Coon Mix?
By: April Loney in Pensacola FL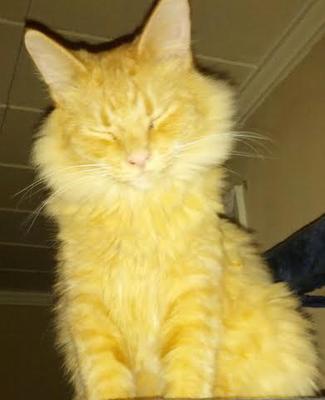 Tesla smiles for the camera.
Tesla is an 18 month old male. I found him when he was 7 weeks old. He is very rambunctious and playful.
He spends hours in the windows of my home "chattering" when he sees birds and squirrels playing on the trees and bushes right outside.
He is very mischievous, and will take smaller objects that he can carry in his mouth, and "hide" them in designated spots in the home. He is also an excellent hunter, and any bug that manages to slip into the house doesn't stand a chance. He will catch them and carry them around the house meowing.
He has beautiful long fur, with extremely long tufts of white fur between his paws, and a glorious "mane" around his neck. Although he is over a year old, he has a very soft and high pitched meow, and only meows when he is in need of food or water.
---
Jewfasa
By: Amanda Aliano in Arizona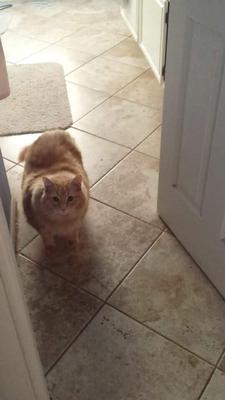 We adopted our new cat (Jewfasa) 2 days ago from the Humane Society.
They said he was a Maine Coon mix but I'm still curious. He shows signs and characteristics of a maine coon, but not entirely. So far he had the "M" on his forehead, ear hair, no ear tufts, long fluffy hair, and very vocal.
We love him so much! He doesn't like his belly rubbed or touched and so far isn't the most social cat. He enjoys dark quiet places, and loves to be awake at night.
---
Aplollos
By: Rachel Coria in Holland, Michigan
My husband and I chose this handsome man from among his brothers and sisters a little later than most people pick out a kitten since we wanted to wait for their personalities to bud. (We didn't want to get stuck with a demon) :D
The mother belongs to friends of ours who rescued her from the street, and had no idea she was already pregnant with five! She is a beautifully colored long-hair, but a bit on the small side.
The day we went to choose a kitten, we had no idea that he would end up choosing us! The future Apollos jumped up on the couch beside my husband, and locked eyes with him...and wouldn't look away. Everytime my husband would move, Apollos would follow him, while the rest of the kittens seemed oblivious to our presence! So obviously that made up our mind, and Apollos became part of our family.
...And he grew, and grew, and...is still growing almost 2 years later! The last time we took him to the vet, he weighed in at 17 lbs, and the vet said that he's not fat, he's just...big! Physically, he resembles a coon: varying coat lengths and colors, mainly a tabby look.
Straight medium nose, small tufts on his ears (not as prominent as a coon), Big feet with tufts of hair on the bottom, and that stare...I think he could win a staring contest with a gold fish!
His personality is one of a kind. He has the obvious traits of a coon: obsession with water, he is extremely affectionate, and requires Lots of attention. He purrs almost constantly, and sounds like a small motor.
Other funny behaviors: he hides toys/paper scraps in my husband's shoes, he is obsessed with a particular toy, and drags it around as if he considers it prey. He must be by the baby at all times even if it means getting clobbered on the head, or losing a whisker or two. When the baby wakes up at night crying, I often find Apollos camping outside his closed bedroom door almost as if he is either standing guard or senses that something is wrong. I thought only dogs did that.
Another dog-like trait that I haven't seen in any other cat that I have ever owned is that Apollos comes when called. It doesn't matter if he is busy getting into something he shouldn't or sound asleep. He immediately comes when he hears his name! A less desirable trait is that he has learned to open drawers and cabinets :( But that must mean he's smart.
My husband was a hard-core dog person. He even went so far as to say that he hated cats...But ever since Apollos chose him as his person, he has completely fallen in love with this magnificent feline.
(Note from editor: Rachel, your pictures didn't come through - This happens when they are large files, meaning high quality photos. There are tips here for editing photos for the web, if you'd like to try again. Without an email address, I was unable to contact you.)
---
Is Anna a Maine Coon Mix?
By: Nicole in Warren, Michigan
I adopted Anna from a vet office my friend worked at in 2005. They recieved her from a couple who found her in a field as a kitten.
My friend believes she is a Maine Coon Mix. She's about 9 or 10 years old now. I've kept her indoors since I got her. She's so lovable and vocal..follows me all over the house and makes the most unique sounds as if she is communicating with me.
When I first got her, I couldn't believe how much she acted like a dog. She's very smart and knows her name..if I call her she comes from wherever she's at.
She loves to be held and sleeps as close to me as she can get. She's always purring and playing. She can entertain herself throwing a toy mouse around. She can be very loud at times, but most times she is very light on her feet.
Do you think Anna has some Maine Coon in her? Any idea of what other breeds she could be mixed with? This all started because I was trying to figure out a general life span, and I came to see how much it varies by breed. Any input is greatly appreciated!
(Note from editor: Nicole, your pictures didn't come through - This happens when they are large files, meaning high quality photos. There are tips here for editing photos for the web, if you'd like to try again. Without an email address, I was unable to contact you.)
---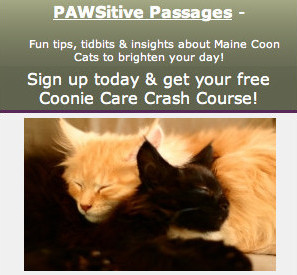 Related: