March 2013 Maine Coon Cat Pictures
Welcome to the March Photo Album of Maine Coon Cat pictures! It's almost spring, I'm sure all these Coonies are ready for that!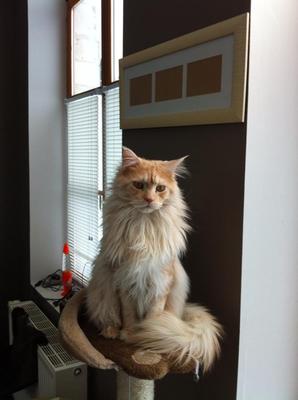 Gaspard
By: Jeoffrey in France
2 years old, a french Maine Coon, very proud of him. (sorry for my English)
Comments:
Laura: Gorgeous cat! And your English is perfect!
Chantal (Australia): Il est magnifique!
---
Here's Surfer Dude!
By: Meryl in Cary, NC
Surfer Dude is a purebred Maine Coon who was "shown" by his breeder as a kitten and disqualified for having a "locket", in other words, a small piece of white fur on his ruff.
The comments were that he could have been a grand champion except for that imperfection. Can you imagine a cat this beautiful not being completely perfect in every way possible? Well, the breeder was the vet of my beloved 20-year old cat who had died 6 months before and she thought I'd be a great kitty mom for Dude. So our special relationship was born.
Dude is going to be 12 in a few weeks. He has some arthritis and has had his thyroid irradiated, but is otherwise in good health. He is the best companion, a big playful goofball, and very intelligent. A classic Maine Coon personality.
He follows me all around the house, will curl up on my lap especially in the winter, and plays fetch. He will also sit up and beg on command.
I love my boy, he brings so much joy into my life! I live to serve his royal highness. :-)
Comments:
Pat in Ocala: I loved your story about this beautiful cat. You are both fortunate to have each other. And, Dude IS perfect!
---
Dave
By: Rachel in New Zealand
Dave is a 2yr old Silver tabby Maine Coon who is the gentlest boy ever and loves his cuddles! :-)
Comments:
Jan Kraft: Dave is just about everything I could dream for in a MC.
Hallie: He is absolutely gorgeous! His paws are massive. How much does he weigh?
---
Liam the Lion Hearted
By: Jane in Montreal, Quebec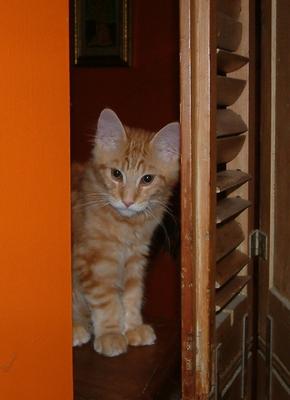 Liam at 10 weeks
Liam is a 5 year old ginger Maine Coon and thinks he is our third Chesapeake Retriever. When the door bell rings and the dogs Cedric and Patricia run to greet visitors, Liam runs between them.
When the dogs get a treat Liam insists on one too. He has many different cat calls, all for various situations. He loves all children and once sat quietly amongst 13, 4 years old, during a birthday party.
He has an enclosure in the backyard that is 12 by 15 feet, with a net roof, tree and igloo shelter, which he enjoys immensely in the warm months.
He is a creature of habit and every evening at the same time sits on his Dads chest and then moves onto my legs, where he does his wash. If you touch him with hand cream on, he will re-wash.
He also trims his own claws. I have asked many other cat owners if their cats bite their nails, and have had only one positive response.
He is our first Coonie, but my uncle has had Maines for 35 years, and that is where I developed my love of them. He also likes to take walks with his dogs, and is very proud of his orange leash and harness. Liam the social lion!
---
Meet Tigger
By: Ruby in Panama City, FL. USA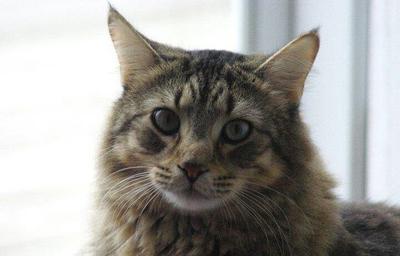 Tigger is a 6 year old Maine, that is loved greatly by his family and friends. His best friend is "his dog sister".
---
Pucci
By: Regina in Brooklyn, NYC
Pucci is our very much adoerd 5 year old Maine Coon-38lbs. of lovin'!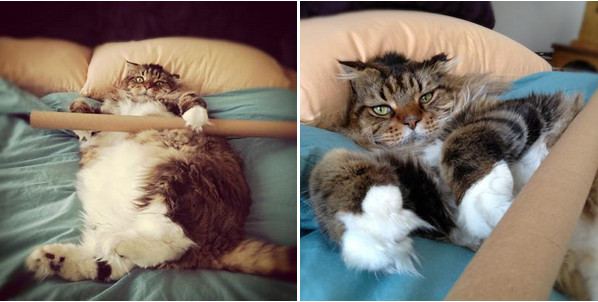 Pucci loves to play with paper and tubes-
Comments:
Milana Hames: What does he eat? Were his parents this large?
Kathryn Mangaard: I LOVE this cat <3
Maida Feingold: Isn't 38 lbs. somewhat overweight for even a coonie? Shoudnt he or she be losing some of that weight. My Coon is 20 lbs. and my vet wants him to lose 5.
Barb: What a big gorgeous boy!!! what big paws you have!!
---
Meet Grim, our little Aussie Maine Coon!
By: Chantal Carter in Brisbane, Queensland, Australia
Grim is a Blue Tabby Maine Coon kitten, just 14 weeks old - we've owned him for a month now and you can see how much he has grown since we brought him home by just looking at these pictures!
We called him Grim in honour of his Viking heritage as the name was very popular in the 800s and he certainly has a fantastic gung-ho personality to match it.
There aren't many Maine Coons here in Australia like in the US and if anyone loves them as much as my family does, they have to purchase them from registered breeders for approx $850 (desexed male) and approx $750 (desexed female)!
Grim is our very special little guy who means everything to us!
Comments:
Rachel: Hi Chantal, I was just wondering which breeder you got your Coon from? I'm in Brisbane too, and we went to Ghostgum Maine Coons, out past Beaudesert. I was just wondering about more local breeders as a reference for some friends, as it's a bit of a hike!
Laura: I am in the USA and purchased my cat in Florida. She cost $950 and I was required to neuter her. They are expensive everywhere. Plus I had to travel by air plane to go pick her up. Total price was around $1500.00
Donna: So much like my Emmie. She's a big girl now...2 years old. Still thinks she's a kitten! Wow, does she like to play!
Cheri: I'm in Australia and didn't find it easy getting my hands on a MC. We didn't give up and now we have 2 beauties, Wizard and Rumeur, both from a breeder. Worth every dollar. We enjoy them so much! They are very special cats!
Mary owner of Meng-Noosh: Yes, your cat is much like ours. We were fortunate when we saw our feline friend in a shelter and surrendered by his owner. He was scruffy, dingy, stained and still held his head up with dignity.
Pam Meyer: He is gorgeous--what a handsome hunk of a cat he is!
Chantal Carter: Rachel - sorry for getting back to you so late but I didn't think Grim was listed! We bought him from Royalekatz at Park Ridge (3297 1002). Sharon is a wonderful, caring breeder who takes care iof everything and then some! Cheers, Chantal :D
Barb: May he grow happily and healthily into those big paws he has!
---
A Fresh Take
By: Tracey Armintor in Houston, Texas, USA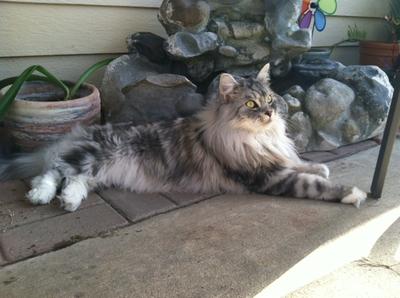 Fresh enjoying an afternoon on the patio
Fresh, yes that is his name, has been a member of my four legged family since November 2012.
One of my dear friends asked if I could take him in, knowing he would be going to a loving home. She was unable to keep him in her condo.
Fresh is actually her daughter's cat. She had promised her daughter that when she got a teaching job she would get her a kitten. She got a job and her daughter picked our Fresh, that is the name her daughter gave him.
I am keeping the name Fresh in case my friend and her daughter are able to take Fresh back. I have a nickname for him, BB, it stands for Big Boy. I have come to love this gentle boy, as I knew I would, it will break my heart if and when he goes back.
Fresh is quite the character, as my friend says, "When they made Fresh, they broke the mold."
Even though there are two bowls of water, he loves to drink the water out of Ferrari's bowl, Ferrari being my Beta fish. I haven't found much that he doesn't like, in fact the other day I was eating humus, and he was right there trying to get into it, I put a little on my finger and he licked it off.
He also likes peanut butter, I will have a spoon of it and he will take his paw and try to pull my hand into him. He loves to get into drawers, whether be the dresser drawer or the the drawer in the bathroom counter as you will see in the pictures.
Fresh is quite the scavenger, you cannot leave anything on the kitchen counter or leave the pantry door ajar, otherwise he tears open packages of things and gives it a taste test. He is a very laid back and loving cat, he loves to sleep on the pillow next to me or cuddle up next to my chest. He LOVES to make biscuits, that is what I call it when he kneads on the blanket.
I had always wanted a Maine Coon, and of course jumped at the chance when my friend asked if I could take Fresh in. Now, I will always have one running about the house. They are such a wonderful breed.
Comments:
Barb: What a regal and majestic cat!!
---
Kammie
By: Diane
I so enjoy reading all the articles and looking at all the pictures of Maine Coons! Your web page is so helpful and informative.
My mom's Maine Coon Kammie is sure entertaining and has quite the personality. I don't hear her purr much when I am there, but mom says she purrs loud in the morning and kneeds my mom's head when she wants mom to get up and feed her.
She is one playful kitty for sure. She will be turning 2 years old in April and still is very kitten like.
Her favorite thing to do is play fetch, which she taught herself to do. She will fetch for an hour if you would let her. Her favorite toy is a feather on a stick, which she immediately goes for the minute I walk through the door!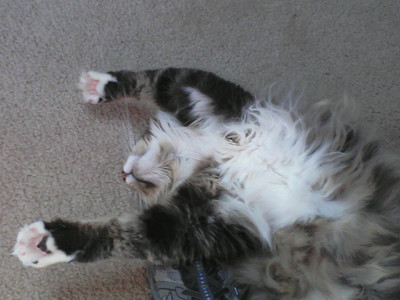 Instead of a lot of meowing and howling, she pretty much has a coo like a pigeon. When she does meow, the tongue always comes out! Cutest thing I have ever seen a cat do.
I just love the Maine Coon, and hopefully very soon I will be adopting two for myself. I plan on one in the orange and white color, and a Silver Tabby. Want to get them in a pair, that way they can play together.
There is always someone at home, so being alone wouldn't happen too often. I have attached a picture of Kammie, so you can have a look at another beautiful Maine Coon. I did drive all the way from Mass. to Maine to pick her up, so she is a Maine Coon from Maine! LOL!
Thanks for your continued devotion to these awesome cats!
---
Miss Persia in her St. Patrick's Day Hat
By: Tina in Central Point, OR
This is Miss Persia. She came to me in July 2008. I had just lost my Maine Coon Regis and I was so so sad. Regis was my best friend and I was so lonely. I decided one day to just go to the pound and look at the kitties and maybe hold them.
Then there was this Maine Coon with the white tear drop on her nose. They said that she was about two years old and she had been spayed but they couldn't take care of her anymore.
I asked to hold her and she put her head under my arm. I took her home that day. I didn't know if I could love again but I fell in love with her. They told me she was quiet and timid but she is the most talkative kitty I know.
She even sings with me and she loves to cuddle and play and she is on a harness in the yard and we sit and watch birds and butterflies.
I will always miss my Regis, but I am so glad that Miss Persia and I are together. I do love her so much. She is quite the kitty.
Comments:
Jodie: There are so many in need of homes, thank you for adopting again.
---
Jeronimo at 9 months
By: Anna Reed in Athens Greece
Our boy is growing but likely not one of those BIG Maine Coons (he is about 10 lbs) but we are crazy for him..
Although he didn't like it much we tried to give him some Mardi Gras fever... Didn't work he jumped, turned, ran and rubbed till he got if all off.
Comments:
Janet: Sweety, our MC, only weighed 10 lbs at a year but kept growing for two more years and is now much larger and 14 lbs!
---
Sam likes to bird watch
By: Kellie in Jasper, AL
This is Sam. He is about 8 months old and love to go outside with us. I caught him trying to do a little bird watching yesterday :)
He is the most lovable and affectionate cat we have ever had. He is more like a dog than a cat as he follows us everywhere, loves the pond, and loves to play fetch.
---
Brutus Maximus
By: Ruth from Newcastle upon Tyne
Our Maine coon is called Brutus he is 15months old, he's cheeky, funny, naughty and above all else he's a much loved part of our family :)
Comments:
Jane Marcuse: Brutus is magnificient. He reminds me of our Liam, who is also amongst the March cats..
Nicky: Gorgeous and with a great name!
Jo: What a kingly pose!!!
Marie: Wow! Gorgeous redhead!
---
Alfie and Poppy 1yr on!
By: Denise Hipson in Glasgow , Scotland
Our Babies both not long turned 1yr.
(Note from editor: See Poppy and Alfie as kittens in our October Album!)
---
Our Little Jack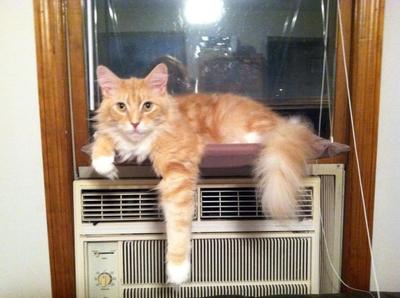 hanging out
Jack as we call him is a 7yr old male who was shown as a kitten by his breeder.
Skiddish when we got him, he has become the dominant male of all 3 of our boys, very loving and social his breeder can not believe his turn around.
Jack has some allergies, he can't have corn or any glutens and we have to keep flea meds on him cause of his flea allergy. He is the sweetest boy.
---
Meet Sammy!
By: Emily in Nashua NH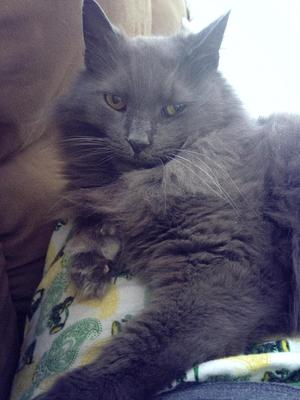 Sammy is a beautiful 12 year old boy who was recently adopted into a new loving home.
He loves cuddling and having his belly rubbed. He is almost completely blind but that doesn't stop him from being extra lovable and playful.
He follows his owner, Emily around everywhere she goes. Sammy enjoys soaking up the sun, listening to the birds chirp, and simply enjoying the fresh air.
Comments:
Karen Civitella: such a beautiful cat!
---
Princess Sophie Of Holly Point
By: Magda Mae Bowman in Freeport, FL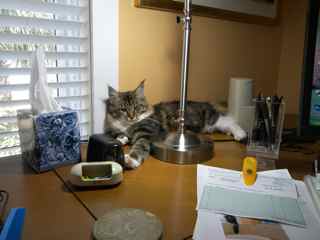 Sophie will be 1 year old April 9th, weighs 12 lbs and has brought more joy into our home than we thought possible. She's a pure bred Maine Coon with GC Rivio as the sire from ICOON Cats in Youngstown, FL. I can't say enough good things about the breeder, Lisa.
Loki (God of Mischief in the Scandinavian mythological story of brothers, Prince Loki & Prince Thor) and is Sophie's half brother, also from Rovio, will be at home with us on March 25. He is black and white so we'll have a variety of color.
I love reading about all the cats and their owner's stories as well as looking at the pictures. I've picked up some good points that I've put to use as well.
Magda Mae Bowman
---
Love and Purrs
By: Dawn in Texas
Our 18 week old Maine Coon, Simba. Full of love and purrs!
Comments:
Debra Zemke: Absolutely beautiful little girl!
---
Here's Pepito from Rome, Italy!
By: Giovanni Loria in Rome, Italy
To tell you the truth, I don't know if it's a pure 100% Maine coon... what I can tell for sure he's a funny cat, always happy and looking for food and caresses, in no particular order!
---
Peaches
By: Donna in Georgia

Peaches
Peaches is very playful and loving. She loves to keep a check on me and never leaves my side.
I have just adopted her from the resuce center and I am enjoying each discovery.
I know this is the start of a wonderful relationship.
Comments:
Nancy Hemsworth: I think she is simply Purrrfect......
---
Apollo updates
By: Melissa in Illinois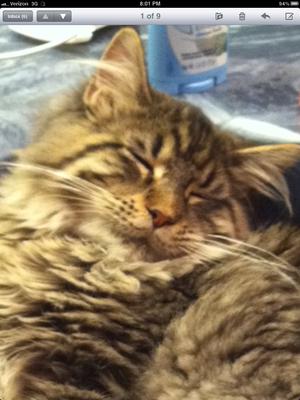 Last time in the sink, too big now
Apollo is now 17 months old & about 15lbs....he's my constant buddy and quite the entertainer!
Comments:
Karen Civitella: such a beautiful cat!
Laci
By: Renee in Massachusetts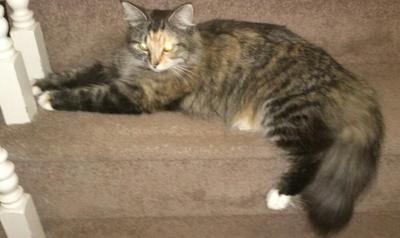 This is our beautiful Laci. She is the second Maine coon to enter our lives.
The first was an older cat that we took in when her owner died and the family could not keep her. Grace setteled in nicely and became the most loving cat,sleeping with us and kissing obsessivly. When she passed only a year later we knew when the time was right we would be getting another Coon.
We would not have found laci if we hadn't fallen so in love with the personality our first Coonie. We wanted to rescue a cat, knowing there are so many in shelters, but didn't know if we would find a coon. When I saw Laci's face on the shelters website, I fell in love and had to meet her.
Although a bit shy at first she now follows us around telling us it is time to play, and never lets us forget to feed her. She loves to play hide and seek and run around the house as if she is being chased, usually at bed time. We are so glad to have found this wonderful breed and laci has grace to thank for finding her forever home.
---
Meet Jake AKA Catzilla!
By: Debra Roper in Austin, TX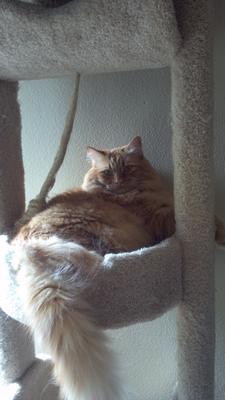 Jake was 10 months old when we adopted him from a local rescue.
He was so cute and small...5 years later he's 17 lbs.of Maine Coon love! He has the smallest voice in the biggest body.
He is very sweet and sensitive but doesn't like to be groomed at all. The reason "catzilla" is his nickname is because when he slowly walks away from you, he sort of swaggers and swishes his tail like godzilla.
He's not very athletic, running and jumping are not his thing so when he does it we are surprised and amused. My sons suggested we rename him Garfield since he's so big, but Jake fits just fine!
---
Our two beauties
By: Tom & Louise Woessner in Shakopee Minnesota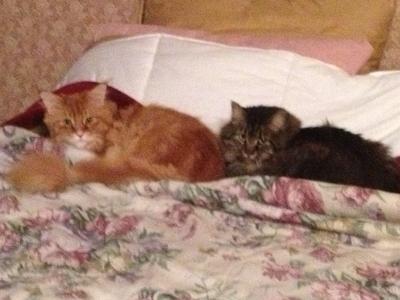 Cuddling on our bed
We rescued Tinkerbell in Feb 2011 when she was 4 and a half. She is very affectionate and rolls over a lot for tummy rubs.
She follows me constantly when I'm home and chatters. The vet said she is the smallest mc he has seen. Then last October we rescued our butterscotch Aslan who, poor baby, was totally declawed.
Our Tinker has all her claws and has let Aslan know she is the princess and owns me. It took a while but they are now good buds and he is twice her size
---
Sheba Kuzma My baby girl!
By: Ruby in Fort Walton Beach, Florida, Okaloosa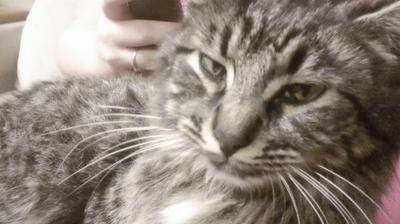 She's new to the family (a gift). The kids the the area she was before tried to hurt her very badly so she was given to us so she would have a good home.
She's the sweetest, funniest, fluffiest cat I have ever had and I love her so much, even my husbands fallen in love with her.
---
Mr. Baggins
By: Linda Ramey in Prosperity PA
We rescued Mr. Baggins from Washington County Humane Society. I am sending a picture when we first got him and also one just taken. He weighs around 13 pounds and is now around 2 years old.
We live in the country and he goes out with me and helps me do everything. If I am planting a tree or the garden; he checks the hole and all seed packets...etc. Takes a drink from the water and runs to the outdoor swing if I ask him if he wants to swing.
He comes to bed with me and stays until I am about asleep. If I am alone in the bed, he stays all night , otherwise he sleeps on the dresser or on the floor by the bed. My husband and I are 70 and he really fills my day.
We are just wondering if he could be part Maine Coon. He loves to eat and seems always hungary....He likes to play with dripping water in the tub or sink.
He is not shy and is always waiting by the door for us when we come home from a shopping trip. He loves riding in the car and we take him with us when we visit our children. As you can see, he was solid black when we got him but is now smoke colored under his neck and belly.
---
Dudley (still a kitten at heart)
By: Cheryl in Stratford, NJ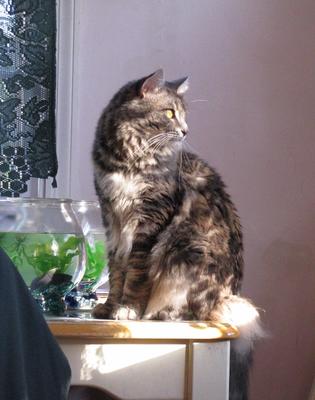 I'm too sexy
Dudley came to use from The Animal Orphanage of Voorhees in 2011. At the time he was in the infirmary getting well enough to be adopted. He captured our hearts, and my two sons and I continued to visit him until he came to our forever home.
He was approximately 1 1/2 years old when we got him. His muscles had been atrophied from being in a kennel cage, but with lots of loven he grew into a lovable ball of gray fluff.
He is forever playful and will give cute poses when he wants your attention. His sister Roxy a stray from the Pitman Animal Hospital, though half his size is still Queen of the home. "Our house is a very, very, very, fine house with two cats in the yard, life used to be so hard....."
Comments:
Karen Civitella: what a beauty!! luv it!
---
Mango Pepper
By: PJ LaCross in Fort Wayne IN
She is a dog is a cat's fur! Peek a Boo and Tag are 2 of her favorite pastimes!
Comments:
Anonymous: beautiful
---
Rocket
By: Janet D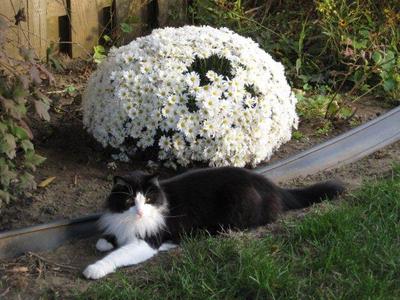 This is Rocket. We found her back in '07 living in a hole in the ground between our house and the neighbour's.
She was declawed and fixed and vet said someone must of turned her out. He thought she was about 1-1 1/2 years old. We were never cat people always dogs. Never hear of Maine coons until recently and I think Rocket is a Tuxedo Maine Coon.
She is 18lbs. Has all the traits -lions mane, hairy ears and feet and OH that tail. Would not give her away for the world. Just lover her to death
Comments:
Debra Zemke: Gorgeous Lady!
---
Hilary (Catslave) Vivian
By: Hilary Vivian in Devon, England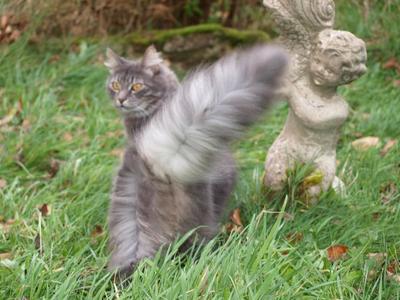 Dash the Flash
Not sure if my boy Dashel is a Maine Coon, but we think his Daddy must have been!
He's a big boy, fluffy, funny, loving and spiky in equal measure, which is why I called him Dashel - we live in Devon, England, and Dashel is the Devon dialect name for a thistle... Dashel was born on a farm near Exeter, in a corn bin in a barn, to a lovely dark tabby Mum.
He has the Maine Coon special tail, giant paws, and curly "earwings"; he chirrups to himself, he loves to drink from the bathtaps, he's greedy, he's lazy - but hyperactive when he's not asleep.
Dashel is very affectionate - on his own selective terms - and is a GREAT purrer. He's also playful; loves nothing better than to be tickled with a seagull feather, and then to chase it.
Another favourite pastime is to leap on my tabby boy Mark, usually when he's taking a nap...and, almost forgot, Dashel is a keen birdwatcher... Greetings to all you lovely cats and your catslaves... XXX
---
Missy Lil
By: Ann
Her name if Missy Lil or aka Little girl. I got her from a feed store in Laytonville, CA. She has a brother, atleast that is what they told me. He is short hair, also black & white.
---
Our Mr. Peaches
5 year old gentle giant Mr. Peaches, is afraid of the birds that fly past the windows, but we can not keep him off the window sills.
He tips the scales between 23 and 25 pounds, but thinks he's little kitten. He loves to play in the water and spends lots of time plaing in his water dish.
He's a very vocal boy and seems to ask permission before he enters a room or jumps on the bed. He is very special to our family and we love him very much!
(Note from editor: Hi your pictures didn't come through - This happens when they are large files, meaning high quality photos. There are tips here for editing photos for the web, if you'd like to try again. I was unable to sent you an email.)
---
Benny
By: Sandy Sharp in Lafayette, Indiana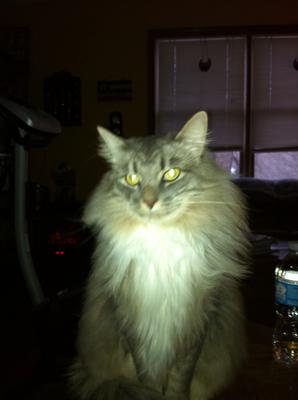 He was a stray I got from a friend. Got him home and as he got bigger another friend thought he looked like a Maine Coon.
He is a lot of fun and such a beautiful cat.
Comments:
Sandra Elliott: He looks like my Marco who has a similar story. He was listed as a stray at the shelter. He had short dark hair and was a little skinny. In the first six months with me he gained six pounds and his short fur grew out to be 4 inches long and now he clearly looks like Benny and sure looks and acts like a Maine Coon!
---
This is Fluffy
He is 1 year old and the most charming, crazy talkative kitty I've ever known!!
---
Hemi the Lovebug!
By: Kelly in Loganville, GA, USA
Hemi is the sweetest boy ever. He is 2 years old. He adopted me when he was 6 weeks old and I have been head over heals in love ever since.
My son named him Hemi because he purrs so incredibly loud. When he was a baby he would snuggle up under my chin and PURR PURR PURR. He doesn't fit under my chin anymore but he still loves to cuddle.
He sleeps snuggled right up against me or curled up on my pillow next to my head. Hemi loves to play with the laser dot but his favorite toy is his crinkle balls. He will chase them around for hours.
He lounges at the very top of his cat tree soaking up the sun or under any available blanket. He is my JOY!!!!!
---
Dollar
By: Dominika in Sosnowiec, Polska
Dollar now I'm 3 months and 19 days;)
I like very slack and have fun with my parents balls and other toys.
Comments:
adnamA: If Dollar is only a few months and is that long, he just may grow to compete for the longest cat :) My Carly is working on that as well :)
---
What An Awesome Creature!!!!
By: Cassie in Lakeland, FL
Killian is a rescue. He may not be a full blooded Maine Coon but he has all the characteristics and the best personality EVER!!!!
He loves to lay in the sink and plays a very rousing game of hide-an-seek whenever possible. He will even chirp at you from around the corner when he sneaks up on you as if to say "I gotcha!!"
We love him soooooo much!!!
---
Karma
By: Liza in Ruby, SC
Karma is my beautiful little girl. She is the sweetest baby ever and she loves to sleep cuddled up to me at night, mostly on my head! She loves giving love and affection!
---
Pookey
By: Gwendolyn Blake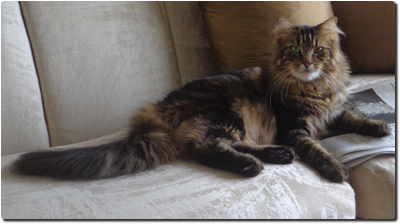 My 2 year old Pookey Roby-Blake. We adopted him on April 21st of 2011 from The Anti-Cruelty Society in Chicago...
He is our 'only child' and a wonderful bundle of joy. This week it seems like he has a lot to talk about at 3am in the mornings...
I listen and go back to sleep with him curled up in my arms... he talks nonstop which I enjoy and he likes for you to sing lullabys to him...
His favorite room is the living room, that's where he reads the newspaper and is close to the window where he can keep a close eye on the birds!
---
Maizey, aka thunder hoof. It sounds like thunder when she runs through the house.
By: Debra Radin in Piggott, Arkansas
Maizey has been with us for a couple of months now. We are all still in the getting to know you phase.
The previous owner's girlfriend want to put Maizey down, if we hadn't taken her. She called her a "vicious" cat. She's had her moments when she's gotten a hold of me, but as soon as she hears the word "No," she starts loving on me. I don't think she was socialized very well as a kitten. She's very loving one moment and very mischevious the next, but I wouldn't take anything for her.
---
Peanut almost one
By: Andy in Mohnton, PA
Couldn't wait to submit these pics of my little girl Peanut.
Lost her for two hours the other day. Later, found her in the linen closet. Very content . Not traumatized at all.
Birthday pics coming next month.
---
Miss Kitty - Queen of Her Domain
By: Nancy in Alabama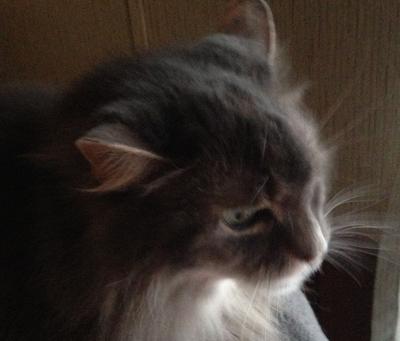 My Miss Kitty was a rescue from our Vet who said someone left her in a bag at his doorstep.
She was about three or four weeks old and very sickly. She had a sinus infection and an ear infection. We treated her for those problems and she then developed an upper respiratory infection!
So for about three or four months I held her nearly all the time. She let me give her medications (three rounds of antibiotics) and seemed to just want to be held and comforted. I did not discover that she was a Maine Coon until I saw a picture on a website about cats. And there was my Miss Kitty's picture!
This gorgeous fluffy, large, beautiful Maine Coon cat that could have been Miss Kitty's twin!!! That's when I began to think she may be a "coonie"! Since she is a rescue, I doubt she is a full-blooded Maine Coon, but I know for sure she has to be mostly Coonie!! She weighs around 10 to 12 pounds and most of it is fur.
She has a huge long fluffy tail with slight rings around it, fluffy tufted paws, very long whiskers, and fluffy ears. I had read about an "M" marking on the tops of coonies' heads and Miss Kitty has an orange mark resembling the "M"!
I don't know of any truth to that but she does have a mark. Anyway, my sweet cat is such a joy and a pleasure to be around! She is more lap cat than anything. She does like to play and will beg for a "treat" all during the day. She's my sidekick for sure!!!
---
Buster (after 5 names, he responded to Buster)
By: Mary Guenther in Sodus, NY
Buster was adopted from an organic farm. There were 3 litters of kittens, mostly barn cats but definitely some Maine Coon mixed in, he was the first kitten I saw, parked at the empty food dish.
We also adopted a small barn cat, Piewacket, who is a little gray and white domestic short hair. They used to cuddle all the time. They each chose which of us they wanted to "belong" to. Buster chose me and Pie chose my significant other. He rarely leaves my side when I am home, follows me all over and sleeps next to me all night.
Buster weighs in at 25 lbs and takes up my entire desk when he is allowed on it. He is not terribly vocal but definitely lets you know when he wants something.
The cats are both almost 7 years old and still act like kittens.
Buster has made me and most of my friends fall in love with Maine Coon cats.
Comments:
Alex: Very cute, male version of our Zim!
Lynda White: He looks just like my Tater!
Janis Maxymof: Wow our Coonie finally responded to Cowboy, rhymes with good boy. So Cowboy it is.
Arlene M. Baladi: Buster looks like a real sweetie...so glad you have him!
---
Little Sammi
By: Elisabeth in Vienna, Austria
I introduced Pepi to y'all last October. While he feels very much at home with my family, he was more than displeased when we he had spend nights on his own during our recent 5-day absence.
As a responsible cat mom I immediately contacted my vet, who suggested we add another cat to our household. And so it came that Sammi, a polydactyl pure-bred Coonie lady, came to our house.
I am delighted to report that she and Pepi get along just fine and hopefully my family and I will be able to enjoy future vacations without having to worry about Pepi's happiness.
---
King of his Castle
By: Beth Smay in Windfall, Indiana
This is "Sunny" and he is the King in our home!
Sunny is a 4 year old Maine Coon that my husband found for me after the death of my 1st Maine Coon.
He is nothing like my 1st one, Cubby, but has a most entertaining personality. Love this breed!!!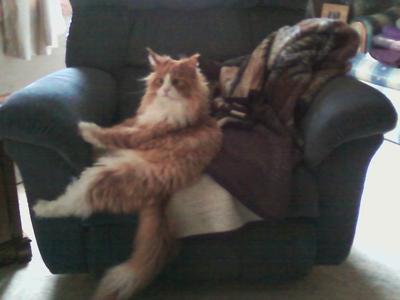 Sunny, my 4 year-old male, demonstrating that not only humans enjoy relaxing in the Lazy Boy!
---
Shea
By: Michelle in PA
Shea is 2 yrs old and such a sweetheart.
He enjoys sleeping in clothes baskets (clean or dirty) and he loves marshmallows every now and then.
He enjoys a bath once a month and loves to watch the movie Hop and the occasional cartoon.
Comments:
Ann: I have a brown-patched tabby Coonie and she crosses her paw like your cat.
Laura: Thats my daughters' name- I also have a Silver Coon named Lokie. Your Shea is so handsome!
Vivien Gurrera: Hi! I live in Maryland ! South of Lancaster. Please tell me how you acquired your Coonie?
Michelle: To answer Vivien Gurrera's question...I got Shea from a local breeder in my county. My mom seen the ad in the local paper and she called, went to see the kittens and brought my little boy home that same day.
---
Beebes and Duffer
By: Loretta Malin

I had never seen a Maine Coon Cat before Duffer walked down my driveway. I was sure he must be "someones" cat. He was a huge longhaired lovable lug!
I asked around the neighborhood and was told he was a stray and traveled from house to house looking for meals. I learned he had lived with an elderly lady who had passed away that lived down the road from us.
Out of all the neighbors Duffer visited everyday...he picked us to be his people! We had the vet come to the house to check him over and she estimated he was somewhere around 17 years old.
A few days after Duffer decided to stay with us, he came down the driveway followed by a beautiful black and white lady.
She was afraid of everything and everyone. It took her a few weeks before she would consider getting close to anyone except Duffer. We called them our old married couple because they were together always. Duffer and Beebes were the definition of absolute love.
Duffer went to the Rainbow Bridge 2 years ago at the tender age of 22. We still have Beebes with us. They say cats have short memories......but Beebes mourned the loss of the love of her life for quite a while.
We learned a lot about life and love from "our old married couple" and will be forever grateful they picked us to be their people.
Comments:
Arlene: This story and the beautiful pics melt my <3
D Morris: Wow what a story. Cats can tell you so much without saying a word.
---
Tilly
By: Catherine in London, UK
Tilly is almost 4mths old but has become such a big part of our lives! She loves lying in the sun and cuddling!
She is very mischievous though and loves chasing our feet and chewing on everything!
---
Yoda - started small and now keeps getting bigger!
By: Kelsey in Knoxville, TN
I got Yoda from the local shelter, and he was two pounds and sneezing. I know that they euthanize cats if they are sick because they don't want it to spread.
So between his funny personality, hair protruding out of his ears, and my fear he wouldn't last - he came home with me! After recovering from an upper respiratory infection, he began rapidly growing.
Now he is 8 months old and weighs 11 pounds and is quite the character in all of his fluffy majesty and tufty big feet.
I can play fetch with him and take him on walks (without a leash!).
Quite the rascal and clown, but he is my "little boy". He is kind of shy, because he doesn't interact with a lot of people, but it doesn't take long for him to be crawling all over people.
He also likes to attempt to play with my tortoiseshell cat - talk about completely opposite personalities! Love both of them, and despite all the fur, I don't ever regret getting him!
Comments:
Jennifer C: What a beauty! Love his mane and shading!
Gina in California: What a cool-looking Coonie! They come in virtually every color, but I've never seen quite this color pattern! I was wondering why you named him Yoda--until I zoomed in on his kitten picture and saw those ears. Priceless!
Donna: He is so handsome. You are a lucky lady. Miss my Maine Coon cat "Guicho", gone for a year now :(
Sandy Trulson: He is absolutely gorgeous, I am so glad you got him! Thank you for giving him such a great life!!
---
My Gizmo
By: Donna in Lincoln Park MI
I adopted Gizmo and the Detroit Humane Society, I immediatley fell in love with the picture of him online.
I called and told them I would be down to look at him and he was a sweet and silly as he looked in his photo. He was 8 weeks old at the time we adopted him and looked like a normal domestic kitten. but he was very diffrent, his personality is the best.
I noticed he was getting bigger then any cat I've ever owned and my daughter told me he looked like a Maine Coon. She is studying to be a vet tech so she's seen a lot of breeds. The more I read up on this breed theres no doubt he has to be mixed with Maine Coon or a full Maine Coon.
He will be one april 20th or right around there and he measures from his nose to the tip of the tail at 36 1/2 inches, he's a big lovable boy!
---
Simba
By: Carwen in Redruth, Cornwall UK
Our Maine Coon is a beautiful boy, he is 3 years old and been with us for 2 weeks. We live in Cornwall UK.
---
Kingsley the Welsh King
By: Emily in Swansea Wales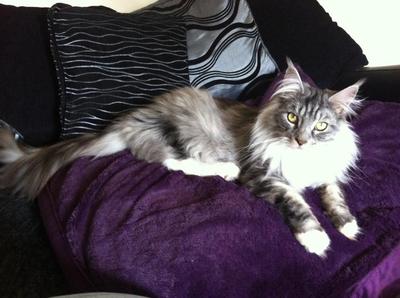 Here is our beautiful cheeky man Kingsly. Hes 2years old, and we believe he is a Maine Coon.
He loves going outside and sitting on the shed looking down at his minions. He loves tormenting our kitten Pandora (1/2 Rag Doll).
He's really chatty, with rmawrr for hello, rawr rawr for wake up im hungry. mep mep for hurry up with my food or if there are birds around. He also makes grubles when hes not wanting to be disturbed. meaaaaaawup is a hello for him too!
We love him loads and he loves a fuss, such a beautiful funny cat.
Emily & Bob Swansea
---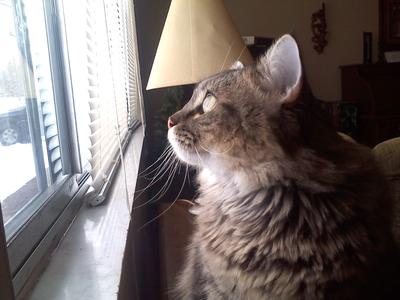 She sees a lot of birds
Puff
By: Allison & Tony in Indiana
Our Miss Puff is bird watching after a big snow. She is almost 2 years old and growing, alot! We love her very much and she loves us right back.
---
Our Zim!
By: Alex and Annie in Maine
Very timid shelter kitty who was abandoned, so we rescued her! Very similar to your March submission, Buster!
Comments:
Mary Guenther: What a beautiful baby! So much like my baby, Buster!
---
Baby Beau
By: Roberta in Victoria, BC
This is Beau as a baby. We know his Mom was a seal-point Siamese, tiny , sleek and lithe.
Beau is a different story. The vet is certain his father was Maine Coon. He's got the toe and ear tufts, silky fur that doesn't tangle, a chirpy cry and weighs 20 pounds.
He's the friendliest guy ever and loves to fetch, cuddle and snooze.
Comments:
Judi Kemp: This has to be the best mix possible! It combines my 2 most favorite cat breeds!!! A beautiful kitty!
Debra Z: He is absolutely beautiful--resembles a Ragdoll Cat--but the tufts between his toes would indicate Maine Coon.
---
Bob the Cat
By: Adrienne in Chandler, AZ
Bob came to our office to help with the mouse population and we are all thrilled each & every day when we come in to work to be greeted by such a handsome boy.
He makes us laugh every day and is quite vocal when he wants something. As you can see from the pics he likes to lay around on our desks and be the center of our attention.
We love having him as part of our family
Comments:
Andrew: How's the mouse population now with Bob at work?
Candace: He looks so much like my cat Frank, it's scary!
Moysha: I think I am Bob's twin sister! Any idea if he is Jewish?
---
Jazzy
By: Karen in Old Saybrook CT
Jazzy (Jasper) is 9 months old. We adopted him from a wonderful shelter Compassion for Cats New London County, CT. I have had cats my enitre life, but he is my first Maine Coon.
We are so attached to him. He is so fun loving and goofy! Jazzy loves to play fetch and play with water. He also loves boa feathers. His favorite toy is one of my daughter's doll's dresses with boa trim.
Jazzy follows me everywhere in the house. I can't imagine life without him. I am totally hooked on Maine Coons now!
---
Charlie...Master of the house
By: Vicki Keisel in Rock Hill, SC
He was a stray and we fell in love with him. He is vocal and lets us know what he wants.
He is very handsome and so smart. Our friends call him cat/dog because I have taught him tricks. He will roll over, sit when told, lay down and will give high five. He is my heart.
---
Mr Foofpants
By: Ashley Rae in Seattle, WA, USA
My Maine Coon is named Loki and I often call him Mr foofpants, he has been a michievious mew since he was a little kitten. He loves other cats and he is friendly to people too but sometimes he doesn't know his own strength or size, haha.
He was born in May 2009 and he is strictly an indoor kitty because the last time he got out he decided to climb the neighbors chimney and we had to get help getting him down.
He is a very playful kitty, don't leave your clean laundry lying around in your laundry basket because he will jump in any box or basket the second he gets a chance. He also likes to talk on occasion and has the cutest meow. Although he is quite playful he does have a strong personality and a temper at times. He will battle you if you tickle or touch his furry toes or when you try to brush him, with paws the size of 50 cent pieces and 15 pounds of fury I try to avoid provoking him, hahaha.
Loki my little mew of mischief is very photogenic, he loves to pose for photos and he loves the attention. He has a beautiful face, expressive bright green eyes and occasionally I catch him doing something silly.
Comments:
Adam: Wow, he looks like my Cat Lilly she was born in 2009 they look like twins handsome kitty you have maine coons are great cats.
---
Peaches
By: Judith in Lakebay, WA, USA
My son and I adopted Peaches when she was about 18 months. Her owner at the time couldn't keep any of the many animals she had as she was having to move from a large rural area into town.
I offered to take Peaches and was never sorry. Peaches loved to cuddle with everyone - other cats as well as myself and my son. My son Jason has AS (Asperger Syndrome) which is a high functioning form of autism.
Peaches love to snuggle with him when he was laying on the bed on his tummy playing his video game, always being careful to not get in the way of his game.
It broke our heart when the doctor recommended we get a new home for Peaches as her long fur was contributing to my son's asthma problems. Peaches and one of the other kitties loved to play "chase me" up and down the hallway. Peaches is half Maine Coon and half Persian.
---
Cookie Monster (aka Cookie)
By: Judith in Lakebay, WA, USA
My son and I adopted Cookie (aka Cookie Monster) when she was about 3 years old. Her owner at the time couldn't keep any of the many animals she had as she was having to move from a large rural area into town. I offered to take Cookie and was never sorry.
Cookie loved to sit next to me on my hospital bed while I did stuff on the computer. Her other place to be was on top of the pillow I used behind my back.
Cookie loved to be around people but wasn't a lot of a cat to let you pick her up most of the time. It broke our heart when the doctor recommended we get a new home for Cookie as her long fur was contributing to my son's asthma problems. Cookie is a tuxedo Maine Coon.
---
Happy Birthday Jasper <3 02/29/2012
By: Tara Young in Ottawa, Ont
---
Atilla
By: Maddie in Staffordshire, UK
Atilla (A.K.A Tills, Tilly, TillyBean, Tillbo Baggins) is the sweetest and most gentle boy, except when he's trying to steal the roast chicken off your plate.
He loves being around people, seeing what we're up to around the house, and helping out if he can. He has such a big purr and an even bigger personality to back it up!
We have found him to be a clever kitty, and really easy to train, he will happily sit, give paw, and roll over on command.
He loves playing hide-and-seek, curling up on his fluffly blanket, and splashing in his water bowl. The whole family spoils him rotten!
---
Chicharoni
By: Patricia Pedroia
Chicharoni is no ordinary cat. I got him when he was 5 weeks old and now he is 10 years old. He is Maine Coon and Siamese mix. He sits on command, follows me everywhere I go. Very talkative and extremely energetic and loves to snuggle.
Comments:
Lawana: He looks like my Charlie only Charlie has a bigger ruff around his neck. I don't know if he's part Coon or Ragdoll. He has tufts between the toes but his fur mats. He's a loving cat.
---
Carmella (Baby's)
By: Randall Thompson in Tennessee, USA