March 2012 Photo Album
Welcome to the March Photo Album! What good-looking cats there are to see here!
Heath and Cali
By: Teresa in Nebraska
Heath
Heath and Cali are our brother and sister Maine Coons born April 26, 2011. They are almost one year old.
Heath is a stunning brown tabby and white. He joined our family in September. His sister, Cali, is a beautiful black smoke and white, who joined us in January. Heath and Cali are our first Maine Coons, and they fit our family perfectly!
They get along with everyone, including the kids and dogs. Heath is an active boy who is into everything, while Cali is the princess. They are both very sweet and loving.
They have all the wonderful qualities of Maine Coons. I think their stunning tails are my favorite feature, along with their great personalities.
Heath and Cali have a blog at twomainthings.blogspot.com if you would like to know more about them. They have had an eventful first year. They may get to be show kitties, one of these days.
---
Cody :)
By: Kristin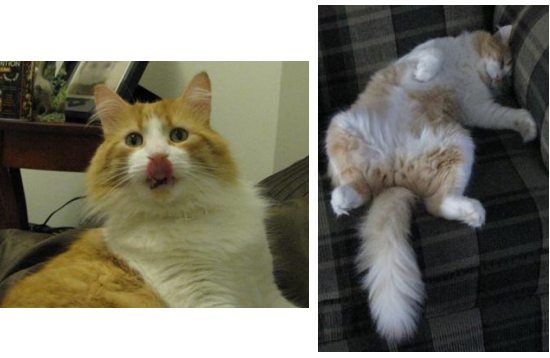 This is my special man Cody, also known as Cody Bunz or Bunners. He was abandond by his old familly and left in the cold.
He is a goofy little fuzz ball and very curious. He has now been a part of our family for two years and he is adorable :) Love you Cody!
---
This is Miles.
This is Miles. He likes to sleep, tear up toilet paper rolls, and attempt to eat laser pointer beams.
Comments:
Theo: He looks alot like my Twinkle (her pic is in your file)
---
Scruffy Tigger Doo
By: Steve Roselle in Traverse City, MI
This is Tigger, king of the house. He is very vocal! He wants your love but does not like to be held and he will tell you so. He is very loving to everyone. He is everywhere something is happening, right in the way. As a matter of fact you need to watch your step or you will trip on him. We all adore him.
Steve Roselle
---
Patrick
By: Lisa in Lovington NM
Loves to drink from faucet. Cries when he can't find me or Sasha(Siamese) Meets me at door when I get home from work. Got Patrick from shelter. Will play fetch.
---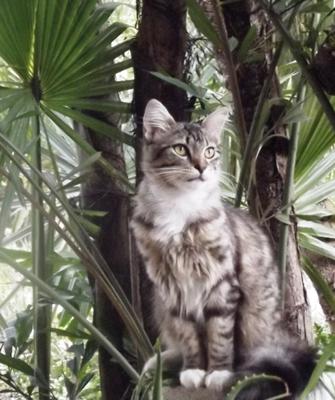 Guaca-Noel-E
By: Jayne in Stuart, Florida
Jayne has sent in a lovely page all about Guaca-Noel-E! Come meet him, see more pictures, and read his feel-good rescue story!
---
Update On Marley
By: Joy in Scotland

Marley is a red silver tabbby and white maine coon, he is now 10 months old and weighs 16lbs- but not an ounce of fat.
There are pictures of when he is younger on Muska and Marley. As he gets older he gets more handsome but also cheekier.
Nothing is safe, there is not much in my house that does not have teeth marks on it. His favourite game is hide and seek he loves to chase me up the stairs, he tries not to chase Muska but sometimes he just can't help himself.
---
Coockie, Our First Time Mama
By: Heidi Mathias in Sao Paulo, Brazil
Coockie is one year and six months old and gave birth to her first litter last week. She is a sweet mama and very proud of her four kittens: Odin, Beowulf and Siegfried (the boys) and Mist (the only girl). We are really happy to share our joy with all of you! Greetings from Sao Paulo, Brazil!
Comments:
Peggy and David: Your kittens are beautiful.
---
Big Sid
By: Lesley in St. Louis
This is my 6 year old baby Sidney! He loves playing and sleeping in the craziest positions! ;)
---
A tribute to Allie
By: Lee Anne Simmler in Mullica Hill NJ
Allie was has been a cherished part of my life for the past 15+ years. Every day she was a true beauty and brought me constant joy. She has been the most devoted, loving creature I have ever know.
Comments:
Karen: Lee Anne, Sorry for the loss of Allie, it brought a tears to my eyes, she was very similar colouring to my girl,the silence is unbearable, hope you fill that sound of pitta patta of little feet again of adorable Maine Coon cat, it does help with healing and pain you must be feeling. It happened to us last year and within 4 weeks of silence we got another cat, and boy does she keep us smiling and so much laughter when she plays.
---
Brothers Ice and Jet
By: Nass Athans in Melbourne, Australia
Ice and Jet in the Garden (1)
We bought these two beautiful boys from a breeder in central Victoria, Australia. They are like little dogs, always following us around, getting narky with us when we've been gone too long (after the initial so happy to see you greeting at the door!)
Having cats most of my life, I'm amazed at how playful these guys are (they're just over 2 years old) with Jet having an obsession with ice cubes and straws! He comes running when he hears the freezer door open and purrs as he waits for an ice cube! He has managed to steal a straw from friends drinks too lol!
These cats are extremely sweet animals, very friendly and happy when the local strays come for a visit. I've had to stop the contact though, as the strays haven't been vaccinated :(
Cheers!
Nass
King Shariff
By: Antonio Jose in Sao Paulo, Brazil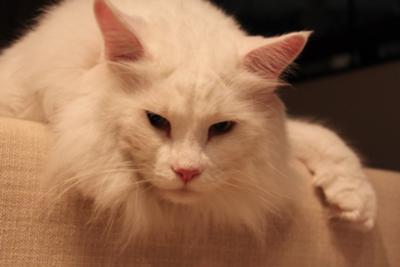 King Shariff, a white maine coon more than 13 kg (nearly 30 lbs) and 5 years old. Beautiful and very sweet. A great companion.
---
My Crazy Buff
By: Shasta Morse in East Brookfield, MA, USA
Buff sleeping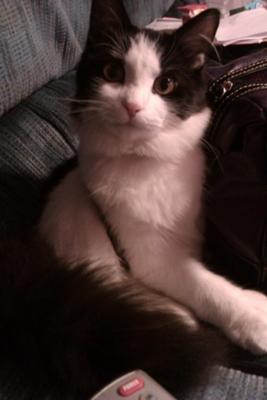 I got Buff at 6weeks old. He was this little spunky grey and white kitten with the most amazing eyes and huge paws.
He has triple paws in the front and double paws in the back.He has grown up so fast in the last 7 months. He is now black and Grey and has a huge tail.
He loves to be cradled and tells me when I need to get up and when its time for bed..lol.. He stretches out in my arms and hangs over the side of my arms. He is such a sweet boy full of energy.
---
Meet Mario aka "My Marvie Man"
By: Charlene in Port Angeles, WA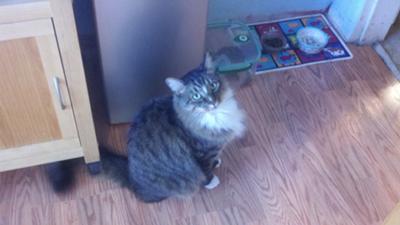 We adopted Mario from our local Humane Society when he was about 8 weeks old. The Humane Society, and my Vet described him as a Grey Tabby/Domestic Shorthair, but I think he is Maine Coon or Maine Coon mix.
Mario will be turning 4 years old this June, and is about 15 pounds. Mario is the best cat ever! He is very loving and affectionate. Every morning when my alarm goes off, he will jump on my bed, and then he gets behind my head on the pillow and kneeds my hair.
Then he buries his face in my hair and purrs loudly in my ear till I wake up! When Mario was almost 2 yrs old we decided to adopt another cat so he would have a friend to play with when we were at work. Her name is Kiki! She is not a Maine Coon, but we love her just the same.
Even though Kiki is much smaller than Mario, she is the boss! They love to play together every afternoon, and chase each other all over the house. We have to leave the water dripping in the bathtub, cause that is the only way he will drink water. Silly boy!
---
Peety Pooty
By: Aziz in Solana Beach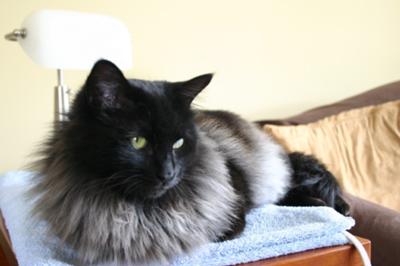 Solana Beach, CA
When our orange tabby disappeared without a trace, someone decided to stop by with a small 2 week old kitty, a little ball of black hair, only visible feature was two blue green eyes looking back.
A year later she is the most affectionate cat, and we heard from a guest that she was a "Maine Coon". Never had heard of this breed until now.
Well here she is sharing our living room enjoying her electric blanket.
Comments:
Jessy: And boy howdy were you surprised when she turned out to be a smoke, right? Wonderful ruff!
---
Miss Hellfire
By: Brenda in Dundalk, Maryland USA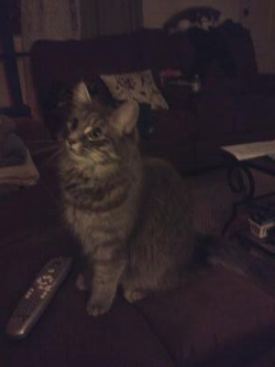 my remote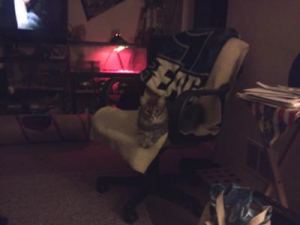 my team and my chair
Hellfire loves to chase the rainbows cast by my crystal that is in a spinner at the window she goes nuts. She also likes control of the remote and like watching football games on tv. I found that Hell is afraid of balloons - I didn't think she was afraid of anything.
Comments:
Brenda: Hell has just figured out how high she can jump, it funny now she barely puts her feet on the floor, she jumps from place to place. I am going to start training her to do an agility course I will post how quickly she learns this, I figure lets put her new found skill to use.
---
Gus adopted us!
By: Stella in Marietta, GA
Guarding the Easter bunny.
After losing our 11 year old cat to kidney disease and diabetes, we wanted to share our home with another cat.
We visited Good Mews No Kill, No Cage Cat Shelter (Marietta, GA) and were walking around petting the cats when Gus came over and started rubbing against my legs. I sat down and he hopped into my lap and started giving me love head butts.
Needless to say, we brought this 3 year old cutie home with us that day (now 8 months ago). We don't know his background as the shelter had rescued him just before he was to be euthanized at the county animal control.
Our vet indicated that he appeared to have some Maine Coon in his family tree. He is a delight and we love having him around - very friendly and loves to snuggle and follow us around.
---
My Baby, Harley
By: Justine in New Hampshire


Harley is 9 months old. He has a lot of funny things he does but my favorite is when he wants to cuddle & wraps around my neck purring in my ear!!
Comments:
Justine: A little more info: Harley is 1 of 2 brothers I have been blessed with. His brother Studley, is the same colors & marking of his dad,MCC . He is the size & attitude of his mom, a Tabby. They are totally different. They were born 7/4/2011
Cheri: A beautiful kitten!
Jessy: That pose is SO familiar: tummy up and paws obediently folded!
---
Eric in the cubby
By: Dean in Rochester, MN
A rare sighting of our 1.5 y/o 18 lb. MC Eric in the cubby of my desk
---
Willowmouse
By: Cathy in Birmingham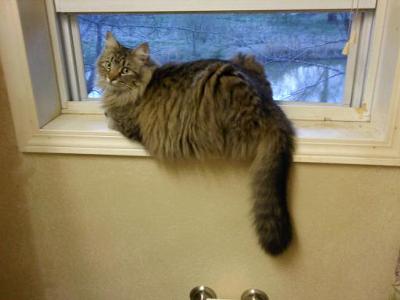 Willow will be 2 years old in June, she was adopted from our local shelter.
One day I was in the office looking at the adoptable pets and found a cute little black kitten I was going to rescue, I had a black cat for 17 years and was looking for another one, and as I was telling one of my coworkers about her I was devasted to learn that his wife was on her way to adopt the very same kitten as we spoke!
I went by the shelter anyway after work, and when I went in and past the 1st cage a very tiny fluffy grey tabby looking kitten reached out and hooked me with her paw.
I turned around and she was making the sweetest little chirps and trills. I immediately fell in love and got her out and held her.
The lady at the shelter looked at me and smiled and just started getting the paper work ready, she could see Willow was going home with me.
That was one of the luckiest days of my life. She weighs 11 lbs. now and is my very best friend, I can not tell you the joy she has brought to my life.
She plays with our Blind boxer and mothers the kittens my son adopted. She likes to jump in the shower with me and greets me at the door when I come home.
As she started to get bigger I began to wonder what she was, I researched all her traits and was thrilled to realize she was a Maine Coon! I will never have any other love like Willow.
---
This is "Trouble"
By: Ralph Walker
(Smyrna TN)
Our kitty was adopted from the Murfreesboro TN pound.........My wife and son went there together......My wife, Grace had a white kitty ready to leave with it, But Mike said, "Oh mom, this other kitty has his paws out of the cage begging to be taken home".
She relented and thus "Trouble was on his way to his forever home. That was 12 years ago. He has been a wonderful companion all that time. He loves to splash in the toilet and we have to be careful to assure the seat isn't soaked before we sit down.
He is still quite kittenish. He fetches rubber thumbs that I use at the Post Office. We never heard him meow for several years and supposed he could not. We got some soft animal toys and he took them out of the box, covered them with his body and meowed fiercely. We were surprised and happy that he had a voice!
He has the most beautiful chartreuse eyes. He can't stand to have his back paws touched.(He'll bite!" He is the Alpha cat and the 2 others know it! He is funny around strangers.
He will weave around and rub their legs but I caution them that he will bite if they try to pat him, I don't know why he does this. He can still jump from the floor to the top of my dresser(about 41/2 ft. Trub has every trait of a Maine Coon.
---
Abu
Steven Look
(New Vineyard, ME)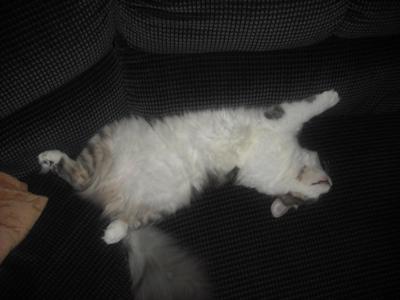 typical Abu napping
We got Abu from a friend as a kitten and was told that he was Maine coon/mix. I was skeptical, but upon investigation I have discovered this is absolutely the case.
He not only displays very specific markings, hair texture and length, but also, he is dead on in the personality department.
He is an amazing pet, and in his 10 months with us has brought a lot of joy. I have uploaded some pictures to share.
Comments:
Jessy: He's almost a Kitler (cat with a Hitler mustache).
Robert Quelch: Awesome cat!
Amber: so freaking cute (:
Steven: Abu has actually continued to grow, his legs grew first and then the rest of him.....I just found out that he may not stop growing until he is three years old. This should be entertaining. :)
---
This is how he relaxes
Charlie
By: Brian
(Texas/Florida)
Charlie the Maine Coon. We adopted him at approximately 2 months old from the Humane Society. Everyone would comment and say he is most likely a Maine Coon breed but we were never really sure. Once we really decided to look at others within the breed we noticed his features matches those of a Maine Coon.
He is about 7 months old now and still growing.
The most awesome-est cat ever.
Comments:
Kathy:Precious! He looks like my Murray> (posted earlier this month). They are so much fun!
That looks just like our cat when he was little
---
My kitten - Minnie Girl
By: Jane Collins
(Saint Paul, MN)
I grew up with a "Coon" as my best friend and so when I recently acquired a kitten from a neighbor, and at only 13 weeks of age, she is bringing me her toys so I'll play with them with her, my first thought, is; she's a Maine Coon!
The other clues are her 'look'. The lion mane, the big white paws (really big!) and a pouf of a tail that is 1 and 1/2 times the length of her body, and that orangy velvety pronounced triangular nose.
Also, her disposition is strictly Maine Coon. We have a 5 year old Bombay who we thought talked a lot, but now he is the quiet one in comparison to her. If you're not doing something she want's you to be, she let's you know.
She's only been here since the week after Christmas and already is the boss of the house! Here are a couple of pictures of her. The neighbor got her mother from a friend who said she's a mutt, but her kittens are far from mutts, they are all gorgeous like the attached pictures of her.
I immediately picked her out, and said I wanted her, as she was the most Coon like of all of her 6 litter mates and I knew I wanted her. Yes, she's from a litter of 7, born the a.m. of October 13th. As you can see she is a beauty, and believe me she has a personality to match! Thanks for letting me share :>D
Comments:
Carol: Beautiful Kitten
---
Java Bean
By: Brad
(Essex Junction, VT, USA)
Couple months old
This story takes place early one Wednesday morning during the summer of 2011. My girlfriend and I are both working at our University for the summer, her doing bird research and I working the front desk at our Information Technology department.
It was early that morning when my girlfriend was walking across campus to meet up with a professor to start her research. While walking through one of the parking lots to cut through a building to the lab, she heard what sounded like a bird in the grass. Upon further inspection it was our little 2 week old, all black, Java. After looking around for a mother or other family of cats, she picked up this little guy and brought him into the nearest building, where I was currently working the front desk. With the biggest smile on her face we knew instantly we were going to love this kitten. After calling our local ASPCA and animal shelter, whom both were too full to accept another cat, we knew were going to be parents to this adorable guy.
The next day we brought him, whom at the time we had thought was a she, to the local vet, who were very amazed to see such a healthy abandoned kitten. For being clearly malnourished, only weighing 15 ounces, he had very little issues. He took up to eating kitten food and being the domestic house cat he never was. Although he has not been tested to prove he is purely a Maine Coon, we could tell as he grew from his behavior and the distinctive marks Maine Coons have.
Although mischievous, this little guy grew in our hearts very fast and spent the entire summer with us, growing like only Maine Coons do. Now about 10 months old, this 12 pound giant teddy bear lives with our parents while we attend college, and they share his love as much as we did that summer and we love him every chance we get to see him.
Comments:
Jessy: What a cutie! Sure he's not a smoke?
Lisa C: Your Java looks just like my Newt!! He is the sweetest cat I've ever had!! And such a personality!! <3
Our Grandkitty Java Bean
by: Gretchen We have loved every minute caring for java while his parents are finishing up college..he surely has the best cat personality. He loves playing with his much elder cousins..molly and mittens although they arnt too sure about his wrestling techniques! :) his personality is much like our old golden retrievers who used to pal with us constantly..that is java..he is always underfoot, his fav. place is inside the dishwasher..he LOVEs Water!!!
---
Ray Ray
By: Jennifer
(Punta Gorda, FL)
We rescued Ray Ray when he was about 10 weeks old, Christmas week 2011. He is now over 7 pounds, and a ton a fun.
He has his rituals; nap time between 12 - 4, playtime at night hiding under the sheets on the bed. He is so much fun and gives lots of love, hugs and kisses
---
My Best Buddy
By: Kathy Gaddy
(Spring, TX)
I've had many cats before as a young child through my adult years, but I've never had a "friend" like this. Murray is known to all of my friends, and neighbors, and people adore him. He doesn't know a stranger!
Comments:
Julie: Murray is beautiful
Jessy: Beautiful eyes
Sharon Duffy: Love his pink nose and beautiful face. looks just like my Angel Girl.
---
Mungo
By: Dee Kangas
(Holly Hill, Florida)
Mungo trying to steal a drink.
Mungo is our first ever Maine Coon and we just adore him. He is very active and is always in to something.
He really loves to climb up high and surprise me by batting at me when I walk by. Mungo is 8 months old and weighs 11.8 lbs but there is no fat on his long lean body.
He loves to chirp and has his own funny meow. I swear sometimes he calls me momma in his funny little voice. He is definitely my baby boy!!
---
Huckleberry
By: Clint
(Alberta ,Canada)
This is our little boy Maine Coon at 14 weeks.
His name is Huckleberry.
Comments:
Joy: He looks gorgeous, I hope you have many happy years with him
Alice Lowe: What a beautiful cat, I just wanted to pick him up and cuddle him.
Comments:
Heather: My Maine Coons & Birman all have "terms" they use to call for me. My Maine Coon, Talmage, is by far the closest to calling me Mommy. I speak to him like a child so he probably picked up on that and since I respond to a sound that is close to Mommy, he calls me that.
---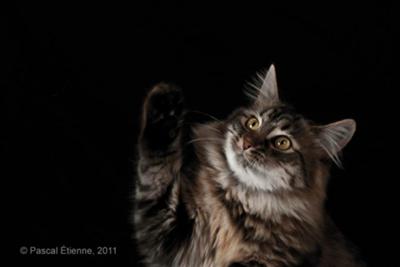 Mike Patton
By: Wendy Tremblay
(Quebec, Canada)
Here is Patton, waving 'hello' to all the cat lovers :)
Comments:
Pat in Ocala: He is a beautiful cat! May you have many happy years together.
---
Happy Birthday, Tass!
By: Karen and Mark Doran
(Coburg, Melbourne, Australia)
Tass is one now! On her page, Karen and Mark share how they got her, how they thought she was a he, and more. So click the link to Meet Tassie Girl!
---
Patrick
By: Lisa in Lovington NM
Loves to drink from faucet. Cries when he can't find me or Sasha (Siamese) Meets me at door when I get home from work. Got Patrick from shelter. Will play fetch.
---
Precious
By: Deborah Hatch
(Windsor, ME)
I adopted Precious @ 8 wks. old from my local Humane Society. She will be 6 yrs. old in May! She is very social and is my little shadow following me from room to room.
She loves playing, drinking and getting groomed by water! The Bathroom counter/sink is her favorite place in the house besides my bed:) When she wants something like treats she gets on her hind legs and taps me with her paws. She is very playful and a people person.
She is very good with her paws and loves to open cupboards and closet doors. She does have a " chirping trill" as opposed to a meow! It is very distinct. She has a mane and very long tufts of fur on her paws and ears! I have always felt that she is a Maine Coon but don't know for sure. She has all of the characteristics and looks except that she is not huge?
She was with her 2 brothers when I adopted her who looked just like her. Unfortunately I couldn't take them all:( She has become my constant companion when I'm home and has brought me so much joy:)
Maybe-Maine Coon Cats For March:
Disclaimer: When you buy through links on our site, we may earn a small commission.
As an Amazon Associate I earn from qualifying purchases.
Our Coonies use and love:
Greenies
4.7 stars; 3.6k ratings
Furminator for Longhaired Cats, Large
4.7 stars; 15k+ ratings
Double Layer Waterproof Cat Litter Trapping Mat
4.5 stars; 56k+ ratings