The "Cat Days" Of Summer Are Here!
Tattle Tails, Issue #001 - Happy Summer!
July 19, 2011

"Women and cats will do as they please,
and men and dogs should relax and get used to the idea."
- Robert A. Heinlein
---
Article Hot Pick:

There's a heat wave coming, so what better time for a refresher when it comes to heat stroke and cats?
Usually we think of dogs when it comes to heat stroke, but our cats are vulnerable, too.
This page reviews signs and symptoms, emergency treatments, what to expect at the vet, and long term thoughts.
I was talking with a fellow Maine Coon owner recently, who said his cat had just gone for her annual Lion Cut. She seems to love it, and even struts around the house showing herself off!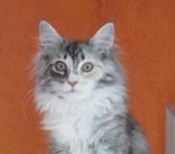 You may recognize Muska. Her photo is in most of our pages, inviting folks to visit the photo gallery.
Well, Muska has started her own online diary!
So visit her blog, Diary Of A Maine Coon Cat: http://mainecoondiary.co.uk to see more pictures of beautiful Muska and read about her views on life!
10 Top Flea FactsIt's Summer - Here Come The Critters!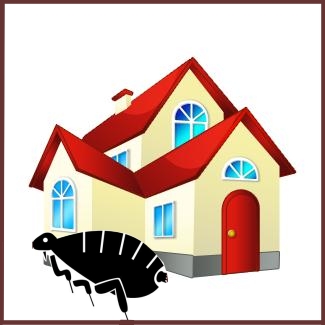 In the last few months, we've found our flea pages to be becoming more and more popular. So many folks are dealing with this frustrating problem.
So, here are our top 10 Flea facts. Some of these things you may already know, but perhaps some will surprise you!
#1: Fleas multiply at an alarming rate.
Each female flea can lay 50 eggs per day! Once they start hatching, look out.
#2: At any given time, only 15% of the house's flea population is in the adult stage.
Yes, there are that many more just waiting to hatch.
#3: Fleas are attracted to the color white.
A good way to see if you have a problem, (or how bad it is) is to stand or walk around in white socks. The fleas tend to flock to them.
#4: Every pet in the house should be treated
Even if only the family dog goes outdoors, every pet in the house must be treated. Otherwise, a flea will hitch a ride into the house on the dog, and quickly find your cats and other pets.
#5: Frontline and Advantage are top choices for good reason.
There are cheaper products out there. You can get them "over the counter" at discount stores. But the more expensive brands you get at your vet, like Frontline & Advantage, travel across your pets skin, as opposed to being absorbed into the bloodstream.
#6: A pet with fleas is at risk for tapeworms
Fleas carry tapeworms. Signs include weight loss, vomiting, and scooting. Sometimes there are no symptoms.
#7: The vacuum is your best weapon.
Well, one of them! You can't win the war with a vacuum alone, but you'd be hard pressed to win it without one! Vacuuming stimulates eggs to hatch, which helps break the cycle. And, the suction actually kills fleas!
#8: Homemade flea killers work.
It takes work & perseverance, (what doesn't?) but many folks have found success with their own remedies. Some household items that can be turned into natural flea killers include Dawn dish detergent, vinegar, and Borax (the type used in laundry). For more, visit our page on Vinegar And Fleas
#9: There are plenty of natural choices
Some folks are uncomfortable using traditional flea medications. In that case, there is quite an array of Natural Flea Killers to choose from. Many find them to be quite effective.
#10: Treating the home and the pets is the most effective method.
Between the yard, house, and furry family members, there are just too many places for the fleas to hide. Proactively spraying, bombing, bathing and treating is the way to go. If you are interested, you can visit our page of Top Picks for Pet Flea Products.
---
What's New On The Site:

Natural Pet Beds ~ Organic and natural pet bedding choices for our special boys and girls.
New Maine Coons and Maybe-Maines:
There are just too many to list here! Our photo albums have just been updated, though. So hop on over to meet a new cat, and leave a comment if you wish!
New Visitor Questions On The Site:
"My Maine Coon Is Water Logging Me!"
"At What Age Can I Leave My Kitten Alone For A Few Hours?"
"Will A MCC Be Defensive And Unloyal If I Am Gone For 3 Months At A Time?"
"Can I walk my Maine Coon kitten?"
"Frontline Plus for 30 pound cat"
"Looking For Male Maine Coon For Breeding"
"The Cons" - A Visitors Review Of World's Best Cat Litter
"Maine Coon is peeing everywhere....please help ......"
"Kitten With Bloody Stool"
"Meowing All the Time!"
"Eyes And Nose Discharge"
"Ferrets With Fleas?"
"Senior Maine Coon - Picky Eater & Concerns About Anesthesia"
"Maine (Mean) Coon Cat help me with worming!"
"World's Best Cat Litter............ yes it is!"
E-Book Update:
Writing continues for our upcoming e-book. I'm starting to get very excited about it! Actually, there is so much to say, that it has become two e-books; a companion set.
Here are some sneak peaks into the first of this pair: It will contain lots of our "greatest hits" from the site, neatly organized and presented. It will have fresh content, too, on subjects like polydactylism, the "trill," distinctly Maine "quirks" and the most common misconception about what a Maine Coon is.
It is a guide to those who want to understand their purebred Maine Coon Cat. And it has lots of dedicated sections for the folks who are trying to figure out if their cat is a Maine or Maine Coon Mix.
The title is.... "You May Have A Maine Coon If..."
In the next Tattle Tails I'll share some bits about it's companion.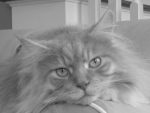 Leo's Health Tip:
Leo: "I am one happy cat today. My people finally put in the air conditioner! I was starting to wonder if they had forgotten about us. These fabulous fur coats are pretty, but Oh So Hot!
During the "Cat Days" of summer it's essential that we have cool places to lie down, like tile or even cement floors, and lots of fresh water to drink.
If we begin to act listless or lethargic our people must know what to do to cool us down and get to the vet immediately."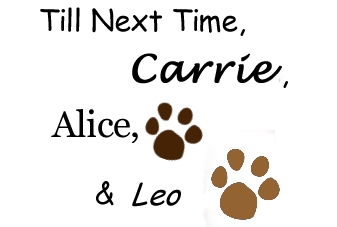 Return To Tattle Tails Back Issues Page