Cats With Spring Fever!
Tattle Tails, Issue #003
March 30, 2011

"How we behave toward cats here below determines our status in heaven."
- Robert A. Heinlein
---
April Will Be A Busy Month For Pet Lovers!
It's almost April, and we have quite a few "National Pet Holidays" to prepare for! Did you know that April brings, along showers and mild temperatures:
National Pet Day, on April 10
National Animal Control Appreciation Week, April 11-17
National Pet ID Week - April 18-24
National Kids & Pets Day - April 26
and even:
Hairball Awareness Day on April 30!
Now if that wasn't enough, we also must recognize:
Prevention of Cruelty to Animals Month
National Pet First Aid Awareness Month
And for our friends in the UK, National Pet Month! (It will be in May for those of us in the US.)
How to celebrate all of this? Stay tuned for related articles on the site as these days approach.
Thanks to the social nature of the web, you can help raise awareness by sharing articles through FaceBook and Twitter.
If you like an article, try using one of our brand-new buttons on the bottom of every page!
It's a handy way to share! Help us to "go viral," and spread the word about these pet awareness days!
---
Spring Fever:
So what's this about Spring Fever? It's true, our cats know when Mother Nature sweetens the deal.
The snow is melting, the birds will soon start chirping (if they haven't already) and the smallest creatures start stirring. Yes, including those nasty fleas and ticks!
The worst part about this time of year is knowing that we will soon have to contend with those pests again. Even with indoor cats, fleas can come in on another pet or even us. They live in our yards and wait for a free ride in.
Last summer we had a new problem. Apparently the fleas in our area have developed a resistance to Frontline, which we have used successfully for many years. Boy was it frustrating. Through treatments, baths and bombs, they wouldn't go away!
Upon the advice of our vet, we switched to Advantage. Well I'll be darned, those things were gone in a day! Advantage actually works quicker than Frontline and within just 12 hours there was a vanishing act like none other.
One of the benefits of Advantage is that it comes in two sizes; one for cats over 9 pounds and one for cats under. Great for our big boys and girls! Advantage does not kill ticks, so only use it if your cats are kept indoors. We still use Frontline on our dog.
I highly recommend Advantage. The cats hate the application, but not as much as they hate being bitten! Of course, Frontline still works very well for lots of folks, so continue on if that's what works for you!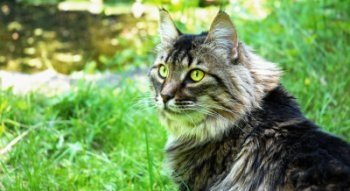 Speaking of Spring, it makes the cats want to go outside! Our two Maine Coon cats are indoor cats. When we first got them we agreed with their breeder to always keep them indoors. Whether to let cats outside is a bit of a hot topic, and certainly a personal decision based on experience, situation, and neighborhood.
We're looking into an outdoor cat enclosure. I'm not sure if it will happen this year, but we will try! Cats just love the grass, yard, scents, watching small animals and enjoying fresh air so much. They spend most of their summer in our windowsills. There are some terrific outdoor cat enclosures on the market, and for handy cat owners there is the option of making your own!
---
What's New On The Site:
New Articles:
Natural Flea Killer For Cats And Dogs
~ Yes, there are some great natural flea killers on the market. A good choice of you are worried about the chemicals in topical flea treatments.
Wellness Cat Food
~ Our complete review, along with our story of how we switched.
New Maine Coons and Maybe-Maines. Meet:
Penny, Is she a Maine Coon?
Jules, a super-cool Maine Coon cat form Norway
Muska, a stunning blue tortoiseshell and white
Cookies and Creme,> best friends
Maxwell Fluffypants, so handsome and lucky to be alive!
Maurice and Dusty, so cute together
Ernie, a black Maybe-Maine Coon
Holly, do you think she's a Maine Coon?
Little black cat
Harley, aka "Cuddle Butt"
Nicky, a Maine Coon cat who winks for the camera!
Little Kitten No-Name gets a name!
Nubble, a beautiful Maine who's full of personality
Buster, who's having trouble with mouth ulcers
Flame, was he a Maine Coon?
Kiki, who's mane seems to be shedding
Cat Questions:
Cat Scratch Post In England?
Difference Between Blue and Silver?
Do Maine Coon cats seem to try burying their food?
Buddy's Colour Change/Cat Kennel & Run Prices
How do male Maine Coons act toward kittens?
Maine Coon Dags?
Should this Maine Coon be put on a diet?
Aggressive Maine Coon Male
Two Kittens; Same Litter or Different?
This Maine Coon is up all night!
---
Leo's Health Tip:
Leo: "A word on tuna- Although we cats love it, crave it, and cry for it, it's actually very unhealthy for us to have it daily. Tuna that is canned for humans to eat contains an amino acid called purine, used as a preservative.
It's fine for people, but cats can't digest it.
Also there is the issue of Mercury. For this reason people shouldn't eat tuna regularly, especially children, and pregnant women should avoid it altogether. Mercury build-up in cats becomes toxic and leads to many issues.
And thirdly it is linked to a painful intestinal disease called Steatitis.
So tuna should be a rare, random treat!"
---
In Our Next Issue:
We'll have our first quarterly report on which cat products Maine Coon cat owners are choosing for their big cats. Learn which is the hottest, or most popular cat tree, litter box, and more!
Also, we will have big plans for how to celebrate Adopt-A-Shelter-Cat-Month in June. Stay tuned to find out what we'll do and how you can help!
---
A Last PS:
If you have enjoyed this issue, or any other page on the site, please help us grow by sharing it through FaceBook, Twitter, or other social networks. We really appreciate it!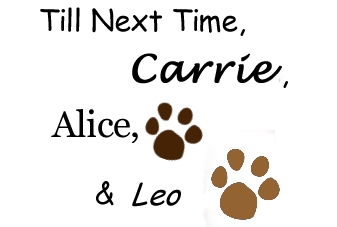 Return To Tattle Tails Back Issues Page