Maddy "Our Mini Lion"
by Julia Turgeon
(Newport, NH, USA)
We adopted Maddy from the local ASPCA just two years ago this month in January 2011.

I went to the shelter with a heavy heart as I had just lost one of my old and beloved kitties, Skeeter a month earlier.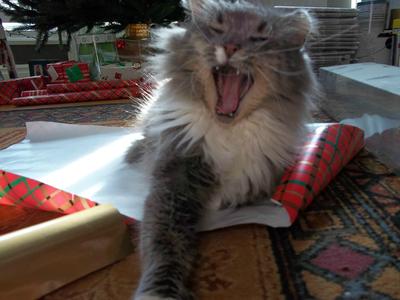 Maddy loves to help wrap Christmas gifts!
But with the encouragement of my fiance, he suggested visiting the local shelter just to "look" at other kitties to cheer me up and maybe volunteer my time since Skeeter had come from a shelter.

Maddy was kept separate from the other kitties so we didn't see or get to play with him right away. Only as we were leaving the shelter did a woman suggest we meet another shy, older, fluffy, big kitty that really needed some attention and love.

He was found bleeding on the streets a couple of months prior and missing one ear when a good samaritan caught and brought him into the shelter to get treated.

The shelter staff admitted he was always left by himself because he was afraid of all the other kitties in the shelter and because of this he rarely got any human attention.

We were surprised when we were escorted into the shelter BATHROOM with the door closed to wait for them to bring Maddy in because he was THAT shy and scared! So, my fiance and I sat down on the floor and waited. Shortly after, the door opened and FLUFFY and BIG was indeed the perfect description.

They eased Maddy down onto the floor and this big, fluffy shy kitty ran and hid under the toilet looking up at us frightened!

Well, I fell in love with him right then and there! I talked to him softly for about an hour before he crept along the wall to meet me and lay by my side. Then as he finally let me reach down and pet him, he buried his face into my leg.

I saw a different kitty there by my side. He was gentle and shy and loved attention! His personality reminded me much of Skeeter's. I truly believed that I was meant to meet him that day! All I knew was that I HAD to bring him home!

Two months passed and my other older kitty of 20 years, Smoky, was suffering from failing health. Maddy seemed to recognize that his brother wasn't going to be around much longer.

He stayed by Smoky's side during Smoky's last two days with us. I was so touched by Maddy's gentle nurturing side and seemed to understand that his older brother Smoky needed a companion during this tough time.

Maddy is such a great companion! I have to say he is no longer that shy kitty we adopted two years ago! He has grown confident and extremely playful!

He loves to talk and sing softly to himself while in the window. (I have to get this on video!) He can't stand being alone now!

He is very social although still cautious with strangers. But after an hour, he'll encourage pets from strangers if they seem nice. :)


comments:
cat
by: Anonymous
I love cats i think that is so sweet that a shy cat would do that. and i'm glad it has a nice home for it to live at.

Tippy
by: Deborah Stevens
Tippy was my mother's cat and they lived in Indiana. Mom was a cat lover. She had 3 sometimes 4 cats in her house.

Tippy is a big brown tabby Coonie. She's shy and she was overshadowed by the other cats. Tippy isn't a lap cat but she likes being close by. Mom had cancer and at night Tippy always managed to sleep close to my mom.

After my mom died I loaded her up along with a couple of others and brought her home with me to Texas. I Love her so much. She developed scabs and sores on her skin. She had an ailment due to anxiety.

The vet gave her a shot and now she's fine. She stays close to me and when it's bed time I simply say Bed! She jumps up and comes into my room and sleeps with me all night.

I have learned to communicate with her she chirps and I can't imagine life without her now. Thank You for the nice stories about Maine Coons. Best friends truly forever.

My comforter
by: Pat Waldron
When I lost my dog and my husband within a month last year, I was so lonely I knew I needed something alive and warm to comfort me.

I went to the local shelter and adopted a 3 month old, sweet, small black kitten.

I named him Omar. Six months later Omar weighed 15 pounds!

Omar is very shy around strangers, but loves the people he knows.

He sleeps on my bed at night, cuddled up behind my knees. I don't know what I would do without him there to comfort me.

Love this story of Maddy
by: Jayne Brown
Makes me think of how I first fell in LOVE with these GENTLE GIANTS~

We had just lost our female cat that was only 14 years old. Her BROTHER, my Husband and myself were devastated (She had been at my side through some pretty hard times~)

But what made it so hard was the mournful cries from her Brother! He looked for days in all her hiding places. It just made me cry more to see him grieving her loss. PLUS I missed her awful!

So off to the shelter (first time for me! I WANTED THEM ALL!) I saw 2 Maine Coons (males) and fell in LOVE! Came home told my Husband- NO WE CAN ONLY GET ONE!

So back to the shelter I go and since my last visit they had brought in from the Hospital a female part Maine Coon.

When they opened the door to the area she was in- she was at the door and almost in my arms! Love at first sight for both of us!

Brought her home and 1 1/2 weeks later my Male died from a heart attack on my feet! His poor heart was really broken over his sister.

My Husband and I both agreed it was worse than the flu to lose them both within 4 weeks of each other.

I now have become totally addicted to Maine Coons. We are proud parents of Grayce ( the part Maine Coon) - Tilly a ferel kitten who is the sweetest thing ever (she looks like a Russian Blue) and 2 Pure Breed Maine Coon Kittens! Sloane & Palyne.

Sloane has become old enough to be sprayed. So I have 3 LONG FACED FELINE BABIES LOOKING AND CRYING FOR THEIR SISTER!

I don't know who feels worse - Sloane from the surgery today, ME knowing she is hurting or the 3 Feline Sisters following me all day hoping I WILL FIND HER!

What a blessing our Feline Children are!

God Bless the Parents of Maddy! Happy Loving!!!!

So Sweet!
by: Diane Brown
What a sweet story! I love that you call him your "mini Lion" We call ours the "tiny tiger".

Love for our animals
by: Debbie Allison
Your story is beautiful. It brought tears to my eyes. Tears of joy, to know there are others who love animals as much as I do. God bless you and God bless our animals.

the scared ones have the biggest hearts
by: kitty.addict
As I read your story it reminded me of a huge tomcat I found underneath my cottage porch. It took us a week to finally get him from under there.

When he did we saw a huge gash on his side that look like it was done by barb wire. I sat 6 hours on the porch coaxing him to come close to me that I could examine his womb.

Once I was able to pet him i finally wrap him up in a blanket and took him to the vet. He was stitched up, vaccinated, and given antibiotics to fight the infection caused by the womb.

When we took him back to our home he hid again behind the sofa and id call him out few times a day with food. After few days he was now laying on the lazyboy my husband likes so much and now he has become his lap cat.

He is the most loyal, loving, and gentle cat I've ever owned.. After reading your story i smiled because its always the shy ones or scared ones who make the most loyal pet

Heartwarming
by: Roberta
I and everyone else is crazy about my very red maine coon "Redford". He thinks he's my husband (lies with me on the couch and my arm is around his belly).

He has saved my life many times (my mom's too). I had neutropenia from BC treatment and he broke the fever by lying on my neck; he did ablation therapy by putting himself on the afflicted area which got HOT for 30 mins for 30 days (obviously to kill cancer cells) and he warned me that something was wrong with my mom's stomach which saved her life.

I have more stories on my extraordinary boy but this should suffice by now. Your cat sounds amazing as well.

Beautiful Story
by: Georgina
Maine Coons have such a unique character. I have had cats all my life (mostly siamese) but always wanted a Maine Coon.

I was so lucky to have adopted three of them two years ago (Bentley, Mercedes and Lincoln) my husband of 32 years passed last September. they were there to comfort him until the end.

My boys are here for me and the focus of my life. they really do care about how you feel and keep you going when you don't want to (eg: getting into things that make you angry but make you laugh) I am a lucky and proud owner of the three best boys in the world.

Beautiful Ending
by: Janie Minick
So happy to hear of another dear kitty given a home and comfort.

Maddy the Maine Coon
by: Basil Smith
So happy to ready about cats that don't get a fair shake being taken into a loving abode only to have affection heaped upon them. That's what kitties are far, anyway. A home without a cat is not complete. Of course, that is my humble opinion.

Such a happy ending
by: Renee
Such a wonderful story. I adopted a main coon from a shelter recently, my second.

They are wonderful cats and have such great personalities. My Laci was shy but after a few weeks her wonderful funny playful personality came out and we couldn't be happier. We have always had cats and cant imagine a home without them.
---
(note: comments are closed in this archived album entry)
Return to Top of Maddy's Rescue Story