June 2015 Photo Album
Welcome to our June 2015 Album of Featured Maine Coon Cats!

Indi
By: Donna Melville in New Zealand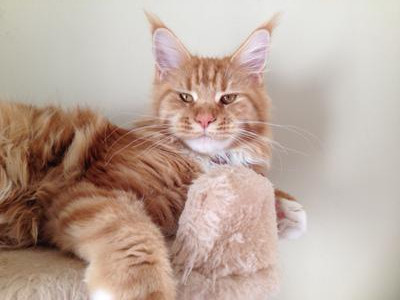 Indi is our eight month old Maine Coon, she has a fiesty girl, keeps our cocker spaniels in their place.
Yet in early hours of the morning shes a cuddly smoochy kitten.
She is our first Maine Coon and we love her to bits.
---
Zoey of Colossal Cats
By: Colossal Cats in Tampa, FL, USA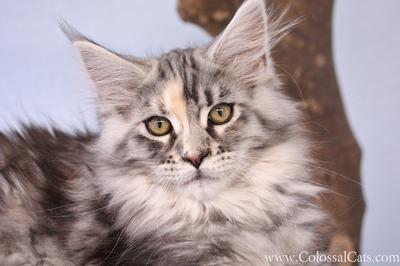 Here is Zoey- still a kitten, but growing so fast!
She is amazingly beautiful, and it is so hard to capture her colors in pictures. She is and black and silver tabby with fawn patches and the brightest white/silver undercoat you have ever seen.
She is so playful, and loves to show younger kittens how to play.
www.ColossalCats.com
---
Thor
By: JoAnna in London, UK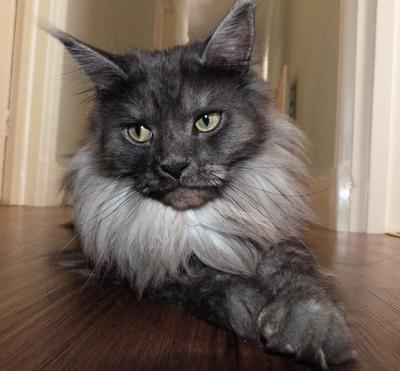 Poser
Thor update aged 20 months - last update Nov 2014
J'adore Thor! He was my first Maine Coon and the reason I now have 3!
He is a confident chirper and still does not meow that's simply not his thing! He wakes me up each morning as he peers over the side of the bed with a loud "I'm hungry chirp" then taps me with his paw before plodding off down the hall with his very loud thud!
Even all my visitors recognise when it is Thor walking around - his steps are so heavy.
His coat and colouring really are gorgeous, I had never heard of the smoke coats before I got Thor but am now in love with it, he is very smokey!!! We did have some matting issues this Spring as he shed his winter coat but we worked our way through it with the help of our lovely grooming lady.
Thor had gotten more boisterous as he grew so in February this year we introduced our third Maine Coon into the household, 3 month old Basilius aka Basil. He is solid cream boy and certainly gives Thor a run for his money in energy but they are the best of friends which gives the female cats in the house some peace at least. Thor loves to pose for the camera so much so he knows has his own Instagram account @thor_mc
Thor, Thea and the newly introduced Basil all get along so well which is very representative of the MC breed. If I had more space I would love more but for now I am more than happy with my fur-family.
Maine Coons Rock x
---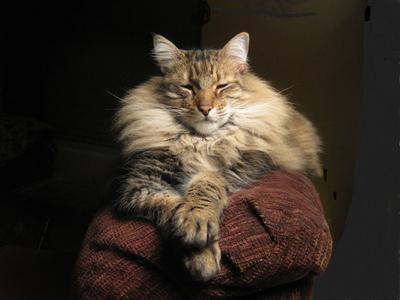 A Lion Wannabe.
By: Mike in Tucson, Arizona, USA
Nougat is 10 years old, was saved by my wife from a shelter as a kitten.
He loves to pose as a lion and he shares our home with two sisters saved from a hose reel box as newborn kittens.
---
Harper at the vet
Harper
By: Debra in Utica New York
Harper was born outside of Buffalo , New York.
She is s very smart lovable social female. We have had Harper only 2 weeks but she has made a wonderful adjustment to her new home.
---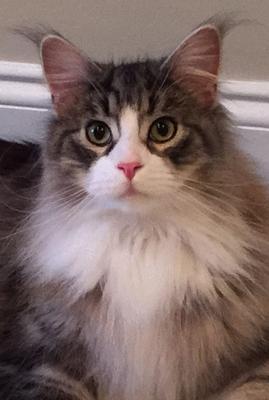 Patrick
By: Steve Magyera in Pawleys Island SC
Patrick & Brenna are 15 month old brother & sister. They live with their guardians in South Carolina and enjoy play hunting, fighting & climbing.
Patrick is a 'bomb cat' - nothing much bothers him. His favorite song is 'Happy' by Farrell Williams.
---
Brenna
By: Steve Magyera in Pawleys Island SC
Brenna & Patrick are 15 month old sister & brother that live with their guardians in South Carolina.
They enjoy play hunting, climbing & playing with just about anything.
Brenna is a big Zep fan, and her favorite song is 'Immigrant'.
---
Slani, She Is Lovely! <3
By: Laura Ciornavei in Munich, Germany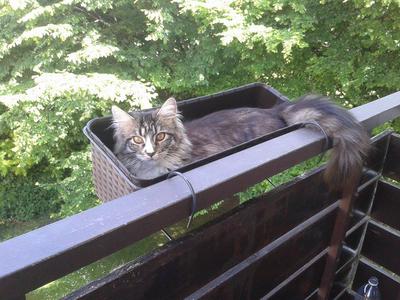 It's her first summer and she loves to stay inside the flowers basket, looking at birds flying around.
Slani was born in November, 2014.
She has a great character, plays with everyone and any new person who shows up. She is smart, but yeah, when she sees the laser pointer, there is no limits :`), mainly if any fly, bee or other insect make a visit, she becomes a real successful hunter, I would say that no other toy entertains her more than those poor insects.
She cuddle every night and in the morning wakes me up walking over me, meowing very close my face, following me everywhere, she talks to me all the time, when I repeat her noises and right after she does it again haha.
We hold her as we use to call as "baby mode", no complaining to get down, she just enjoys our lap. <3
---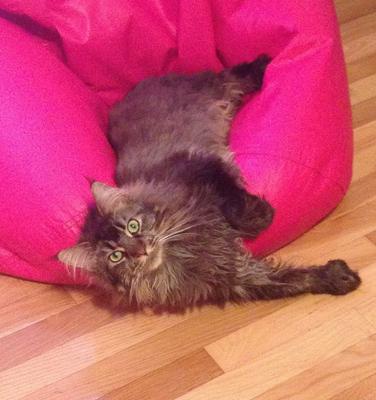 Just Chilling out in bean bag chair
By: Lisa in Massachusetts
Our Maine Coon Pebbles is such a loveable cat.
She loves to sleep in this bean bag chair. In this picture she is just chilling out.
---
Lil' Miss Molly
By: Albert Andrade in Odessa TX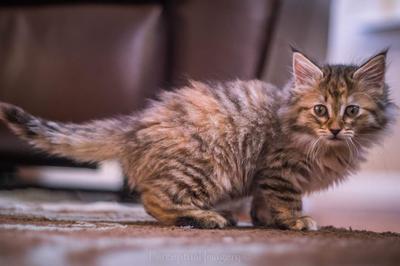 Miss Molly was born on St. Patrick's Day and we picked her about a month ago.
She has been quite the funny one. When she jumps off the bed, she let's out a little grunt which is way too cute...
---
My boys, Rusty and Tommy Lee.
By: Pat Hudson in Greenville, SC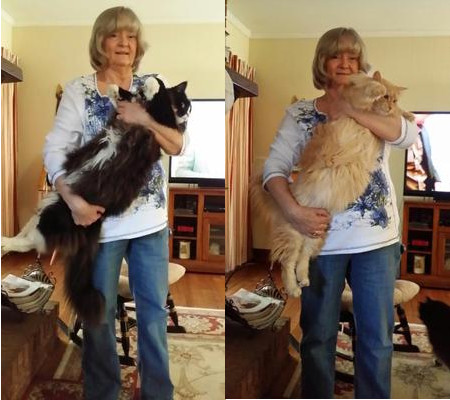 They are half brothers, but totally different personalities, Rusty is 3 and very vocal and a lap cat. Tommy Lee our "little" man in black, is 2 and squeaks in a very tiny kitten voice and does not do laps. Both boys sleep part of the night in our bed.
---
Emily
By: Robert & Rosemarie in New York State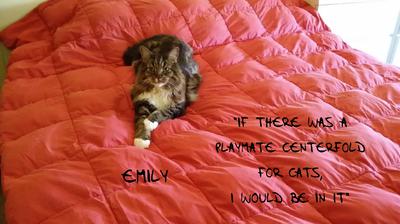 Emily as a Playmate Centerfold
Meet Emily our Maine Coon cat. She came into our Westchester, NY home in February 2009 and never left.
She was dropped off and left to starve. Lucky for her that she found our backyard. Everyone says that our cat Tequila, who had passed away and crossed the Rainbow Bridge on December 10, 2008, sent her to us.
In the beginning, it was very hard for all of us because she was so scared. She would flinch if you petted her on the top of her head. We think that she was abused and treated very badly. She finally learned to love us and accept us as her family.
Three years ago we moved to Long Island, NY and made our home into a cat's dream house. She has cat steps at the two high windows so she can look out. Our sunroom, which is also her litter pan room, has 4 windows. We had a shelf built, which is covered with a rug, going across these windows so that she can lay on it and look out. We put a mouse hole in the wall going from the living room to this room. The room is decorated with all cats and cat clocks with moving tails and a futon that she also lays on.
She has a cat tree, bed, scratching post and tent in the living room and sleeps anywhere she wants, whether it be the couch, chair or rug covered window sill in the bay windows. We set up a little bed with a comforter and blanket in our closet, which she loves to sleep in hidden from everything. We call it the Cat Cave. We have cat stroller that she loves to just sit in outside our door and watch the birds, squirrels and chipmunks or take a nap. We call it the Cat Mobile.
She is so smart. All you have to say is, do you want to go bye-bye and she walks all the way from the front of the house to the bedroom where the Cat Mobile is stored and she jumps in.
She started something new a few weeks ago. She wakes us up for breakfast, eats and then runs to the Cat Mobile meowing and jumps in purring waiting for us to take her outside. During the day, or night she will come into the kitchen with a loud meow and you have to follow her to the Cat Mobile, which she then jumps in waiting to be taken outside.
She is so smart. She knows that every night around 11:00 pm she gets a treat, fresh pieces of spit cooked chicken breast. When her name is called and you say chicken, she runs ahead of you and jumps on the table in the computer room and waits for her treat. She has different meows for what she wants.
One meow is for when she wants you to come in the living room and put her little quilt blanket on her. She then starts purring while you rub her in the blanket. Another for when she wants to eat and a different one for when she wants to say that she is going to sleep in the Cat Cave.
We found the best toy for her. A tie-tie made into a loop, which she loves. No matter where you go she follows you. She even tells you that it's time to go to bed by jumping on our bed. We never had a cat like Emily. Maine Coons are smart. We love our Emily.
---
Yoda My Name Is.
By: Trish Hall in Yucca Valley, CA
I love the Christmas tree lights.
I am half Siamese and half Coon. My mom's name was Goose, as in silly, mama, you got it. When I was born my human mom looked me in the eyes and said, you have big ears you will be called Dumbo or Yoda.
A spark came from her eyes, you are wise, you will be called Yoda. I am 13 yrs old, 20lbs of love, and I have yet to disapoint any human, dog, cat, that my humans bring home.
I now have 2 dogs, and 3 rescue kitties, and 2 humans that I share a home with. They call me kitty dog, since I always lead the pups around. Rolling in the dirt, getting my belly rubbed, being brushed and lying down next to water are some of my favorite things.
The dogs always can hear my long, loud, deep purr, I know they wish they had a purr box. We have one kitty who is in his own enclosed room, 'cause he is FIV +, he came to our door after we moved here, my mom was smart to get him tested before we could play. His name is Mr Mingus. I think he is about my age, and I love him. We chat through a screened door. Maybe we could be real friends over the rainbow bridge, someday.
My mom says no more cats, maybe another coon when she is old. I love her so, especially in the morning, just before she gets up, by her pillow she pets me for 10 minutes or more.
---
Brothers Jinx and Louis- My Boys
By: Tracee Baldwin in Springfield, MO
Jinx- My Little Helper
My husband found these two little babies following the loss of my beloved Manx, Gucci. I didn't know if I could let them in but how could you not fall in love with these two!
Jinx has also won the heart of my husband, who wasn't really a cat person! They have the sweetest and most loving personalities and I love how playful they are.
Nothing is safe with them around, the mighty hunters attack everything from bugs to toilet paper! They love water and now have their own running fountain to drink out of. The one trait I enjoy the most is when they try to sneek up and surprise attack you.
Even if I see them coming I play along so their fun is not spoiled. My shower curtain attacks me every day and shows no signs of stopping!
---
Olivia Wallis
By: A Brubaker in Texas
My baby's name is Olivia Wallis, aka Ollie Wallie.
I found her when she was about 3 days old and bottle fed her.Her fur has every color in the cat rainbow, and her eyes are gold with green on the inside around her pupil.
She's the sweetest most loving cat I've ever known. She loves to play and cuddle. Ollie rarely talks, but when she does, it's like a squeaky chirping sound.
Sometimes she just opens her mouth and there's no sound coming out. Even when she hisses, which is very rare, her mouth opens and there's barely a noise at all. She loves to lie on my chest to sleep.
And when she's not there, she's passed out on the floor on her back. She is really big on headbutting. I adore this girl so much. I'm so blessed to have her in my life.
---
KeeKee
By: Heather Morrow in Delray Beach,FL USA
He is a handsome, gorgeous boy who loves to talk, play and lay around.
He thinks he is human sometimes and watches t.v. in bed. He is not even a year old but, I bet he is going to be a BIG BIG boy when he gets older.
As you can see he loves to see the sunrise from a window and waits for us to come home in the afternoon.
---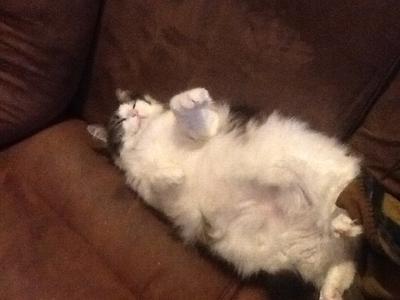 T.C. Treasurecat
By: Amy in Tolch
T.C. Treasurecat is a treasure to us. He is our Maine coon we rescued from our local petsmart.
We love him so much and he fits right in to the family. He gets along with all of the other animals even the family dog.
---
Olive - The naughtiest cat in the world?
By: Rachael W in Bath, England
Olive is always up to mischief; stealing food, harassing bees & butterflies and launching stealth attacks on our big old cat Rolf!
There is never a moment of peace and quiet while this little creature is awake! She's only 4 months old and already rules the roost! We do love her naughtiness though!
---
My Niko~5 Years Old Today
By: Charles King in Central Ohio, USA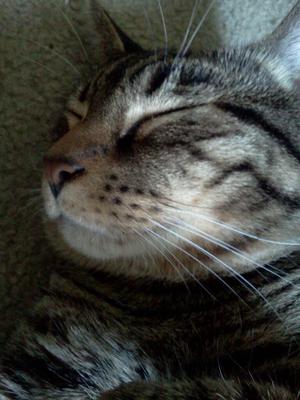 Niko sleeping..
I adopted Niko from a family that sent a picture of him 2 weeks before he was weaned. I fell asleep looking at that picture every night.
When I went to pick him up, the family said he was no longer available. I would have adopted any of the wonderful kitties BUT had my heart set on my Niko.
After showing how dedicated of a 'cat-dad' I would be, they brought out my tiger-striped, red nosed, red bellied kitty with the white rings around his eyes..and boy oh boy does he love me! He has to share me with 2 other coonie mixes and doesn't always like it-)
Over the last five years, he has positively acclimated to the two other MC mixes and become one of my closest and dearest friends. From fetching to knowing when I am falling asleep and it's safe to steal snacks..to knowing when I need a hug, he has he chosen as his 'person'.
He talks ALOT and is huge, close to 26 lbs.
I didn't know what I was getting into with him but every second has been worth it. Here's to many more years with my sneaky kitty-)
---
Our "ca-puppy" Autumn
By: Devon in Philadelphia, PA, USA
Being a kitten is rough!
Autumn was a pleasant surprise that was dropped into our lives-literally.
My sister rescued a 2 week old stray kitten we named Pumpkin who sadly passed a few days after she rescued her. Two days later, her friend surprised her (at work!) with a kitten in a cardboard box.
Though we weren't sure how our senior cat and dog at home would respond, we knew we had to rescue him (it was suspected that the first owners treated their kittens poorly, particularly the ones they couldn't sell right away).
We decided on a seasonal name-Autumn (after all, he came into our lives in the middle of October, on my mom's birthday!)
He was a tiny 2lb ball of fur, covered with fleas. His first vet appointment was a few days later, and after a flea treatment, he was given a clean bill of health. He continues to excel at vet appointments, and amazes our vet each month with how much he's grown(at almost 10 months he's the size of our 11 year old cat)
Autumn has been a ball of energy from the moment we met him. We joke that he's a ca-puppy, part cat, part puppy. He loves running up and down the halls and playing with the red laser.
We have to keep an eye out for him when he's in the bathroom, as he has a penchant for stealing toilet paper and Q tips. And at the end of the day when he's all tired out(he hits his sweet spot at around 3am), he curls up with Mommy, or in his favorite tunnel.
---
Matilda Rose
By: Gina L. in Worcester, MA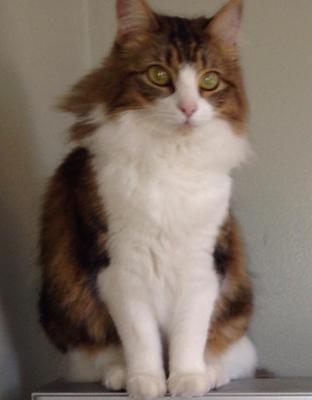 This is Matilda Rose and she's a little over a year old. I bought her from a newspaper ad and she stole my heart the moment I laid eyes on her.
Before I adopted Matilda, I had recently lost my cat Jax, whom I had adopted from Broken Tails Rescue 10 months earlier. Jax was a rescued stray, who was estimated to be about 4-5 years old.
To make a long story short, I had come home one night and Jax wasn't at my feet like he normally was. I found him in a closet and he was having trouble walking, he kept falling over. For the next couple days I noticed he wasn't eating or pooping. He would urinate maybe once a day.
I took him to his vet, had all sorts of tests done, fed him through a syringe for the next couple weeks, took him to my office with me every day since I had to feed him every couple hours and also put him in the litter box because by this point, my poor boy couldn't even drag himself around.
I had a 2nd opinion, but unfortunately the vet told me I'd be paying thousands of dollars to just find out what was wrong with Jax (they suspected a stroke) and they didn't think he would even be able to be treated.
So I took him home with me for the long weekend (this was a Friday) and had to have Jax put down the following Tuesday. He was only with me for 10 months, but it was one of the hardest things I've ever had to do.
Thankfully, Miss Matilda came into my life not too long after and I believe Jax sent her to take care of me. She's just the sweetest girl and I wouldn't trade her for anything.
So after a lot of research and speaking to her vet, we believe she's at least part coonie. She has all the traits and characteristics of a Maine Coon, but I never saw her mother & father, so I'm not positive of her lineage. But I love her the same no matter what her breed may be!
---
Luca
By: Jessica in Raleigh, NC, US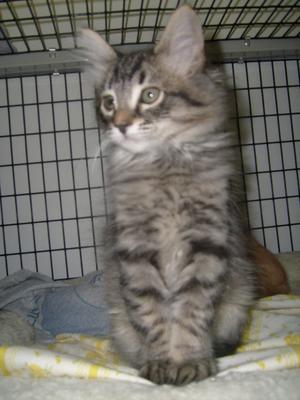 Adoption day!
Luca was left on some church steps with his litter and no mama. He was bottle fed at a shelter until he was weaned and old enough to go home with us.
When we brought him home he was a feisty little kitten but a little unsure of himself, luckily we had a girl kitty Gigi to teach him how to be a cat.
He has grown and grown! Now 20 lbs and a big, fluffy guy of sweetness. He can still be timid at times. A little unsure of himself. But he most definitely is a very sweet kitty. We love him lots.
---
Yoda
By: Bibvanna in Lorain, Ohio
I adopted Yoda 2 or 3 weeks ago. She's a beautiful 9 year old.
Her owner died two years ago. She's been living in the house for two years by herself. Relatives of her last owner would take her food and clean her kitty litter.
She and two other dogs with another cat were left alone with no human contact but just people that went and changed the water the food and the kitty litter.
One day we were going to the pet store to get food and litter for my cat for my baby. We saw her so sad in a cage. She's so beautiful.
We don't know what kind of cat she is she's very loving sometimes a little gressive growls a lot when she doesn't like something or just not much of being around people, but when she does she's the most loving cat you can ever want a kitten at heart.
---
Emma, The Squirrel Cat
By: Lisa Harrison in Cloverdale, OR, USA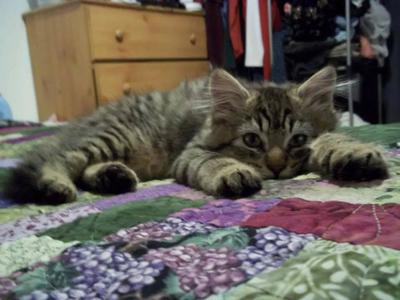 The first day at home
We got Emma from a dairy farmer down the road. She was one of three tiny kittens.
Her tail was so big, bigger than the rest of her, she looked more like a squirrel than a cat. Full grown, she's about 6 pounds soaking wet. Such a sweet little girl.
---
Matilda Rose 7-8 weeks old
By: Rhonda in Vicksburg, Ms, United States
Miss Priss!
I got Matilda from a lady in Laurel, Ms from a litter of kittens and wanted to give them away. She had no idea what they were. Matilda was the prettiest one.
After I got her home and looked more closely she looked like a Maine Coon or a Norwegian Forest cat. I did some looking on the internet and I believe firmly that she is a Maine Coon!
I fell in love with her instantly. She is so gentle and sweet and is a lap cat. I am so lucky to have her. She is my angel!
---
Peter My Best Friend
By: Jim in Oregon
Peter is a great friend. He is so adorable. He loves to snuggle with me only.
He can be a little needy at times and he lets me know when he wants attention by gently clawing my leg and "talking" to me. He follows me around the neighborhood when we go for walks.
We got Peter as a baby kitten and his extra toes fascinated me so I paid alot of attention to him (he has 12 front toes and ten back toes) and he became my best friend. He's about 8 years now. He has a big bushy Grey tail like a squirrel and the softest fur. I'm pretty sure he's a coonie mix.