T.C. Treasurecat is a treasure to us. He is our Maine coon we rescued from our local petsmart.
We love him so much and he fits right in to the family. He gets along with all of the other animals even the family dog.
Olive is always up to mischief; stealing food, harassing bees & butterflies and launching stealth attacks on our big old cat Rolf!
There is never a moment of peace and quiet while this little creature is awake! She's only 4 months old and already rules the roost! We do love her naughtiness though!
I adopted Niko from a family that sent a picture of him 2 weeks before he was weaned. I fell asleep looking at that picture every night.
When I went to pick him up, the family said he was no longer available. I would have adopted any of the wonderful kitties BUT had my heart set on my Niko.
After showing how dedicated of a 'cat-dad' I would be, they brought out my tiger-striped, red nosed, red bellied kitty with the white rings around his eyes..and boy oh boy does he love me! He has to share me with 2 other coonie mixes and doesn't always like it-)
Over the last five years, he has positively acclimated to the two other MC mixes and become one of my closest and dearest friends. From fetching to knowing when I am falling asleep and it's safe to steal snacks..to knowing when I need a hug, he has he chosen as his 'person'.
He talks ALOT and is huge, close to 26 lbs.
I didn't know what I was getting into with him but every second has been worth it. Here's to many more years with my sneaky kitty-)
Autumn was a pleasant surprise that was dropped into our lives-literally.
My sister rescued a 2 week old stray kitten we named Pumpkin who sadly passed a few days after she rescued her. Two days later, her friend surprised her (at work!) with a kitten in a cardboard box.
Though we weren't sure how our senior cat and dog at home would respond, we knew we had to rescue him (it was suspected that the first owners treated their kittens poorly, particularly the ones they couldn't sell right away).
We decided on a seasonal name-Autumn (after all, he came into our lives in the middle of October, on my mom's birthday!)
He was a tiny 2lb ball of fur, covered with fleas. His first vet appointment was a few days later, and after a flea treatment, he was given a clean bill of health. He continues to excel at vet appointments, and amazes our vet each month with how much he's grown(at almost 10 months he's the size of our 11 year old cat)
Autumn has been a ball of energy from the moment we met him. We joke that he's a ca-puppy, part cat, part puppy. He loves running up and down the halls and playing with the red laser.
We have to keep an eye out for him when he's in the bathroom, as he has a penchant for stealing toilet paper and Q tips. And at the end of the day when he's all tired out(he hits his sweet spot at around 3am), he curls up with Mommy, or in his favorite tunnel.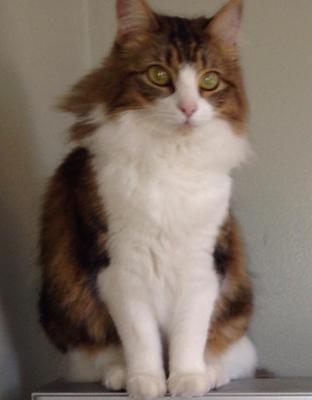 This is Matilda Rose and she's a little over a year old. I bought her from a newspaper ad and she stole my heart the moment I laid eyes on her.
Before I adopted Matilda, I had recently lost my cat Jax, whom I had adopted from Broken Tails Rescue 10 months earlier. Jax was a rescued stray, who was estimated to be about 4-5 years old.
To make a long story short, I had come home one night and Jax wasn't at my feet like he normally was. I found him in a closet and he was having trouble walking, he kept falling over. For the next couple days I noticed he wasn't eating or pooping. He would urinate maybe once a day.
I took him to his vet, had all sorts of tests done, fed him through a syringe for the next couple weeks, took him to my office with me every day since I had to feed him every couple hours and also put him in the litter box because by this point, my poor boy couldn't even drag himself around.
I had a 2nd opinion, but unfortunately the vet told me I'd be paying thousands of dollars to just find out what was wrong with Jax (they suspected a stroke) and they didn't think he would even be able to be treated.
So I took him home with me for the long weekend (this was a Friday) and had to have Jax put down the following Tuesday. He was only with me for 10 months, but it was one of the hardest things I've ever had to do.
Thankfully, Miss Matilda came into my life not too long after and I believe Jax sent her to take care of me. She's just the sweetest girl and I wouldn't trade her for anything.
So after a lot of research and speaking to her vet, we believe she's at least part coonie. She has all the traits and characteristics of a Maine Coon, but I never saw her mother & father, so I'm not positive of her lineage. But I love her the same no matter what her breed may be!
---
Luca
By: Jessica in Raleigh, NC, US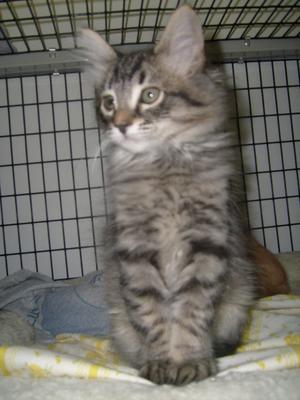 Adoption day!
Luca was left on some church steps with his litter and no mama. He was bottle fed at a shelter until he was weaned and old enough to go home with us.
When we brought him home he was a feisty little kitten but a little unsure of himself, luckily we had a girl kitty Gigi to teach him how to be a cat.
He has grown and grown! Now 20 lbs and a big, fluffy guy of sweetness. He can still be timid at times. A little unsure of himself. But he most definitely is a very sweet kitty. We love him lots.
---
Yoda
By: Bibvanna in Lorain, Ohio
I adopted Yoda 2 or 3 weeks ago. She's a beautiful 9 year old.
Her owner died two years ago. She's been living in the house for two years by herself. Relatives of her last owner would take her food and clean her kitty litter.
She and two other dogs with another cat were left alone with no human contact but just people that went and changed the water the food and the kitty litter.
One day we were going to the pet store to get food and litter for my cat for my baby. We saw her so sad in a cage. She's so beautiful.
We don't know what kind of cat she is she's very loving sometimes a little gressive growls a lot when she doesn't like something or just not much of being around people, but when she does she's the most loving cat you can ever want a kitten at heart.
---
Emma, The Squirrel Cat
By: Lisa Harrison in Cloverdale, OR, USA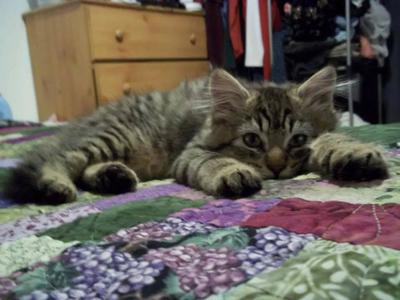 The first day at home
We got Emma from a dairy farmer down the road. She was one of three tiny kittens.
Her tail was so big, bigger than the rest of her, she looked more like a squirrel than a cat. Full grown, she's about 6 pounds soaking wet. Such a sweet little girl.
---
Matilda Rose 7-8 weeks old
By: Rhonda in Vicksburg, Ms, United States
Miss Priss!
I got Matilda from a lady in Laurel, Ms from a litter of kittens and wanted to give them away. She had no idea what they were. Matilda was the prettiest one.
After I got her home and looked more closely she looked like a Maine Coon or a Norwegian Forest cat. I did some looking on the internet and I believe firmly that she is a Maine Coon!
I fell in love with her instantly. She is so gentle and sweet and is a lap cat. I am so lucky to have her. She is my angel!
---
Peter My Best Friend
By: Jim in Oregon
Peter is a great friend. He is so adorable. He loves to snuggle with me only.
He can be a little needy at times and he lets me know when he wants attention by gently clawing my leg and "talking" to me. He follows me around the neighborhood when we go for walks.
We got Peter as a baby kitten and his extra toes fascinated me so I paid alot of attention to him (he has 12 front toes and ten back toes) and he became my best friend. He's about 8 years now. He has a big bushy Grey tail like a squirrel and the softest fur. I'm pretty sure he's a coonie mix.
---
Get Everything Maine Coon at Your Fingertips - Now: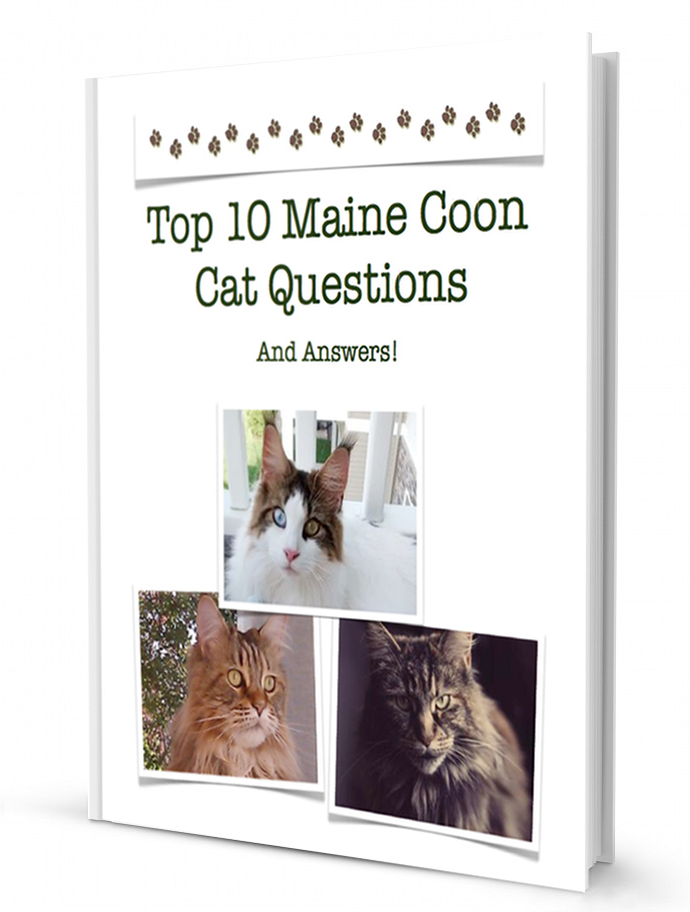 << The Care & Keeping Of Your Maine Coon is the ultimate guide to all the breed-specific needs of your Coonie. This unique breed has unique needs! A must-have.
The Top 10 Coonie Q & A's >>
is the essential handbook for all Maine Coon Questions, covering topics like nutrition and weight, "Is he a Maine Coon?," size, lifespan, and more.
Maybe-Maine Coon Cats For June:
I Don't Know If She's Maine Coon Or Not What Do You Think?
By: Torie in Arkansas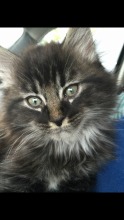 prissy maye
Our little Prissy Maye is 9wks old she has the best personality she is very vocal and wants to be with family.
We just got her from a friend that didn't know if she was a Maine Coon or not I think she looks like it she has the round eyes, the tuffs of hair between her toes and on the tops of her ears, she has the M on her forehead, she also has big round eyes.
And she has like a mane around her head and chest. Her fur is very different than any other i have felt it feels like rabbit fur her tail is puffy but not that big yet but than again she is only 9 weeks old.
She is big for her age. We love her regardless of what she is but just wondering what everyone else thought.
Thanks for your thoughts.
---
The Care & Keeping Of Your Maine Coon Cat: It's hard to describe the love between a Maine Coon and their family. I know you understand! With such special family members often come special, breed-specific questions and concerns. Your loving Maine Coon is very unique, both physically and in purrsonality.
---
Cleopatria
By: Dahloan Hembree in Jacksonville, Florida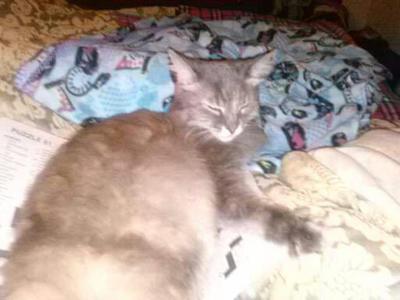 Cleo at rest
Cleo thinks she is a queen. She acts like she is the head of the cat kingdom. i believe she is a Coon mix, but have no proof. We got her from a friend who's cat had kittens. It has been 14 years now this past May, 2015 since we got Cleo.
She has some of the Maine Coon traits and others she doesn't. I have had cats my entire life and not one like her. It is as if there is a little person inside. She is so smart and so atuned to my every emotion. If I am sad, she is right by my side, if I am sick, she lays by my head until I feel better. She also can get very jealous if I pay too much attention to someone else or another furbaby.
She seems to be emotionally astute and I was wondering if this is a trait of Mainecoons. When mhy husband went through a depression time, she stayed by his side, even rubbing his head with her nose, one day when he wouldn't respond because of crying so hard. When our grandbaby had a crying episode and on one could figure it out, Cleo went to the rescue and licked her forehead and the baby started laughing. There have been other times when she has been the emotional rock in the family. It is an odd trait for an cat and one I have never seen before.
She does not like to sit on my lapa, but follows me from room to room.I call her my stalker. She is the smartest cat I have ever had and seems to know most of what I say to her, " Time for bed; potty time; are you hungry, want outside, etc. " I Dread the day she is no longer here and gone to kitty heaven.
She has the eyes and tail of a maincoon but lacks the square muzzle and other traits. But I do believe she is a big part Maine Coon. She is a large cat too and several people have commented on her size.
What do you all think? Does my Cleo look Maine Coon to you?
---
Milo my fur baby, I'm 99% certain he's a Maine Coon Mix
By: Pania in Queensland, Australia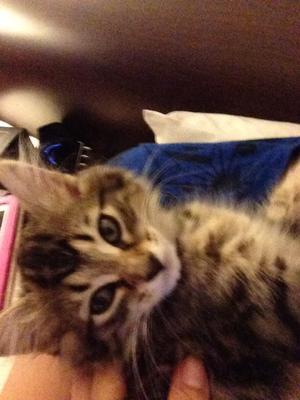 Milo as a kitten
My sister asked me to take care of the last kitten from her cats litter overnight, that was 1 and a half years ago and I still haven't given him back!
I fell in love with Milo's mischievous nature, crazy fluff, and gorgeous face. He was the largest kitten of the litter, which doesn't surprise me the least.
Milo is the cheekiest boy and has the ability to make everyone who meets him fall head over heels in love with him. Even my other sister, who was never crazy about cats, just adores him. While he may look like a big brave boy, he is terrified of the vacuum and leaps into my arms, growling and carrying on like he isn't safely tucked into mums arms!
I just adore Milo, he has such a cheeky attitude but is also a sweet loving cat who loves his mum.
So what do you think, Maine Coon mix?
---
Our gentle giant, "Mr. Tumnus"
By: Michael in California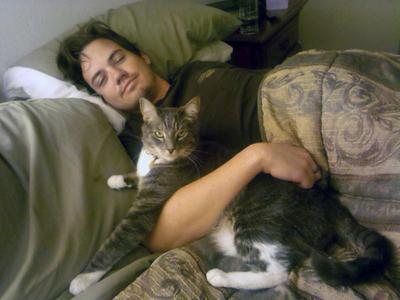 If someone is in bed, he's always there to snuggle!
This is our gentle giant, Mr. Tumnus. He was adopted by my wife years ago, she's not sure how old he was when she got him but he wasn't fully grown yet! By the time she started dating me, he'd grown to 21 lbs, 3 feet long from nose to tail! (We've since put him on a diet and he is down to between 17 and 18 lbs.)
He has a lot of personality in many different ways!
- First off, he has his own language; he meows, trills, chirps, squeaks, and makes other noises that seem specific to his different wants and needs.
- He is INCREDIBLY social... and a bit codependent. He runs and greets us at the door when either of us come home, and is almost always eager to come greet new people that come into our home. If both of us leave a room that he is in, even if he is just lounging, he will get up and follow us. If he wakes up in a room alone, he will often start to cry pitifully and he wanders around looking for us.
- He is very cuddly. Every night when we go to bed he has sleep next to us. He loves to be held (the only cat I've ever known to seem to want to be picked up) and loves to sit in our laps (which can be troublesome sometimes, he doesn't know how big he is!).
- He can be very playful. He has a variety of toys he likes to play with, and when we are too busy to give him attention, he'll often play with the toys on his own. I have this one big plastic spider that he'll actually pick up and thrown and then chase around! When he gets excited he'll gallop around the living room at what seems a 100 mph in circles, bounding on furniture and getting very big-eyed and bushy-tailed! Of course, he is still a cat, so it seems that most of the time is still spent napping or lounging about half-awake.
- He is NOT aggressive. At all. In the past 6 years that I've had him and the 8 my wife has had him, we've never seen him growl or hiss except in his sleep (I'd love to know what's going on in his dreams!). He doesn't bite or scratch people ever.
- He is VERY smart. My wife trained him to sit, beg, shake "hands", lie down, play dead, and roll over on command! He also uses his paws to grasp things like hands sometimes, and can even pull open some cupboards this way. Finally, there are definitely words that he has learned the meaning of that we didn't intentionally teach him: he reacts with a visible excitement and understanding to his name and the words "kitty", "brush", and "dinner".
---
My New Female Kitten - Po
By: Amira in Malaysia
Po is 3 months old. My friend gave her to me and said she's pure maine coon but i doubt that. I think she's a mix. Can you guys tell me whether she is pure or mix?
By the way she's really like to play and explore every part of the house as she is still a baby. :)
But she really does't like to be held. It's like she love to explore by herself - wild and free. And she's easily shocked when hear people sneezing, door being shut, etc. She's different from my any other cats, really different. But of course in a good way. :)
I hope someone can clarify about her to me. ;)
---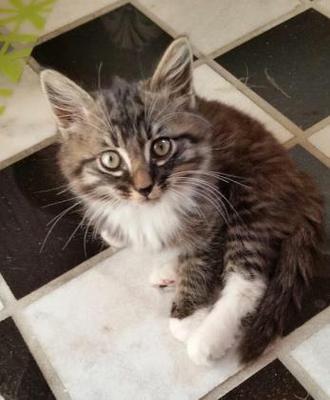 Dewey
Is my adopted kitten a Maine Coon mix?
By: Tim in Texas
Adopted from a cat rescue.
Told he was a "Maine Coon mix", not sure because I'm aware this is a purbred breed but loved his look and adopted anyways.
Just wondering what others thought.
---
Butters
By: Jane in Texas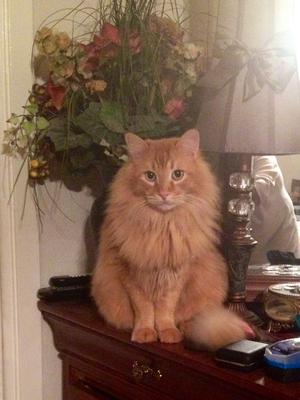 Mr. Butters
He came to me as a stray and was underweight, had an abscess and infection but a year and a half later is happy, healthy and king of the front porch!
He is declawed but fearless and is a bit on the temperamental side (no doubt had a rough time as an orphan) so he definitely didn't get all the Maine Coon traits.
Physical traits are more Coonlike with huge paws, gorgeous ear tufts, long hair and a big bushy tail! Have always wanted a Maine Coon and whether he is or isn't or even a mix, I absolutely adore him!
---
Is My Cat A Coon!
By: Anne in Alberta, Canada
Meet Walter,
We already had a spunky taby 18 month old female (Lou Lou) and wanted some company for her. We called "Bail us out!" which rescues cats and dogs (we also got Lou Lou from there).
Because they knew us, they wanted us to take Walter, a beautiful orange/green eyed 6 months old male, who they said was very affectionate and would be a perfect fit with our first addition.
When he came out of the crate, we were in awe of that tail! lol! It took Lou Lou a couple of days to adjust, and now, as you will see by the pictures, they are inseparable.
Walter is very affectionate, vocal, incredibly curious (always into everything!), lets you know what he wants in very interesting and creative ways, and gets along with everyone that comes to our home. At now 8 months, he is as big as Lou Lou, but still of lighter weight.
His eyes are very light green, he definitely has the ruff, large paws with lots of hair sticking between the toes, an amazing orange/light blonde coat, his pads, nose and lips are of a pale pink. His tail is as long as his body and he wraps it around him all the time when he lays down.
He sleeps by my head every night and always has to touch me (either head against mine, or a paw around my wrist, our his paw touching my face). He loves when my husband decides to go for a nap and will sleep on his chest the whole time.
He gets along famously with Lou Lou, was relentless in his pursuit of her affections and they play with each other all the time, sleep together (except at night as they share our bed) and groom each other constantly (not sure why on that one!).
So, what do you think? Do I have a Coon even though he came from a shelter? And I forgot.. he is the favorite of the girls at the Vet!
Let me know your thoughts and thank you!
---
Ozzy
By: Jenn in Redcliff Alberta Canada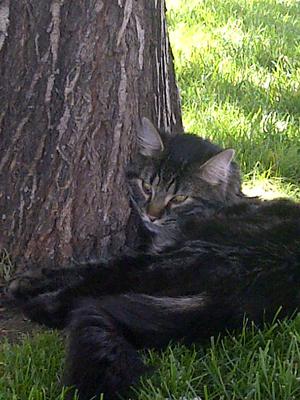 Ozzy was born on the farm. His momma was a stray we rescued as a tiny little fluff ball.
We had been trying to get her spayed but due to our remote location and limited vet service, it didn't happen. One day when she was almost a year old, she came into heat. We tried to keep her in the house but she escaped and met a handsome...HUGE...wooly wild cat.
A couple months later, Ozzy was born. I've always wondered about him as he's not your average cat. He's much bigger than most, much more vocal (as are his brothers and sisters) and much more social.
It wasn't until I brought him to town with me and people started commenting on him that I started to wonder about Maine Coons.
Everytime I'd take him for a "truck ride" someone would come running up and fawn over him like he was a rock star. 3 seperate people have now told me that he has to have a little 'coon in him so I did some research. He has most of the traits and looks, as does his momma and dad.
Here are Ozzy's stats:
Born: August 15 2011
Weight: 15.5lbs
Color: Black/Brown Tabby
Tail: Long and fluffy
Paws: Huge and tuffty
Ears: Wooly inside, very fine little wisps on the tips.
---
Snapple
By: MJ in Florence, SC, USA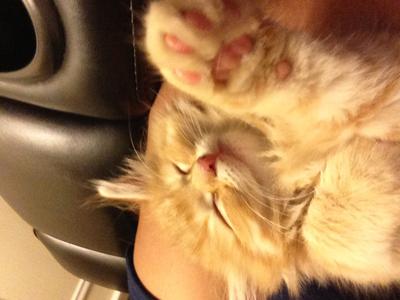 Snapple is a cute kitten! We found him in a warehouse 2 weeks ago.
He is playful, cute, sweet, strong personality. We saw him and took him right away to the Veterinary, right now he is 8 weeks old more less.
My family, dog and another kitty love him.
We think may be he is a Maine Coon mix because he is fluffy.
---
Daze The Kitty
By: Courtney in Milwaukee, Wisconsin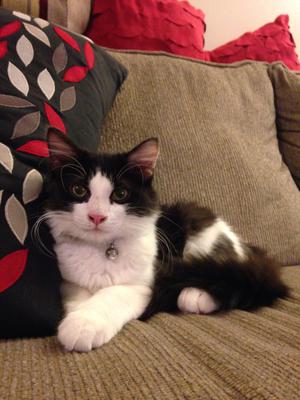 My husband and I got Daze in Jacksonville North Carolina from a woman who's cat got out and got pregnant by an unknown stray. The momma cat looked like your average short haired domestic cat, but all her little ones were very fluffy and furry.
I first suspected Daze could be part Maine Coon when I took him for his kitten shots at the vet. He had gotten all his shots, then I scheduled an appointment to get him neutered. When we went in for that appointment, the nurse took his weight and he exact words were, "You're growing like a weed!" He has gained about 6 pounds in two weeks and looked noticeably bigger. He's a little under a year old now and weighs about 15 lbs.
He's very playful, talkative, and clumsy. We adopted another kitty for him to have a friend to play around with. Felix is about a month younger than Daze and your average domestic short haired kitty. He is much smaller than Daze, about 6 lbs. Daze took to him very quickly. It was only a few days before they were cuddling and licking each other like long lost brothers.
Please help me figure out if Daze has Maine Coon in his blood line!
---
Booger
By: Denise Hudson in Cape Coral, Florida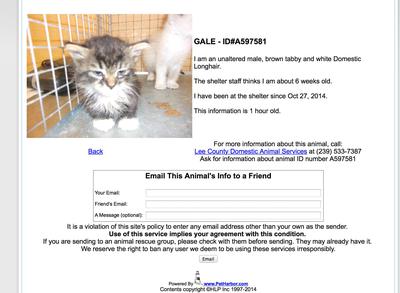 I adopted Booger from the local animal shelter at just 6 weeks old.
He was a miserable little guy with upper respiratory infection....that's why my husband named him Booger :-)
He's got a lot of personality and is super smart. Will sit and kiss for treats. He loves our huge garden, chasing lizards and butterflies. He looks a lot like a Maine Coon....
What do you think?
Greetings from Florida
Denise
---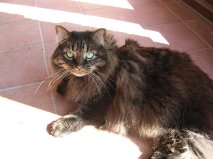 Puffy
By: Rose in Woodbridge, Canada
He quacks! and chirps....
---
Darcy!
By: Hannah Brain in Gloucester, UK
Darcy arrived outside our conservatory around 8 years ago, her fur was all tangled in knots, she obviously hadn't been looked after properly.
We took her on and took her to the vets to get her knots cut out.
Darcy is a lovely girl who enjoys company, she follows me around the house!
---
Is Angel a Maine Coon Mix?
By: Kristina B. in Virginia, USA
My family adopted her from PetsMart as a 6 month old kitten and the sellers said she was from a farm in Culpeper, Virginia. They also told us her mother was long haired and that she (the mother) was polydactyl.
She had pretty short hair at first, with a big fluffy tail. I would say it took a couple of years before she got her full coat, as seen in the photos. I think this is a Maine Coon trait? She is a bit bigger than my other cat (especially with the fur), but isn't huge like typical Maine Coons.
Angel is very graceful and always looks like a queen when sitting or lying. She likes to cup her paws to the inside or crosses them when laying down and really likes to sleep on pillows. She is a bit fearful of everything (bags ruffling, loud noises or movements). Strangely, she is not afraid of dogs and actually challenges them. I think this has to do something with her previous farm life.
Angel is very sweet and never bites. She only hisses at our other cat when they argue (sometimes) and gets angry when we pick her up or do something she doesn't want to (feeding pills, cutting out hair balls).
Otherwise, she loves to be petted and to sleep with us at night. She can sleep the entire night with any member of the family she joins. She also likes to softly make noises when she sees birds outside (like many cats do I guess).
She has a pretty annoying meow (kind of loud and not very soft and melodic like our other cat), but she doesn't meow often (only when hungry or she wants to play). Angel really likes electronics! If anyone is by the DVD player, she wants it to open and play with the plastic.
She is pretty curious if anyone is doing anything with electronics (DVDs, wires, etc). She also sits and watches the TV sometimes when we are watching it (especially shows dealing with wild animals). I'm not sure what she's actually thinking though, maybe its just coincidence!
Angel also likes to look out the windows during car rides to the vet. She doesn't seem to be afraid and is pretty curious.
Overall, I think she has a lot of features of the Maine Coon cat (a Maine Coon relative is probably way down the line, though).
---
Related: