June 2014 Photo Album
Meet our Featured Coonies for June 2014! 
This extra-large June Album is the place to see pictures of Diablo, Jasmine the Diva, Moose,  Rushil,  Spudmeister AKA Spud and many more.

Diablo
By: Sandrina Kisjes in Steenwijk, Netherlands
Meet Diablo, a 2.5 years old Maine Coon :) He is my best friend and is always happy to see me coming home!
---
Jasmine aka The Diva
By: Kathleen in Helena, AL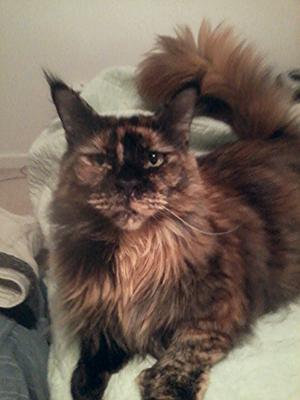 Jasmine in a Diva moment!
We adopted Jasmine when she retired from her busy career as a professional Mommy at a cattery in the northern part of our state.
At first, she was frightened and seemed a bit lost. She was just what I and the two other kitties who allow me to serve them needed.
Six months earlier the little Queen of our household crossed the Rainbow Bridge far too soon. Her passing was difficult for all of us.
Then Jasmine walked into our lives and building a relationship with her helped to ease the ache in our hearts. Slowly but surely, Jasmine hit her stride as part of our family and has definitely become our beloved Diva. And there's no question about who rules the roost!
Jasmine is our first Coonie and living with her for the past year makes me truly understand the popularity of the Maine Coon breed.
I and her adopted brother and sister kitties adore her.
---
Isn't he HOT?!
By: Samantha in E. Freetown, MA
Our Moose is a brown classic tabby with white and has the most striking markings I've ever seen on a Maine Coon.
He is definitely a sight to be seen. His personality is amazing! He is super affectionate, fiesty at times, and a bit mischevious!
He absolutely loves climbing in my (safe) house plants, much to my dismay.
He is starting to like the water, jumping in my tub each morning until I turn the water on so he can get his tail wet.
Night times, he can be found sleeping soundly between me and my husband, or on my head on my pillow. What's his is his, and what's mine is his!
He would rather play with a crumpled up piece of paper than any of his toys, and would rather be on the counter than on the floor!
He's only about 6 months old and is already the size of a "regular" house cat. His red-and-white daddy was a whopping 20lbs at his 1-year check-up, so I'm sure my little fur-baby is well on his way to that mark!
We are totally in love with our new addition!
---
Rushil
By: Angelica van Bekkum in Europe, Netherlands, Limburg, Heerlen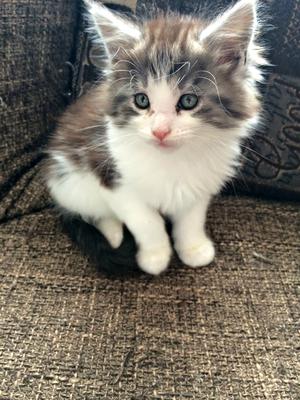 Rushil 7 weeks old
When I saw Rushil, it was love at first sight. He was only 4 weeks old then.
From that day on, I went to see him every week. Finaly after 10 weeks of driving, I could take Rushil with me.
---
Spudmeister AKA Spud
By: D. Myers in Devon UK
Spud is very much a mummy's boy, he is not affectionate with just anyone.
Not keen on going outside, he's measures 95cm from nose to tail.
He's only 16 months old and very heavy, loves water and loves baths!
---
Fifi and Annie My Loves!
I love love these girls.. they have stuck with me thru all of lifes challenges I can't imagine life without them..
My dad who passed away in 2007 loved my girls and they loved him! They are the sweetest cats ever!!!
I am blessed to have these fur babies in my life!
---
Maximus Von Diesel... the sequel.
My favorite place.
By: Ludo in Belgium
Hello to all Coon lovers,
I just wanted to thank all of you for the lovely reactions to my former post. Also my 3 servants liked it a lot.
Now I am back with a little update on my situation and daily struggels of my catlife.
One of my favorite places in the house is the open staircase; from up here I can observe the entire house. It is also a good spot to keep an eye on everything going on in and arround the house. This is very very very... important to me as i absolutely have to be a part of anything going on.
The only thing I wont have anything to do with... is the vacuum cleaner, to noisy for my royal taste.
The other good thing about the stairs is that no one gets by me, no one going up or down gets past without me fooling arround and drawing the attention, i just looooove attention, need it, crave it ...
My servants took a few pictures of me posing and goofing arround on the stairs, I think they will add them to this post.
Have to go now... something is happening in bathroom and as I really love water you have to understand i can not afford not to be there.
See you later Cooners...
---
Mooshki
By: Jennifer C in Goshen Indiana USA
Mooski watching birds on the laptop
I got Mooshki about 3 years ago.
I wasn't sure what kind of cat he was until I researched. He was a rescue kitten so I did not know much about his parentage except that he was orphaned at a week old when his mommy got ran over.
I got him when he was 6 weeks old, he was a bounding little ball of fur and energy. He has been a joy since I got him, he is still growing and is about 20+ lbs and very large.
He loves to lay on his back and when he has his toys he likes to stomp on them with his hind legs before he tosses it up in the air and catches them.
He has been such a joy in my life and he is always waiting for me at the door when I come home from work. Wasn't until I had him neutered that the vet told me that I had a beautiful Maine Coon.
---
Blackie
By: Robert Farr in Port Ludlow Washington USA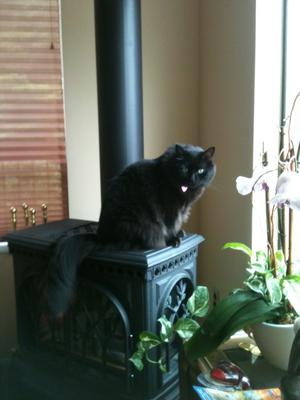 Blackie was a member of a feral family of cats we took in a few years ago.
He looked like our other cat Diesel when she was a kitten. So we knew he was going to be big.
Well he grew up into a large all black cat with a silver V from arm pit to arm pit. He also has silver hair between his toes and around his pads.
This is good, since he now is the one that gets me up at 4am each day. Diesel taught him well.
He isn't 100% Maine Coon but, he is close.
---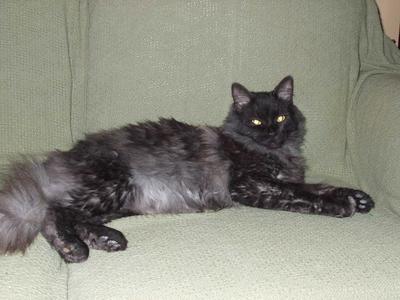 Willow
By: Steve Welling in Ontario, Canada
Willow is a 5 yr od male who doesnt talk at all or purr for some reason.
He was a recued cat abt to be put down. We just love this big cat.f
---
Pepper
By: Susan McBryde in Madison, WI
Pepper is a sassy Maine Coon who is always up to trouble!
She rules our Persian and two dogs even though she is the baby of the group. She is terrified of people, only drinks running water out of the sink and causes daily mayhem.
We adore our crazy Maine Coon - she is large and in charge!
---
Fiona (Fifi), My Nautical Rescue
By: Shelly in Rochester, MN
Two years ago, my daughter and her friends found 4 baby kittens that had been abandoned on her friend's boat.
They were just weeks old and had been on their own for a while. I ended up with Fiona (nicknamed Fifi). She was the oddest looking cat in the litter.
I could tell she was a dilute tortie, but she had scraggly (oily) hair sticking out everywhere.
As she grew and kept growing I could seen she was going to be large. Her feet were enormous and tufted. Her ears were also tufted.
As she grew, she began to display Maine Coon traits. She has the lion tuft around her neck and the fine soft undercoat on her belly. She is also very social.
She is so sweet and lovable and very mellow. She is an excellent companion and cherished family member.
---
My DJ & I are BFFs! :)
By: Royce Leibhart in Bedford, TX
Eyes
Ahh, the love of my life! My poor Facebook friends must get tired of the countless pictures of DJ that appear in their newsfeed! I had one other Maine Coon prior to DJ who was with me for years. I will only ever have Maine Coons! Their personalities are incredible!
My favorite part of the day is coming home from work and relaxing with DJ on my lap!
He loves his toy mice, and loves to fetch them even more! I have videos of him chasing, fetching and dropping his mice back in my lap for me to throw again.
DJ has two different colored eyes and white toes on his back feet! He is absolutely gorgeous!
He truly is the apple of my eye and I would love to see him on your site/Facebook!
PS- I am not a crazy cat lady, I just love my kitty! :)
---
Pebbles My Maine Coon Rescue
By: Linda Barnett in Lexington, KY USA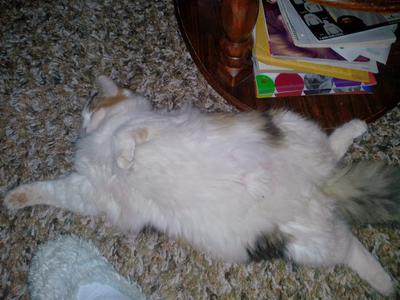 Pebbles just relaxing
Pebbles is 2 years old now, as of May the 28th. I rescued her from a local shelter here where I live. She was so underweight that it was pathetic but as friendly as could be.
She actually picked me, when I opened the door to her cage, she leaps in to my arms as if saying "Please take me out of here" so I did just that. She is very intelligent and loves to talk, she follows me almost every step that I take and will talk to me the entire time no matter what I'm doing.
She loves to cuddle only at her convenience, if I pet her and she doesn't want to be petted she will walk off, lol. She is one of our babies and we love her so much.
---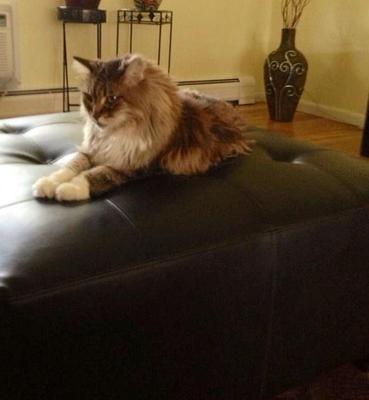 Chili
By: Leah in East Brunswick, NJ
18 years and still going strong!! Lived the first 8 as an outdoor cat and hunter in upstate NY and the last 10 in NJ as an indoor cat with a cushy lifestyle! :)
---
Pandora 7 Week Descendent of Congo
By: Diane in Kalamazoo MI
Sitting pretty
She is huge kitten with the same amount of personality!
She comes from a long line of great Maine Coons decending from Congo, the worlds largest Maine Coon.
She has brought so much joy to our family.
---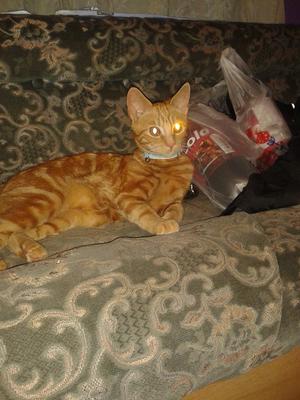 Tiggs The Purrer
By: Hadi Fowler in Suffolk
Tiggs is a 6 month old cross.
He is such a loveable cat and loves attention.
He is always purring and loves cuddles and playing with his toys.
---
Domino
By: Jasmin in Helmstedt, Germany
This is Domino, our new Maine Coon Blue Tortie :-)
She's awesome! She is a little wild girl ;-) Loves playing and cuddling. Domino is 15 weeks old.
---
A Proud Mama
By: Brenda Daeges in Bellevue Nebraska
Mafiatta is my one year old Maine Coon.
I rescued her from a breeder who was not a good breeder. She sold sick kittens to everyone, mine almost died. She was infected with some kind of intestinal bugs. It took almost six monthsto get her well.
Now she huge healthy beautiful Brown Mackerel Classic Tabby.
---
Meet our lovely Belive!
By: Tomas Forsberg in Sweden
Belive - S*East Aurora's Belive was born 2014.02.06.
She is registered as a Black Silver Mackarel Tabby ns23. She lives on the countryside in the north of Sweden with her Cat Daddy, Cat Mommy and four other cats; Sven and Elsa both housecats, Tony a bengal and her maine coon buddie Calle.
For more pictures of Belive and her cat family please visit our homepage on Facebook SE Katthemmets.
(Note from editor: Tomas, your picture(s) didn't come through - This happens when they are large files, meaning high quality photos. There are tips here for editing photos for the web, if you'd like to try again. Since you opted not to leave an email address, I was unable to contact you.)
---
Our Rescue Mister Charlie
By: Heather in Parkersburg, WV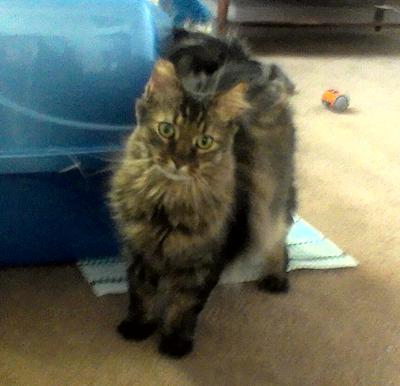 A dear friend of ours, who does rescues in the Columbus, OH area, found this gorgeous boy.
He had apparently been abandoned while still a kitten/young adult, and had been fixed by a trap and neuter, as his ear is clipped.
She fostored him for about a year, then decided we would be a perfect forever home for him (she is my husband's friend, and decided this after we got together. She could SMELL cat lady on me, lol.). Of course we took him in.
He was extremely reticent and shy at first, for a good while - now, he rules the house! He wakes me every morning with kisses, and talks his head off.
I love love love him!
---
Safest dog on the block!
By: Valerie Wynne in Winnipeg, Manitoba, Canada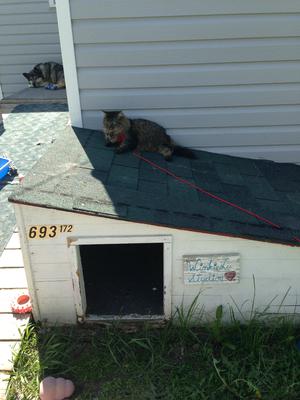 Ruger was a rescue that my mother-in-law got from the Winnipeg Humane Society two years ago.
She is no longer able to care for him, so he has moved in with us and our 3 dogs.
Not one hiss or scratch, ever. He loves nothing more than to be outside with his pack.
---
Macce Noelle Sleeping With Older Sister Marty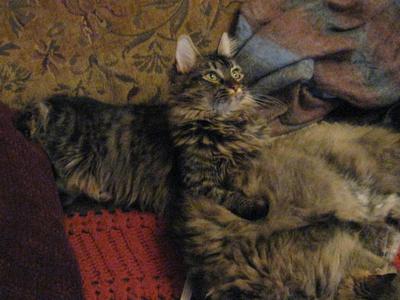 This is Macee Noelle with her paw on her older sister Marty who is 20+ years old.
Macce just woke up, but Marty is still sleeping as she does most of the time now.
---
We Love Our Little Layla
By: Cathy in Hopewell PA
Layla as a kitten-the first night home-3 mos old
Layla is two years old and such a sweetie! She's pretty small under 10 lbs. She loves people but doesnt want to be held.
She loves to lay in the Bay window and greets us at the door when we come home. She sometimes will meow in the middle of the night when everyone is asleep wondering why we arent up too.
She knows the word Treat and Are you hungry? She loves her treats and will butter you up until she gets one.
She also loves running water from the bathroom faucet. She has us all wrapped around her little paw. We got her from the mall when they had kittens from the Humane society visiting for a couple weeks that summer. She was the only girl that day. She was in a Foster home and they did a wonderful job taking care of her.
She's not afraid of people and adjusted well. She has a mix of colors and the fur coming out of her ears and paws are so cute. Think she is part Maine Coon.
We just love her to pieces. Everyone loves Layla!
---
Our Rescue Jinx
By: Dana in North Carolina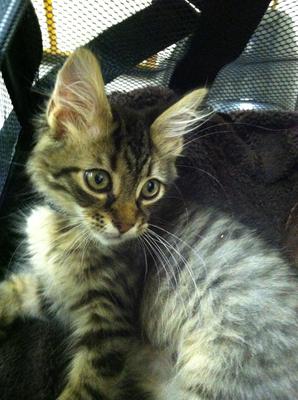 Jinx when we brought him home
We rescued Jinx when he was just 3 months old from a local shelter that was running an adoptathon at the local Pet Smart.
There were so many cats just vying for attention. Jinx was the only one sitting in the back of his crate curled up into a ball. No one was looking at him because he looked so fragile and sickly. He was so quiet.
When my husband pointed him out to me I got down to have a peek. Jinx looked up at me and let out the softest meow, seeming to choose us. I knew then we had to rescue him.
When I pulled him out of his kennel he fit into the palm of my hand, he was so malnourished and tiny you could see his hip bones and feel his spine from head to tail.
After the adoption went through, We took Jinx to the vet. he weighed in at 2.2 lbs, had an upper respiratory infection, tapeworm and coccidia.
We didn't know if the poor little guy was ever going to get better but he did and boy did he light up our life. He's given us so many laughs.
He plays peek a boo, loves to play "fetch" and loves his purple mousey. He'll run from across the room and jump onto his toy with the scratcher and ball tube. I have so many crazy videos of him playing.
Now Jinx weighs in at 12.3 lbs and is 2 weeks shy of being a year old. We really weren't sure if he was fully a Maine Coon but he sure does have all of the attributes and characteristics. I am so thankful we were able to give this big guy a fur ever home.
---
Sullivan
By: Robin in Euless, Texas
A young Sullivan
I adopted Sullivan when he was 10 weeks old and he is now 6 years old.
He is by far the best cat I have ever belonged to. He's cuddly, silly, sweet and chattery.
More Sullivan
By: Robin Laughlin in Euless, Texas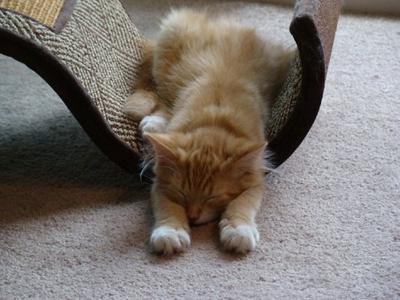 Sleepin'
Slightly obsessed with my biug Sullivan. From when he was a kitten till now and forever.
---
BoBear
By: Donna-Marie Saywell in England
BoBear is 10 months old and weighs 9lbs.
He has a massive tail loves water and lying in the bathroom basin.
He loves to be brushed and has a very loud purr. He is one gorgeous boy and we love him dearly.
BoBear
By: Taylor Saywell in the UK
10 Months old
9lbs
---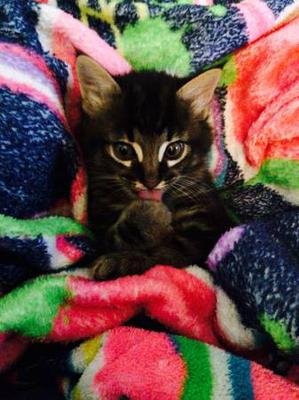 Dewey
Dewey
By: Karen in Pearl, MS 39208
10 week old Maine Coon Mix. Just adopted!
---
Mafiatta My Princess
By: Brenda Daeges in Omaha Nebraska 68157u
She's the joy of my life don't known what I would do without her.