June 2013 Featured Coonies
Welcome to the June 2013 Photo Album - Meet these beautiful Coonies!
Quaffle!
By: Kristen A. Yukness in Brunswick, GA, USA
Quaffle!
My boy Quaffle (Beachcoons Shades-of-Quaffle) was born on 3/12/12, when I was in the middle of my battle with cancer.
My previous Maine Coon, Truffle, passed away on the day I was diagnosed. Quaffle has been the light in my life over the past year, and has become my best pal. We show in the CFA, and he became a Grand Premier in January.
He loves to travel! When he sees me packing, he and his brother Vincent load themselves into the carrier, and are ready to go before I am. When not traveling, Quaffle can be found drinking and playing in the toilet (we are now a "seat down" family), bathtub or sink.
He is also interested in home improvement projects, as he is fond of removing door stoppers, sink strainers, and taking his Drinkwell apart. Vacuuming is frequently done for me, as Quaffle enjoys starting the Roomba, and following it around the house.
He is idolized by his little brother Vincent, and will do anything for a freeze-dried shrimp. No matter what, he knows he has his Mom (me) wrapped around his little (big) paw!!
---
Larkin, 4 months old
By: Christine Wagner in Longmont Colorado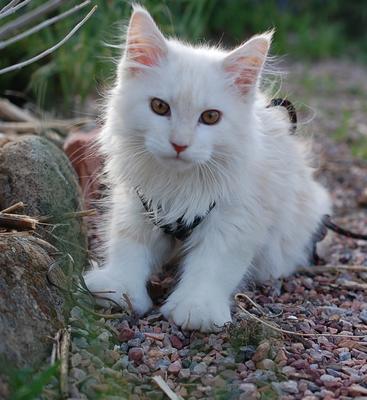 backyard on a leash
Larkin is a polydactyl Maine Coon. He is getting longer every day!
---
Bax
By: NikoLajka in Prague, Czech Rep.



Our precious baby loves hidding :)
---
Our Lucy
By: Lyn in Worcester, MA, USA
Lucy at 11 weeks, her arrival
Lucy is our 7 month old brown torbie with white girl from Oldestage Maine Coons.
She is so much fun and absolutely loves her older brother KC. Only recently has she found her voice and now makes comments whenever I enter a room.
She is fascinated by running water, of course, and is our big bug hunter around the house.
---
Pilgrim Has A Home
By: Jan Kraft in Monroe, WA
Loves his perch
Pilgrim fills a void of a much loved tabby we lost last summer. He is doing a loving job to mend our hearts.
He was born on Thanksgiving morning 2012, hence the name Pilgrim. We are very thankful this big guy needed a home when he did.
He fits right in with the two dogs, keeping them in their place, but wanting to be their little brother, snuggling and playing as kitties do. His Rottweiler mix brother puts up with him, however it is taking his English springer spaniel sister longer. He likes to groom her back, while he lays on her! She is taking to it quite well after the initial shock!
---
Our Boy Cesar
By: Lisa McCarley in Haslet, TX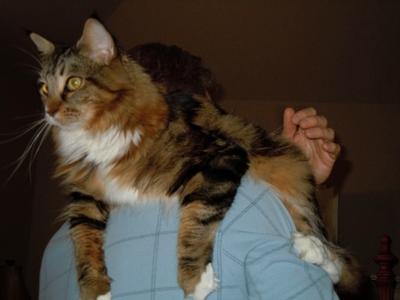 Piggy Back Ride
We adopted Cesar from a friend who could no longer care for him. He was a year old when we adopted him. Our previous Maine Coon died at the age of 16 and we were thinking of getting another one.
Cesar came into our lives at the right time. He is a real joy to have around. He got along great with our dacshund from the get go. They love to run around the house with each other. Cesar loves to be around kids too, which is a plus since my son always has friends over.
Cesar is a little more vocal than our other Maine Coon. He even says "Mama". My friends didn't believe me until they heard it with there own ears. He comes to me and looks up and says Mama. Even if he isn't saying it, I still love it and like to think he is saying it. ;P
Cesar is now 4 1/2 now and weighs 18 lbs. We love him so much and look forward to having him around for many more years.
---
Zeus! Immortal Maine Coon's youngster
By: Melanie Blaszinski in Dallas, TX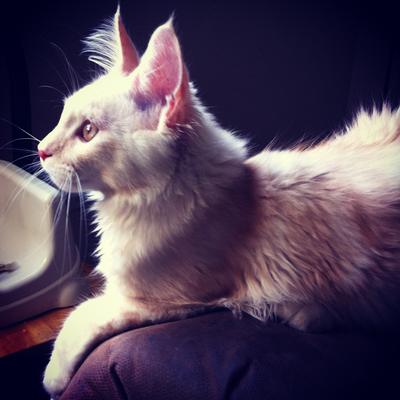 Our photogenic boy <3
Zeus is a 16 week old red-silver (cameo) Maine Coon. He is very active and such a big boy! 7.5lbs right now and growing fast!
---
Athena! Immortal Maine Coons' big momma!
By: Melanie Blaszinski in Dallas, TX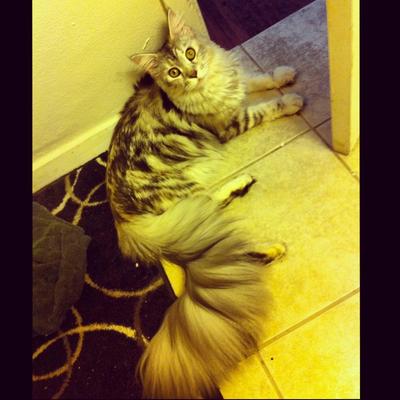 Big Tail!
Athena is a silver classic patch girl with alot of personality! She turned 1 in march of this year, and has a tail that goes on for miles! :) she is the oldest cat in our cattery and hope to be having a litter end of this year!
---
Hera. Immortal Maine Coons newest addition!
By: Melanie Blaszinski in Dallas, TX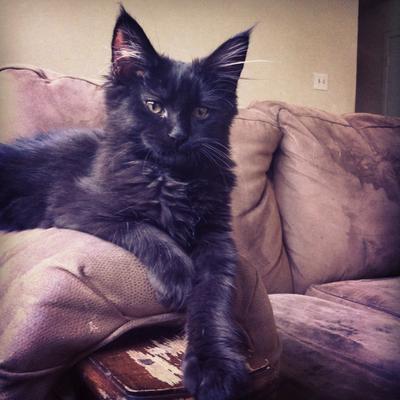 At 16 weeks old, Hera is a dainty little black Maine Coon with a small white patch under her chin. She may be small, but she holds her own against her 7.5lb buddy, Zeus. :)
---
Juno aka the Junebug
By: Melissa Brunmeier in Omaha, NE
So I sadly lost my first kitty, Dazey, to the Rainbrow Bridge on February 21st, 2013. He was part Maine Coon and I vowed to one day own a full bred Maine Coon.
A few days after I lost him, I had a couple cocktails and googled Maine Coon breeders and Nebraska, my hopes were not high, as it was Winter. Surprisingly, a breeder popped up with available kittens.
I had told Dazey what I what I would name the male after him (another male with a girly name, go figure), and lo and behold a red classic male Maine Coon kitten stared back at me.
It only took realizing that the kitten was born on Dazey's birthday (December 1st) and his mother's name was Daisy to seal this deal.
Right away, my new kitten wanted to eat dinner with me, loved bathtime and water/ice cubes in general, tore push pins off the wall, greeted me at the door...all things that made Dazey so amazing to me. Sometimes...life is good! Meet Juno:)
---
Pepper my 1yr old Gentle Giant
By: Barbara in the UK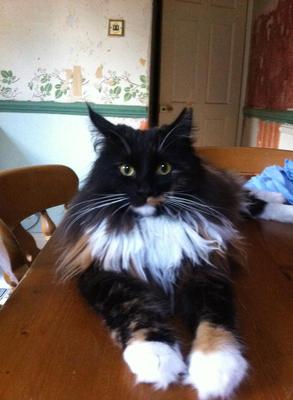 Pepper is my 1st Maine Coon...now I understand when people say when you have one you want more...
She is so loveable and follows me around the house constantly talking to me she was 1 yr old on the 2nd june ...as you can see shes going to be a big girl and quite a stunner!
---
Bentley
By: Elizabeth Trullinger in Greensboro, NC
Our Beautiful Bentley
Bentley came to us about 3 years ago. He was waiting for us on the porch when we came back from the Outer Banks.
He had no plans to leave, and we have no idea where he came from. I can't imagine anybody leaving him, but he was not feral. He is probably a mix but was not neutered and about 1 year old, and he has all the characteristics of a full blooded Maine Coon. His fur never mats, and his voice is tiny. Best of all, he loves us, other people and other cats, especially his baby sister, Maggie.
He wasn't going anywhere, so we let him in and he is our precious Maine Coon now. We don't know where he came from, but he was not feral. He loves everybody.
Bentley loves his baby sister Maggie, who was rescued by my husband at a gas station and severely injured. He took her to the Kitty ER where they had to amputate her tail. She is what I call a "surgical Manx."
I didn't see her for a week after we adopted her because she had to remain at the vet. She chases Bentley, who is 3 times her size, all over the house and generally terrorizes us all. They are so precious together, especially since we recently lost our 18 year old cat. She died peacefully at home.
Bentley likes to read on my Kindle with me. Maggie can't read yet, but we are working on it.

---
Baby Again!
By: Maria in Chicago, IL
I posted about my coon Baby back in October... he is stuck on me now more than ever like gum!
He's happy when I get home from work and snuggles with me as I go to sleep at night.
---
Rookie
By: Bea Rivera in Bentonville, AR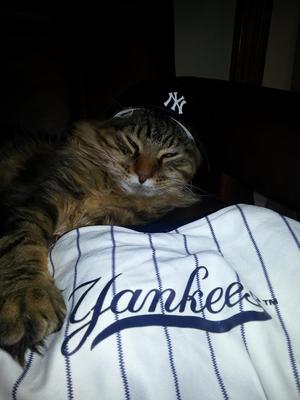 Our Little Yankee!
Rookie is our 7 month old! He is a talker and makes it loud to ensure we hear every word.
He is a lover and very playful. We are huge baseball fans and the name was a perfect suggestion.
---
Nyssa
By: Mike Raabe in Bellevue, WA

Nyssa is our 15-month old queen of the roost, rescued from a foster home December of 2012!
---
Yoda and Mogli
By: Caterina & Matias in Bavaria, Germany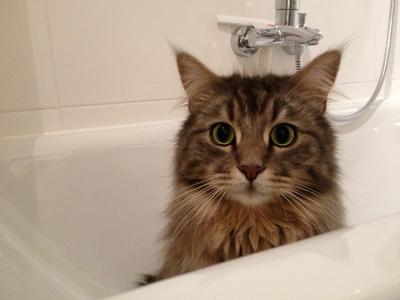 Yoda
"Bravest Maine Coon Cats ever they are" our two little warriors. Yoda is now 2 years old and keeps on training and teaching the Yedi path to 9 months old Mogli.
Sadie and Molly
By: Lisa Orsini in Fort Edward, NY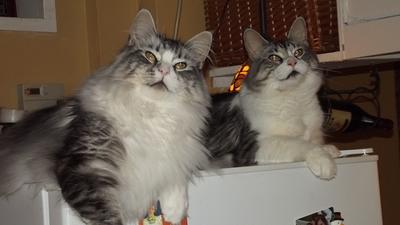 Sadie and Molly
Sadie and Molly are full sisters from different litters. Sadie turned 2 in March and Molly is 3 on June 1st.
Sadie (left) is the cuddle bug of the two, with the sweetest personality ever. Molly (on right) is the genius.
She has figured out how to pee and poop in the toilet with no training at all. Their favorite pastimes are bird watching and eating bugs on the screened in porch.
---
Leo, A Loveable Big Ball Of Fluff
By: Ruth in Scotland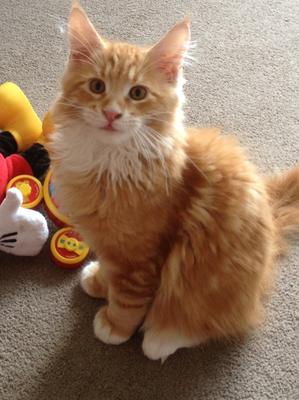 Leo is almost a year old.
He is by far the biggest cat we've ever had but the biggest softy, our other cat is a small domestic female who definitely rules the roost.
Leo follows her around everywhere looking to play and have fun. He is very affectionate with the family but very timid when people visit.
---
Eleanor; Debonair
By: Stephanie in the USA
She Wants to Play.
Eleanor came to me through an animal shelter. She had been returned twice due to being "a handful".
The animal shelter had her marked as a 2 yr old, but when I brought her into my vet clinic for the first time, they told me that she was, in fact, only 8 months old.
Since that day almost 8 months ago, Eleanor has taught me that she is indeed a handful, but I love every minute of it.
From learning how to open every door in the house making me have to "kitty proof" the house or jumping into the shower with me at last minute leaving scratch marks(I have a glass shower wall that she jumped over) to guarding me when I sleep and alerting me when people have arrived...Eleanor has become very dear to me.
She, as well as I, know that she has finally found her forever home.
---
Noah Poppymeadow United Kingdom
By: Steven Dyer in Mansfield United Kingdom
Hi, my name is Noah, I was born one of 7 kittens in November 2011 making me 19 months old at the moment. I am growing very fast and already am nearly 10kg (9.8 kg).
I am pedigree registered here in the UK. Unfortunatley for me my owners Steve and Josh decided when I was a few months old that I was not going to be able to father any kittens and took me to the vets to have an opperation. Since then I have aquired such a great personality and am loving life to the full.
My owners are very proud of me and nothing is to much trouble for them. I'm hoping to meet fellow Coons from all around the world.
Have a nice day Coonies, be proud!!
---
Rex
By: Amber in Iowa
Most Amazing cat I've ever had!! He's a cuddler and so talkative.
---
Shayna
By: Barbara in Orange, CA
Shayna
My part-Maine Coon cat, Shayna, was a stray that we are so blessed to have. She is so smart, funny and playful.
She loves to lay in front of my screen when I am at the computer. This photo shows her after she fell asleep there. Talk about relaxed!
---
My Maine Coon, Pebbles
By: Linda Barnett in Lexington, KY, USA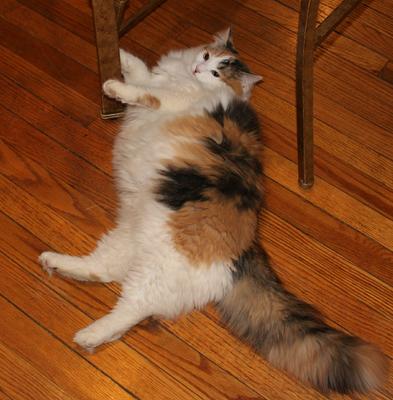 Pebbles
I rescued Pebbles from a shelter, she was 8 weeks old and very much under weight, she is not under weight now.
She just turned 1 year old the 28th of May. She weighs about 14 to 16 pounds. I'm not sure if she is a full stock Maine Coon or if she is a Maine Coon mix but the vet told me she was for sure a Maine Coon. She is so beautiful, Calico in color with the gold colored eyes.
She is lovable when she wants to be but it has to be on her terms but I can pick her up at any time and she will give me kisses on the nose. She loves water, either in the bathtub or her water bowl, she loves playing in it.
---
Puddles at two months just had a bath
By: Easton Cobb in ComstockPark Michigan


Just Had a Bath, and Ready to play
Puddles and her 2 sisters were found by my son. The Mother was no where to be found.
All three of them are in good homes now but are separated. Puddles just had a bath and is ready to get dried off and play.
Her main playmate is Easton, he is 8 years old and she chases him around the house like a dog - it's so funny!
---
New Pictures of Buster and Molly
By: Jenni Siri in Ligonier, IN, USA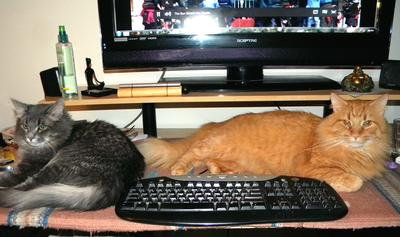 They just can't get close enough and I'm running out of space!
Both of my kitties are mixed. Buster, the yellow one, is enormous but Molly is starting to catch up with him slowly but surely.
Molly is now 8 months old and the funniest thing is ... we found out that she is actually a 'he'. We were so used to thinking of her as a girl and calling her Molly that it's impossible to change. Perhaps for a neutered cat it doesn't matter so much? :)
Molly's kitten picture is on your front page where it says, "Finding Your Own Maine Coon". We are so happy and proud to see her little face there. Thank you!
The two of them get along well and love to play together and bathe each other. Molly has a habit of 'lick, lick, nibble, lick, lick, nibble ... Buster will tolerate the nibbles for a while, as long as she cleans his ears well. :)
Just in the past month (since we had 'her' neutered) her tail has fluffed out so big, I will have to take some more recent pictures of it and send them soon. When she's waling away it's so funny, she looks like she is wearing a feather duster. The fur on her tail is at least 3, if not 4 inches long. It's amazing!
---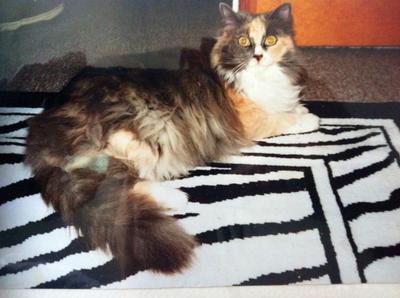 Peaches and Cream
Peaches and Cream
By: Nancy in Virginia, USA
Most loving cat ever!
---
Dukes
By: Cassie in Concord NH
Dukes' is almost 4 months old, he is half Maine Coon and half calico mix. he is very loving and sweet with a very inquisitive personality.
He loves climbing and jumping from things and always surprises us with his tricks. He is very smart and well behaved. I am so glad I got him, he is a great addition to our family.
Dukes Snoozing
This is how Dukes sleeps almost all of the time, we don't know why, I have never had a kitten sleep in such silly ways.
---
Sassy Fras (aka Floof)
By: Shelly in Scotts Valley, CA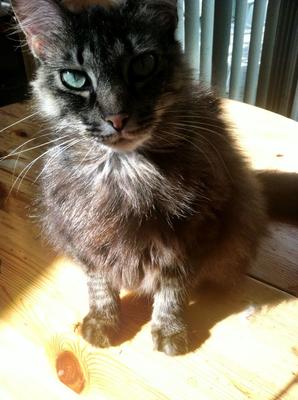 Always has to be in the sun on the table...
We adopted Sass a after Christmas 2012 (after losing my other fur baby to a car).
She was scary crazy the first two weeks, but now is your typical Maine Coon with her habits, "trill talk" and need to drink moving water! - See more at: http://sbi12.sitesell.com/dyn/C2/PendingSubmission#sthash.Ctm15c27.dpuf
---
Maxx "The Gentle Giant"
By: Bev Keller in Kingston, Ontario, Canada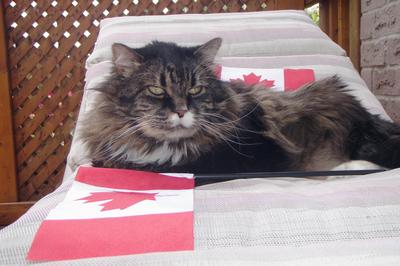 When we first got Maxx as a kitten we were not familiar with the Maine Coon breed. Various people that saw him said he must be a MC and when I did some research I know he has all the traits.
Maxx is 16 years old, weighs 25 pounds and suffers from arthritis. He is currently having laser therapy to ease the pain.
---
Mysterious tales of Half-Racoon named Caleb
By: Jagoda in Poland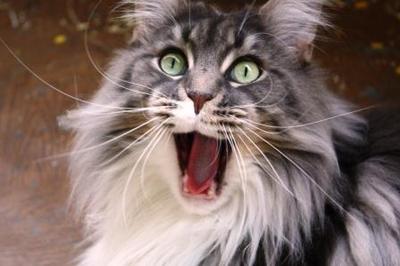 O God... what to say about Caleb? There are so many things about him and so many aspects of his personality I cannot even count.
But let's start from the simple facts, he was born in 2005, 17th of June so we (him and me) can celebrate our birthdays together (I was born 8 days before him, well when we talk about days, because I am 12 yrs older than my lovely, devilish imp), he comes from Gniezno which is about 400 km distance from where he lives now - Silesian District. Enough boring stuff.
I would like to say that Caleb is bold, courageous - somewhat a tiger type but... He's not, he is as sweet as one can be. I'm not telling you he's perfect - he is far from it.
He's moody and often gets a hump, but when he walks into the room which is occupied by "his" humans, winking those emerald eyes of his, he warbles softly just to report of his presence, but the look in these two shining gems tells you, that the family he lives in, is centre of his whole universe.
Sometimes he's searching for a company, but not for doing something, Caleb just want to feel other friendly, loving being. Yeah, my cat isn't perfect, I'm not either, but I love him with all his defects and benefits, I love him, because for just being.
---
Padme 'Fuzz' and Little Kitty
By: Julie in West Virginia
Fuzz came to live with us back in Feb 2012 (there's a picture in the album) This spring we decided to get her a playmate so we rescued 'Little Kitty'
After about 10 minutes of "who are you and what are you doing in my home?" They became the best of friends. They are as different as night and day.
Fuzz, always comes running when we get home, ask if they want a treat, or when we first wake up in the morning.
Comments:
Not so little.
by: Susan
Little Kitty certainly is a cutie and Fuzz seems to have grown a bit since 2012. Not so little anymore. Just more to love right?
---
Little Gretel
By: Anne Weilert in Wichita, Kansas
She loves to crawl into little boxes and hide
Gretel came to us as a rag doll. She was about four weeks old. As she grew we realized she was a Maine Coon.
She has the long hair tufts on her ears and the tufts between her toes thick curly hair on her tummy and haunches and the extra long very bushy tail.
Her feet are huge for such a little cat. In the last few months she has grown a mane around her beautiful face. None of our other cats have this mane like a lion.
She is also extremely affectionate very funny and loves to hide in boxes the clothes hamper and pots and pans even the sink.
---
My sweet Emma
By: Sarah Taulbee in Crittenden, KY
I got this sweet girl from a old friend of my dad.
She posted on fb that she needed to get her a home. I didn't know anything about her only her name until I got her.
She has been like one of my children ever since.
---
Princess Peanut
By: Andy in Mohnton, PA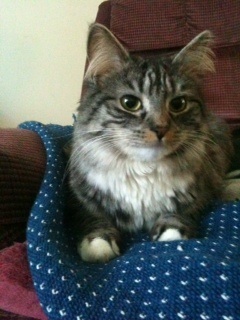 Peanut girl is now over one year old and tipping the scales at 10 pounds!
Still loves her treats and would eat them all day if I let her. Has a habit of fishing Q tips out of the trash and carrying them away to play with.
Also, can't kick the habit of getting under my feet. She has been stepped on accidentally several times , but doesn't learn. Likes my 4 year old grand daughter, but doesn't totally trust her. Smart cat!
---
Witchy Woman
By: Judith Huffer in Lake Placid, NY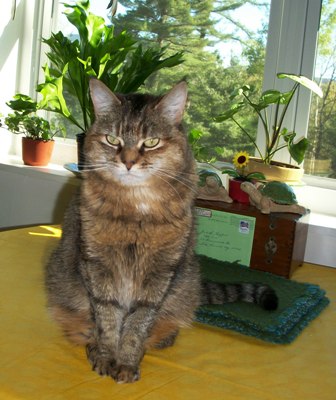 She is my Sunshine!
After living in a no-pets apartment complex in Florida for nine years, when I moved back to the Adirondack Mountains in New York State to an apartment complex that allow "one small pet" per apartment I immediately went searching online for a companion.
I did a search for Maine Coon Cat Rescues but found none. There were six online Humane Shelters in my area, and I started scanning them for a red/orange tabby cat. In the past I had always found them to be sweet and personable.
At this one Humane Shelter they had a picture of a rescued cat they called Witchy Woman. The picture displayed showed a very unhappy cat. They described her as a mixed long/short haired domestic dark striped tabby with red/orange undercoat.
She was a Senior cat, declawed, and spayed. I emailed this shelter and inquired about this cat. They told me she was "an unlovable animal, independent, and if I was looking for a lap cat, this one was not for me."
I took the two hour drive to rescue this animal. Long story short, within a week I emailed this shelter and asked them, "Who is this cat...and what did you do with the witch cat I came to rescue?"
I have renamed Witchy Woman, "Sunshine." She dances and prances about, chirps at me, greets visitors at the door, will spend just as much time on my lap as I will allow, and lays on a pillow at the top of my bed and purrs me a lullabye every night.
It wasn't until a woman came to my apartment and said, "What a beautiful cat! It's part Coon Cat, 'ya know!" Her daughter has three Coon Cats, and I guess she should know.
And I just thought I had a very talented, personable tabby. Thank you for your site.
---
El Bubu Gendut
By: Juliana Khairul in Kedah, Malaysia
Loves to smell flower
El Bubu Gendut is my first Coon! Born on 15th August2010 in Malaysia.
Now he will completely turn into 2 years old this August 2013. A healthy and chubby cat. Look fierce but nice inside.. Really love him so much!
He is a handsome Asian Coon for me. Hahaha. His favourite food is Royal Canin. Loves to cuddle and stay beside me. Really protective and active. A gentle giant with love and adore to smell flower every evening. He loves if I hug him. Feel so peaceful.
---
Tin Tin (a.k.a. Mau) - The Indian Cat Panther
By: Samrat Manchekar in Mumbai India
anxious
The Cat with an International Personality and an Indian Attitude.
Tin Tin follows you around the house, catching your foot and rolling over for periodic petting sessions. Smart, uses his paws to apt perfections to open unlatched doors and windows.
Loves to take a stroll, and at several times, zooms out of the house secretly.
Enjoys Chasing dogs, something that surprises us and may be the entire cat world!
It was quite a task figuring our cat as the Maine Coon Kitten. As Cat people from India, it was quite as expected for a Maine Coon to be promoted as a Persian Kitten... Lovingly known as Mau (cat in the indian language - Marathi), he was set to change the way the world looked at cats, instantaneously.
But over our research on his behaviour, it was evident this little energy bomb was indeed a Maine Coon cat... His soft purrs, inclination to speak with us... following my mother into the kitchen, heavily interested in her college work and offering to help everytime she wants to copy papers from our portable printer.
Notable behaviours which were surprising were, unique traits of our beloved Tin Tin comprised of individual behaviour with every singlwe member of the family...
The mother was a source of food, play and serious talk. Phenomenal attachment, displayed in unique ways of his own...
The Father was the source of out-of-home trips... as time progressed, his meek requests turned into heavy demands, at times jumping on to the door latch trying to unlock it himself
The sister was more of a guest, with sketchy emotions displayed of love... but mostly indifference (something which she hates, but the maine coon really doesnt care)
With me was a unique emotional bond... I was his meet and greet service, my return home every evening was made utmost pleasant, with Tin Tin, jumping on to the table, running around the house and finally parking himself on the small drawing room stand to enjoy a 10 minute session of cuddling and petting...
I guess he owns me, every time I wake up, (he knows my phone alarm) I find him waiting outside my bedroom door, waiting to enter and park himself between my legs, rubbing and talking to me in his unique purrs, mostly asking for a snack...
I do not know if Maine Coons are a popular cats in India, but surely for me, he is the hero and a cat like no other ever seen.
---
Bullseye
By: Kelley in Fontana, California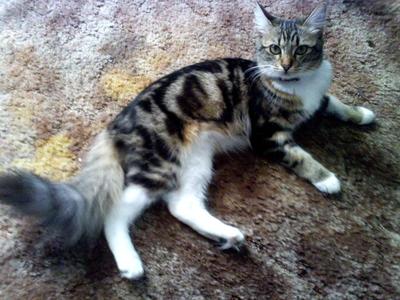 the markings are awesome
Bullseye (she) is doing well, growing and ready to get spayed. Her markings are awesome. She loves cheese and Ritz crackers, she even drinks coffee which is really weird but most of all she is the greatest cat I have ever had.
---
RIP Ginger 2001-2013
By: Andrew in Ontario, Canada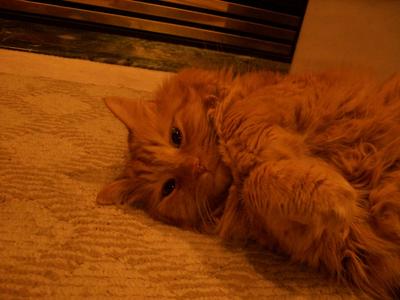 Ginger was a very calm and compassionate cat who was very friendly and affectionate.
He very much enjoyed his daily dosage of treats and wasn't afraid to roll on his back and show affection. Ginger was my childhood cat who shaped me as a person.
He recently passed away and I thought it be nice if I sent in a picture as a tribute.
---
My darling Eddie
By: Steph Canny in PA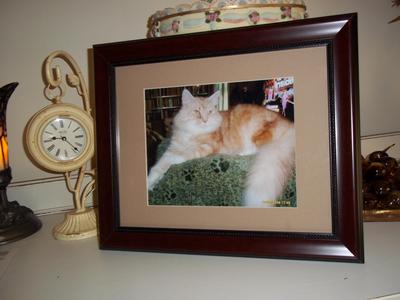 Eddie - 2002-2012
I made comments about him on Bailey's page. It's been a year. I'll never get over it.
---
Leo
By: Kassia LeClair in Arkansas City, Kansas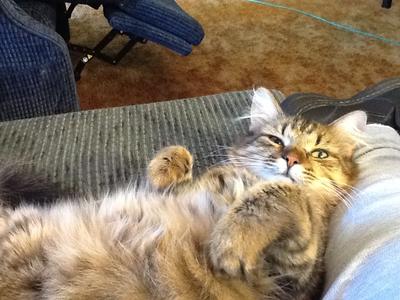 Taking it easy in moms lap
My coonie is named Leo. He is 1yr old. I got him from our local humane society.
At first he was a big scaredy cat, now he follows me everywhere . He loves to play and is a big fish fan. He is the first male cat I have ever had. He loves his treats. It's his most favorite part of the day.
He is still growing and is at 11 pounds right now. He doesn't have much of a meow yet. He loves to sit on back of recliner an look out our big window or in front of the glass door. I love him, he is my best friend.
---
Layla
By: Kat in FL


Layla started coming around my condo complex everyday rain or shine and stayed on my outdoor patio so after 2 weeks with nobody out looking for her I took her in, ran ads in my local paper and asked around my condo nobody responded or seen her before I think she was dumped.
So 3 months later I took her inside as mine and took her to the vet and she got a clean bill of health and she was declawed and full of fleas and no microchip found on her, the vet estimates Layla to be 1 to 2 years old, how could anybody just throw her outside knowing she couldn't defend herself with no front claws my condo back up to the woods all kinds of critters are out there.
I just love her sweet personality and her soft fluffy hair and tail.
---
Jordan and Pebbles
By: Nina del Rosario Chung in San Ramon, CA
Jordan and Pebbles
My Jordan (grey) is the most loving little wanna be dog...
He plays fetch, waits for me by the door when I come home & always has first dibs on the food before Pebbles has a chance at the food..
.
Pebbles (orange) is the softest kitty you'll ever meet! She has an uncontrollable purr as loud as a Harley! She loves to talk and loves a good conversation!
She says that all she needs is love love love and lots of comfort! That is her #1 priority!?!
---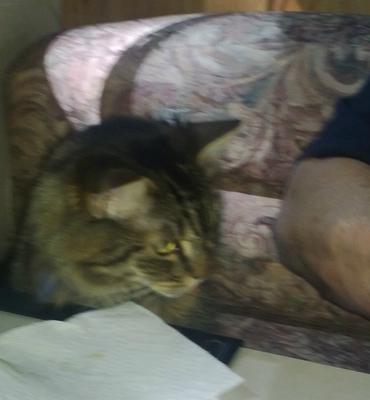 Patiently waiting
Miss Prisilla
By: Suzy in Indiana
We were working in a homeless shelter and one of our guests had to take a bus and could not take her 5 month old kitty with her so we told her we would find a home for her.
Well we did and 2 years later she is Daddy's little princess.
---
Arwen my baby girl
By: Ellen Fort Walton Beach Florida
I waited ten years before I finally saw Arwen.
She is the most laid back cat until it comes to the sink. When she wants a drink she will talk to me non stop until the faucet is turned on.
At bedtime she mudt sleep on my head which is not easy for me as she is a big girl. I couldn't imagine life without her. Maine coons are a fabulous breed of cat!
---
Wicket and Flower Carriere, you are what made our house a home, xo forever our darlings
By: Tara in Ontario
Wicket was the perfect cat, cuddly loving affectionate. We miss him terribly. Flower was funny and playful, more outgoing than wicket. Miss her still even though she left is long ago.
---
Tyler
By: Sabrina Collier in Spindale N.C.
Tyler was a rescue... what a find... he is so sweet... was just begging me to take him home... was to be put down the next day !!!
---
More Maine Coon Cat Pictures: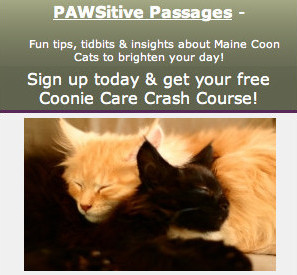 Maybe-Maine Coon Cats For June:
Mehitabel
By: Dorothy in Glendale, AZ
Mehitabel (FYI.. Search "Archie and Mehitabel" for background) is about one year old. Her mother was abandoned by the owner and had her litter in my daughter's garage. The two surviving siblings look nothing like her!
My daughter bottle-fed her two kittens and Mama-cat moved her last kitten (Mehitabel) to avoid detection. She is truly unique in all of her actions (loves to curl up in a sink) her tail is soooo bushy and she wears it like a fashion statement.
I've had many cats in my life but none are quite like her.
---
Dexter
By: Natalie Wardle in Great Britain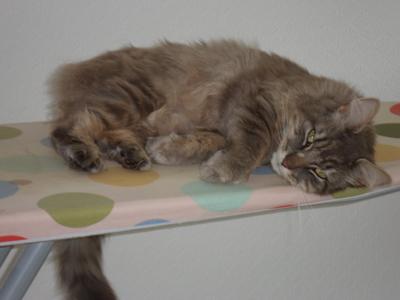 This is Dexter my 3 year old tabby, I've been wondering if he could be a Maine Coon Mix. He has some of the physical traits of a Maine Coon such as the bushy tail, big paws, long whiskers etc. He is also quite long in his body, indicating that one of his parents was large.
He was adopted from Cats Protection in the UK and is such a lovable, affectionate cat. He regularly makes 'chirping' sounds and has is own unique personality which is associated with Maine Coons. What do you think? Could he be a Maine Coon mix?
---
Do you think Frankie has some Maine Coon in her?
We got her from the shelter. She is a very loving cat, loves to be brushed and cuddle with us.
She has the loudest purr I have ever heard. She does not have a proper meow, but her squeaks are the cutest things.
---
Might be Hybrid
By: Dominique in Detroit, MI
Firstly, let me start by saying that I think my cat is perfectly normal but my family (whom has always kept cats) keeps telling me that my three year old gray & white cat might be something else. (Seriously? What else could he be?) Here are the reasons.
1. Apparently my pretty boy is huge compared to other cats. I never noticed until he was around several of the family cats and I realized that while the other family cats are just obese, my baby is naturally big.
He is larger and much longer than the rest of the family cats. (Plus, the vet has always told me that while he is huge for a cat, he is always in excellent shape. Ummm.. Never thought to ask the vet for the breed..)
2. He plays fetch. No, seriously, he does. I found this out by accident. He likes to play with his toys right next to me. I was doing homework and got irritated and threw the toy. He chased it and brought it back, starting at me quizzically.
This continued for several more rotations before I realized what was going. He even does it with other people. The look on their faces is hilarious.
3. He has this lion like tuft going on around his neck area, and has points on each side of this face. I think they make him look very distinguished. He, also, has pointed ears with hair coming out of them, and random pieces of fur coming out of his paws. My friends states on a regular that his huge eyes look as thought, "They're trying to steal her soul." Lol.
Plus, she was the one that pointed out his huge canine front teeth, and I must admit they are rather large compared to other cats I know. They are thick, long, sharp, and hang out of his mouth with his mouth closed. She calls him "Saber-tooth" while another friend tells me I adopted a prehistoric cat.
4. He is very shy at first. I believe this is because he was declawed. My local humane society thought I wanted him declawed when I took him to be spayed/neutered. Once he gets to know you he is a complete goofball, and has started to become extremely vocal.
Thing were unstable for a while, and you know how cats love their stability so he is slowly coming back into himself. But that doesn't stop him with following me from room to room staring at me and driving me crazy. Also, he loves to sleep right under me.
5. Although he is starting to become pretty vocal, he never seems to meow like the rest of the family cats. He is always chirping, yowling, chattering, and talking. Never a single meow. No one.
He's probably not a complete Maine Coon, but I am beginning to think he might be a mixed breed.
---
Salem ShaedowDancer
By: Shaedow in Westmanland, ME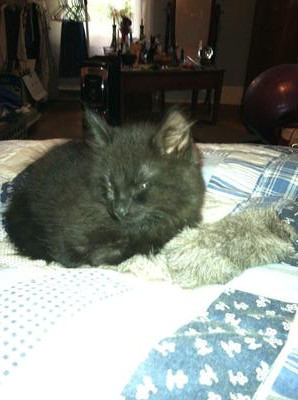 Salem with her ferret
When I got Salem from the neighbor of a friend, I was told she was pure Coon. She fits most of the criteria of a purebred, but I have my doubts. Any opinions on whether she is at least mixed?
---
Is my cat Maine Coon or mix?
By: Taylor in Wisconsin Rapids, WI, United States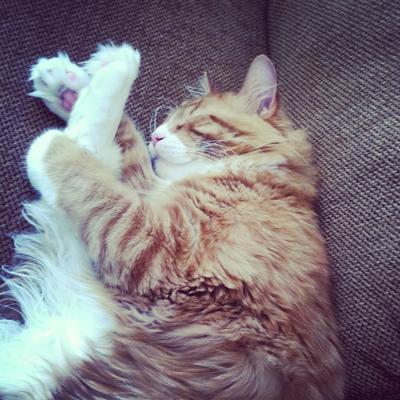 I first got Benson at a farm, he was so little he fit in my hand!
As he started getting older I noticed how large he had gotten and he is now about 9 months and a heavy 15lbs! Benson is such a loving cat, he loves everyone he meets and they all love him.
He always is talking and playing in his water dish. So when I found out about Maine Coons I did some research and realized he has many of the same characteristics, he has "toe" tufts and a ton of fur, long whiskers, and so much more!
He is hands down the best cat I have ever owned due to his amazing personality and adorable face! :)
---
Our Maine Coon Cat Emily
By: Rosemarie in Ridge, NY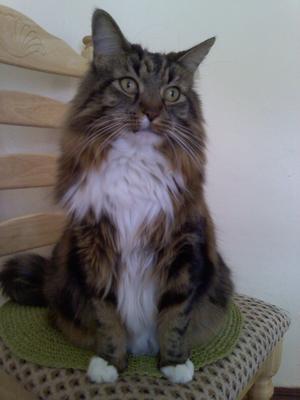 Emily on a Chair
In December 10, 2008, my Tequila passed away from cancer. We were thinking of getting a Siberian Cat. Prior to that all our cats were strays that found us. Then on February 19, 2009, 3 months after Tequila died, a cat showed up in our yard. We thought it was raccoon. We fed it and it came right into our house and never left. This told us that she was a house cat. Everyone said that Tequila sent her, mostly because she had the color that we were going to get our Siberian in.
Everyone, including the Vet said that she is a Main Coon. They said that she was about 3 or 4 years old. It took her a long time to trust us. She must have been abused, because she was always afraid that we were going to hit her. We can only suspect that because she was a rough player who used her claws and teeth that her previous owners must have thrown her out.
She has all the traits of a Maine Coon and all the features except she does not have the long tail like other Maine Coons have and I always wondered why and if she is truly a true Maine Coon. We showed her picture at a cat show and they all said that she is a Maine Coon. She is small, but then again she is a female.
---
Chance
By: Stacy in Stanley, ND, USA
We adopted our cat Chance from a local shelter last year when he was 1 year old. The people who work at the shelter thought he may be a Ragdoll and I am thinking that he looks like a Maine Coon mix due to his fur type, coloring, large paws, and personality traits.
Chance is a very social & affectionate goofball. If given the chance, he will get in any box, container, basket, etc..he loves to lay on top of whatever you are doing-whether it's the laundry, or a newspaper, or the kids' homework. He loves to be around people and will follow us around the house.
When we get up in the morning, or come home he will let us know he missed us, as he is very vocal! He will also flop down on his back for a belly rub. Chance is also polydactyl...we love those paws that look like mittens!
I am sending in a few pictures to see what you all think! :)
---
Chewy (Chewbacca), on the hunt for his toy
By: Vickie in Lewiston ID USA
Chewy on the hunt.
Chewy has quite a few traits of the Maine Coon such as: big bushy tail, tufts on paws between toes, the multiple lengths of his coat and the "M" in the middle of his forehead.
He loves to run through the house batting the soft fluffy toys in the air and catching them. He has certain times of the day and night that he is very affectionate and will really push the "I want you to pet me".
The traits that do not match the Maine Coon are: He doesn't like the grand kids and runs when company comes to hide out in the bedroom under the bed, he doesn't really like the grooming but tolerates it for a very short time, he is not too sure of baths, but we don't do them very often as he is an indoor cat, he really hates to have his tail groomed or even touched and if you do, he stops enjoying the grooming period and he doesn't have the lynx tufts of hair on his ears.
We got Chewy and his brother (Boots) from someone who found them when he was demolishing an old building with a log pile next to it. We figure he was about 6 weeks old but we were not sure.
Chewy loves to look out the window and when we have let him go outside has discovered how to climb the tree and escape over the fence to the bigger world outside the back yard.
We have a rather huge kitty play pole (it has multiple levels) and he literally climbs from the bottom to the top in about two seconds. We figure he is about 6 pounds and is about 7 months old now. He is constantly sharpening his claws on the rope poles. Between the two cats they have totally worn out two of them.
We have really had a lot of fun with Chewy and Boots. They are two awesome cats.
---
Ritsu!
By: Samantha in La Mirada, CA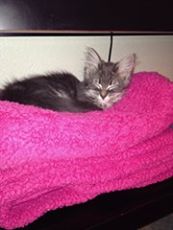 This is Ritsu! I adopted her at a shelter in April. She is about 5 or 6 months old.
She has VERY BIG ears and long hair growing out of them. She also has a pretty hairy tail and medium length hair all over her body. I have owned cats my entire life and I have never had a cat this friendly or affectionate as she is.
I was in shock about how much attention she demands of me. Let me know if you think she is a Maine Coon! I really hope in a few years she starts to look more and more like one. I know its rare but I'm crossing my fingers that she is a pure bred.
---
Loki the kitten is he a Maine Coon mix?
By: Rachel Boudreaux in Covigton, Louisiana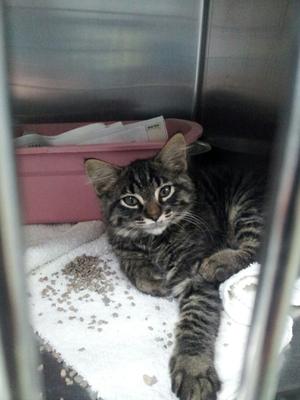 He is only a kitten about 12 weeks old and someone brought him into the vets office and said they couldn't keep him. But is very goofy and lovable and very patient, especially with my 2, 5, and 6 year old children.
They can carry him around all day like a baby, and he's very gentle when he plays and loves to be the center of attention and loves to cuddle.
He is blackish with black strips and tanish white around his eyes and on his belly and neck and stripes that kind if look like a m on his forehead. He has medium long fur but with longer hairs throughout, and he has a fluffy neck and tufts on his ears and big paws. His fur is also very soft.
---
Sonny, we think he is a Maine Coon mix
By: Stacy in Etters, PA USA
his hair has basically grown out here
Sonny has long tufts coming out his ears, a ruff around his neck that looks like a lion, tuffs of fur coming out the pads of his feet, and a big huge feather duster of a tail. His feet are very large, the size of a half dollar or larger. He weighs in at about 13 lb, and has little fat on him. Basically every physical charecturistic of a Maine Coon, he has. The one thing he doesn't is personality.
He doesn't like to be brushed, and seems to prefer getting a "hair cut" so, the pictures don't really do justice to his full fluffy tail or shaggy coat. He is somewhat shy, and won't come out around strangers, but is very sweet and can be very vocal around the family.
Normally he sports a Lion Cut, which means his body is shaved, including the tail except for a "pom-pom" at the tip. The groomer trims his ears, and the hair coming out his paws.
I am convinced he has maine coon in his bloodline somewhere, but regardless he is a sweet heart. He's almost 10 yrs old now, and he didn't get full size until later than normal.
---
Penny Lane
By: Seth in Boston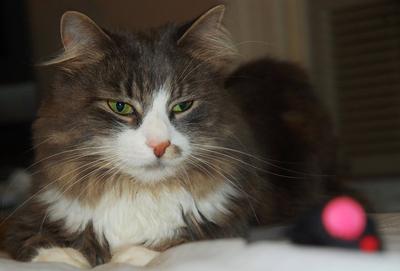 We've long suspected the Penny is a Maine Coon (or mix). She seems to have a lot of the personality characteristics (chatty both with her mouth and her tail, but trills and chirps, loves attention but not clingy at all, playful almost to the point of obsession, the best mouser I've ever see). SEEMS to have a lot of the physical characteristics.
While she was a runt and tiny when we got her, as of her three year check up she was 9 pounds and growing.
---
HRH Princess Diva
By: Tracey in Sparta, WI
This is Diva. Princess of the house. She has an attitude of a diva.
My boyfriend and I adopted her, along with two other cats from a shelter in Tomah, WI. We were told she was found as a stray, pretty young and a little bit feral, not even a year old yet.
Diva was at the vet clinic before coming to the shelter to make sure she didn't have any diseases that could be transmitted to the other cats at the shelter, she also had to get shaved due to burrs and thistles matted in her fur.
My boyfriend and I was looking into adopting the two other cats which we did. But found interest in Diva, she has a lot of spirit and spice. Knowing that she was a little bit feral, we knew with a lot of patience and love she would be a great cat. She use to growl, hiss, scratch and bite when we try to pet or groom her. Now she loves being held, petted and groomed.
She also enjoys chasing her "brothers" around the house. She enjoys chasing her "brothers" around the house.
My boyfriend had to take all three cats to the vet for their post adoption check up. The vet said to my boyfriend, that Diva is the youngest about 5 to 6 months old and 9lbs. And the other two are older than her and are 9 and 12lbs. That shows she will be a big girl!
---
Whiskers
Whisk in a basket at 1 year old
My cat came to me by way of my older sister. She had a cat named Lila, and she was colored like a tabby, (grey/black stripes), but she has the Maine Coon ears and tail, and also the ruff. Well she ended up pregnant by a orange and white striped tabby and had a litter.
My cat is black and white, (like a dark dark black, he blends in with darkness) his brother bootsy looks like him, but he looks like a "smoky"ier color when hes in the light.
Their sister Chloe, you can tell who their father is, bc shes tortoise-shelled colored, and their brother Loki looks like their mother. and they have another sister, Cali; she's tortoise-shelled colored like Chloe, but she looks like a Calico.
All of the cats have the ruff, fur, ears, tails and lovely traits. THEY ARE ALL JUST SO FLUFFY!!! My cat though is the biggest out of all the cats. and i mean HUGE. He's so long and the cats are only 3 years old. I've heard they dont stop growing til their like 7 or 8. EEK! I'm afraid I'll have a panther on my hands then.
I'm constantly tripping over them. But I love him to death and wouldnt go anywhere without him, or trade him for the world. My cats favorite place to perch is on the back of my computer chair, generally with me sitting in it. Lol :)
---
More Maine Coon Cat Pictures:
The Rainbow Bridge Album:

A Maine Coon leaves a mark on one's heart that is never forgotten. These are some beautiful tributes to amazing family members.

Cats In Sinks:

What is it about cats in sinks? Perhaps it's the size, the shape, the way they produce fresh water, or maybe it's just because it is so fun for a cat to be right in the way!
Related: