June 2012 Photo Album of Maine Coon Cat Pictures
June 2012 Maine Coon Cat Pictures
Welcome to this archived June Photo Album!
Molly Mae
By: Jackie Beaudette in Willimantic Connecticut
Molly Mae was purchased in Bristol Ct In May of 2010. I fell in love with her immediately.
She sounds more like a chirping bird when she talks than a cat! Plays fetch with foam earplugs, and thinks our Miniature Pinscher "Heidi" is her mother!
Comments:
Wendell Jones: Great ears! Really cute.
---
Simba
By: Cindy Daniels in Tucson, Arizona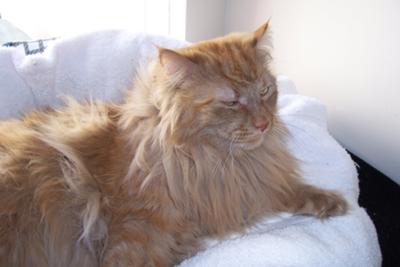 Simba getting ready to nap
He is a rescue cat so I don't know how old he is. He is very friendly with everyone that comes for visit.
He walks on a leash and loves having his hair brushed though in the summer he has to be shaved due to intestinal issues.
Comments:
Haylie: Awwww! I have a kitten named Simba! This cat is beautiful! <3
Lisa: Simba is lovely - every orange kitty I've met just has the best disposition.
---
Miss Peri Rules
By: Janis in Sacramento, CA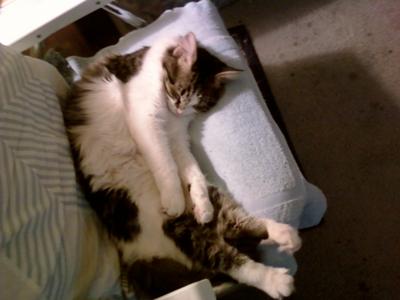 sleeping Peri
Peri is a female silver tabby, 11 months old, nearly 15 lbs, and a tub of love! Her litter (Peri and three brothers) was rescued by a friend (apparently abandoned by the mother and awfully skinny two-week-olds).
I received Peri (short for Peripugilliam) when she was 8 weeks, and it's been the journey of a lifetime. A lifelong cat lover/owner, I've never been owned by a Maine Coon--what a hoot!
We play fetch together and I take her for walks in her stroller (until she outgrows it soon). She loves playing in water and gives her mousie a bath every morning.
---
Ollie
By: Valerie in New Rochelle, New York
A real character, Ollie came to us from the Mt. Vernon Animal Shelter in NY.
He is swift, loves to run, climb trees, and jump from rooftops. He is extremely loving, intelligent and funny. He is the only cat I've ever seen or heard of who actually "signs" the direction that he wants you to go in by using his whole head-- turning it in a corkscrew fashion with the greatest urgency and purpose! It is truly impossible not to respond to his bidding when he does this.
I have seen dogs "point" with their heads, but never cats. While he is dog-like in many ways, he is a cat above all. I feel graced to share my life with this amazing creature.
---
Murphy Lee and Bailey Boo
By: Lori in Belleville, Illinois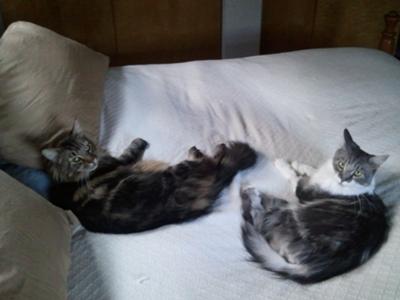 Murph and Bailey
Murphy Lee and Bailey Boo are 6 year old brother and sister Maine Coons that we got after the death of our beloved 16 year old Persian, JoJo.
I will never forget my JoJo and he can never be replaced, but these two sure have filled that hole in our hearts. They are our babies and rightfully spoiled!
Murphy is a big goof ball and such "a boy." Bailey is very refined and "girlie." Murphy has the most amazing singing abilities. He carries around a small red rope that he holds in his mouth to create the most unique sounds I've ever heard.
He will only use his "signing string" to create his music when you are not in the room (he has learned that by making his crazy sounds and howls that I always coming running to make sure he's okay) and as soon as you enter the room he quickly drops it and gives you the "I didn't do it" look.
Bailey sweetly chirps and talks - I swear there are times she says Mama - and she darts around the house with lightening speed leaving Murphy behind looking bewildered. LOL!
Comments:
Samantha H: Murphy looks like the spitting image of my moms cat Teddy, we believe he is a Maine Coon mix for sure. Your kittys are beautiful
---
This Is Niko
By: John Bouquet in Darien, Illinois
He was 6 weeks and one pound in the pic when I rescued him. He is very vocal he chirps and squeaks a lot. He is medium to long hair and is filling in more as he grows.
He has little tufts on his ears and long ones between his claws.not sure if his hair is gonna get longer but a couple people said he looks like a coon. He now is ten weeks old.
---
Warm Paws And Cool Trills
By: Bruce in Ft. Lauderdale, FL, USA)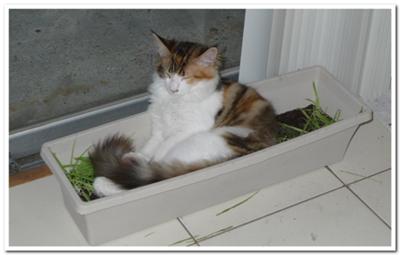 Imagine having a twelve pound furry Maine Coonie ("Beau") at only eight months old who LOVES to walk up your legs and arms with those giant warm paws to give you a kiss and head butt while you are asleep.....or attempting to fall asleep!
Crazy sensation...and...his baby sister ("Baby Girl") enters the bedroom with her loud "sound machine" activated with chirps/trills/meows all combined to jump on the bed and demand you scratch her belly and smoosh her ears and then get really LOUD!!!
They are forever entertaining....a gift from the Gods!
Comments:
Woobie's Mommy: The sweet and most beautiful Maine Coons I have ever met!
Boobie: Thank you Woobie's Mommy!
---
Sherlock
By: Dennis and Anita in Colorado
Carrie and Maine Coon family,
Last Halloween, we lost our long-time friend, Kato. A Maine Coon mix rescued by us when she was just 2.5 pounds, from the Cat Care Society in Littleton. It's been tough... See her memorial pages here: Kato Lunt Rest In Peace.
We've not been ready to be owned yet, but have been been visiting shelters to get some furry love, surfing the web, and thinking about what it'd be like to be owned again. Could we even hope to be chosen by a third furry face in a row? (Polychrome was a calico Norwegian Forest kitty that Dennis had gotten as a kitten before we got married. She also lived to 17.5 years, as had Kato).
Well... it seems we've been picked again! On June 10th, Harley (now Sherlock) was turned in to the Boulder Humane Society. He is a three year old Maine Coon who was in danger from a new husband's two hunting dogs. So, for grins, we went to visit as soon as we saw his picture on their website. We've never heard such non-stop purring and felt such rubbing and bonking from a kitty's head! Guess who we brought home last night?
Yup, Sherlock! Before the end of the first evening, he was wandering around the house on his own and even figured out how to use the spiral staircase - up and down! In less than 24 hours, he has already taught us the first game - Hide and Seek. He hides somewhere in the house and when we go look for him and find him, he Eeks and runs past us, with his amber eyes shining with mischief!
What do you think? Some traits of a Maine Coon?
Comments:
Kelley: He looks just like our Simon le Chat! Adorable!
---
Bogey & Birdie
By: Kate in Mesa, AZ
Bogey & Birdie
Bogey and Birdie will be 2 yrs old on the 4th of July. They love to bird and dog watch from their cat trees in the window.
Bogey loves to play with his glitzy mice and littermate sister Birdie has a blast with her ping pong balls.
They love to eat..especially treats! Birdie is much smaller than Bogey. Bogey definitely likes to boss "the Bird" around, but Birdie is a much quicker than Bogey! She can jump higher than him also.
They are two clowns and are always up to something. Watching them together, it is obvious they enjoy each others company...
| | |
| --- | --- |
| Bogie | Birdie |
Comments:
Elizabeth: They look so gorgeous!
---
Beau the Intellectual
By: Roberta Burris in Victoria Canada

Beau has never met a printed page he didn't want to lie on, especially if I'm reading it.
We found Beau with his sisters in an pet rescue vet's office. He was an adorable little guy and has grown into a most particular cat. He follows me around like a puppy, commenting on everything he sees; he plays fetch with assorted small balls; and he takes care of his own treats by opening the cupboard and helping himself. He's a big guy now, almost 20 pounds, and very vain about his toe tufts, which he grooms regularly. He has the loveliest silkiest coat that has never matted or tangled.
I had never heard of Maine Coons until the vet said he was sure Beau and his sisters had to be part Maine Coons. The mother was a small sleek seal-point Siamese but the kittens, though they have the Siamese marking, are large with big ruffs, toe and ear tufts, shaggy silky coats, pantaloons and the funniest little chirpy voices, not like Siamese cats at all. OH, and did I mention the enormous paws and the short sturdy legs and the thump like a giant when he hits the ground.
Comments:
Caroline (UK): What a gorgeous boy! I have a (short-haired) Siamese of my own, but the idea of a Siamese-coloured Maine Coon is just wonderful! I want one!
Cathy: Wow, you couldn't have picked a more suitable name for him! He is one of the most gorgeous cats I have ever seen.
---
Bow
By: Elizabeth in England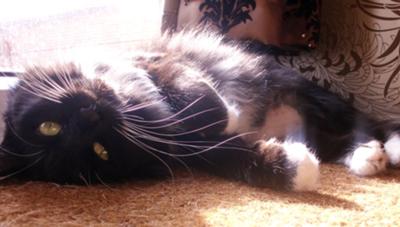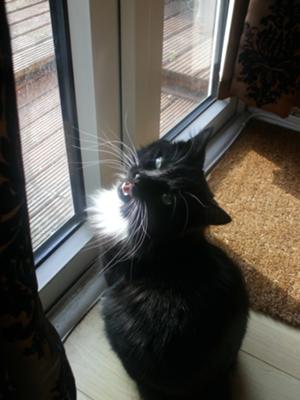 Bow is 2 years old and a fantastic cat! I saw her advertised on the Web five months ago, her owner lived in a flat and wanted her to have a new home where she could go out into a garden as she seemed lonely.
She told me Bow was half Maine Coon and I knew a little about the breed, but I didn't realise what great company she would turn out to be! I wake up to the sound of Bow meowing.... 'Morning' and if I ignore her she prods my arm and makes trill sounds to get me up.
Bow loves attention and will let me groom her until she has had enough and wants to wander outside to show off her fur and be the security guard of the garden.
She will greet me as I come into the house and follows me everywhere. When I go into the garden to put out the washing she watches over me. I think she really believes she is helping me do the chores around the house.
When she goes to put her head down to sleep sometimes she makes a moaning sound, I think this may be when the TV is on and she is annoyed with the noise.
She is perfect and I am so glad I found her, I believe it was destiny!
Ivy
By: Deb in New Hampshire
I adopted Ivy from the local shelter and they told me that she is 4 years old.
I don't believe she is a full breed but has many of the Maine Coon's characteristics and traits.
She is very small also, which I know is unusual for a Maine Coon. Check her out, she is very cute!!
Comments:
Vicky: I am on my 2nd Coonie cross and he is fantastic. Dodes was big, but Bones is smaller, but stocky! Love Ivy's eyes!
---
Snowie
By: Joan Rainey in Northern Ireland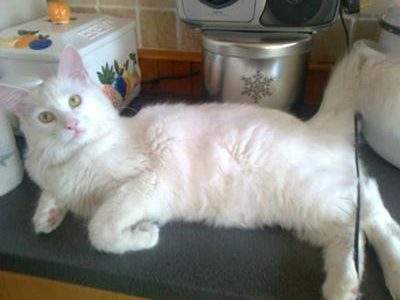 Snowie my crazy Coon :)
---
Peety Pooty
By: Aziz in Solana Beach, CA
Peety was curious about the noise from my Mac laptop and reached for the keypad as I took this picture! She is 14 months or old, not sure about the weight. Vet visit is in a month or two.
---
A Hairy Brother for Anthony
By: Darlene in High River, Alberta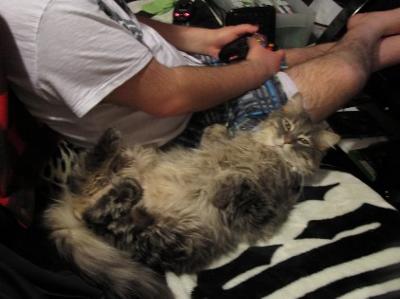 Smokey
My 19 yr old grandson Anthony, has lived with us since he was 5 months old. Over the years we have had to deal with many issues with him and have just recently had a final assessment of his "issues." He has Aspergers syndrome.... a mild, high functioning form of autism.
He has always loved cats and when my husband finally agreed to let him have one we went to the rescue shelter in our town.
It didn't take long for a long haired, shaggy, smokey grey big boy to work his magic into Anthony's heart and mine. He was so insistent for attention and very talkative and wouldn't stop following Anthony around the building making some very cute but strange sounds. Anthony knew very quickly that this was "the one".
Smokey has been a joy, a fun and easy going companion for Anthony. His laid back energy and love for cuddles was just what an Aspergers boy needed.
He wakes us up in the morning and always greets us at the door when we come home from being out. I had no idea that he was an MC mix but when I was in the pet store shopping for goodies I saw a picture on the cover of a book and it looked a lot like Smokey. It was a book about Maine Coons and when I came home I Googled the name and found this incredible web site with so much information. All of the characteristics and quirks etc finally made sense. Our boy wasn't strange and different.... he was exactly what he was.... a really cool Coonie!
As much as we thought we were rescuing Smokey it turns out that he was what we needed too..... especially Anthony. He gives us hours of entertainment and he is so interactive. Anthony is all smiles these days and calls Smokey his cute and hairy brother!
Comments:
Missy: That is a fabulous story!!!
Janis: Great story! My now 25-year-old nephew also has Asberger's (finally diagnosed when he was a teenager) and he is known throughout the family as The Cat Whisperer.
---
My Little Coon
By: Taylor E in Oregon, WI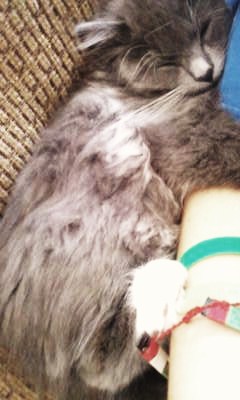 Funniest kitten/cat I have ever encountered.
Lots of energy, but when it's nap time, it's cuddle time!
Loves attention, follows me everywhere I go, like a sidekick.
Cutest cat I've ever had :]
---
This is Cleo (proper name Cleopatra).
She is a great Coon Cat.
By: Tom Arsenault in Peachtree City, GA
Cleo relaxing
Cleo loves to be with her humans, especially my wife Liz. She is more like a dog (that's Cleo) and follows Liz around during the day.
Her favorite place is the office where she can get very high on the bookshelf or just settle into the in-box.
Cleo's favorite time is when the vacuum cleaner comes out because she just loves to get vacuumed. She will lie there and keep rolling over for as long as you want to vacuum her.
Comments:
Fran Rohmann: Cleo looks just like my Bella. She is beautiful and loving.
---
My Sweet Calmer
By: Noralyn in San Francisco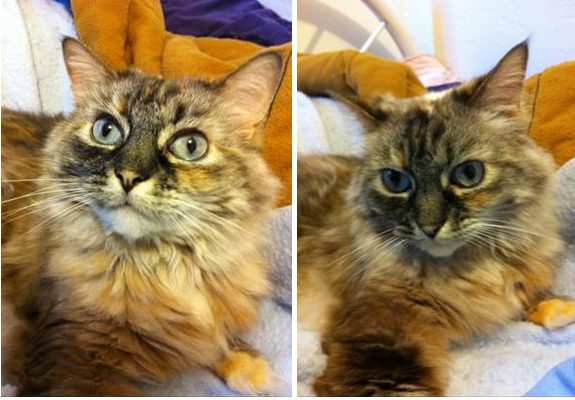 I named my cat Lazarus (back from the grave) because she was found after 1 month without food under the mattress close to dying.
The former owner left for France on vacation forgot about the cat. Then my godchild took her and gave her to me. I nursed her back to good health and now Lazarus is helping me to cope with everyday hardships in life.
After a hard day at work, she always makes me feel relax at home. My cat talks to me all the time. Then when I talk to her I will ask her that if she can understand what I am saying.. to turn her head and look at me and she will lol.. I don't know what I am going to do without her in my life.
She follows me where ever I go around the house. And like a dog, she walks with me side by side around the neighborhood, without leash lol. She is an indoor cat by the way. She won't wander around without me.
---
Timothy Tubs
Polydactyl Maine Coon
By: Pamela in Copaigue, New York
Timothy Conquering my Full bed (1yr)
I brought home a tiny new kitten 2 yrs ago only to find out that he was a Maine Coon. First thing I noticed about this cute little kitten was its giant paws that looked like mittens he has six toes on each paw!
I brought him to the vet and was then informed that he was a Maine Coon kitten and would be very large. He weighed in at 15 lbs at 1 year he is very lean and not overweight i am afraid of what he will weigh in at his 2yr vet appointment :P.
---
Courtney Lynn
By: Sondra Howe in Stockbridge, GA
Here's an update on my precious and gorgeous Maine Coon, Courtney Lynn. She is a classic black (brown) tabby with white, has beautiful green eyes and has all the personality traits.
She loves to greet our guests and tries to turn any non-cat person into a cat lover. Her energy is in full swing at dawn and dusk and "goes on the hunt" from the windows. (She's an indoor kitty.)
Courtney is now a year and 10 months old and will have her second birthday August 10th. In addition to chasing and hunting toy mice, she loves to "help make the bed."
At times she'll chase her big bushy tail and arch her back and jump sideways. We love Courtney Lynn!
Comments:
Jessy: What a beauty!
---
My Longhaired California Surfer Cat
By: Jenny W. in Clark, New Jersey
Gabriel in various stages of...relaxation.
Ruler of the Kitchen
My 30-pound angel was a rescue out of San Pedro, California, back in 2001. His original name was Tawny, and he was a tiny fluffball. When Tawny got very sick at about 12 weeks, I said to God that if he got well I would re-name him after an angel, and so the name Gabriel was given to him when he got well.
My "little" guy was an incredibly gorgeous orange kitten with a tiny plumed tail, and he strutted everywhere preening himself. He was the "featured kitten" at a pet adoption center when I got him, in a large cage by himself, looking calmly at the people around him. I completely fell in love with him.
But I had no idea he was a Maine Coon. So imagine my surprise when he didn't stop growing at 1 year old. He just got bigger and bigger and finally stopped at age 5--30 pounds! People's comments vary between "that's a beautiful cat" and "your cat is so huge". Haha...
Gabey and I really have a great relationship. He's my little empath...he becomes stressed when I'm stressed, is more happy when I'm happy, crawls into my lap or my bed to comfort me when I need it. After 11 years, I understand his chatter and we have "conversations".
I have no kids and he is the only little guy I've ever had. He's the most precious thing in my life, after my husband. :-)
Comments:
Jenny W.: Beautiful pictures!
---
Buddies
By: Pat Hudson-Barrs in Greenville, SC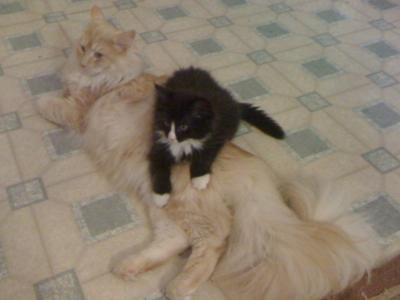 Rusty is 9 months old and already 13 pounds. The little fella who is relaxing on Rusty's back is his half brother, Tommy Lee (our little man in black).
Tommy Lee has only been with us a couple of weeks and he has already adopted Rusty as his buddy. Rusty is the sweetest cat ever!
We also have a year old Ragdoll, Chloe who is a typical female. . .loves you on her terms! They are a delight!
---
I am the ruler of all I survey!
Ebby loves his cat tree
By: Kay Griffin in San Antonio, TX USA
Ebony George Griffin, better known as Ebby; he is my jet black Maine Coon.
At first he was afraid of his cat tree now he loves it, glad he likes it, but I did get it for his sister cat Elsa's birthday. Elsa is a Manx though so not a Maine Coon.
---
In from the cold...
By: Margaret O'Brien in Waterbury, CT USA
Two summers ago in July my son and daughter in law rescued this pitiful little guy about two months old. It was found out in a cold summer rain in a box.
Having a house full of an older adopted cat and two younger cats that were also rescued I wasn't sure I could handle another that needed so much care. But my husband came home and sat in his work shop studying this little sickly creature and the little guy curled up into his lap. Honey, we are keeping it. Great I said, then he has to get to a vet fast because I'm not sure he will make it.
The state rescue veterinary took us immediately, so we drove the next day a half hour for treatment. Two weeks later after meds and food provided by the vets we returned and they were happy to see him making it. By this time we needed to name him, so my son and husband named him Chewbacca because of the way he was developing. Two more visits to the vets and finally my husband was tickled happy knowing the little guy was going to live. The next news was he wasn't going to be little....he was a Maine Coon....you have got to be kidding.
Well, it is almost two years since Chewie has been in our home trying to dominate over our eldest male cat Simba...finding out it won't work. Loves to tease the other two females into a game of chase. But he is no longer a kitten, but a very long cat with the personality and disposition of a kitten still. Chewbacca is the biggest cat in our home and the vet has stated he will keep growing for another year or two more.
He has my husband wrapped around his paw with his personal chirping and playfulness. It is amusing to watch. Spoiled, no not at all! Chewie will only eat fancy feast turkey or chicken with cheddar cheese in it. I have gone broke trying to convince him to try something else but didn't win. Doesn't like treats or dry food, and water has to be Poland Springs not tap, or he will drink from my husbands cup.
I have brought you up to date and as time moves forward will post up to date news.
Will have to send a picture from my computer, can't from iPad. But have beautiful ones.
Will make sure names etc match for you all!
---
Chester
By: Sharon in Michigan
He is a sweetheart...loves to snuggle and be everywhere you are. He is very curious and very gentle.
He is 11 months old now and I got him from a good friend as a kitten when our Siamese kitten died unexpectedly.
We got Chester as a gift...and he has been giving every day since.
Comments:
Teresa: He looks a lot my kitty. I got him from a shelter after I lost a cat. I fell for him instantly. His name is Charlie. He is now 10 months.
---
Clancy
By: Theresa Roberts in New Brunswick, Canada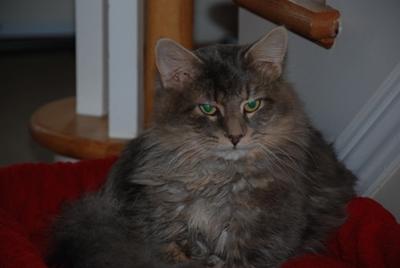 About 5 weeks ago we adopted Clancy (formerly named Brandy) from our local SPCA-Animal Rescue. We'd lost a very young rescue cat to FIP a few years ago, and she had a similar look (shaggy coat, ear tufts, furry paw pads, long ringed tail, and she loved our huge Lab mix dog).
When I went to the shelter that Saturday in late April, this little fellow sat calmly looking at me while the other cats ran around, attacked each other or, in the case of one critter, sank his claws into the side of my bag. When I put my hand out, this calm little guy came over, put his head up for a pat, then let me pick him up and snuggled in with his paws over my shoulder. It was love at first sight.
My husband is a confirmed dog person, but has come around since having a couple of cats in our home (especially the Coon look-a-like with the sweet disposition who loved big dogs!). Clancy chose his lap to nap on his first evening in the house. Clancy soon started exploring his new surroundings, at first giving Ebony the Lab a wide berth, but eventually relaxing to the point of batting at Eb's tail while Ebony eats.
Clancy is very playful, anything that moves is a target for his big paws. He comes when I call him, follows me around the house, sleeps on the end of our bed every night, and has the sweetest disposition. He's also fascinated with running water. He jumps into the bathtub and examines the drain to see where the water went. It's his dog-like personality that my husband likes.
Unfortunately Clancy's long shaggy fur was so matted on his tummy that I had to take him to a groomer and have his entire undercarriage shaved. He now looks like half a cat with incredibly long legs since he's missing that shaggy belly fur.
He has small tufts on the tips of his ears, large paws with tufts between his toes, the appearance of britches on his hind legs, and a tail that is longer than his body.
It is also incredibly bushy despite having a large section cut out of the top near where it meets his body (I assume it was very dirty or had something nasty stuck in it when he arrived at the SPCA).
Many cats have Maine Coon traits without having Maine Coon heritage, but we live just an hour from the Maine border in New Brunswick, Canada, and there are a lot of stray cats and family pets with the same characteristics. Is it possible that Clancy is part Maine Coon? In my heart I believe he is, but we love him whatever he is.
Comments:
Cathy: If you dont mind me asking, where in new brunswick did you adopt him? and when? he reminds me so much of my cat pepper.
---
Benny and Ozzie getting comfortable
By: Mari in Lake Stevens, WA
| | |
| --- | --- |
| Apparently Ozzie had just gotten in there when I arrived on the scene. | This is after he'd settled in. He's hard to see back there in the dark. |
About a week ago my 2 sweet MC rescues found their way into the cabinet part of my dresser which is inside of my walk-in closet...and I caught them in the act. I've no doubt that Benny lead the way with Ozzie close on his heels. :)
---
Baby Coon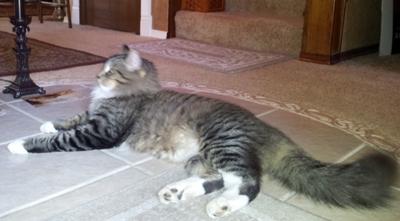 Baby Coon
Baby Coon is adorable. He is a handful as we found him and he is used to the wild. He got attacked by something and tore balls of hair out. We were weaning him from being out and it's been an adjustment but he went missing yesterday and I KNEW if he were able he would be at my door before I left work to come in for the day. He was gone for 13 hours and very hungry.
He is no longer allowed out, it is going to dampen his spirit and he is very aggressive right now, but he is young so we are hoping he can adjust. Any tips would be helpful.
We love and adore him. We had an 11 year old tabby we adopted (declawed) so we had to introduce Baby Coon slowly and make sure he wouldn't hurt him. They are just getting to know each other and play by hiding and popping out at each other. It is good for my 11 year old who just lost his sister in January.
He is going to need stimulation to adjust not being outside. He wakes us up at 4:00am bouncing off walls to go out, but no more.
He is so unique and special, he found a good home forever!!
Comments:
Julie Waddington: Maybe there is someway an outdoor run could be made for him. a friend made one for his cats (he had 4) so they went through his bedroom window out into the sun and fresh air. It was a framework covered in chickenwire and though his was small, it could be made as large and expand into a large area. Hope this helps.
Lisa C: He will adjust our maine coon did the same and after chasing him for a couple of weeks we got foam balls and play mice to keep him entertained and he is a very happy housecat now. He keeps us entertained with his playfulness
---
Beautiful Beau
By: Roberta in Victoria, Canada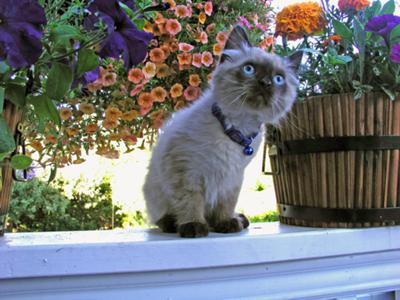 Beau is half Siamese (we met his lovely mother - a sleek short hair) and our vet is certain the father must be maine Coon. He's got the toe tufts, shaggy coat, size (19-20 pounds) and the personality. He will spend all day playing fetch, find the mouse and hide and seek. Such a good companion.
Comments:
Jenny W.: Your cat is the most gorgeous mix I've ever seen!
Maddy: Beau gets hugs and kisses from my Oliver!
Roberta: Thanks. Although Beau takes all compliments as his rightful due, I am always pleased when somone says something nice about him.
---
Dino a.k.a. Mister Caramelo
By: Nell in Kuala Lumpur, Malaysia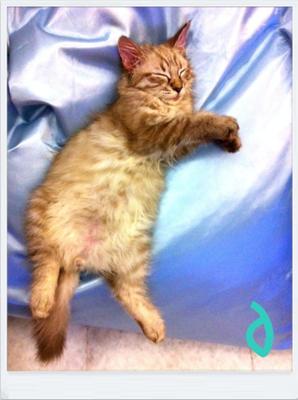 I've been wanting to adopt/buy a pet for the longest time and my preference has always been a doggy as I am afraid of cats. However, my best friend, Mei, introduced me to her 2 cats (9yr Persian and 2yr American ShortHaired) and my view has been changed immediately.
After much pondering, I decided that I wanted either a Russian Shorthaired or a Spotted Snow Bengal. However, when I walked into one of the petshops near my work place, it was love at first sight! This tiny little bundle of fur was jumping and meowing for attention where the rest of the kittens were either sleeping or not impressed. I have never seen such colour on his fur and it's his 'lion' nose and look that made my heart skipped. I was smitten.
That was 2 months ago. Dino is a cross mix of Maine Coone and ShortHair.
Now, Dino is growing steadily and settling to my work routine. The moment I brought him back, he did not show any fear or reservation, he immediately marked the perimeters in my apartment and feels very much at home. He loves visiting his 2 buddies, BluBlu (persian) and LuccaLucca (American Shorthaired) occasionally. He is so 'feisty' and outgoing. He loves following me around the house. I play with him everyday and his favourite toys happens to be ribbons. He also loves chasing after bouncing balls. What a delight to watch him scrambles all across the room.
I have trained him on leash and sometimes bring him for walk near the my apartment compound. Dino dislikes water but we compromised on cleaning his paw after each walk. I also clean him with wet cloth at least twice a week. He loves to be brushed too.
Dino is not particular about his food, mainly because he's been fed with the grain free food. I also treat him with steam fish once a while. He loves them!
Dino is indeed a joy to my life, not to mention, therapeutic. I am so looking forward to him growing bigger, healthier and stronger.
---
"Big Fluffy"
By: Pat Baughman in Winthrop, MA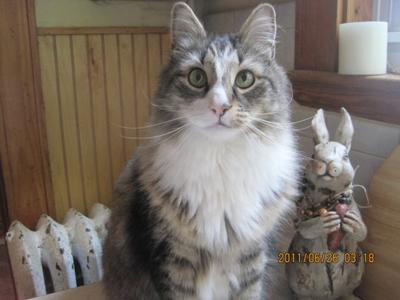 One of four orphan kittens that we took in and bottle fed when they were about 2 weeks old. My son named him Iago and my grandchildren call him "Big Fluffy".
He does not resemble his siblings at all, being the only Coon cat in the litter. We think that he had a different daddy who was probably a coon cat. Very sickly as a kitten we did not expect him to make it but Iago and his siblings are now 11.
---
Peppi in the Poppies
By: H Mauck in Nampa, Idaho USA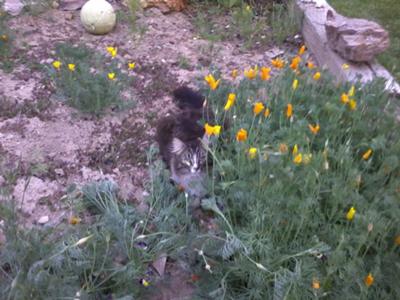 Peppi's a male 2 1/2 years, another maybe coon, rescued as a kitten. He loves the out doors where he plays with his two dogs, (a female 10 year old Pointer/Dalmatian mix and a female 2 year old PB. Springer Spaniel) he's big enough to hold his own when comes from nowhere and jumps on their face and wrestles them to the ground.
He is a one person cat, my wife is his person, he sleeps on her most of time at night or waits until she's comfortable in her chair reading or knitting, when Peppi decides its time for her to be nuzzled and held while he naps in her arms.
---
Mina
By: Barb & Rick Darwin in Mississauga, Ontario, Canada

We are quite certain our new kitten is a Maine Coon. She has most of the personality traits and appearance.
Please let us know what you think.
Comments:
Marianna: She certainly looks like a Maine Coon, she looks so much like my Milly, even down to the green eyes. My daughter's Maine Coon (Puppy) looks similar but he has amber eyes.
Barb: Thanks Marianna, Mina is growing quickly and showing her Maine Coon traits even more. She has developed a ruff, the fluffy tail and the furry pantaloons.
Maybe-Maine Coon Cats For June:
Do you think he has some Coon in him?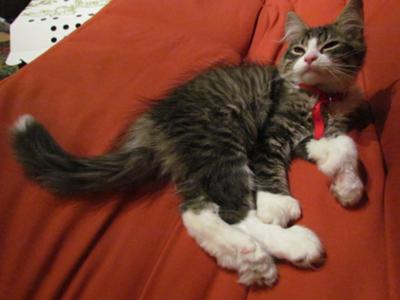 Meet Bigfoot
Found him at the shelter:
2.4 kilo
He his 4 months old and oddly talkative when he wants love or attention.
The boy has a whooping 25 toes, long fluffy tail.. no tufts on the ears though.
Lovable pot of glue that follows me everywhere and explores the place.
I was wondering if he might have a bit of Coon in him.. He reminds me of one somehow
Comments:
Debbie: Going by the fluffy coat, huge feet and ear tufts there is definitely Maine Coon in your adorable cat.
---
Casey might be Coon
By: Lauren in NJ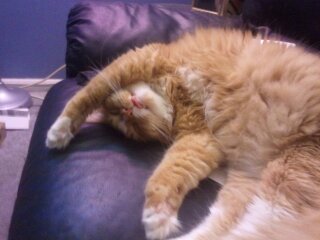 Casey has always been different since the day I got him. He was a rescue and was fluffy but nothing like he is now.
He is very silly and likes to steal things off of counters, knock things on the floor, has to follow me to bed, likes 15 minutes of cuddle time at night, if he wants out of my room he bites me, if he wants to lay in a certain spot and I am in the way he bites me.
He chirps at me and touches me until I pet him. If he wants something there is no changing his mind about it. When I first got him he would go to work with me where his best friend was a dog. Even if I had a bad day he always makes me smile :D
---
Could Benny be a MC mix?
Benny is 10 weeks old and he has a lot of characteristics & physical traits of the Maine Coon.
I saw his mother and she was brown and sleek... she was brought in to a rescue group because she was found pregnant and homeless. Benny does not resemble his mom in any way. His tail is as long as his body, And its pretty fluffy for being as small as he is. He has very big ears & tiny tufts on the tips that seem to be growing in thicker each day.
He also has long tufts of hair in between each of his toes. His fur gets much longer past his shoulders all the way to his rear end. What do you think?
Comments:
Samantha H: We have renamed Benny to Vinny now, and hes gettin bigger by the day :)
---
Cody
By: Les Paterson in Wonthaggi, Vic. Australia
We would like to know if our Cody is a part Maine Coon cat. As she was a stray kitten when we got her we have no idea apart from comparing photos of the beautiful cats in your albums.
---
I Think I Have A Coon!
By: Shelli in Oregon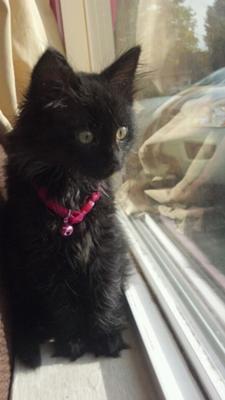 We adopted Magic from a local shelter. Right away there was something different about her.
She is so attached to human interaction that she follows me around and puts her paws up on my leg to ask to be held. We have only had her a few days but I noticed that she is a larger than normal 11 week old kitten. I started digging and found your site. She has many of the Coon characteristics (physical and temperament) that I just have to wonder if we have ourselves a Coon mix.
I have attached a photo below for you to review. The sunshine on her washes out the smokey grey ring around her neck, but you can still see it.
She also has the long hair on her paws (they look more like big furry boots) and she has the long hair in her ears. She also has random white and smokey grey tipped hairs on her legs. Please let me know what you think!
---
Is he a Maine Coon mix? Or just a domestic medium hair? He is 3 1/2 months old
By: Chris in Michigan
I am debating on adopting him. I just want him to grow to a healthy big cat.
Comments:
Dennis & Anita: Who would adopt who? Don't wait too long to live in the moment! If he wants to own you, it's meant to be! Those are some pretty big ears and paws to grow into! I'd vote for some Maine Coon blood in there somewhere!
Sherri: if you dont adopt this cat I will!!!!!
---
"Buzzy Boy" - otherwise known as Cheese
By: Elva in Cleveland OH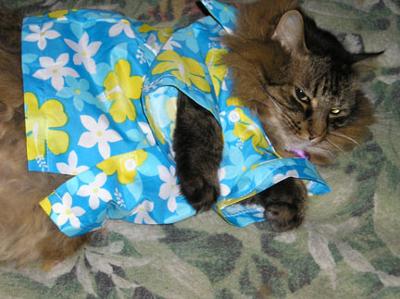 Has very much the look of so many of your cats already on your website - in fact some of the photos on your homepage sruck me immediately!
Cheese is a talkative, big muscular guy (18 - 20 lbs) with a full med length coat, big furry "hands", a wide "mane" & the lovliest round lt green eyes. Not an excitable guy, he's even pretty laid back at the vet's.
He's one of the purr-iest cats I've known, has a wonderful deep in the chest buzz that runs at the drop of a hat. Loud too - you will hear & feel it. (& there's that intersting even deeper note - sort of a 'ruff ruff ruff' chuckle - that comes in when he's concentrating on something like a "puzzle" I've set him.)
Helping with Paperwork
Several people, including a vet have told me they thought they were seeing "Maine Coon" . . . it'd be great to know!
A very patient guy too - as you'll see with him in a "Hawaiian" shirt (a favorite style of my late husband Frank - the original agreement for Cheese to live with us was discussed & agreed to by him & Frank!)
Would very much like to know what you all think - do I have a "Coonie"?!!
---
Everything but the Tail
In: New York, NY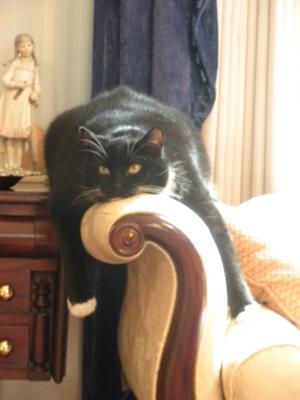 Here's the thing about Ike: he has every single personality trait of a Maine Coon, but he doesn't have long fur or the fluffy tail!!
I answered an advertisement for Free Kittens in Brooklyn and rescued Ike from this crazy apartment that was literally crawling with different cats and multiple litters of kittens. The old man who lived there tried to tell me that Ike was for sale, but he didn't speak much English, and I just thought he was trying to rip me off.
Up until a couple of years ago, I just thought that Ike was super quirky and bit plump. But I've know many cats, and have never met one like him. Now I think that maybe these quirks are all part of his unknown ancestry.
His Size: He was a normal size until he was 3 years old, then suddenly he grew from a normal kitten into this huge cat. Now he's 20lbs (although he's large boned, and quite muscular, I will admit that he needs to lose some weight). His paws are huge and fat and round, and his legs are extra super long (my friends call him the little horse).
His Coat: Although he does not have long hair, his fur is much more dense than any other cat I have owned. It's not long hair, but it's not short either. He's fuzzy, not fluffy if that makes any sense. His white fur (on his belly and neck) is especially soft and thick. My sister has always called him 'Mr Pantaloons' because he does have long tufts of fur on his rear hindquarters. He also has fur in-between his toes and long pronounced eyebrows.
His Voice: He is very loud and is constantly talking. It is a high pitched, cry/howl whenever he is bored, hungry, or wants to be brushed. He has the loudest purr I've ever heard, and it starts up as soon as you pet him!
His Habits: This is what brought me to this site to begin with. I've just never met another cat like this. A friend came over recently and saw him sprawled across the armrest of my sofa and asked 'what kind of animal is that?' He can seriously lounge- he looks like a sloth sometimes! He always drapes his paws over the edges of things and uses his paws frequently to grab things and knock things over. He sits upright in chairs and watches TV with us. He loves to play and loves to be brushed. He's been obsessed with water since he was a kitten. When he looks at something he turns his entire head upside down like an owl. He loves to lay across large spaces, but also loves to squeeze into tight spots. He drapes himself across me when I'm sleeping and is incredibly snuggly. He's very possessive of me and of his food. He's tolerant and easy going but he's a super scaredy cat. He hides whenever he realizes that there's someone new around, but is never aggressive at all.
---
A Co-worker gave me my cat Ryder
By: Melanie A. in Mississippi
This is how my co-worker first found her
My co-worker actually found her abandoned close to her home one day in December 2011, she was such a small kitty too. My coworker was moving and couldn't have the cat with her so told me about her. I agreed to take her. Neither one of us knew what kind of cat she was or the sex. So I named her Ryder because she did not like the car ride back to my home...lol! I figured it to be a neutral name.
As she started growing I noticed how long and beautifulher fur has been getting. Especially the tail and lower belly area. She seems to be at least a Main Coon mix.
---
BB is my kitty :)
By: bbsakitty
I got BB from an animal shelter when she was a scraggly little bag of bones. I've had her for a year and she has definitely filled out!
I think she has some Maine Coon characteristics like her large size and tufty paws. Also, she has a pretty big neck ruff and chest and a huge fluffy tail.
She chirps and purr-meows at me a lot too. But,she does hate water...a bunch
---
Full Maine Coon? Or Maine Coon Bengal Mix?
By: Amanda in Yelm, Washington, USA
Leo! the first day we brought him home.
I bought my kitten Leo a couple weeks ago when he just turned two months old from a local pet store that sold him as a Maine Coon/Bengal mix. He is very playful, loving, cuddly, and loves to sleep on my chest or buried in my hair!
Why I think he may be full Maine Coon is he has the big paw, the tuffed big ears in the ear and on the top, the beautiful face and big eyes. Different lengths of fur and a different type of shag fur around his neck.
What do you think? I don't really see Bengal in him. So do you guys think I bought a full Maine Coon or Bengal?
---
Coon mix ... Or not Coon mix ... That is the question!
By: Adrienne in Mississippi
We got Caesar @ 6 weeks old from a local vet office where his and his litter had been dropped off because the owner could not take care of them. After some research, I was wondering if perhaps he had some Smoke Black Maine Coon in him? Some of the characteristics that make me wonder are:
1. large for his age (only weighs 2 lbs, but he's very tall and long)
2. Tufted ears
3. Very big, furry feet (like cookie monster)
4. Very shaggy "multi dimensional" colored coat = torso is smokey dark brown, head-legs-tail are black with crazy long white hairs, chest-underbelly-scruff around neck are turning smokey gray.
5. Personality = he is a lot calmer but more physically coordinated than any kitten I've known at this age. SUPER smart and trainable. Very affectionate and social.
I included photos of him @ 6 weeks and 9 weeks. What do you think??
Comments:
Jessy: Whatever he is, he's cute!
---
This is my Phatboy, could he be a Coon mix?
By: Deborah Commissaris in The Colony, TX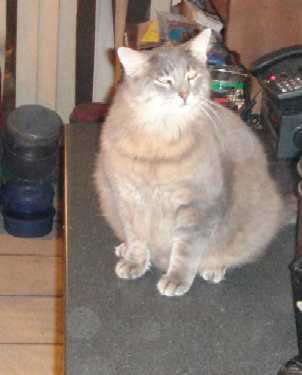 We got Phatboy when he was 6 weeks old from a lady who took in a stray domestic shorthair cat who happened to be pregnant, he appeared to be normal but all of a sudden we noticed he was getting bigger than the other adult cats in the house and his hair became longer and his tail was so heavy it brushed the ground.
Our vet was taken with him and even said if we ever wanted to find a new home for him she would be glad to have him.
Phatboy was a very laid back kitty, he used to love it when we swept the floor, he would throw himself in front of the broom and refused to move until we had swept him up in the dustpan and put him in the garbage can, then he would sit and watch us sweep. He also like to lay on the edge of the counter and snag us as we walked by, he would hook that strong paw around our arm and it was either stop and play with him or pull him off the counter.
He has this sleepy eyed look that makes you melt when he looks at you, company could not believe he was a cat because he would get in their laps and love on them and would not leave them alone, they even accused us of giving him drugs because no cat was that loving!!! LOL!!!
He was a rowdy player too, he would run through a room and bounce off of the walls or doors getting all the other animals excited but none could catch him. He had a way of begging when he wanted something, he haunched on his hind legs and put his 2 front paws together and waved them at you.
His weight shot up to 22.9 lbs and the vet became concerned and said we needed to monitor his eating , yeah right!!! He was very vocal and would feed himself if we didn't do it!!
He got out one day and we could not find him, he was gone for 4 months, everyone told me to accept that I would never see him again but I could not do that, one day a local called me and told me who had my cat, I went to get him and he was down to 8 lbs, it broke my heart but at least I had him back and he is now at 12 lbs and slowly getting back his weight. One of the pictures I shared was him and his buddy LilBit who I believe may be a ragdoll, now LilBit is bigger than Phatboy!!
---
My Maine Coon Mix?
By: Crystal in Highland NY
This beautiful young lady was dropped off at my house last October, and we didn't think much of her breed, she appeared to be a domestic shorthair.
Seven months later, she is gaining in size and weight, and her fur is getting much longer, she has a ruff, long underbelly and bottom fur, LOVES the water, is super affectionate, has to be in the middle of everybody and everything, super tiny meow, loves to chatter.
Do you think she may be a Maine mix?
Comments:
Michele: Crystal, she's definitely a Maine coon mix - she bears a striking resemblence to my parents' cat. The "talking" was the characteristic that sold me - Maine Coons comment on anything and everything!
Ru: Yes i think she is a MC.
Marianna (Australia): She certainly looks like a Maine Coon, she looks a lot like my Milly even with the same green eyes. eyes
Roberta: She's gorgeous - love the eyes.
---
Maine Coon Mix?
By: Amanda Hickman in (Union, MO, USA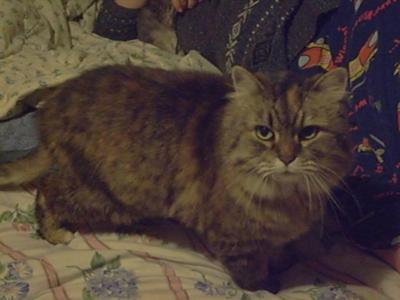 I know that my late cat was not a full bred Maine Coon, but I'm thinking she may have had some Coon in her ancestry.
I'm looking for a new cat, similar to her because she was such a great addition to our family. She was a sweet cat, didn't like to be cuddled unless it was on her terms, but would always sleep in bed with us.
Slow and picky eater, easy to bathe, ran away when company would come over. Beautiful long hair, soft as velvet. Greenish yellow eyes. Loud purring, short mews, kinda sounded as though she was talking to you. We got her from a couple who didn't know that their cat had gotten pregnant. Any help would be appreciated.
What to do next:
Subscribe in a reader - Be notified of new posts!




Or, get The Daily Digest by email:
(Same as above, just delivered via email)




Or join our email group by filling out the form to the right. From time to time I'll send out special tips, articles, news, deals and other free goodies!
What to do next:

Subscribe in a reader - Be notified of new posts!
Or, get the Daily Digest by email:
(Same as above, just delivered via email)
Or join our email group by filling out the form below. From time to time I'll send out special tips, articles, news, deals and other free goodies!