July 2015 Photo Album
Welcome to our July 2015 Album! It's an explosion of Maine Coon Cats!

Meet Boodles
By: Judi in Albany, NY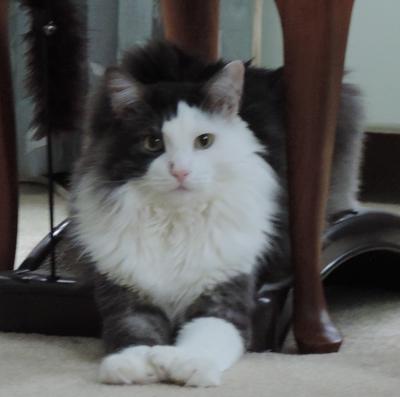 Boodles relaxing on scratching tube.
We adopted Boodles last October. He's a very sweet boy and it befuddles us as to why he languished in a shelter for 6 months before finding us.
He was a little shy at first but is so charming. He gets along well with his housemate, Buddy, a buttermilk tabby. He loves his toys and makes eye contact with us to play or for a treat. He knows where his treats are kept and will pull the container off the shelf and then look at us.
One thing we don't like is that he likes to eat fresh flowers. So, I can't keep any in the house. Small price to pay to keep him safe and healthy.
---
Calli and Moxie
By: Stephanie Forsythe in Nova Scotia Canada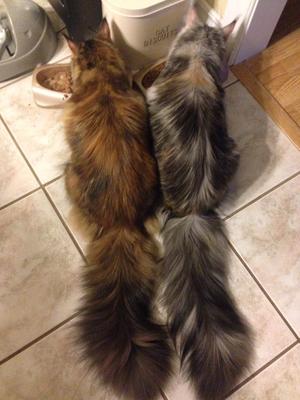 Oh those tails!
Calli and Moxie are litter mate sisters who joined our family in Dec 2014 at 4 months of age. Calli is a brown patched tabby and Moxie is a silver patch tabby. They both have such distinct personalities! Calli is cuddely and loves to snuggle up on your lap, chest or even head. during a recent 4 hour car ride, Calli laid across my husbands neck and sholders all the way home! He got some looks at the drive thru!
Moxie is more reserverd in her affection. When you get some "moxie sugar" its a special time. When she does want affection, she wants head butts and next scratches. However, sit on the couch or lie on the bed, and there is Moxie. She is a great nap buddy.
Both are a year old now, but still very kitten like. Calli loves to explore and pushes the edges of the envelop constantly--jumping on the top of the kitchen cupboards, hanging from the screens, trying to get in the washer! Moxie us a but more laid back, but once she see's her sister do it, its monkey see, monkey do!
I can't imagin the house without these two busy sisters--they follow me everywhere and are also known as my little shadows!
Stephanie from Nova Scotia Canada
---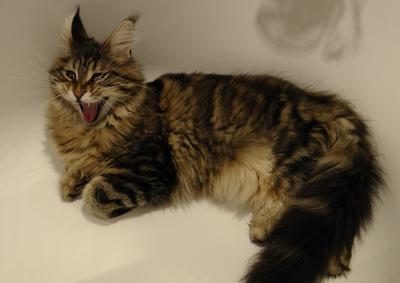 Isaac, 6 months old
By: Nick in Manchester, UK
Isaac is our first Maine Coon. We've owned 2 Norwegian Forest Cats before. They are similar but Isaac is a little bit bigger at his age.
---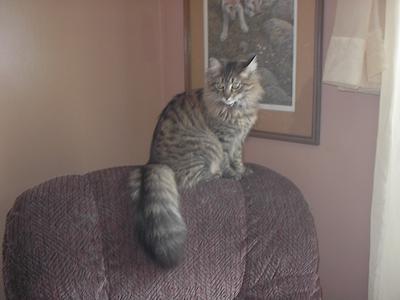 Loki aka Evil
Loki's Nana
By: Mary E. in St. John's, Newfoundland, Canada
This beauty was found in a barn in rural Newfoundland.
---
Our "little" Puff ball
By: Heather in Medina, New York, USA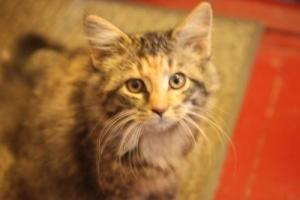 Puff at approximately 2 months old
Puff was born somewhere near our home last September. We took her in when she got too curious for her own good...she had no fear of cars.
She quickly settled in as the youngest of five cats. Even quicker still, she seemed to grow to a size equal to or larger than our other cats.
While I had no idea that she was a Maine Coon when we took her in, I am pretty sure she is one now. From the tuffs of hair between her toes, the tuffs in her ears, the "M" on her forehead, the mane around her neck, her big bushy tail, and her size...pretty sure she's still growing into those paws of hers, she seems to be all Maine Coon.
It doesn't matter where we are in the house, she always has to be with us. Even if she's sleeping when we leave, she'll follow us. When we come home from work, she's waiting at the top of the stairs for us and stands on her back feet to get her head rubbed.
I certainly wasn't looking for a new cat when she came into our lives, but she is just too adorable not to love.
---
Max The Maine Coon
By: Megan in Boise, Idaho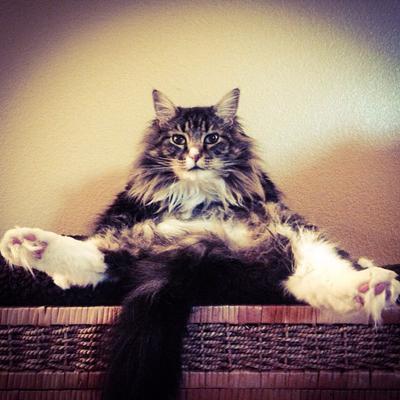 This guy!
Mackie
By: Rob and Laura Lefebvre in Oakville, Ontario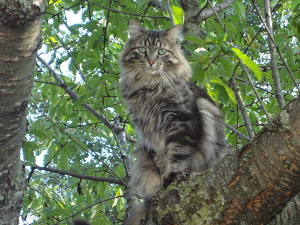 Hi,
This is our Maine Coon cat Mack, aka Mackie. Mack was a stray who was found roaming the streets in Simco, Ontario by our friends who adore cats, however they could not keep him since they already had two protective cats. When my husband and I met Mack, who was being called Theadore, we fell in love with him and took him home to Oakville, Ontario.
We went to the Vet and the Dr said he was about 6 months old, so we then decided to change his name to Mack. He is now 7 years old and very healthy, he is our child, whom we dote on everyday, Mack is very loving and playful, and loves to go outside and run around with the neighbors cat Crackers, Mack is very healthy and weighs 15 pounds, he is our gentle giant.
Hope you like the picture, he is very photogenic!
---
Iggy and Bowie
By: Lisa in Eugene, Oregon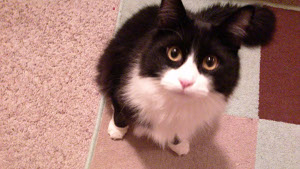 Iggy
---
Charlie
By: Stacy in Pennsylvania
My daughter found a kitten on the side of the road in Aug 2014. Little did we know that she was a Maine Coon!
Today Charlie is one year old and I wanted to share the collage from this year in her growth!!! She was such a tiny little one when Kate found her but her squeak was adamant from day 1!
She loves people and our other pets! She now lives in a house with 3 dogs & 2 other cats. My daughter (Kate) is in college at Kutztown University. We live in Pennsylvania just an hour north of Philadelphia!
Every morning as I get ready to leave for work she will sit outside the bathroom door. Then we need to play fetch with her "woobie" which is simply crocheted yarn. She loves her woobie!!!! She is definitely a welcome addition to our family of furkids.
---
Hobbes the Cat
By: Dan in Buffalo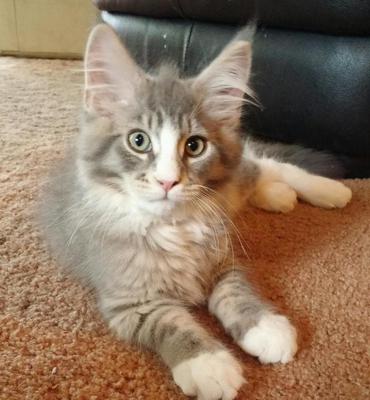 Hobbes is the litter mate of "Harper" from the June postings.. Super cat, from a wonderful breeder.. "Big Coonies Cattery"
---
Tristan - Champion and Best Friend
By: Mathilda R in Durban, KwaZulu Natal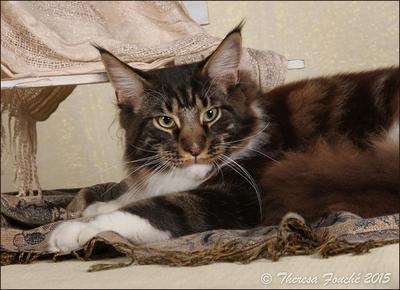 Chilling for the pro photos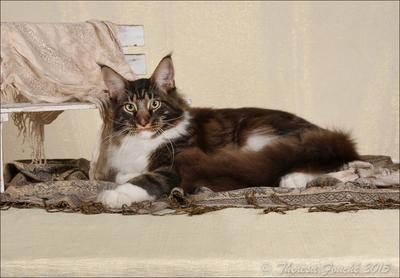 Royalty Tristan of Lophama is now 10 months old and weighing in at 7kgs.
He is such a darling and being the only guy in a home with three generations of ladies, you can imagine how much he gets spoilt.
At the tender age of 4 months Tristan entered his first cat show, with much nervousness on my part as well, being a total newby to the cat show circuit, we got there early and set up ready for action.
After a long day of in and out the show cage and meeting so many people (Tristan of course, as all he was interested in was being loved) the judges gave their verdicts, Tristan took the Kitten Novice Champion, Judges Award, Best Medium Hair Kitten.
And also won first prize in two side entries for Biggest Ears and Longest Tail (no surprise there, Coonies are known for their Fluffy tails and Big ears) I was so proud of him, and come the second show, he was 9months and had to enter as an adult, competing against cats much older than him, he showed them just how special he is and charmed his way to Novice Runner up, 3 Gold and 1 Silver certificate, achieving his Grand status and an invite to the next competition for the provincial finalists competition.
His show career is starting off with a bang and glory and both him and I are looking forward to many years of doing shows and meeting new people at these shows.
Tristan just loves meeting new people and traveling, he knows when his harness comes out that its time for a drive in the car, he doesn't mind where those wheels go as long as he can sit on my lap and snooze or watch traffic.
During the days that I am at work, he spends his days with Gran, making sure she has company, and that she gives him treats at tea time and snacks.
---
Introducing Kricket
By: Fyllis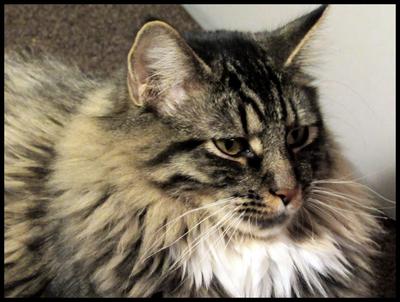 Kricket at 15 months
Hi,
Let me introduce Kricket...
His Momma had him and his brother in the shed of a co-worker who despised cats. I was told he was going to have him destroyed the following day! I drove 40 miles at 11:00 at night when I got off work to save this little life! ( I was assured he had found a home for his brother - a creamy-white long-hair with the distinguishing marks of an flame-point Himalayan.)
When I first laid eyes on this little fur ball, he was about 7 weeks old, dirty, dusty, and scared, but he came to me and purred in my arms. He snuggled on my shoulder the entire ride home.
Immediately, the next morning, I took him to the vet where he was given a full physical, treated for a severe case of ear mites which resulted in a fungal infection, recieved his first set of vaccines, and was de-wormed and de-flead. He was neutered at 4 months. And, just so you know, I absolutely refuse to have him declawed!
When we got home, he was introduced to Keeker, my other kitten, a 6 week old black, domestic short-hair (also, a rescue from a 'cat hater' a week earlier). By the next morning, they were best of friends playing and romping together. He took to the litter box right away and had no problems finding the food and water dishes!
Although my Kricket is a rescued stray, I am very confident he carries a strong Maine Coon lineage in his genes. He has several definitive characteristics of a Maine Coon, but I am certain he is a mix of some sort since his Momma was a stray and his father is unknown.
Beyond his physical appearance, (he has the soft, shaggy, long three-layered coat; large paws with heavy tufts of hair between his toes; large body structure; the distinct "M" on his forehead; lightly tufted ears; straight nose; and a very long and bushy tail), he has the personality as well! He is very attention-seeking, extremely affectionate and loveable, intelligent, 'talkative', playful, yet casual and laid-back.
Today, a little over a year later, Kricket is a solid 13.6 lbs and as healthy and gorgeous as anything I have ever seen! He and his brother hold the strings to my heart and I can't imagine my life without them in it!
Fyllis
---
Callie
By: Vince Franza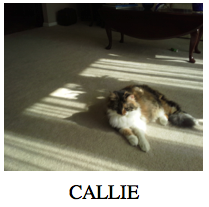 My name is Vince Franza I have a Maine Coon cat her name is Callie. I got her from a shelter.
She was locked up in a cage for 4 months. She now has free run of the house. She is the most lovable cat that I had ever had. She followers me wherever I go. When I leave the house she waits for me in the window
---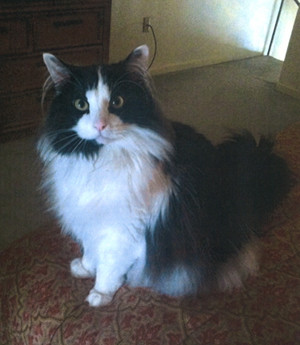 Eeyore
By: Jeri Justis in Ocean City, MD
Hello,
I love Pawsitive Messages: I adopted Eeyore from the West Virginia Maine Coon Rescue; he is 28 months old now and has been with me since March 2014; He was flown in a lear jet to Richmond Airport where I picked him up and we have been in love ever since...
He loves my neighbors' labs and never stops talking and playing.
---
Maine Coon? Meet Blaize
By: Heather in North Carolina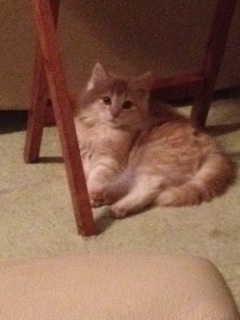 December When We First Got Him
In December of 2014 my husband and I were at a pet store and happened upon a little orange furball who had been pulled from our local shelter. It didn't take long for us to decide that he was meant to be a part of our family.
Knowing nothing about this little kitty, we got him vetted and went through countless days of bathing and pulling off fleas working to get him healthy. We did find out that he was born in August, so he is just a month shy of being a year old.
I have been doing research, and I am pretty sure our boy is a Maine Coon, and was looking for more opinions. He is so sweet, loving, and curious. He gets along with our other cat and our dogs.
He has been a wonderful addition to our family!
---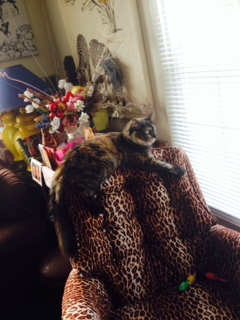 Miu Miu
By: Lizona
Miu Miu
---
Shiloh
By: Pauline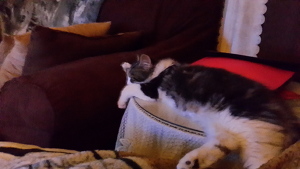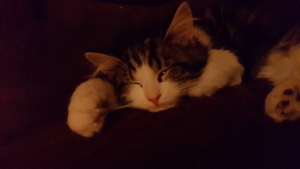 ---
Wee Willy
By: Ruth Lewis in Roseneath, Ont. Canada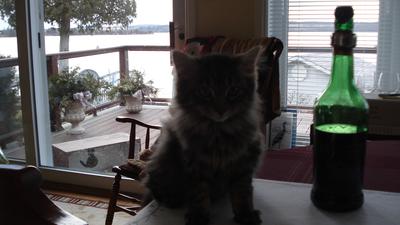 Wee Willy was found cold and hungry by a couple of young boys just before Christmas 2014. He was only a handful - so tiny.
I was visiting the home of these young boys on Christmas and had to move this little ball of fluff in order to sit on the chair. He immediately cuddled up and fell asleep on my lap the entire evening.
After our last cat died (over 49 years we have owned 5 cats - all but one being tabbies) I said "no more cats". However on Christmas Eve 2014 this little guy stole my heart.
I brought him home, flea ridden, ear ticks, worms etc. We called him Wee Willy after William, the young boy who found him. Of all our dear departed cats, this little guy is the most loveable, adorable, social cat, full of entertaining antics.
I didn't realize that he could be a Maine Coon Tabby until someone mentioned that Willy certainly looks like the breed. He is still less than a year old (a guesstimate of 9 months old). So here he is in all his little glory!!!!!
Willy's Story
(Additional submission by Ruth:)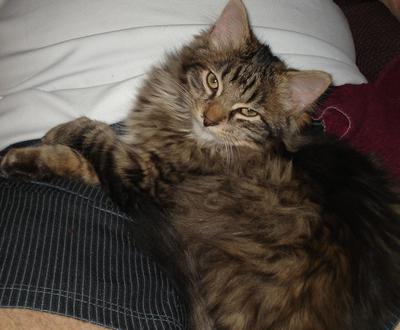 On Christmas eve I visited neighbours to find that their grandson William had brought home a tiny kitten. On sitting down I moved this small ball of fluff onto my lap where he stayed for the duration of my visit.
Grandson William (thus the name Willy) had found him cold and wet outside our local Canadian Legion in our small town of Hastings, Ontario, Canada.
During our 49 years of marriage we had four wonderful male tabbies and a female calico. When the last tabby died I said "no more cats" but just could not refuse the offer to take this wee cat home on Christmas eve.
At the time we were not sure how old he was but as he was flea ridden, had worms and ear mites I took him to the Vet as soon as possible. They considered he was 12 weeks old, so we put his birthday to October 25th 2014.
We knew immediately he was very different from our other cats and on speaking to a friend she said he might be a Maine Coon brown tabby. I Goggled it and came upon your web site. He certainly shows all the characteristics of a Maine Coon - very affectionate, social, playful and has the tufts in his ears and paws and that wonderful tail.
I am not sure whether he is a mix or purebred, but whatever, he is the joy of our lives. The pictures are when we first brought him home, but now (approximately 9 months old) he is a healthy 8 lbs and growing.
Ruth
---
Orlan
By: Deborah in Mississippi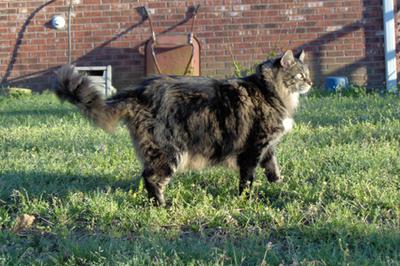 I am Duncan Orlan Moss's Mama. He is dead. He and I were harassed in his time of need for medical care. Does anyone know a veterinarian who does not participate in abusing the cats and dogs of humans who have been placed on a medical abuse list?
Maine Coon Cats (mixes, foundation, etc.) are both intelligent and sensitive and should be heard, respected, and loved.
This will be a lengthy grieving process.
http://thecatandthebee.blogspot.com/search/label/Orlan
---
Sweetpea From A Hoarder
By: Cindy Scott in Kettering
I too rescued a Maine Coon from a hoarder who had 30 cats. Half of them were Persians, they were all sick and some had only one eye and one even had a broken leg.
This one little white one would hide in the corner under news papers, I think the bigger cats beat on her and would not let her eat or drink water.
I just had to take her home. She at first would only drink water if their was a puddle on the floor. She has infected eye and was dirty and matted. Took her to vet. Long story short, once she could open her eyes, she has one blue and one green eye.. she is well and beautiful now. She is snowy white and is so very loving.
---
Gambit
By: Billson in Michigan
Years ago I was lucky to have an amazing friend named Gambit. He was a pure bred Maine Coon. I can't begin to explain all the things that made him so great.
He didn't act like any cat or dog I had ever met. He was some kind of mix of the best of both. Loyal, brave, playful, but not needy.
He would see me off to work and be waiting to hang out when I got home. He would follow me everywhere I went. He would always have to be touching me. Not on me just close enough to touch me with a paw. He never acted shy to anyone ever.
He would greet new friends with a head but. He would play fetch until I was tired. Greatest "pet" ever. I lost him to a heart defect 10 years ago.
Now with 4 and 5yo girls it was time for a family pet. There wasn't much to think about. It had to be a Coon. So we got our first as a family. Zeus is an 11 week cream who we got from a local breeder.
After getting Zeus I cought the bug and was lucky to reserve a beautiful silver boy from Congocoons. We get him in a couple weeks. Super excited! We will be a Maine Coon family for life!
---
Izzy My Brown Comedian
By: MARTY IN Columbus, Ohio
Izzy is a registered MC from a cattery in Cleveland, TN She has no fears. Izzy drags her toys all around the house, following you to try to entice you in to a game of chase me or hide behind the door. Izzy is very special.
She was adopted/purchased when our beautiful older Siberian male cat crossed over the rainbow bridge from a bout of intestinal cancer.
She helped to fill that void and has become a very much loved member of our family. When I have had a bad day at work, I just holler out "Izzy" and she comes chirping into the room with a big cat smirk on her face.
She loves to wash my hands while I squish her face in my palm. She is a bit of a chow hound. It's hard to turn her down because she loves her treats. Let me warn any of you that is considering a Maine Coon for your 1st kitty. They will get their way and they can figure their way out of any door, enclosure or method you use to keep them inside. Izzy figured out that she can push the screen out of the tracks in the door and just throw her substantial weight against it and she's free. So far, she comes back when I yell at her.
Maine Coons are special cats. Make no mistake about that. They are not regular cats in size, behavior or personality, but you will not regret getting one of these big, beautiful cat comedians.