July 2014 Photo Album
Meet our Featured Coonies for July 2014!
Come beat the heat with Tom and Jerry, "amazing" Tony Stark, Lilo and Stitch, 14yr old Ira Elvis, and their July Coonie friends!
Tom and Jerry
By: SnJ in Lancashire, uk
Meet our two boys Tom n Jerry. They are brothers born Xmas eve 2013. Tom is a Brown Tabby and Jerry is Silver Tabby.
---
Amazing Tony Stark
By: Kim in Switzerland, St Sulpice
This baby is only 5 weeks old and still with his mother, brothers and sisters.
He's an adorable lap cat, he will climb on your lap and will try to find the most comfiest position, and yet adores exploration and play. He looks like he has spectacles!
He is a cute baby lion and will be a very handsome Coon. We just can't wait!
---
Our New Kittens
By: Jessica B. in Dahlonega, Ga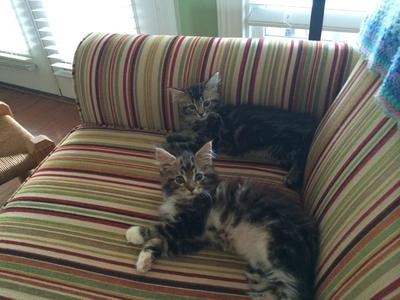 We just added two new kittens to our family. So happy we decided to go with Maine Coons!
Lilo is a Classic Brown Tabby and Stitch is a Brown Tabby with a white chest and socks.
Both are 12 weeks old and adapting well to our family of 2 kids and 2 dogs.
---
Ira Elvis
By: Tommi Ivey in Kansas City, MO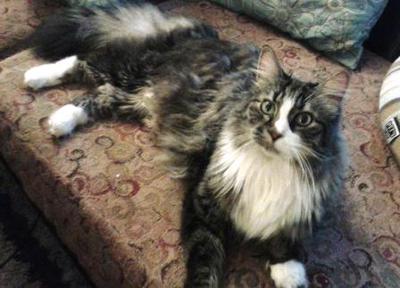 Sooo Handsome!
Ira is 14 years old. He is my best friend! He picked me out the moment he saw me. He came over and stood on my foot. This tiny little ball of fur with a stark white nose stood on my foot, looked up and said, "PICK ME". So I did... and I am thankful every day!
Ira was just diagnosed with Kidney Disease. Of course I'll do whatever it takes to keep him comfortable and prolong his life.
I never knew a silly ol' cat could be such a HUGE part of my life!
I LOVE his curly belly hair!
---
Our Girls - Jessie and Molly
By: Julianne in Toronto, Ontario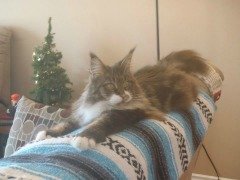 Jessie
After the devastating loss of our 11 year old Maine Coon Cleo to a brain tumour in 2013, my husband and I, missing the company of a kitty in our home, decided to adopt 2 more girls in December - our Christmas presents to ourselves.
We contacted a few breeders in hopes of adopting some retirees, and we were lucky enough to find Jessie and Molly. Jessie is our 5 year old classic tabby with white, and Molly is our 3 year old silver tabby with white.
They both bring such joy to ours lives. Jessie is our goofy, clumsy, funny girl, who is always purring and always wants to be on our lap or riding around on our shoulders.
Molly on the other hand, although not a lap cat, she always needs to be near us, and she is so sweet and playful and does the quirkiest things.
They both have funny little chirps and tend to be on the vocal side - Jessie, just for conversations sake, while Molly likes to play fetch, and when she catches her ball, she walks it back to us meowing the entire time; it's the funniest thing!
One of the best things about the two of them is how much they love each other.
They chase each other around the house like little tornadoes, and when they are all tuckered out, they groom each other and then curl up on the couch together like best buds.
They are so absolutely adorable, and we are so happy we brought them into our lives.
---
Judge and Spaulding
The Judge and Spaulding
By: Jay Johnson in Omaha, Nebraska USA
Brothers from a different litter!!
Judge is 9 months and Spaulding is 11 weeks old.
Been together for 5 days and already best of friends.
---
Lord Shanti
By: Jane Illinger in Massachusetts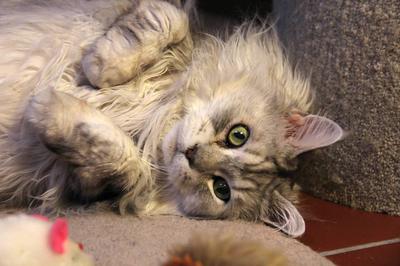 Lord Shanti is an 11-year old, shaded silver gray Maine Coon tom. True to his breed, he is highly intelligent, loving, goofy, mischievous, and as devoted to his humans as we are to him.
Lord Shanti's favorite toys are his furry mice. He pulls them out of his toy box and lines them up on the rug before tossing and chasing them.
He enjoys our visitors, sniffs at their shoes, greets them with a meow, and then offers a paw for them to kiss. He rewards me with nose-kisses and head-bonks when I serve him his breakfast and supper as well as when I snuggle and play with him.
Lord Shanti is a wonderful friend. He is my first Maine Coon and will certainly not be my last.
---
Thor Update!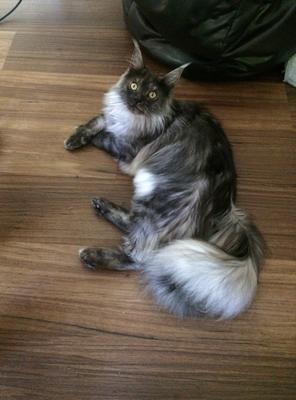 Thor is now 9.5 months old and growing up beautifully. (Note from editor: see Thor and Thea as kittens here.)
He is such a character and has such a funny chirp, he sometimes pads around the house chirping to himself, stops for a minute and then carries on again.
Best friends with Thea, my naughty tortie he will follow her without thinking into any kind of adventure! xx
An Update On Thea!
By: JoAnna in London, UK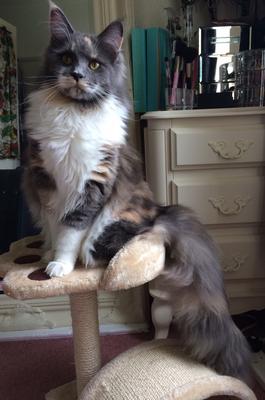 Now at almost 8.5 months old Thea is really growing into such a beautiful lady!
Such a Princess we call her princess Thea.
---
Stormaggedon
By:Kim Wilkinson in Pasadena, Texas
My Coonies name is Stormaggedon. We call him Stormy.
He wandered into my sister's yard when he was a wee kitten and she took him in. He is the sweetest, clumsy, clown!
My sister new I wanted him and eventually gave him to me when she realized her grandbabies had allergies to him. Lucky me!
Anyway, Stormy is a rambunctious 9 month old clown and weighs about 13 pounds. Such a handsome boy! We call him Stormy because after he's done playing, my house looks like a big Texas Tornado hit it.
He's like a dog in that he loves to greet everyone at the door! He also likes to sleep in the bed with me all the time too!
---
Sushi
By: Adrienne King in London Middlesex UK
Sushi on the staircase
Our darling Sushi is 7 years old, what a character, very loving, but typical town cat, as she is mostly indoor, but loves sitting in our patio garden sunning herself, or sitting in our garage and listening to the sounds outside.
She follows us around, always comes to greet us when we have been out.
She awakens me in the morning by stroking my face with her paws, claws in! If I do not respond, she climbs into bed purring deeply and nibbles my pajama buttons.
---
Duncan At 3 Years
By: Glenn in Toronto, Canada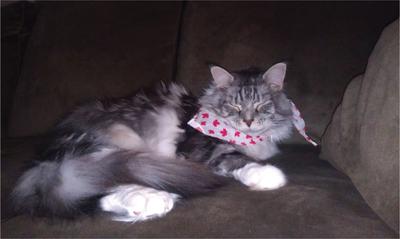 We got Duncan as a 12 week old kitten from Granduar Maine Coons in Brampton. He has been a real welcome to the family.
We have two other cats as well and they all get along wonderfully together.
When Duncan was just a year old, we noticed him being very very lazy which was not typical for him. We took him to his vet and she said that she thought he had a broken leg.
We then took him to the animal hospital where we live and after X-rays they confirmed that in his rear ball and socket joint the ball had broken. Duncan had surgery and they removed it.
We were told that in large male cats after they have been fixed, the blood supply to that area is somewhat compromised and this type of thing can happen. Needless to say that 3 weeks after we had his right back leg fixed, his left one broke.
Now this may sound like a bad thing but Duncan recovered very well and he is now 3 and jumps and runs just like his much smaller "sisters" you never would know that he does not have the "balls" from his ball joints.
Duncan is an indoor cat and he thinks that's just fine. This summer we decided to let him out on the back deck and he never strays off the deck.
Whoever said that Maine Coons are not lap cats does not know Duncan. He will spend hours on our lap and just purrs so loud he shakes.
Duncan has been 25 pounds for the last year and is not fat, but we think he has finally stopped growing. Here he is in his glory.
---
Smokey & The Bandit
By: Donna in Maine
Smokey & the Bandit
Smokey & the Bandit came to me one night after Smokey had eaten some clumping litter and needed to be watched while I was a volunteer at a cat shelter. They were 6 months old and we didn't want to separate them.
They both were going to spend the night in my bedroom (with litter box (non-clumping), food & water. Within 3 hours, my Siamese cats (Mittens) curiosity was too much, so we went in for a "meet & greet".
All I can remember now is waking up with all 3 in my bed and Mittens asking "Can we keep them Mom?" And, that is how our little family became 4... "My 3 Sons" and I.
---
Simba & Oreo (you certainly can tell which is which!)
By: Lori in Minocqua, Wisconsin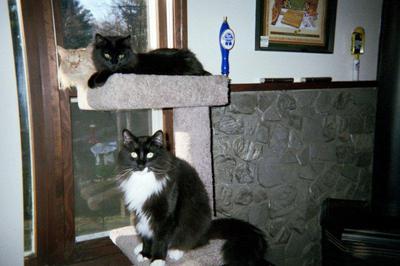 Oreo, Simba & Vinny
We found Simba & Oreo who are brothers, but look nothing like each other. We 'rescued' them basically, from a place that calls itself a zoo, but in fact is just a wayside attraction dealing in the exotic animal trade along with petting zoo.
These two were destined for that horror, then to be killed or who knows what? They had 5 sisters there also, but we were unable to take all of them. Here's to prayers that those girls "made it out". We had to quarantine Oreo & Simba for a month (from our other cats) they had ear mites so bad and other heath issues, but I have included a picture when the were 8 weeks old. They were just 6 weeks when we got them.
At any rate, our Oreo is quite large now and extremely intelligent. Simba is so much fun and has the cutest personality & face. Oreo is a talker. He even talks back to me when he is getting into some thing he isn't supposed to. I have to do the "you wait till your father gets home!" Because he does listen to his daddy. They are best friends. He walks him outside on a leash and they sit together on the porch swing. Simba rushes to his spot to get his combings from his Dad as soon as he comes in the door from work.
I had to "baby proof" the house as if I had a toddler. From turning on the kitchen faucet to flushing the toilet, to trying to take a shower and drink out of the tub faucet, to putting chain locks on the cabinets, to plugging the electric outlets, to hiding the phone cords, to putting every thing and any thing away that they could 'get in to'. It's a constant upkeep.
My husband used to be a dog person. Now he is strictly a Maine Coonie Cat person. He absolutely loves his babes. We have always had cats, but nothing like these two.
We also aquired a rescue from the Humane Society. His name is Vincent. Vinny of course. He is a long hair also, but doesn't have the Coonie traits like our other two.
Oreo is exceptional. He is kind, smart, gentle and oh so sweet. Simba is wild and crazy when he gets to playing. We call Vinny "the fun police" because when ever Oreo & Simba start to play he has to intercept the fun.
We live in the Northwoods, and they get to see plenty of wildlife out our windows. Going out on leash is a whole other experience. Some times they have alerted us when bear or wolves are around and drag us back in the house. We only walk them right round the house and keep out of the tall grass and forest.
Our Vet will never give Oreo another shot. He had extreme reaction to them twice. We only use natural products on our kitties, if at all.
---
Jaxx and Jazz
By: Steph in Minnesota
They are brothers about a year old I'd reckon.
Jaxxy is the orange tabby and loves water a bit more openly than Jazzy, who is by default the brown tabby. Jazzy really lives to stare at the fish and even though he can't get them he tries very hard.
Jaxx is the quiet one and Jazz trills most of the time.
They both love to grab my hand and nibble whenever they get their pets and recently have decided they rather don't mind tummy rubs though they prefer being stroked.
---
My Adorable, Mischievous Furball
By: Debbie in Wood Village, OR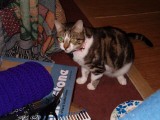 Lily is an extremely curious furry young lady.
She is now almost 5 years old and still a bundle of energy (with a very good appetite).
She is very good at giving facials at 2:30 a.m. She always loves a good cuddle.
---
Percy
By: Gillian Banton in West Suusex, England
Percy is our handsome cream silver maine coon. He is a very vocal boy who loves his two tabby brothers and sister.
He enjoys company and often curls up next to me in bed and is the first to greet us when we come home. A very special boy.
---
Scamp the Scamp
By: Erin in Coronado, CA
Hello! We got Scamp at the shelter, however we are pretty sure he has at least some Maine Coon in him.
He has all of the stereotypical traits and is just the perfect cat for a house with two little boys in it! He chases them around and thinks they are just big kittens.
We unfortunately live in an area with a lot of pet abandonment, so it is entirely possible that he is a pure Coon. He was found as a 5-month-old kitten, but not with a litter. He is about ten months old now, and going on 17 pounds!
The most recent photo shows him with my nearly six-year-old son. The rest of the photos are a couple of months old.
We love this sweet, funny kitty-boy who likes to spend most of his time lying on his back, paws and belly up!
---
Mafiatta
By: Brenda Daeges in Omaha Nebraska
Another gorgeus pic of my baby girl
---
Miss Allegra!
By: Tahlia in Lowood Qld Australia
Miss Allegra, at 5 months old, is out newest addition to our small family, joining her two doggy fur-siblings.
She has wrapped us around her little (well not so little) paws and has done so the minute we picked her up from the breeder to take her home. She has brought so much happiness into our lives in an incredibly short time.
She is constantly amusing us with her clown-like antics and her incredibly early morning smooches in bed :)
---
Sisters - Adah & Piper
By: Katy in Stephenville, Tx., U.S.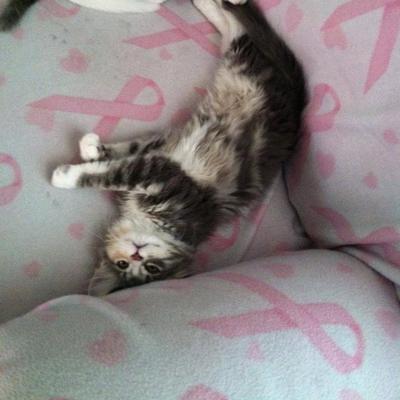 Adah at 4months
George & I adopted Adah & Piper (sisters) when they were 4 months old. The lady that had the two sisters found out that her grandson was allergic to the cats. We felt like the sisters needed to stay together.
Piper the less furry one is faster than the speed of lightening and Adah is very strong. They loved to play and are indoor cats for life.
Adah and Piper both like to watch the Dog Channel on TV and watch the birds at the bird-feeder outside through the sliding glass doors. They are very loving kittens as well.
---
My Old Boy Stormy
By: Debbie Adams in Josephine Texas
This is Stormy. My boy is now in his 13th year.
He's slowing down a little but still loves to cuddle. His favorite thing has always been playing fetch with a little fuzzy ball, he plays so long you finally would have to put it away.
We've had him since he was 10 weeks old and can't imagine how hard it will be when he crosses over that rainbow bridge.