July 2013 Photo Album
Welcome to the July 2013 Photo Album - and meet these beautiful Maine Coons!

Gaspard
By: Jeoffrey in France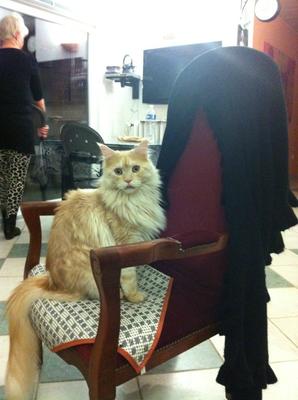 Gaspard, french Maine Coon, 2 years old
Miss Lucy Fur
By: Michelle Bondurant in Pasadena, CA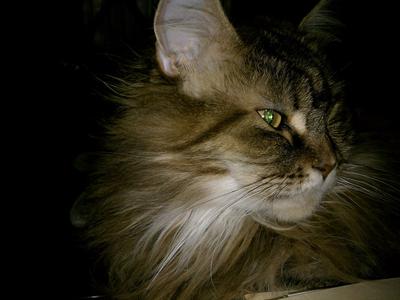 1 1/2 years ago we heard about a little Maine Coon whose family had lost their home and returned her to the breeder.
In a few days, Miss Lucy Fur was at our house! After so much turmoil in her young life it took her a while to settle in, but now she is In Charge!
Miss Kitty
By: Erin in Salem, Oregon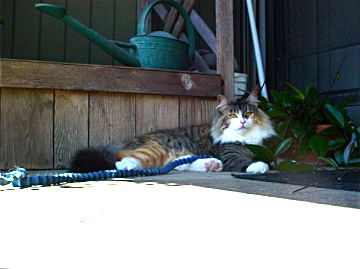 Miss Kitty was rescued from a parking lot, very underweight but not lacking in coon attitude (see first photo), at about eight months.
She's grown into a very lovely, shaggy, petite-sized-coon-tailed cat who is an utter goofball, and who has charmed everyone she has ever encountered.
She eagerly walks on a leash, and has become a destination for all the neighbor kids (and adults.) She's about 2 and a half now.... and the pictures don't really do her justice. She is a delight... and maybe a future therapy kitty!
Mr. Murphy At Window
By: Bill in Shreveport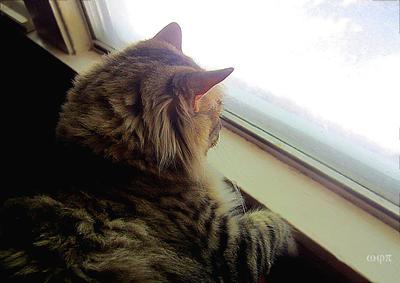 Mr. Murphy was found begging for food and water at the back door of the courthouse where I work. Now, nine months later and neutered, he's fat, sassy, and rules the entire home-menagerie of three dogs and three cats.
Much of his leisure time :) is spent watching the outside world go by.
We just love this big boy!
My little girl Emma
By: Sarah Taulbee in Crittenden, KY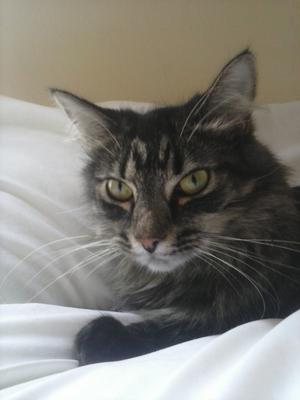 I adopted Emma this year from a friend :)
2013 TCA Best Cat and Best Color
By: Patti Whitaker in Smithland KY
Black Ruby Shadow
From Patti Whitaker
Days Of Sail Maine Coons
(Note from editor: Patti, if you sent a picture, it didn't come through - This happens with large files, meaning high quality photos. There are tips here for editing photos for the web, if you'd like to try again. I was unable to sent you an email.)
Maybe-Maine Coon Cats For July:
Penelope - My Sweet Girl
By: Robyn in Canada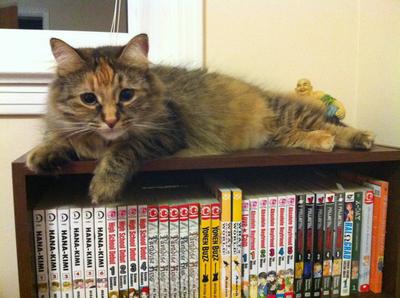 Penelope is my first cat. My mother's neighbor, a good friend of ours, had found a stray momma cat under her back porch.
I remember Momma cat having a very dark brown/black coloring, but I don't remember the shape of her face. She had two kittens though, Penelope and her sister, Ruby. ..Read More
---
Minette the Coon here in Maine
By: Matt & Rebecca in Maine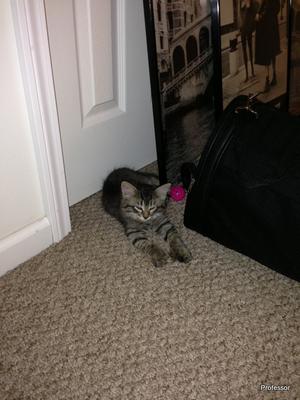 We just got Minette from a friend who had a Maine Coon for a mother, snuck out of the house and mated with a calico on the farm that they reside on.
Minette has some of the Coon hallmarks with being polydactyl as well as having ear tufts and tufts of fur on her paws.
What do you all think?
---
Kirby The Lovebug
By: Mindy in Vermont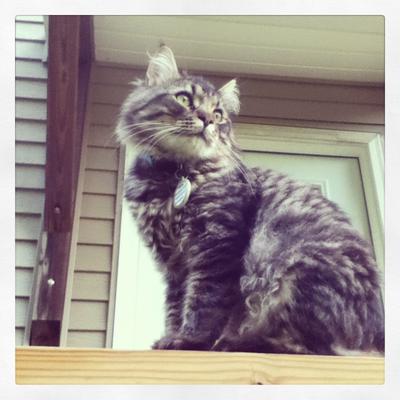 Just a cute face.
We adopted him from a local humane society. They suspect he is about one year old. He was so matted from being outside for a good part of the winter that they had to shave him like a lion.
We were going to keep him indoors but he was very dramatic about that. He has this very sad meow when he wants to go out...it's heartbreaking to hear him use that.
We kept him indoors for 2 months but he would not accept being an indoor cat, so we caved. He spends a good part of the day outdoors and comes in at night (although, he usually wants to go out during the day too).
He's very playful and loves to attack me. He loves when I go outside to explore with him. We go for walks in the woods and he tries to sneak up on me. When I turn around he runs up a tree. He has a very goofy personality.
He's not scared of people, a little wary of dogs (but doesn't hide), does not get along with other cats. We were told he was a bully at the humane society.
Now that his fur is growing in he has the tufts between the toes. He is also looking fairly burly, has wide shoulders.
---
Jesse
By: Kim in Centeral IL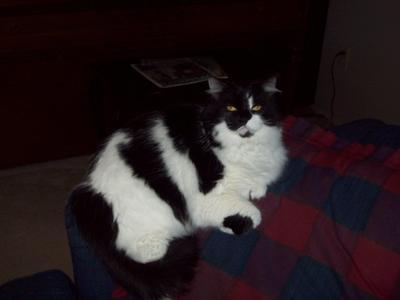 After reading your site I think Jesse has got to have some Maine Coon in her, but probably a mix.
She is a big girl (16 lbs) with a beautiful tail and coat. She does have a nice ruff around her neck and fur in her ears and toes. He coat never mats and it is silky soft.
She makes sounds and chirps like no other cat we have ever had. And she can never have enough petting. She is always where her people are, and if she can't find her people she has a mournful meow until she knows someone is home.
I don't know what she does when we aren't home! While she loves us she is a little skittish around people she doesn't know, but once she knows them she comes out willingly.
---
Kaiden
By: Amanda W in Friend, NE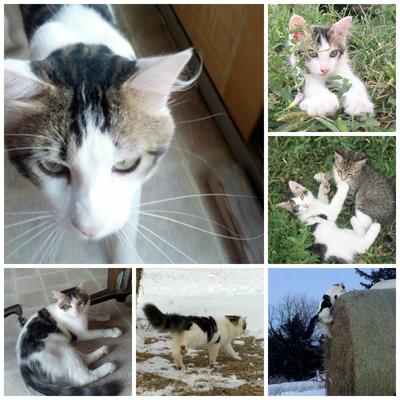 Kaiden
I know he's not full Maine Coon, because his momma was most definitely not! (Picture below) However, out of the four kittens and their momma, "Kai" is the only one who stuck around.
I've owned and raised many barn cats, but Kai isn't....well, he's nothing like any cat I've ever had. He is a one person cat, totally bonded to me.
He nearly went feral when I went to college, but then, almost instantaneously, turned around and is the most loving and social cat I've ever owned.
A) He follows me around like a dog, a very playful, silly dog.
B) He seeks out my attention, and boy is he vocal about it.
C) Unlike other single cats I've had, he retains his 'catness' around our three dogs.
D) He is by far the single best hunter we've ever had. He has single-pawed conquered our mouse problem (which numerous barn cats, owned by us and neighbors, were unable to do), and even takes down pest birds.
E) If he wants something, you know it. If you ignore him, he gets more vocal. If you continue to ignore him, he gets directly in your face, going so far as to Houdini himself into the house if he's outside.
Those are some of his personality traits, there are most definitely more than I have listed.
Physically, he stands nearly 10 inches at the shoulder (he's just over a year old). He is over a foot from chest to butt, and his tail doubles that. His head is about a third of his body length (or the size of a large mans fist), with high, widely set ears, and large , slanted eyes. He is fluffy all over, but his fur is shorter in the front, and gets longer and silkier as you move back towards the tail.
Other than that, I really don't know what other info you need. I've included individual pics of him and pictures of his momma. Like I said, I know he's not full Coon, but nearly everyone that sees him thinks he's full blooded, and I have to tell them that I actually have no idea what he is! Can you help me determine at least part of his blood?
---
Madison aka "Floofy" is a red tabby with white Maine Coon... pretty sure
By: Rose in Winnipeg, Canada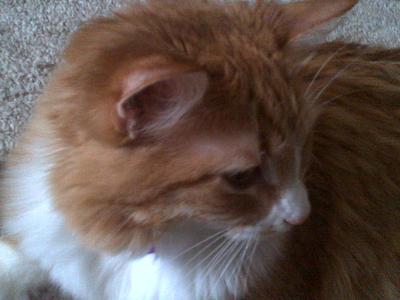 So, my Madi's mom was a cream colored kitty with long hair. I only saw her once and only for a few moments when I picked up Madi from a rural home.
She was so cute and fluffy, I had to take her home... she was 7 weeks old. As she got older, her tail turned into this large, beautifully fluffy mass.
She had big ears with long ear hair and little tufts of hair on the tips of her ears. She has amber colored eyes and huge paws that have fur sticking out between her toes. Her leather is a deep pink color, almost a "rose pink".
She has a large white bib, wavy long white hair on her belly and white feet. The rest of her is a red that I wish I could make my own hair color lol. She's also very smart. I have two other cats and she is definitely the clever one.
While they will try to fit their heads into cups to get at some milk, she will dip her paw in and the lick the fur between her toes lol!
---
Iris
By: Amy in Connecticut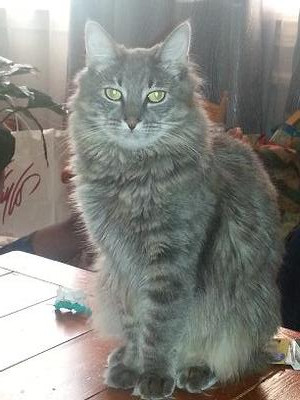 Iris came to us as a foster kitten. She is now a year old. She has ALL the traits of a Coon, she loves to play with my English Boxer (8) and my Tortie (4). She is loving, funny, rambunctious, (very) naughty, very verbal and all around entertaining. And CUTE!
It's like she was made to be here. She fits right in.
Oh, and did I say, she LOVES to eat? Everything she can get her paws on!
She is into everything and nothing at the same time. We love her so much.
So, what do you think?
The people we got her from THINK that her parents were an orange tabby and a Maine Coon, but they are not quite sure, because they got her from someone else. So now you see my dilema.
Sebastian the Conqueror
By: Suzette in Atlanta, GA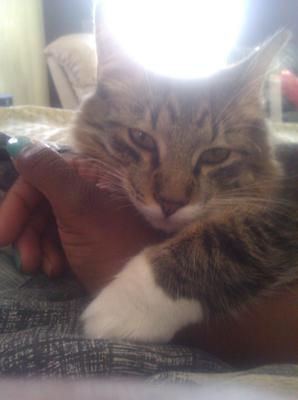 I adopted from a shelter and as the lover of calico cats I was attracted to his sister but he would stick his paw out and hit me for attention. He chose me so I got them both. He is so different from any cat I have ever had with dog like character it prompted me research his characteristics. The funniest thing is I located a picture during my search that looked EXACTLY like my kitty.
He has short ear tips and large paws with fur markers between each digit. He uses his paws more like hands to pull up on bars and pick up items from the floor. He howls when in a different part of house and cant locate me....no matter who else is at home. He plays fetch and ritualisticly nose kisses me every morning waits for me to extend my palm for his face to rest.
His sister shares the same smarts with less adventure. She depends on him to explore before considers trusting. When visitors are present Sebastian is a ready attendant and his sister Kali retreats upstairs. It has actually taken her about 6 months to warm up to me. She prefers the kids and my husband. My husband noted how she would actually stare at Sebastian lying in my arms from the foot of the bed as if to say "that is not your mama". It was a morning funny for about 2 months.
So why The Conqueror? Sebastian has been observed focused in strategic planning sessions that have resulted in him
1. walking along the 2nd floor staircase railing as his preferred method of transportation,
2. Jumping on multiple level furnishings to reach the narrow top of the front door when its open,
3. Hanging from the curtain railing like trapeze artist using those paws like hands as leverage.
My husband worries about him so and fusses at him like a child. He so graciously responds and then does it all again.
Lily
By: Lou Ann in Seekonk, MA, USA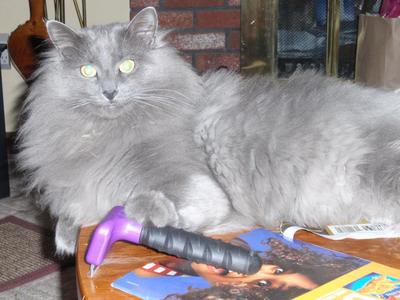 You will NOT brush me AGAIN!
Well, this is my Lily. She is three years old and I got her from a no kill shelter in Norton, MA. Lily now weighs 13.15 lbs and my vet thinks she is definately part Maine Coon.
Her skin is very thick which he says is common for Maine Coons. She is very long and doesn't fit in my lap comfortably.
What do you think, is she or isn't she?
Vincent Angel our rescue cat
By: Tracy Abbott in Orlando, Florida, USA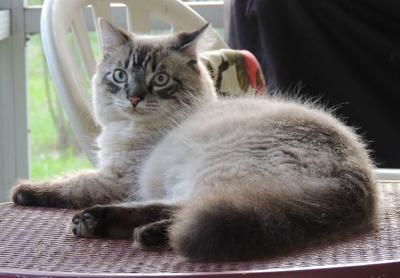 Vincent is a rescue kitten. He weighed in at 2 pounds the day he picked me. He is now almost 9 pounds at 7 months.
He has very large feet, long whiskers, and his hair looks like he has had a shag haircut. His feet, ears and tail are all dark brown. His meow is unique in that it is more of a squeak.
Sounds really funny coming from such a big guy. He is very loving and likes to be on your shoulder, snuggling in your neck. His background is all unknown since he was a captured feral.
Morgan Toombs
By: Barbara Miles in Chicago, IL, USA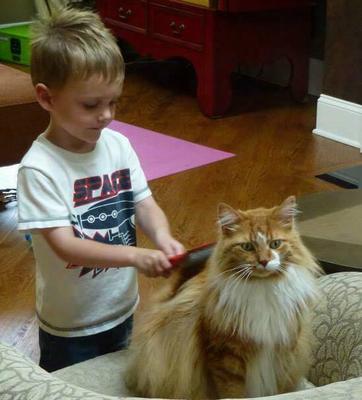 We got our sweet boy from the local shelter. He will be 3y/o around Aug 1,'13.
We never gave thought to him being a Maine Coon until a co-worker who owns a Maine Coon pointed out the big M on his forehead, fluffy mane & tufted ears.
He totally has the coat & meow described on your site. He loves our other cat and always wants to sit on my lap.
However, he runs & hides when we hears anyone come in the door. He won't socialize when guests are over. Perhaps he had a bad experience in his past life.
Jerry the Giant
By: Julianne in New Jersey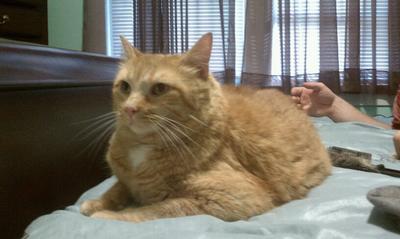 Jerry is the kindest most loving cat I have ever met.
My boyfriend and I adopted him when he was 3 and he is the perfect addition to our family.
He is more like a dog then a cat, he greets us at the door, cuddles all the time and loves attention and affection. He is extremely fuzzy even the vet said he has two coats of hair.
He is 15 lbs and even on a diet he isnt loosing weight, but the vet said he is "big boned" and is okay, but wouldn't hurt to loose a lb or 2.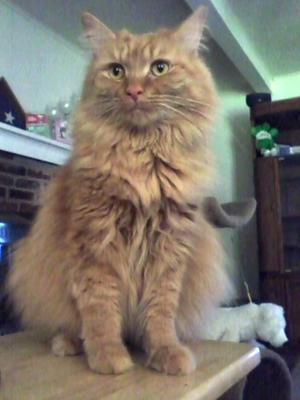 Sunny
By: Lauren in New Jersey
Sunny is a large, furry, orange, five year old cat, weighing in at 14 pounds.
Thunder
By: April in Raleigh, NC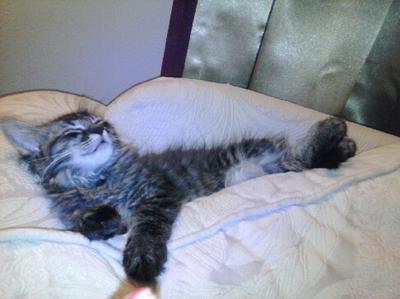 I got my cat from the local pound, I saw him and fell in love with him.
While I was holding him man at the shelter said "you have a Maine Coon there," he told me to look at his big paws and this is a two month old kitten with lynx like ears and long fur, and fur coming out his ears, and looking at me like a human would. And now my husband and I are in love with Thunder.
Thunder is the smartest cat i ever had. I think he is mixed Maine Coon crazy wild cat.
Louie
By: Trudy in Santa Rosa, CA

Can help with aches and pains, nausea and fear... or so some vets are saying now. Wonder how soon this picture will be sort of standard for "cool cats"?
Here's Louie considering it for appetite improvement and just to feel happier.