January 2016 Featured Coonies
Our January 2016 Album is here! A new year brings so many new beauties to see! 

Leo from Down Under
By: Kev
Hi All, I just love my mate Leo, he's an awesome hunter, loving and he loves being brushed.
After I have been fishing I'm his best mate!! He's 7 yrs old.
Here's a a pic of my boy
Cheers Kev
---
Dr. Love Muffin
By: Jessica in Russell, MA
Meet Zachary, aka Dr. Love Muffin.
He's 3 years old and weighs in at 28 lbs. He loves his Bulldog, his people, his resident Maine Coon roommates and watching the chickens.
He is hands down, the sweetest guy ever!
---
Our Babies Soon to be at Their Forever Home
By: Karen & Andy Clark in Denver
We are actually going to visit our Babies this weekend!! We live in Denver, they are in Northern CA, we have only seen pictures so far, but will meet them in person on Saturday! They are unnamed at this point until we meet them & learn their personalities.
---
6 month old Maine Coon weighs 13lbs
By: Raven in Lake Charles, LA
Teddy is a 6 months old red silver Maine Coon that now weighs 13lbs! He is a big boy that lives in Lake Charles, LA.
He has an American and Polish bloodline. He loves to play with any kind of toy that he can carry or hit around, he loves to look out the window and LOVES car rides.
He also enjoys his occasionally buggy rides around Petco. His is curious and full of energy. He loves to chase his daddy around the house and loves to sleep on mommy and daddy's heads at night. :)
---
Alisika Penny
don't worry be happy
By: Steve Dyer in Mansfield Nottinghamshire United Kingdom
Please say hello to Alisika Penny from Mansfield Nottinghamshire in the UK, the latest addition to our family.
A very lively and loving 13 week old female Maine Coon. A little sister for our 5 year old male Poppymeadow Noah.
I honestly don't know how we have managed to go a full 5 years before adding another one of these beautiful cats.
---
Katori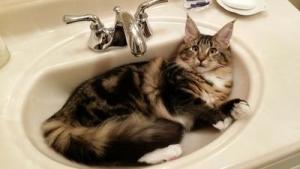 By: Karl and Lynn Mikolka in Gloucester, MA
One of our two sibling sisters, brown classic tabbies with white, this awesome beauty is 6 months old.
Her name is Katori, which is a Native American name meaning Katherine.
---
Red Silver Maine Coon Conan!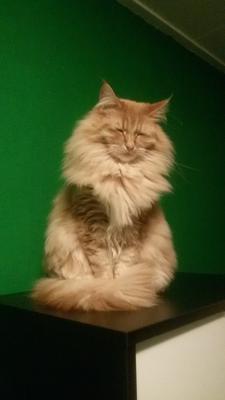 By: Geurt in Friesland,The Netherlands
This here is my everyday best friend forever =)
He likes to watch me do whatever I do and cuddle all day long =D
---
Rufus Fontenot the Cajun Maine Coon
By: Lisa in San Antonio, Texas, US
Oh Dad, You brought me flowers!???
Rufus is a 20 year old Maine Coon who is very laid back and loves everyone, including children, dogs and other cats.
He loves to help raise kittens. He will bathe them and comfort them and teach them how to be big kitties.
---
Chase and Ellie
By: Sue Bizich in Latrobe, PA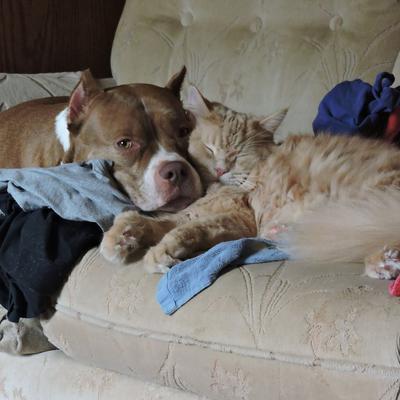 Chase- buff Ellie- Blue
I have 7 other cats. I got my buff classic tabby Maine Coon cat Chase almost 4 years ago.
They are so different than other cats there almost dog like and so smart. So I decided to get a girl kitten from the same breeder. So I got Ellie, a Blue and White Classic Tabby 12 weeks old. So now I have 8 cats, 3 pit bulls, and 2 birds in the house. They all get along great.
---
Rudy our Maine Coon
By: Jim in Perth Canada
This is our boy Rudy, he's a Maine Coon mix with a wonderful personality. He came to us from a shelter and has been an awesome member of our home for seven years.
---
My Beautiful Trixie
By: Margaret Grisdale in Calgary, AB, Canada
Trixie
She has a beautiul silky, shiny coat of long hair. She's a grey tabby. She greets everyone who comes to the door.
She sits fascinated by the sink watching the water go down. She always watches the printer as the paper comes out. She jumps up on on the furniture and always tries to sit on top of the TV.
She will cuddle up with me but only for about ten minutes at most. She is very lovble and I am so thankful she came into my life. She will be 2 years old on March 18, 2016. Her brother has gone potty on the toilet, no teaching required, I have a picture of him. He is short haired tabby.
Pishool
By: Sara in Laguna Niguel, California
Kitty
Pishool is a 4 year old mix Maine Coon. He likes to sleep and own everything! He loves dogs and other cats and he makes sure his guests enjoy their stay!
He also likes baths! Pishool was rescued and he is very proud of himself :)
---
BigBoy in "Ninja Mode"
By: Larry in St. Joseph, MO
Thinks he's a Ninja
This big ol furball of love belongs to the entire neighborhood. I am most blessed, he has chosen ME as his "Bestest Buddy" and spends the majority of his time keeping me company.
Took this picture as he was sitting in "his chair", watching a squirrel on the neighbors tree. He is a generous fellow, just this past summer he has showered me with 'gifts', he's brought me two sparrows, a mouse, and yes, even a squirrel.
Each time, I compliment him on his hunting skills, and he just puffs out his chest as if saying "Yup, I'm good at it, alright..."
No One Owns him, but HE owns US.
Bigboy is a 'neighborhood cat', story goes, his owner died, and a son took him to another home. However, Bigboy was used to his original home, and somehow, made his way back.
He refuses to live indoors, but will come in 'for a short visit', only wanting to return to the outdoors soon. He has 'adopted' my wife and I, has laid claim to our yard, porch, and back deck.
He greets us every morning, and now routine has him spending 'lap time' with me, several times though the day. He somehow KNOWS within fifteen minutes, the time of day my wife arrives home from work, and is here waiting for her.
He is clearly 'smitten' by my wife, and acts like a school boy when she shows up. Several friends have seen his pictures, and all swear he is indeed a Maine Coon. One of the friendliest cats I've ever seen in my long lifetime.
---
Gracie
By: John Brown in Lafayette, California, USA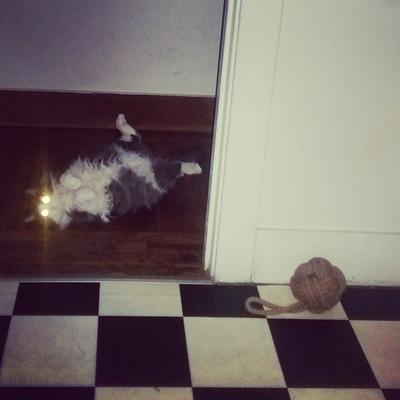 So me and Gracie...we have been through it all. Hard times and Good times. I love her so much, she's just always been there.
I was given Gracie as a gift from my now ex-wife in 1999 shortly after she was weened near New Years day, so I count that as her birthday, New Years.
She turns 17 on new years day, 2016… just 10 days away! Still going strong, and I hope I have many years left to love her, as she has loved on me, and has been all I had at some times in my life.
Such a gift, this gal of mine. I like to joke that she's been the longest lasting relationship I've ever had with a woman, but it's true lol. She's outlasted them all! lol Maybe she's chased them all away as she is very jealous of my love, and only seems to love me, while she just tolerates other people lol.
She's a big beautiful curvy beast at 22lbs, light silvery gray fur, with a while streak from her face, down her belly, and white socks all around, and hair for days lol. Well, here she is in all her glory- enjoy!
John, Bay Area, California
---
Love at first sight: Gretchen
By: Martha Bahr in Blairsville, GA
Wonder kitten, Gretchen!
We live a little out in the country, but know of neighbors and animals in the area,so as I was driving to the store 11/5/15 in drizzly rain, I saw a little tabby kitten huddled some feet back from the roadside and knew immediately she had been "dumped".
As I got out calling poor baby, baby, she ran and jumped in my arms crying! I saw a look of recognition when my eyes met hers and she climbed up under my chin crying. It was love at first sight!
She was thin and hungry. I immediately took her home and told her she was safe, going to be well fed and want for nothing anymore. My husband (originally from Germany) came home that night and said "she looks like a little Gretchen".
We have 2 other cats, cat trees, etc, for Emma (8)and Minka (1)- Minka adores Gretchen and they are best friends. Emma is still the "half Bengal queen bee" and can't be bothered. I soon discovered that Gretchen had a "different look." She had little ear tufts, a big oversize bushy tail, furry little feet, and she had a "different meow" and would even "chirp/chatter" at birds she saw from the window.
After researching Maine Coon cats online, it was obvious to me she had Maine Coon in her! She absolutely has no fear, LOVES the water in sink, faucets. (I used to show Australian Shepherd dogs) and had to see if my new little Maine Coon could be taught tricks as I had read when researching. Yes, 5 m/o Gretchen will come when her name is called, sits on command and sits up and begs for cheese (and will run from anywhere in the house when she hears the cheese opened).
She also is the most loving and friendly kitten(Vet said close to 4 mos when we found her). Gretchen also "grooms" on Minka (1 y/o black panther girl, who I found the year before with a broken left hind leg in 2 places), as if she knows of Minka's injury.
If I had not looked to my right that day driving down the road, to know little Gretchen would have been left out in the bad weather and alone is unthinkable.
---
Chewie
By: Stephanie in Orlando, FL
Chewie
What can I say about Chewie? Without knowing it, he saved us. My boyfriend and I have been together for a couple of months now, and as good as a couple we are, we both have our crosses to bear.
I have moderate to severe depression, and he has severe anxiety. My roommate told us about Emotional Support Animals, and I just knew that's what we needed.
After doing some thinking, I realized we needed a Maine Coon. So many of them have the perfect personality that we needed. I initially learned/fell in love with Coonies from my Grandparents. They had a beautiful Red, named Nikki (the adult pictured).
fter meeting Nikki and spending time with him, I loved the breed. Joseph and I were just looking at cats, not really thinking about getting one yet, when we were in the shelter, and I saw this adorable little ball of red fur.
We asked to hold him, and as soon as we held him, we knew he was the one for us. The next day, we filled out all the paper work, and took him home, naming him Chewie. Chewie is a 5 month old Red, and we could not love him more.
In the shelter they said he was a tabby, but I knew that wasn't the case, and after doing some research, I was excited to find out that he is a Maine Coon. He is perfect for us, so loving, and just a little ball of fun.
We hit a few speed bumps, but after getting the right litter and wet food, all is well. It does my heart good to see Joseph and Chewie together, and I just know we were meant to find him.
Nikki passed away two years ago, and Chewie reminds me of him sometimes, so who knows? But we are so lucky and grateful to have found Chewie. Or maybe, he found us, when we most needed it.
---
Spirit and Grimm
By: Cat Hill in Las Vegas Nevada
Spirit
A month ago while at Wal-Mart buying my rag doll Grimm his munchies, a woman approached my daughter and I about the possibility of adopting a stray she found.
After seeing his picture we took him. Grimm, our three year old rag doll was thrilled. Rag Dolls are part Main Coon and I could immediately see where Grimm got his silly traits. Like Grimm, Spirit greets us at the door.
They stand like Griffins one at each side. They both TOKYO DRIFT on the tile floor. They both SCALE you to be on your head or shoulders. They both have a strange obsession with the bathroom and literally RUSH to be in there with you.
---
Puddy Mow
By: Terry Craven in Guthrie
Puddy is almost 4 yrs old. He loves the cool fall weather. He loves to follow my boyfriend around when he's working on equipment or doing yard work. He loves the leather jacket I wear during fall and winter.
He attacks my forearm and I scoop him up. He knows he's hard to see at night and will sneak attack us by running up and and tapping both sides of our legs. Then he runs up the nearest tree about eye level. He is a lover! He's an excellent spooner while cuddling.
---
A Contented Coonie
By: Susan Katz in St Louis, MO
Found in La Plata, MD, Rudy Stilton Katz was only eight pounds when he adopted us.
He is a typically silly, fun-loving Coonie, now weighing over 22 pounds and displaying all the physical characteristics that make his breed so beloved.
His three inch long tummy fur feels like the finest cashmere and his eyes perfectly match his golden coat. Not a lap cat, Rudy purrfurs to be a Be With boy and follows me where ever I go. His favorite passtimes are napping, playing with his adopted cat sisters, napping, updating his Facebook page and going for car rides.
---
(Note from editor: Terry and Susan, if you shared picture(s), they didn't come through - This happens when they are large files, meaning high quality photos. There are tips here for editing photos for the web, if you'd like to try again. Without an email address, I was unable to contact you.)
Maybe-Maine Coon Cats For January:
Tiger
By: Sharon in Maine
Tiger has a very distinctive personality. He waits for me to get home from work.
He is right there to get his meal in the morning and again at night. He has a very small meow. He doesn't really like anyone but me.
He is very lovable and huge and fluffy! Someone gave him to us when he was a tiny baby and said he was 1/2 Maine Coon and 1/2 Russian Blue? He is almost 3 years old and weighs 11.2 lbs.
Sophie
By: Jim Foster in Lexington, KY
Hi there. Sophie was a stray, or more accurately an "escapee". She ran into her previous owner's house when he opened the door. She was belled, and he and the vet estimated her age at about 8 months.
He did search diligently for her owner, putting up flyers and posting to the neighborhood Facebook page. The guy had never owned cats before, and it turned out he was allergic, so posted a pix at a vet near to where he works. Turns out this was also the vet that I worked with when my 5 year old was diagnosed with DCM (dilated cardiomyapathy) and didn't pull through. After a couple months, the young ladies at the vet recommended Sophie for me.
She has been a joy in my life. She is estimated a little over a year old, was weighed when I got her at 11 lbs, and I'm guessing about 12-13 lbs now. She is *very* vocal, especially when it comes to food and "yummies" (wet food). She loves her cat dancer that has a milk jug ring tied to it, but her favorite toy is wadded up grocery store receipts.
She also enjoys rolling around a baseball across the carpet. She demands about 5-10 minutes of attention when I come home from work, and then later "yells" at me for yummies. Unfortunately, I've gotten into the habit of giving them to her, she can (and does) easily eat a whole 3 oz can.
She loves being petted and brushed, and will usually roll over and dare me to scratch her belly. Every now and then, I can get away with it, but most times it is a signal that she wants to "play" which involves somewhat agressive "love bites". I'm working on discouraging this behaviour.
I've read through the traits, and she seems to meet them all, except for the tufted ears. What do you all think? She's big for such a young age, and seems to have the personality.
---
Hinkers!
By: Kirstie in Ontario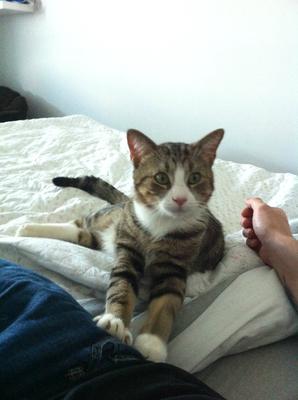 His first day home!
A year ago my boyfriend and I adopted Hinkers (then Frank) from a local humane society. After losing our previous kitty to a brain tumor we were feeling a little lonely.
One of the first things we noticed about Hinkers was his size! He's a big cat! The second was his affection. The moment I picked him up he wrapped his arms around my neck and gave me hug proceeded by a lot of face licks!
We've had him for over a year now and it seems like everyday he gets bigger and more loving. He's a loud talker and we often joke that he screams at us when he wants attention. He likes to be with us every moment of the day and can usually be found curled up on a lap.
He doesn't have the main coon tail but everything else seems to pretty spot on - especially his size! The first thing most people say when they meet him is "wow that's a big cat!" followed by "what kind of breed is he?!". Even our vet was surprised at how big he is. He currently weighs a little over 14 pounds but was previously 15 - we restricted his diet a little because he was getting too chunky. He isn't fat by anyways but has a very broad tough body.
In the year that we've had him (he's now roughly 2.5) he has grown so much! I didn't think cats continued to grow for so long.
---
Thinking He's A Maine Coon Mix
By: Tina in Texas, USA
Hi! I took in my cat a couple of years ago when his owner died of cancer. She adopted him when he was a kitten, I believe from a shelter. He's about five years old now. His name is Button, but he's more likely to respond to a nickname given by my friend's parents. We will go with Button.
Button is 31" nose to tip of tail & 20lb. He can stand to lose a couple of pounds. We're working on making changes to his diet and trying to get him to move around more.
Personality wise, he's a big, loving, rotten baby. He loves to cuddle, and will often just flop over our laps. My husband says he's more like a dog than a cat. But he's definitely more lazy than a dog, or most cats for that matter. He even lays down to eat or drink most of the time. He will be walking through the house, and just plop down and lay stretched out on his side in the middle of the floor.
Even when he's ticked about another cat in the house, he will either lay to the side sulking, or his version of intimidation is sitting there staring at the other cat. I haven't seen him get aggressive, but I guess his size freaks out other cats a little bit.
He doesn't do a lot of talking. I noticed talking was a Maine Coon trait. And I haven't seen him playing in water. He does live to drink his water though. I feel like he could be a mix, but would like to get some opinions.
Thanks!
---
Klausen
By: Sara in Victoria Tx USA
Klausen was adopted as a kitten. My husband always commented on his unusually large feet, but I just brushed it off.
As he got older he just kept growing and growing. He is now 3 years old and a whopping 28lbs.
I asked the vet if it was possible he could be a MC mix she said yes pointing out the tufts on his feet and ears. So what do you guys think?
---
Oscar Wilde
By: Ashley in the USA
I recently rescued this cat from a couple who could no longer take care of him. The rescued him from their neighbor who was neglecting him.
I was told by the couple he was Maine Coon and about a year old. I have no way of knowing for sure so I need your help. He has all of the characteristics of a Coon cat. I'll let you be the judge!
(Note from editor: Ashley, if you shared picture(s), they didn't come through - This happens when they are large files, meaning high quality photos. There are tips here for editing photos for the web, if you'd like to try again. Without an email address, I was unable to contact you.)
---
Rescued From Under A Deck
By: Brittany in Canada
You are going to need a little bit of backstory here. My parents live near many nature reserves/parks and three years ago my parents found an abandoned kitten, who is now full grown and is almost certainly at least 50% Maine Coon (says our vet).
Now in the summer, we heard about a kitten trapped under a deck and me and my husband rescued him. We now think he is a Maine Coon mix as he behaves very similarly to my parents cat. He doesn't meow, only chirps and makings trilling noises, he's obsessed (but also afraid) of water, greets us at the door, is extremly talkative, loves hanging around us, and more playful than any other kitten I have ever had the pleasure of knowing.
As for his appearance, he is a grey tabby, he has a ruff that is growing each month, he is 6 months (and neuteured) and is already close to the size of our full grown cat, has a long, bushy tail with hair inbetween his paws and tufts in his ears.
---
Bonnie
By: Nicola Calder in the U.K.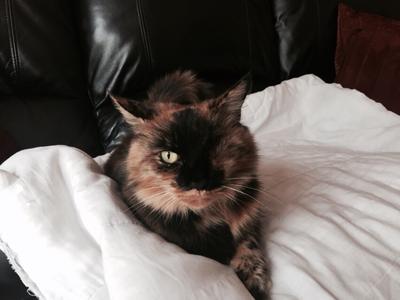 First time home July 15
She is a rescue cat (I got her from the RSPCA in UK where I am from) and she has one eye and they thought she was pregnant as she weighs 5kilos but is not big in many other ways.
I had never heard of Maine Coon cats until someone said they thought she was a mix. I thought she was a long haired tortoiseshell.
Whoever had her before had her eye done properly but she does have a huge appetite and she is currently in a diet.
The reason I am wondering if she is a mix is because I'm not sure if she really is overweight or that's what she's supposed to look like? She plays with her toys a lot but is still well let's be frank, got a Buddha belly. She had a bit of an unfortunate nature and will bite quite viciously from purring her head off the second before. Possibly due to her lack of vision on one side plus I think she was a house cat as took months to get out cat flap work out how to get back and poops in my back garden. Has a complete fear of the front door!
Anyway, any help would be great as I want yo do the best for her.
Thank you
Nicola Calder
Rayleigh
Essex
U.K.
---
Marilyn
By: Roberta in St. Petersburg, FL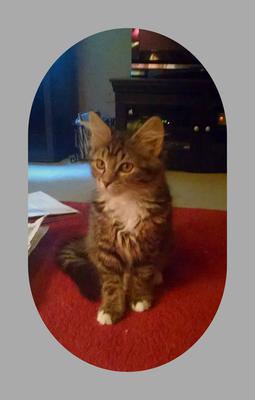 Marilyn was adopted as a kitten. She was from of litter of only three.
She is the only one that looks like a Maine Coon. She has the tufted ears, the tufts around her toes, the white ruff, the furry hind quarters and the long elegant plume of a trail.
She also shares the Moon Coon characteristics of being very social, not much of a lap cat but always has to be in the room and close by, loves to play and attacks my other much larger cat for a game of chase or tickle my belly.
When I come home she always runs to great me and sometimes appears to have been sleeping on the rug by the door waiting for me. No matter what her lineage she is a wonderful addition to my home and family!
Is Stanley a Maine Coon?
By: Megan Peters in Dearborn, MI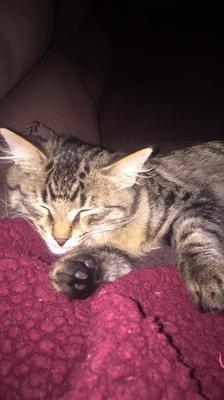 My friend found a box of kittens. She re-homed them, and now I have my first kitten named Stanley.
When I first brought him to the vet, everyone there was saying he looked like a Maine coon. I looked more into it and I think it's possible that he could be a Maine coon mix. Or he is a DMH. He has ear tufts along with toe tufts.
He follows people around the house, and is so friendly, smart and cuddly. At our last vet visit he was 19 weeks old and 7.9lbs.
---
Catty LaBelle - Maine Coon or Wegie?
By: Geneva in Pikeville, Kentucky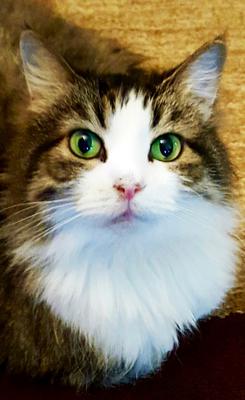 Our beautiful Catty LaBelle ... a 10 year old rescue from two states and three hours away.
---
Cleo
I adopted cleo off a lady who had her and we dog didn't like her so she re homed her to me. Not knowing anything about where she came from so many people have said she looks like a Maine coon cat. So I googled and her traits are so similar.
She is nothing like a normal cat I know, she is overly friendly very playful and full of life. Not to mention she has doubled in size in the first two weeks of having her! She is also very floppy and cuddly tries to get on our faces (as close to us as possible) what do you guys think?
---
My Ace
By: Becky Lail in Albany GA
I was given Ace when he was 2 months old. He's mother was a stray that had kittens at my aunts house. He's my baby.
He's unlike any cat I have ever had. He's very sweet and loves attention!!! He has some characteristics of a Maine-coon, he looks like one And he's a very long haired BIG cat.
---
Lucky the Maine Coon?
By: Jan Reimer in New Freedom, PA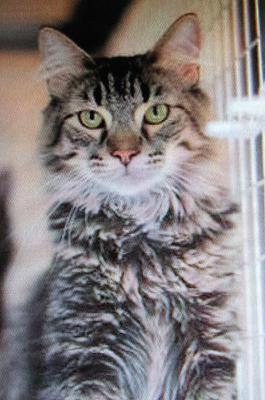 Lucky
We found Lucky, a ? Maine Coon cat in the shelter down the road from us. He was the "front office cat" as he was very friendly and got along with other cats, dogs, and all the humans that came in! We were told that he was found, on a farm, at age 1 year with siblings. He was now a year and four months old, weight in at 12-13 pounds.
The only thing is that he had an "issue". So I asked, what is his "issue". They told me that he poops outside of the litter box.
Well, I was already in love with him so I said "that's not an issue" I can handle that! After I got him home, we found this special cat litter called Cat Attract which is 100% guaranteed to have your cat going in the box every time and guess what, it worked!
Lucky has been with us for a few months now and doesn't have an "issue" anymore. He is a fun-loving, gregarious, all-around good guy; very sociable-with many Maine Coon characteristics. I will never know for SURE if he is Maine Coon but I couldn't love him more or be happier with him :)
---
Loki - The Devious
By: Mary Walsh in St. John's, Newfoundland, Canada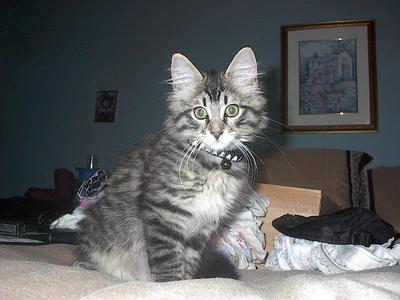 Loki as a kitten
I previously sent a picture of Loki when he was 14 months old. Browsing through my pictures I found 2 more that show the progress he's made since a kitten & now at 18 months.
He's such a sweetie & does the "quiver" thing with his tail every time I go into the bathroom. I guess he knows I'll turn the tap on in the sink for a few drops of water. He loves to get in the bath tub after someone has had a shower to lick the faucet dry & any drops still around the drain.
He sleeps on my bed during the day & I don't know where he sleeps at night. Possibly with my step-daughter. We also have a Jack Russell dog who has a habit of crossing his front paws like a little gentleman.
Loki has copied him & the two of them will lay on the floor & do it together. They look so cute but I have yet to get a picture. I am sending 4 pictures so you can see how much he has grown since I sent the previous one.
Loki came home with my step-daughter from a farm in Central Newfoundland. When I first saw him I commented he surely looked like a Maine Coon Cat. Step-daughter "No Way!"
I showed her pictures from your website & other sources-even a book from the library-she still doesn't believe me. I have previously sent a picture of Loki as a 10 month old.
Recently, while checking picture I found one of him as a kitten shortly after he arrived home. I am sending both pictures for comparison. He's much bigger now but I can't get him to sit long enough to take a photo.
He's a real sweetie and loves to play with our Jack Russell. Every day he runs up and the basement stairs that are right behind my desk. He just flies & usually startles me.
---
Watson
By: Berenice in Houston, Texas, United States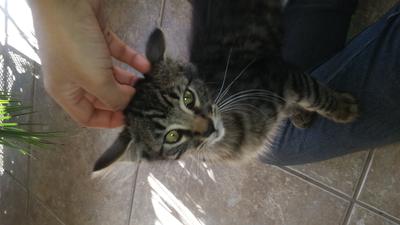 He is definitely a lap cat! Loves chatting and following you around.
This kitten loves to cuddle and kneads constantly. Found him in the streets and took him in. Has long ears and whiskers, and seems to be growing long fur. His black nose and paws are lovely as well.
---
Luna
By: Hans in Estonia
From the shelter in Tallinn and larger than a normal cat according to most who've met him.
Does sometimes hide from strangers, but is extremly affectionate and almost always sleeps with someone in the house.
Otherwise, appearance speaks for itself.
---
Is My Cat Maine Coon
Fender is my big Fluffy cat. He is sweet and docile and very big. He has almost all of the traits of a Maine Coon and I was wondering if he is. He is a big and fluffy, sweetest cat ever. We want to know if he has any Maine Coon in him.
---
Oats
By: Kimee K. in Schuylkill Haven, PA
Tiretrack belly
I got Oats from a man who had gotten him from a rescue in Philadelphia. All the original shelter could tell him was that he was estimated at a year old.
He was very overweight when I met him a year later, but never seemed to lack any energy or will to play. He lost the extra pounds pretty quick just running around and playing with me, as well as with the help of a feeder-ball toy. I think the prior owner simply didn't have enough time to satisfy his needs. His belly sags a little from the lost weight and excess skin.
He is extremely doglike in his personality, always at the door waiting when I come home, always comes when I call or pat my legs. Loves fetching and chasing toys and will play all day if you want. He LOVES belly rubs, and I'm not sorry to say that I occasionally slide/spin him around on the hardwood floor at home and he loves every minute of it.
He's very talkative, holding conversations with you if you meow back. He's also a firm practicioner of the insta-purr. If you touch him, the purr starts. That simple.
Oats is a shorthair cat, but his hair is probably the longest it could be without being called long, and it has a few layers, with a silky darker topcoat and a fluffy, light brown undercoat with greyish, down-like short hair under that. His pattern includes beautiful brown tabby swirls and tiretrack like spots on his belly.
His paws are pretty big, and he loves patting your face or legs with them when he wants attention (so all the time). He has a wild-cat looking face with big, round green eyes. Even with his short hair, he has pretty prominant black tufts of hair ending his large ears. He is very tall, 15" at the shoulder, and 19.5 pounds currently. He does not really have anything resembling a ruff (shorthair), and he rarely drags his tail. Rather, he is extremely expressive with it, it's never still, always flicking and moving as he walks or sits, even as he sleeps!
He loves everyone, not just me, but he'll drop anyone like a hot potato when I come home. He loves guests and my boyfriend, but the one time a roofer working on the apartment next door knocked on my window by mistake and woke me up and scared me (it was my SECOND STORY BEDROOM window, and I was sleeping. It freaked me out!) he actually growled and hissed at the window.
I love him to death and couldn't live without him.
---
Could My Two Cats Be Part Maine Coon?
By: Ariel in Pennsylvania
Obi 12 weeks
I adopted these two, Obi-Wan (long haired) and Padme (short haired).
I've been told both are very large for their age and Obi has a lot of the physical and personality traits of a coon. Padme's coat reminds me of some Maine Coon colors I've seen and she acts very much like one.
They are both from the same litter and very attached. Obi is a very vocal kitten, making trill noises any time he's curious or wants attention. He's also very demanding. If you're not up in the morning to feed him he's purring, meowing, and prodding your face with his paw or if his toy gets stuck he pesters you until he has it back.
Padme is a sweetheart so looooves affection. She just doesn't seem to stop purring or rubbing up against you to get some pets. She's very vocal, but not as much as her brother. Both are very intelligent cats, perhaps too intelligent for their own good.
Maybe you can shed some light with your opinion :). The pictures are when we first got them (roughly 12 weeks old) and now (roughly 6-7 months old).
---
For Sure Not Full
By: April in St Louis, MO
Lion at 8 month 11 pounds
Know the mother so sure not full but this little guy we rescued is already 11 pounds at 8 months old.
From a colony in the city of St Louis that we did TNR. From small size the caretaker gave him the name Lion because of his full hair around his face. He gets along with all the cats and dogs. Loves to purr and do figure 8's around your feet.
---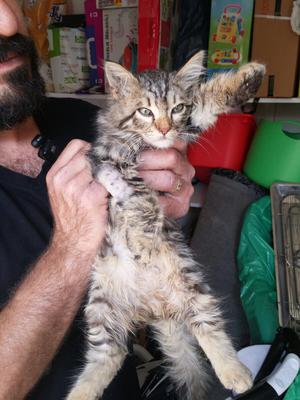 Street Cat
By: Roi in Israel
Just found it injured took it to the vet
Now looking for home
The vet thought it might be a mix
Love to get a second opinion
Thanksf
---
Are they Maine Coon or Maine Mix
By: Doris Broadwater in Reading, PA
Bella 3 years old
I have 3 long haired kitties.
My first one is Bella she is a long hair Calico/Tortie, I adopted her from a cat rescue in May of 2013. She is a tiny petite purring machine she only weighs 8.25 lbs. She is very social she like to greet all my visitors and smell their purses and shoes. She also likes to do a like dance that I call the Bella's cha cha she has all four feet going and the tail going also. Bella is now 4 years old I didn't have a good one of her this year maybe at Christmas.
The second one is Jingle she is completely gray from her nose to the pads on her feet. I adopted her also from the same cat rescue in November 2013 she was about 4 months old she was my first kitten. Jingle will sit up and meow or tap you with her paw to get my attention. Once you start to pet her she will keep on rubbing against you till she has had enough petting then she will just lay next to me. She is shy at first but after a while she will come out and visit with company. Jingles is now 2 years old and weighs 17 lbs but she is now on a diet to lose a little.
The third is Taz he is black and white he doesn't have much of a meow it sounds almost like a squeak. I also adopted him from the same cat rescue, he also had 2 brother but I couldn't take all three. But I'm happy to say they were both adopted together and are happy in their new home. But Taz is happy he does have 3 sisters and a brother. His brother Tiger is a 14 years old tabby and his other sister Katie is a 8 year old torti and they all get along great. Taz is 3 years old and he weighs 11.25 lbs.
---
Elliot
By: Lorraine Fluharty in LaHonda CA
Elliot is a year and a half. Lives water "talks" is always part of the family and honestly the best cat I have ever had!
He was a rescue kitty and vet thinks he is Maine Coon! Thinking he is at least part? What do you think?
---
Batman
By: Kaitlyn in Ocala Florida
I got batman at a animal shelter. He is the most lovable cat I've had. He also loves my daughter who is 4.
He also likes water which I thought was odd. He's about 8 months old now and I've noticed he's getting kind of long. I saw a picture of a Maine Coon and thought he may have some coon in him. Any thoughts?
---
Zack, My Son
By: David Russell in Mt Vernon, Tx. USA
This is my son Zack, he is part Coon, I don't know what else he may be!! But I do know when he gets upset or mad he does growl like a dog!!
Boy does he love, love his bathtub water on, when it's not he gets upset and growls for it to be on and when you don't clean his litter box after every use, he tries to turn it over!!
Zack is 30yrs old now.. I got Zack from my mom for my birthday 20 years ago. My mom had him for 6yr before she gave him to me and his original owner had him for 4 yrs.
When I first saw Zack is when my mom had him. He didn't come by the name he had at all!! I was the one who found his true name and he loves his name!! He does come to it at all times!!
He is with me all the time and never leaves my side, even when I visited my mom, he always cried for me to return!! He would hide until I came back!! Mom says he was meant for me, as it seems he was supposed to be my son!! Lol I really do love my son Zack!! Drs all say they know he loves me.
When we go to the Dr, Zack always wants me near when they examine him, as he keeps moving around until I am next to him, then he calms down!! This is how Drs know he really trust me more then anyone in the room!!
God bless my son Zack!!
I really don't know what I'd ever do without him!!
Disclaimer: When you buy through links on our site, we may earn a small commission.
As an Amazon Associate I earn from qualifying purchases.
Our Coonies use and love:
Greenies
4.7 stars; 3.6k ratings
Furminator for Longhaired Cats, Large
4.7 stars; 15k+ ratings
Double Layer Waterproof Cat Litter Trapping Mat
4.5 stars; 56k+ ratings