January 2015 Photo Album
Welcome to our January 2015 Photo Album! It's a New Year, and time to meet new beautiful Maine Coons from around the world!

Little Man Smokey
By: DeeDee in Tuttle, Oklahoma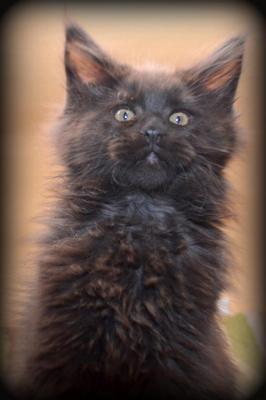 Smokey is a 3 month old Maine Coon, Our first.
Smokey is a very loving cat as he loves to be held and petted and has a very calm manner.
---
Jack - The Most Entertaining Maine Coon
By: Janice in New York City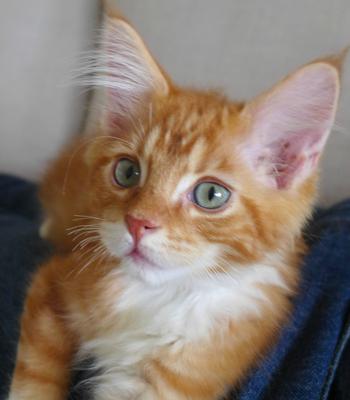 There is no time to watch TV, read or play the piano because it is impossible not to be engaged by Jack. He does something funny every minute of the day. He is the most lovable furry creature.
He constantly brings his toys to anyone in the room and everything is his toy, including the kitchen sink drain and anything inside an open handbag. He has given me money that he has "borrowed" from my bag as well as some earrings that I left out on top of the dresser.
Jack loves music and is always right next to me when I play the piano. Sometimes the keys don't work right and I find him inside the piano on top of the hammers. That is not always appreciated by anyone with the exception of my piano tuner - who now comes regularly.
When the alarm goes off in the morning Jack brings a noisy cat toy into bed just to make sure that we don't ignore the alarm. If that doesn't work he drops the toy near my face until I open my eyes. He then acts like he hasn't seen me for 5 years!
At 7 months old, Jack already weighs over 11 pounds. I will have to start working out to be able to lift him when he gets to be full grown. When we got him in Boston he weighed 2 pounds. He loves living in New York and he fits into the family perfectly.
---
Benton & Winston - Twin Brothers
By: Laura P in Chesterfield, MO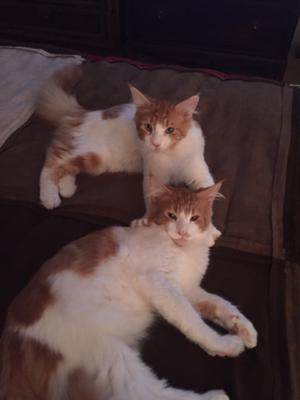 Benton & Winston are 5 month old full bred Maine Coons currently weighing 6 pounds each so I expect them to be pretty big boys when they are finished growing in a couple of years.
Originally we were only going to get one - Benton, but when we found out Winston was available we couldn't pass him up. The two are inseparable... they are always playing or snuggling together so I am happy we didn't separate them.
I have had cats all my life, and could never live without one. When my 17 year old short haired tabby passed away in 2013 my son said he wanted a Maine Coon.
After much research we decided that a Coon is a perfect fit for our family. We definitely made the right choice. Benton and Winston are very social and run up to greet us when we walk in the door. It is funny... they don't meow, but chirp. It is so cute! Winston also loves our dog Jack and follows him everywhere.
I love having them and can't wait to see what they look like when they are full grown and their ruff has come in.
---
Sciotofarm President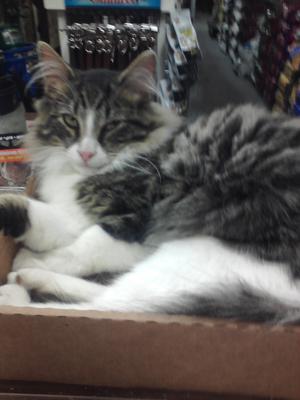 Thought you might be interested in this this is Bubby, he is four years old. He must be Bubba's twin - they look identical. This is inside the farm supply in Chillicothe Ohio.
---
Oh No! Run For Cover, It's Godzera!
By: Debbie H in Clinton Township, MI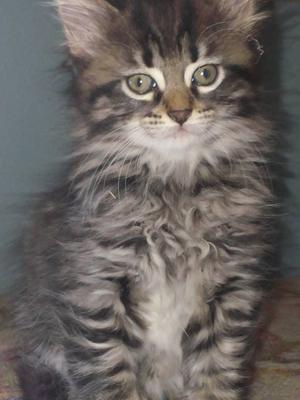 Almost 2 months of age.
She was from a litter of kittens my mom rescued, it was love at first sight. I really was not looking to get another cat but as soon as I saw her I had to have her. She is an April fools baby and by her personality shows it. She is very loving, loyal, playful and full of mischief. She is into everything.
She loves the water just not baths, every time she hears water running she has to be right there.
She also knows when it is bed time, as soon as the lights go out she is down the hallway and onto the bed but before settling in we have a game we play. I have to put my hand under the cover and she pounces and it is the cutest pounce. She reminds me of an arctic fox the way it pounces for its food, that is what she does going after my or daddies hands.
She is a very beautiful little girl. Okay not so little maybe she is almost 10 months and weighs well over 10 lbs.
She has long tufts of fur between her paws, long I mean long fur on her front and rear legs along with some very long fur on her rear and belly. I have to do what I can on the back side it keeps matting up and I refuse to shave her down. Her tail is not just your typical cat tail I swear it is an entity all on its own.
But what I find the most beautiful is her horns. She developed tufts of fur between her ears and it looks like she has little horns. That would explain a lot about her personality. She is a talker, her meow, chirps and vocal range is so adorable. She does say momma and it melts my heart every time.
Her name Godzera, Zera for short came about from her wanting to be into and destroy everything she came in contact with. Believe me it suits her so well.
We also call her Poof or Poofers but not because of her poofy fur but because I was warming up some coffee on the stove and she decided to walk across it and singed some of her fur. I told my husband about it and he said she almost went Poof. So the name stuck. She will ans to both but more so to Poof.
She has a sister our 4 yrs old Chocolate Seal Point Siamese whose name is Cupcake. They sometimes get along and sometimes don't. But it is working out just fine.
---
Byren 9.8kg 6 Years Old Classic Tabby
By: Nicola Monaghan in Cornwall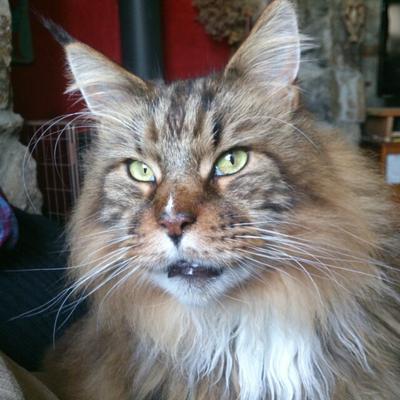 Byren is a classic tabby, my beautiful big boy.
He loves water, whether it be lying next to his water bowl with chin almost in it! Or getting in the shower to lie in the water while I wash my hair.
He's such a big softy and more so as he gets older. I have a Siamese which is his best friend, my siamese is always cold so uses Byren as a duvet!
He's also fantastic with our young children, usually flopping right in the middle of where ever they are playing.
I rarely need to brush him but do it more for him as he loves it, he polls over like a dog so I can brush his belly.
Fantastic cat love him x
---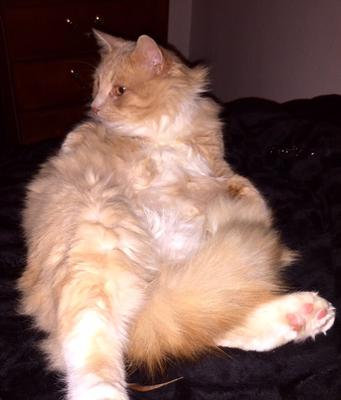 On the bed.
Foxy
By: Stephen Bradshaw in Portsmouth, VA
Showed up last spring as a stray. I've brought her in for the winter.
---
Anouck
By: Dianne in Bruinehaar, Overijssel, The Netherlands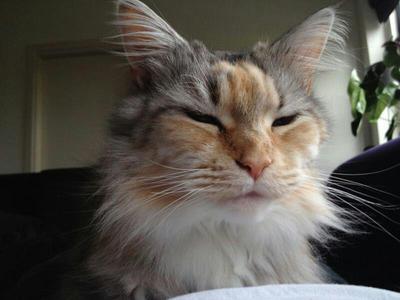 Tha Queen
My Dutch treat!
Meet my one and only love :) I got Anouck from a nice lady who couldn't take care of her anymore.... I Just started a new live after a divorce and Anouck took me through so many bad times...it is always the both us now and she is a great help in my atelier when I am studying.
She goes outdoors, I know not many catlovers would let a cat like a Coone outside, but my home is a farmhouse and no other houses nearby...In the spring and summer of 2014 Anouck got a new name from my two children....Anouck the killercat. She killed more then 200 mice in that period, and rabbits...birds...
First it was awful, she brought them in, and was so proud! Nothing I did helped to stop the micehunt. She loves to be outside, doing the garden together, being lazy in the summer sun.
---
Our Sweet Tiger
By: Autumn in Suwanee, GA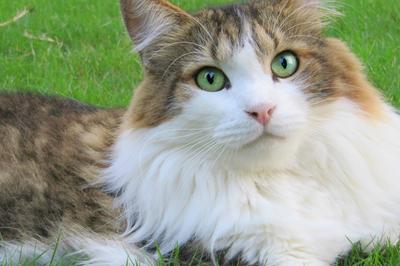 We adopted Tiger and assumed at 8 pounds and 1 1/2 years old, he was fully grown.
Boy, were we wrong! He finished between 4 and 5 at 18 lbs and is so sweet!
He will sit there and lick you until you are raw and tries to greet all the neighborhood dogs, as if he is one. He's about as tall as our beagle and joins us on walks :)
---
Simon
By: Nina Parry in Indianapolis, IN, USA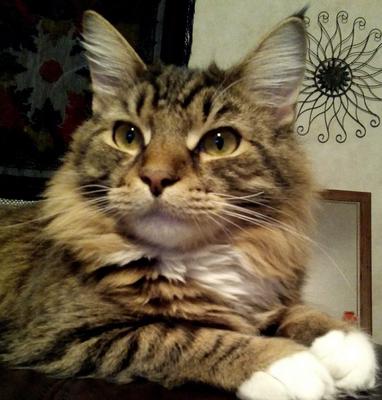 Simon is our special bundle of energy. He is almost a year old and already tops 10 pounds. I adopted Simon from a co-worker. He is so intelligent, curious, laid back and loving. He has a verticle leap like none other! It's crazy. He loves to carry things around in his mouth like a wild animal. He has the coolest paws and uses them like little hands.
His favorite thing to do all day is sit in the window and look outside.
He is great with my 12 year old son who is over the moon in love with Simon, who is his cat. We are so happy he is part of our family. He gets along well with our 8 year old cat Raja too. :D
---
Marcus 4 Months Old
By: Cristina Sincu in Romania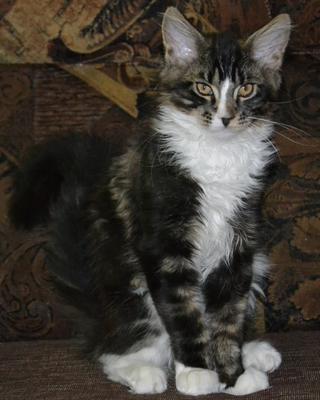 Hello from Romania!
This is Marcus, 4 months old sweet Maine Coon kitten. We have him from December the 6th. He is a very big boy already. Love him!!!
---
Rigby
By: Stephen in Tuxedo Park, New York
Meet Eleanor Rigby relaxing on the porch. Her father is I'am the Walrus and her mother is Ob La Di....
---
The Stress Reliever
By: Jojo in Doha, Qatar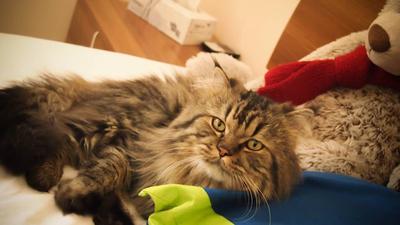 Calu is my 5 year old Maine Coon that I adopted from another family.
His old family loved him so much that even now we keep on exchanging messages on how is he. The reason they gave Calu to us is that one of their other cats died, and all of the family members were so affected about losing one Maine Coon who had been with them for such a long time.
So they decided to give Calu with us. In the beginning he was so afraid with us that he used to hide under the couch where we could reach him or under the bed on the very far corner in the darkest part.
As time went on he got used to us and he became the most adorable, sweet, smart Maine Coon!
Whenever we come home from a tiring day at work he will come to us greeting us in his Maine language like his asking how is our day was and then he will sit beside us or he will put his head in our feet as if asking us to stroke or pat it with our hands.
Once he is finished with his ritual he will sit beside us like a baby or he will sit on our lap (he is a lap cat by the way) there is no day that he will not sit on our lap he likes it so much!
When I am alone he will sleep beside me and will lay his head on my shoulder! Like a small baby that needs cuddles! Maine Coon Cats are the only cat for me and I will not get any breed aside from them.
They are a very good Stress Reliever after a tiring day of work. Someone that you will look forward to going home!
---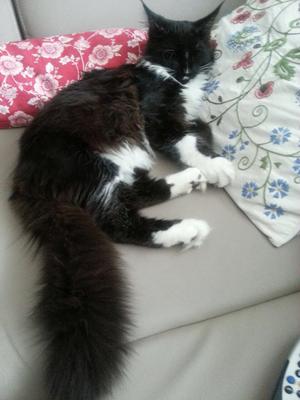 Scooby
Scooby was born in Poland. He has is 7 months, and we have two dogs :) They're in love with each other.
Scooby loves to play and have fun. He is so polite and calm. No problems, just love! Greetings
---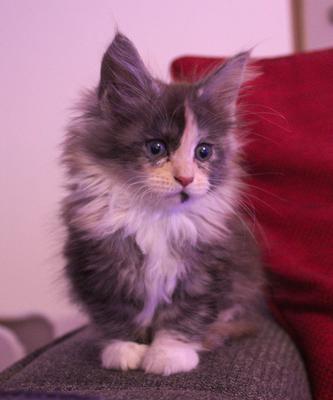 Ariel
Ariel crazy Coon one month from Italy
---
Sweet Jackson!
By: Wendy in Washington DC
Fluffy kitty!
Jackson is a very silly boy! He thoroughly enjoys water, playing hide and seek, talking with me and chatting with the neighborhood birds!
He's quite a soccer player. I have never seen a cat play and kick his toys or balls with his back feet so much! Must have watched too much World Cup soccer with me on the television.
Jackson is about 2 1/2 petite mix Maine Coone. I rescued him from outside and he's a tiny one, only about eight pounds. All fur! The last two summers had to trim him into the sweetest lion cut due to a lot of matts. There was nothing to him after the hair cut.
He's a one person cat though. Jackson loves me as soon as I walk home. I pick him up and he nestles right into my neck like a baby. However, anyone else wants to pick him up, no, you will be told off and the occasional hiss!
I wouldn't trade him for any other cat. He's very independent and love him very much! Simply a beauty!
---
Intsie Stole My Heart
By: Natalie in New York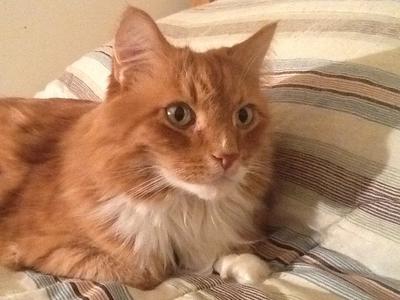 His majesty
He was abandoned at 1 year old by his first owners and then went through 2 other homes before I finally said, give him to me, I'll take him.
I had not at first because I already had 3 others, older. Did not know how Intsie would fit in. He did... and I only wish I took him from his first day of abandonment tied to my friends doorstep.
Eleven years later, he is the light in my eyes. He is so patient and polite, I can't understand why he couldn't find a home before me. So happy we have each other.
---
Miss Fluffy from New Zealand
By: Kevin McManus in Auckland, New Zealand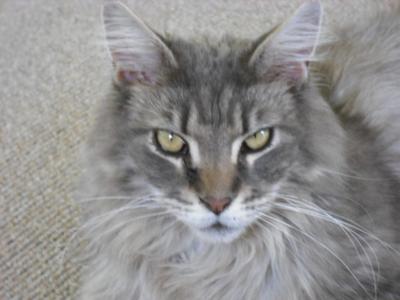 Miss Fluffy
This is our purebreed Maine Coon female. Her breeding name is Kiwicoons Tequila and her parents were from Denmark being of the Theilunds Stable.
She was given to us at 2 years old and now she is 8 and a half. She appears to be mostly grey/tabby tortoisesheel covering with some fluffy white fur on her belly and brown patches. We call her Miss Fluffy though and she loves it.
She has not had an easy life, losing half her tail in a catfight three years ago and having been shaved this summer due to coat matting.
She is a very friendly cat and follows us everywhere, she loves her own voice and meows a lot. She loves car rides and is very calm all the time. At 8 she still hunts and leaps everywhere and sleeps in the bed with us.
She loves drinking water out the toilet and taps and is not very fond of being constrained by my partner, but tolerates me picking her up. She loves shoes and has a foot fetish. Surprisingly she is a real lap cat and also loves most dogs but is very jealous of other cats.
Saying her name in a squeaky or silly high pitched voice or "Oh my little pussycat" will make her roll over and start writhing about with squeaky little meows. She loves talking to birds as well.
Before her tail amputation she was 97 centimetres long (Now 86 cm). She weighs on average 6.5kg (15 pounds) but has been between 5 and 7.5kg.
---
Jeronimo at 2.5 rs old
By: Anna Reed in Athens, Greece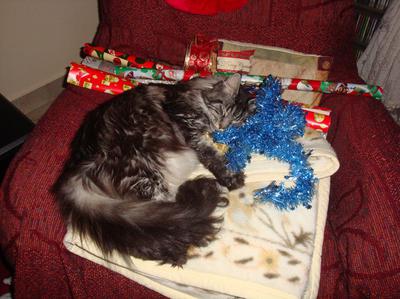 after a day of decorating a cat nap
Our Coonie is our baby. He is smart and enjoys helping out around the house.
He knows that to go out our front balcony he is to be harnessed or be taken out in our arms. He will call and pad the window till my husband picks him up.
He will chirp when it is time to eat and every morning he will bang on windows and closets to get me up. His hiss is intimidating but that is the most he will do - he has never scratched out at anyone.
Squeaky
By: Kathleen in Kentucky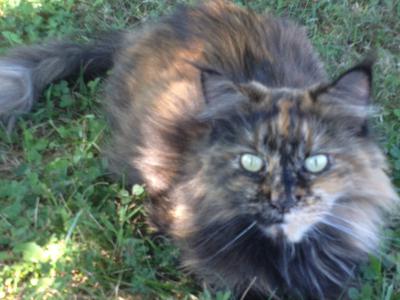 Squeaky is aptly named as she does not Meow, but squeaks instead!
She is the joy of my life for the last 8 years, and being a Tortie, she does indeed have an attitude! She has 2 boy friends, my other Maine Coon babies, Swifty and Keely, and she doesn't take any guff from them!
I wouldn't trade any of them for all the catnip in the world, they are a very special breed.
---
Little Man The Prince
By: Alayna and Parth in Massachusetts
Snow Lion
This angel is turning three years old this March. He is a brown classic tabby from Cold Stream Cattery in Maine.
Little Man is very helpful around the house, always following his people around and busy taking care of his new baby brother, Bloopurr.
When he's not running around helping his family members he is probably napping in his bathtub, sink, or laundry basket. Another favorite pass time of Little Man is hanging out on the porch roof, the flat surface overlooks the whole neighborhood.
Little M gets access to the roof from a cat door in the second floor window. A hefty 28 pounds of fluff and muscle he doesn't really love to cuddle, but puts up with smooches and hugs from mommy and daddy. Like most Maine Coons Little M loves water, specifically running water.
The sinks and bath tub are some of his favorite spots in the house, where he constantly begs for the faucet to be turned on. When he was younger he loved to drink water out of cups and glasses, but as he grew, his head got too large to drink out of the cups. We hope that our little angel will continue to be the happiest chub that ever lived :)
---
Cooper in a Beer Box
By: Holly in Ashland, VA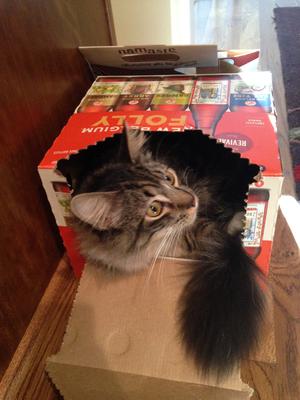 Cooper in a beer box
We rescued Cooper from a shelter in November of 2014. He is now 7 months old. He has a very friendly personality!
He loves catching with his paws a wadded up plastic bag and he always is following you everywhere you go!
He is a real keeper!
Holly R. in Ashland, VA
---
Peaches My Lovely Maine Coon!
By: Tori Leep in Salem, Oregon, USA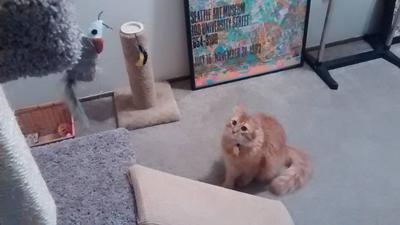 Peaches with her mouse
Peaches is my dear little Maine Coon. I saved her when she was three months old. She is now a year and a half old. She's a dear.
She enjoys her treats, getting in the water in the sink and bath tub, playing with her toys, and loves her cat condo! I do have to say I have spoiled her rotten! :)
She is a very smart cat, I sometimes call her my guard dog since she guards whatever room I am in the house. I love that! I can tell that shes going to be really big. She has grown so much since I've gotten her. Even though she is big now, she will always be my baby!
---
Pumpkin; Our Coonie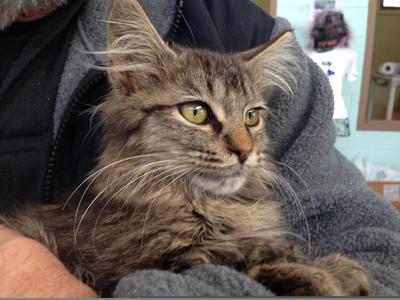 Pumpkin at 16 weeks
We adopted Pumpkin when he was about 16 weeks old. Even though he comes with no papers we're sure he's a Maine Coon cat. All his behaviors and his personality as well as his looks convinces us of it.
He loves to play and he "chirps" constantly. He's now a big boy ( 1 year old) and still growing. He gets along with his "brothers" wonderfully.
Pumpkin loves to wake up at 4 AM and then wake me up with a paw to my face. He just loves his belly rubs and has to have them at that hour. I guess he's trained me well.
---
Too Much Love
By: Brynnie Drew in Sydney Australia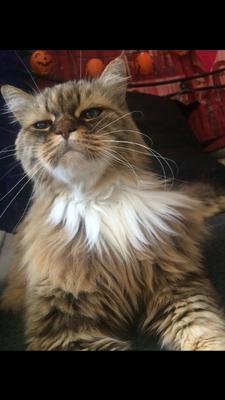 This is my little girl Pepper. She's about 12 now. It all started when we were walking past a pet shop one day and happened to see a sweet little ginger kitten in the window all by itself.
We went in and were looking at her and trying to play with her through the cage, but it was so loud in there that it was scaring her. She just stayed in the corner, and we could see that she was completely covered in fleas.
After that our parents told us to hurry up and go home. After we got home my dad went out and came back with a box and surprised us with this sweet little kitten.
Even though she was so scared, within that day she was right at home, taking over my parents double bed all to her tiny self. She still does that to this day. She takes up the middle of any bed and loudly meows when we try to curl up next to her but I wouldn't change her for the world.
I have never had such a kind, sweet and loving pet.
---
Found As A Stray
By: Pam Thompson in Bridgewater, VA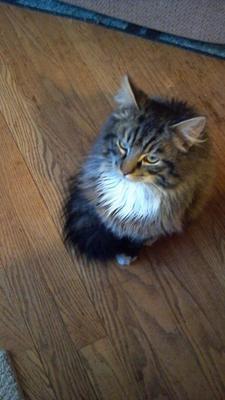 Wellington was found as a stray and given to us. Our vet confirmed him as Maine Coon.
We immediately fell in love with him. He has such personality and is by far the smartest cat we have ever had.
Having never owned a Maine Coon before I was not sure what to expect with him. He is truly a member of our family.
I am feeling at this point that this is the only breed of cat I will ever own again.
---
My Maine Coon Jack All Dressed Up In His Tuxedo!
By: Danielle L in Tacoma WA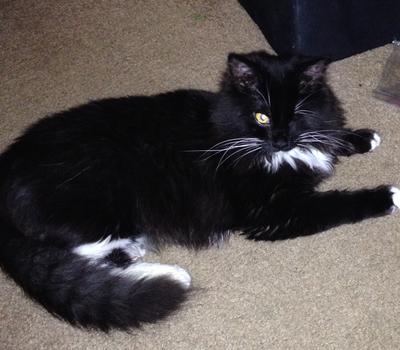 Tail rings
Jack is a 12 lb tuxedo cat that I recently was told is a Maine Coon.
He has the tufts of hair between his toes, long thick super silky hair and in one picture you can see rings on his tail. He is the sweetest and most playful cat I've ever known!
He was a rescue at approx 8 weeks old and was found to have a punctured eye, I adopted him at 10 mos old. He had to have his eye removed after months of trying to get it to heal.
He has a huge personality and is extremely smart! Jack acts like part cat, part dog and even a bit human!
---
Mara The Marathon Runner
By: Nola Olsen in Everett, WA
Mara, today (7 1/2 Mo) looking for a way on top of the cabinets
Mara is a mix (mom is a barn cat, dad unknown). My vet and one of her sibling's vet both think there might be a Maine Coon/mix dad on the loose.
She got her name because when I first saw her at 6 weeks, the family brought several of the kittens to show outside, she jumped out of the pet bed and took off running, not because she was scared, but just to run. I had to have her!
Mara is not quite 8 months old and a bit over 8lbs, she definitely has some of the looks of a MC, long fluffy tail, ruff and wide paws with tuffs of fur. She does love water, tho not to get her paws actually wet, but to watch and drink from the faucets, sinks, bathtub.
Just recently she has started talking more, but still only when she wants attention or is frustrated (like when she is trying to figure out how to jump up on top of the cabinets)
Mara is a great jumper, when I sit down on the couch, she runs and leaps (sometimes from 5 or 6 feet away) on my lap for her cuddling.
Her best friend is a puggle named Molly.
---
Atticus Finch
By: Teresa in CT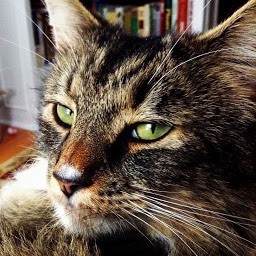 Atticus Finch will be 4 years old March 2015. He is a big lug. Atticus loves to talk, play and sleep. When it comes to sleeping, he's anywhere from laying on his belly to rolling to his back. He takes up the whole bed. Our guest bedroom is actually his room.
Atticus became a part of our lives a couple years ago. He was left at a park; just left there. He roamed into a friend's yard. We were asked if we wanted to meet him. We fell in love with him. He came home with us. Atticus Finch is now our "little boy". We still wonder why he was left at that park.
When I first saw him, I thought he might be a Maine Coon. The vet told us he was considered a "Domestic Longhair". Atticus says different. He might have a little bit of something else but he is very much a Coonie.
Everyday, yes everyday, Atticus lets me know it's "brushing time". He had some matts and had to have them shaved off. Ever since that day, he gets brushed. He gets very upset if I'm in the middle of something and he has to wait. When it's time, I get his brush and we go into the library. It's a great time to bond and he loves every minute of it. Atticus also let's me know when he's had enough. He gives a quick tap with his paw and we stop.
We gave him a very noble name and Atticus Finch is deserving of this name.
---
Pretty Princess
By: Shirley Barnett in Tacoma, Washington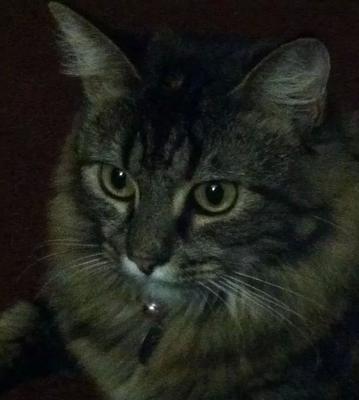 Went to the shelter. Luna saw me walk by and rolled over on her back to get my attention.
It worked. She gives me so much joy. She is the most gentle soul I have ever met.
---
Handsome Prince
By: Teri in Midland, MI
Handsome Prince at 8 months
Lil' Handsome Prince has become a joyful little guy.
He gets me up on Saturdays then jumps in the bed so I can't get back in!
He takes up the center of the bed and there's no room for me! Needless to say, I let him have the bed!
Editor's Note: Get to know Prince - check out his sweet rescue story here!
---
Casper the Friendly Ghost
By: Rainey Tiegs in Lakeland Florida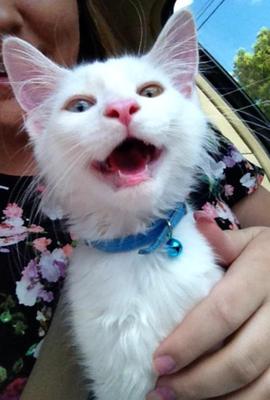 On the way home from the vet, Casper was panting through the window crack and the photo I caught makes it looks like he's exasperated!
Our family got Casper about seven months ago, and ever since he has come into our lives it has been such a ride.
Casper is playful, goofy, and loving by all means. He's not just a pet, Casper is one of the kids. He brings love to everyone that meets him!
---
Ayla
By: Diane in Ames, Iowa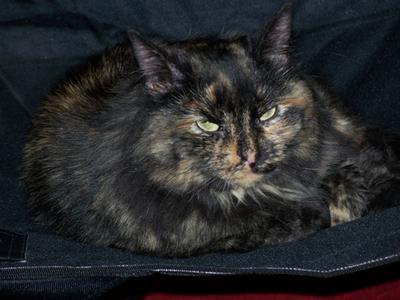 Ayla was in a shelter for roughly 100 days. I don't know why no one took her--she is the sweetest cat I've ever met! I guess she was just waiting for US!
We found her when we went looking for a tortoiseshell, because our beloved tortoiseshell, who lived to be 22, came from this area--central Iowa. Ayla looked a little bit like her, so we decided to visit her.
We liked her but we decided to give ourselves a little time to make SURE we were ready. We don't take these things lightly. We couldn't stop thinking about Ayla (who was then named Patches, as our other cat was at first, amazingly) and she was still there when we went back to adopt her!
Ayla was the only tortoiseshell that I found that did not have short hair. I have never seen a tortie with anything but short hair, so that was intriguing to me, even though a lot of people avoid longer haired cats.
After about a week, we began to wonder if maybe she is a Maine Coon mix. a friend of ours is a Maine Coon lover, and she resembled his cats in a lot of different ways. I started reading up here on the breed, and....BINGO! She pretty much nails it. The ear and foot hair, the fur, the ruff around the neck, the trilling and chirping voice, the round intelligent eyes, the LONG whiskers, the solid, strong, squatty body, the sweet affectionate nature, the fearless, clownish antics....oh, yes, I think we have a Maine Coon here!
---
Sherlock the Investigator
By: Anitra Kraus in West Palm Beach FL
Sherlock came to us as a foster for the local animal shelter. He and his sister, Lucy, came to our home at approximately 4 weeks old.
Sherlock was everywhere checking everything out. Thus his name. They only weighed 5 ounces. Sadly, we lost Lucy to Feline Parvo when she was just six weeks old.
Sherlock survived and was suppose to go back to the shelter when he was 3 pounds and 6 weeks old to be adopted to a forever home. He is now 2 years old and 17 pounds. He is still in our home.
The other day, I watched him reach up to the back of the dining room chairs and start doing chin-ups. He is still in the playful mood and has his toys everywherre in the house.
---
Love of our lives!
By: Patsy Laquaglia in Rancho Cordova, CA
When my husband was on chemo and feeling so sick, we adopted Sophie from the SPCA.
She jumped up to the double-pane glass of the cage and pawed and cried when she saw my husband. We had looked at so many cats and kittens, but Sophie chose him! She was 6 mos. old and is now about 18 mos. and weighs a solid 12 lbs.
Sophie helped heal my husband and she has become so much a part of our lives that we can't imagine life without her. She only speaks with a tiny meow when she wants to be noticed, to be played with or fed. She has the loudest purr and loves to be rubbed from head to tail roughly. I've never had a cat the liked having the hair pushed backwards, but she purrs louder the more you rub back and forth!
Sophie has outgrown her cat tree (as can be seen in the photo) and we are considering buying her another soon. She loves to play in a paper sack or with turkey feathers.
She also likes to crawl into tight spaces and is often found in a bookshelf or a clothes drawer. She is not a lap cat, but likes to be close and often lays next to my husband in bed. She follows when we leave the room so she can know everything that is going on!
Obviously, she isn't purebred, but she has all the endearing traits of the Maine Coon and I would recommend this type cat to anybody who wants a loving, friendly, loyal cat.
---
Tammy
By: Tammy in Gillette, WY, USA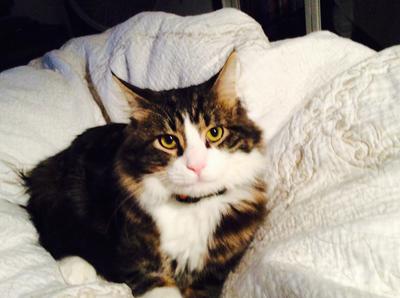 I was a little shy, but when I get to know you I'm yours for life.
I was lost and had no home when I was about eight weeks old so I adopted a puppy cat mom to show me the way and take care of me.
She brought me to this home where these nice people would feed me. It took me about a month to accept them when I did decide on my new home I moved in and never looked back.
---
Bam Bam
By: Cami in St. Paul, MN
Bam Bam was adopted from the humane society so we don't know her background or breed for sure, but she looks and acts like she might have some Maine Coon in her!
She is very playful, vocal and entertaining. She loves to play with toys, and when she is running around the house, it sounds like a human running because she is so big!
---
Naughty Auty
By: Devon J in Philadelphia, PA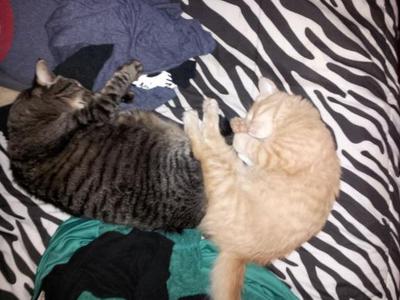 Autumn and Chloe cuddling together
We've been a one cat household for the past 11 years, with 11 yr old Chloe being the queen of the house. That was until Autumn was dropped into our lives in mid Oct 2013 (Literally!) Though we're still adjusting (humans, Chloe, and our 11 yr old Doberman/Rot mix Ginger), our family feels complete with Autumn!
Sometimes we joke that Autumn is more puppy than kitten, due to his love for playing and running around at all hours of the night.
When he's not running around, playing with toliet paper, or playing in every shower, sink, and water bowl, he loves to nap and cuddle with his stuffed snake. He's extremely loving, and follows family members everywhere.
We think Aut may have Maine Coon in him, due to tufts of hair in ears and between toes, his long silky coat and bushy raccoon-like tail, his frequent chirping, his love of water, and his rapid growth(at almost 5 months, he's 6+ lbs, and is almost as long as Chloe!).
---
7 Months Huge And Still Growing
By: by Janet in Queensland, Australia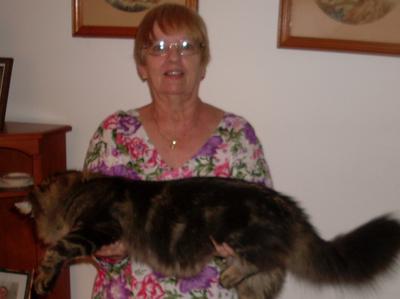 One word? Gorgeous! Laid back, loving, likes to hang around, not go off wandering like other cats. Loves cuddles, very vocal, and I am sending a photo of him to show what he looks like. The most scrumptious cat we have ever had, and we love every inch of his silky fur which doesn't shed!!
BUT
Dusty is NOT technically a Maine Coon!!! Is he a mutation? We can't tell the difference.
His daddy was a chinchilla ragdoll cross, his mom a regular house cat.
What happened????
We got Cooned!
---
Mopsy
By: Linda in Dallas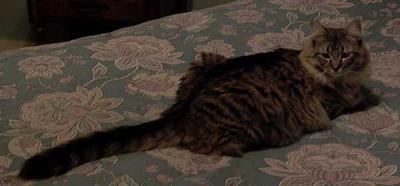 Lovable, cuddly 8 year old female. She is on a special diet. However, my dog does not get along with her. They need to be in separate areas of the house.
---
Bibi
By: Florence on Delta
Bibi was actually a birthday present! He has the Silver Mackerel Tabby coat. His birthday is on Independence day.
---
My Babies
By: Bridget in Lithia FL
These coons give me such a smile when I come home from a hard days work.