January 2014 Photo Album
A new year, a new album of gorgeous Maine Coons!

Meet Lucifer
By: Marlene Stamler in Ontario, Canada
Lucifer
Lucifer is six years old. He is the prince of our house. He flosses his teeth on the lace curtains and he climbs the drapery. We are privileged to sleep with him, he usually allows room.
"Lu-cat" has the sweetest personality, he allows us to hug him and regularly sits on us for pettings. He loves water, and plays in the water bowl with his tufted feet which irritates the other cats!
He doesn't talk much and his purr is very faint. But he's a big cat at 18 pounds and we love him lots!
---
Her Highness
By: Warren in York PA. USA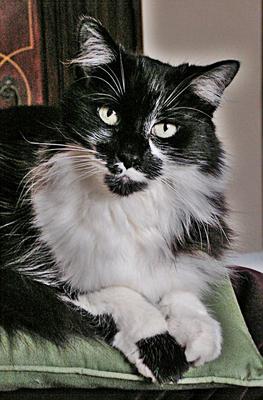 Molly is a 17 yr old lap cat. If I could sit that long she would be on my lap all day!
---
Baby Sully
By: Georgine Owens in Indiana, USA
Sully looking like he has an attitude
Sully comes from Ukraine. He is 7 months old.
We wanted a Maine Coon with a classic feral look and found our baby on line at Yanika Coons in Ukraine.
He has learned how to "high 5." And he loves to play fetch - especially at 5am!! He is also somewhat of a thief.
He steals our glasses, my lipstick, chap sticks, any any other small objects.
---
ARES solid white KITTEN Maine Coon 8 1/2months CFA reg
By: Ahmad Zul in Singapore
Big shout out to Super Maine Coon Cattery as my kitten size getting out of hand n now weighs 8KG.
---
Maine Coon, Giant and Smart
By: Larissa Catalano in Sao Paulo - Brasil
Orion is a giant cat with a keen insight and intelligence. Love my faithful companion and Coon!!!
---
Grady Maine Silver born 10-18-13
By: Shawna in Maine USA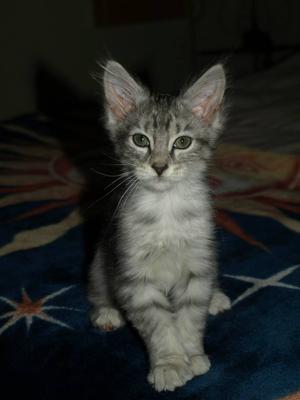 He's a playful little fella with quite the motor boat of a purr.
He's been with us now for a little over a week and is settling in great and getting to know all of us.
His mother didn't have that maternal flair so he was dropper and finger fed so he truly is our little miracle boy!
---
Billy
By: Peter in Penrith, NSW, Australia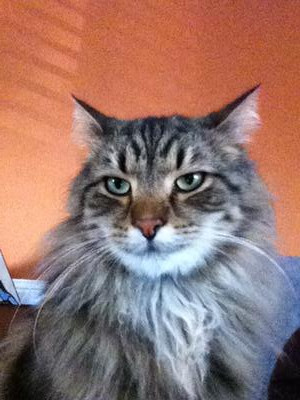 Billy is a three year old Maine Coon from Penrith, New South Wales, Australia.
We had no idea about "Maine Coon" cats. My wife went Christmas shopping 3 years ago with no intention of buying a kitten but Billy picked her out and home he came.
After a very short period of time, we knew we had something unusual and special and nothing like our previous cat which had died two months earlier.
Billy was very playful, jumped off the lounge with his legs all splayed like a flying squirrel, he loved water, had a number of unusual features - huge paws, big fluffy tail, lion-like mane and when we called him, he not only came but did so running flat out to greet you!
After a little research, we realised we did have something special - a beautiful Maine Coon boy, if not full, then more Maine Coon than anything else.
He is now just over three, weighs a healthy 6.5kgs and is a metre in length from the tip of his nose to the tip of his tail.
Billy is the most loving boy, totally loyal to the family with dad as the absolute favourite. He comes and greets you out the front whenever you come home and always flops in front of you for a rub and a tickle. He talks and clearly lets you know what he wants, including a drink from his favourite bowl/tap - the bathroom sink! Billy goes berserk chasing a laser light and just loves being wherever the family is - not on your lap but asleep in the middle of the action.
We are so lucky to have this beautiful boy in our family.
---
Kitty / Tiggger
By: Lilian in Washington State, USA
Kitty / Tiggger
Several stray cats were coming by the patio. Feeling sorry for them, I began feeding them. Kitty was just one.
Eventually, we allowed "her" inside, brushed her long hair and she began accustomed to us. when I took her to a mobile vet to be spayed, I found "she" was actually a "he" -- having been completely neutered / castrated and micro-chipped.
Contact with the original vet was over six years earlier, but left me with a name -- Tiggger, the owner's disconnected phone number, an outdated address approximately 100 miles away, and little more.
I made flyers and posted pictures on websites about how important it was to keep micro-chip info up-to-date without a response from anyone.
One evening I was playing with him using the colorful lanyard attached to my house and car keys (bad idea, huh?). His long claws (needing to be trimmed) snagged the lanyard, the keys jingled, and he took off like a shot, bolted out the screened kitchen door, and it was nearly dark!
A couple hours later she returned for dinner without the keys. In the morning I tried again to find them, asking around the neighborhood and learned from one of the neighbors that the previous owner had moved to Ireland and left her behind. Later that day having nearly given up, I found the keys underneath my vehicle!
He had just a beautiful coat, I started looking around on the internet and found Main Coon Cat Nation, and believe he's at least part Main Coon because of that beautiful mane, characteristic of the breed, that developed after caring for his coat, feeding him well and loving the new addition to our family.
---
Pretty Boy Floyd
By: Kathleen in Arizona
Pretty Boy Floyd - 9 months old
Adopted from a shelter in June 2013 at the age of 2 1/2 months & weighing 2.2 pounds, Pretty Boy Floyd appears to be predominantly Maine Coon - at least from all I've read about this breed.
The first characteristic is his tufted ears, followed by the ruff around his neck with the hair shorter in the shoulder area. Now 9 months old weighing in at 9.6 pounds, his body is very long and lean, with his also long tail reaching his head.
And I smile every time he sounds off - does not meow like my other cat, rather he trills/chirps! He also has an unusual fascination with water.
As for personality, he is the most loving cat I've ever owned and still loves to hitch a ride on my shoulder. Will be interesting to see how large he gets once he reaches full maturity.
---
A Maine Coon with Swag...TAZ!!
By: Angelia Carter in Baltimore, MD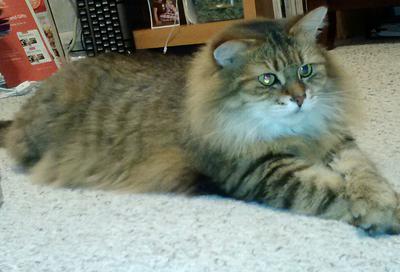 Taz was born June 2003. Where ever I go, she's right behind me. Always close by. She's very quiet and laid back.
Her joy is chasing ball up paper or the shadow of a small object. She likes to watch Animal Planet, so I make sure her foot stool is right by the tv.
Taz is one of the best cats I ever had.
---
Oliver
By: Beverly Akin in ABQ NM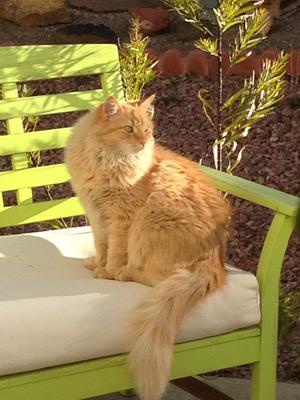 I adopted Oliver on November 29, 2013 - he had been abused as a kitten.
The minute I held him we had an instant bond. I just recently found out that he was a Maine Coon
---
Victor E Kitty
By: Rose York in Muskogee, Ok, US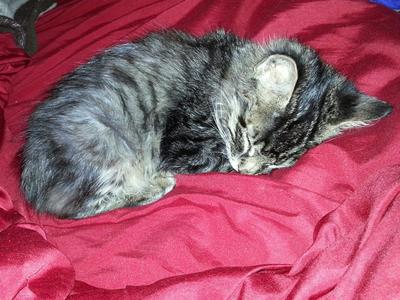 My mother in law came home from work and found this cute little baby kitty just standing up in the middle of the street passed out sleeping.
She called me and it was over from the moment I saw him sleeping curled up on a towel. He is the most ungraceful and mischievous little boy I have ever had and he is a total mamas boy.
His favorite pass time is watching tv or movies with us, he loves watching kid cartoon movies like WreckIt Raulph and also watching old reruns of MASH with me.
His other favorite pass time is picking on his daddy or playing with all his Star Wars toys he has or moving his little lounge cube around the front room.
---
Meet DC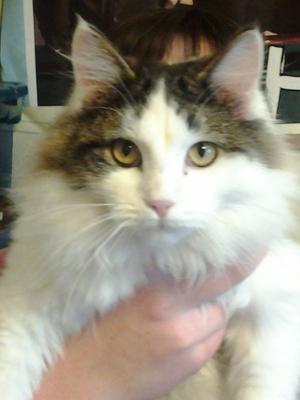 My husband waited a long time to get DC. He watched Pet Finder and shelters. We really wanted to adopt one. Finally on Pet Finder he found his boy about a three hours drive away.
It had taken a couple of years but we called and asked them to hold DC and got there as fast as we could. In June of 2013 when we got him, the shelter said he was right around three months old.
DC stands for Darn Cat. He has dual personalities and when he is riding in the semi with his daddy, the is the sweetest, most affectionate loving kitty there is.
When he is at home however, he pretends he doesn't know us except when I am in the kitchen and he is hoping I will drop something. He is a very loved and spoiled kitty.
He is not yet a year old, is growing like a weed, and does not like his baths or brushing. Sadly despite his complaints he is told they are for his own good.
---
Meow, Meow
By: Pam in Cali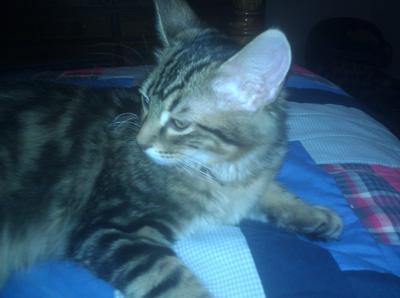 Mister is my love
Mister & Beauty are my loves, and my joy.
They are good kittens, and I have his sistah also same litter. They are 15wks old, and I've. Had both since they were 6wks old.
They love to purr. Mister comes when called, but not so much Beauty.
---
Katniss, The Coonie Kitten
By: Jennifer in Gaston OR

About two years ago my Maine coon Spinner died, I made my mom swear to let me get a new one, and she did. Katniss is a wonderful Maine coon, and I love her. She was born at my house on my bed, along with her 5 kitter mates!
Katniss always sleeps on my bed and I love that I can fall asleep and know that she'll stay with me through the night. If i don't read to her she'll get spastic! It's so cute!!!!
Katniss was named after Katniss Everdeen from Hunger Games, her brothers are Nightlock, Peeta, Socks, and Bear, her only sister is Willow. All of them are beautiful cats, but aren't the same as Katniss. Katniss has always been feisty, and tough, but she's also calm and lovable!
Katniss hates other people, and dislikes her litter mates. she likes to hide behind the laundry basket and then she'll pounce on one of her brothers!! But not Willow, Willow always gets her revenge, so Katniss steers clear of her!!
---
I'm a BIG BOY!
By: Brenda in South Carolina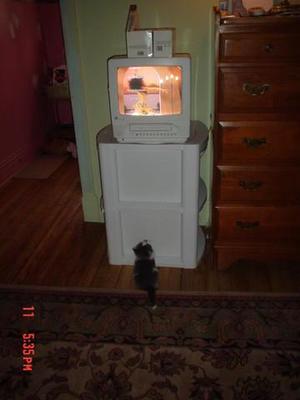 Baby Jazzpurr watching
the BellyTwins
We believe that Jazzpurr is part Coon. He is Mr. Personality Plus, purrs if you just look at him, he is very smart, social (if company comes over he has to come out and be part of the fun).
He loves to lay in the tub, loves to be washed off with a wet rag and loves his toothbrush brushed all over his face. He talks and if you ask him a question, he will answer.
We found Jazzpurr at an old feed mill nearly 8 years ago when we went to rent a harness so my husband could work on our roof. The mama wasn't a Coon, but his papa was a big feral tiger. It was love at first sight, and finally at 7 weeks we brought him home!
Jazzpurr just kept growing and growing. He would love to be measured with the tape measure each week. He kept eating and eating and getting bigger. He weighs 23 lbs. now and the vet says he is too fat. We're working on that, and he will protest if he can see the bottom of his bowl.
His favorite game used to be "swing in the bag". When we brought the groceries in, he would crawl inside the empty bag and wait to be "twirled" round and round and round, then the other way! He's come out dizzy and walking like a drunken sailor, only ready for more. As he grew, he would no longer fit in the bag, and he is just too heavy to swing around!
Jazzpurr was raised with dogs since he was a baby.
When we brought our newly adopted 3 month old rescue Jack Mini Pins "Jak" home, it took about a week for Jazzpurr to "accept" this new family member. They are great pals now, and Jazzpurr is good about tolerating Jak's mauling, chewing and humping!
There are so many funny things Jazzpurr does each day. He brings joy to our lives and we wouldn't trade him for anything!
He'll always be my baby purr purr!