January 2013 Photo Album
Welcome to the January Photo Album of Maine Coon Cat pictures!  Happy New Year to all the beautiful Coonies and their families!
Zeusifer is what we call him.
Wiley's new play mate
By: Beth Davis in Ransomville NY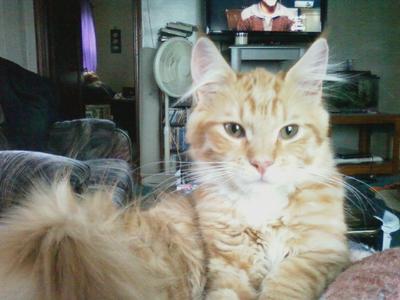 Zeusifer is his name, he is a very spunky little guy always on the move.
He has helped us all get over the loss of Coyote, especially Wiley - he was so depressed after his bother was gone, Wiley took to Zeus from day one they have a brotherly bond and Wiley is happy again.
Thanks to the wonderful breeder's from Hollowcoonz Maine Coons.
Thanks Dennis and Linda
Comments:
Jodie: He is beautiful...looks so soft and cuddley.
Monica A. Heal: We have Zeusifers brother, his name is Remington and is a red Coonie as well.So nice to hear you love your little guy as much as we do ours.
Anonymous: found the perfect cat to take the place of your last Coonie.
---
Sheba
By: Bob G. in Campobello, SC
Sheba was a feral cat that was from a litter born near my home. She came out of some woods near my home one day and came right to me. She was about 3 to 4 weeks old.
She was so friendly that I decided to keep her. Brought her to the Humane Society to be spayed at 3 months. She weighed 5.2 lbs, she is now 5 months and is 8 lbs.
We started to notice she had many features of a Maine Coon. She chirps and makes many other other sounds. Also the tuffs in her ears and her coat so long and thick with her huge tail.
Whatever she is she has turned out to be a very affectionate, funny cat. This photo taken at 4 months 1 week.
(Note from editor: Bob, your pictures didn't come through - This happens when they are large files, meaning high quality photos. There are tips on our Contact Page for editing photos for the web, if you'd like to try again. Since you didn't leave an email address, I was unable to let you know.)
---
Atlas
By: Megan S. in Antioch, California
Atlas is a 3 year old ball of fluff that I got at a shelter. He knows I am very affectionate and tries to put up with my kisses and hugs. :) He waits for me to get home from work, greets me at the door, and follows me throughout the house!
He is very playful and goofy, albeit sometimes bratty. When he doesn't get his way, he stares me in the eye while smacking the door stoppers! It's actually pretty funny that he's acting like a kid during his Terrible Two's. He knows his mommy loves him to pieces though, and he is literally the softest thing in the house!!
Comments:
Connie: Megan - you're a great Mom! Atlas is a very lucky kitty!
Leslie: So cute! My Oliver loves to lie on his back just like that!
---
Trixie Girl
By: Becky Hoffer in Franklin OH
We adopted Trixie in 2002 from our local animal shelter; they estimated her to be 3yrs old. We had gone that day with the intentions of adopting a kitten.
I saw Trixie in her cage on my way to look at the kittens and fell in love. Husband reminded me that we were there to get a kitten not a cat so we went on to look at kittens and he asked which one I wanted. I said "I want Trixie!"
He had concerns about all her hair, shedding everywhere and that the shelter had a sign on her cage about can only go to a 1 animal household. She had been adopted previously for 1 day and was returned because she didnt play well with others. Trixie came home with us that day!
13 years later she is the queen of the house. She is vocal a tends to be a little Diva sometimes and will let you know when she needs more treats or food bowl isnt full enough and if you are sitting where she wants to sit she will let you know that you need to move but she is also very loving, friendly and a very treasured member of our family.
Comments:
Linda Porritt: What a beautiful girl. Now how could anyone take a cat back after 1 day, perhaps she needed to settle in? She ended up in the right home where she is the Queen-with human slaves. Great story..
Tonia: adorable kitty.....
Anonymous: Looks like she had no problem becoming a member of your family. So lucky for her and you.
---
Rex Buchanan, A Big Boy
By: Elaine Clark in Baltimore, MD
Rex is our first Maine Coon cat, he is almost one year old. He is named after Rex Buchanan, from One Life To Live on TV. Used to be.
He is a crazy fun loving kitty and stand a head taller then our other (2) four year Ragdolls.
(Note from editor: Elaine, your pictures didn't come through - This happens when they are large files, meaning high quality photos. There are tips on our Contact Page for editing photos for the web, if you'd like to try again. Since you didn't leave an email address, I was unable to let you know.)
---
Jaguar chillin
By: Jennifer in Wilton, NY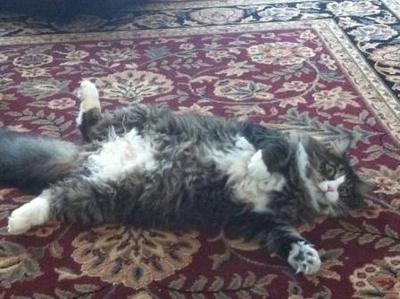 Just Relaxin'
Jaguar is a 11 month old male Coon cat. He is the best lap cat and loves to snuggle on anything that is laying on the floor (coats, towels, blankets).
If you need companionship while reading a book by the fire, he's your man. One funny thing he does is hide behind the curtains and really thinks you can't see him even though half of his body is hanging out.
Comments:
Ellie: Must be a coonie trait, the hiding! My cat has a habit of going under the side table with his butt and tail sticking out from the tablecloth, and we're sure he thinks he's hiding! Beautiful cat :) seems like a pleasure to have in the family.
Laura: Haha! My coonie is 45" long and hides under a sewing box I have that is about 25" long. His tail, head and legs all hang out. He closes his eyes and thinks no one can see him.
nitasneeder: He looks so much like my Vandy, I lost him to cancer 2 yrs ago. I miss him so much. He was 14 yrs old.
Deborah: We have two male Coonies...Big Cat hides behind the shower curtain. we think the same, he thinks he is hiding...is that a Coonie Trait?
Karen in Indianapolis, IN: Jaguar is the spitting image of our ten-month-old kitten, Princess Tessa Tabitha Cake ("Tabby")! We think she's a Maine Coon mix, because her mama was a black domestic short hair. She lies on her back the exact same way as Jaguar, who sounds like a big sweetie. Thanks for sharing him. :)
Anonymous: Sounds like a sweetheart to me.
---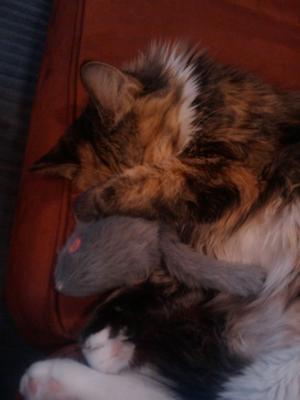 Sugar Sleeping
Sugar
By: Dusti in Denver
I always wondered what breed my girl Sugar was and it looks like she's close to this breed.
Comments:
Vicki A: What a little beauty! Looks almost exactly like my two-year-old Amelie, who I'm almost positive is a Coonie.
Anonymous: Looks like you have a real cutie.
---
Zephyr, my little (big!) young king!
By: Shawna Chicago in IL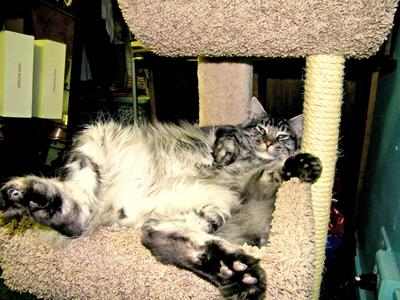 Zephyr is my best friend. He greets me at the door.
Wakes me in the morning. And we play tag throughout the house, chasing each other.
I've never been happier, so glad to have a Coon in my life! (He is now 8 months)
---
Loki & Libby - Oh you're awake!
By: Christina in Tretten, Norway


Loki & Libby
I took this picture today when I was almost out of bed. They spent almost 2 hours taking turns to try to get me up, and for what? So I could play with the very broken but very much loved fish on a stick.
Loki and Libby are brother and sister. They will be two years old on the 4th of July. I've had them since they were 12 weeks old and after having had them in my life I can honestly say I will always have a Maine Coon Cat, because they are just the most awesome cats I've ever known. They are smart, playful (when they're not being lazy, which is most of the time,) and very loving. They are my constant shadows, and I couldn't imagine life without them (which is why they flew with me from America to Norway when I moved here this last fall.)
*Loki is the brown tabby, Libby is the silver tabby.*
Comments:
Teresa: We also have brother and sister Maine Coons, so much fun! Your Coons are beautiful.
Ruth W: Your Libby is beautiful! She looks like my Lambchop who is also in the January kitties. She will be 2 in April. We couldn't image living with her either.
---
Big Viper In The Snow
By: Jill - R'dam, Holland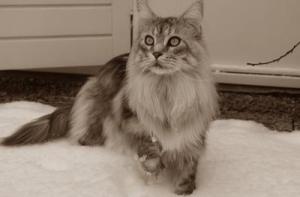 He is a silly boy.
Sometimes he looks at you real mad and other times very shy.
When he is sitting on the table/coutch or at the top of a arm chair he looks and act like the Lion King.
But he also loves it to sit with you and gets his cuddles.
Comments:
Teresa: Wow! He is gorgeous! We call our Maine Coon boy the Lion King, too. It's all about cattitude!
Robin: What an amazingly beautiful cat! I would love to have a silver tabby.
Deanna: Wow, this is a very strong beautiful cat. I just got my Charm - she looks a lot like him. I sure hope she looks as beautiful. Any tips?
---
Beautiful Maisey - Maine Coon
By: Michelle in Gloucestershire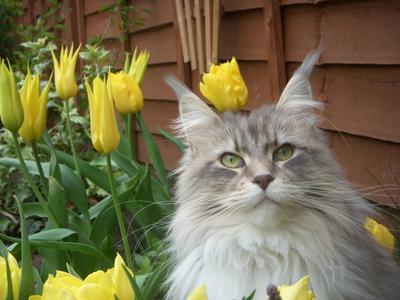 We had Maisey from a kitten, she is now nearly 4 years old and is a real character.
She loves playing in our garden and sleeping in lots of cosy places. She can be aloof but when it suits her is very affectionate to her owners.
We think of her as 'the queen' she is a gentle giant and we feel really lucky to have found such an intelligent, inquisitive and interesting cat ;-)
Comments:
Tif: So pretty!
Elaine Clark: What a beautiful kitty, I love the color and her big ear tips
Rachel Wiltshire: Yes, I agree, she's really friendly and affectionate!
Arlene M. Baladi: What a gorgeous little fur-ball Maisey is...all the best with her!
Barb: Beautiful Maisey is a beauty alright!!
Penny in South Africa: This cat is breathtaking wish I could steal her. LOL
Norma Thayer: Maisey is absolutely gorgeous! She reminds me so much of our Dukie. He is the brown/black color where she is the silvery, gray color. Even sounds like the things he does. You certainly have a treasure!
---
Minni!
By: Terri in San Antonio, TX
>Minni!
Adopted at 2 months and 2 pounds.
She was the runt and ended up weighing in at 16 pounds! I should have named her Biggie!
She's a snuggle bug with an ornery side. I love both sides!
---
Wanda and Viking
By: Russell Clarke in Auckland, New Zealand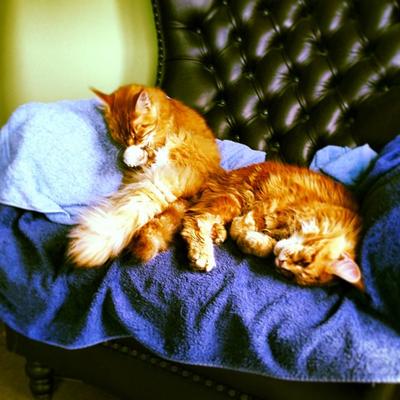 Our kitty cats! Wanda (on the left) is 7 months old and Viking is 1 month her senior. They're our first Coons, and we're both delighted by their intelligence, playfulness and of course their absolute beauty!
Viking was hand-reared as his mother abandoned him when he was tiny. We're working through a few health issues with him, and getting there slowly, but he's definitely a big strong lad, and growing quickly! He's already bigger than our 16-year-old Tigger (may he RIP.)
Wanda is petite, beautifully-furred with an amazing tail (you can see it in the photo,) and such a cute meow, but she's actually the troublemaker extraordinaire!
Together they have taken our house, and our hearts, by storm.
---
Sweet Dreams Baby Coon..
By: Dennis in South Dakota
Garvy is our first full blood Maine Coon. He was born Oct.19th 2012 and this picture was taken around Jan. 17, 2013.
We have owned a number of cats and I have to say this Maine Coon kitten is different than a standard kitten in a number of ways.
He acts more like a dog would than a cat. He has to be in the same room, he comes to the door when I get home, he is not skittish at all, loud noises don't bother him.
He won't take off and hide when new people come around and he doesn't mind being held by anyone. How could someone not love a face like that.
Comments:
Tasha: Vic and Bob are 10 days older than Garvy but like you, I was surprised by how dog like they are. Garvy is beautiful, playful and most probably a bit mental like ours!
Jeanne: Such a cutie! We have a Coonie named Murphy who looks just like him. That sweet picture reminds me of Murphy when he was that age.
---
Sasha Pearl, a blessing we're thankful for each day
By: Dela in Oklahoma City, OK, USA
Beautiful Sasha Pearl
Sasha Pearl was born 7/3/12 and adopted by my husband and I, 8/16/12. She was so tiny and a bundle of energy! She was so tiny, that she could sit in our shoes.
Sasha loves to follow us throughout the house and sleep beside us. She is happiest when she can see both of us. We have always wanted a Maine Coon, and we feel so lucky to have Sasha. She is a delight every single day!
Her favorite toy is a little mouse with a long puffy tail. She carries it everywhere. But it takes a backseat if we give her a paperbag! She will hide, pounce and attack the bag until it's in tatters. She enjoys taking car rides and loves to look at the scenery.
Enjoy the pictures and feel free to leave a comment, if you choose.
Comments:
Arlene M. Baladi: What a lovely coon kitten Sasha is...you are very lucky to have her!
---
My baby boy, Romeo!
By: Summer in Pittsburgh, PA
He loves to play!
Our precious baby Romeo was a rescue from the woods behind our home! Actually, he rescued us! He is the most adorable cat ever! So talkative and playful!
I just love him with all my heart. I've never had a cat before, but Romeo has won me over with his curious nature, loving personality, and beauty! I love my Maine Coon mix!
---
Tenshi Mikoto
By: Alicia in Seattle, WA
looking regal like the prince he is
Got him in 2005 as a Birthday present. I had jokingly told a neighbor that I wanted a kitten as a present from her.
On the day of my birthday there she is knocking on the door with a shoe box and this adorable little kitten crying in it. She told me that he is a half Maine Coon and that if I didn't want him she would take him back. I immediately took him and fell in love.
I've had him seven years now and love to have daily conversations with him. His name means angel prince in japanese, which is fitting, since he acts like a prince, but not always an angel. He loves opening cupboards and drawers and being in the same room as his humans.
---
Our Beautiful Mainecoon Babies!!
By: Angel Dashno in Burlington Vermont
Tubby
My husband and I have 4 Mainecoon's, Tubby and Mojo are our boys, Charlotte and Boo~Boo are our girls!
They are such loving and sweet cats. I wouldn't trade any one of them for the world!! Our family are truly Mainecoon dedicated!!
PS: I some how forgot to mention that Tubby, Mojo, Charlotte and Boo~Boo and a year and a month old.
---
Mr. Hailey
By: Terese in Metairie, LA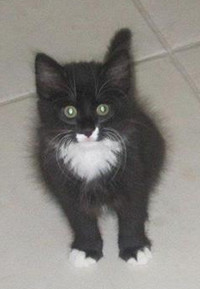 Mr. Hailey was rescued when he was only 3 days old. We named him Hailey thinking he was a girl but the vet was quick to tell us otherwise! So now he is just Mr. Hailey :-)
We don't think his is a full bred Maine Coon but he certainly has a lot of the characteristics.
He is 2 years old now and the boss of our 2 older cats. He has a stuffed puppy dog that he has been carrying around since he was little.
He is very playful and likes to play fetch and hide and go seek. Everyone loves Mr. Hailey :-)
Comments:
Debbie: What a beautiful boy!
---
My Boy Red
By: Joe
---
Meet Mopsy
By: Marchegiano Family in Rehoboth Beach, DE
We took Mopsy in as part of our trap-neuter-release program.
He was about four months old, was underweight, covered in lice and gad a bad case of ear mites. He spent the first month behind the toilet and the second month under the bed.
He now rules the roost. He has quickly stolen our hearts and brings us joy and laughter each day!
Comments:
Debbie: What a handsome boy! He looks a lot like my Max. :0)
Laura Mobile, AL: He is gorgeous!
---
My Sara
By: Nataly in Izola
Since I've always wanted to have a Maine Coon.
My Sara is adopted kitty. I got it when she was 4 years old. She is very sweet, gentle girl.
Very interesting is that she eats and drinks with paw, she sleep almost all day, but at night she likes to play. It is a very large kitty for girl, as a lion :)
Comments:
Linda: This looks just like my cat! Is she up for adoption?
---
Our Mr. Brady! (an update)
By: Sarah C. in Hampton NH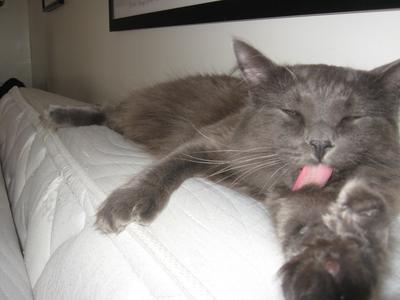 This is Mr.Brady, our wonderful boy! He came to us 3 years ago and we are so blessed to have him. He brightens our life EVERYDAY and is a joy. The best thing is when we come home he is always waiting for us at the door, trilling away in his sweet voice. He is a member of the family, more than a pet.
We got him at at Sebago Mist Maine Coons and they are a great family! I would reccomend them to anyone looking for a Maine Coon. Check out their page.
Mr. Brady is a blue solid, and growing everyday. He is the friendliest and most happy cat I have every seen, and loves to have his humans around! He easily gets lonely, that is why my husband hasnt spent one single night away from him since we brought him home.
He started out as a Brady but soon earned the title of "Mr." since he runs the household. He loves his catnip and will eat it as often as he can which is good for his belly. He has so many noises that I love, trills and meows and purrs and grumbles! We love him so so much!
Comments:
Bronwen: When I first saw Mr. Brady I thought I was looking at pictures of my cat Francoise. They are twins!
Elaine: Your Maine Coon looks just like my Smokey. I got him from the adoption center at a Pet Smart store in Medford, OR. If looks mean anything, I guess that Smokey could be(at least part) Maine Coon.
---
Indigo In A Regal Pose
By: Maria in Essex, UK
A very regal pose by Indigo
Our male Maine Coon Indigo, posing patiently, for once. He loves playing, eating, sleeping...I think eating comes first though! He can be very naughty, but is calming down some.
---
Beautiful Beba 6 Months Old
By: Natasha in Devon, UK
This is Beba. She's a 6mth old Maine Coon, she's such a sweet natured little girl and already rules the roost with her best friend Catsby (our 8yr old Bengal).
Comments:
Lisa: what a gorgeous kitten.
Laura: Oh, shes just gorgeous!! love her markings.
---
Finding Kato
By: Sharon Hengstman in Niagara Falls, Ontario
After having our beloved tortoise-shell Muggs for over 20 years, she found a new home "over the Rainbow Bridge".
Out of respect, my husband a I decided to go catless for 6 months. When we started looking for a new cat our first thought was the local SPCA.
Although there were many nice cats in the Niagara Falls shelter, there was no one special. Someone had to "speak" to me. After visiting the shelters daily for a week we decided to expand our search area to include Ft. Erie, 1/2 hour drive away.
We walked through 6 rooms. So many beautiful and deserving cats but I wasn't even tempted to hold one. We were told that there was one more room that we could look into but these kitties were in isolation as they all had medical issues.
With almost no expectations of finding a new family member, we entered. I looked around but nobody caught my eye. I heard a lot of mews and one real loud MEOW. Looking at me was a grey ball of fur. Two Meows later I asked to hold the noisy one.
As soon as I put my hands on the fur ball a VERY loud purr could be heard by all. Despite a lot of sneezing (due to a respitory ailment) we bonded. Kato came home that same day.
He was 3 months old, a grey tiger and 3/4 Maine Coon. My husband claims that he was the best B-Day gift ever. We've had Kato for 10 months now. He has gained 8lbs and is still growing. He is a little character but we love him dearly.
(Note from editor: Sharon, your pictures didn't come through - This happens when they are large files, meaning high quality photos. There are tips on our Contact Page for editing photos for the web, if you'd like to try again. Since you didn't leave an email address, I was unable to let you know.)
---
This is Snuffy Alfonso. The best looking, most loved and cherished, most incredible Maine Coon that ever existed.
By: Debbie Alfonso in Miami, FL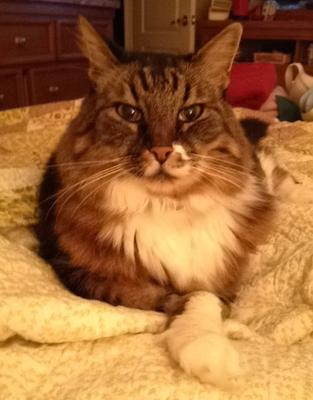 My Maine Coon showed up at my house as a kitten when my mother was in hospice in our home. As I took care of her and was in a state of despondency and sadness, this cat entered my life.
We are a dog family. When this cat appeared, our family included five dogs and we never had a cat. After a strong storm, I found the kitten on my roof and used a ladder to help him. I held out my arms and he came to me.
That was over 12 years ago and the last day he was allowed to roam free. There's no question that he was a purchased cat and was allowed to roam the streets, which was a shame because he was in danger. Whoever lost him will never know that he has had the best life with this dog family.
He is the most beloved and pampered pet in existence and because of him, I now have an incredible appreciation and love of all cats. I'm still a dog person, but my family is now diverse!
Comments:
Joanna Funkhouser: Bless you!! I too keep my cats inside for safety. We have coyotes who roam our neighborhood as well as a fairly well traveled street. Do not let anyone make you feel bad for keep your loved and cherished kitty inside. He will live a much longer and more healthy life because of it. As long as you play with him every day so he can get exercise...he will be happy!!
---
Kalliope..."o, hiiiii I didn't see you there"
By: Kim in Boynton Beach, FL
O helloooo dahlinggg
I adopted Kalliope from a rescue at a pet store, this past July-she was about 3 months. A ball of soft fur with big round eyes-she would up having some fleas and worms, conjunctivitis and an upper res infection....fantastic.
After all the medication was finished I now have a smart, crazy fuzz ball running around the apt. Kalliope is a lefty and will stand on her hind legs and paw treats into her mouth from my hand, as if she had fingers!
She lets me know she wants to play by puffing up that extravagant coonie tail, arches her back and menacingly hops sideways-- No store bought toys for her, she's happiest with foil balls and used toilet paper rolls-infact NO cardboard is safe, and she'll even play fetch w. the ball and bring it back for you to throw!
Kalliope also likes to be the ONLY thing on the coffee table, nothing is safe-pens, change, bottle caps, cups of water all wind up swatted on the floor. She's my babygirl, I'm looking forward to so many yrs together
---
Sweet Harley
By: Cathy in WA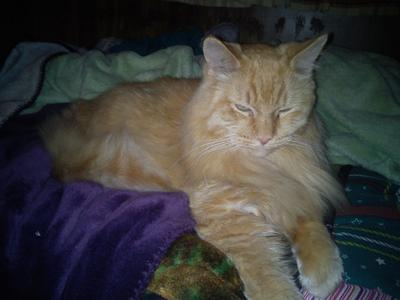 Harley (formerly known as Desta) found me while I was visiting a local cageless cat shelter.
I went looking for a young cat to be a companion to one of my girls, who was feeling lonely with the other 2 being a bonded pair. While visiting the young females, this HUGE long haired orange older boy kept coming and sitting on my lap. Every time I'd bend down to pet a kitty, he was there.
When I knelt to pet a young kitten, Harley climbed my back to my shoulder and started nibbling on my hair.
When I asked the shelter staff about him they told me he'd been there almost 2 years and they had been told he was Maine Coon. He rarely ever approached a visitor. They'd never seen him demand attention the way he was doing with me.
He was a surrender who's owner had passed away. He had never moved beyond the grief of losing his person and home so suddenly. That settled it. Harley came home with me instead of the young girl I had been planning on.
It worked out really well for the whole family. He's already made friends with all 3 of my other kitties and spends much of his time with my lonely girl. He follows me around, talks to me, sleeps on me, sits at the end of the tub when I shower, and brings me whatever he finds around the house to play with.
Harley is 4 years old and the softest, fluffiest, most amazing cat I've ever seen. He's been a member of our family for only a week but I can't imagine not waking up to his gentle touches and loving eyes every morning.
Comments:
Arlene M. Baladi: What a handsome devil your red boy Harley is, he is so lucky to have found you!
Tracey: OMGosh - beautiful ... reminds me of my Gordon (rip) ....
Kim Schieven: Loved your story...reminds me of my cappu"chino" who my daughter spotted at the shelter. I swore I'd never get a long hair or male but this guy has my heart. Love my girls too but he, like your harley, is such a special guy...and he looks alot like him too.
Lisa: What a beautiful cat! You are very lucky! He looks just like my Louie was was also a rescue. Louie's story was posted on here on the 9th. Isn't it something how cats choose us and not us choosing the cats?
---
Zeke
By: Melina Fuxinger in Sweden
This is our beloved Maine Coon named Zeke.
We've adopted him from a catcenter.
He's wild and strong but has the greatest heart.
We love him so much.
Comments:
Sue: I have just brought home my 12 week old brown and white Maine Coon. If he grows up to look like Zeke I will be over the moon.
Nicole: What a beautiful cat,looks big,love the green eyes :-)
Joa: He is too beautiful !!!
Marilyn Flynn: Zeke looks more like my Stevie than any cat I've seen on this site.
Marybeth Mills: He's adorable
---
Here's Kali doing her 'cover of Vogue' :-)
By: Rosie Platts in Leamington Spa, UK


Kali was 3 yesterday. She is a talkative and friendly girl who loves to be brushed. Here sister Chloe thinks she's a pain though ;-)
(Note from editor: Check out Kali & Chloe in our 2010 album to see how much Kali's grown!)
---
O'Malley
By: Laura in Mobile, AL
O'Malley waiting for his dinner!!
Maxwell O'Malley is a 2 1/2 year old male black and white Maine Coon. He is a big sweetheart.
He is a thin 20 pounds and quite long. About 45" tip of nose to tip of tail. He is gorgeous and affectionately takes care of our 10 pound Shitz tzu/Maltese mix and rescue kitten who could pass for his twin, just smaller :)
Comments:
Judy Glancy: He looks just like my Ethel, i got her at the animal shelter in oskaloosa iowa, she was found walking down hwy 92--as soon as i saw her, that was it ! she is almost 7 months old
---
Heaven Sent
By: Lynnette Harmon in North Fort Myers, Florida
Not realy wanting another cat, my husband begged me to view this kitty he found on line. Well, there was this stragilly charcole colored Maine Coon cat. My husband encouraged me to call the rescue shelter to inquire about this ball of fluff.
They explained to me that he was in quarentine due to sever ring worm and fleas,and was mated due to all the baths they had to give him.
He was treated very bad by his owners, and left outside to fend for himself, (WITH NO CLAWS on all 4 paws.) He just sat there in his pen staring at us as if to say, please get me out of here.
We had to wait 30 days before we could pick him up.
The day finally came, and we brought him home. We named him Tuff Guy because he toughed it out till he got better. TG for short.
He was a little skidish at first and hardly made a sound. We have had TG for 7 months now and he has all his fur back and then some. He talks and sings to us on a regular basis.
He has also in a way changed my life,(I have learned to smile again.) TG has become our heaven sent angel.
(Note from editor: Lynnette, your pictures didn't come through - This happens when they are large files, meaning high quality photos. There are tips on our Contact Page for editing photos for the web, if you'd like to try again. I also sent you an email to let you know.)
---
Peanut Update
By: Andy in Mohnton, PA
Adopted Peanut when she was 3 months old. Feel strongly that she is at least part Maine Coon.
She has all the characteristics except size. Which is fine with me. She is now a little over 7 pounds at 8 months . Loves her treats. Likes my lap and getting on my feet when I walk around the house. Loves looking out the window.
She is very playful and a great replacement for the cat that we lost. I am happy that I adopted her as a kitten so that I have total responsibility for her upbringing. Totally spoiled!
Comments:
Andy: Thanks Maggie for the comment on Peanut. She is my little GIRL!
Maggie: My bet is you don't have to worry about Peanut's size as I have had or known many Maine Coons and some of them don't go through their huge growth spurt until they hit the 3 year mark , Maine Coons do not hit maturity till they are 4 years old and believe me thier size can change drastically in that time period of their lives.. My bet is You will still be most pleased when Peanut hits his maturity of becoming a cat rather than a kitten. He is most beautiful smiles and stay blessed.
---
Loki
By: Taylor in Greenville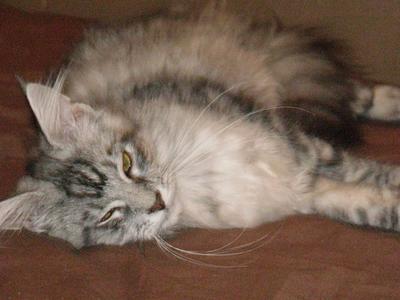 He's Laying Down
Loki is a spunky little guy who likes Fancy Feast and the fact that he's bigger than his 6 month old adopted brother. He tends to sleep on top of my hedgehog's cage and he eats all of the food.
---
My Ozzy
By: Tamara Kreisler in Buford, GA USA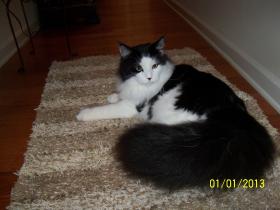 Ozzy is my 9 month old male Maine Coon, he loves to play fetch with little wadded up paper balls, he's also a fan of hide and seek.
His favorite game is definitely the paper balls though, I'm amazed at how smart he is, when he's ready to play he bring his wadded paper balls whereever I am and puts them down and them looks at me, I'm ready!
We got him from a Breeder after our beloved "Zcat" had to leave us after 12 years due to chronic kidney disease and eventual kidney failure. He is definitely a pure bred Maine Coon with pronounced tufted ears and all the other characteristics.
We were shown his Momma and Daddy who were so large and gorgeous. I knew immediately when I saw Ozzy he was the cat for me, what a great choice!
Update: I posted a picture of Oz but I wanted to share a few more. I love this cat, he's funny, playful and watches everything i do especially, when i'm ín the kitchen he wants to be a part of everything I do. To Ozzy fetch is his all time favorite game!
---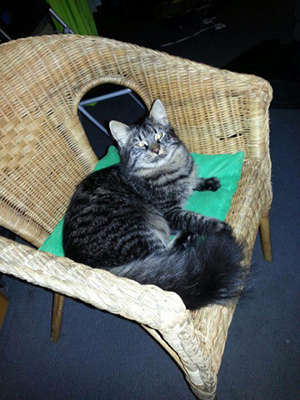 Nash
By: Psy ChoDelik
Hi, this is my maine coon tomcat named "Nash" chilling in the seat next to me.
I really enjoy seeing all the beautiful cats on your page. Keep up all the good posts and pics.
---
My Jo Jo
By: Kelly in FL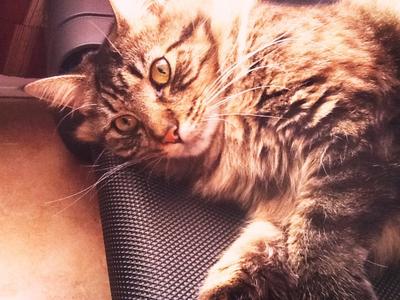 Well, I got my Jo Jo about 2 yrs ago from a near by shelter. They said she was 8 months but, she was with the older cats. I think she may be 3 yrs. I went with my daughter who is 16. Jo Jo picked her. LOL.
I have to say I have always had cats that just flocked to me. Not that my cats don't like me but, they seem to favor her and just follow me around because I'm busy all the time.
I have another cat named Dude. A short haired black domestic. He is more my cat but still is standoffish. I don't get it. I treat my cats so well and never have hit them or even raised my voice yet they seem unsettled around me. Jo Jo has even bit me a couple of time because I was petting her (I guess) maybe too much to her taste.
I need some advice. How do I get my kittys to be more affectionate towards me? I have always been a cat lover and love all animals. I'm kind and gentle with them and Jo Jo even sleeps on her back. Maybe I'm looking too into this, I don't know.
I just know I had a very close relationship with a kitty at one time and since then my other cats have seemed not to like me as much. Am I being silly? Just some feedback I'd appreciate. TY for listening. :)
Comments:
Opal Rae: Dear Kelly, my boy Horatio hissed at me when we first got him and was never truely affectionate for nine, yes nine years, until last summer when our Westie passed away. Now Horatio wont let me out of his sight. I believe he was both attached-to and jealous of our Westie Cosmo.
Cindy: I was told that cats bite affectionately and not to worry. I have the same issues.
---
Louis - Red and White Maine Coon - Gentle Giant
By: Janice Silver in New York City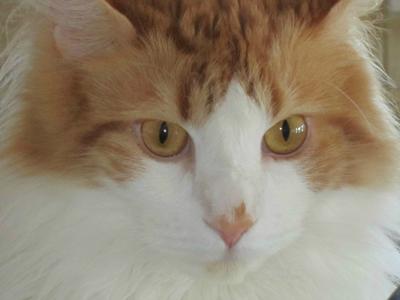 Louis
I found Louis the red and white Maine Coon cat in a pet store.
He was the last kitten of the last litter before the breeder retired. I had to get him! He was 9 weeks old and weighed one pound. Now he is 3 and weighs 17 pounds.
He lives with a Persian cat named Leo. He loves Leo. Leo reluctantly agrees to have Louis in the same house but thinks he is a bit of a clown.
Comments:
Barb: big and beautiful!!
Carol Bradord: My Simon looks just like Louis! Got him as a baby barn cat!
---
Element
By: Kat in Deep Brook, NS, Canada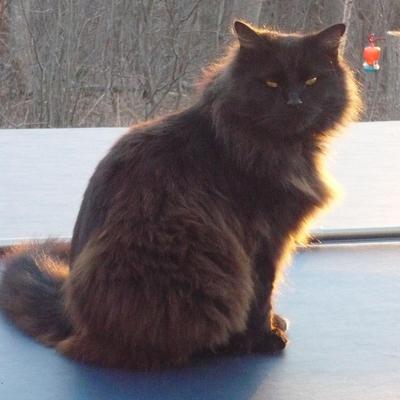 Or Elementium as my son started calling him as a kitten. He graciously lets us live in his house with his bestest 4 legged buddy Aura a Wolf Husky Valley Bull dog mix!
He will be 8 in February... and has personality PLUS. Love that he follows us and lays in the room we are in... quite often on his back spread eagle!
He lets us know when he wants something for sure. "picking" at our leg... or nosing us in bed!
And he loves his bath!
He is one of a kind and we wouldn't trade him for anything!
Comments:
Pat Waldron: Your element could be a twin to my Omar...beautiful!
Janine: Looks like my Chuck Bass. Element seems just as large. My Chuck loves our Parson Russell Terrier, Frisky, and now about the same size.
Arlene M. Baladi: What a gorgeous cat he is...you are SO lucky to have him!
---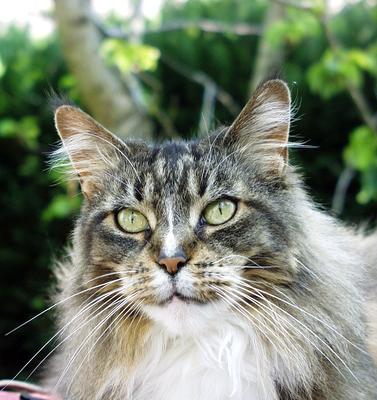 Hammy
By: Kodie in Bellgham
Nice Cat
Comments:
Jo: What a regal face!
Cindy: What a nice story...thanks so much!
---
Lambchop Adopted Us!
By: Ruth W in Baton Rouge, LA
Feeding them downstairs
August of 2011 a mama Maine Coon and her two 4-5 month old kitties showed up at our apartment building. We started feeding them and eventually Mama and the girl kitty started coming in to eat. The brother kitty prefered to eat outside.
Mama would eat and go outside, but little Lambchop would eat and make herself comfortable. She would lay under a chair or on the couch and would not want to go outside. She had adopted us and we didn't realize it!
When the weather started to turn cold we let her have her way and she stayed in with us all night (even sleeping in the bed with us) but in the morning she would fuss when she had to back outside.
On March 3, 2012 we made it official and let her stay. She was spayed and got all her vaccines and all the things a cat should have in a happy home. She has been a complete joy to us and even goes on vacation with us.
She is the sweetest most talkative cat we have ever seen, and extremely well behaved (she doesn't get on the table or the counters). She will sit in the window and chirp with the birds, she fusses if we get out of the bed and she is not ready to get up. She will wake my husband up with nose nudges if she is hungry. She will not eat if she doesn't get brushed first. She is so smart she understands at least 20 words/commands.
Now at 1 & 1/2 years old she weighs 12 pounds and has beautiful fur that feels soft like rabbit fur. She may not be full Maine Coon, but she is close enough for us and she is so sweet and special that we can't imagine being without her. She is a part of our family!
(Mama kitty, Mrs. Beasley, was adopted by a friend of ours and brother, Butch, is still outside. We feed him and make sure he has water and give him attention but he prefers to live outside.)
Comments:
Christina: Oh she's lovely! I saw your comment about my Libby (who is just shy of 17 lbs), and had to come check your furkid out. :)
Cheri: An awesome story! So proud to have Lambchops mommy Ms Beasley
Arlene M. Baladi: What a little sweetie you have in Lamb chop...wish I could find my own Maine Coon cats!
Carolyn Donaldson: Very sweet story about you Mamma Kitty and her kids!
---
Misc. Comments:
Scott Pool: I have a cat Muffin at home. He's a Maine Coon four years old and cute white and black : - )