Okay so I bought my kitten in a pet store, and he was 2 months, but I found him really big. Now hes 7 months and hes bigger than our 5 year old regular female cat.
He has his own personality and is extremely playful and really hyper, can somebody help me out and let me know if you think he might be?
He has a medium fur and its VERY shaggy. He weights about 10 pounds already and he's only 7 months! And his paws .. well are MASSIVE. I also call him my guard cat, (he's better at it than the dog)
Max is a large, loving, fluffy cat with hair tufts between his toes, and hair coming out of his ears. He has a very large fluffy tail that looks like a raccoon tail and a lion like ruff around his neck. He also has the LONGEST whiskers I have ever seen on a cat
He follows us from room to room, like a puppy dog and wants to be where ever we are. He was very playful when younger, now as he is older not quite as much, but still plays every now and then.
He runs when he hears the door bell or a knock at the door, but will come back to main room when company is there... in his own timing.
He talks back to us when we talk to him, but has really never been much on "meows".
We are not sure of his exact weight right now, but pretty sure it is over 15 pounds.
He was at a local shelter for a year before we found him. The shelter said it was unusual for them to keep a cat that long (unfortunately, they are a kill shelter), but there was just something "special" about him - and we agree!
Well my girl friend was driving about 3 years ago by our local college, The University of South Alabama. She noticed a little fur ball on the side of the road that had just been clipped by a truck.
Well, she gets out and runs after it, and grabs the little guy up right before running into a street gutter.
We brought him home the poor guy bled from his mouth for a few days but is now in perfect health and now is a permanent house cat. He is like our blood child and acts just like one of us humans.
He follows every trait I have read online and the looks are dead on.
Obi came to us at 8 days old with eyes still closed. He was left for dead by his mother and rescued by our youngest daughter.
At first we thought he was Siamese with all the point markings. However, as he aged his fur grew, his paws grew, his tail grew and he grew to 20 pounds.
Obi loves water, stuffed animals that he carries around and talks to, and he chirps like a bird. Who would have thought that such a large cat has such a little voice.
Obi loves to eat and one of his favorite foods is plain Cheerios as you see him jumping for one. Obi also stands up like a bear on his hinds and can beg.
Obi had two serious illnesses, pancreatitus at 2 and hepatic lepidosis when he was 10. The lepidosis was a spin off of a fever of unknown origin that occurred after his annual vacinations and it necessitated placing a feeding tube to save him.
Anyway, Obi is good as new at 11 and we think him to be of the Maine Coon clan but just can't prove it.
My cat is so awesome! I got her from a couple I know that rescues cats on a lake in Upstate NY.
She was born to a litter of three females and they are all calico coon mixes. Her Mom is a Maine Coon and her dad is a domestic short hair.
I kept her official name of Princess Grace Kelly (given to her by the couple that rescued her) because she completely fits that title. She is known as Gracie to everyone else. She lives with me in my studio apartment in Manhattan. She also travels to her "country house" in Long Island to visit my Mom and Dad, who spoil her rotten.
She is unlike any other cat that I've known (and I've grown up with 2 females cats). She is afraid of heights, barely meows, prefers beef over fish and seafood, and does not like human food!
She is skiddish and gets scared easily, but once she feels comfortable with you she is an utter sweetheart. She loves to be rubbed, scratched, and have her picture taken. She loves to lay around the apt and frequently throws her head over her shoulder when I call her name for her "model pose".
She enjoys the good life to say the least! She has changed my life in so many positive ways. I will love and take care of her for the rest of her life.
I had been looking for a kitten for my daughter for a couple months but couldn't find the right one.
Then one night I gave one of the women I work with a ride home. she had a bunch of cats outside her house, so I asked if she had a kitten she would like to give away. She said she had one left, and handed me a tiny ball of fluff.
I couldn't have dreamed up a more perfect kitten. beautiful, smart, funny, playful, and very very vocal. She follows us everywhere. She even sits on the edge of the tub while I take a shower.
The other day a woman came to my house to bring me my new foster kitty. When she saw Sparkles her eyes lit up and she asked where I got her. I told her from a friend at work. She said she looked like a Maine Coon and that I was lucky to find her.
So I looked up Maine Coons and she does indeed look like she may have some Maine Coon in her. We love her so much, she is a perfect fit for our family.
Comments:
Laurel: Whoa, look at those paws, and ear tufts! Definitely a beauty and very coonish!
Karen: Sparkles is so cute, my girl also sits on the edge of the tub whilst I am in the shower, she will be in the bahroom if I am in there, wont leave me alone, so funny when they play in water.
Marg: Sparkles is absolutely beautiful. I bet her personality sparkles.... :-)
Janis: Oh Sparkles is so huggable! I love her beautiful eyes!
Melanie: What a cutie-pie!
Sharon: Pretty girl!
Heather: Thanks everyone, we love her more every day.
---
Abbie - Beautiful, Friendly...Maine Coon?
by: Laurie Harris
(Deerfield, NH)
| | |
| --- | --- |
| Abbie | Abbie too |
Abbie came to live with us three years ago in a roundabout way.
She was given to a woman who had COPD and could not cope with Abbie's long hair (after only a few days!). Her former "owner" had her spayed and microchipped.
We took her in and have always wondered if she is a Coon. We are unsure of her age when we got her, although we think maybe she was 1 - 1 1/2 years old. She has grown so much over the last few years!!! She is so long when she stretches out.
She has put on weight and continued to grow, although she is by no means fat. Her coat may make her seem that way, but she isn't!
She's got a charming personality, and runs to greet visitors at the door. Abbie will let you pick her up, place her paws on your face and "nose" you. You can hold her for a short time, but then she's off!
She'll follow you around like a dog and when she wants your attention, she'll politely keep tapping you with her paw!
She also never meows....just short little chirps and trills...at first we thought maybe someone had hurt her vocal cords in some way. Abbie is always curious and has incredible bouts of energy in the morning and evening.
We let her be an outside cat when we first got her, but due to the fact that we live in the country "where the wild things are" we decided to make her an indoor cat, much to her dismay.
I've looked at pictures online and have found many pictures of Coon tabbies that look like her (if her coat were brushed down). These aren't the best pictures of her, but they are a start. Thanks!
---
Beatrice and Nikita (sisters)-
Maine Coon Mix, Perhaps?
by: Vera
(San Francisco, CA, USA)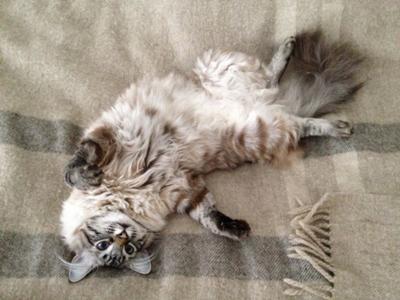 Beatrice
We adopted two out of four sisters that were brought into our veterinary office after a customer trapped them in her yard.
Beatrice was the only one of light coloring and her hair is long, silky and very wavy around her belly area- the rest were blackish.
Nikita is still pretty black w/a light wash of grey/white under her neck, a spot of white (very wavy)around her belly and randomly dispersed single greys/whites along her tail, etc. (From what we've heard, the other two sisters' coats started turning grey.)
They are about 1 1/2yrs old but don't seem to be fully grown. They both have long arcs of hair coming out of their ears as well as between their toes.
Their bodies are very long, with short/stout/strong legs and have long, low-hanging, bushy tails.
Comments:
Sharon: Oh, that upside down pose is so endearing. All my ME Coons do that, it is so cute. I'd guess they might be a mix.
Laurel: The fur texture is very coonish and that upside down pose is so appealing! Congratulations, beautiful kitties!
Frances: Everything is better upsidedown, maybe you have our best bits, but my tail is usually like a flag pole.
Heidi: Hi, Vera, Beatrice and Nikita are beautiful and they are lucky to have you as their new mom...They seem like Mainecoon mix, for sure
---
Milo (the Marvelous!)
by: Heather
(Fullerton, CA, USA)
Milo came to us as a kitten; we've had him for almost 4 months now. He was given to my boyfriend's mom as a gift but she couldn't keep him so to save him from the shelter, we took him in.
He has become the love of our lives. He is sooo sweet, expressive and intelligent. He lets our 6 year old son play with him like a doll! He LOVES water... we've had to learn to keep the lid of the toilet down.
After reading your wonderful site, I'm going to buy him a fountain. I know he'll love it! He plays constantly, with his toys, strings, leaves, twist ties, really everything. But he's also perfectly content to just lay on my chest and cuddle.
His origins are a bit of a mystery; we don't know how old he is or whether or not he is a purebred (or even a Maine Coon I suppose), but he sure looks like the photos I've seen and he matches the personality descriptions very well).
PLEASE comment on my photos! I'd love to know what you think about our new baby. We love him so much and hope you do too!
P.S. I read somewhere that spots are a disqualification for Maine Coons that are show cats. Are the spots they mention the ones Milo has?
Comments:
Maine Coon Cat Nation: Hi Heather, I'm so glad you and Milo have found happiness together! Whether he's a full Coonie, mix, or look-alike, he is just perfect! I'm by no means an expert in showing cats, but I do think his spots are the ones mentioned. Regardless, Milo is a darling. I'm sure he'll LOVE a fountain, too!
laurel: LOVE him - that tail is just like my Theo's, he is just delightful!
Marg: Milo is as cute as and I'm glad he has such a great home. :-)
Joanne: When I rescued my two Main Coon kittens I found a book at pet smart from the editior of cat fancy all about Maine coons and characteristcs for showing them. Check it out, maybe that will help? Seems like they had pictures of cats that have the same markings?
PS: They weighted 6.5 lbs at 6 months now my boys are weighing in around 20!
PSS: He is beautuful! Does he have 5 toes on the front paws and 4 on the back?
---
Angel girl, Norwegian Forest cat, or Maine Coon mix?
by: Sharon Duffy
(Sarasota, Florida)
This is my lovely Angel. I took her & her brother Oscar home, when a patient of mine, the original owner, passed away in 2008.
Oscar was the best cat I ever had, but we believe he was taken by a Bobcat. Angel, who my Dad adopted, came back to me when my dad passed away, in 2009.
She is lovable, sweet, gentle, but shy. She will come to you when she wants to be petted and scratched. She will roll over and want her long haired belly rubbed.
She has all the markings of Maine Coon genes, from the long hair tips on her ears, all the tufts, full chest bib, and pretty feather duster, for a tail. Someone said she's a Weegie, short for Norwegian Forest cat. Whatever she is, she's adorable.
She loves to climb up on and jump off of all the plant shelves in the house, as her two brothers, Pookie and Toby do. She's a cuddle bunny in bed, but don't reach down to pet her before she's ready, or she will slink away, dipping her back low, as if to say " No, No, I didn't say you could do that!" (can't figure that one out) She has a distinct sounding voice, that I can't describe.
She is not as talkative as my males, but when she and I are alone, she will follow me around, jump up to my face level, and want to chat away.
None of us can hold her for more than a minute, but my granddaughter can carry her around all day, and she is fine with it. They sleep together every night. She is the perfect fit for our household.
Comments:
Melanie: What a sweetie!
---
Could Gryphen be a Maine Coon?
by: Bobbi
(Bismarck, ND)
| | | |
| --- | --- | --- |
| Gryphen | feet - look at that toe hair! | tail - it's huge! |
Gryphen is the first female cat I've owned, and she's also the largest!
At a little over one year, she's about 9 pounds, but looks like 15 with all the fur she has. She's got long hair between her toes, the largest tail I've seen on any cat I've had, and a ruff a lion would be jealous of.
Normally her eyes are large and round, and she's got about 50 different expressions.
She trills a lot, but doesn't actually meow much.
She is also the boldest of all the cats I've had...the doorbell rings, the others hide. She greets the person at the door. She loves to lie upside down and stretch out, and she has a never-ending fascination with water. She loves to play chase...you chase her, she chases you. She's smart, too...tell her something once, and she's got it. She must also smell and touch everything, though she rarely 'tastes' or eats things.
I found her as a stray in Washington state...complete with two collars, but no tags. She was only about 6 or 7 weeks old, and even though I posted fliers everywhere, no one claimed her. I fell in love immediately...she was a walking cotton ball with 4 legs, and will never give her up now.
The main reason I'd like to know if she's Maine Coon (or a mix) is that someone recently told me she looks fat. But, even though she looks large, once I pat all the fur down, there is an indent between her ribs and hips, so she does have a waist. In all the years I've had cats, that was the main way to tell if they were too heavy.
She's got all the "traits" from every website I've looked at. And I'd love to counter when this friend says she's chubby, with "She's a Maine Coon, she should be big." Ha!
What do you think?
Comments:
Joanne: Maine Coon 100% and she is beautiful!
Victoria: Love the white tip of the tail, so cute :)
---
My Dog-Cat Max
by: Sally
(Boston, MA)
he is very long!
Max fits the description of a Maine Coon to a T.
He is loyal and sweet, greeting me at the door when I come home but not a lap cat per se- he prefers to sit near me, or above me.
He is about 18 lbs, extremely long, has the extremely large, fluffy feet, ears with the tufts of fur, easily maintained by fluffy undercoat, and straighter top coat.
He is quite a character. He adores boxes, suitcases, anything too small for him to fit in, he'll cram himself in anyways. He also has a real thing for plastic- biting, licking, whatever.
He is 9 years old with the personality of a kitten, very attentive and affectionate with people, less thrilled with other animals.
I am very sure he is at least part Maine Coon, and have yet to see a Maine Coon attribute that he does not have, but I am also aware that without a pedigree, he is never going to be called a purebred Maine Coon. He is a shelter cat, and I don't know anything about his parents. But even a purebred Maine Coon can get loose or dumped at a shelter and have babies... maybe that is what happened to Max.
In fact, the pedigree is not important to me. I was happy to rescue him and am thrilled with how he has turned out. Best dog-cat ever (he even makes barking noises when he gets excited.) But I do believe there is at least some Maine Coon in him.
Comments:
Joanne: I have two rescues that fit the same discription, I am trying to figure out if they are Maine Coon (most likely), Norwegien Forest cats or Siberians! Hope I didn't confuse the issue -).
Marg: Your Max has maximum adorability. :-)
Joann: Max indeed is a long cat!
Teresa: I think Max is a lovely black smoke domestic long hair. My 8 month old Maine Coon boy is almost 14 pounds. Max's ears and tail do not look at all Maine Coon. He is a beautiful boy. You can enjoy him for the cat he is. I love that he chirps like a Maine Coon! (you can see my Maine Coon at twomainthings.blogspot.com).
---
Jasper
by: Maggie
(Idaho)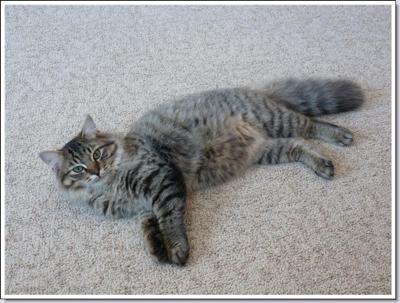 Adopted him about a month ago from the Humane Society. He was 8 months old then.
He was rescued 2 minutes before the gas chamber at the pound.
The Humane society said they had him for over 2 months and nobody seemed to want him. I can't understand why. He is so cool. I saw his picture online and called right away and picked him up the next day. The vet papers state he is a Maine Coon/tabby mix. But who knows.
The mane around his neck has gotten longer this past month and he is getting more fur in his ears. It has taken him awhile, but he getting more affectionate and he seems to easily train us. He does not shy away from anyone or anything.
Comments:
Sharon: He's beautiful! I love the eyes, and his very masculine demeanor. I see some Coonie looks in there
Marg: I'm so glad Jasper found a loving home with you. :-)
Joann: Jasper is a very handsome guy!
---
Obie
by: Sam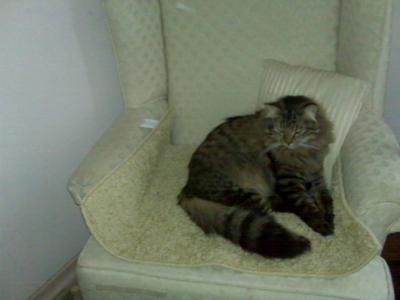 I found this cat (or he found me...) by chance, and he was quite a mess, skinny, matted and covered with burrs.
I cleaned him up and in the process of finding him a home, his huge personality really captivated me so I kept him.
He has all of the traits, including slight ear tip tufting. All the other traits are pretty clear - long ear hair, the mane, the tail, the huge bone structure, the tufted feet, the purry-trilly speech, and lots of it, and the doglike behavior. He carries things from room to room in his mouth.
I think he has a significant amount of Maine Coon in him.
Comments:
Sharon: Obie is a big boy. He maybe A full Coon Cat, that got lost. Thank goodness he found you. Wow look at those feet. He's magnificent!
Laurel: Beautiful cat - so happy you found each other! My Theo looks very similar - same black markings, same trilling sounds. Enjoy!
Samantha: awww thanks guys! I took him to a vet today and they think he is allor most MC so I was pleased to hear that! He weighed in at 15 lbs and they guessed him to be about 3-4 years old. I would have said younger! he has minimal tufting in the ear tips but everthing else is there including the weird sounds. But can anyone tell me what chirping sounds like? Youtube videos vary greatly. He definitely trills, and is very vocal.
Marg: I agree, he is gorgeous. I bet Obie is a real character :-)
Joann: Obie is very lucky to have you for his family
---
Is Dutch a Coon?
by: Ms. Praschnik
(Miami, Fl, USA)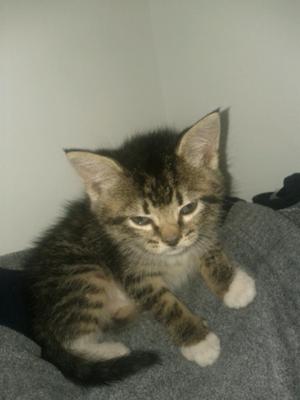 5 weeks
Hello!
My name is Dutchinson Von Poultry. I am a 10 week old rescue kitten. My daddy found me in an abandoned lot by his construction site when I was two weeks old.
I was still wandering around my dead, feral mommy and litter who all died as a result of being attacked by the guard dogs from the construction site.
My daddy claimed that my biological mommy was an enormous cat. He scooped me up, wiped the gunk from my eyes (one of them was still closed), and took me home to my new mommy.
Since I have been home, I have grown at an alarming rate! I have long meowing conversations with anyone who will listen, and love to cuddle with my mom, dad, and min-pin sibling.
I have very large paws, black lynx like tufts of hair that grow from the tops of my large ears, and tufts that also grow in between my toes. I can get little crazy sometime, running around the house and growling much like my sister Princess.
My mommy actually thought I was some sort of wildcat (bobcat, lynx, etc.) when I was smaller because I am so different from any other cat she had had in the past.
Please help us with your opinion, my mommy is very curious and would love to say HA! to her skeptical husband.
Thanks!
-Dutch
Comments:
Marg: Apart from the different colouring Dutch reminds me of my Maine Coon X and his two siblings when they were all kittens. :-)
Henry: Thanks! Coon or not he has stolen our hearts
Joann: what a cutie!
Marg: Henry, my Charlie Brown stole my heart at around 2 weeks of age when I found him, his sister and brother in my carport. Well they all did but I was only able to keep my beautiful boy. I put my hand down to pick him up and he hissed at me, the only time in his life he has. :-) Coonies are definately heart stealers....
Karen: Dutch is so so cute, I just want to cuddle him. His colouring is much the same as my little girl
Dutch looks so so cute, What a beautiful little face, so cute when they are so small, He has the same colouring and the white feet and paws just like my little girl.
---
Loki
by: Melanie
(California)
| | |
| --- | --- |
| Loki at 6 months curled up on my desk | On the wooden floor |
We got Loki when he was five months, but he was so big, with this huge, long tail, I thought he must be eight or nine months old.
Now that he is eight months old, his tail has grown to 13" long. Then there are his big paws with the fur on the bottom.
On my lap at 8 months
When he chases a ball down our wood floor hall, he slides and crashes into things all the way--not that it stops him.
The other thing about him is his voice. He's very talkative, but nothing he says remotely resembles "meow." There's squeaks and trills and chattering at the birds, and when I call him, he comes running in saying a little, "ep-ep!"
He also loves to be at the center of things, laying on the kitchen floor while we're making dinner, greeting new arrivals at the door, checking out everyone's laps in turn if we're seated for any length of time. He'll also fall asleep in your lap and let you rub his tummy and hold his paws.
It was because of all these (to me) unusual characteristics and because my daughter said he he looked a little like a Maine Coon that I started reading up on "Coon" traits. I've been surprised at how many he seems to have, though we don't care what he is, we're just glad he's ours!
Comments:
Marg: Loki is a truly handsome boy :-)
Joann: Loki is one beautiful guy!
---
My 9 mo. Black Smoke Coon - How Will He Mature?
by: Christine
(Reston, VA)
He is a mystery, because he is very Maine Coon-like, however I think he is small for his age. Also, in the 2 months we've had him his fur seems to be changing. I'd love to hear from the group what people think...
The story starts with his history from the shelter at 5 months old. His paper work said he was hissing and scared.
He was soiled from chronic diarrhea. Finally after 2 months he was found to have food allergies and he improved with only canned duck food. We got him at 7 months old.
I called the shelter to see if there was any info on who dropped him off, or if he was a stray. The county shelter said he was dropped off "by a breeder who did not have time to deal with him" (this is what the shelter lady had in her records). They could offer no other details.
So, now that he has proper nutrition from his food and can grow (poor guy!) he has been making up for lost time.
He is Coon-like because he: follows us from room to room; is cuddly and loving; clever; can fetch; is prone to goofy antics; chirps, talks and croons; chases a laser; has tufted paws; flops at our feet like a big dog; gives kisses; has boxy/square body shape.
He was an all-black cat when we got him, but now his markings seem like a black smoke coon (dark black on top and silver gray undercoat fluff), but he has a few chocolate dots (only visible really in the sunshine).
He also has a rust hue sometimes in the sun. His fur is silky smooth with a gray ruff getting bigger every day. This fur is a different texture but still soft. His silver belly hair is like goose down.
Oh, the rug picture is Caspian at 7 months (see how he is darker) and his tail tip was shaved I think. The other pics are current.
-Is he a Coon/mix despite his smaller size?
-Will he grow and catch up in size (seems to be already)?
-Did a breeder really give him up, would they if he had a spot of chocolate? or chronic diarrhea?
-For a Coon, what is a normal size now? I'd say he's about 6 lbs., but it's a guess.

Sorry this is long, but he has an interesting history, and I hope this might also help someone else who has a kitten with diarrhea.
Comments:
Sharon: He is surely growing into a gorgeous creature, as can be seen from the 2nd pictrue. Smokey, with darker legs. My Pookie has the diarrhea thing going on too, whenever we change his food. My vet gave us some great medicine for him, when that happens. Stops it right away. Pookie looks just exactly like a mature Caspian. When I rescued him from the shelter, he had a Lion cut. ( probably because of his condition) His pictures are in the November or December albums. They're lovable kitties aren't they?
Marg: Wow what a stunning looking cat. I love his beautiful eyes. :-) My Charlie Brown is Maine Coon X and he did not fully mature till he was over three years of age. He is now 11 yrs old and still has 'hypo kitten moments' in spite of his asthma :-)
Melanie: He's beautiful and lucky he found you!
Joann: Love his coloring and his eyes are great!
Jacob: haha, love the airborn picture!
Joanne: My 2 maine coons that I rescued at 6 months only weighted 7 pounds each, now they both weigh around 20! I think it was the diarrhea is why the breeder gave him up. He is so beautiful there can't be anyother reason! PS: Mine kept growing until 3 yrs+.
sheecatt: Beautiful baby!!!! My baby Mystique looks IDENTICAL! She's 9 months old. She plays fetch, gives kisses, and loves to look out the window into the Wild... >^..^<