Jan-Feb '18 Featured Coonies
Jan-Feb '18 Maine Coon Photo Album
Come meet Xena, Joe Sox, Damian, Zulu and see an adorable video here too, in our first album of 2018!
Mr Joe Sox
by Nancye
(Buffalo, NY)
Sox is so adorable and such a baby. Although he is 9 months old and weighs 9 lbs.

He is very much a kitten and plays all day with Salem, his baby sister who is tiny. She chases him and it is such a comedy show.

He looks like 3 times her size but they cuddle and adore each other. He is the most loving cat we have ever had.

He was rescued because the owner could not care for the kittens as they were too much for her small apartment.

Sox now lives in Buffalo, NY. We have always had cats but never a Maine Coon. He is my favorite ever. He is such a sweetheart. Our gentle giant. He loves everybody and is such a baby still.
---
Xena, Warrior Princess
by Janet
(Charlotte, Maine)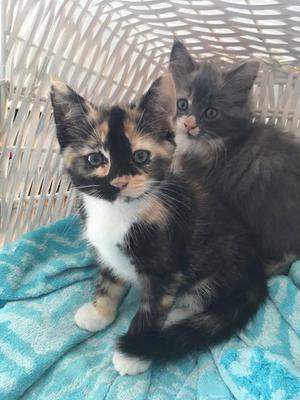 Xena, Warrior Princess is a beautiful, playful, lovable girl.
She loves to fetch, carry her toys around in her mouth, wrestle and play with Beanie babies, loves water and loves her cat tower.

She can climb and jump incredibly! She is about five months old and growing rapidly. We were told that she is a full Maine Coon, but we have no papers for her.

I assume she is at least a mix. She has a wonderful personality and loves to talk to us. We fell in love with her immediately and there was really no adjustment period at all when we brought her home.
---
Cute Coonie Video
by Kiyo Takagi
(Tokyo)
Dear Maine Coon Cat Nation,

This is a lovely site.

I would love to share this crazy cute video with you.
One of our employee's cat came to our job interview (he's a Maine Coon called "Maru").


22 February is the Cat Day in Japan (the date 2/22 can be pronounced as "nyan nyan nyan" in Japanese, equivalent to "meow meow meow" in English).

Thank you,
Kiyo
---
My Beautiful Maine Coon Damien
by Lorraine Restoule
(North Bay,ON Canada)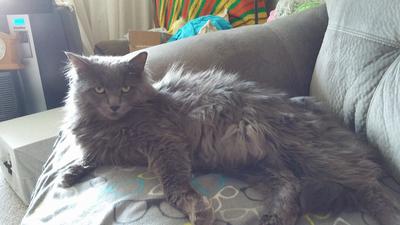 I bought Damien as a rebound as it was two years yesterday since my other cat Claude went to fur baby heaven so suddenly.

I bought Damien two weeks later. I have another cat 8yr old female, Precious but just an ordinary female cat. Well she certainly made a stink of the new family member.

Well after two years they are good friends but Precious still shows him who's boss.

Damien is my little buddy now and I love him lots ... too awhile but he has won my heart. Love his soft meows, he loves to be brushed oh my 3 to 4 times a day. Such a fur ball lol.

I put his blanket at the bottom of my bed as he loves to sleep with me but with all his fur I can't have him up by my face as I'm allergic to my cats but would never think of getting rid of them - I just take a pill. They are my babies and I love them both unconditionally.
---
Zulu My Coon
by Melissa Colman
(Wheat Ridge, Colorado)
I have a black male Maine Coon named Zulu. He became a part of our family in May of 2017. He was 8 weeks old.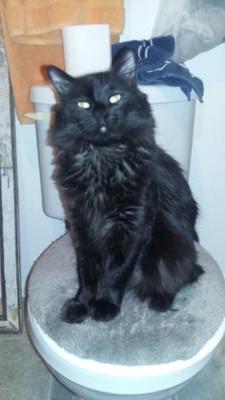 I'm not certain that he is a purebred. The ad indicated he's a Maine Coon but received no papers. I fell in love with him immediately.

He is very talkative, loving and very committed to ME. We have an older male cat Dilly who's 18 years old. They get along.

I am the only female living in my home so both cats are constantly competing for my lap or who gets to sleep next to me even though there's plenty of room for both. It's adorable.

Zulu does not like my significant other Daren and seems to compete with him as well.
(note: comments are closed in this archived album entry)
Return to Top of Jan-Feb '18 Featured Coonies