Hayley & Montgomery
by Anne
(Kiel, Germany)
Hayley at 10 weeks and at 9 months
Hayley, My First Maine Coon:
This is Hayley, my first Maine Coon. I got her when she was 6 months old and she was the last of her litter, can you imagine that? She is such a beauty!
When we first met her, she was quite shy, that was probably the reason why she was the last one. She just came and sniffed on my foot and gave my fiancé a quick wet nose kiss. Then she disappeared under the sofa again.
At first I have to confess, that I wasn't really convinced. She was adorable, indeed. But I wanted a cat to snuggle up with, which would purr in my ear at night and keep me warm :) But my fiancé insisted that he wanted THAT cat. It is probably the typical man thing, that they want to conquer a ladies heart or something...
Well, in the end I gave in because actually, it was me who really wanted a cat so I thought if we get one, it helps, if he has some say in which one we get.
The first two days and nights she kept hiding behind a flower on the window sill in our living room. I have to say, that she absolutely never had any bad experience with humans. I got a second cat later from the same breeder and he is absolutely the opposite! So it is probably just her, she is very careful and doesn't want just everybody to tuch her soft fur.
After the third night she suddenly in the morning jumped into our
bed and almost suffocated us with love and purring and her long furry tail. Then she was gone again. That happened several times, like minutes where she tried to get all the love she could just to hide again. It seemed that she thought of humans in a bed as less scary :D
Every day she grew taller and also more brave. She loves it to get a foot massage or an ear massage or a belly massage. She still is reluctant when it comes to visitors but she absolutely loves us and we love her.
A few weeks ago we got her a partner cat, the ginger Montgomery. First she wasn't amused of not being a spoiled queen anymore but now she takes good care of this little fellow.
---
Sir Montgomery: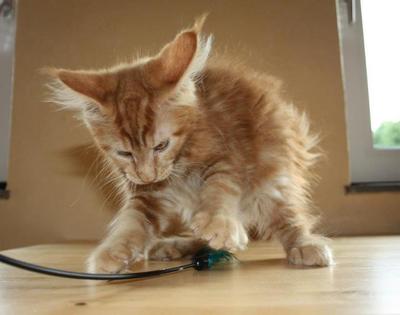 Well, this is the second one, Monty. He is now 4 months old and quite a wild child. He loves to retrieve his toys like a dog.

He also constanly want's to get his ears cleaned by Hayley.

I love his ginger fur and very loud purring!
comments:
Love your kitties
by: Pashmina
You guys are beautiful, enjoyed seeing your pictures.
I'm patch Mina I may blue and white Maine Coon and of right now I'm very sick with congestive heart failure but my mommy and daddy take good care of me so I'm doing the best I can to try and stick with them keep me in your prayers please.
Ginger Kitty Boy
by: Cheryl
Our next kitty boy will be a red & white MC. I sure hoping it will happen.
Return to Archived Pictures 2010-20.
Disclaimer: When you buy through links on our site, we may earn a small commission.
As an Amazon Associate I earn from qualifying purchases.
Our Coonies like:
Greenies
4.8 stars; 38k+ ratings
Pureness Giant High Sided Litter Pan
4.7 stars; 7.8k+ ratings
Stainless Steel Water Fountain
4.3 stars; 11k+ ratings