Harley, Hammingway, Fluffy & Friends
Harley, Hammingway, Fluffy & Friends
Are Harley, Hammingway, Fluffy, Gus & Zoe Maine Coons or Maine Coon mixes? That is the question!
Maine Coon Kittens from Meow Rescue
by Melanie
(Bellevue, WA, USA)
| | | |
| --- | --- | --- |
| Lily | Chester | check out those ears! |
We just adopted two adorable kittens, who happened to end up at Meow Rescue (actually they were raised in foster care).

Their mom was run over by a car when the kittens were only 2 weeks old. Our previous 2 cats were pure bred Maine Coons, so I instantly thought "yes, these kittens have Maine Coon."

They have tuffs between their toes and ears, chirp back and forth to each other, and even paw at their water. The tabby even looks a lot like our previous tabby.

They are very friendly and outgoing, wanting everyone to pet them, pick them up, play with them, and non-stop playing.


comments:
Congratulations!
by: Jessy

Very appealing kitties!

Is My Kitten a Maine Coon/Domestic Long Hair Mix?
by Nicole
(Philadelphia, PA)
Holly (5 months old)
She's got tufts of fur between her toes and there is some long gray/smokey fur that's comes out behind her ears, and I've yet to see any kitten pictures on the internet that resemble her, hopefully you can help me.

Reply:
Hi Nicole,

I can see why you are asking! She's a beauty. And she looks very much like a Maine Coon. It's so hard with black cats, they have a tendency to resemble one another!

I think she very well could be a mix. Then again, she could be a look-alike! Many cats have all the traits and even some of the appearance of a Maine without the pedigree! Let's see what others have to say...

All The Best,
~Carrie


comments:
Yes Maine coon
by: ja

Yes i think it is a maine coon. It has the maine coon tail and mane.My guess is definately MAINE COON
:-)

Harley
by Katheryn Baker
(College Station, TX)
I am in the Army and when I was stationed at Ft. Knox, KY. I had been there not quite a month when, on Dec 8, 2006.

My enlisted Ward Master found this black cat in the hospital parking lot and I was talked into taking her.

Harley is black with these beautiful bright green eyes and the first thing I noticed was her huge, bushy tail and tufts of fur protruding from her pads.

She does not have tufts of hair on her ears and the ruff around her neck is not to prominent. When she gets scared or mad, her tail really gets extremely bushy.

She is very social and loves to talk to people and be touched and scrubbed up and down her back as she lays splayed on the floor.

She weighs 12 pounds and I am so use to seeing her paws. That to me, they do not seem that big, but they are. She loves me to rub and touch her feet. I love to hear her purr and trill at the same time.

Harley will be 5 in October. I have always wondered if she may have some Maine Coon in her.

Reply:
Hi Katheryn,

Harley sounds like a wonderful girl! I'm so glad her pictures came through this time! She's very pretty, and could be a twin to my Alice.

Based on the personality and physical traits you describe, she sounds like a Maine Coon mix. She has a lot of Maine Coon traits, though I would look for the ear tufts & prominent ruff as well.

Thanks for sharing!
~Carrie

Hammingway
by Kodie
(WA)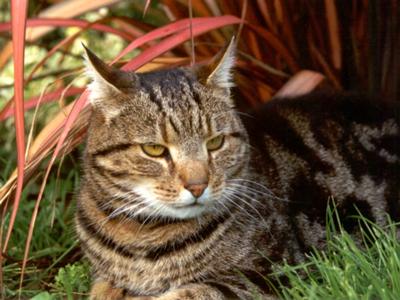 Hammingway
Hammiway the Maine Coon. He bites; we give food and water & he has claws.

Mean cat biting and petting and meow and purr he take lots of cat naps in afternoon.

Is my cat a Maine Coon cat ?
I thought he was but I'm not sure...

Reply:
Hi,
He looks like a handsome Domestic Shorthair to me. I'm not sure of his history, though, or what about him made you think he may be a Maine.

I'd recommend checking out our page on Maine Coon Mixes and browsing over our photos of Maine Coons and Maine Coon mixes, too.

He looks like a wonderful family pet, I love the pic of him with his girl!

~Carrie


comments:
Is my cat a Maine coon?
by: Anonymous

Does his forehead have the m marking? I read that Maine Coon breeds are identified by the m marking.

cat
by: grant

well, i have a very large domestic shorthair, and it's nothing close to that size. It dwarfs every cat around us. It could be a mix of Maine Coon with a HUGE domestic.

but my guess would honestly be it has a growth disorder. In humans it would be a pituitary gland, I don't know about a cat.

But I think the previous post is correct. Just a huge domestic. Which is also awesome.

Can my kitten possibly be a Maine Coon Mix???
by Belle
(Houston, TX)
She is simply adorable and many have asked me whether she is a part Maine Coon or not, but I really do not know the answer to this.

I can tell you she has a distinctive voice...sorta like a little chirp.

I believe she looks a lot like one but would like to know what you think??? Thanks in advance!!

Reply:
Hi Belle,

You're right, she is simply adorable! What is her name?

I can see why people are wondering. She is so fluffy, and has a nice neck ruff. She really does look the part. I see nothing about her that says she's not a Maine Coon mix! She really could be. Let see what others think :)

Thanks For Sharing,
~Carrie


comments:
Looks like a Maine Coon to me...
by: Anonymous

Callie looks exactly like our Calvin must have looked like at that age. We rescued him from the shelter when he was older, but the markings and color are the same.

We have wondered what he must have looked like as a kitten, and now we know! He is definitely part Maine Coon, so she must be, too!

kitty
by: Tori

Yes she definitely is part Maine coon. I had one like her when I was younger and he was half Maine coon half tabby. They are the best cats!!! I'm searching for myself one on craigslist as well and hope I get as lucky as you! :)

...
by: Belle

Also, just to add...she was given to me by a nice lady who said found her roaming around her house (I went on Craigslist) :) I am so glad I got a hold of her and am able to give her the home she deserves.

Name
by: Belle

You are right, I forgot to mention her name! Callie...that's what I named my little one :)

Could be
by: Ellen

She's got the ear and the feet to grow into!

Is Fluffy a Maine Coon?
by Emma
(Connecticut)
I got Fluffy and his brother a little over a year ago from a litter of four. Fluffy (as you can see in the picture) has the ears of a Maine Coon as well as the face and med/long hair.

He doesn't purr, he softly chirps. He has a favorite blanket that he sucks on and kneads when we sit together.

He comes when I call him, and will hop right on the blanket and wait for me. He does not do this to anyone else in the house though.

Can you tell me if I have a Maine coon?
Thanks!

Reply:
Hi Emma,

Fluffy has a lot of similarities to a Maine Coon, that's for sure! To be a full Maine Coon he would have come from a breeder, though. So it is possible he is a Maine Coon mix!

Thanks for sharing him,
~Carrie


commets:
Maine coon
by: Christine

Looks like he could b, but most likely is just a mixed breed of Maine coon.

cont...
by: Emma

Thank you for your feedback. Fluffy doesn't have large paws...
As Carrie said, I think he might be a mix. I saw the mother (who was not a Maine Coon) but never the father.
Such a lovable cat!!!

Fluffy
by: Anonymous

Most Maine Coons, even when they are kittens, usually have large paws which they will eventually grow into.

Do Gus and Zoe look like they may be MC mix?
by Lynda Salerno
(Lake Worth, FL)
I rescued Gus and Zoe (brother and sister) from the SPCA at 6 weeks old.

I fell in love with them both as soon as I saw them because of their beautiful faces, long fur, whiskers out a mile, huge paws and the sweetest personalities. I have them now for 6 weeks and they never cease to amaze.

What had me researching was a friend has two Maine Coons and when she saw their picture she said they look like Maine's to her. So far all the research is pointing to that direction. I would appreciate a second opinion.

It won't matter one way or the other, though. I couldn't ask for sweeter kitties. Thank you for your time.

Reply:
Hi Lynda,

Your pictures didn't come through! Feel free to try again; just go back to the same page you used for this one, and upload your pics. Add a note that it's you & I'll put them on this page.

I can't comment on their appearance, yet, but it sounds like they could be Maine Coon mixes!

~Carrie
Harley, Hammingway, Fluffy & Friends