Hello, my cat's name is Freddie. My mother found him in the street about ten years ago; he probably is twelve or thirteen years old.
He weighs 7 kg (around 15 pounds) and I think he's a male because of his size, but he's castrated.
I believe he might have had an owner before and he got lost or was abandoned.
Some neighbours used to feed him, including my mother and one day he followed her to the store where she works and he has kept going there ever since.

He's extremely affectionate, intelligent, he's very vocal, his miaow is very loud and powerful.

I think he might be a Maine Coon because of his personality and his appearence is also very similar except for the fact that he doesn't have hair in the tip of his ears and he has curly hair in his belly.

But, what do you think from the pictures?
Thank you,
Ayelén

P.S. Great website! I've been looking for this for a long time.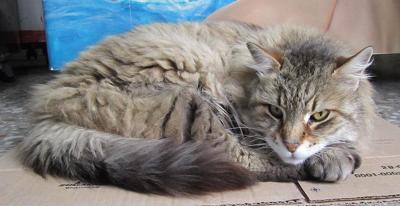 comments:

oh man!
by: Anonymous
He is just AWESOME!

Food
by: Ayelén
Hi Focker's Mom! Thank you for your comments :-) I feed him with dry food, Royal Canin (which is for more than 10 years old cats) and from time to time I used to give him a bit of ham or a bit of dulce de leche because he asks for them. He becomes mad when I eat either of those things!

Freddie
by: Focker's Mom
Thank you for sharing your big kitty pic with us! WOW!! Freddie is a beautiful kitty! and, a HUGE kitty!! LOL!!

Was wondering , what kinda cat food do u feed him? what's in Freddie's diet? Wet food, dry food mix? Just curious...:) He's VERY BEAUTIFUL!! Thanks again for sharing :)

Wow!
by: Anonymous
He is awesome! He looks similar to a bobcat in the last picture.

Response
by: Ayelén
Thank you Carrie and Kim for your comments :-) He's certainly big, in fact people who come to the store have confused him with a dog several times.

Wow!
by: Kim
Wow look at the beautiful cat! Great pictures! What a lucky guy to have been found and cared for by you. He looks Maine Coon to me! Thanks for sharing!

Big Freddie!
by: Maine Coon Cat Nation
Hi Ayelén,
Wow, Freddie is magnificent! Thanks for sharing these great photos of him!

I often talk about how a lost or rescued cat is perhaps part Maine Coon, but it's not always likely. So many folks see similar traits and hope their cat "has some Coon in him."

But then along comes Freddie! He has the Maine Coon Cat look down pat, and the personality to boot. Since he doesn't have the ear tufts, I'd wager to guess he's a mix. Either way, mix or full, you have a Maine Coon on your hands!

I love the sweet expression on his closeup. He's so happy in your arms.

Thanks for the lovely words about the site! It has totally made my day! That's what it's all about, creating a gathering place, a one-stop-location for all things Maine Coon related! Thank you :-) And thanks for sharing your fabulous Freddie with us all.

~Carrie