Four Lovely Ladies
Four gorgeous ladies in this mini-album! Meet Macy Grey, Rachel, Meggy and Willow Missy.
Macy Grey
by Vicki Stone
(Clinton, WI USA)
She is a Diva and owns me.

She thinks she is a dog. She will sit when I ask her, she speaks for her treats, she is a "watch" cat and lets me know when something is not right, she runs to the back door to greet people by putting her paws up to window on the door.

She is GREAT!
comments:
Dyla in NW Arkansad
by: Ramona

I had looked for a purebred Maine Coon for ages. No matter how much checking I did, it just wasn't gonna happen. I did find one in Kentucky being given up by an ailing lady. (A calico, my favorite). But it was too much driving for me to manage alone.

Then another in a neighboring state, but after the going through the shelter's vetting process the didn't release cats out of state.

I had nearly given up, when I saw a kitten's picture on a nearby shelter's website. He and siblings had been found eat scavenging in a fast food dumpster.

Emailed immediately; yes he was still available; filled out the necessary info, visited him in his foster home, and after his second round of kitten shots, and neutering, he and I went home together.

It was absolutely fortuitous that I hadn't found one earlier, because he and I were meant to be together.
He is a mix, but so Maine Coon in every way and the light of my life.

Beautiful lady!
by: Texas coonie mom
Macy Grey looks like my year-old Bella. They have similar coloring and diva-tude. Bella loves to play fetch and follows me everywhere, including the bathroom. She sits on the edge of the tub when I take baths and allows me to sleep in, most days. Very sweet girl with her own mind.

Love & Patience with Rescued Maine Coons
by: Anonymous
I have two Maine Coon rescued cats and one looks exactly like Macy Grey. We called him Lucky because he was the only kitten in his litter to survive after being caught in a big flood.

Two siblings died within days of being rescued. His mommy was never found. So I adopted this tiny kitten when a family member who was the vet who saved him asked me to take him in. He is now 2 years old and gorgeous.

Maine Coons are sweet babies, but must be groomed consistently or they will end up with mats that must be shaved off. I can brush one of mine, named Geno and he loves it. But Lucky hates it. So I take him to a groomer every month.

Geno was rescued from a cat hoarder and had very little human contact before we got him and had lined his short life in a cage. It took several months, but he is wonderful now and only hides when company comes. But he is my lap baby.

So it is true that if you do find a free Maine Coon, they have had some sort of negative history. But if with patience & love they will be your forever friend.

so beautiful!
by: kellye
Macy reminds me of our beloved Jazmine-We had her for 17yrs. she would sleep with our dogs...and loved playing with our children..so blessed to have her in our lives for so long..may you have and enjoy Macy for many years they are such blessings!:)

Beautiful
by: Barbara
Absolutely beautiful. She reminds me of my Coors. I miss him very much. Had to put him to sleep when he was 9mos. old due to FIP 12yrs. ago. I've had 3 other mainecoons since but none like him.

Gorgeous
by: Patricia
Love these cats, yours is especially beautiful, our Maine Coon can be seen at: http://home.roadrunner.com/~Patricia/Spenser

Nice name!
by: Anonymous
Bet she sings better! She is a beautiful cat.

Wow...
by: Renee
Simply gorgeous!!! Yes, Maine Coons are very witty and will respond/act like dogs. Mine is deaf and she's still something else :)

Macy is gorgeous.
by: Mic
Macy is absolutely scrumptiously gorgeous! This is when I want to hug the cat...of course, cat does not appreciate big hugs. :) Macy's fluffy hair is beautiful! I love her!

Macey Gray
by: Judy - UK
Macey is beautiful: I love her ruff. How old is she? What are her stats? Is she an indoor or outdoor girl?

We've Buddy 5 month old silver tabby; He's a but 'coltish' at the moment - clumsy, rear higher that his front. Have a great Christmas, Judy.

Macy Gray
by: valentin
what can I say? she is gorgeous! I believe it is quite common for coons to act like dogs...

macy
by: Debbie
Just Beautiful

Superstar
by: Maine Coon Cat Nation
Hi Vicki,

Macy Grey is awesome! Great name, great cat! Love your pictures, what more can I say? She's a superstar, and oh so pretty!
~Carrie
---
Rachel
by Craig and Lori
(Winona, Minnesota)
| | |
| --- | --- |
| Relaxing | Hanging out on the deck |
| | |
| --- | --- |
| Birdwatching | Winter adventure |
Adopted from the Coulee Region Humane Society (La Crosse, Wisconsin) in September 1996.


comments:
Sure Looks It
by: Jessy
Looks MC to me, and what your say about her behavior tends in that direction also. Lovely cat!

Beautiful Kitty
by: Donna
What a beautiful shade of gray. She's lovely.

What paws!
by: Anonymous
What big paws you have kitty!

coon status
by: bruce
seems like a coon to me.

Wow!
by: Kim
She looks like our girl Nippy!! We found Nippy outside at 3 days old and she turned out to be a beautiful big Maine Coon. (maybe) I think Rachel is either full Maine or a mix for sure. Nice pictures.

Rachel the Maine Coon
by: Maine Coon Cat Nation
Hi Craig and Lori,

Rachel couldn't look any more like a Maine Coon if she tried! She's a beautiful girl, by the way.

I often caution that feral, rescued or adopted cats are more likely a Maine Coon mix or Maine Coon lookalike. That's because those cats were usually found or given away in kittenhood. Full Maine Coons always come from a breeder.

That said, once a Maine is purchased and brought into a home they are occasionally abandoned later (sometimes that owner can't keep them for whatever reason, or there was a death in the family, or a move - which is an irresponsible reason to dump a cat at a shelter of course.)

Rachel could very well have been one of these unfortunate kitties. A Maine Coon without a home. You don't get those ear tufts just anywhere!

She was lucky to get a fresh start with you, probably a better home than she could have hoped for!

Thanks for sharing Rachel with us!
~Carrie

Beautiful cat!
by: Anonymous
She looks like a Maine to me. Very pretty cat!

More about Rachel
by: Craig and Lori
We think Rachel might be part Maine Coon. She weighs 10 pounds, has tufts of fur on her toes, small tufts of fur on her ears, big fluffy tail. She's very vocal and likes to play with water. She is very affectionate with us. She will hang around with visitors but will not let them pet her. What do you think?
---
Meggy
by Valentin
(Boras, Sweden)
Megan is our child, our soul, our love... my wife's boss rescued her while she was having 8 other cats at home.

We adopted her in September 2007 when she was 2 months old. She lived in Newton, NJ(2007-2008) and in Boras, Sweden(from 2008).

She traveled by plane from NYC to Gothemburg and by car from Sweden to Romania and back...she is a great travel companion!

She loves to eat and to sleep in front of the fireplace, she sleeps with us every single night, welcomes us every day and follows us all over the house!
She also makes special sounds when she sees birds...also hates closed doors!
comments:
She looks like my sweet Onyx boy!
by: Heidi in California
Onyx is verrry talkative and intelligent. He does tricks on command! My favorite of his 6 is high fives! Anyway your sweet girl looks identical-wow! :)

A Stunning Cat!
by: Anonymous
She looks rusty black in some photos and just plain black in others.

Beautiful!
by: Ramona
I know Meggy since my friends adopted her and is the most beautiful cat I have ever seen. She is also very lucky to be part of a beautiful family. I love her!

Pretty Kitty!
by: Anonymous
She looks very happy!!

Meggy
by: Valentin
She's three and a half now, still acting like a kitty, loves playing with her toys and destroying scratch towers...she has very powerful pows...loves sitting by the window and watching birds.

She's over 14 pounds and loves her "Royal Canin Maine Coon 31" and her wet food, she loves warm p[laces and all soft barkshire blankets in the house. she talks a lot and protests every single time we say "no" to her...
Do your Coons do the same?

Meggy world traveler
by: Busters mom
What a gorgeous kitty, arent they the best? I am just in awe that Meggy hasnt gotten lost or left behind as you moved. Thank you for keeping her and we hope she greets you and follows you around for a very long time.

Pretty In Black
by: Maine Coon Cat Nation

Hi Valentin,
Meggy is a very pretty lady! She and my Alice look almost exactly alike!

Meggy is beautiful!
by: Terry
We so love our cooonies~ she is beautiful!

She's very well traveled for a cat, wow! Thanks for sharing your special girl. We'll be sure to add her to the photo album soon.

~Carrie
---
Willow Missy
by Jodi Colpitts
(Littleton, NH)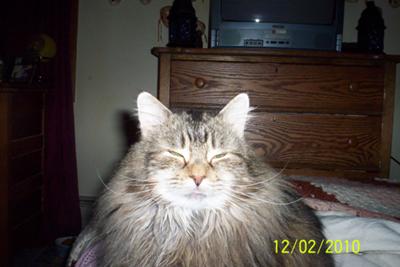 We rescued Willow from our local shelter about 8 years ago. She was very skittish. It took me a lot of work to get her the way she is now.

She would hide under the bed, I would lift it up and get her. for the longest time she didn't like anyone but me.

It took her 6 months before she would let my husband even look at her. But now she loves everyone and even comes out when we have company.

She does tricks too! Sit, lay down, kiss, and when you hide a goody in your hand and ask her which one, she'll rub against the hand with the goodies.

All she wants is to be loved!

comments:

Fluffy!
by: Anonymous
That is a nice story. She is very fluffy, how much does she weigh?

wonderful!
by: Mic
I'm so glad you rescued her and patiently showed her how to receive love. She is just beautiful! I love her fluff and ruff .... and her coloring.
What a blessing!