February 2015 Photo Album
Meet our Featured Maine Coons for February 2015! Share your Coonie during this month of love!

Judah
By: Leanne in Hamilton NZ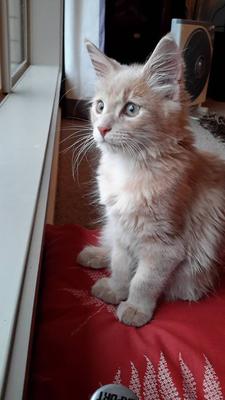 Cute, mischevious but utterly adorable.
He is 12 weeks old and just a bundle of energy. He particularly likes stalking our Kyi-Leo dog's tail!
Every night his favourite place to sleep is between my husband and I, on our pillows.
Honestly I can't imagine life without him now, and so enjoy the greeting I get everyday when I get home as he runs down the hallway chirping at me.
---
Moxie and Cali
By: Stephanie Forsythe in Nova Scotia, Canada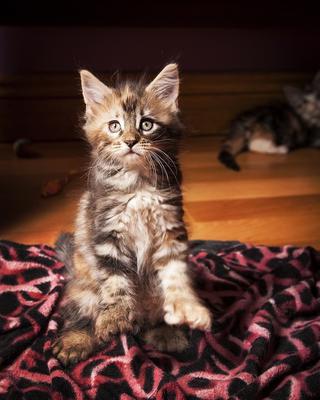 We adopted Moxie and Cali, litter mates, at four months old. Moxie is a silver patches and Cali is a brown patches.
They are now 6 months old. We purchased them from a breeder and they are pure breed Coonies. I have always had cats, but these sisters are my first Coonies and I love them. They have very distinctive personalities.
Moxie is often aloof, but at night she loves to lay on my legs on her back and get belly rubs. Cali is the complete opposite. As soon as I sit down she wants up on me and she loves to sit on my chest and put her big paws on my face. She purrs constantly.
My favorite part of the day is coming home from work each day and watching them come running at full speed to greet me at the door. Nothing says home sweet home like two bundles of fur who can't wait to greet you!
---
Cypress Hill
By: Maciej in Gdansk, Poland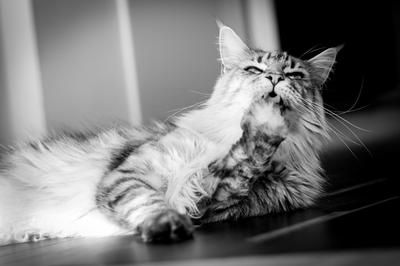 His name is Cypress Hill, 5 years old, we call him chairman as he is the master of the house :)
---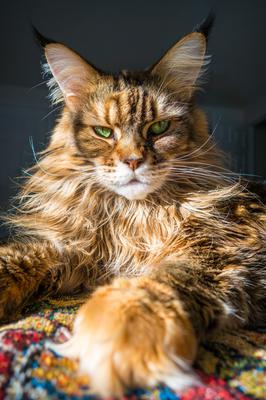 Raeiya - Queen of Beds
By: Ken in Merrimac, MA, USA
When Raeiya is laying on it, every bed is queen-size.
---
Meet The Colossal Cats:
By: Taylor in Tampa, FL, USA
Josie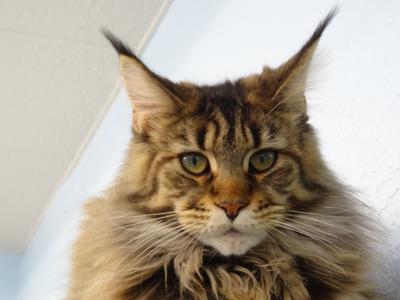 Easy going Josie
This is Josie is Colossal Cats in Tampa, FL. She is the most easy going of all our cats, she just hangs out on the high shelves watching everyone.
Her mane gets huge, and she has the cutest hairy toes!! Her linx ears are impressive as well. We love this gentle giant, and she is a wonderful mother.
The Hair Stylist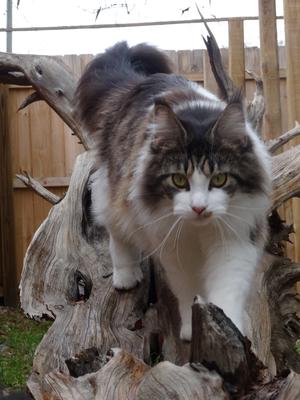 Sophia looking fierce
This is Sophia of Colossal Cats in Tampa, FL. She loves people, but especially men, she is such a flirt! She loves to snuggle and inspect their hair and beards. Maybe she is hoping for treats if she styles them well.
Boris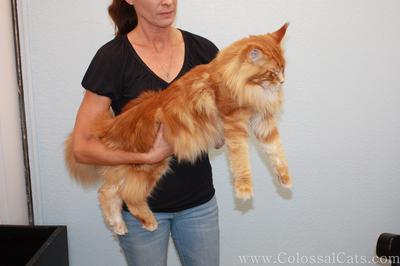 Big ole Boris
This is Boris of Colossal Cats in Tampa, FL. This boy is loveable. All he wants to do is flop on his back for belly rubs, and hang out with his humans (and cat) friends.
A big boy at 15lbs and still growing, his mane and tail get HUGE! We love this guy and he has beautiful babies.
Bella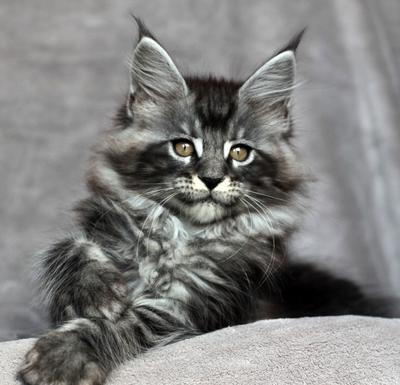 Striking Bella (as a kitten here)
This is Bella of Colossal Cats in Tampa, FL. Her black and silver coat is so beautiful with the streaks of rusty copper through it.
She loves to run up to her humans as they come through the door, giving snuggles and loving. Her striking eyes looks so beautiful against her dark hair.
Katy & Rina: twins?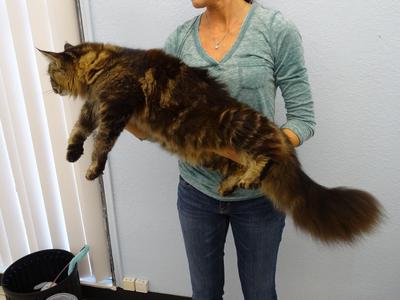 The Two Sisters
Our sisters Katy and Rina from Colossal Cats in Tampa, FL.
These two girls are so sophisticated, and like mirror images of one another. When you get to know them, you can tell their faces apart (just like humans twins!).
They love to curl up next to you, or on your lap. Such beautiful, classic, Maine Coons.
She-Ra The Super Cat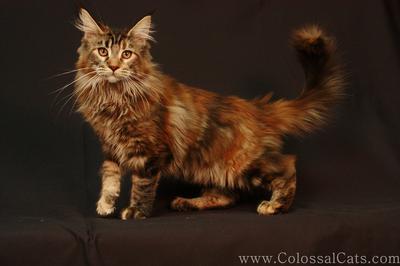 She-Ra the Super Cat!
Talk about sass! She-Ra is our newest Queen at Colossal Cats of Tampa, FL.
She is gorgeous, and she knows it. She runs around and loves to climb and play with people like a puppy. We cannot wait to see how she grows!
---
Kalli in the snow!
By: Mark C in Sligo, Ireland



We've had Kalli for about 3 1/2 years, and we've waited patiently for snow since getting her but to no avail!
Ireland doesn't get a lot of snow! Finally this January, we had two days of the white stuff and it amazed Kalli to see it!
First she was chirping at the snowflakes as the fell from the sky. Then finally we brought her outside to see what it was like! She ran into the house first, too cold I think! But then she came out again, and started to love it!!
---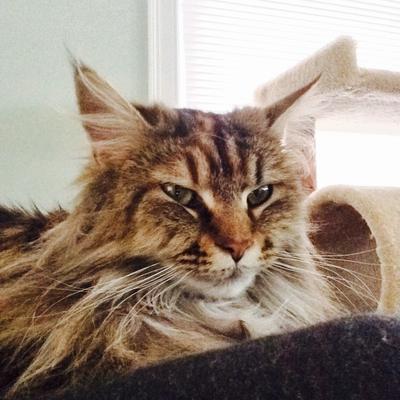 Rosie
By: Alexis in Beverly, MA
Miss personality and love bug.
---
Introducing The Care & Keeping Of Your Maine Coon Cat: Have you noticed that your Coonie is no ordinary cat? It's true! Your stunning, amazing, large, loving Coonie is very special, both physically and in purrsonality - These quirky, unique cats have unique needs!
---
Molly and Mungo BFF
By: Dee in Holly Hill, Florida, United States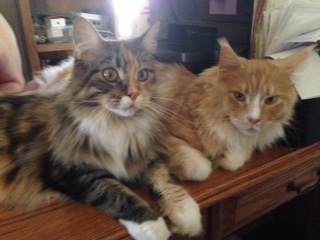 Molly and Mungo laying on the desk.
Mungo our Red Smoke Coon was 2 years old and was sad as the older cats would not play with him.
So we got a new kitten Molly our tri- colored Coon. It was almost love at first sight. The two are practically joined at the hip.
They love to play, nap and get into michief together! We love our Maine Coon Cats.
---
Dexter
By: Cathy Nichols in Waynesboro, PA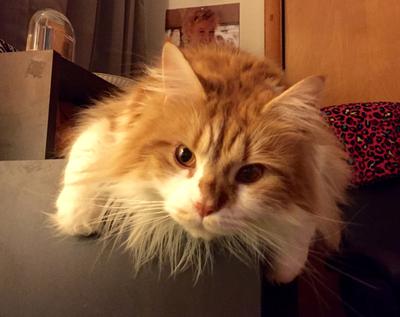 Are you going to eat all of that?
Dexter is our nearly 2 year old, beautiful Maine Coon. He loves to watch TV.
---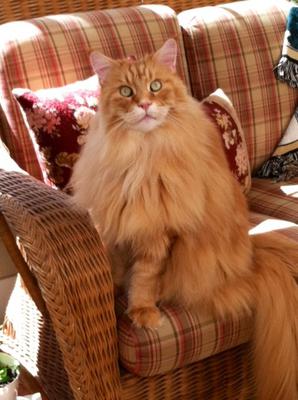 Mulligan
7 year old Maine Coon from Milford, CT
---
Mickey and Ellie
By: Eileen in Tonawanda, NY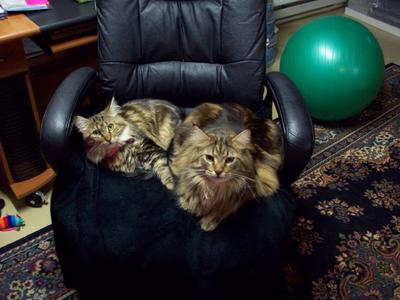 Ellie and Mickey
Mickey and Ellie are step siblings. They have the same father Mr. Tails.
They are both around 2 human years old. Mickey has a laid back personality and Ellie is really curious and lovey. They get along great and are best of friends. We love them dearly.
I like to come home and see their cute faces and have them Maine Coon "chirp" to say "hi" to us. They sleep in the bed with my husband and I and pretty much have us wrapped around their paws.....as it should be.
---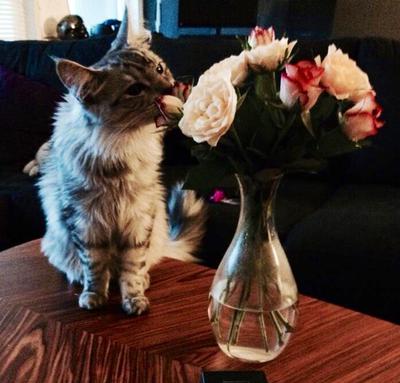 Beautiful Abigail
By: Mia in Smorum, Denmark
Abigail is eight months old and from Denmark.
---
Bear
By: Analise in Lebanon, OR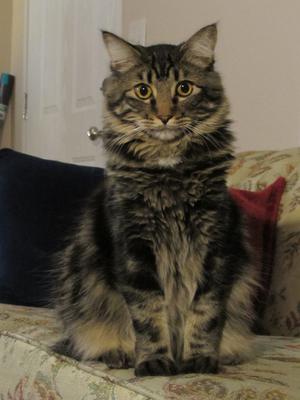 The only time he
Bear was featured in your December Album, but I thought I'd submit some new photos of him. He's 10 months now and weighs more than his 2 year old sister, Nutmeg, even though he's not quite as big yet. In fact, he's gotten a little chubby around the middle so I've started calling him my chubby boy. :-)
Bear is a mama's boy and loves his cuddles. I love his repertoire of chirps, warbles, and meows that he uses for different things. I always know when he's getting ready to instigate a "battle" with Nutmeg.
He even has a "greeting" for me when I wake up in the morning. He's definitely more vocal than Nutmeg. I hope everyone doesn't mind me sharing him, even though I don't know for sure if he even has any "Coonie" in him. I like to think so.
---
Gizmo From The Sunshine State
By: MaryAnn in Plant City,Fl. USA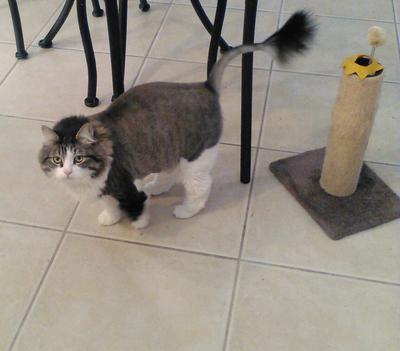 Gizmo is 8 years old.
He has a sweet disposition, enjoys cuddling and is very affectionate. When he was groomed for his lion cut, he was very well behaved and acted better than most dogs!!!
He was found by my son and a friend at a gas station near our house. They heard a faint cry and when they looked down, he was sitting next to one of the tires.
The location is quite a busy one and it is a wonder that he survived given the circumstances. Little did we know he was a Maine Coon until he was a little older. He was very young and could not have been more than 2 months old at the time.
---
Meet Shmendrick, the Kissing Cat
By: Beth Brown-Gershovich in Omaha, NE, USA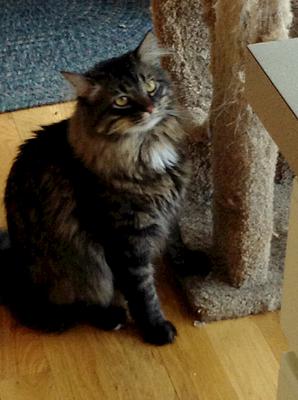 Shmendrick the Big Bundle of Love
Meet our sweet big boy Shmendrick. We found him one day last July at PetSmart while we were shopping for supplies to buy for a new cat we wanted to adopt from our local Humane Society.
When I saw him in his cage my heart skipped a beat and it was love at first sight. Plus when I spoke to him, he spoke back!
He was then 10 months old and had shrunk down to weighing only 10 pounds. We found out he was surrendered because he was "too much work." What I found out later about him, when he was happily settled in our home was that he just wanted to talk, play and be cuddled.
He now tips the scales over 20 pounds and I am hopelessly smitten with this guy. It is so much fun to have guests over because he makes a wonderful feline host.
He is so charming and loveable, and even flirts! I feel so lucky to have found our big boy. He is also the most loveable cat I ever had.
---
Chester - The Great Mouse Hunter
By: Mary in Pewaukee, WI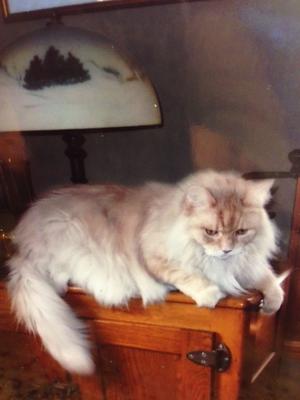 Chester weighs about 22 pounds!
Chester is a big boy, named after my grandfather and he is trouble.
He loves the kitchen counter, fireplace mantel and the top of the refrigerator, all places he is not allowed.
His favorite toy is a catnip filled Velcro carrot, he is addicted. A fun pastime for Chester is jumping on his housemate, Leroy who is 10 years older and 12 pounds lighter. Daily activities include cuddling, asking for dinner, seducing visitors and generally being lovable.
He is also on guard 24/7 for mice. He patrols the kitchen on the off chance that a mouse is behind the stove.
In the past 5 years there has only been one mouse but that doesn't stop Chester from dreaming.
---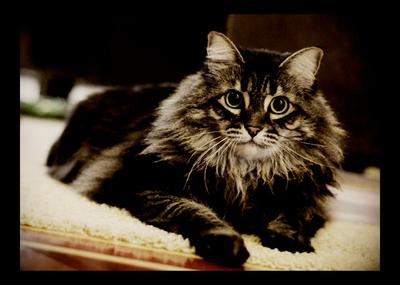 Bantha
Bantha is a 15-year old Coon. She was 11 when this picture was taken. She is an amazing friend.
---
Highlander & Chandler
By: Kim in The United Kingdom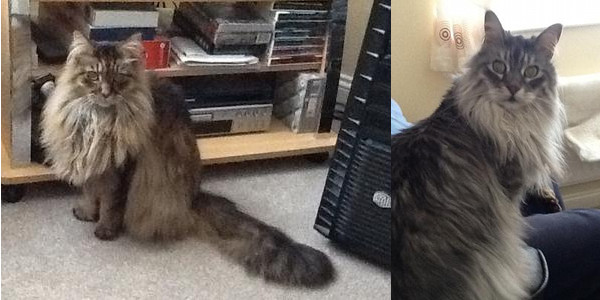 My boys are 15 years old & love them to bits. Chandler is a Shaded Silver Mackerel Tabby & Highlander is a Brown Mackerel Tabby.
---
Tolkien
By: Megan in South Carolina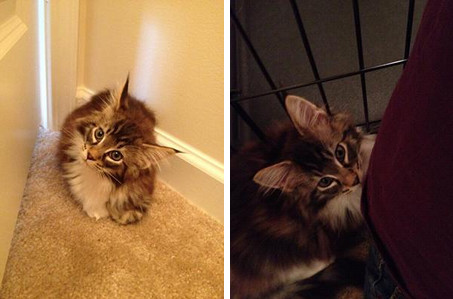 Tolkien is an 11 week old classic brown tabby with white Maine Coon. He is very curious and loves following his owners around. He also likes to meow a lot.
---
The Magic of Merlin
By: Cathy Kennedy in Gladwin, Michigan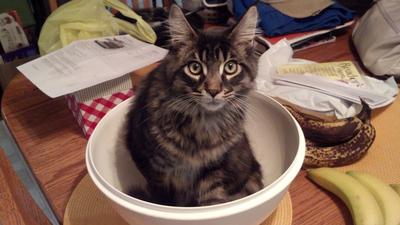 Merlin helping with banana bread
Merlin came home with me mid June 2014, he was 10 weeks old and weighted 4 lbs.
Merlin is not only my first Maine Coon he's the first house cat I've ever owned. Merlin joined my pack of 2 large Goldendoodle dogs, Fozzie and Shaggy.
Each day is a new wonder as I watch this beautiful cat train me and the dogs to serve and mind him!! Not a day goes by that I don't break out in laughter as I learn "the ways of the cat".
Merlin is now 10 months old and close to 15 lbs. I can't imagine life without him. His newest "thing" is pouncing in the morning when the alarm goes off. There is no way to sleep through 15 pounds of purring fluff making muffins on your chest!!
---
Rocky - The Fighter
By: Sarah in Illinois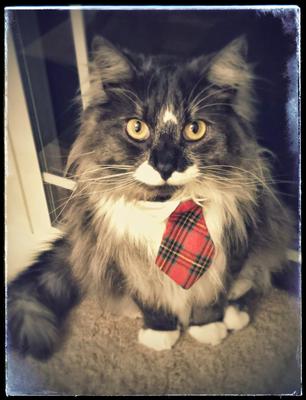 Rocky
Rocky was a stray kitten that showed up at our house about a year and a half ago. He was filthy and skin and bones. He stayed the night and in morning he was still hanging around and following us everywhere.
We noticed that one of his paws was split open and bleeding. We could not leave him like that so my husband took him to the vet.
The poor guys was infested with fleas and ticks and his wound on his foot was filled with maggots and he had a stomach parasite.
We picked all the ticks off of him and nursed him back to health with love, food and medication.
We could not let him go so he became our first inside pet cat and he is the sweetest cat ever. We werent really sure what kind of cat he is but he has all the traits and sounds of a Maine Coon.
---
Bushy the Supreme Leader
By: Keith Shirlaw in Cape Town South Africa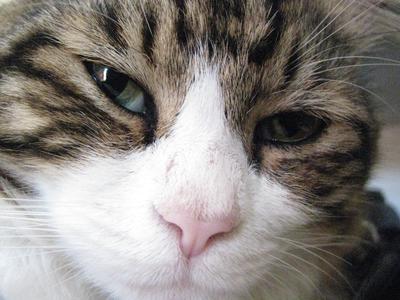 Bushy arrived in the bleakest rain and stormy conditions that only the Western coast of South Africa could dish out.
I heard his cries in the garden and upon investigation saw him staring out in the dense foliage with his fur totally drenched, after getting scratched and bitten he was placed in a cardboard box under an awning as to not upset our other 3 cats.
Well after a week he was inside the house and by 2 weeks sleeping on our bed. The vet can't really estimate his age but as a once breeder of Weimeramer dogs I love how he is so similar to the hounds I used to breed. He rules the roost and has only one friend almost the other cats.
He is a tonic and a radical defender of at least 4 properties around us, loves to fight any other cats in the neighborhood as you can see by his war wounds on his ears.
---
Leo Deputy
By: Cynthia Haltom in Maple Falls, Wa, USA
Leo can be a terror around the house to the other cats, he's completely unpredictable but, at the same time, he is such a loving cat.
He protects our home and makes sure nothing gets through the door; flies, bugs, spiders and ants are just a few of the doomed critters he won't let pass.
Though social with his family he doesn't like new people so rarely will they get a look at him other than when he's streaking from one room to another. Patience is what it takes to make Leo your friend.
---
Leo Haltom-Burrell
By: Cyndi in Maple Falls, Wa, USA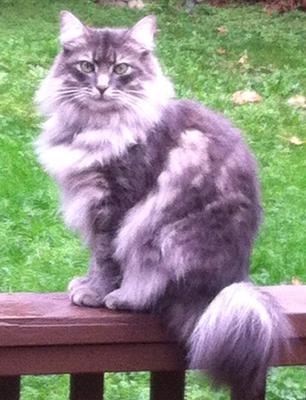 King of the 'rail'!
We rescued this little fella from the fate of death by drowning in the river or being shot in the head.
He was 4 weeks old, underweight and sick. Our vet saved his life and he stepped into the 'paws' of our male Silver Mackerel Tabby/Bobcat mix cat (Deputy Dawg) of 16 years who died in June of 2013.
Leo helped heal my broken heart and he is a true delight. He's feisty, playful, loving and a wonderful addition to our family.
---
Jasper
By: Renee in Solomons Island MD USA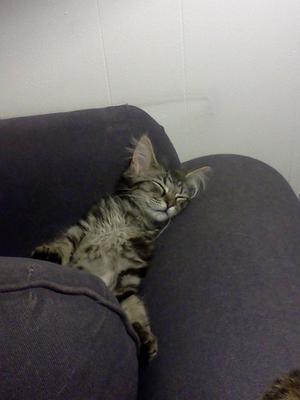 Jasper 2011
Jasper loves to follow me around the house and is always trying to "help" me.
He loves to be held like a baby and is always on the move. He is a "busy" boy in my house, keeping an eye on my other three cats and loves to play with my dog, Harmony.
He is a sweetheart and can make me smile, no matter what kind of day I have had or how I am feeling. I am not sure he is 100% Maine Coon as he was a rescue, but many have said he looks at least like a Maine Coon mix.
---
Zaraha 8 Year Old And Adopted Sisters Ma-Mya & Phonia
By: Phil Bumby in Gorham, Maine USA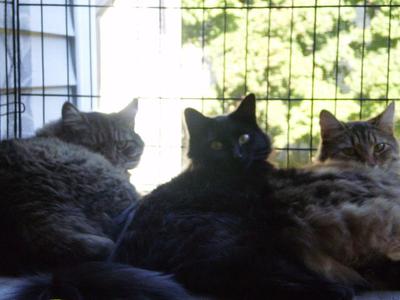 My 8 year old Zaraha has adopted my 11 month old granddaughter (Willow) who is now my foster granddaughter :) .
Willow has epilepsy and partial complex seizures. Zaraha senses just before Willow has a seizure and will let either my wife or I know one is starting by Coon talking to us then going back to Willow.
Then theres Ma-Mya the black Coon :) whos adopted me :) when shes in love mood she gives me love bites :) She very lightly bites me with 2-3 teeth on my nose, finger tips especially when Im scratching her and the side of my hand.
Zaraha has also adopted my wife Judy. Judy had the tip of her pinky amputated and when Judy came home after the hospital Zaraha laid on Judys chest for 6 hours and would let her up.
When Judy tried Zaraha would very gently use her claws so she couldnt move her. The theres Phonia the smaller tiger stripe Coon. Well she's just Phonia :) Shes also a mamas girl like Zaraha, but she does like to sleep with Willow when shes in her rocker taking a nap :)
---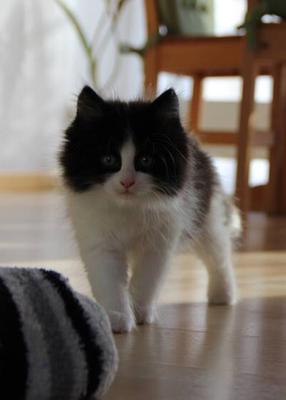 Sir William aka Liam
By: Sue in Switzerland
The best Maine Coon ever. He was like a dog and learnd a lot of tricks. Brought things back and much more...
Right before Xmas he got killed by a car.
But I want to share my beautiful cat for a last time...
---
Meet Our Roxie (aka ROCKSTAR)
By: Becky in Franklin, OH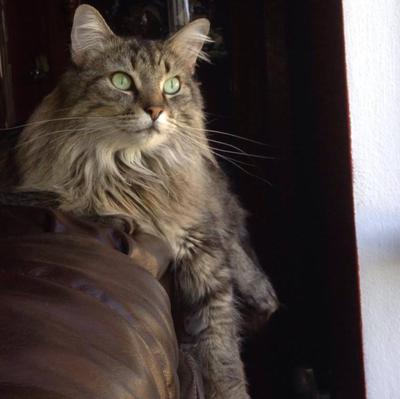 Rockstar
In December 2013 our beloved maine coon Trixie passed away, she was around 13 years old.
After a couple of months of missing our girl and feeling heartbroken we decided it was time to give another kitty a forever home. We had gotten our Trixie from the local animal shelter when she was 3 yrs old and we knew we wanted another rescue kitty.
I started my search and found Roxie at a local Animal Rescue. She was currently on show at a Petsmart so we went and met her. They estimated her to be 8 years old (little older than we wanted) but once we met her we fell in love. Roxie came home a couple days later.
Things were very slow at first... she spent the first couple of months hiding, we rarely saw her... she was so scared. We did discover our Roxie loves treats!
Yes... we overdid it at first trying to get her to socialize and made her expand her "comfort zone" to get treats. Little by little we started to see improvements.
Fast forward to one year later-she is now a spoiled, treat demanding, loving kitty who loves to be petted and loved on. Her nickname is Rockstar because she can be a little Diva and it fits her. She still isn't a fan of new people, thunder storms or loud noises as all these things sends her back into hiding but she has come a long way.
---
Our 5th Family Member
By: Janine Kristin in Bavaria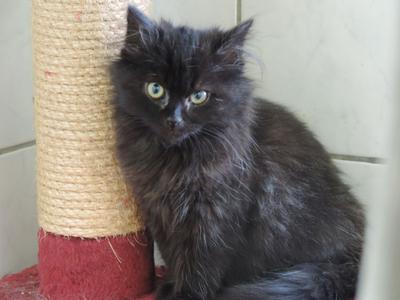 12 weeks old; still at animal shelter
This is my little girl Lady Tiffany ("Tiffy"). My parents and I adopted her from a public animal shelter in January 2014. Back then, she was 12 weeks old, unknown parents, no siblings.
I'm not quite sure if she's 100% Maine Coon, but she definitely behaves like one :)
This tiny girl chose us as her family and I couldn't resist her prying green eyes.
---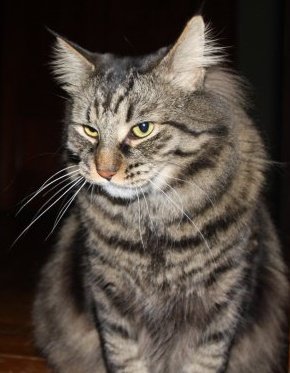 Nelson
By: Giovanna & Derrick in Kingston, NY
We adopted Nelson from a shelter twelve years ago and have been smitten ever since.
This character rules the roost and we cannot imagine a home without a Maine Coon!
---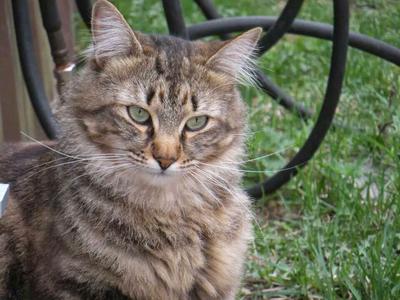 Little One
By: Sam Mead in Vermont
From feral to family lover. She's one of a kind and my best friend.
---
Gandalf
By: Teresa Kander in Fairborn Ohio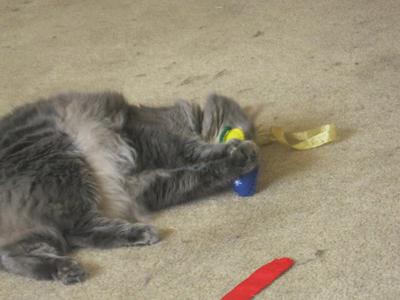 Gandalf is part Coonie, and was saved along with his brother, Dobby, as a kitten.
We adopted him from the family who saved him, and have had him for about four years now.
He is loving to all of us in the house, but seems to be most attached to my husband, following him absolutely everywhere.
---
Odin
By: C. Silver in Vancouver B.C.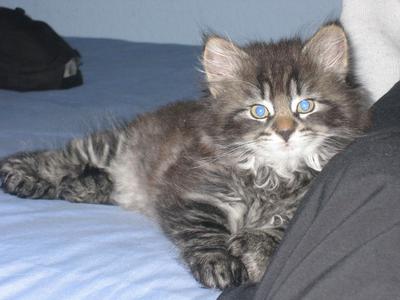 Odin is the best cat I've ever had.
He has great character, likes to burrow under the blankets to sleep with me. He has HUGE polydactyl paws. He eats strange foods for a cat like strawberries, banana, cantaloupe, blue berries, raspberries.
Odin is smart, when you ask him "wanna go outside" he goes to the door to be let out (under my supervision as he's an indoor cat for his first 4 yrs and is timid) He 5 yrs old now and is still very playful.
He likes to play fight and chase me around if I run away, He likes to watch the squirrels out the window.
---
My "Chewie"
By: Michael in Saylorsburg PA, USA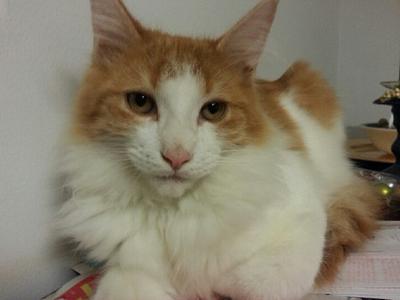 Our Big Boy "Chewie" loves to have breakfast with us, love scrambled eggs and pancakes.
At night waits for me to let him lick my bowl of Butter pecan ice cream!!!!! He's da man!!!! 20 Lbs
---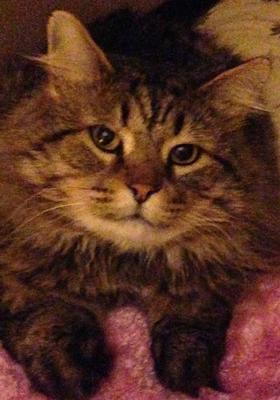 Maximus
By: Debra Whinnery in McRae AR
This Is Maximus, he is a rescue. I had never had a cat so large. He is a sweetheart, very loving and very spoiled!
---
My Girls, Scheherazade and Wonder Woman
By: Ed Thorpe in St Paul, MN, USA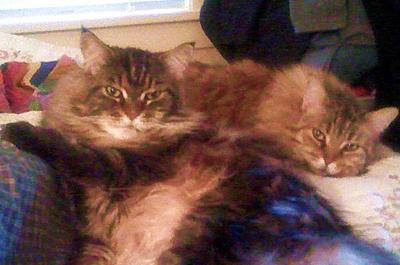 Wonderful companion pets. I still miss them both.
---
Who Needs Gin When You Have Whiskey
By: Vicky in Rochdale England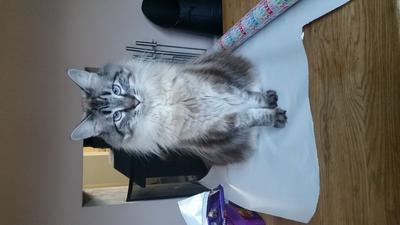 Whiskey my big beautiful boy was sent to Oldham Cats after his owner passed away he was there only 1 day before he stole my heart and I adopted him as my own furbaby.
He's now 2 yrs old and a nice healthy 8.5kg. He's got a gorgeous black and white older step brother named Mickey who is teaching him lots of naughty habits.
They spend their days chasing each other about the house, playing hide and seek and taking long snoozes. I'd be lost without my lovely Coon and his new brother.
---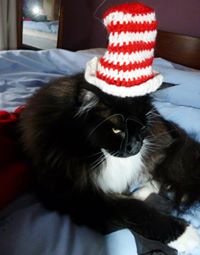 Cisco
By: Gwen in Australia
5 1/2 year old The Cisco Kid adopted at 10 months old.
---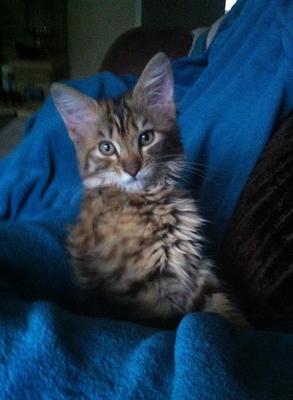 Couldn't You Get Me A Professional Photographer?
By: Amanda in The UK
Fifi she is 9 months old.
---
Just a baby Boy ...Sam the Maine Coon Tuxcedo Cat
By: Terri L. King in Attica, NY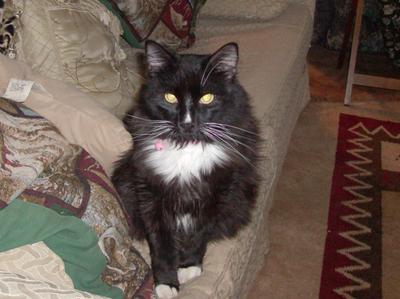 tuxedo shot
Sam was abandoned in below zero tempature weather, after a month of fostering by Julie I adopted him.
He really loves water, snuggles owning the house late at night. He is very talkative; when he first got her he was just fixed all night he kept saying OW OW so cute poor hunny.
He loves Papa (Bob) knockes everything off his table for attention. But its me he sleeps with. He love watching the fish in the tank. And he teases the Lab we have named Lady but they are good together.
---
Anakin, Big Kitty of the Force
By: Ruford Cross in Iowa City, IA, USA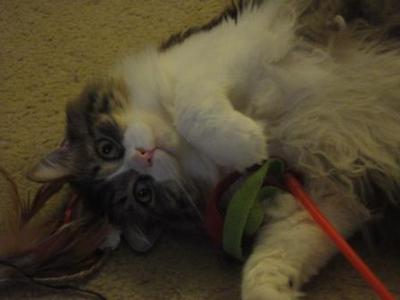 Anakin Big Kitty
My big Maine Coon is a rescue kitty. I got him after I lost my first kitty. Anakin definitely picked me out.
As soon as he saw me, he started yowling really loudly. After I had walked away to look at other kitties, Anakin cried so loudly, it drowned out the other cats and I went back to look at him.
And now he's here with me, just as happy as can be. I always wanted a Maine Coon, and he's a perfect specimen. He still meows just as loudly as he did then.
He always runs around, chirping about something. He always makes his presence known. He's like a boisterous kid, a gentle giant. His eyes are big and green. They melt my heart.
---
The name is simply Cat.
By: Laura in Boardman, Ohio USA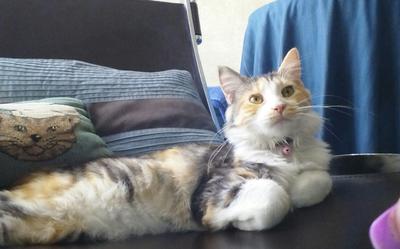 My son rescued Cat for me in July. Cat is approximately 9 months old. Cat loves to play ball in the kitchen so she can slide and make noise.
Cat and I hold real conversations. I ask her questions and she answers with a "chirp".
Cat is wonderful entertainment. You never know what mischief she'll get into next.
---
Poster Cat for Diabetes
By: PJ Kinann in Petaluma, CA USA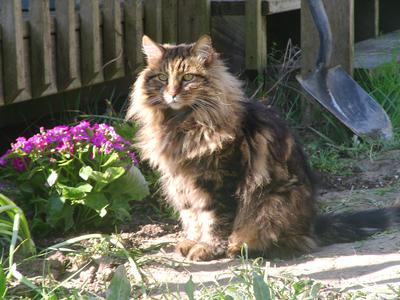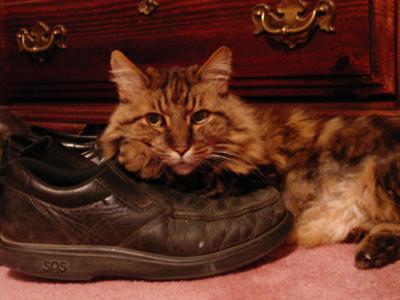 Pookieman was an angel -- the perfect cat! Pookieman lived with his family on a ranch with 2 mustangs, 2 emus, a potbelly pig, a dog, a Macaw, and 2 other cats. He got along with every one of them. He was a beautiful, gentle and loving cat.
He was gentle, amiable, and beautiful! He was our vets "Poster Cat" for diabetes as he did super with his treatments.
I treated him for about a year and a half, giving him daily injections and hydrating him when needed. But his beautiful little self just couldn't deal with the illness any longer and we lost him on 9-11-06.
He left us on a date we can never forget. And we will NEVER forget him.
---
Mr Jack Sparrow
By: Claudia Burckle in Costa Mesa CA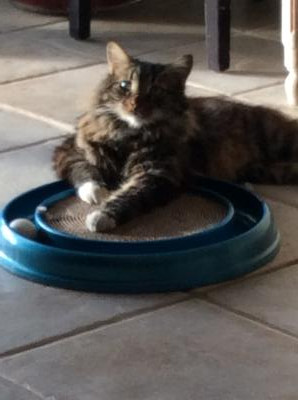 I lost my Maine Coon Luna a year ago and had to fill the hole in my heart so I went to a kitty rescue and found my Jack.
He was a wee little guy but the second he saw me he jumped on my shoulder and snuggled. Need I say more Jack Sparrow came home that day.
He is big and gorgeouse now and my hubby adores him, ..... and he was never fond of cats till Luna and Jack!
---
My Coonie rescues, Nacho & BaLoo
By: Joy Clemens in Cody, Wyoming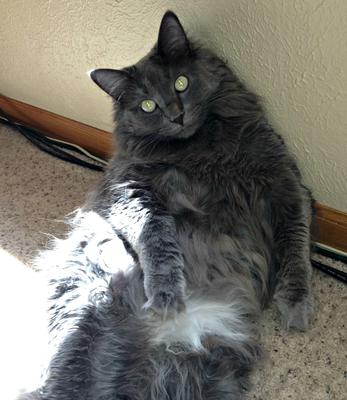 BaLoo hanging out relaxing!
I just love my boys! Both are rescues. Nacho is 8 years old and weighs 18lbs and BaLoo is 6 years old and weighs 15lbs.
Nacho loves to be right up in your face, he gives "hugs" and tries to lick your neck. He will jump from the floor into your arms if you let him. As you can see he LOVES to be on his back! He has a chirpy meow and definitely lets me know when he's hungry!
BaLoo likes to stay on my lap or lay next to me in the recliner he is my talker, he will keep me company in the morning while I get ready for work. He loves it when I let the water drip in the bathroom sink so he can get a drink.
He has the most adorable white patch on his belly, I did not even know it was there when I adopted him, he had just been surrendered by his previous owner and was scared to death at the shelter. He was the one who picked me.
---
Sweet Dreams, Jake!
By: Lori Camp in Prescott Valley, AZ USA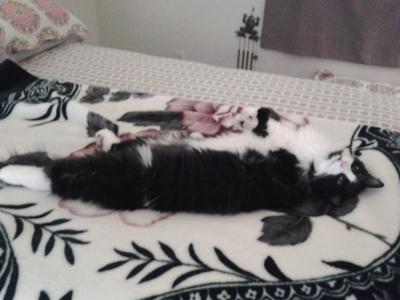 Sweet dreams, Jake!!!
I just adopted my 9 month old Maine Coon, "Jake", a month ago. It took 6 months to find one that looks almost like my babyboy, "Popcorn", who was also a Maine Coon.
"Popcorn" was put to sleep last July, after he got liver cancer. He was only 12 years old. But, he, and I spent lots of good times together, since I'm disabled, and home most of the time.
He was put on Prednisone after he suddenly came down with acute asthma. And, he'd lost a lot of weight too fast, since he lost his appetite. (He did weigh 25 pounds before he got sick.)
"Popcorn" always liked to play "patty-cakes" everynight before we went to sleep. That was something that he always liked to do since he was only 6 weeks old. (He'd just hold his paws up while he laid on his back. And, I'd just pat his paws, until we went to sleep.)
He also liked to play a game while he laid on top of my chest! After 5 minutes of him purring, he'd stop, and look me in the eyes. Then, I'd start growling at him! He did it, too! We'd go back, and forth growling at each other, until he gave up, and jumped off of the bed! He loved that game!
He used to answer my questions by wagging his tail 2 times,too! He never meowed very much. So,that was his way of letting me know he heard me! He always agreed with me, too! Lol He also moved to AZ with me 2 yrs.ago. And, he kept me from having panic-attacks from being on a plane,just because I was more worried about him, than myself. I'll always miss my best friend! He was a sweet cat!
As for "Jake",he's very comical, amusing, smart, and entertaining, too! He loves the attention he gets from me! He can jump 3 feet in the air, while chasing feathers! He's very athletic,and full of energy! He moves so fast,too! I can't believe he's already gained 5 pounds since a month ago! He's gone from 8.5 pounds, to 13.4 pounds already! He's only 9 months old! His Mom was feral. But,he's very loving,and sweet!
He doesn't lay on my chest in bed, like "Popcorn" did. But, he does lick my face, and nibble on my nose, everynight! And, he has wrapped his body around the top of my head while I'm laying in bed, too! He also has the high-pitched meow! He chirps, etc., too! He even pouts, and whines when he doesn't get what he wants! He grabs my shirt sleeves, pant legs, etc., just trying to get my attention! He demands my attention!
So, Jake is definately not like "Popcorn" was, that way! He's definately got his own distinct personality! Which I already knew would happen, since "Popcorn" was a laid- back,easy-going cat. This one's entirely different! And, I'm really enjoying his company, too! It does help me a lot to have another black, and white Maine Coon that looks like my other cat, though! "Jake" was heaven sent,...that's for sure! And, judging by the way he was posing for that picture... he looks like an angel! (But,he's a dare devil in disguise)! And, I'm so happy I found him, too!!
---
Owners of a Maine Coon named Spaz
By: Kevin & Melinda Weber in Goshen, IN USA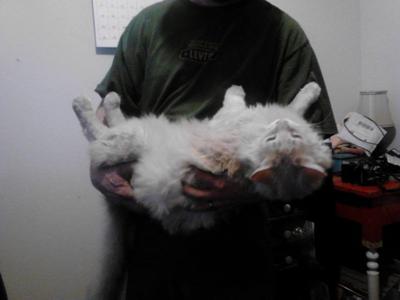 Daddy's Kitty/Just resting in dad arms
We adopted Spaz almost a yr ago by that time he already been in four places.
He is loving playful Maine Coon who brings us joy everyday. He loves being where you are no matter what you are doing. He will be 2 yrs old later this Feb.2015
---
Princess Luna Lu
By: Shirley Barnett in Tacoma, Washington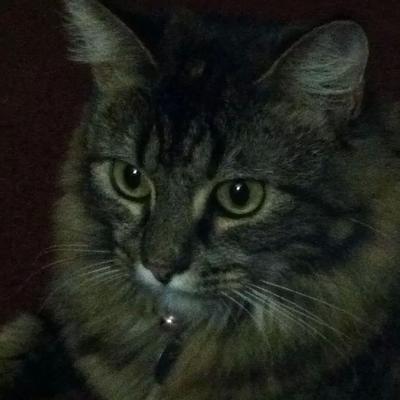 Luna is a rescue cat from the Humane Society. Actually, she picked me through the window, rolling over and pawing at the window. The sweetest kitty I have ever known.
---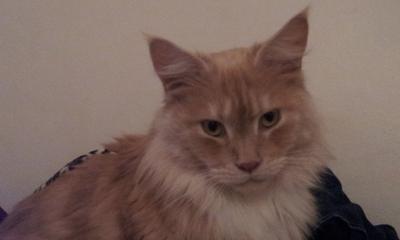 Pumpkin
By: Nicki Petcher in Derbyshire UK
She's called Pumpkin. A Red Silver and White. 2 yrs 9 months.
Had one litter before she came to live with me. Loves me but doesn't really like my other cats so she's a bit solo. She grunts and purrs all the time.
---
Happy Birthday Tulip
By:CC in Cocoa Florida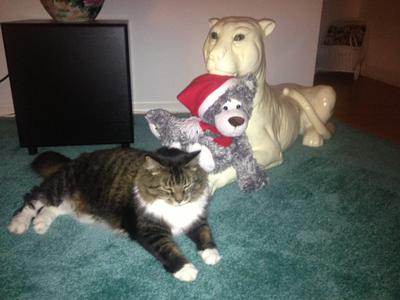 Happy Birthday Tulip...
Tulip just turned 8yrs old. We adopted her when she was 2. Thank God for the wonderful Foster Mom who took care of her and gave her back her life.
We love her so much and just found out she is a diabetic, I will spend the rest of her sweet little life taking care of her...
---
She Loves Her Photo Taken!
By: Jackie Linke in Revelstoke, BC, Canada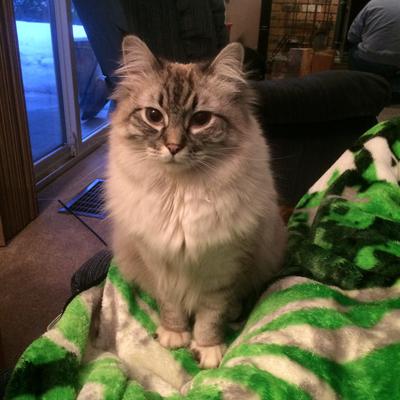 Seahawks Fan
She is so talkative, and smart.
I have never had a cat that once she sees you do something, she does the same. i.e. I bought her a toy that you have to pull the string to make it move. I heard it one day, and she was pulling the string to make it move so she could play with it.
She shows me where her toys are as well. She does not like to be held though. It's always on her terms.
---
Zoe
By: Beverly Stephens in Dyer, TN, USA)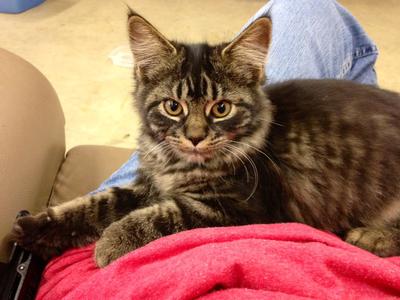 Two weeks after we got her.
My husband, who's a lineman, was out working near an old abandoned house last October when Ms. Zoe came out from an old pile of trees/brush.
She was soaking wet and very hungry. So, she got a ride to our house in the bucket truck.
Now, she is living a leisurely life out in our shop (enclosed) and is enjoying the warmth of the fires that we build her in the wood stove. She also has a friend in our calico, Missy.
Our vet was certain that she has some Maine Coon in her, especially with her fur coat, the little "sounds" that she makes, and her fascination with water.
She likes to "drown" in her water bowl sticks, rolls of tape, toy mice, etc. Also, Zoe is a "lapcat" at times. When I'm reading on my Kindle, she will lay down on me and push my Kindle out of the way with her paw.
Zoe is a little "Ninja" and we love her very much!
---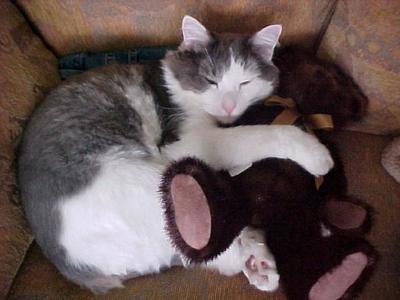 Mr. T
By: Cheryl Abrams in St. Charles, MO
Mr. T was rescued at 6 weeks old and has been with me for 11 years... This is his Christmas photo taken 2014... He's the greeter at my beautyshop in St. Charles mo... He's 3 feet long and 27 pounds and a bit of a local celeb...
---
Harriet Our Coon I Think She Is
By: Mike in Glendive MT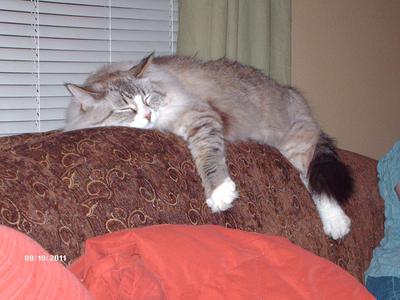 I am not sure Harriet is a Maine Coon but she is our kid. At 9 years old and 13 and a half pounds she is a big girl.
She likes to play fetch and anything on a string. Harriet is very verbal with all sorts of coos twirls and many other noises. She always has something to say. She is a very mellow cat who likes tummy scratches and pushing the lap top away for attention.
---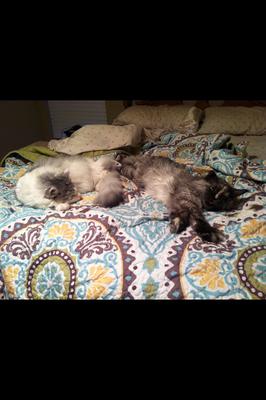 Lazy Maine Coons
By: Jennifer Hall in Flat Rock AL
Z-Tail is the White Coon. He weighs 22lbs and he was a rescue cat I found at my vets office. Zula is 16lbs and she is my husband's.
She was also a rescue cat. What crazy coincidence we would both own a Coon and we found out they came from the same breeding compound.
---
~The Kittah Had A Scrunched-Up Face; So, Naturally, I Named Him MUNCHKIN ...
By: Julia Beth Bolick in Conover, NC ~ USA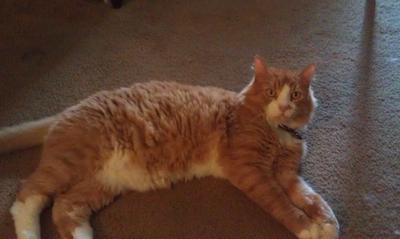 Not realizing that the kittah (my little rescue) would become a 17 pound Red Mackerel Tabby Maine Coon! He has given me much joy for the last 12 years!!
---
Smokey the Maine Coon
By: Penny Erickson in Anoka Mn USA
Smokey is our sons companion cat. Smokey runs to the door anytime we have visiters and to Smokey is a very smart Maine Coon cat.
He knows how to play tag all you do is touch him and say your it and run he will tag your leg and run.
Plus anytime my son is sick at night Smokey will wake me up or my husband and meow until one of us gets up to see what the matter is and there was this one time that my son was really sick and Smokey kept meowing and I said be quiet and then he came up to my husband and bit him and my husband went after Smokey until he heard our son in the bathroom. Smokey is one smart cat. I never had a cat like this one.
---
Mannie
By: Joan Hicken in Bear Delaware
Mannie is 18 months. My friend gave him to me. He loves to watch the birds in the morning n loves to hang out with his brother Marley. He uses a cat fountain due to the fact he love's to play in water.He is so loving n weighs in at 17 lbs. Would never own anything but a coon their love is incredible.
---
Ms. Lucy
By: Susan Stegmeier in Tennessee
Lucy was actually adopted from a local shelter! She had just been spayed that morning & she was so funny from the anesthesia.
She had a different name at the shelter, but we let our daughter rename her - she chose Lucy.
They say Maine Coons adopt a human that they particularly like. Unfortunately for my daughter, it wasn't her. It was my 285 lb ex-military, special forces brut of a husband. Lucy worships him!
She "talks" to him way more than anyone else. She runs to the door when he gets home from work, sits with him to watch TV, & of course keeps his feet warm in bed at night.
We've been blessed to have Lucy as a member of our family for about 3 years now. She only weighs about 18 lbs, but she's still a growing girl. As my husband often says to her, "Everyone loves Lucy!".
Have plenty of pics, but can't get them to upload.
---
DaytonaDave
By: Dave P in Massachusetts USA
This is Butch. He was found abandoned behind an office building in the Massachusetts winter! Needless to say Butch is doing much better now that he has found a new warm home and a family of spoils!
Butch is quite the character...sometimes he thinks he's human...he speaks 3 languages likes to eat sleep chase any critters that happen get into the basement. When into gets cold he sits in front of the fireplace and waits for the logs to loaded. Butch is the man!
Sir Butchmeister...
By: Dave P in Massachusetts USA
This is Butch..He is 2 years old and has a great personality. He was a rescued stray at 8 weeks old behind an abandoned office building in Massachusetts. Butch is very vocal, luvs to hunt in the day and hang by the fireplace at night. I was never a cat guy until Butch came along...he's practically human.
For some reason the picture upload fields are not working...is their another address I can forward Butch's picture?
(Note from editor: Dave, your pictures didn't come through - This happens when they are large files, meaning high quality photos. There are tips here for editing photos for the web, if you'd like to try again. Without an email address, I was unable to contact you.)
---
Miss Maisie
By: Jo Keyte in London
Maisie is a little character, she chrips and plays while following her owners around the house. If something is going on at home, Maisie makes sure she knows about it :) She loves playing baseball from the top of the wardrobe and snuggling on warm radiators to watch the birds.
---
Southern Belle
By: Jennifer Napier in Frisco, TX
My big girl, Annabelle is a darlin mess. She has the loyalty of skin, she's always beside us, drinks like a fish out of water and has a coo of an angel.
The hair of her body is satin underneath with some course running shallow in it, extremely short at the nap of the neck with wreath type fullness throughout the neck, elongated rectangle body and seemly legs with baggy britches.
I thought I would submit a picture of our princess. (She is a Maine coon, and she's been verified.)
---
Judah- Our Lion
By: Leanne Cox in Hamilton New Zealand
This is Judah.He was born in November 2014. He is just a ball of energy and LOVES chasing the dog's tail.
Our wee dog is so patient with him luckily.He is the most perfect Cameo colour and it looks like he is going to be very inquisitive and talkative.
He already comes running to his name and purrs so loudly when you pick him up. Hoping he grows to be big just like his Daddy already he weighs 2kgs and he's only 3mths old.