February 2014 Photo Album
It's a month to celebrate love, so let's profess our love for our Coonies here!

Cronus Red Harvest Moon aka Harvey
By: Patty in WI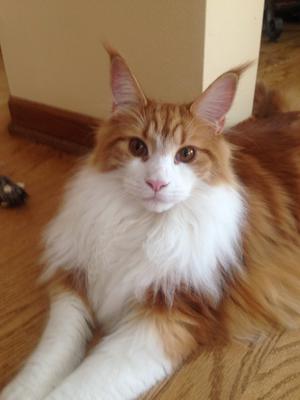 I'm a Classic Red Tabby with White, and I need to still grow into my ears!
---
Hector the magnificent
By: Susanna in Cheshire UK
Hector the Magnificent
Hi there
Hector became my joy in October 2012. I was going through a particularly rough time in my life and Hector saved me with his affection, cuddles and surprisingly human behaviour!
I totally adore him - I have 2 springer spaniels who are in awe of him and I have get another Maine Coon kitty to complete my wonderful family xx
Susanna x. Cheshire UK
---
Tigger, the handsome love bug!
By: Mallie Fisher in Sacramento, CA, USA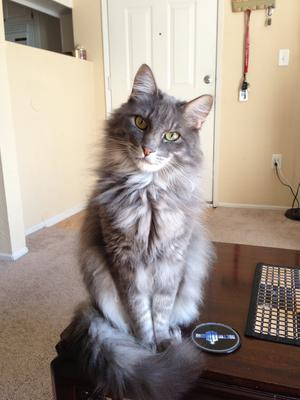 Tigger is our 5 1/2 year old rescue who is the biggest love bug in the world.
He and little brother, Jack the American Shorthair, and always getting into trouble! Tigger greets visitors at the door and is always searching for a warm lap!
I rescued him from a small rescue when he was 3 years old. He was only 5 pounds, but still had plenty of love to give! Now, 10 pounds heavier, he still has so much love to share with any living creature in his presence!
---
One of the best things ever happened to me is when I discovered Maine Coon :D
By: Alena in Los Angeles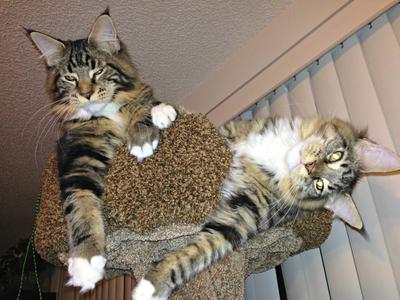 My boys Philya on right and Cowboy on Left
Hi, I have two 8-month-old Maine Coonies who are blood brothers.
I got them from Sacramento area from Telecoons Cattery. One of them (Cowboy) is very independent but another one thinks I am his Mommy. He is the one to wake me up with kisses, follows me always and always next to me which sometimes makes me concerned that he wants something but I cant translate.
Jumps on my chest (14lb) LoL and wants me to hold him like a baby, closes his eyes when i sweet talk to him always like he needs some loving time, and if I close the doors from him.. OMG nonstop scratching at the door ... but both of them are not vocal at all... I wonder sometimes if its okay... even when they Meow you can only hear some kitten voice but so quiet ... :))) but they do not sleep with me only somewhere close...
Another one (Philya) he is very playful but does not like to be held as much. He comes for scratches when he need attention, both of them are very sweet kittens and they appreciate each other.
They are both very picky eaters and I am struggling with wet foods they don't want to eat anything that does not have fish... but I am trying my best to be strong and try to make them eat chicken :))) my boys are very calm and loving ... I got truly lucky :D
---
My Maine Coon Brother and Sister - Pixie and Trixie
By: Kevin in Bakersfield, CA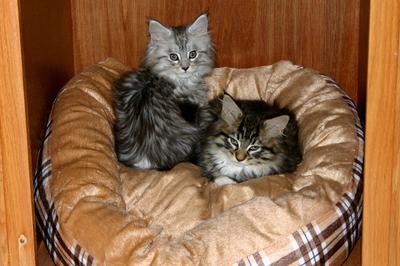 Pixie and Trixie's First Night in their New Home
My Maine Coons became part of my family in 2008.
They are Brother and Sister from the same litter. Pixie is the Brown Tabby Male, and Trixie is the Silver Tabby Female.
They both have unique personalities and are two of the most loving pets I have ever owned.
---
Rapscallion Francesca.....aka Frankie
By: Janet Heib in Emu Park, Queensland, Australia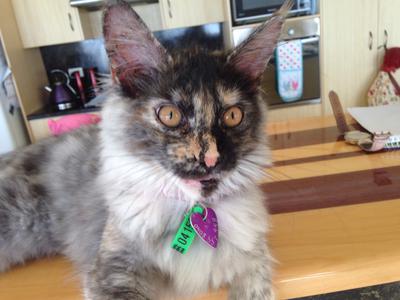 Frankie#love her to bits
This photo is of my gorgeous new 4 month old kitten Frankie.
She is so adorable and full of all the fun characters I have read about them.
She is the first official Maine Coon I have owned, although my last big boy who I lost to cancer last May, although adopted from the RSPCA I believe was one.
I hope you like the following photo.
---
Pixie
By: Stella Campbell in Huddersfield, West Yorkshire, UK
Pixie is a Christmas pressy, the breeders think she will be a silver torbie but only time will tell.
Pixie is now three months old. Super active, completely mental and completely adorable. She loves my dog.
They play together all the time and even sleep together, even though she has a lovely new cat bed.
---
Sleepy Coon
By: Janice Smith in Gladstone QLD Australia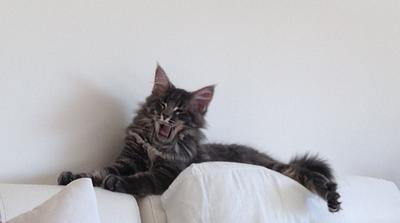 Samson is 17 weeks old and has fitted right into our home he's just like everyone says very dog like followers me all over the house watches me doing my house work and just loves sleeping.
---
Bear at 3 Months
By: Guyanne in Wichita, Kansas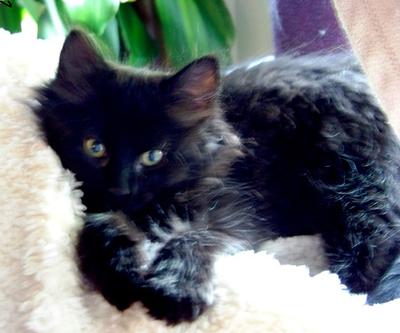 Bear after his bath
Bear was rescued at 4 weeks and 8 0z. Now by 7 months he is huge already.
He is a Black Smoke with every normal trait including the webbed toes. His mother saved him in a flood and could swim with ease. We have his little brother, Leo, now and waiting to see if he is all Coon or not.
He has the toes and ear points and several other qualities but his mane is not as large as Bear's is.
---
Milo the Miss Labeled
By: Erin in Houston, TX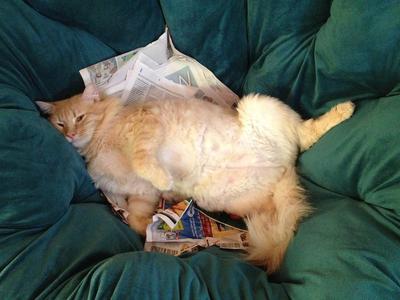 Long day for Milo
Milo was a rescue who was originally living with a different family who decided the cat they had didn't want the kitten anymore.
After having a home for a couple of months I couldn't let him go back to the shelter. Milo was originally listed on his paperwork as a Domestic Short Hair. It was soon very clear that there was nothing in that description that was correct.
As he approaches his second birthday he is 20lbs of long hair. Before Milo I was generally a dog person who had never had an inside cat. He changed everything and we haven't looked back. He is very active in my life: meeting me at the door, trying to help me cook, and generally demanding attention every time I turn around, but I wouldn't change a thing.
Recently he got a brother when an ex-roommate decided after 5 months that she didn't like cats after all. (Can you Imagine!) He is a sweetheart who drools when he purrs and likes to wake you up in the morning to snuggle by kneading at your neck and drooling on your face. They are such a cute pair I can't imagine life without them.
---
The Judge
By: Jay Johnson
First time cat owner and I know I've picked the right kitten!!
So much personality means tons of entertainment all the time. He's into everything and follows me everywhere I go, he even was thinking about hopping into the bathtub with me.
At bed time his sleeping place is on my neck so I do have to kick him out but he knows how to knock on the door. Smartest pet I've ever owned.
---
My Sadie Girl
By: Marlene Slominski in Eugene, Oregon
My Maine coon is a female 3 years old. Playful, Loving a great cat and oh so funny.
She is a one women cat, all mine.
I also have her mother Cowgirl so loving and kind.
---
This is my crazy, sweet Rupert!
By: Susan in Montana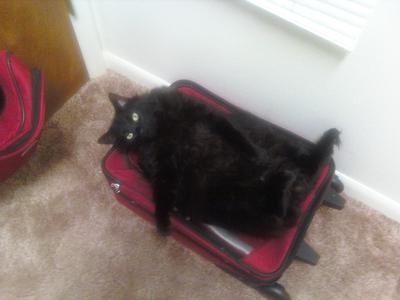 Rupe and his suitcase
I found Rupe, or he found me!, at our shelter when I was bringing in a stray (I'm a police officer.) I just lost my other Maine Coon, Yummers, after 14 years and was devastated.
He hung out of the cage as I came by and I was done. He was the only one of his litter to survive. I didn't know Rupe was a Coon until the vet confirmed it. I was so excited to have found another Coon!
He took over my suitcase after a trip, and I haven't had the heart to take it away from him. For 6 years now it's his favorite place. He'll be 10 in March, but is still my big, goofy, playful tank, who makes me laugh every single day. All 20 lbs of him.
---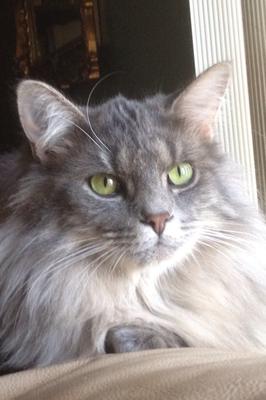 Prince
Prince
By: Darlene Ellis in Tazewell TN
He's so adorable! We really don't know for sure if he's a Maine Coon, but he looks and acts like a Maine Coon!
He chirps all the time, and follows me ever step I take. He will get in bed with me and lay there and love on me and makes a funny sound like he is trying to talk to me.
He is the funniest car ever!
---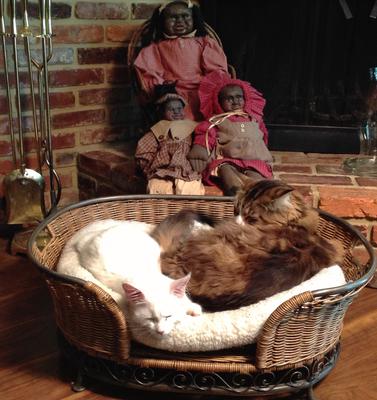 Brothers
By: Terry
Murphy, our 3-year-old pure bred Maine Coon with his baby brother Bradley a 10-month-old pure bred Maine Coon with one blue eye and one gold eye.
Our sweet boys make our family complete.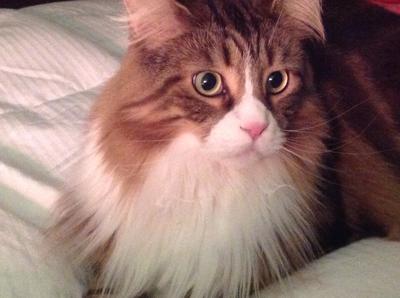 Murphy
By: Terry in Upper Marlboro, MD
Murphy is a 3-year-old pure bred Maine Coon. He is very lovable and playful.
---
My Lobis
By: Blanca in Mexico
My rescue kitty at two months old. I remember he was full of fleas and worms, I never imagined he would be so sweet.
For me is only what I love and since he arrived has filled our hearts with love of young and old, to the point that my nieces have a photo trusted him.
My mother did not like cats, gradually has fond, was funny to find my kitty asleep in the chair my mother.
---
Princess Dana
By: Dawn (Willowbrook, IL
relaxin
Adorable Dana
Dana is 10 months old. She came to us with her brother last month from the hinsdale humane society.
They are rescues. She is very loving on her terms. She loves to play with us. And then she likes to wrestle with her brother.
She doesn't purr as loud as her brother, but she does purr. And she has a smile.
We rescued Dana with her brother, Cody, from the humane society. They were only 9 months old. She loves playing at a certain time in the evening with daddy and their tunnel system.
She let's her brother play too. She loves to cuddle and is a lap cat. She is starting to like being held. She isn't fond of the harness, but I think in time after watching her brother she will want it too.
She has met the female cat next door n cautiously sat there not letting Hellas growling bother her. She still wants to go over n play, but hopefully Bella will come around to play. She loves sitting out on the stairway between the condos (which is inside). She likes our neighbor, (has an auntie).
Loves sitting on their tree by the door so she can see outside. Doesn't let her brother push her around. And will fight to show him she is a big girl. She has gotten bigger and is almost a year old. She is such a happy girl.
She likes the laser pointer, glittery balls, light up balls, sticks with a bell and feathers. And loves laying on blankets that are soft.
---
Adorable Cody
By: Dawn Olszewski in Willowbrook, IL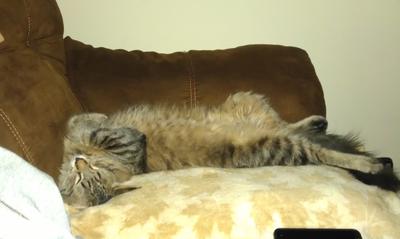 relaxin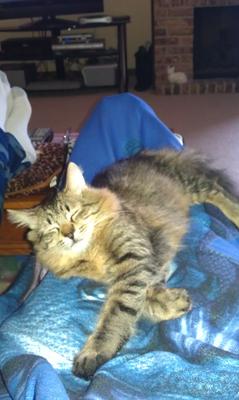 lapcat
Cody is now 10 months old. He came to us last month with his sister from the Hinsdale Humane Society, they are rescues.
He is very loving and has such a loud purr. He is very protective of his sister.
He seems to be the watch cat, sits at the doorway and watches, while I am in the kitchen, to make sure no one sneeks up on me.
We rescued Cody with his sister, Dana, from a humane society. They were 9 months old, now almost a year old.
He loves going into the hallway between condos (which is inside). He is a lap cat, purrs so loud, loves being held. He has fun getting under any blanket or pillow that he can.
So he will crawl under the covers when we go to bed n sleep there for a while with us. He loves playing with the laser pointer, their tunnel system, milk bottle circles, wrestling with his sister and cleaning her or letting her clean him.
They eat right next to each other. He has a harness n leash, he wasn't happy at first but knows he has to wear it to go outside on the balcony. I want to try and have him walk outside with me without getting scared.
He trys to play with the cat next door, Bella. She just doesn't want to play with him yet. But he has befriended her mom. So he has a auntie next door.
---
Luke Rules The Home!!!
By: Sarah Schminke in Fort Dodge, Iowa
We rescued Luke from our local animal shelter for our daughters 13th birthday. He was 8 weeks old and a ball of black long-haired 'angora-like' fur. We really could not tell his front from his back side unless he opened his eyes!!
Although we planned for Luke to be our daughter, Molly's, cat he bonded with me, probably because I took him from his cage and held him in the car...we bonded immediately.
As time went on, I soon realized I was treating Luke like our dog...saying, "c'mon boy...come here boy!" Luke would bound up the steps and literally run to where ever I was. We had a Golden Retriever and two 'normal' cats in the home and Luke and our Golden became best buddies....the older cats and Luke, ah....not so much!!! We thought this was interesting as well.
Whenever I bathed Patch, our Retriever, Luke would jump in the tub to be bathed as well......he soon learned to do tricks, roll over and sit up and beg for a treat!!!
As for his physical appearance....he is solid black and his hair is very long and thick...but does not mat too much, although, I do brush him everyday. He has, what we call,feathers between his toes and the huge 'mane collar'.
Luke is now 5 years of age and weighs about 30 pounds. He MUST sleep with us and usually waits until I turn to my side and he then pushes up as close as he can get to my back them flops down and falls asleep. He knows certain words...TREAT..being his favorite 'come running' word, where he, and the other two felines receive a piece of ham or turkey.
We have always had cats but I must say, Luke is the most unique, loving and funniest cat we have ever owned. Oh and yes...LOVE THE TRILL...he especially turns this on when I return home from being gone 1 hour or 1 week...loves it when we return and he shows us by trilling his voice and rubbing against us until we pick him up!!
Love my Maine Coon!!!
---
Bella, Mixed Maine Coon
By: Linda Faiken in North Royalton, Ohio
Bella is the most loving and funny cat.
I adopted her from the shelter and she picked me. She is such a blessing. She is the first cat I ever had in my life.
I love her so much and so happy we are together. She is good for me as well as I am good for her. I couldn't ask for a better cat. I thank God every day for her.
She is very happy and content and loves being home with me. There are not enough great words to tell all about her.
I just wished I had adopted her younger brother too.
---
Mocha Choca Latte His Large Paw Prints Have Left Their Mark On My Heart
By: Marie-Clare in Oxfordshire UK
My lil rescue kitty who went from scrawny scared ball off fluff found in a bin to pictures below.
I never dreamed he would turn out to be a handsome handful his huge paws prints have left their mark on my heart.
Thank you to all of you that reached out with advice as never owned a cat like him & probably never will as there is only one Mocha & his growing fan club thank you
Here is Mocha a success story Mocha had a bad start was lucky to be found in the bottom of a factory bin.
We think his feral mum got spooked left him there lucky we caught all of feral and were de sexed but Mocha was a very scared feral, one of the worst rescue had seen.
I had gone to collect Minnie who had been thrown out with her brother in a plastic bag when I was waiting to get her I saw this shaking kitten, just huge eyes.
I asked about him as I am a foster mum for rescue & they knew I could cope. I adopted him but first few months Minnie was very loving from start - I only knew Mocha was ok when the door was closed I heard him eat. I started to put food but not look at him & play with Minnie.
Soon it was time to let them have run of house. Mocha would come out but would hide if he saw me.
Minnie soon joined Shania on my bed I carried on playing with Mocha with a laser toy but one night I felt a thud on my bed as knew Shania & Minnie were on there was best feeling i could feel his purr through the duvet. Words cant describe it there are no words as knew it was Mocha this took about 5 months.
I know a lot of people would not wait as sadly they don't want to or have time to do this which is why a lot of feral's don't get homed. But I wanted to share Mocha's story as he is so rare due to his colour of his coat & his eyes.
When people see his photos they think has been changed but all photos I have taken on my phone so as everyone loved them.
I had some postcards & note cards and mugs made they sold out at the rescues charity shop & raised a lot of money also Mocha was recently picked to go in a book of 25 of the worlds most beautiful cats & has had a lot of requests from feral & cat rescues to use his story & picture to spread word about going to rescue & shelters rather than buying a kitten.
Also to highlight that with time & patience feral can be loving cats & to get rid of the myths of them so here is Mocha's picture. Hope his story inspires others to NOT overlook the shy kitten or cat or be put off by the word feral and all proceeds from book go to cat charity's in USA a feral rescue & a de sexing clinic for those who can't afford it.
I hope Mocha's story touches other cat lovers & those who are thinking of getting a rescue. Mc Mocha & Minnie