Murphy is a 3-year-old pure bred Maine Coon. He is very lovable and playful.
My rescue kitty at two months old. I remember he was full of fleas and worms, I never imagined he would be so sweet.
For me is only what I love and since he arrived has filled our hearts with love of young and old, to the point that my nieces have a photo trusted him.
My mother did not like cats, gradually has fond, was funny to find my kitty asleep in the chair my mother.
---
Princess Dana
By: Dawn (Willowbrook, IL
relaxin
Adorable Dana
Dana is 10 months old. She came to us with her brother last month from the hinsdale humane society.
They are rescues. She is very loving on her terms. She loves to play with us. And then she likes to wrestle with her brother.
She doesn't purr as loud as her brother, but she does purr. And she has a smile.
We rescued Dana with her brother, Cody, from the humane society. They were only 9 months old. She loves playing at a certain time in the evening with daddy and their tunnel system.
She let's her brother play too. She loves to cuddle and is a lap cat. She is starting to like being held. She isn't fond of the harness, but I think in time after watching her brother she will want it too.
She has met the female cat next door n cautiously sat there not letting Hellas growling bother her. She still wants to go over n play, but hopefully Bella will come around to play. She loves sitting out on the stairway between the condos (which is inside). She likes our neighbor, (has an auntie).
Loves sitting on their tree by the door so she can see outside. Doesn't let her brother push her around. And will fight to show him she is a big girl. She has gotten bigger and is almost a year old. She is such a happy girl.
She likes the laser pointer, glittery balls, light up balls, sticks with a bell and feathers. And loves laying on blankets that are soft.
---
Adorable Cody
By: Dawn Olszewski in Willowbrook, IL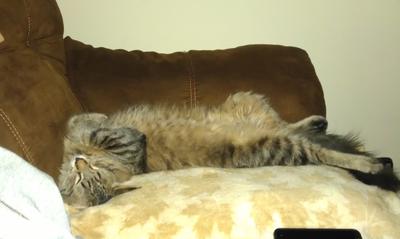 relaxin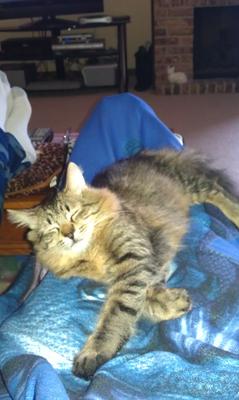 lapcat
Cody is now 10 months old. He came to us last month with his sister from the Hinsdale Humane Society, they are rescues.
He is very loving and has such a loud purr. He is very protective of his sister.
He seems to be the watch cat, sits at the doorway and watches, while I am in the kitchen, to make sure no one sneeks up on me.
We rescued Cody with his sister, Dana, from a humane society. They were 9 months old, now almost a year old.
He loves going into the hallway between condos (which is inside). He is a lap cat, purrs so loud, loves being held. He has fun getting under any blanket or pillow that he can.
So he will crawl under the covers when we go to bed n sleep there for a while with us. He loves playing with the laser pointer, their tunnel system, milk bottle circles, wrestling with his sister and cleaning her or letting her clean him.
They eat right next to each other. He has a harness n leash, he wasn't happy at first but knows he has to wear it to go outside on the balcony. I want to try and have him walk outside with me without getting scared.
He trys to play with the cat next door, Bella. She just doesn't want to play with him yet. But he has befriended her mom. So he has a auntie next door.
---
Luke Rules The Home!!!
By: Sarah Schminke in Fort Dodge, Iowa
We rescued Luke from our local animal shelter for our daughters 13th birthday. He was 8 weeks old and a ball of black long-haired 'angora-like' fur. We really could not tell his front from his back side unless he opened his eyes!!
Although we planned for Luke to be our daughter, Molly's, cat he bonded with me, probably because I took him from his cage and held him in the car...we bonded immediately.
As time went on, I soon realized I was treating Luke like our dog...saying, "c'mon boy...come here boy!" Luke would bound up the steps and literally run to where ever I was. We had a Golden Retriever and two 'normal' cats in the home and Luke and our Golden became best buddies....the older cats and Luke, ah....not so much!!! We thought this was interesting as well.
Whenever I bathed Patch, our Retriever, Luke would jump in the tub to be bathed as well......he soon learned to do tricks, roll over and sit up and beg for a treat!!!
As for his physical appearance....he is solid black and his hair is very long and thick...but does not mat too much, although, I do brush him everyday. He has, what we call,feathers between his toes and the huge 'mane collar'.
Luke is now 5 years of age and weighs about 30 pounds. He MUST sleep with us and usually waits until I turn to my side and he then pushes up as close as he can get to my back them flops down and falls asleep. He knows certain words...TREAT..being his favorite 'come running' word, where he, and the other two felines receive a piece of ham or turkey.
We have always had cats but I must say, Luke is the most unique, loving and funniest cat we have ever owned. Oh and yes...LOVE THE TRILL...he especially turns this on when I return home from being gone 1 hour or 1 week...loves it when we return and he shows us by trilling his voice and rubbing against us until we pick him up!!
Love my Maine Coon!!!
---
Bella, Mixed Maine Coon
By: Linda Faiken in North Royalton, Ohio
Bella is the most loving and funny cat.
I adopted her from the shelter and she picked me. She is such a blessing. She is the first cat I ever had in my life.
I love her so much and so happy we are together. She is good for me as well as I am good for her. I couldn't ask for a better cat. I thank God every day for her.
She is very happy and content and loves being home with me. There are not enough great words to tell all about her.
I just wished I had adopted her younger brother too.
---
Mocha Choca Latte His Large Paw Prints Have Left Their Mark On My Heart
By: Marie-Clare in Oxfordshire UK
My lil rescue kitty who went from scrawny scared ball off fluff found in a bin to pictures below.
I never dreamed he would turn out to be a handsome handful his huge paws prints have left their mark on my heart.
Thank you to all of you that reached out with advice as never owned a cat like him & probably never will as there is only one Mocha & his growing fan club thank you
Here is Mocha a success story Mocha had a bad start was lucky to be found in the bottom of a factory bin.
We think his feral mum got spooked left him there lucky we caught all of feral and were de sexed but Mocha was a very scared feral, one of the worst rescue had seen.
I had gone to collect Minnie who had been thrown out with her brother in a plastic bag when I was waiting to get her I saw this shaking kitten, just huge eyes.
I asked about him as I am a foster mum for rescue & they knew I could cope. I adopted him but first few months Minnie was very loving from start - I only knew Mocha was ok when the door was closed I heard him eat. I started to put food but not look at him & play with Minnie.
Soon it was time to let them have run of house. Mocha would come out but would hide if he saw me.
Minnie soon joined Shania on my bed I carried on playing with Mocha with a laser toy but one night I felt a thud on my bed as knew Shania & Minnie were on there was best feeling i could feel his purr through the duvet. Words cant describe it there are no words as knew it was Mocha this took about 5 months.
I know a lot of people would not wait as sadly they don't want to or have time to do this which is why a lot of feral's don't get homed. But I wanted to share Mocha's story as he is so rare due to his colour of his coat & his eyes.
When people see his photos they think has been changed but all photos I have taken on my phone so as everyone loved them.
I had some postcards & note cards and mugs made they sold out at the rescues charity shop & raised a lot of money also Mocha was recently picked to go in a book of 25 of the worlds most beautiful cats & has had a lot of requests from feral & cat rescues to use his story & picture to spread word about going to rescue & shelters rather than buying a kitten.
Also to highlight that with time & patience feral can be loving cats & to get rid of the myths of them so here is Mocha's picture. Hope his story inspires others to NOT overlook the shy kitten or cat or be put off by the word feral and all proceeds from book go to cat charity's in USA a feral rescue & a de sexing clinic for those who can't afford it.
I hope Mocha's story touches other cat lovers & those who are thinking of getting a rescue. Mc Mocha & Minnie
---
More Maine Coon Cat Pictures: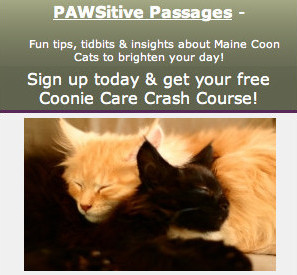 Maybe-Maine Coon Cats For February:
Chance Adopted As Kitten
By: Joy in Kewaskum, WI
His tail is as long as his body. When we adopted him they said he was Maine Coon. He was a private adoption.
---
Humane Society Maine Coon?
By: Kris in Minnesota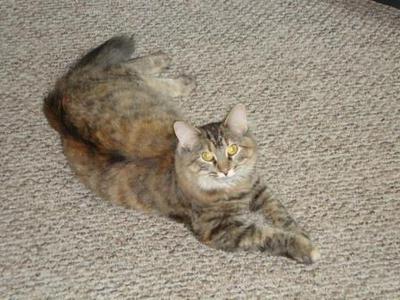 We found Cheeba at a Humane Society when we were looking for a kitten. When we arrived we were told the one we were interested in was no longer available.
We went into the cat room and looked around for a bit before seeing Cheeba, at the time she was called Chevy. As I approached the cage, she began to paw at me.
Once I opened the cage, she immediately crawled into my arms and tucked her head down and began to purr! It was love! When I put her back in the cage she kept pulling my hand towards her.
After getting her home we discovered that she is an extremely inquisitive cat. She is constantly sniffing at everything and has to know everything we are doing. She loves to play and if I throw her mice she will catch them in mid air. She is very vocal and talks all day. We love her to death.
The first picture I posted of her someone asked if she was Maine Coon and after doing so checking I believe she is.
---
Seraphim
By: Crystal in Indianapolis
Seraphim was adopted alongside my boyfriends other kitten from a shelter through Petco.
She was about 9 months old then and about a year now. She's actually quite small for her age, doesn't do much talking, and when she does it's a very high pitched squeaky meow.
She also makes little chortle sounds when she's playing. Her left ear was clipped to mark her as spayed, something I wish was outlawed because it's simply unnecessary. But on the other ear, she has the little tuft of hair.
Her coat is that of a tabby, not long but not thin and she has white on the tips of her toes. I call them milk toes. Her paws seem quite large...perfect for snow?
She is a heavy lover, practically drooling in heavy breath purrs that you can barely hear over her breathing when you love on her. She has an interesting fascination with running water and has jumped into the shower with my boyfriend just to sit there under the shower head and watch him.
And she always jumps onto the sink when I turn on the faucet. She's generally very shy around lots of people and strangers, but has warmed up quite a bit and lets us hold her when she didn't used to.
But I question her intelligence since she doesn't seem to recognize her reflection as herself. Anytime she sees it, she sits and stares. Maybe this is the slow to mature trait in Maine Coons?
Her tail isn't fluffy, but it looks like a bottle brush when she fluffs it up in play. Guess I'll have to see if it gets fuller as she ages. So, what do you think? Main Coon mixed with Tabby? I will add pictures when I get to a computer. My phone does not work with this site.
---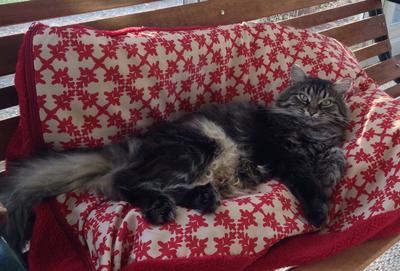 Karl is on a large dog pillow!
Lucky Karl
By: Tracie Rush in Ohio
I found Karl at the shelter where we adopted our puppy.
He reached out of his cage and grabbed my husband's shirt. The rest is history...
---
Hendrix
By: Kristen in Pennsylvania
Hendrix as a kitten
Hendrix, or as I affectionally call him Henry, is a playful and curious cat.
When first meeting new people he is cautious and skiddish, but as I am his owner he is completely loyal to me and follows me everywhere around the house.
He gets along well with other cats and dogs, and according to the animal shelter I adopted him at, was found living in someone's backyard along with the rest of a litter of kittens.
---
My Vixen!
By: Marc in Payson, AZ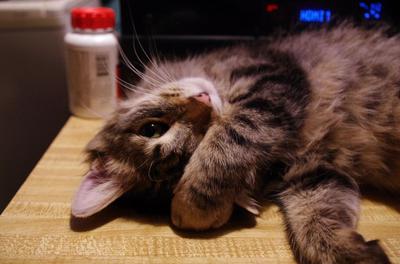 I just adopted 'Vixie-Puss' (what I call her!) from the local Humane Society. She picked me!
My first visit to the 'cat-room' revealed this, spunky, feisty little girl! She saw me, and immediately rushed over and commenced to chew and do the 'rabbit-kick' to my hand for 10 minutes!
I just let her have fun! On my second visit [a few days later - (I needed another 'cat-fix'), I sat in a chair, Vixen rushed up to me, layed across my chest and wouldn't stop licking my face! When I went to leave, she wanted to go.. Later, I came back and adopted her.
She was a stray that was brought to the Humane Society, and at 7 months old, wasn't completely 'socialized'.. she kept wanting to play-bite mostly. After just a couple weeks, she is learning the difference between play-biting, and just being verrry affectionate! She is extremely vocal - she has a wide range of sounds both meow-like, and weird!
She even at times bleats like a Billy Goat! LOL I love her dearly, and she watches for me when I leave and return, and greets me at the door. She can be both gentle, and aggressive, but I love her wonderful personality and loving nature. She doesn't have the Lynx-Tufts on her ears, but has the 'M' mark on her forehead - which I was told denotes a Main Coon. What do you think?
---
Kringer
By: Soni in Fort Lee, VA
7 weeks old
We got Kringer as a kitten from a pet store when he was 7 weeks old. He isn't very vocal, but has all the characteristics and personality traits of a Maine Coon.
Now, at 6 years old, he weights almost 17 lbs. but plays outside like he's still a kitten. He's bigger than our 1 year old yorkie, who is his best friend. He plays with her and follows us every night when we walk her.
When its shower time, he's in the bathroom with me waiting for the door to open so he can come in. His normal sleeping spot is the sink, after he takes a long drink from the faucet. He's not much of a cuddler but when he wants attention, he nudges my hand with his big head.
He's always in the room with us but never on our laps, usually sitting on the couch or back of the recliner. He's also very smart. We trained our dog to ring a bell on the back door when it was time to go outside and he also uses the bell.
When teaching our new dog to sit, he saw the snacks she was getting and wanted some, so he started sitting on command too! He is known around the neighborhood becaouse of how friendly and playful he is. One of the best cats (dogs) I've every owned!
---
Uno
My cat is very active and loves to hang out at the bathtub and at the sink.
He has pretty long fur and a long bushy tail that spans almost the length of his body.
He has tufted ears and paws and is very affectionate.
---
Mistah alias: Mistah Swoosh
By: Claudia in Canterbury, NH USA
Mistah as kitten 6 weeks
We found Mistah in our garden... probably about 6 weeks old..this summer. Took us 4 days to catch him (he outsmarted us). Finally caught him.
He surprised me by playing fetch and bringing things for me to throw for him. He follows me everywhere, watching what I do. Nothing escapes his notice and he is ON IT, when someone comes to the door.
He chirps and cackles at me when I walk into the room. He likes water. He loves to ride around on my shoulder. Loves to be patted and also likes to lick my face... OUCH raspy tongue. He stay with me wherever I go in the house. He has huge paws, tufts between his toes, enormous plumed tail and very long body.. Neck ruff is developing.
Color is dark gray with lighter gray fur mixed in and white underbelly. He has pink pads, except for one which is black. His nose is pitch black.
The vet said he has never seen a kitten grow so fast... and he was a cat specialist. I think his parents may be: a similar body type longhair black female who lives on one side of us... and the dad lives on the other side and is a HUGE gray tabby Maine coon with the biggest coat I have every seen.
Will enter photos from kitten to now. Please help me, as I must neuter him in 2 weeks.. and I would like someone's honest opinion. I have asked 2 people, but nothing to convince me either way.
---
Dash, Our Big Teddy Bear
By: Kristin H. in Fremont, CA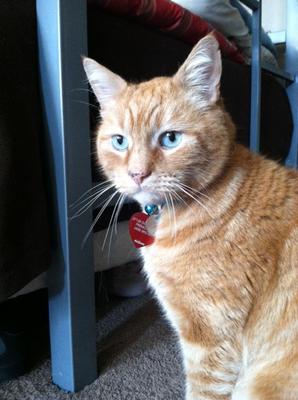 Dash has baby blue eyes
Dash is a 5 1/2 year old male, who weighs just over 16 pounds. We had lost him about 3 1/2 years ago and just got him backs a few months ago due to microchipping!
We got him as a 9 week old kitten from a lady who worked at a cat hospital that we were going to and she found stray kittens in her backyard from one of the stray cats.
All the kittens were orange/red with bright blue eyes. He has always been a large cat, but when we got him back he was double in size. He doesn't feel over weight at all, he's all muscle. But he still eats about a 20lb bag of cat food in a month.
He used to love bathes and would walk around in the rain. He also loved sleeping with the dog. When we had him the first time my kids were only 3 and 1 years old and he would allow them to cover him in sand in the sandbox and lay in the doll stroller. I was resently asked what mix is he?
My mother in-law has several cats around the same size of mine and was told they are a Maine Coon mix. I don't really see much of it in his face but maybe you can give some insight.
---
Paisley
By: Sharon in McKinney Texas
We rescued Paisley from The Dallas Exotic Animal Rescue at 7 weeks old, we were told she is a Main Coon Burma mix. She is nearly a year old now and just so precious.
She does have some Maine Coon traits but not the big Mane. She just loves to play on her cat tree and run through her tunnels, she loves any toy that chirps or lights ups.
She has not been declawed and only scratches where she is suppose to, she loves running water a lot. The only thing is that she does like to bite, now we had her at 7 weeks old and there is just my husband and myself in the household, we hugged and petted her as a kitten so she would grow up in a gentle home but for some reason she bites, I can be walking and she will just attach herself to my leg as I am walking and bite, not hard never draws blood.
At night when we are asleep if my foot hangs out the bed she will grab it, quiet funny actually, When you stroke her head she will let you but starts licking your hand then gnarls on my knuckles. She is so loving and greets us each night and lays on the top of the couch with us.
We are blessed to have our sweet paisley. Have often wondered about getting her a friend, but thought maybe she would bite the other cat and cause it stress, maybe Paisley should be a only child? Thoughts anyone.
---
Chuy is she a Coon Cat?
By: Rizzo in Orange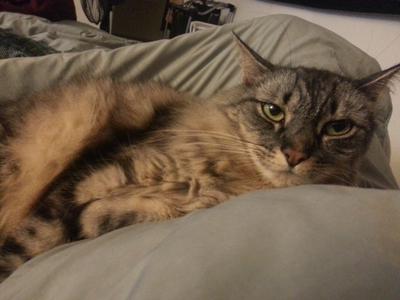 Chuy is the cutest most loving cat I have ever had. As intelligent as can be she is a true friend.
When I sit down there she is waiting for a lap and a pat. She's got a thing for long hair and if you let her shell drool all over it while she sleeps.
But her favorite spot to sleep is on my belly. She loves the out doors climbing trees and eating grass. When she doesnt go outside for a day she can have some Catittude.
---
Simba
By: Mel in United Kingdom
Simba male aged 16 months, he is a very affectionate loving cat who loves to kiss his mammy, (me).
He is extremely playful and loves treats. He talks and always responds to his name, he is a very clever boy.
---
Smoky Black Maine Coon
By: Breanna. T in Ontario
This is Sparta he is 5.
I am trying to find out if he is a Maine Coon and if theres any info on the smoky black coloring.
He has the body of a Maine Coon and the personality, definately like having a young child around, he follows you around the house like a puppy dog, he plays and sleeps in the bath tub, and VERY talkative.
Any info will help.
---
More Maine Coon Cat Pictures:
The Rainbow Bridge Album:

A Maine Coon leaves a mark on one's heart that is never forgotten. These are some beautiful tributes to amazing family members.

Cats In Sinks:

What is it about cats in sinks? Perhaps it's the size, the shape, the way they produce fresh water, or maybe it's just because it is so fun for a cat to be right in the way!
Related: