February 2012 Photo Album
Welcome to the February Photo Album! Here, Maine Coon lovers from all over the world get to show off their cats and see the cats of others! Have fun!

Simba!
By: Kristy in Grand Blanc, Michigan
Mr. Personality:
Simba is our 6month old Maine Coon mix. He is the most friendliest, loving cat I've ever known! He loves attention and is EXTREMELY vocal.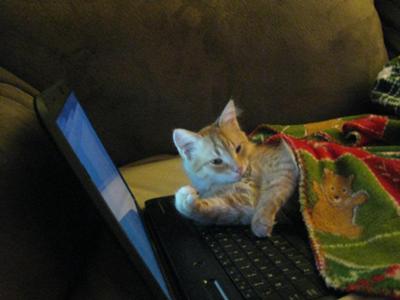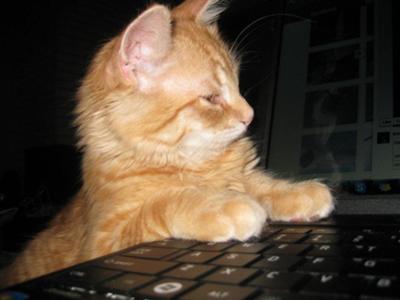 We love listening to him talk. He is definitely Mr. Personality in our home.
We adopted Simba when he was 6 weeks old from the shelter. When we got him home and took him to the vet it turned out the poor little guy had ringworm and kitty herpes (upper respiratory infection)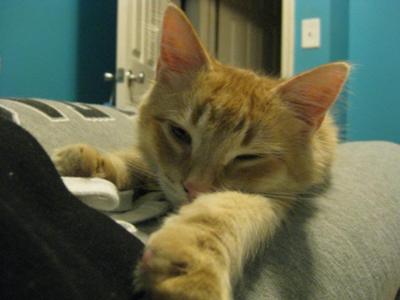 With lots of love and treatment Simba pulled through and he is now a healthy and happy kitty. He loves to play with his 2 big sisters Belle and Kami.
Simba is a very vocal kitty and him and I enjoy our morning talks when I wake up. He loves catnip, playing fetch (like a dog) chasing the fish around in the fish tank and playing with mice.
Simba has brought so much joy into our lives since we got him.
Comments:
Heather: My cat Mason like playing with the fish too. I had to put the lid back on the aquarium this week because two fish went missing. Humm.
---
Cody!
By: Mary in Masachusetts
Cody, a very handsome young man from Smoochin' Coons in RI. His breeder says he is show quality (as long as he isn't too shy around crowds and noises).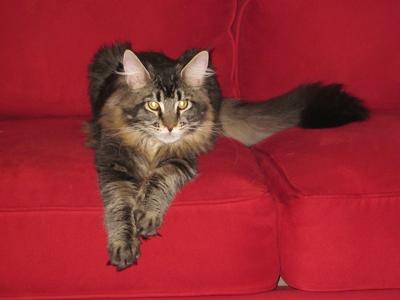 Regardless, I think he is one of the most adorable furry babies ever! He makes the cutest little squeaks and likes to sleep in my hair on my pillow at night.
Comments:
Frances: He's a slightly darker version of my Oscar. He's Wonderful, Good luck with showing him
Michelle:Cody is a beautiful cat. Congrats!!!
Ginny: I have a brown tabby Maine Coon named Cody too. He "woofs" like a dog.
---
Hunter
By: Mary in Massachusetts


Roar! I'm 4 mos. old here.

Hunter just turned one year old this past weekend. Time flies! He is like a golden retriever who follows me around, opens doors, and plays fetch. I adore him, and his adopted baby brother does too!
Comments:
Michelle: He's such a cutie!
Kristy: What a beautiful cat!
---
Mickey
By: Brenda Ashby in Hill NH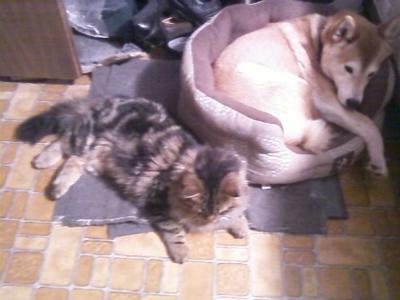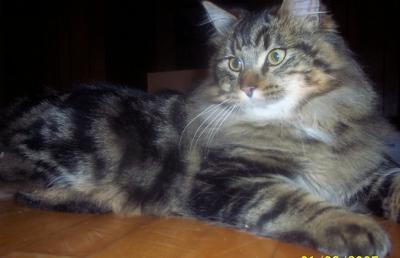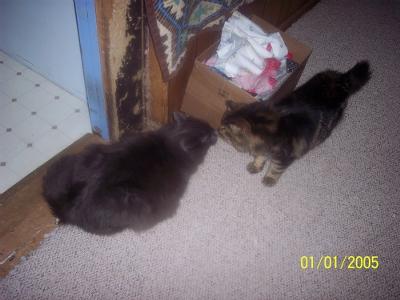 Mickey came to us one day very hungry and skinny. We took him in, fed him and this is where he stayed.
We now have added him to the rest of our family. He is a young male about 1 yrs old. He is very playful.
My husband and I are very amazed that he gets along with all of our dogs. He is just like part of the family and not a new kid on the block. Mickey has picked me out.
He sleeps with me and follows me into every room. He is never too far from my side. I always dreamed of owning a Maine Coon. I have decided to keep him an inside cat if I can. I have another cat that goes out. Right now is not asking to go out.
Comments:
Sharon Duffy: He's truly a pretty kitty.
---
Everybody Loves Louis
By: Amie in Kingston, Ontario, Canada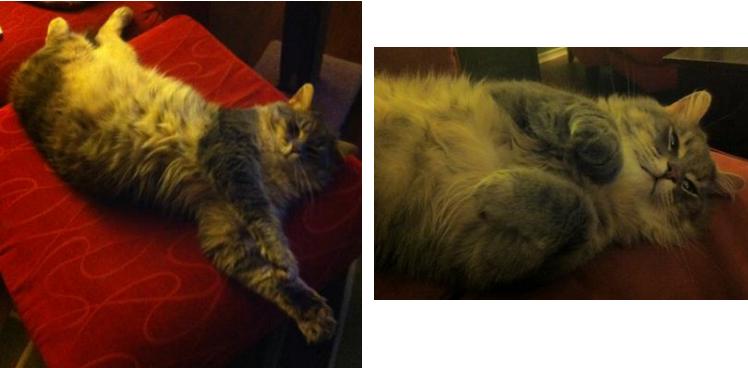 Louis came to me as a rescue kitty. It was love at first sight! I'm not 100% sure if he's pure Maine Coon, but he's got all the characteristics except for the lynx-like points on the tips of his ears.
Everything else is there, from the beautiful coat, to the furry feet, to the ruff around his neck, the gorgeous tail and the chattery, friendly, laid back personality with a more than a bit of clownishness.
He's a big (16 lbs of solid muscle), beautiful boy. The vet says he's just around a year old. He's brought me such happiness, I just had to share!
Comments:
Kathy: He is precious! He looks like my 18# boy!!
Carol: I do believe you have a Coonie! Beautiful cat.
---
Padme Fuzz
By: Julie in West Virginia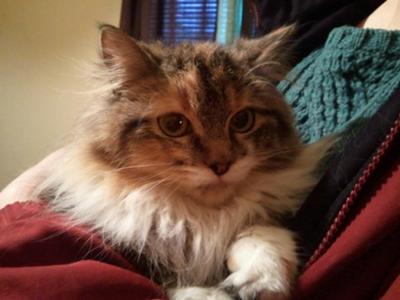 Our new Kitty is a rescue Kitty. I found her online through Petfinders while searching for a Maine Coon.
She may look like a Maine Coon but she is a tiny thing. We've only had her a week and she is really adapting well. We've never had a kitten quite like her.
She's a lap kitty (when she wants) very playful, and loves to climb and jump. She's a wonderful addition to our home!
Comments:
Debbie Frum: My mom & dad had a Maine Coon a fews ago. Winnie was the best cat ever - they are wonderfully smart and affectionate cats! She's beautiful.
---
Sylvester
By: Lara in UK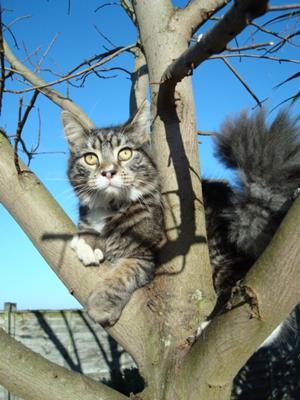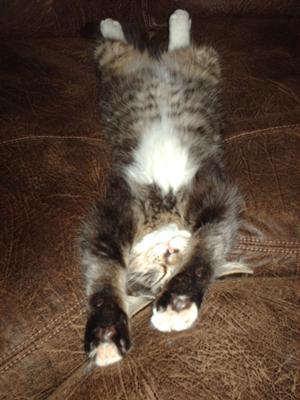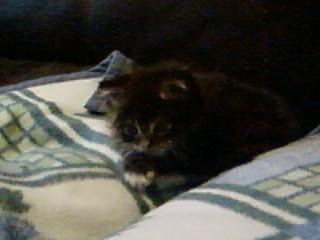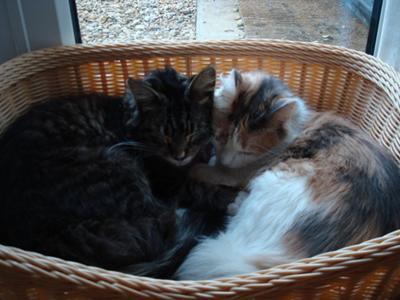 Sylvester lives with us and his sister (honey), he is 4 years old and very cheeky. He loves to drink from the tap, lays on his back and loves to be cuddled!!
He loves to be outside and on the prowl and makes us laugh so much with his funny antics and chirruping.
He is loved very much!
---
Honey
By: Lara in UK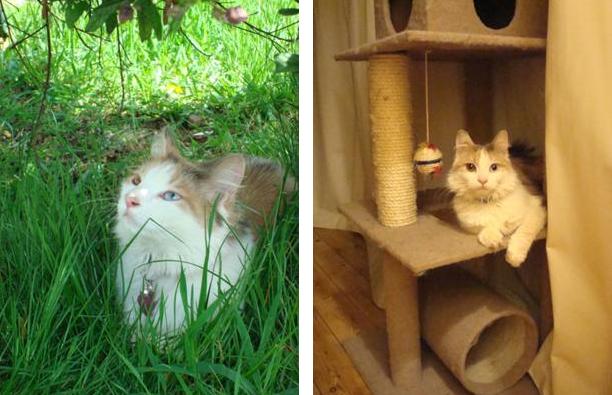 Honey is 4 years old and lives with us and her brother (Sylvester), she can be quite shy and doesn't like loud noises, particularly the jets that fly over our house!
She loves being in warm places and loves the sunshine. she has one blue eye and one brown which have stayed since being a kitten (we weren't sure if they would change!)
Honey is loved very much even tho she doesn't like to be picked up but still loves to be stroked!
---
Oh like you never take naps in your sink?
By: Francine & Scott Reese in Brookfield, MA 01506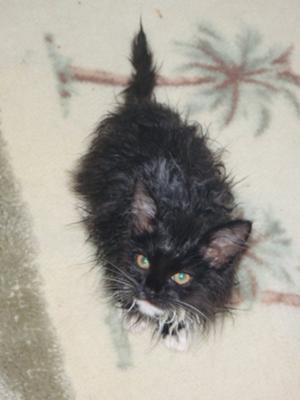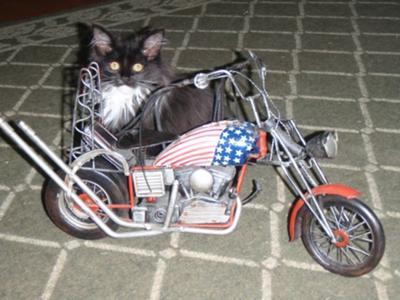 This is our Maine Coon Cat Kidd~E Reese He is 2 and a half and such a big love!!
Comments:
Carol: Our Rambo also curls up in the sink to sleep; he also sleeps in the flower pot, in the shower, on the ironing board, and even sleeps on my pillow above my head!
I never know where I'll find him next. Nice to know someone else's cat also sleeps in the sink!!!
Ruthie: This cat looks like my cat who was listed as a Main Coon Mix when i adopted her from the Humane Society but she may be a full Main after looking at this cat.
Sadly she is about 15 or 16 and has renal disease now. She is doing ok but from 15 lbs when i adopted her she is now 10.3 lbs. I love Maine Coons. Great cats!
---
Dolly
By: Teresa in Linn Creek, MO

Dolly is a 1 1/2 year old brown classic tabby w/white. She is full of life!! There is NEVER a dull moment with her in the house!
---
Rambo The Fearless
By: Carol Dunaway in Chattahoochee, FL

Our Rambo was abandoned near a business in Marianna, Fl. . We inherited him from family who knew we wanted a kitten.
He didn't meow, he only squeaked, so I thought "his meow was broken." Because of the "chirping" I named him "Squeaky."
The name changed when he had his first encounter with our resident female tabby. He faced her nose to nose and did not back down.
Rambo has all of the characteristics of a Maine Coon. He has tufted feet and ears, a large ruff around his neck, a full fluffy tail.
Red nose leather, a water-proof coat, a chirping squeaking greeting, and a bodacious personality that continues to surprise us. I would say from what I have read that he is definitely Maine Coon. My son thinks so too.
Comments:
Elizabeth: Has the look of a Maine Coon or Mix for sure!!!
Becky: What beautiful intelligent eyes!
Patti D: He sure does look like a Maine Coon. Very beautiful
Shirley R: We lost our Patches (our male Maine Coon cat) two days ago to Kidney failure. We can hardly stand it here at home without him.
So, enjoy your Rambo, he looks just like Patches, and we miss him so much it's unbelievable. He was the smartest and sweetest friend we've ever had.
Someday I hope to have another coon cat that looks just like Patches and Rambo. They are so beautiful!
---
Whiskers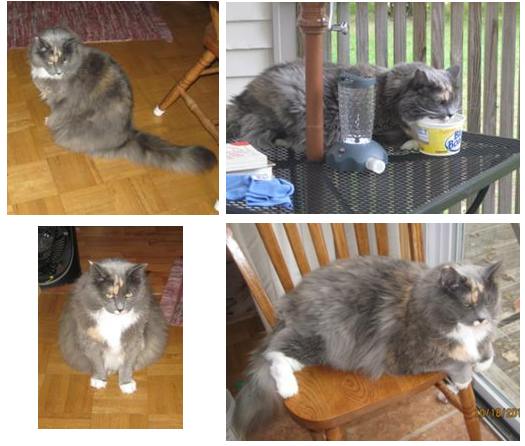 She's very lovable when she wants to be. She hates fish and she's very talkative
---
Beau
By: Paree in Essex UK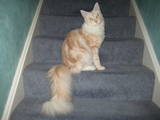 Beau at 1yr old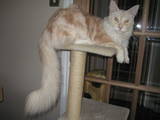 Beau at 2yrs old
Beau is my 4 year old Maine Coon - he is a Red Silver Shaded and White
Comments:
Dolaine: Wow! I have never seen such a long tail. I love the photo on the stairs with the tail trailing down like a bridal train. Enchanting!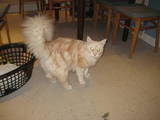 Beau at 3yrs old
Beau at 4yrs old
Marg: Wow Beau is one handsome boy. :-) He is absolutely stunning and beautiful. I love that tail. My Maine Coon X is a similar colour and I adore him. :-)
Frances: Wow! I love him
Jessy: My Jasper has an extravagant tail, but not quite as impressive as this one. Do you suppose they know their tails are magnificent and take pride in them?
Dee: He is just gorgeous! My 8 month old kitten is very similar in color. I hope he grows up as beautiful.
Pat: Now I know what Rusty will look like when he's older. They could be twins! Beautiful!
Karen: It's so long - I love the way there tail always curls over at the top, like a hook. Just gorgeous
---
Timmie and Willow
By: Patti F in Searcy, Arkansas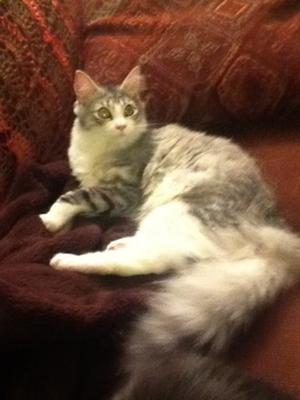 Timmie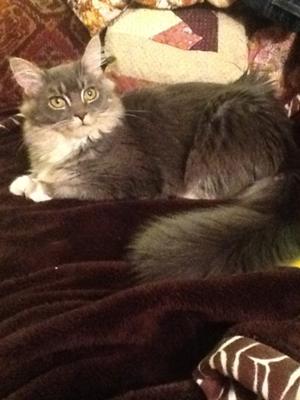 Willow
Timmie is a big boy at just under 10 pounds. He is almost six months old. Loving and energetic, Timmie loves to play with his half-sister Willow and Marley, the stray cat who adopted us.
Timmie is a true Maine coon from Mountain Fork Maine Coon's in Oklahoma. Every day with him is an adventure. He is a silver and white mackerel.
Willow shares the same father as Timmie. She is actually three days older but much smaller at just 6 pounds.
She is my shadow and a great alarm clock. If I don't get up when the alarm goes off, she comes over (she sleeps on the bed with me) and starts washing my face.
She has Ragdoll genes as well which makes her very interesting. Of course, she is from the same breeder.
Both have already taken turns falling in the bathtub and the toilet. They don't mind getting wet, but there's something about a cat falling in the tub when you're in it that's a little disturbing! They are wonderful companions and I look forward to watching them grow.
Comments:
Brenda: what a perfect pair, just beautiful
---
Rye, The Blue Maine Coon
By: Susan Cooper in Garland, TX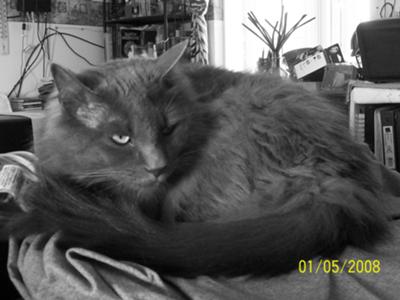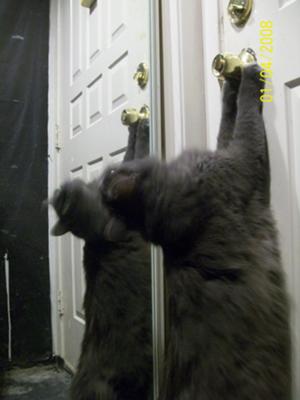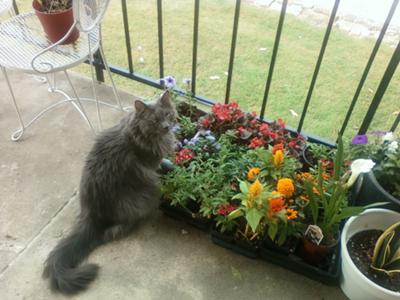 This is Rye. I know he is part coon cause when he was growing up he had a lions mane for the longest time, although he has grown into his fur. His stomach fur and rear fur are thick and long.
When he wants attention... he'll actually follow me or my husband around the house till he gets it. This can entail of head bunting, meowing, or in his way of talking "ruh" is what it sounds like with some chirping involved.
Rye weighs 18 - 19 pounds. He can actually touch the door handle of our front door and has been known to get his claw stuck before for getting our attention of wanting to go out front to explore.
His style of walking is normal of a typical cat except that his two back legs walk close together and sometimes when he runs outside or in... its like that of a jack rabbit.
I got him at the Plano, Tx. SPCA when they came to the mall for pet adoption weekend. He was only 4 months old at the time and when I first bought him I thought he was gonna have short hair. But it turned out quite opposite.
Comments:
Brenda: I thought my Miss Hellfire was a silver until I seen yours beautiful mine is solid silver on top with some tabby marking on her tummy
Frances: Beautiful cat. It took me a while to work out the door handle photo, great!
Susan Cooper: I have a cat that looks like yours. Yep... Maine Coons love water. They also like to hide and sleep in small spaces.
---
She Saved My Life
By: Louis James in Forest Lake, MN, USA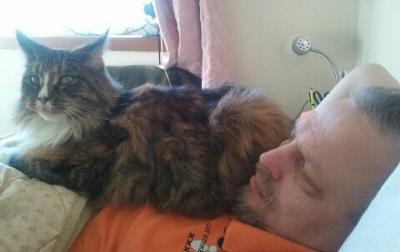 Recently I have been in a long period of depression, and I'm diabetic. Recently separated, lost my job, and had to move to a new state. Sabrina my Maine Coon went with me. Just the two of us have begun a new life in Minnesota.
During one particularly lonely depressed evening, upon reflection where I am, at the bottom. I was ready to call it quits, and give up my life.
At that moment, Sabrina, took her paw and touched my face, as I was laying in bed. I looked at her, and our eyes met. Her meow and purr spoke volumes to me. It said, "what about me. I need you."
It was then I realized, God brought Sabrina to me, to keep us together. I couldn't live with out her and she needed me... Read More
---
Little Miss Hellfire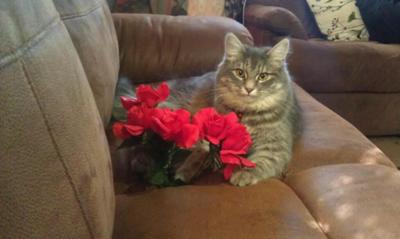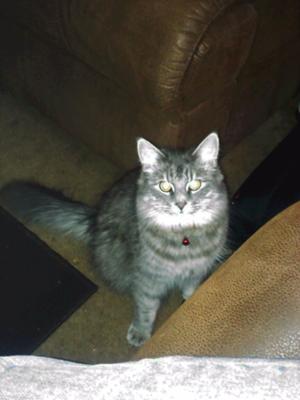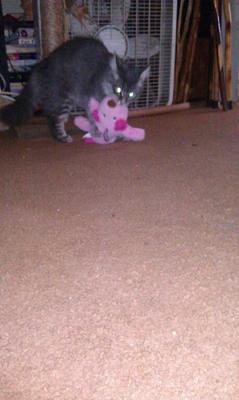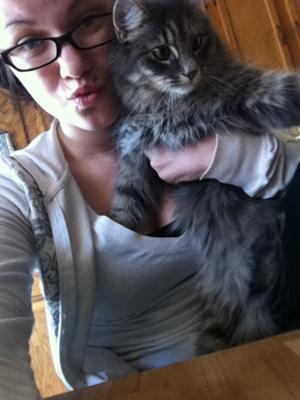 Miss Hellfire was dumped at the local mall in the bushes along with her litter mates. I fell for her right away.
She was about 4 weeks old and a real spit fire. Since she has become part of my family she has become the entertainer, even my husband loves her and my kids can't go by her without picking her up.
She has many traits of a Maine Coon, she is dog like sometimes. She has become my best friend she will be where ever I am, I have trained her to sit, come, lay down, give me her paw and more.
I know I can not say for sure what breed she is but she has tufts on the top of her ears and between her toes also all the other features of a Maine Coon. It wouldn't matter to me either way - I love her, she is my clown.
Comments:
What a great name!
Brenda: I think her name suits her perfect, the funny thing is her vet, wont call her by that name he doesn't like to call out hell when its her turn.
---
Dodee Durdles
By: Vicky Issott in Nelson, BC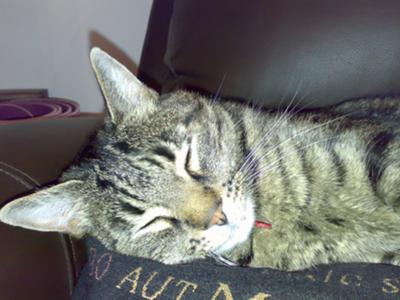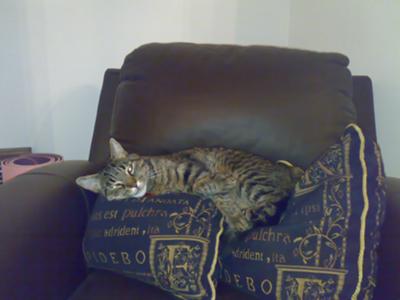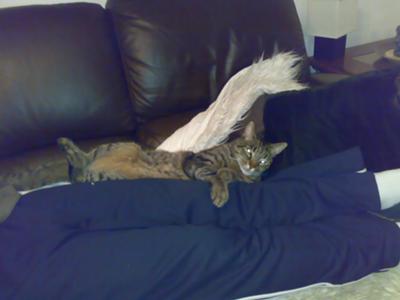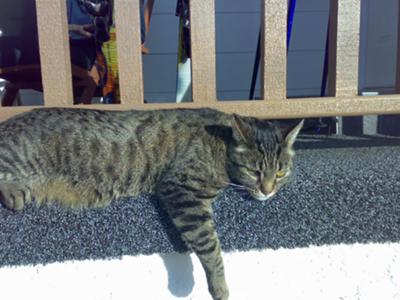 A friend commented today that our rescue cat (he's on his 5th home that we know of) looks like a Maine Coon. So here I am and having read about them he certainly sounds at least part Maine Coon.
He weighs 14lbs and dwarfs our other cat. His purr keeps us awake at night. He greets us on the drive like a dog and his eyes look like Puss in Boots' from the Shrek movie.
He is at least 7 years old, but acts like a kitten. The leather sofa will never be the same again-it's been well clawed since we got Dodes-his paws are enormous! BUT he is the best cat ever and is ruined along with his brother from another mother Salem (little black kitty!)
---
Joey!
By: Kay in San Diego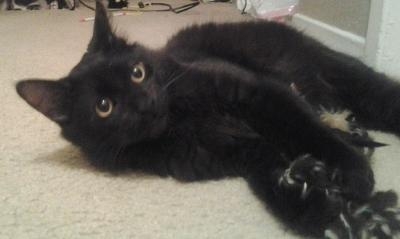 Playing with new toys!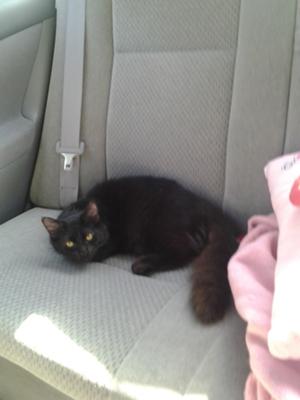 Car rides!
I adopted Joey from the local Humane Society not long ago. He came to them as a stray and the poor little guy had ear mites and scabies which left him with barely any fur.
He is fully cured now and has the full and beautiful Maine Coon fur! He is definitely a Maine Coon mix -- his personality and that tail gives it away.
Joey is super playful and loves to "chirp" while he follows me from room to room. He is an incredibly good eater!
He loves his food and treats. He has never left a scrap of food behind after a good meal.
He is the first cat I've had that allows me to hold him and cuddle with him. He is very friendly to everyone in my family and will sit by them when I am away.
During car rides he simply sits in the back seat and looks out the window.
He is such a fun cat and has already become my life-long best friend!
---
My boy Ebony
(better known as Ebby)
By: Kay Griffin
(San Antonio, TX USA)
About 6 years ago, a young black cat was roaming around my apartment complex, I though he was a she, so called him Ebony, found out she was a he so he is Ebby.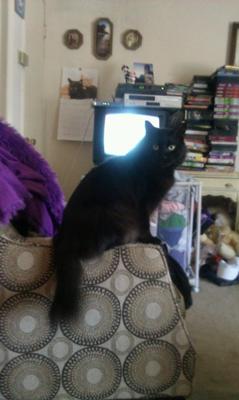 I got him for some friends who like black cats, because I already had a ginger Manx called Elsa.
But he just won my heart, the Vet said he was a young cat so he was about a year old when I first got him.
And I happened to show his photo to the cat lady at a pet store and she almost immediately said, "Oh, you have a Maine Coon mix there." and he is, he has ALL of the Maine Coon, large, he is, has all of the Maine coon characteristics.
He is very large a 12 pounder, very fluffy, and sweet gentle temperament. My gentle giant, and can make me laugh almost everyday, so this is my Ebby
Comments:
Maria: He does look just like my Shadow, what a couple of handsome boys!!
Brenda: i love the beauty of a jet black cat
Jessy: Good-looking kitty!
Kay Griffin: He does and when I found him he was outside and I think the people who was feeding him as a stray was calling him Shadow lol
Kay Griffin: my boy Ebby is pretty sick he has FLUTD or Feline Lower Urinary Tract Disease and has to spend 5 days at the Vets, he is doing better just called the Vets and they told me that he is doing well and he is eating and drinking and I can visit him anytime I want, but please keep him in your thoughts thank you
---
Chillin Like A Villian...
By: Michelle in Canada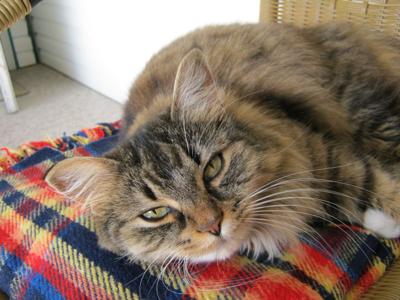 Kitty is her name, hunting is her game! In her 5 years thus far Kitty has brought home some amazing kills, things i never knew cats hunted for...
Her personality is absolutely delightful ...she greets me every day meowing so loud ... music to my ears.
---
Now That Is A Tail!
By: Pat Hudson
(Greenville, SC)
He's loud and a climber. He likes to climb on top of the microwave and bat the painting hanging over it to indicate he needs a treat!

He's been on every bookshelf and up the screen door. He has even climbed up the brick fireplace to walk on the mantle. He is a delight!
At seven months, he already weighs 9 pounds but doesn't have an ounce of fat on his long, lean body. He loves to be brushed and eats like a dog! Not a dainty eater like our Ragdoll, Chloe.
Comments:
Marg: Wow it sure is a tail, he is gorgeous and the same colour as my Maine Coon X :-)
Sherma: Your cat reminds me a lot of my Tigger, especially their tails! Beautiful cat!
Jessy: Kinda looks like my Jasper, too.
Brenda: I just love that tail, hoping my Miss Hellfire ges as long, it truely is beautiful
Paree: He is the same colour as my Maine Coon Beau
---
New Hampshire Ollie
By: Joe Sikora in Deering, New Hampshire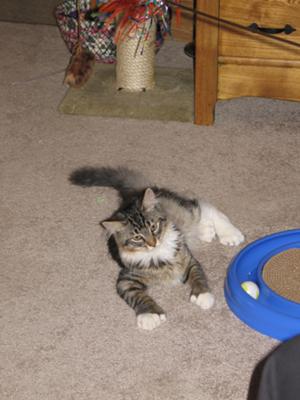 Ollie is now growing into his paws and ears. No fear in this cat's life.
He is constantly on the attack of Ziggy our Norwegian Forest Cat. Ziggy out weighs Ollie by at least 8 to 10 pounds but that will not stop Ollie at all.
Comments:
Lori: He is a great looking little fur friend. (David's MVFSIL)
Carol: I love the feet!!
Brenda: I love the feet. I use to have a cat that was double on all four. This cat is very handsome
Frances: Lovley kitty. What a pair to have! I wouldn't want your feed bills!
Disclaimer: When you buy through links on our site, we may earn a small commission.
As an Amazon Associate I earn from qualifying purchases.
Our Coonies use and love:
Greenies
4.7 stars; 3.6k ratings
Furminator for Longhaired Cats, Large
4.7 stars; 15k+ ratings
Double Layer Waterproof Cat Litter Trapping Mat
4.5 stars; 56k+ ratings