February 2013 Maybe Coonies
Here is our February 2013 photo album of Maybe-Maine Coons, where visitors ask for community opinion on whether their cat is part Coonie!

Maybe-Maine Coon Cats For February:
Is She Or Isn't She???
By: Dan Rockel in Greewood Indiana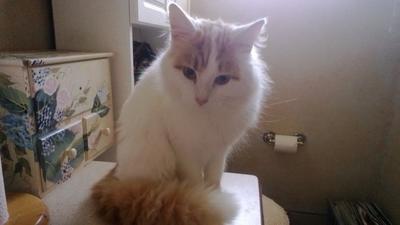 I just recently adopted my kitten and well so I think she looks a like she could be part Maine Coon, and wanted to know what you think? I'd greatly appreciate your answers! :)
---
Harley
By: Scott in Frisco, Co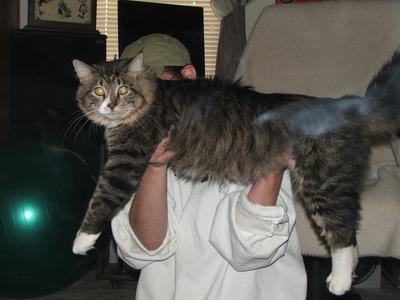 1&1/2 yrs old
Harley is a 4 yr old rescue from a family who could no longer keep him. A female friend thought that I needed a companion and dropped him in my lap when he was, I'm thinking about 6mos old.
I named him Harley because when he purrs he sounds like my Harley at an idle. When he is home, he is kinda like a dog, lays close to me either in a chair or on the back of the couch. Other than that he is a total independent.
I live at 9200' in the Colorado Rockies and during the summer he is only home for an hour or two in the morning and evening cause he needs a whole lot of food. He is 18 inches tall at the shoulders and he weighs between 20 and 25 pounds.
In the winter he is in during the day and goes out at night from around 11Pm to 4Am. Anyway here's a few pics.
Comments:
N J Thayer: He is absolutely goregous! He looks like my "Dukie" but Dukie doesn't have the white on him. He is 8 months old and weighs 20 lbs. You have one handsome cat!
---
Only 9 months and just keeps growing!
By: Jes in the UK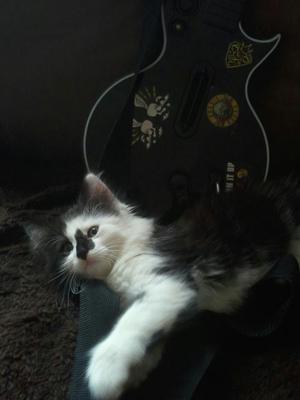 10 weeks
Snout is my baby boy and my very first cat. I got him from a friend at 8 weeks old and he was so fluffy and his markings are so unusual.
However, he won't stop growing! As he's my first I don't have much to compare to. He has the tail, the ears, a sort of ruff, the long fur and the fluff between the toes.
His mum was all black and a tiny whisp of a thing and I don't know much about dad, just didn't think to ask lol. I'm pretty sure we have a bit of Coon here....
---
My Possible Coon - 8 Months Old
By: Muhammad Siddiqui in Charlotte, NC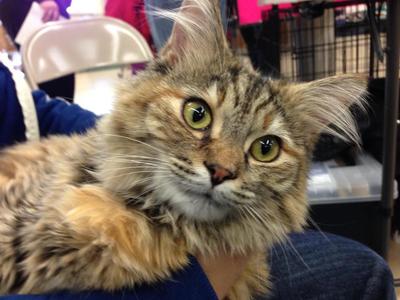 She looks like a Coon
I recently got her from shelter we named her KIWI due to the color of her eyes. She has coon like ears and nose and big paws. still just months old. Not sure if she is coon or not I am 70% sure.
Also I want to know if she will eer get along with my cockatiel. Right now she is very very curious about him and I want all the tips you can provide to make her to not consider him Food or a Toy :) against her nature :(
---
Miffy
By: Yvie in Surrey, UK
Our cat Miffy is coming up to 3 years old and she has strikingly similar resemblances to a Maine Coon. We got her from a rescue centre nearly a year go.
She loves sticks, and is fascinated by water. When it snowed recently, she lay on her belly and slid around in it! She loves to sit up high on the wardrobes and is also very curious, she watches everything we do and follows us.
When the washing machine beeps, she comes and finds us as if to tell us it's finished.
---
Is Rambo a Maine Coon mix?
By: Christina D in Vancouver Island, BC, Canada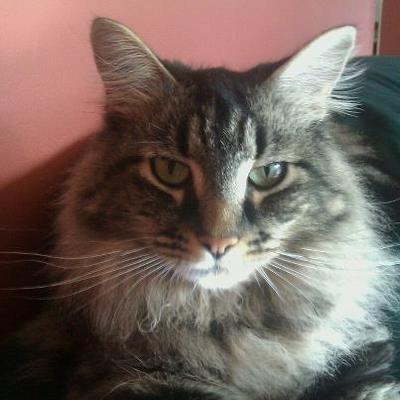 Rambo is 2 yrs old. Weighs 12.5 lbs. and thinks he's a dog, -except for the time he thought he was a squirrel and got stuck at the top of a pine tree for three days.
His mom is a big orange tabby and no one knows who his father is. I picked him out of the litter because he was so sweet with these huge feet.
He is a real character. Definitely the best cat I've ever met. I just wish he would stop trying to trip me whenever I walk into the kitchen... :)
Comments:
Susan Taylor: Too funny about you tripping on Penny! I just got my second Maine Coon and have been thinking of renaming him Tripper because he is constantly underfoot!
Barbara Mattingly: I either trip on or step on my Penny ten to fifteen times a day.
---
Is Charlie a Coon?
By: Carissa in Calgary Ab Canada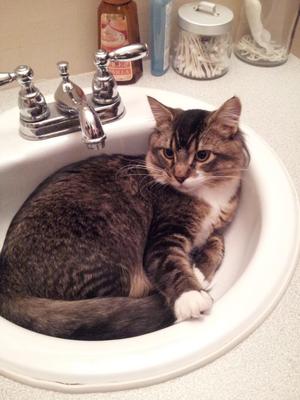 Charlie at 5 months
We got Charlie from a lady who was giving away kittens. I never saw the Mom or the Dad and in fact I picked him out in the pictures she had posted and he was still there when we arrived.
There were cats running all over the house and jumping in and out of a open window in the front door. So we didnt stay long. He was by far the cutest cat in the litter.
He cried and cried for the first two days and wouldnt let anyone pick him up and ran everytime you bent down to pet him. So I lured him with some tuna and then scooped him and started to rub my face against his and after that he was sold! lol the purring was incredible...he purred so easily and so loud. I could just look at him while he was lying across from me on the other couch and he would start to purr lol.
He also is a huge talker, but only when you first get home (which he always greets you) when he wants to be fed. And its more like a chirping than a meow. But It wasnt until he reached about 3 months that I and everyone who met him started to think that there was something different about him. The first part was the way he followed my two young sons around. If they were wrestling in the bedroom he had to be there with them. If they closed the door he would patiently wait outside of it until they opened it.
He is OBSESSED with water. He knows what the sound of the shower turning off sounds like and races to the bathroom door anxiously waiting to get into the bathtub.
The next clue I had was the tail. My goodness that tail! Its huge and thick. And not just the amount of fur but the tail itself. It looks like a racoon tail! And one of the next big things is his size. He is seven months old and weighs 12 pounds!
While there are many other things that make me wonder (like the fur sticking out of his paws) these things are the ones that stand out the most. We are in love with him and its clear that he adores us just as much. I have attached a picture of our very manly little man Charlie :)
---
Dustin is a Stud!
By: Pierre in San Jose, CA
I got him for my girlfriend over a year ago. We have been told he could possibly be Maine Coon and also Japanese Bobtail.
He truly is a beautiful and smart cat. He has very long and soft hair. His neck hair makes him look like a lion or a tiger.
Hopefully I can get some feedback as to what type of cat he might be. Thank you in advance.
Comments:
Laura S: Cute kitty - I think he has some Ragdoll in him!
---
Is He A Maine Coon?
By: Helmi in Kuala Lumpur, Malaysia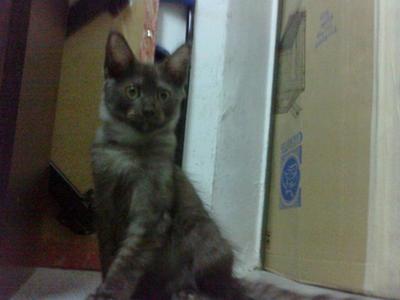 Greetings from Malaysia,
This is my cat, Wolf. 6 months old as for Feb 2013, now even bigger than the picture attached (taken when he was 2 months old).
Taken from my mum friend, a local breeder. Father is pure breed Coon and mother from Persian.
The color is grey and dull with a bit white stripe at body. Long tail, I mean really long, I never find a long tail cat here in malaysia. Fur, I can say it medium long hair, under neck, not long as Maine Coon had (looks like normal cat, only different is under neck is white color). Hairy paw. But surely, his fur not same as what a Coon had.
Personality, exactly like a dog, like jumping and running wild. Surely not a lap cat. Like to climb high place in house especially high cabinet and stay there.
Not a type like to Meow here and there, only meow to tell us he wants to pee or poo.
Likes to eat raw meat. But now I feed him with Royal Canin and EVO brand due to high protein. Seems he enjoy it so much.
So, is he a Coon? I don't mind yes or not, but he surely is different cat I ever had, quite big, my family was shocked when saw such a big cat like he is. Plus, the vet also compare to me My cat 3 month old (that time) and domestic 1 yr old cat, the different quite big.
---
Stella - Princess of Pinewood
By: Jo Vargo in Lititz, PA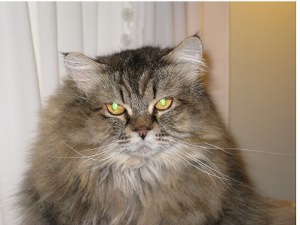 Stella was a gift from our son who was relocating and could not take her along. What a special gift for two retired school teachers. We have always had a cat, two Siamese and each one lived to be 17!
Our son was told that Stella was a Persian/Rag Doll mix but after looking at Maine Coons on your site, we are leaning toward thinking that Stella is a Persian/Maine Coon mix.
She has the flat face and small nose of the Persian but the neck mane, ear tufts, tail, toe tufts (her feet look like she is wearing mukluks) and coat resembling lots of your photos. We are so blessed to have Stella in our lives. I will write more later about her personality and play habits if someone out there feels we do indeed have a part Maine Coon cat.
Thanks for any comments and I am including a photo.
Jo & Tom
Comments:
Sylvia: Stella definately has Maine Coon markings..her tufted ears...the m on her forehead..and her thick fur!!! Lucky You!!!
---
Think our cat may have some coon in him?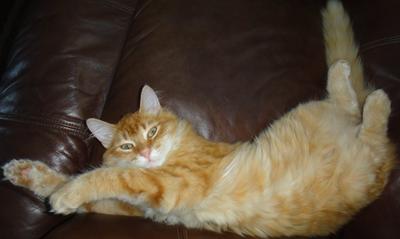 He has the same exact personality you described and his fur has actually gotten thicker than it is here. This was Larry at 6months he is now over a yr weighs bout 11 lbs and has a tail like a coon and a mane like a lion.
We are actually looking into getting a full breed Coon and we want one that is similar to our Larry Berry. He lets the kids drag him around and and the smartest cat.
He likes water and sits out by the pool and watches us swim. He follows me around like a dog. We think our shelter kitten has some coon in him and if not he's a great cat.
---
Gabriel's Associate
By: Christopher Wright in Minnetonka MN
Tabby, long hair enormous tail, likes water, and chirps from time to time, usually at night. He weighs about 15 lb.
We got him from the Minneapolis SPCA when he was almost exactly a year old. He was identified as a 'medium hair.' He also has fairly big furry feet and short ear tufts. He's also a picky eater, but quite sociable and enjoys a hit of catnip from time to time, although he doesn't get crazy. He certainly has a lot of Maine Coon cat traits, but nether the SPCA nor the vet will venture a guess.
The only atypical behavior was that he was a bit stand-offish when he first moved in. He kept to himselff in the basement for about two weeks.
He'd eat and use his litter box, but he didn't mix. The one evening my ddaughter-in-law (now known as the cat whisperer) went down stairs to look for himm and came back up the stairs with Gabriel resting on her arm. When she set him down he walked around a little getting a look at the upstairs and meeting the grandchildren. After that he was part of the household--all places were alike to him.
---
Is this a Maine Coon?
By: Jennifer in New Jersey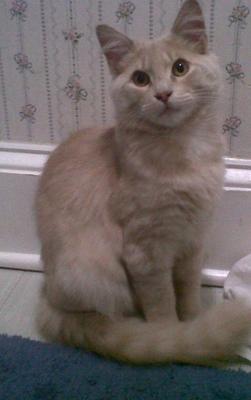 This is Spencer. I got him from the shelter a few months ago. He is about 5-6 months old. I dont know anything about his mom or dad. He has a lot of Maine Coon traits.
And the shelter he comes from does get in a lot of feral very large Maine Coon males a lot. Very sad. Can you tell me if he is a Maine Coon?? Im not sure. He is very social and not afraid of anything . He is obsessed with my Golden and lays with him all the time.
---
Is Cookie a Coon Mix?
By: Kerry Moss in the UK
Cookie came to live with us in September 2012, her previous owner moved house and left her to fend for herself.
She is now spayed and kept indoors and is a much loved member of our family. She is so funny and incredibly loving but also very mischievous and kitten like.
I hope someone can help us find out if she could possibly be part Maine Coon as she is only young and quite large! Thanks :)
Comments:
Alison: She looks Maine Coon
---
Madeleine
By: Ida & Tatu in Estonia
outside
Our Madeleine is now six months old. We got her last summer from a farm and we've come to wonder if she has got some Maine Coon in her. Her fur is definitely smoke black and quite long, she has round blue-green eyes, fluffy ears as well as paws. Most of all her tail has got huge like a foxes one.
She likes to take much eye contact and is rather an attention seeker.
Please tell us what are your views on our princess.
---
Is Rocky a mix or another breed with such unusual face marking?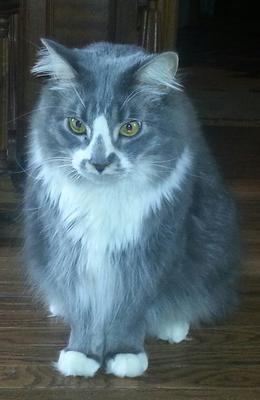 We took Rocky in from a couple moving out of the USA. They claim he is Maine Coon but I am uncertain due to his temperament.
He is a little shy and uncertain around the other cats. He is still getting used to a new place. His tail is not as bushy as other Coons.
He is a little flabby at 25 lbs. So we train and hope he gets used to his new family with Ragamuffins, a crabby Bombay and a barn cat. He has brown eyes as the photos are off.
Comments:
Jenny Taylor: What a handsome cat! I think at least one portion of Rocky is what's called a snowshoe cat. He has the white paws and the inverted white with a patch on his face. Look up some photos of snowshoe cats, and you'll see what I mean.
Lynn Garrow: By the shape of his head and the heavily tufted ears, I'd guess hes at least mixed. It's hard to know if they're full unless they're bought from a reputable breeder of Maine Coons
---
This is my cat Sylvester
By: Deanna in Henderson, NC, USA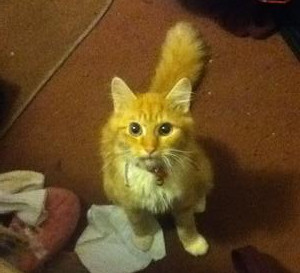 Sylvester is a very loving and loyal cat. When I first got him he had high cheek bones.
That was one reason I picked him, I thought that showed that he had character. I've been trying to figure out what breed my little ball of joy is.
I thought he might be an orange tabby/ Persian mix because of his long and fluffy fur. It would be nice to know for sure what breed he is.
---
Peaches
By: Lynn in Michigan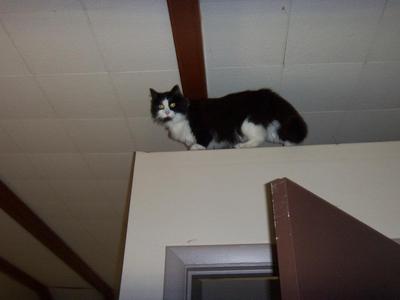 She's about 13...Only around 14 lbs, and a rescue, so she's obviously only part Maine Coon, but the way she's built and the way she walks,the ear tufts, the paw tufts, the ruff, the tail, and the relatively larger size than the average female cat leads me to believe she's probably part Maine Coon.
In this pic she's standing on top of a wall that is about two feet from the ceiling, and you can see she's crouching a little.
---
Is Kiron a Maine Coon mix??
By: Mechi in Buenos Aires, Argentina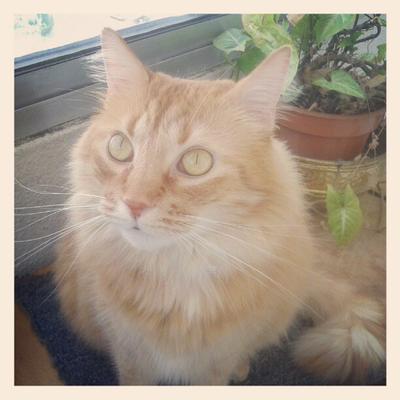 Enjoying the sun
He's not pure breed, I know this because we found his mother pregnant while she was living on a park, and she didn't look like a MC at all, but maybe his father was.
We live in beautiful Buenos Aires, and sadly there are tons of feral cats (and most of them are not neutered) of many different breeds.
Kiron has every MC caracteristics except for the long tufts. He's huge, really long and weighs 14.33 pounds, has beautiful green/yellow eyes and a soft mid-long hair...oh and the ruff around his neck!
When it comes to personality he's a very special cat. LOVES people, he's always around when we have friends over and many times he even jumps on their laps waiting to be petted (with me it's different, he's always on my lap, or following me or doing anything in order to get my attention and be petted haha).
Whenever we get home he runs to the door and starts "talking" to us, sometimes I even have the most funny conversations with him because he waits for me to finish my sentence and then he speaks again! He speaks ALL the time and after 4 years we learned what every different sound means. He loves playing with water and fetching, we throw him elastic bands and he goes crazy catching it and returning it for another go.
So what do you think? Does he have some MC in him?
Comments:
Lynda: He's definitely Maine Coon! My boy is 16 lbs!
---
Spookley
By: Cheryl Warren in Tuscola, Illinois, USA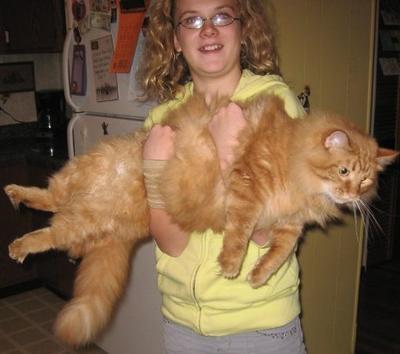 We just love our cat Spookley. He is 7 years old and is a rescue cat. We have had Spookley for 4 years. He was given up to a local vets office because his old owners said they couldn't handle him and said he was mean.
When we got him he was only 8 lbs and very matted. I actually took him home to just foster him, but ended up keeping him. Spookley doesn't have a mean ounce in him. He is the most lovable cat I have ever owned.
We named him Spookley after the children's book "Spookley the Square Pumpkin" because he was having such a hard time till the right people came around to understand him. He wants you to pick him up and he literally hugs your neck and purrs.
Spookley gained all his weight back and is now 24 lbs. We do wonder if he has some Maine Coon in him because he is so big. We are so glad we adopted him and love him dearly.
Comments:
Theresa: What a beautiful cat!! Love the color!!
Mary: Spookley is definitely a Maine Coon. He has the long furr around his neck, large eyes, large, feet, long fluffy flowing tail. And every Maine Coon I know loves to lay in the bathroom sink. If he lays on his back showing his stomach, he is a Maine Coon.
Leanore: Most definitely!! And they do reach that size. So glad you kept Spookley.
Alison: Looks Maine Coon and he is big so yes I think so.
Margaret: He is beautiful.
---
Maddy
By: Jenny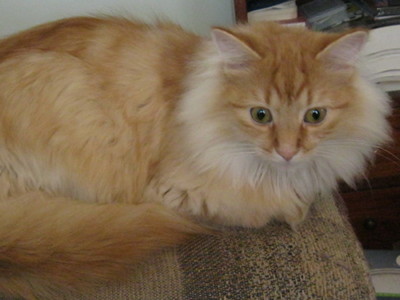 This is Maddy the Red Tabby. She's almost two years old. Her mother was torte, and we don't know who her father was. She was a rescue. The workers at the rescue said she is a Maine Coon mix, but she looks more like a Norwegian Forest Cat mix to me.
She is now ten pounds.
What do you think?
Comments:
Jill: Yes, I would say she is a Maine. She has the M on her forehead and the shape of the head indicates as such.