Featured Coonies 2019
Come meet Jax, Azreal, Oakley, Nico, Rosie and Gracie - our Featured Maine Coons for 2019!
Oakley
by Darlene
(Spruce Grove, AB Canada)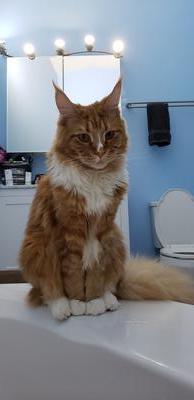 This is our first cat ever. A family member has mentioned a few times she looks like a Maine Coon.

She is very playful, loves the cuddles, and likes to hunt (unfortunately usually our fingers and toes)!
---
Rosie and Gracie
by Robin
(Prospect Heights, IL)
Rosie is a little over a year old and Gracie is only 5 months old.
They both have great personalities and both are so different. Rosie does her own thing and Gracie wants to be on my lap or next to me at all times.

Gracie is much smaller than Rosie, but eats twice as much. Rosie is a talker. She chirps all day long (I just love it), but Gracie never makes a peep.

They both have really soft, almost silk-like fur and they are just so lovable!!
---
Azreal
by Dianna Terrell
(Charleston, Illinois, USA)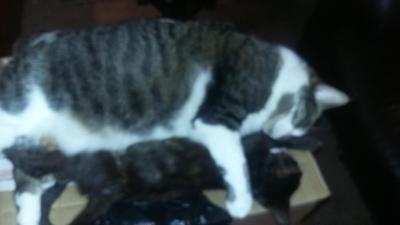 She is a sweet loving big fur baby ..she wants all the attention …. but we do have 3 other cats in the house. Azreal tries to be the Queen. I love her, she is so soft and lovable.
---
Jax J. Armstrong, The Wild One
by Deejane Armstrong
(Belleair Florida)
Jax J. Armstrong
My coon was adopted in Florida as a sweet, round eyed male black/ smoke kitten and until about 4 months and 2 vet visits, we realized a Maine Coon kitten.

His size, paws, eyes, etc. etc. His growth was astounding and at 11 month now as large as my 9 year old "Dolce", a domestic short hair love of a cat. They are both amazing, beautiful cats and are my world.
Adopted after a loss, so cute and such long hair. Then in 7 months as big as my 8 year old/and even longer hair.

Large paws, lots of hair from everywhere, always vacuum two times, whole house. Climbs high on my very tall Asian cabinet. Watches Dolce. Wants to play all day. Talks a lot. A joy filled home, Jax makes our home with his paw perfect presence!
Thank you for your company and all it offers... fantastic!
Regards, djane
...in Florida
---
Nico
by Margaret Rosadini
(Wallingford, Ct, 06492)
Nico is a Maine Coon mix. He is a handsome golden boy and is almost six years old. He likes to look out the window and watch the birds. He is also very smart.

He is my shadow and is constantly underfoot.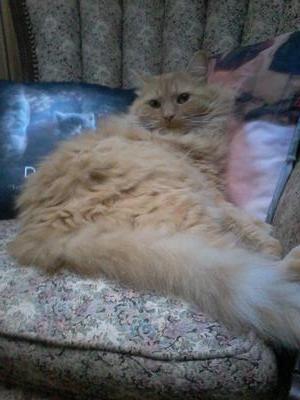 His favorite activities are bird watching and jumping on top of the aquarium. He knows that he is not supposed to do the latter.

The top of the tank is plastic and I am afraid it will break. This will not bode well for him or the fish!

He also likes to lay on top of the cable box. Unfortunately, this turns the tv off.
Not good, so I bought him a heating pad as he likes the warmth. I also bought him his own fake aquarium. The things we do for our pets.

Nico gets the zoomies a lot going from window to window to watch the birds. The skylights make it even more interesting to him.. He is a spoiled boy but I would not have it any other way!
(note: comments are closed in this archived photo album)
Return to Top of 2019 Featured Coonies
Disclaimer: When you buy through links on our site, we may earn a small commission.
As an Amazon Associate I earn from qualifying purchases.
Our Coonies use and love:
Greenies
4.7 stars; 3.6k ratings
Furminator for Longhaired Cats, Large
4.7 stars; 15k+ ratings
Double Layer Waterproof Cat Litter Trapping Mat
4.5 stars; 56k+ ratings