Fall-Winter 2021 Maybes
Welcome to the Fall-Winter '21 Album of Maine Coon Maybes! Do you think these kitties are part Maine Coon?

Annabella
by Adriana
(Biarritz, France)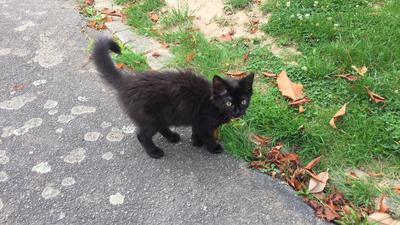 Kitten Annabella
Is my kitten a Maine Coon hybrid? She appeared on the doorstep of a house in Brittany, France at the age of 4 weeks with her short-haired tabby sister.

I adopted her when she was 2.5 months old, as seen in the photo. She never meows; she chirps and trills.

At the age of 5 months, she now weighs 2.4 kg. She is incredibly active and affectionate. I feed her a very high quality diet. She has not had any health problems.
comments:
Sounds like it
by: Anonymous

She makes sounds like one. She does have the physical features too. Your guess is probably correct. I have a mix also- mom was a Maine Coon and daddy was unknown.
...also
by: Adriana

I forgot to mention she has big paws, LONG toe tufts and an extremely long, tapered tail.
---
Has Some Coon in Him?
by E. Alexis
(Malaysia)
Hi! We adopted Koko a few months ago and realized Koko is bigger than the average stray cat in our country.

A cat rescuer rescued him from a car accident and now he is a tripawd.

We adopted him from the cat rescuer and found him timid, affectionate and clever. He has curly hair and a a bit of a curly 'mane' around his neck. Is he a Maine Coon mix?
---
Ember
by Caitlin
(TX)
| | | |
| --- | --- | --- |
| She can seem small sometimes but is pretty lengthy | Her paws are bigger | When I first got her when she was over 1 years old |
Adoption Center Said Maine Coon Mix
Ember is 2 almost 3, I got her when she was just a little over 1.

She was shy at first but after she knew me she follows me around the house everywhere! Even the bathroom lol.

She's very smart, knows when it's 9pm for her canned food. She is a talker though, she does meow and basically responds to me.

I had to get her a water fountain, she loves water and drinks a lot each day! She's only attached to me, she will go to my parents every once in a while but mainly sticks with me unless I'm not in the room.

When I adopted her she was around the same size as my now 6 year old DSH. Now that she's almost 3 she is a lot bigger. Other than Maine Coon or Norwegian Forest I never heard of cats growing still after a year.

She also was less fluffy when I got her compared to now. Does she seem Maine Coon or Maine Coon mix to you? Also not a Maine Coon trait I don't think but her eyes switch colors sometimes, she has this golden color but then they switch to green
---
Kaboo, A Rescued Cat
by Izhan Azwar
(Marang, Terengganu, Malaysia)
Kaboo is a rescued cat from Pulau Kekabu, hence the name.
I don't know whether he is a Maine Coon or not but he is really huge weighed at 11 lbs and from head to end of tail about 70cm long.
Do you guys think he has that Maine Coon trait? He is shy & keep his head down. And it seems to meow alot too.
---
Kitty Kat
by JoAnn Tellez
(Tucson, Arizona)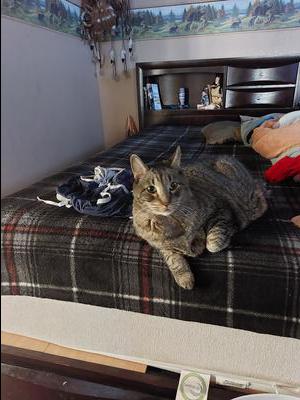 Kitty Kat is a lap cat, he loves to cuddle but weighs 21 pounds, his belly hangs down but he doesn't care.

He loves perching in front of the window to see the birds and community cats
---
Maine Coon / Siamese Rescue Kitten
by Cassie
(Mississippi)
| | |
| --- | --- |
| Loves the dogs | Long fluffy tail |
I stopped by our local rescue last weekend just to visit the lonely cats.

In the corner "fancy" and spacious pen was a very young GORGEOUS Siamese mama cat and her 5 babies.
| | |
| --- | --- |
| Big Paws | Big eyes and Lynx ears |
They were strikingly beautiful and only one slightly resembled mama, his black and gray long hair and blue eyes gave away that these cats were also Maine Coon (I think).

I absolutely fell in love with Sissy and adopted her at 7 weeks old. Now that she's home, she's unlike any cat I've ever owned.

Not only does she follow me everywhere, she's VERY cuddly. Her meow is not a meow, but a very "broken" cat sound like a cackle almost.

She has monster paws, and is a very good kitten who doesn't mind our two 70lb dogs whatsoever. She's the boss.

She almost listens to commands like the dogs do and is very responsive. She's so soft and her lynx like ears and giant paws made me believe she has to be half Maine Coon, along with her unique behavior.
comments:
Maine Coon - definitely
by: Yvonne

Hi Just had to comment on this, definitely, as a Maine Coon owner it sounds as if the little one is a Maine Coon.
Enjoy, they are the most lovable cats you are in for a treat.
Beautiful
by: Bill C

Beautiful little girl. Does she have the multi layer Maine Coon coat? That was the real clue for my Andy.
---
Digby
by Elle
(Australi)
We rescued a 3 yr old street cat from a rescue - he had not been desexed.

He has been listed as a long haired domestic but I feel he is part Maine Coon because of his size and easy going temperament!!

He follows me everywhere, predominantly chirps and trills and loves head scratches (like loves them) I've only had him for 2days and he had already acclimated to the whole house - he is very curious.

He doesn't jump unless in play as well.

Hmmmm - he's also tabby and white with these brilliant green eyes that look like Maine Coon.
Any thoughts??
---
Where fore art thou.. Romeo
by Suzi
(Florida)
Romeo was brought home, rescued from wandering around a flea market at about 9 wks.

After multiple vet visits to get him healthy he has grown into this sweet, thinks he's a dog little big lovie dovie.

His feet are huge! A tail that could double as a duster. His eyes and face make me think he is mixed with Maine Coon.
---
(note: comments are closed in this archived photo album)
Sep 24, 23 09:30 AM

New today:

Chubbs

is our newest addition to our Maybe Coonie Photo Album. What do you think? TJ shares, "Our male kitten, Biggerton Chubberton, or "Chubbs" for short, is a tuxedo kitten.. Chubbs is di…

Sep 20, 23 03:16 PM

Freshly updated: Our

Royal Canin cat food review

looks closely at their formula marketed toward Maine Coon owners. What makes it a breed-specific food? Here, we examine it's ingredients and what it of…

Sep 15, 23 06:35 PM

New today: Meet Leigh-Anne's fluffy girl,

Ruby!

She wonders if she has some Maine Coon in her.. ⬇️