Fall 2021 Album
Our Fall Photo Album is here! It's Autumn, and Cecil, BB, Lexi, Spanky, Calvin, Frogwog, Alani and more are here to shine!
Fall 2021 Photo Album

Centauri Blu
by Denny
(Jenison, MiI)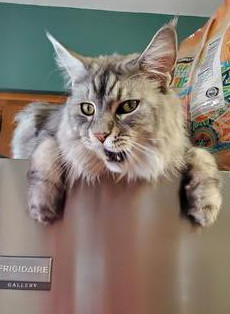 He is just a big baby boy, love his morning massage and treats, always greets us at the door. He is a fast learner. He rolls over, does the high five, shakes hands, and comes when you whistle. He is just a great little friend.
---
Lexie
by Claire
(NJ)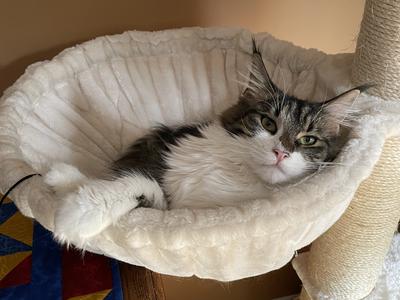 Our one-year-old is our interior un-decorater. She knocks everything she wishes off her perch, be it a counter, stair, or spoon rack, if she finds it less than desirable.
Valences and wall hangings are included in these choices, as well as extra-long branches of my favorite delicate fern.

Garbage pails are much prettier when contents are emptied and scattered on the floor. Her water fountain looks best when columns are knocked out of kilter.

Lexie chirps us awake at 5 or 5:30 AM, which is midday for her and time for breakfast, which she ignores until she has completed her zoom class, lasting a couple of minutes and includes knocking into walls or area rugs or toys.

Otherwise she is a funny and chatty little girl who must always be nearby or greeting us when we return. She is teaching us how to speak cat.
---
Cozi Cat
by Victoria Davis
(East Wenatchee WA)
Cozi, short for Cozette, had me at "mew"♥️ When we first met, she was the runt. Now she's grown into a steady 15 lbs. Not overweight at all, just a big girl!

Her favorite pastime is sleeping with all "four paws" (my mom called her this) up, keeping an eye open to chatter at every bird that comes along.
---
Spanky
by Janice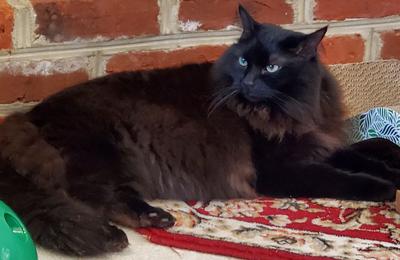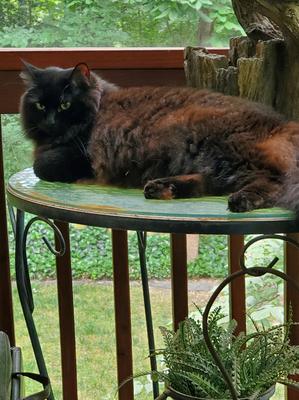 I got Spanky my Maine Coon mix from Richmond Animal League when he was 3 months old. (Born 5/15/17).

He is a loving cuddle bug, funny, friendly to all who come to the home & loves his Torbie sister Abby.
Now at 4 years old he's 15.9 lbs even though we watch his diet. Looks like he'll be a big boy.
---
Calvin the King with many Thrones
by Carolyn Williams
(Baltimore, MD)
| | |
| --- | --- |
| The king on his throne | Calvin has taken over the turtle bowl |
Calvin is our 10 year old Maine Coon Rescue. We have no idea how he came to be abandoned (at about 10 months), but consider ourselves more than lucky that he entered our lives.
| | |
| --- | --- |
| Sitting on their tuffets during evening TV | Calvin trying hard to relax |
He lives with us and his Brother-by-another-Mother Hobbes, who is a sweet rescue tabby. Calvin and Hobbes are besties.

Calvin is, of course, the King of the house and totally in charge. Because of his regal bearing, whatever chair he sits in becomes a throne.
He has trained us to feed him small meals 5 times a day, which we do because he is a total foodie and Hobbes is not, so if we fed them larger amounts less frequently, he eats everything Hobbes leaves and would gain a ton! He is a smart cat, and loves to stay entertained.

Because he is so food-motivated, he has learned quite a few tricks including sitting on command, fetching, ringing a bell, jumping through hoops, and giving High-Fives and 10s.

He, of course, has trained us to do whatever he wants us to do as well. Calvin is a typical larger-than-life Maine Coon, and we can't imagine life without him.
---
Poco Celebrates Oktoberfest
by Pam
(Michigan)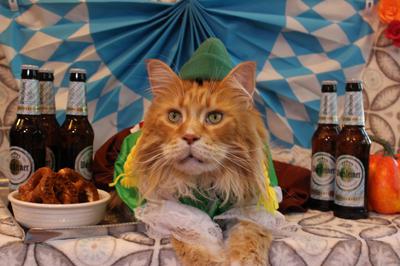 Poco Taz celebrates Oktoberfest
Poco enjoys celebrating holidays with his family.
comments:
Handsome Boy!
by: Carrie (MCCN)
Hi Pam,
Poco has grown into such a handsome dude! I still remember his baby picture - it was one of my favorites 😊 Thanks for the update!
---
Frogwog
by Jane Eagle
(Kaukapakapa NZ)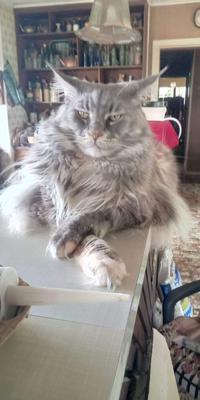 Frogwog is almost six years old and is my baby.

---
Alani
by Cristen Bielat
(Chicago IL)
This is Alani! She's a 4 year old Maine Coon.
Sleeping, eating, chirping at bugs and going for car rides are her favorite hobbies!
She is the sweetest most loving cat we have ever had.
---
Lucy Loo
by Natasha
(Sarnia, Ontario)
Lucy is the definition scaredy cat. Maine Coon mixed with tabby. She shows a lot of affection when she wants too and has the most adorable meow that sounds like a squeak.
---
His Majesty, Leo
by Sue Simms
(Lake Oswego, Oregon, USA)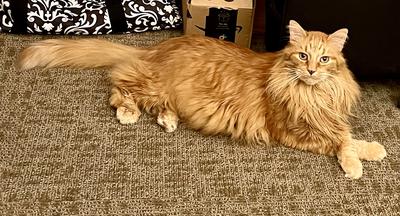 Leo is a 14 year old rescue cat from the Portland Humane Society. He was found in a hoarding situation and had to have his entire body shaved because lack of care. He was groomed to look like a Lion.

He likes to pose and crosses his paws like he is royalty. He likes everyone and is usually 3 to 6 feet from where I am. He is a love and wonderful companion.
---
Bailey the Queen
by Marlyn Berry
(Massena NY)
She's a beautiful spoiled kitty who is very temperamental. She doesn't take well to other cats or most people.
---
Not Amused
by Helen
(Illinois)
| | |
| --- | --- |
| Yes, I am handsome | What's the dog doing in here? |
Big Boy was an impressive cat. My only Male coon I ever had. Passing at 15. A fun and to some a scary cat. He weighed in at 23 Lbs…. Solid cat. As big as he was, he was a dork. Ha!
---
Furry Fall Fun
by Debbie Miller
(Hackett AR)
Cally is 8 years old and LOVEs running water and taking a shower with her humans! She is very fluffy and sweet.
---
My Twin Girls
by Cindie Kennedy
(ST Thomas USVI)
Natasha and Gretchen hail from Massachusetts, I brought them home at 8 weeks old to the US Virgin Islands, where they became Island Kitties.
They follow me around the house and my office. I have a hard time working with two girls on the desk. I somehow manage cause they are so adorable.
They just turned 5 and have been through two CAT 5 Hurricanes and a pandemic. Quite a bit for their short life so far.

We hope by Summer of next year to be living in the South of France and will that be quite the change for them.

They are the best buddies ever. They love their brother, a full bred , Lassie dog- Buddy and Tisha, their eldest sister, our lap dog.
---
The Gentle Maine Giants
by KSG
(Kentucky)
| | |
| --- | --- |
| | Lounging with momma |
| | |
| --- | --- |
| So Smart! | |
These are brothers from two different litters. Keeley is 13 and Swifty is 12.
Both were graciously given to me at different times and my life has not been the same since!

I absolutely love these boys and they are totally spoiled rotten, but worth it! Keeley is the serious one and Swifty is just a bundle of goofy joy!

I don't know how I ever lived without a Maine Coon in my life!
---
Smokey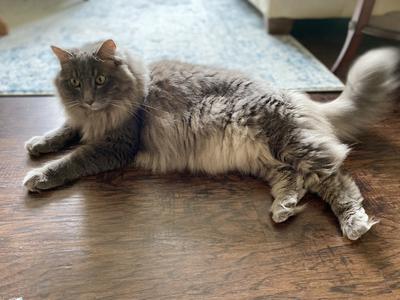 Chilling out!
This is Smokey who is 3 yrs. old. We adopted him from our local animal shelter when when was 4 months.

He loves his cat tree and loved to play with his "dog brother" Jack!
---
Heidi
by KC
(FL USA)
Heidi was a rescue from a breeder we took into our home in 2019. She is smart and funny, and we love her very much.
---
Spooky
by Pat Espinoza
(Firestone)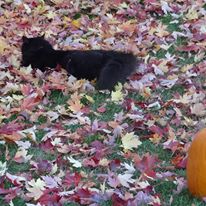 Spooky is a loveable only child. He loves his toys, going out in his safe backyard. He loves to cuddle with us in bed on Sunday morning's! Favorite time is Fall and the maple leaves.
---
Diamond Girl
by Debra Crane
(Huntington, NY)
| | |
| --- | --- |
| Laundry Helper | Trundle bed in a box |
| | |
| --- | --- |
| Consult at the front door | Jett, the non-Maine Coon |
Our Maine Coon, Diamond Girl, has 1 fur brother and 1 fur sister. So we have a lively house with 3 fur babies running around.
The cats take turns sitting on the arm of my recliner or in my lap. Bear, the dog is always close to me too.
I'll send some pics of Diamond and of life at our house.
---
Big Puss
by Jacqui
(Sydney, Australia)
I got my beauty about 4 yrs ago.
She is a Queen and the lady I bought her from no longer wanted to breed her so I was the fortunate one to give her a home.

She gets on really well with my rag doll cat as well as my Pomeranian dog.
I find she doesn't eat much and prefers to graze.
---
Mainecoon mom of 2
by Cindy
(New Hampshire)
| | |
| --- | --- |
| Atlas is gray and Apollo is ginger | They love sleeping in these baskets |
| | |
| --- | --- |
| Atlas | Apollo |
My Maine Coon are 2 males the are 117 months old they are playful love to be up high on shelf or dressers.
---
Sandals the Diva
by Vicki
(Bechtelsville, PA)
Rescued from a local shelter 3 yrs ago. She was sitting front and center when we walked into the cat room and is the sweetest kitty ever!

Has a funny limp and walks like a raccoon, vet pretty sure she's a Maine Coon and thinks she was either the runt, hit by a car, or mistreated.

UPS driver warned me once that I had a raccoon on my porch-it was Sandals! She loves to sit in my lap and be brushed, and rolls over for belly rubs. She has all the personality of a Coon, but is shy.
---
Jonas
by Mrs Esté Prins
(Paarl, Western Cape)
Absolutely stunning cat!!!!!
---
Dudley
by Gail Maxwell
(Stuart, Florida)
Dudley is an 11yr old Coonie who loves his momma unconditionally. He is my shadow & constant companion! This breed is so smart & once they win you over you'll have a friend for life!
---
Emmie
by Alison
(Petaluma, California)
Emmie is a 2 year old Maine Coon rescue cat that is very sassy and spunky. She definitely has a big personality.
---
Cecil B
by Betty
(South Point, Ohio)
| | |
| --- | --- |
| Cecil B was named for the lion who was murdered by the dentist.  | |
He was adopted from Maine Coon Rescue, He loves to talk and snuggle.
---
Rocky aka "Chicken"
by Shiloh Carter
(New Hampshire)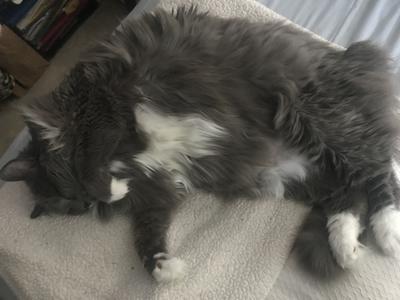 Rocky is our 13 year old coon baby and she just loves her new brother Opie. (We rescued him a few months ago and he will be 2 in November).

We call her Chicken mostly since she is typically jumpy. She can know what things are but gets skitty if it moves even an inch, like it's something new she has never seen before. Lol.

She love her brushes and treats and belly rubs. Enjoy her baths and loves rainy days.
She is still so playful and is interested in everything that is not hers, making it all a new toy. We just love her so much.
Her belly has two white hearts for markings and she loves to pretend to have her "makeup and nails done". ♥️😂 she loves getting pretty.
---
Mr Leo
by Kassia
(Kansas)
I rescued Leo from our local humane society. He is a big push over. He loves to cuddle and watch TV. He is our 6am alarm clock, for him its treat time. I swear he lives for treats.
---
The Boyz - My Little Kittens
by Dennis Pastian
(Sioux City IA)
When Tuc (Tucker) and Boo (Boots) decided that they would allow us to share a home with them, all four of our lives changed.
Who'd expect to see your cat run off with a tennis shoe, and throw it and chase it in the living room?
The boys came to us from a cat rescue. You could see by their behavior they'd been abused. Most people say they are spoiled, but I say they are very well loved!
Tucker (Tuc) & Boots (Boo) came to live with us from a cat rescue. Tuc adjusted quickly to the move in, but Boo was terrified, and it was easy to see that they had been abused.

Boo is the baby with the dark nose and white stripe down his face. Tuc has what we call the Jimmy Durante nose, so cute!
They've adjusted well and now they, as normal and should be, run the house! Best put shoes away as they tend to be used as toys by both boys.
---
Black Beauty or BB
by Sheila Harris
(Tampa FL)
Spooky
BB is not a friendly cat, only to me. She tries to talk, I swear. Not a meow but a grinding airy noise.
She is a feral so she may not be a full blooded MC. She acts like a dog, loves to be in water and the rain. She has the most beautiful face and short legs. I got her for my granddaughter but she picks me most of the time.
---
Bixby
by Anastasia Lares
Bixby is a purebred polydactyl and all he ever does is sleep on his back.
---
(note: comments are closed in this archived photo album)
Return to Top of Fall 2021 Album
Dec 10, 23 03:14 PM

New today: Meet

Ginny

from Lumacoon Maine Coon! Ajuna shares, "This is Ginny our three year old dramaqueen. She's a big softie once you get to know her, despite that look of doom in her eyes XD she wa…

Nov 10, 23 03:06 PM

New today: Meet adorable little

Juniper!

Nicole shares, "I went to the vet and they originally had her as domestic medium hair and once the vet saw her she said she has some Maine Coon in her because…

Nov 05, 23 08:36 AM

New today: Meet

Yellowstonecoon Tomboy Honey!

Jessica of Yellowstonecoon Cattery writes: "Hello, Maine Coon families! We are so tickled to share our beautiful Black Smoke baby girl with everyone! She…