Emmett And His Black Smoky Coat
by Ashley Blade-Martin
(Tulsa, Oklahoma)
I adopted Emmett in May of 2010 as an 8 week old kitten at the local Human Society.
I love black cats - especially long haired ones - and had recently lost my long time furry baby, Douglas.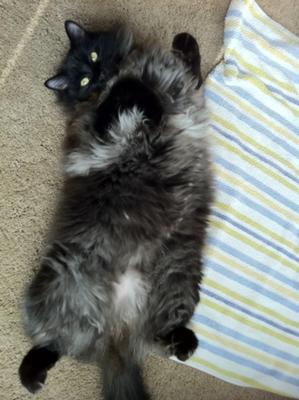 I have had two long haired black cats before, but right away there was something a little different about Emmett.

He was very friendly, talkative, which alone wasn't that unusual to me, but there was just something about his fur that was different. He was medium haired at best, but then there were these interesting longer hairs that were gray or white... and as he grew his coat kept changing.

He has much longer hair now, and what I would describe as an actual mane that almost looks like a furry spare tire... and such intense silvery gray belly fur that is longer than the rest of his fur.

I realize that at best he would be a mix.... but when I googled the 'black smoke Maine Coon' well for the first time I could imagine where he got that interesting coat from!

I almost fell off my chair... I am always trying to photograph his belly fur, and the rest of his coat for that matter, which looks patchwork sometimes... and entirely different in different light (which I know is not uncommon for black cats in general).

His legs are really black, a stark contrast to the rest of his coat. He has tufts of fur between his toes that is silvery colored.

He does kind of do the chirping thing sometimes. He loves to sleep on his back and show off that awesome belly... with his legs up in the air. He also loves to come lay on my chest and nuzzle my face.

He is absolutely a sweetheart with not the slightest hint of malice (indoor cat, I don't know if he can mouse).

I love him no matter what he is but I do kind of wonder where he got that awesome fur... I can post more pictures. I am sure I have taken thousands of his ever changing coat!


comments:
Love
by: Anonymous

So gorgeous! Adorable!

black maine coon
by: Cathy, owner of Blue

Hello Ashley, firstly, what a darling cat and your description of Emmett is so much like my cat, still a kitten, Blue.

He is an MC mix, blue black, with a Smokey undercoat. Was Emmett all black as a kitten? I have posted pics of him on my comments page, heading Blue.

I would be pleased it you could look and let me know, I'm curious if as he gets older his coat will also change. Thanks for your comments too. Rgs Cathy

Adorable! Looks so much like my new cat.
by: Christine

Your cat is beautiful. Love the pose. My cat does the same pose! He came from a shelter and I'm trying to figure out how his black kitten fur will come in. Now he is 9 months old. I'd love to know how your cat's hair came in now that he is more mature.

Beautiful Cat!
by: Anonymous

He posed for you. I love his colors!

Beautiful!
by: Tricia

I have just posted 5 pictures of my Black Smoke Coon. His name is Rocky if you'd like to check him out. Their coats are so amazing and unique.

I've had people that don't even like cats (ridiculous notion, I know) compliment me on how "good-looking" and mysterious my boy looks. Emmet and Rocky are nearly identical! I'm so glad to have found his picture. Thank you for sharing!

Gorgeous!
by: Kathy

What a beautiful cat. :-)

Totally Gorgeous Color
by: Jessy

I think a black smoke has to be long-haired to really show off the color.
(note: comments are closed in this archived album entry)
---