Desi, Flashdance, Guido & Bella
Desi, Flash Dance, Guido and Bella
Meet Desi, Flash Dance and! These two black and white beauties are so photogenic! Guido and Bella join this photo album too!
Desi Colin Chapman
by Chuck Odom
(Alexandria, VA)
Desi waiting for chow!
We got Desi aka Daisy, in July 2017 at 4 months of age. We thought we were adopting a female Coon but the first trip to the Vet resulted in our being told: congratulations, it's a boy!

After recovering from the news, we renamed Daisy, Desi, because of the close sounding name and the fact he/she was already answering to Daisy.

Desi is now 13 months old, about 17lbs and is our big boy. We adopted a female coon, Flashdance, about 6 months ago and she's a black tortie/white and she will be 4 years old next month on May 6th.

She weighs in around 14lbs. Of course, she's already made Desi her baby and grooms him constantly.

What a pair they make and are rarely found apart. Both talk to each other in their unmistakable Coon language and will sometimes try and include us in their conversations.

We plan to adopt on more in a few months, a kitten Black/White with a mustache like Desi's but for certain a female and we're going to name her Lucy.
---
Flash Dance
by Chuck Odom
(Alexandria, VA USA)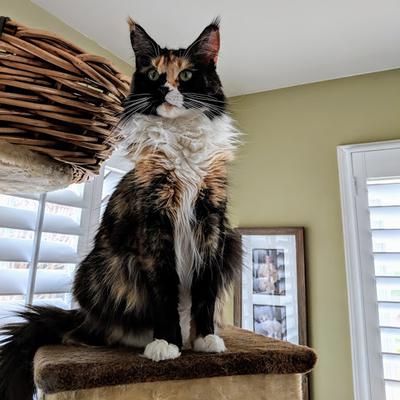 Flash Dance on her high perch
Flash Dance/ aka Flashy or Flash, is our latest addition to our growing coon family.

I sent a previous picture of our Desi, a Black and White Coon who turned 13 months kitty age on March 13th, 2018 and is already a big boy at 17 lbs.

Flash is a little more pristine befitting a beautiful lady and is the sweetest cat we've ever owned, and in 50 years of cat ownership, that's quite a few.

She immediately took to mothering Desi upon arrival into our home.

He actually likes it which was a little bit of a surprise to us how quickly he took to her and she to him.

They talk in that singular "coon" language constantly which is also quite amazing actually. We were told that Maine Coons have their own way of keeping the conversation going and boy was that an accurate assessment!

Flash is a retired purebred show cat and will be 4 years of age on May 6th, 2018. She is very active and is quite the runner and toy player.

She also likes to get into wrestling matches with Desi, and though larger, Desi is no match for her quickness. You go girl!
---
Our Maine Coons
by Maureen
(Rouseville, PA)
Hi my name is Maureen. We live in Rouseville PA. We took in a black and white 6 yr old Maine Coon from a friend who was ill and couldn't keep her cat.
| | |
| --- | --- |
| Guido Sarducci | Bella Louisa 10 months old |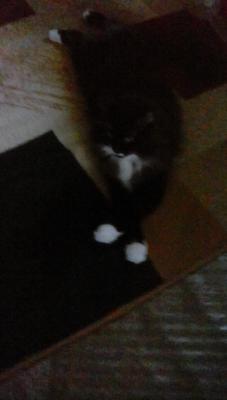 Guido Sarducci 10 yrs old
His name is Guido Sarducci! We have had him 4 yrs he is so handsome, he will be ten yrs old the end of July.

We love him so much, then on Halloween 2017 it was a rainy nasty day we heard a kitten crying outside.

She was not older than 6 weeks old, we rescued her - starved, eat mites, fleas, she is Maine Coon tortoiseshell.
We love her and watch how our male rescued accepted her as part of the family!
---
(note: comments are closed in this archived album entry)
Return to Top of Desi, Flash Dance, Guido & Bella