December 2015 Photo Album
Our December 2015 Album is here! Amid holiday lights and decorations, these Maine Coons are the prettiest!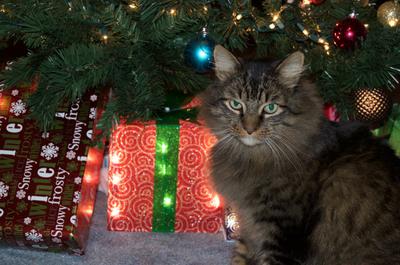 Mauw Mauw the Maine Coon Cat from Winter Harbor, Maine
By: Laura DeLucia in Winter Harbor, Maine
Mauw Mauw, loves the tree and knocking off the bottom ornaments.
---
Tug Under The Christmas Tree
By: Carmen Fernandez in Del Mar,CA
My Coon is 14 years old.
Every year when we put up the tree he likes to sleep under it.
---
Luca
By: Jessica in Raleigh NC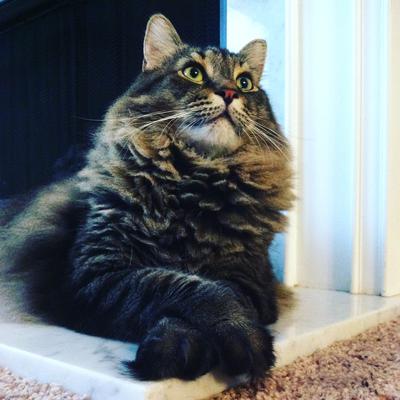 Luca was left with his litter in a box on some church steps without their mama. The shelter that cared for him until he was ready to be adopted had contacted me as they knew I had just lost my Maine Coon after many years. We were so anxious to get him.
Luca is now 4 years old and very very sweet. He is very unsure and easily scared of things. But loves to talk and can get playful especially is catnip is involved. He is a big fluffy guy and we love him to bits. So happy he found his home with us.
Luca lives with his adopted brother Lynk the pixie bob and sister Gigi a tortie botail.
---
Greystripe the Gentle Giant
By: Erin in the United States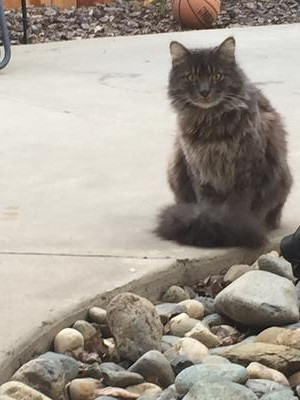 Greystripe waiting to be let inside
It was a slightly warm day back in May when I was resting by my parent's bedroom door, my nose buried into a book. My mother had her eyes glued to the television, but her eyes kept flickering over to me to see if I wanted anything.
As she checked, she noticed a gray, skinny lump sulking around our backyard. "Erin!" she said, sitting up straight. I looked up from my book to see what she was so excited about. She pointed to the lump, and my eyes followed her finger to see what she was pointing to.
It was a cat. Ever since I was a small child, I had been very fond of cats, so I got up and ran to get turkey and a milk/water combination. We went outside and fed him, and little did we know that just one little meal would end up being life-changing.
Ever since that day, we continued feeding Greystripe (a character from the Warrior Cat series) and he grew closer to us. We researched many things about him since that day, and we discovered that he was indeed a Maine Coon cat, he had been neutered, and was around two years old.
Since then, our little baby has been spoiled rotten and given many nicknames, such as Greystripe the Gentle Giant, Stripey, Striperz, and many more crazy names. We have had to deal with cat-related issues, like a bee sting on his paw and cat fights. (There has been this cat nicknamed Lemur who terrorizes our baby daily, and we have tried to take care of this issue, but have not succeeded.)
Attached is a picture of Greystripe waiting to be let in. It is hard to believe that the little, skinny, skittish cat we saw skulking around in May has become our big, cuddly, playful giant. My family loves him so much, and we cannot imagine our lives without him. Greystripe is quite vocal, letting out yowls of hunger to simply little meows of "Give me attention."
I have to thank this cat for changing my family and I's view of cats, as my dad doesn't like cats much. But now I see him listening to music with Greystripe curled up next to him, which makes me smile.
Thank you Greystripe for changing my world, even though you will never read this.
---
Charly
By: Florence Saint-Claire in Gatineau (Quebec) Canada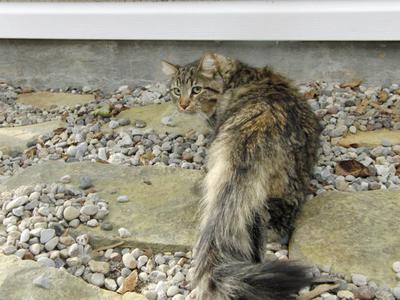 Charly is three years old. He is a rescue from the SCPA in Québec. I got him he was 12 weeks. He is now 13 pounds and he is very long. I was attracted to his playfulness and his presence.
He has a distinctive way to ''Miaou'', and it seems like he speaks. He always gets what he wants. He loves people and to be the centre of attention and the conversation.
Not so fond of other cats, he likes dogs.
He is crazy about water. Goes in the shower, drinks at the faucets and at a plastic bootle. He has a strong character. He is also very intelligent. He needs constant stimulation and attention. He is also extremely curious of humans whereabouts.
Two things he loves: water and playing.
p.s I have two great short videos of Charly if you are interested.
Florence Saint-Claire
---
Bullseye's Life
By: Angel and Kelley Yourkonis in Fontana CA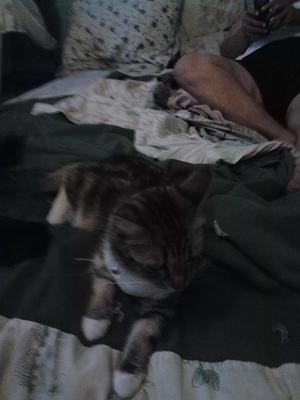 Bullseye started her life outside in the cold on the side of our house listening to her stomach growl she cried for help, she was all alone no one to take care of her until one night an Angel appeared in front of her and picked her up and brought her inside where it was warm and the Angel's partner gave bullseye food and we both listened to her growl as she ate every bite.
My partner (Now Wife) saved bullseye from death. At first we didn't think we could take care of her but we realized that bullseye was a gift from God and we just couldn't get rid of her. Since that tragic night bullseye has grown to be 4 yrs. old and has been updated on shots and has a microchip and license. Also she has been spayed. When Angel found her that night she fit in the palm of our hand and she had an infection in her left eye, now she is 23 inches long and about 25-20 pounds. We love her very much.
I was so happy to be able to keep her because growing up I always had outdoor cats now I have a cat that watches television with me she loves the movie "Selena." The first thing that Angel taught Bullseye was how to fetch and she does it well. We are a happy family. Bullseye was proud too be saved and Angel was proud to save her. I live with 2 security guards our cat goes by CPS (Cat Protective Service) :) So Bullseye went from dying to living.
God sent her too us and everyday I look at her and I thank God for the love he has given us. We are proud to show our Bullseye to you today. I find it such a joy to remember that God sent us a beautiful creature and my Angel saved her from death. I learned that God never left me, always remember if you ever lose something or someone that someone or something can be blessed too you again in other beautiful ways. God Bless you everyone this has been Bullseye's Life.
---
This is Teague
By: Cynthia Cross in East Lawrencetown Nova Scotia Canada
Teague is ten years old, he's a red mackerel , 26lbs and king of his castle! We have four more cats but he's the only Coonie and I think he likes it that way lol! He's also the biggest chicken in the house as well lol!
Everything has to be made for our big boy, such as his scratch post, cat tree. Unfortunately most pet stores don't cater to the larger feline! We use a 60liter Rubbermaid tote for his cat box, he's much too big for the normal size litter boxes.
Teague is very vocal when he wants food, water or just about anything else he wants! Sometimes when we have overnight guests they're a little taken back when they hear him hollering in the middle of the night, he sounds like a wild animal! Lol!!
People are always surprised when they first see him, he's such a gorgeous cat and he takes great pride in his beautiful tail, grooming isn't something he enjoys but does tolerate.
---
GMC and Hanna Lee
By: Sheryl in New Zealand
GMC is a silver and white almost 2 year old. Was meant to be a purebred but don't think she is. And Hanna Lee is a ex breeding cat that will be 3 next year that I've had for just 2 weeks now.
---
(Note from editor: Cynthia and Sheryl, if you shared picture(s), they didn't come through - This happens when they are large files, meaning high quality photos. There are tips on our contact page for editing photos for the web, if you'd like to try again. Without an email address, I was unable to contact you.)