My Coon is 14 years old.
Every year when we put up the tree he likes to sleep under it.
Luca was left with his litter in a box on some church steps without their mama. The shelter that cared for him until he was ready to be adopted had contacted me as they knew I had just lost my Maine Coon after many years. We were so anxious to get him.
Luca is now 4 years old and very very sweet. He is very unsure and easily scared of things. But loves to talk and can get playful especially is catnip is involved. He is a big fluffy guy and we love him to bits. So happy he found his home with us.
Luca lives with his adopted brother Lynk the pixie bob and sister Gigi a tortie botail.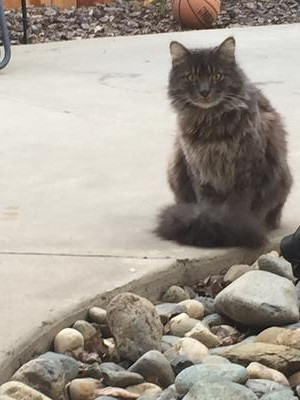 Greystripe waiting to be let inside
It was a slightly warm day back in May when I was resting by my parent's bedroom door, my nose buried into a book. My mother had her eyes glued to the television, but her eyes kept flickering over to me to see if I wanted anything.
As she checked, she noticed a gray, skinny lump sulking around our backyard. "Erin!" she said, sitting up straight. I looked up from my book to see what she was so excited about. She pointed to the lump, and my eyes followed her finger to see what she was pointing to.
It was a cat. Ever since I was a small child, I had been very fond of cats, so I got up and ran to get turkey and a milk/water combination. We went outside and fed him, and little did we know that just one little meal would end up being life-changing.
Ever since that day, we continued feeding Greystripe (a character from the Warrior Cat series) and he grew closer to us. We researched many things about him since that day, and we discovered that he was indeed a Maine Coon cat, he had been neutered, and was around two years old.
Since then, our little baby has been spoiled rotten and given many nicknames, such as Greystripe the Gentle Giant, Stripey, Striperz, and many more crazy names. We have had to deal with cat-related issues, like a bee sting on his paw and cat fights. (There has been this cat nicknamed Lemur who terrorizes our baby daily, and we have tried to take care of this issue, but have not succeeded.)
Attached is a picture of Greystripe waiting to be let in. It is hard to believe that the little, skinny, skittish cat we saw skulking around in May has become our big, cuddly, playful giant. My family loves him so much, and we cannot imagine our lives without him. Greystripe is quite vocal, letting out yowls of hunger to simply little meows of "Give me attention."
I have to thank this cat for changing my family and I's view of cats, as my dad doesn't like cats much. But now I see him listening to music with Greystripe curled up next to him, which makes me smile.
Thank you Greystripe for changing my world, even though you will never read this.
---
Charly
By: Florence Saint-Claire in Gatineau (Quebec) Canada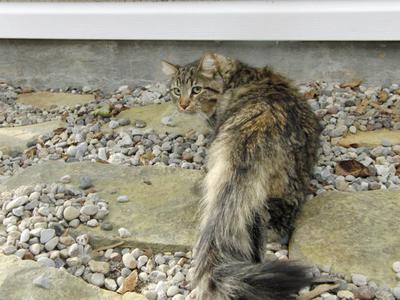 Charly is three years old. He is a rescue from the SCPA in Québec. I got him he was 12 weeks. He is now 13 pounds and he is very long. I was attracted to his playfulness and his presence.
He has a distinctive way to ''Miaou'', and it seems like he speaks. He always gets what he wants. He loves people and to be the centre of attention and the conversation.
Not so fond of other cats, he likes dogs.
He is crazy about water. Goes in the shower, drinks at the faucets and at a plastic bootle. He has a strong character. He is also very intelligent. He needs constant stimulation and attention. He is also extremely curious of humans whereabouts.
Two things he loves: water and playing.
p.s I have two great short videos of Charly if you are interested.
Florence Saint-Claire
---
Bullseye's Life
By: Angel and Kelley Yourkonis in Fontana CA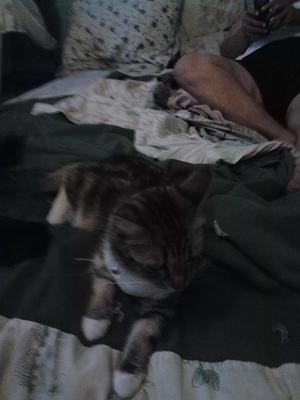 Bullseye started her life outside in the cold on the side of our house listening to her stomach growl she cried for help, she was all alone no one to take care of her until one night an Angel appeared in front of her and picked her up and brought her inside where it was warm and the Angel's partner gave bullseye food and we both listened to her growl as she ate every bite.
My partner (Now Wife) saved bullseye from death. At first we didn't think we could take care of her but we realized that bullseye was a gift from God and we just couldn't get rid of her. Since that tragic night bullseye has grown to be 4 yrs. old and has been updated on shots and has a microchip and license. Also she has been spayed. When Angel found her that night she fit in the palm of our hand and she had an infection in her left eye, now she is 23 inches long and about 25-20 pounds. We love her very much.
I was so happy to be able to keep her because growing up I always had outdoor cats now I have a cat that watches television with me she loves the movie "Selena." The first thing that Angel taught Bullseye was how to fetch and she does it well. We are a happy family. Bullseye was proud too be saved and Angel was proud to save her. I live with 2 security guards our cat goes by CPS (Cat Protective Service) :) So Bullseye went from dying to living.
God sent her too us and everyday I look at her and I thank God for the love he has given us. We are proud to show our Bullseye to you today. I find it such a joy to remember that God sent us a beautiful creature and my Angel saved her from death. I learned that God never left me, always remember if you ever lose something or someone that someone or something can be blessed too you again in other beautiful ways. God Bless you everyone this has been Bullseye's Life.
---
This is Teague
By: Cynthia Cross in East Lawrencetown Nova Scotia Canada
Teague is ten years old, he's a red mackerel , 26lbs and king of his castle! We have four more cats but he's the only Coonie and I think he likes it that way lol! He's also the biggest chicken in the house as well lol!
Everything has to be made for our big boy, such as his scratch post, cat tree. Unfortunately most pet stores don't cater to the larger feline! We use a 60liter Rubbermaid tote for his cat box, he's much too big for the normal size litter boxes.
Teague is very vocal when he wants food, water or just about anything else he wants! Sometimes when we have overnight guests they're a little taken back when they hear him hollering in the middle of the night, he sounds like a wild animal! Lol!!
People are always surprised when they first see him, he's such a gorgeous cat and he takes great pride in his beautiful tail, grooming isn't something he enjoys but does tolerate.
---
GMC and Hanna Lee
By: Sheryl in New Zealand
GMC is a silver and white almost 2 year old. Was meant to be a purebred but don't think she is. And Hanna Lee is a ex breeding cat that will be 3 next year that I've had for just 2 weeks now.
---
(Note from editor: Cynthia and Sheryl, if you shared picture(s), they didn't come through - This happens when they are large files, meaning high quality photos. There are tips here for editing photos for the web, if you'd like to try again. Without an email address, I was unable to contact you.)
Get Everything Maine Coon at Your Fingertips - Now: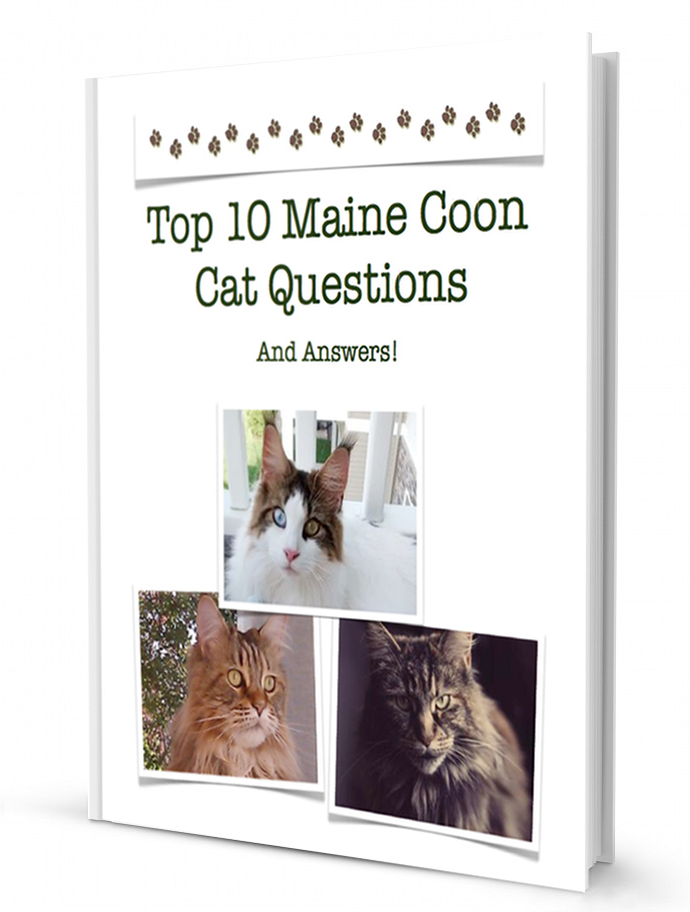 << The Care & Keeping Of Your Maine Coon is the ultimate guide to all the breed-specific needs of your Coonie. This unique breed has unique needs! A must-have.
The Top 10 Coonie Q & A's >>
is the essential handbook for all Maine Coon Questions, covering topics like nutrition and weight, "Is he a Maine Coon?," size, lifespan, and more.
Maybe-Maine Coon Cats For December:
Peanut
By: Vicki in Nevada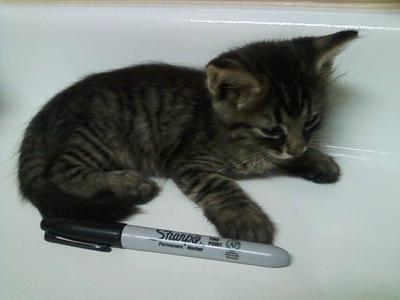 He was found at 3 weeks in a truck engine. He is now 1.5yrs. Everyone tells me he is a Maine Coon. He certainly looks like he is at least a mix. He does have some features, but I'm not sure???
---
Dusty
By: Matthew Stephens in Felton,Pennsylvania,USA
I work construction and one day last year the couple I was working for said someone left this cat in the field and asked me if I would take him in.
I said sure; she already had named him so I kept it Dusty. He is defiantly blonde and young still I am guessing he is Maine Coon.
He had the hair off the ears but the dumb groomer shaved them off. He is the most loveable cat I have everseen and very playful and has one heck of an attitude if he dosent get his way...MATT
---
The Care & Keeping Of Your Maine Coon Cat: It's hard to describe the love between a Maine Coon and their family. I know you understand! With such special family members often come special, breed-specific questions and concerns. Your loving Maine Coon is very unique, both physically and in purrsonality.
---
Buddy, the King!
By: Beverly Davis in Wicksburg, Alabama, USA
We found Buddy. He's likely a mix. He does have many of the personality traits described and most of the physical markers as well. And he weighs 16.5 pounds...
He was found living in the woods behind a hotel. The person who found him had him nutered but couldn't take him in.
When I got him home and cleaned up (thanks to a local vet) he was not in the best health. His fur was thin and course, he had a bad case of sneezes and his eyes were infected. I don't know how long he'd been in the woods and the vet couldn't tell how old he was.
He had once been someone's pampered house pet. He was already litter box trained and has never had an "accident" since coming home with me.
We medicated and babied him. Now, he's healthy again and bright eyed and behaves as if he owns the house and just allows the humans to live here because he likes us.
He has tiny tufts at the tops of his ears. He has tufts of fur between his toes, His paws cover half the palm of my hand. His wiskers are longer than my longest finger. His tail is long, a nearly 2" in diameter bush and "ringed" like a racoon. His coat is thick and silky. He has a bit of a lion's mane around his face. His eyes are big, slightly tilted and green. He has the "M" on his forehead.
His purr could rival Johnson or Evenrude. He voice ranges from a soft mew, to a roaring howl depending on his mood. His curiosity is going to surely cost him several of those 9 lives he's supposed to have as a cat. He ponces on and plays with things only he can see. He jumps up on everything...No furniture is to high for his Royal Highness.
We adore our Buddy what ever his family tree!
---
Snuggles or B-Snugs
By: Tami DiPiazza in Cottage Grove WI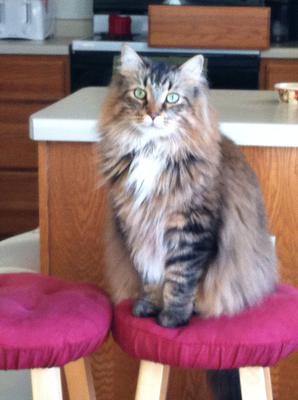 Snuggles came to our family back in 2010 as a stray kitten. Very gentle personality and very loving.
He is about 21 pounds, big paws, muscular, long and has about three layers of fur and a full mane now that he is 5 years old.
Loves to talk to the birds and voices his opinions when he wants food. Loves the bed and blankets. He can be skittish when it comes to loud people. We have never had such an easy going cat love him very much.
I'm sure he is a mix however may have some traits of a Maine Coon. His best friend is Oliver.
---
Black Betty ( bam-ba-lam ) ... Maine Coon Mix ?
By: Danielle in Franklin, Wisconsin
Black Betty is a high maintenance gal who loves to spend mornings staring at herself in the mirror or relaxing in the bathroom sink.
In fact I think the bathroom is her favorite room because no matter where she might be in the house, she can always hear my husband or I heading that way and follows ! It's a MUST for her to get in the tub or shower as soon as one of us gets out.
She's extremely vocal making the strangest noises I've ever heard ! I've had cats my entire life and in addition to Betty we do have a very handsome Lynx point snowshoe Siamese who loves to talk. Betty doesn't just talk- she screams, chatters, yells, yeah, I don't even know what to say about all of that ! It's nothing like I've heard before.
She does pick on my Siamese boy a bit, I think it's part play and part jealousy/ dominance. He's much older than her and she is now equal size. She is supposedly 7 months and weighs about 6.6lbs. I rescued her from domestic control who obviously didn't have much info.
I've never had a cat like this in my life ! Sometimes we don't even know what to do and it's like we are "child proofing " our home left and right because of Betty (which we actually find funny, so please don't think we are giving up ! That would not be an option ! :)
About a month ago I woke up to find potatoes all over my house from a very active black cat ! Yes, I said potatoes ! We do not think she is a purebred, but do believe based on size, looks and behaviors that she may be a mix.
7 months, 6.6 lbs, large feet with tufts of fur, tufts on ears, huge fluffy tail, beautiful ruff, BIG eyes.
---
Oliver
By: Ashley in Rhode Island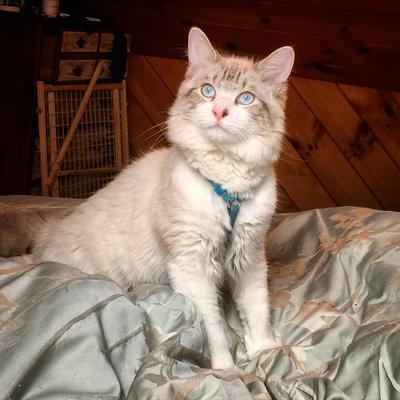 Oliver
Oliver certainly has a personality. He is always under my feet or in my face, on the counters etc. He follows me around constantly.
He is super loveable but also really playful and will lick you one second and attack you the next. He is always biting things...papers and toys, you name it. He also plays with my 70 pound German shepherd constantly!
He has fluff in his ears and between his toes. I know he is part Siamese because his moms mom was Siamese but we have no clue who his dad is so its possible he is Maine Coon.
He also does a lot of quirky things when eating and drinking that I have read are Maine coon characteristics as well. Like, he will paw at the water and around the bowl before drinking it.
He isn't afraid of water and often sticks his paws on the shower. I can put his paws in the water fine too. He is just shy of 8 months old and weighs around 9 lbs. :)
---
Leoniadas (Leo) - Is our little guy a Maine Coon or part MC?
By: Rhonda in Rolling Prairie, IN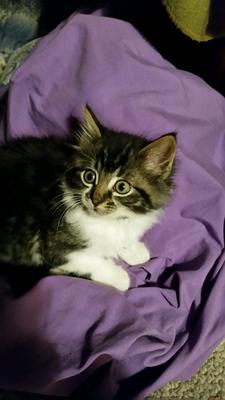 Leo
My son claims he found this adorable little kitten in our driveway. We live in a rural area off a highway. It's a very busy road surrounded by farmland. We think he was about 5 weeks old when he was found.
The eyes on this kitten and his fur is so beautiful.
He is VERY playful and meows very loudly when he wants to be picked up to eat (We keep it on the counter so the dog won't eat it).
He loves to run to the door to greet me when I come home (just like the dog does). He is VERY active and loves to eat. At times, when sleepy, he will snuggle by me or sleep on me. He prefers to sleep by my neck or on my chest.
He has a lot of the traits listed. He looks like a Main Coon and acts like one. He has those wonderful eyes the tuft of hair at the ears. I would really like to know if you think he is full or part Maine Coon.
---
Spartacus
By: Coco in California
He looks like one.
---
Related: