December 2014 Photo Album
Meet our Featured Coonies for December 2014!
Beauregard, Chico, Bloopurr The Mini Panther, Freyja and Odin and many more have photos and stories to share.

Wildcoon Beauregard
Beau is six months old and so naughty (in the best way possible)
He sits in the sink when I'm trying to brush my teeth and follows me all around the house!
He's pushing 4.5 kg at the moment.
He is listed as a Classic Brown Tabby but actually has a lot of black to him; his eyes are mainly gold with a hint of green :)
---
Chico, Maine Coon from Thunder Bay, Ontario Canada
By: Sheri in Thunder Bay, Canada
He is gorgeous cat that could be easily in magazines. He is a gentle cat with beautiful Colors. Thanks Sheri
---
Bloopurr The Mini Panther!
By: Parth in Florence, MA, U.S.A.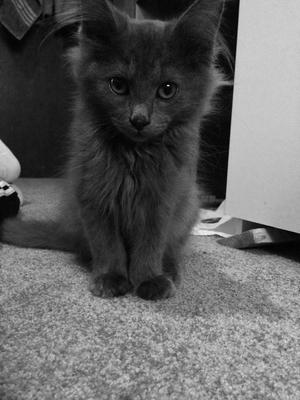 Bloopurr is the most wonderful ball of joy. He is 16 weeks old today!
He is very vocal, specifically when I get home from somewhere. He loves to sleep on or next to me and when he isn't sleeping or eating, he is mayhem!
Whether he is chasing a ball throughout the house or just rambunctiously attacking his stuffed animals, he lets his presence known! Much like many Maine Coons, he won't drink still water and never from his water dish. He get most of his hydration from his food which he only enjoys eating in hot/warm water (weirdest guy).
Bloopurr is also very mischievous, especially in car rides, which he has become extremely comfortable with since he has learned how to open his zipped carrier, jump out and calmly sit on my lap for the duration of the ride, now when I go out to get a coffee from the drive thru, he always comes and the employees at the coffee shop expect to see him all the time!
I come from a family that has never owned a pet, my mother has always been afraid of cats and dogs and never allowed them in the house when we were kids.
When I first got Bloopurr, he was something of an unpleasant surprise to my family, as sad as that sounds. Now every member of the house loves him, everyone warms up at different paces, but there isn't a time when he isn't getting attention from someone.
I cannot imagine going back to life without him! Needless to say he is one of the best things to come into my life!
---
Freyja and Odin
By: Andre' in Panama City, FL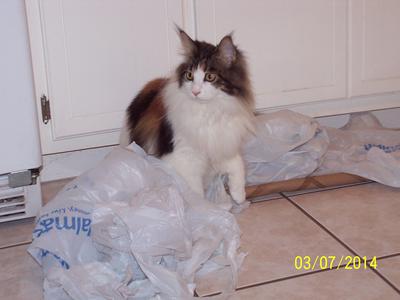 Freyja
Freyja, or Frey, is a beautiful big girl we bought from a local breeder when she was 12 weeks old and just a little fur ball.
Now she is 21 months and queen of the castle. She likes being near us and will sleep above our heads when we sit on the couch or on the foot rest of the recliner.
She is a little naughty at times and loves to play chase with our persian Fluffy (3 yrs) and 2 Coon Mix brothers (age 2) Thor and Loki and our newest Coon Odin age 10 mos.
Odin is a silver tabby with white female who was supposed to be a male. She fooled everyone to include the breeder and vet.
She is already as big as the boys and has lots of time to continue to grow. She waits for us outside the shower and gets in as soon as we get out of it.
She likes to get on any counter and knock things of onto the floor just to watch them fall. Can't imagine life without our crazy Coons.
---
Max
By: Rick in Port Richey Florida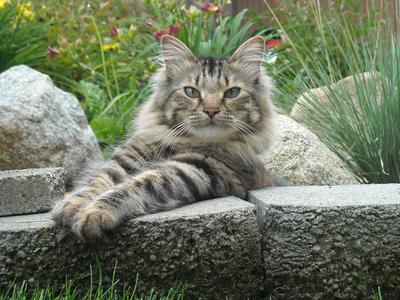 We adopted max from ( SPOT ) saving one pet at a time and he has been the most perfect family member.
He's 6yrs old and weighs 15 pounds. Loves to play fetch in the rain and is always by you're side and talks constantly.
He's quite a handful and plays all the time.
---
Meet Thor, 3 1/2 months old
By: France Begin in Quebec City, Canada
He is with us for ten days now. He is already very good friend with my two other kittens, Snow, a 6 months old Turkish angora and Bubba, a 5 months old F1 Serengeti (oriental short hair X bengal).
He is fantastic, not a lap cat like Snow but he follows us everywhere. In fact the three kittens follow us everywhere so it is very animated here!!
We have also three older domestic cats, Maurice, 15 y/o male, and Charlotte and Penelope, 14 y/o females, three African grey parrots and a Boxer female dog. Quite a familly!!
Thor's paws are already much bigger than his older pals, even bigger than Maurices's. And he gained a lot of weight in 10 days - not fat, muscles! He is such a sweet little boy!
---
Bear
By: Analise Schallig in Lebanon, Oregon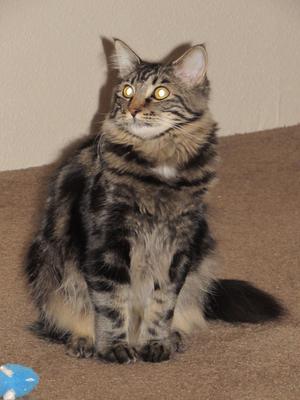 I'm not sure if he's full bred, but he certainly shares many characteristics of a Maine Coon.
I acquired Bear from a local humane society and it was love at first sight. He's 8 months old and already 10 lbs.
---
Toby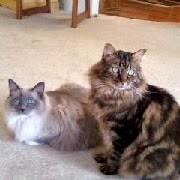 Magic May and Toby
Toby is about six years old and seventeen pounds. When we got him he was five weeks old and you could hold him in one hand.
The vet said he would have lasted for one or two days. He has all the traits of the Maine Coons on your Web site. He is my shadow everywhere I go. He always follows me to the bathroom where he sits next to me on the counter or tells me he wants the water in the sink turned on.
He has two sisters who were also abandoned. One is a Rag doll and they are about the same age so one is always chasing the other around the house.
The other cat is a Himalayan who was about one year old when we got Toby and she thinks she's his mother. The best part in the morning is when I wake every morning and find Toby snuggled up next to me.
---
Luca originally O'Malley
By: Jessica in Raleigh, NC
Luca as a baby
We were told Luca was left on some church steps with his litter; so no mama cat.
He and his litter were bottle feed by the lovely shelter workers at Whisker City in Seattle. I had just lost my Maine Coon Chui. He had had a nice long life and passed in his sleep and I had adopted a little girl kitty from Whisker City and didn't want her to be alone.
So I shared my situation with them and tell said they had just gotten a litter of Maine Coon babies in and we could have one of the little boys (O'Malley) but we had to wait until he was big enough and neutered.
So we waited patiently and finally got to bring our guy Luca home. He is a very sweet boy but very timid and kind of scared at times. He is loving and I try my best to show him he has nothing to be afraid of. He is currently 19 lbs and we love him lots!
---
Genghis Coon Britten
By: Sophie Britten in Three Rivers, CA - USA
Genghis
Although I live in California, I had a good friend who lived in Wamego, KS and was quite ill with a form of Leukemia. Before he died he asked me if I would adopt his Main Coon youngster and of course I said yes!
When my friend passed away, the local vet gave Genghis his shots and put him on a plane to Fresno, CA. He arrived at the airport there at 10 PM one night - he was in a dog carrier and all I could see were these big eyes staring out at me.
I brought him home and since then he has been a wonderful companion. He talks a lot and seems to do that more as he gets older.
He weighs about 22 pounds and although he's not a "lap cat", he loves to lay on me when I go to bed at night. We talk over our day and then he lays down beside me and we go to sleep.
He's a wonderful boy - don't know what I'd do without him.
---
Chin-chin
By: Char in Lake Whitney, Texas USA
baby Chin-chin
Chin-chin was a rescue kitten. He kept comming to our glass door and looking in at our two dogs.
He would rub the door frame and cry for days till we finally adopeted him Took him to the vet for shots and nutering. He lived for 6 wonderful happy years. Always in love with the dogs.
One day he came home sick and vet said he had been poisoned.. Heartbreak... He passed three days later in my arms. He still holds a special place in our hearts.
---
This Is Our Cosmo
By: Reah Fain in Beckley, WV USA
He is about 6 to 7 months old and weighs in at 6.5 pounds and is 34 inches long from head to end of tail..
We are not sure if he is pure breed or a mix but our vet said he is definitely Maine Coon and that he is going to be big. A friend of ours found him in a parking lot starved and almost dead and brought him to me because she knew I would take care of him.
The vet said he wouldn't have made it another few hours. He was only about 4 to 5 weeks old at the time. Don't know how he got there or where he came from, and with the vets help and guidance me and my husband Mark nursed him back to health and in no time he started growing like a weed and striving to get into everything.
He loves water and it's nothing for him to try and get in the shower with me or help me do dishes.. he gets along great with our other 2 cats and gives Nemo our 10 year old cat some well needed exercise and gives our little girl cat Cleo who is around the same age as he is someone to play with ..
We call him our big monster and he has given us so much joy.. We love all our cats and treat them like our children... They are our family.
---
Bo My Handsome Fur Babie
By: Maureen Humphreys in BC Canada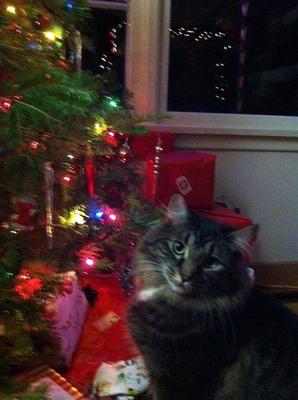 Waiting for Christmas
Bo is a real character. He loves having his picture taken. Bo is 5 years old.
---
Who Knew
By: Bob in Villa Rica, GA, USA
Winston, one of our two owners.
We got him from a local animal sanctuary together with an orange and white female moggy; Lila.
Winston was almost bald as they had had to shave all his fur off because of how matted it was. His tail was broken. And his teeth and mouth were so moldy about 12 months after getting him we had to give in and have all his teeth taken out. Turned out to be the right thing to do as his moods improved beyond measure. Seems just like people, toothache is debilitating. Anyway he can now give you a nasty suck.
It was a year before he sat on my lap. About 2 years before we heard him purr and another year before he stopped being very twitchy around strangers. Now after 4 years he looks and behaves like a Maine Coon.
You can see the story of his and Lilas arrival in our lives at http://www.bobsmiths-place.com/page6.html Click on the picture titled, 'Lose one, gain two'.
---
Sherlock Holmes found a Home!!!
By: Marli Gibson in Oklahoma City, Oklahoma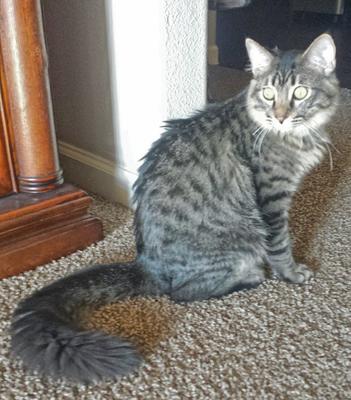 Just taking a break from bouncing off the walls!!
Sherlock Holmes is a 6 month old rescue kitty that captured my heart with this vibrant eyes and his talkative personality. It was like I walked by, and he just knew I belonged with him.
I have no idea how fully Maine Coon my little guy is, or how big he will get, but I absolutely love him and his affectionate personality.
He loves sleeping in the people bed, he has his own cooking stool so he can watch his people cook, he is absolutely full of energy and life. I am so glad that I was able to give this little rescue his forever home.
---
Prince
By: Crystal G. in Smiths Falls,ON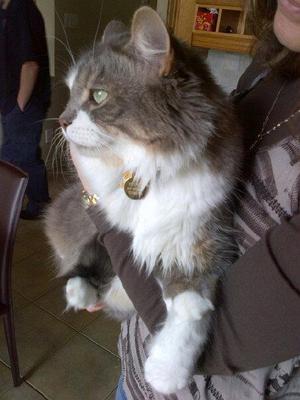 I adopted my little guy when he was 4 months old from a shelter. He is a funny and goofy cat.
He loves to be held and cuddled. He never gets tired of attention, and don't leave him alone because he loves to get himself into mischief!
He also is a very vocal guy and let's his presence be known.
---
Shadow
By: Patricia in Bronx, NY USA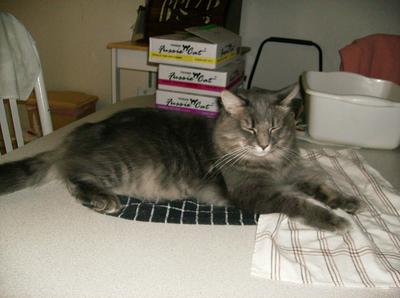 Shadow is part Maine Coon. He is 2 years old. Enjoy the pictures.
---
My Big Furball!!
By: Sandra in La Puente California, USA
Furball is his name of course and he is gone now but truly missed always. Furball was the most loving cat we ever had. He was so playful and yes he always wanted to be the center of everyone's attention.
His large size intimidated my neighbors. They never seen a cat so big and hairy. I loved how his fur stuck out between his toes, so long and furry. He used to chase my daughter around so playfully. He would walk around the place like he owned it and was afraid of no one. He was the king. A perfect cat for kids. I love my furball and wish he was still here.
Farewell to the best cat ever with love, Sandra and Deanna my daughter's cat. He would let us dress him up in costumes and he loved getting rides in my daughter's stroller, she would call him and he would get all excited and jump in the stroller so she could push him around in it for a long time. He loved that. He tried to fit in her doll stroller but he was much too big. Fun times and memories never to be forgotten.
---
Bella and Brutus Mixed Maine Coons
By: Linda Faiken in North Royalton, Ohio
She has the greatest personality and disposition. He is more laid back but is my boy. He has to be with me no matter where I go. She is very independent and loves to investigate.
They both are a blessing to me. They make me laugh every day with the things that they do. Especially when they chase each other.
My love for them is very deep and I feel that I was rescued more than they have.