December 2013 Photo Album
It's a blizzard of Coonies in this winter album!

Our Triplets
By: Donna in Parker, Colorado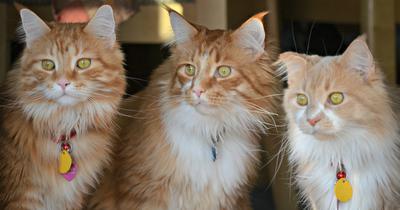 Our Triplets in Action
Our Triplets, Amber, Auggie, and Aspen are truly amazing creatures.
Amber is the leader of the pack and a beautiful dignified lady. Her nickname is "Beauty Queen". Auggie is our "Baby Bear" coming in at 20lbs.
And last but not least is Aspen our socialite. Her nickname is "Cheetah Girl" due to the markings on her face.
They will be 3 years old on 1 July 2014.
---
Zeus Watching the Snow Fall
By: Sandi Frith in Ray Township, MI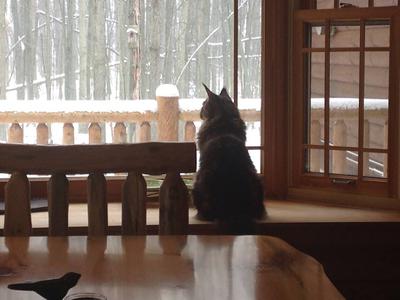 Zeus just turned 1 year old.
He is a Brown Tabby Maine Coon and we also have his litter mate/brother, Ares who is a Silver/White Tabby.
Zeus was totally mesmorized by the first big snow fall of the season and watched the flakes fall for a very long time.
---
Hugo and Mylla
By: Isabella in SP, Brazil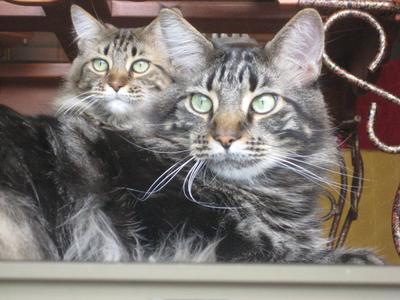 Mylla is a female maine coon cat, 8 years old.
Hugo is a male maine coon cat, 5 years old.
Both of them are tabby!
They love play in the sun and eat!
---
Red Maine Coon Charlie
By: Rachel in the UK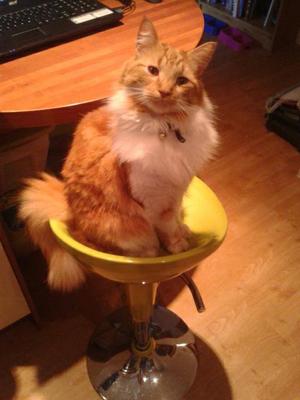 Why yes, I am beautiful...
This is Charlie, he is our 3 year old Maine Coon.
We had him as a rescue kitten, not entirely sure on his breed, but it soon became apparent with age!
He is massively loveable, and loves nothing more than to sit on this stool and watch us go about our daily business! He also is a rather large fan of shoe boxes.....
---
My Boys
By: Peggy Steele in Hazard KY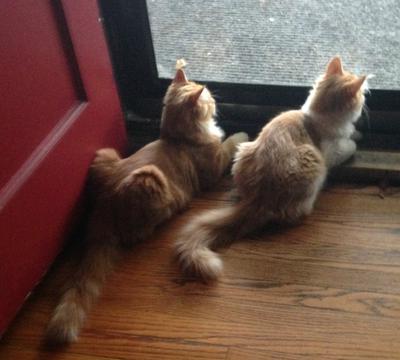 I have two male Maine Coon kittens. They are 5 months old brothers from the same litter.
The kitten with the most white on his face is "Special Kitty" Tobias Fornell and the other one is "Special Kitty" Leroy Jethro Gibbs....Yes, I love NCIS!!!
They are so soft and cuddly. I have always wanted a Maine Coon and am soooo glad I finally have them. They are quite curious and very lovable.
Gibbs has developed a crush on my white lab Jasmine. Too funny to watch. I am a very proud momma of two sweet boys.
---
Lil Dawg
By: Lori Struble in Jackson, NJ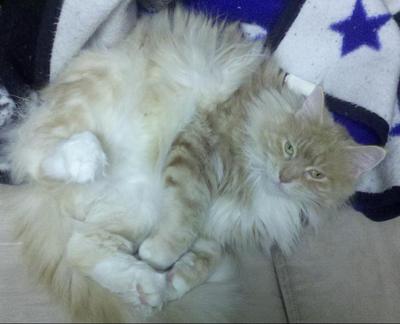 Lil Dawg - Looking Innocent
His official name is Clemintine like the orange, but we call him Lil Dawg.
From the first day we brought him home he has thought he is one of the dogs, we never told him diffrent.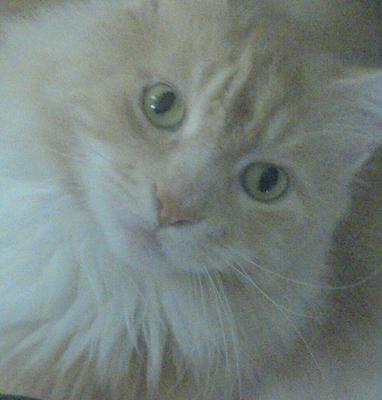 Lil Dawg - Looking Innocent
He is always talking and does not understand that we dont speak cat.
He surfs on the hard wood floors, sleeps in the dogs food bowl (he does not fit but squezes in), chases the dogs around, and steels the food right out of their dish while they are eating it.
He purrs so loud we have to turn the TV up and we know exactly how much he weighs full (17.5 lbs) and empty (17 lbs) because he sleeps on the scale in the bathroom.
---
Here's Woody!!
By: Lucy Kavitt in Montoursville PA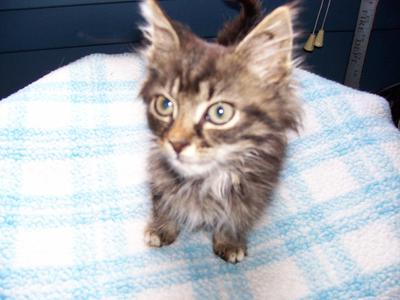 We found Woody on one of our walks in the woods. He was all skin and bones with a broken leg.
He only weight a pound and was so hungry we put a can of food and caught him by hand.
He turned out to be the sweetest cat we've ever had!
---
Meet Mr. Lynyrd Skynyrd
By: Debbie & Todd Jackson in Walnut Creek, CA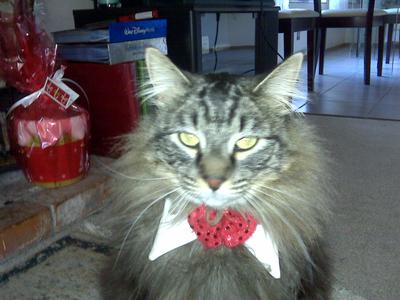 Lynyrd Skynyrd is
ready for 2014!
Greetings!
We rescued Lynyrd Skynyrd from ARF (Tony LaRussa's Animal Rescue foundation) in Walnut Creek, California in 2011. He was 3 years young then.
Lynyrd is the most gentle loving cat I've ever owned. He enjoys laying in in window bed and sharing the love. Attached is Lynyrd, all ready for New Years Eve!
---
Garden of love
By: Lisa Hanley in Harrison NJ USA
She's 1yr old rescued most intelligent animal I've had the pleasure of enjoying day to day. Coming home to her welcoming kisses!
---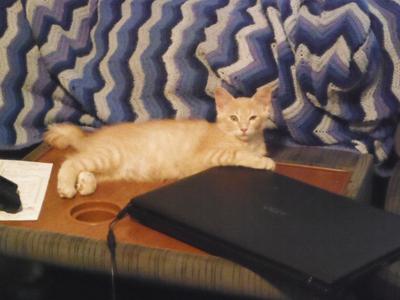 On the computer again
Little Bo
By: Dina Duke in Picayune, MS
He's spunky, very cute and affectionate. He was found on the side of the road!
He didn't have the ruff around the neck or the really bushy tail yet.
---
Ready for the Pet Christmas Party!!
By: Angie C in Baltimore, MD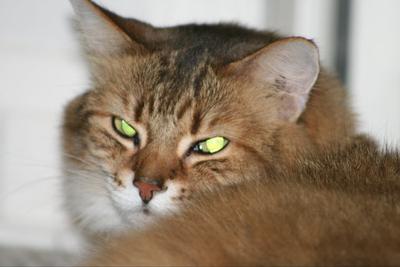 Taz was the cutey of the litter. Small and different. Love at first sight!!
As a kitten, she was full of energy. Scaled the walls, play with her shadow. She is one of a king.
As an adult cat, she is very calm, laid back and love being under me. Whether right next to me or a foot away.
She's my cuddly teddy cat!!
---
My Life Saver
By: JoLynn in Fayetteville,Tennessee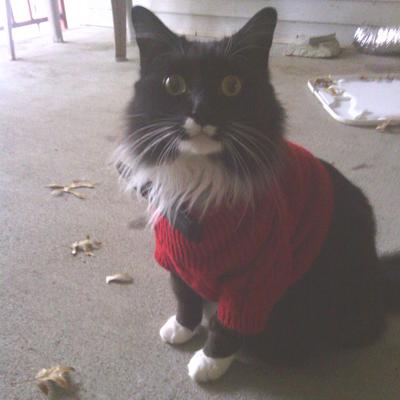 Professor Faygo
This little...err..big boys name is Faygo Milenko, he's an 8 year old Scorpio, born on October 31, 2005. Loves to cuddle and he only drinks bottled water. Horribly spoiled.
He's the product of the best "little white lie" I've ever told... My best friend and I went to eat at McDonalds and they were giving away 6week old kittens in the parking lot. There were only two left, and if we hadn't taken them they would have been killed. Both having big hearts, we couldn't let that happen. So we came up with a sad story to tell our parents so they'd let us keep them, and it obviously worked.
Faygo is my pride and joy and has gotten me threw some pretty tough times in the past 8 years. I couldn't imagine my life without this big ball of fur.
---
Merry Christmas!
By: Ashley in U.P. of Michigan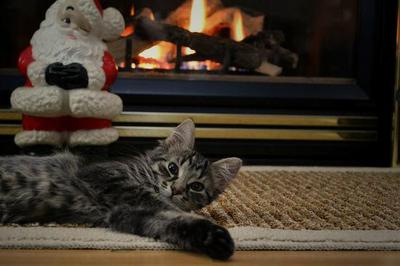 Lounging
This is Presley. He is a Maine Coon mix, but he has the Maine Coon markings, the shaggy coat, and the personality! I am so interested to see what he's going to look like when he grows up.
We adopted him from a local animal shelter on November 7th this year. He has only been with us for a month, but boy does he make himself a welcome little family member.
He is so affectionate: he licks, rides on shoulders, lays on you, kneads you when you come home, and I constantly trip over him because he has to be by me every second of the day. He is very social and loves to chrip, trill, and meow at us.
He is fascinated with water and frequently jumps in our bathtub after someone has taken a shower or bath and plays in the leftover bubbles or drinks the water droplets that stick to the tub. He also puts his cat food in his water sometimes and paws it around, then eats it, which after reading about Maine Coons, I have found out that this is typical behavior for them. I have never had a cat who likes water, so this is a first for me.
He even came with us during Thanksgiving for 3.5 hours in a car, stayed at my parents' house, a place he'd never been before, for four days with us, and none of that bothered him!
He adjusted seamlessly. He made himself right at "home" and lounged about the house and jumped up on everyone for pets. My parents also have two adult, female cats who were NOT happy about little Presley in their territory but he found it amusing to follow them around and watch them.
We have a 4-year-old son who relentlessly pursues poor Presley, but Presley takes it all in stride. He endures all the squeezing, hugging, chasing, and occasional tail pulling, but I know one day it will all be worth it when our son is a little older and the two will have a great bond.
I was a pretty big terror to my first cat, Thumper, too, when I was three and four years old, but he was much more than my cat -- he was a companion and family member who lived to be 19 years old. I miss him every day. So, I know it's important to create that bond and how much of a life long friend an animal can be.
I have done a lot of reading about the breed and he exhibits so many Maine Coon qualities. These are truly fascinating animals and I am proud to own one!
---
Tyson My Boy
By: Melissa Robbins in Cheyenne WY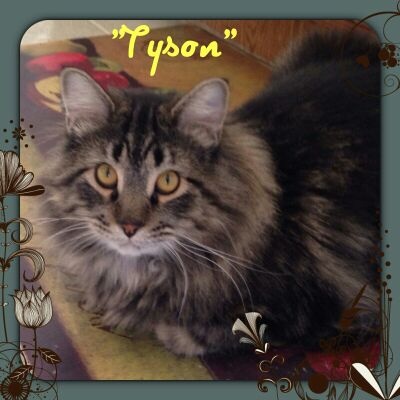 Tyson he came into my life after I had to let my Tigger go to rainbow bridge. He was three weeks. So when I got Tyson and Tigger would only been gone six days.
You see Tyson needed a home. He lost his mommy cat when he was only three weeks, so I give a home and I raised him.
He is a year and three months now and he's big and he's beautiful. He's a feisty one, he's helping my heart and I'm helping him. We love him and he loves us and I'm so happy he came to my home.
---
Gertrude/Big Mama
By: Susan Siegel in Dacula Georgia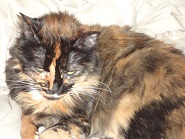 We adopted Gerty 3 weeks ago from local shelter.
She is a joy and from her microchip we know she is 4 years and 3 months.
We have registered her chip with Home Again and it is a shame whoever owned her before did not do so.
She is adapting very well to a leash and harness though took some time to find what would fit her comfortably. She is 16 pounds and just beautiful.
---
Bear Kitty
By: Keith Schroder in Southington, CT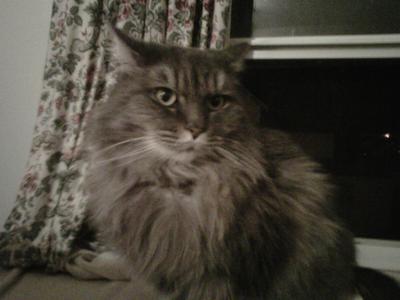 I rescued Bear Kitty one week ago. He was living in a barn in Hebron, Ct., and had been living there for two months.
He had some wounds when he got to the barn, and two weeks before I got him, had endured a coyote attack.
The night that I picked him up there were two coyotes right outside of the barn.
My friend had taken very good care of him during his barn stay, but could not keep him.
She had asked me if I could take him and give him a forever home; I had no choice but to say yes. Best decision I've ever made.
---
My Two Furbabies
By: Susan MacKay in Charlestown, MA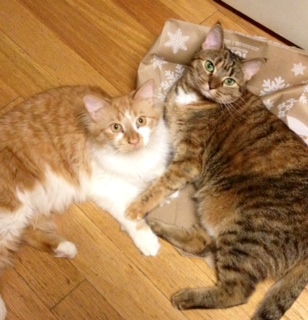 My two cats, Sloopy (orange and white) and Sweetie (mackerel tabby) are the best of friends.
Sloopy, we think, is a Maine Coon mix. At least, he has so many of the traits described here on your website.
They are so much fun to watch as they chase each other around the house. Here, they are just chilling on one of their favorite toys...a paper bag.
Give this bag a few days, and it will be in tatters from them running in and out of it and pushing it all over the house.
---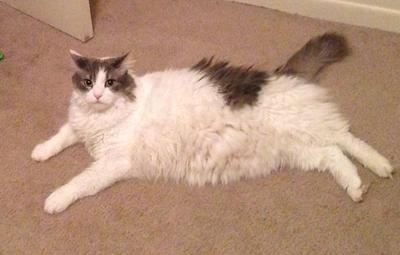 Patrick
By: Marlina Castilla in San Antonio Texas United States
Patrick loves to go out for walks