December 2012 Maine Coon Cat Pictures
Welcome to the December Photo Album of Maine Coon Cat pictures! It was a very merry month! (Comments are closed in this December Album).
Meet Bobby Kennedy!
By: Kemal Faruquee in Harrisburg, Pennsylvania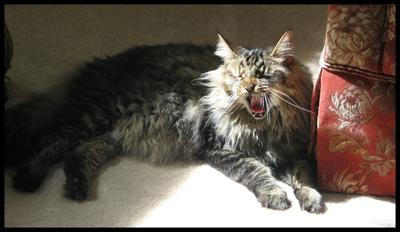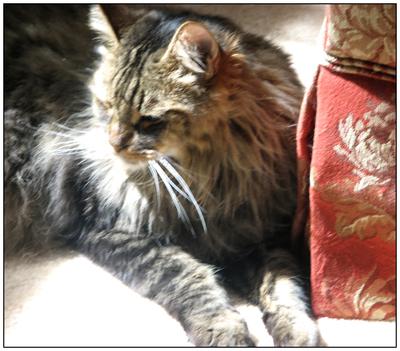 Meet Bobby Kennedy!
Bobby Kennedy is a 12 year-old Maine Coon who likes following me around while complaining about something.
I've yet to figure out what the actual source of the complaint is. When Bobby Kennedy isn't busy making a lot of noise, he likes wagging his huge tail around and waiting for the ice cubes to be dropped into his water bowl.
He's a great cat (although sometimes it seems like he's a dog).
Merry Xmas from Chicki
From: Campbell, CA USA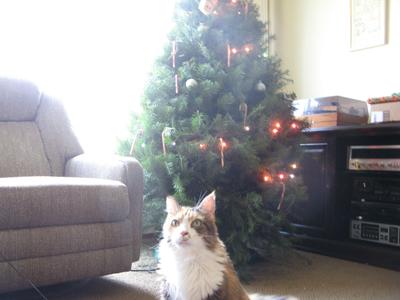 Hi, I'm Chicki a 12 year old mackerel tabby.
Today, I am just hanging around the XMAS tree in the living room with my family.
The best part about XMAS is chewing on the wrapping paper and new boxes to play in!
I'd like to wish everyone a Merry XMAS at Maine Coon Cat Nation!
---
Miss Scarlett "O'Haira"
By: Victoria Coleman in Hamilton, Ohio
I rescued her from work last August...I heard she had been hanging around, begging for food.
When I saw that she was just a skeleton with fur (you could pet her back and count the vertabrae), I had to bring her home.
We named her Miss Scarlett "O'Haira" ("...I will never be hungry again!") It amazes us how much she's grown the last 4 1/2 months.
Comments:
Jodie: She needs a "Red" Butler....
Barbara McBride: Beautiful Cat, Brilliantly clever name.
Barb: Kudos to you for taking in this beautiful cat. May you and Scarlett enjoy a great life together.
Jeannou: She is absolutely gorgeous!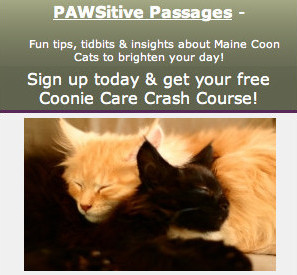 Mystic
By: Karissa Kendall in Parkland, FL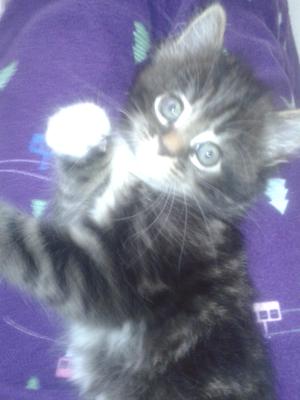 Mysti Blue
This is my newly adopted kitten Mystic (love at first sight with those mystic blue eyes), we call her Mysti for short. She is 2 months old! We just got her on 12/16/12. She also had a little bit of fluff to her face. She isn't as fluffy as the ones I see online.
I never heard of Maine Coons, have seen them before and always wanted one. The shelter's paper said she was a brown tabby with white domestic short hair mix. When I went to the vet for Mysti's wellness exam they told me she was a Maine Coon.
She is has the opposite of the my last cat Sunshine (RIP 2008/09) that I've had before (who didn't go near anyone and bit and hissed at everyone). I am so excited to find they are loving and playful since I wanted a companion ever since being bedridden for months after a traumatic car accident.
She is so purrrrty!
Comments:
Tracy: This kitty is sooooo darn adorable... I can't stand it! She is like a Kitty Super Model!
Dawn: What a gorgeous cat! Looks just like my little guy Socks. Don't worry...it may be few months before the Maine Coon fur and that ridiculous tail come in...didn't happen till almost 6 months old for Socks and his sister Gabrielle!
Barb: great name! she is very pretty-love her paws.
Laura: Many true Maine Coons do not get their true Coonie look for awhile. My Maine Coon was well over a year before his hair grew long. He is now a georgous 2 year old!! Just give her time,
---
My Ninja!
By: Suzanne in Scottsdale, AZ, USA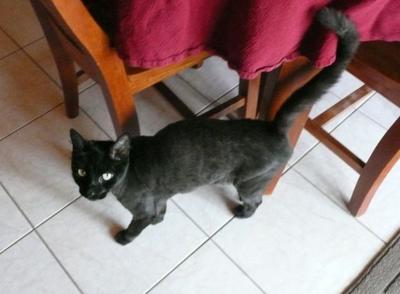 Skinny and shaved - August 2012
Ninja came to me by way of bait and switch in August - I was not a cat person, LOL! I lost my little Tibetan Spaniel in June, and after a period of grieving, I set out to find another dog.
I went on Petfinder, and found two little dogs that had to be adopted together. The lady who had been fostering them was very cautious about who she would adopt them to, so she wanted to see my house and make sure it was safe.
She was to come over on Sunday, and called me at the last minute to say she was planning to come but had to find a foster home for a cat who had been found wandering around in her neighborhood, starving and dehydrated.
I had to do some minor repairs to my fence and doggy door and replace my carpet with hard floors before taking in the dogs, so I wasn't planning to take them for a couple of weeks. So, I told her I would take the kitty for a week or so until she could find him a better home.
Three days later I was in love with this big black love bug with a white spot on his belly, and told her I wanted to adopt him.
He was so skinny (only about 9 lbs) and had to be shaved because he was very matted from living on the street, he was already neutered, but unfortunately he had also been mutilated (declawed) so he does sometimes bite when he gets stressed (for example when he saw another cat out the window).
Everyone who sees him is amazed at how big he is, so I really think he is part Maine Coon. Now that his hair has grown in, he has the ruff around his neck, the fluffy tail, feathery ears and furry feet. He's a very long, tall cat - over 3 feet fully stretched out.
He has a tiny meow like a kitten, but also does this funny trilling sound when he is excited, and loves to cuddle and rolls over for belly rubs.
In the last 4 months, he's put on almost 6 lbs and he gets bigger and fluffier all the time. I love him to pieces!
---
Say hi to Boomer!
By: Shannon in Mesa, Arizona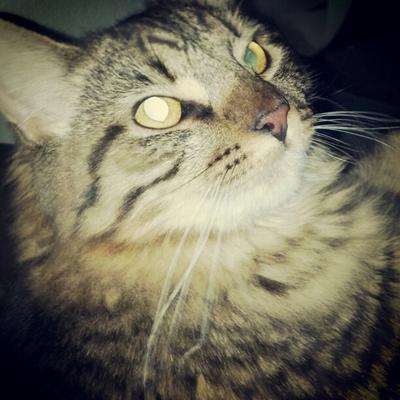 Boomer's story would have been a tragic one if not for me stumbling upon the situation. I took her from a lady who's husband wanted to 'throw her to the dogs' in the literal form... all because she hadn't had the proper time put in to her litter training.
I found she hadn't been fed in two days and for a two month old kitten that's HARD on them. Despite me already having two cats I took her home and have had her ever since. She litter box trained within the first 24hrs of me having her home.. so I don't see what the issue was... *rolls eyes*
As of the uploaded pictures (Dec. 19th, 2012) Boomer is almost 8 months old, spayed, and getting up on 9 lbs. I think she's going to be a big one!
Comments:
Eva's mom: I hope she reported the guy who wanted to throw the cat to the dogs to the local Humane Society.
---
My Story
By: Linda Barnett in Lexington, Ky. USA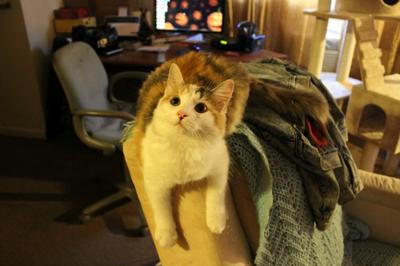 She was adopted from the Lexington Humane Society in Lexington,Ky. She was 8 weeks old when I adopted her, she is now 6 months old.
She is sweet and very lovable, she sleeps with me every night and she loves to cuddle with me. She loves to eat but I am trying to cut her back on her food so she don't get so heavy.
She loves to run and play especially with a shoe string. She has really been a blessing to me and I love her so, so much, she is my baby.
---
Harry
By: Maureen Bentley in Melbourne, Australia
My first red Maine Coon Harry. Love him to bits. He gives me lots of hugs and kisses and stalks me and my family. You have to look for him in our house he has many places he likes to hide.
He loves sleeping on our bed and loves coming in our room first thing in the morning before we get out of bed. He comes when we call him because we give him a treat, when I can't find him in our house I just call him and he comes.
He is four months old and we love him and he knows it.
(Note from editor: Maureen, your pictures didn't come through - This happens when they are large files, meaning high quality photos. There are tips on our Contact Page for editing photos for the web, if you'd like to try again. Since you didn't leave your email with your submission I wasn't able to email you with this info.)
---
Meet Mr. Ziggy
By: Patt Lambert in Mebane, NC
We found Ziggy at about 8 weeks old and now he's almost 3 years. He rules our house and gets anything he wants whenever he wants it.
He can he the sweetest baby in the world and then a little devil. He acts more like a dog than a cat. I love him but my husband loves him more. That's his Baby!
Comments:
Maggie: He is the spitting image of my cat, Tiger. Sounds like his twin too. Sweet one minute and naughty the next.
---
Lucy at 5 months
By: Chris in Indpls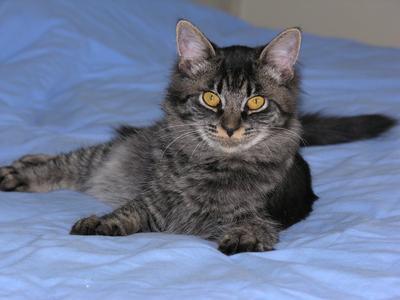 Got her from the local Humane Society thru my vet. Didn't know what she was until she grew a little and I did some research. Couldn't be happier with my find.
---
Kekoa In His Life Vest
By: Diane in Half Moon Bay, CA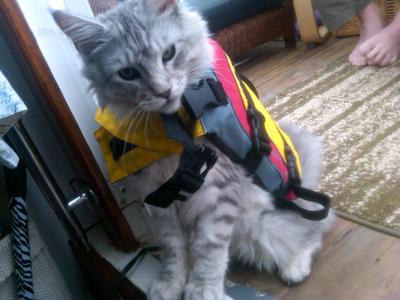 Kekoa is my kitty love :-) He has made the treck from Redwood City, CA... to San Francisco, and under the Golden Gate Bridge to Half Moon Bay where he now lives with us on our yacht.
He is a very good "Boat Cat" and everyone loves to see him in his harness on the dock, or going for a walk with his dogs, Annabelle and Matilda, up to Jeff Clarks Maverics Surf Shop.
He always has time for a bit of love from the folks that meet him.
In this picture he is sporting his new life vest for his next adventure a kayak trip in HMB :-)
He is now 6 months old and weighs 13 lbs.
(Kekoa was also in the October pics as a baby)
---
Our Cool Coon Cat Sammy
By: Donald Lee in Bend Or. U.S.A.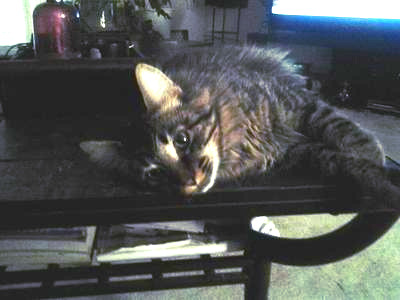 He is like no other cat we've ever known, he talks and makes the cutest sounds. He likes to play hide and seek, he shadows our every move.
He growls when someone knocks on the door. He demands playtime, he is the king of the house. he is very smart, and loving, we love our Sammy, he's one Awesome Coon cat :-)
---
Djamo & Eros
By: Christa Heyvaert in Belgium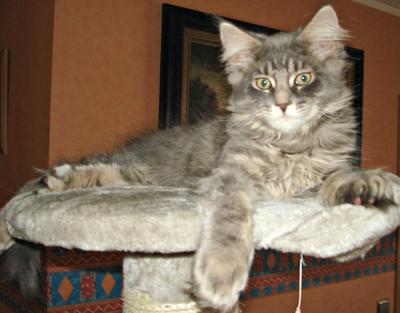 Our Maine Coons were born on Sept 14, 2012 in cattery Matanny. Djamo is a Blue Tabby male, and Eros is a Black male. They came to live with us on Dec 8, 2012 and felt at home from the first moment.
We have 4 Pyrenean mountain dogs and who now have to get used to the Maine Coons because they have never had a cat in their midst. Djamo is a very sweet boy, compared to Eros, who is a real devil!
---
Club Aquamarine Coonie
By: Connie Bednar in Gulf Breeze, Florida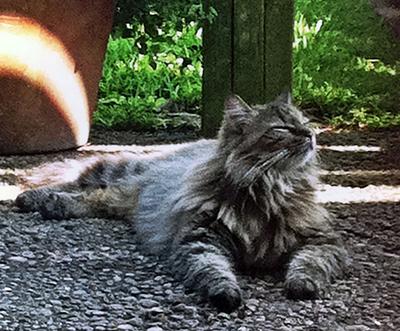 Florida Coonie
Our Coonie "found" us after we returned from a trip to the Keys.
There were some abandoned, hurricane damaged houses across the canal from our home, and our neighbor, who took her grandson for walks every day, told us about this "cute little kitty" living in one of the houses.
We had very recently and unexpectedly lost our dog, Sarah and weren't in the market for another pet just yet. Then one day the neighbor brought the kitten over in a carrier just so I could "take a look". That's about all it took.
Putz (yes, her name is Putz) has been running our lives ever since. On any given day you will find her sitting on the dock, watching pelicans and sea gulls fly by and dip for fish or roaming through the citrus grove, surveying her kingdom. Occasionally you will see a big bundle of fur zoom up a palm tree, only to zoom back down - lots of energy!
Her favorite place of all, however, is on the lap of my husband, all curled up and being petted until both ZzZzzzZ
Comments:
Susan: Love the name. To have a Coon means to have a sense of humor!
Judy UK: What a great story and even greater cat - a stunner - looks very proud
---
Meet Quatchi!
By: Madeleine Dahl in Victoria, BC, Canada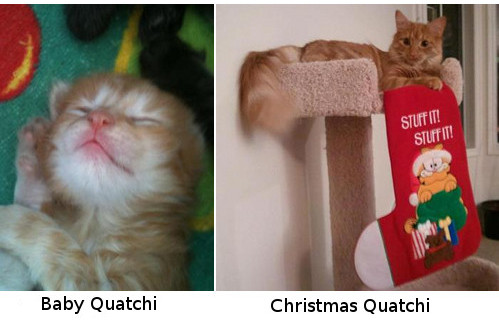 Quatchi was born in a litter of 7 Maine Coons and was the only female and the only ginger. So she is one of a kind!!!
She is very loving, playful, affectionate and loves to attack your pant legs when you walk by. Quatchi was born on April 4th, 2012 and is now 9 months old.
Quatchi was named after one of the 2010 Vancouver Winter Olympic mascots (The big orange sasquatch).
---
Max A Million from rags to riches
By: Patricia Lawrence in Shingletown, CA, USA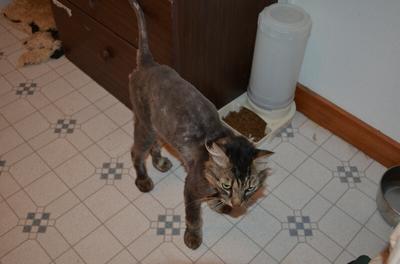 Max A Million the day he moved in.
We live in the country, on a main highway: in the last four years we have had four stray cats wander onto our property. We found a home for one, the next one was feral we adopted her and now she's mostly a house cat. Another one was feral and we had it 'rendered' at the vet.
Max A Million started showing up in the far edges of our yard, over a year ago. I put out wet cat food hoping it was domesticated. It would eat the food, but not get near us. It would show up once in a while all winter, and into the spring...then at the end of spring he came round again, and I could tell he was very weak, his fur was very matted.
This time I put the food in a live trap. It took about one minute for him to get to the food and spring the door shut. Now that I was close to him, he looked me in the eyes, not like the feral cats we had caught. We wisked him off to the vet and she told us he was three days away from death. (see photo)
He had sores inside and outside his body, she did what she could, shaved his matted fur, found no chip, and sent us home with antibiotics. It was so apparent that we didn't have an ordinary cat. Max kept bumping his head against me and salivating profusely, I knew it was in apprecation for saving his life. He doesn't do it as much now.
Every few days he gained a few more pounds. And he ventured out of the small room we turned into his recovery room. The first day out of his special room he found the bed. (see photo) A few days later he's in the living room, the first stuffed toy he sees he wants to play with it. (see photo)
Max gained 5 pounds the first month. When I took him back to the vet for that check up, I asked her what kind of cat this was with big tuffs of hair growing from his ears and his size and friendliness. She told me he was a Maine Coon. I had never heard of them before. Here is Max today. He is the best cat I have every known!
Comments:
Susan: Thank you for taking him in when you did. Angels do exist and Max found one in you.
Khadi: all what I can say God bless you. I love cats I took 2 in and I care about them like my eyes I love them so much.
Marilyn Meissner: my cat looks like your Max, his name is Mc Coy he is about 3 and a half, we adopted him a month ago he was a rescue found in a live trap. He weighed 8 lbs. now has gained 2 lbs and looking much better, loves his morning brushing and wakes me each morning by wraping his paws around my wrist and making me get up.I retired the end of june and was so lonesome when my hubby left fo deer hunting, upon his return I showed hi a picture of Mc Coy, and ask if we should adopt him, did the paper work, and brought him home that saurday. he is a maine coon also looks just about like Max. We had a cat ten years ago, her name was Missy she lived with us 18 years , if mc coy stays with me that will leave me at 78 hope we enjoy these times together
---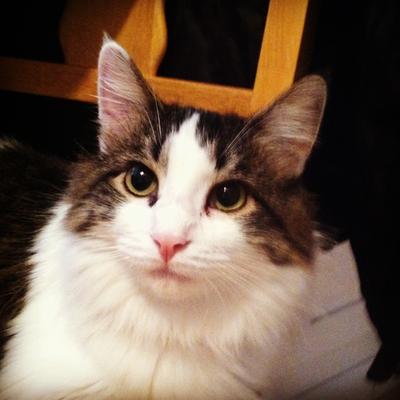 Nala
By: Dawn in New York
Nala is a 9 month old tabby and white Maine Coon Mix. She loves hair ties, small wads of paper and laying on the keyboard.
---
Menjou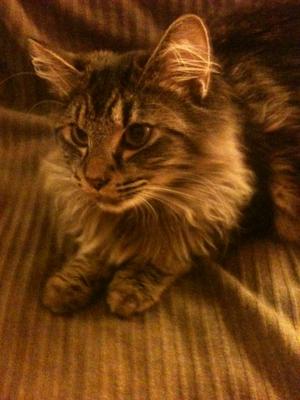 His name is Menjou. He is six months old. A very beautiful personality.
He loves his human brothers. Loves playing in the bathtub with just enough water to wet his paws. (Never before have I ever seen a cat love playing in water.)
He acts more like a dog than a cat. I have never been to big on cats I have always been a dog lover. Since I have had him he has changed my heart forever. I would not trade him for anything.
Comments:
Anonymous: Your kitty verrry special!! He reminds me of my maine coon!!! Let him look out a window by birds? I guarantee he wil talk to them!!! Lol
---
Puma
By: Adela Sajn in Ljubljana, Slovenia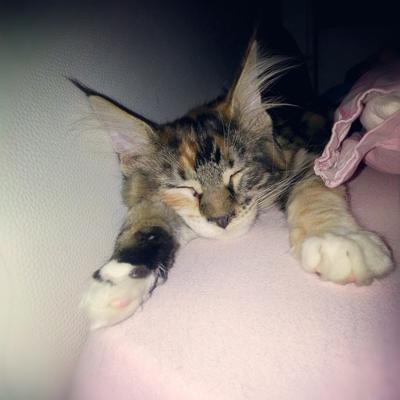 My enthusiasm for Maine Coons started when I was looking for a cat for my mom after her Persian cats passed away... I was so impressed by Maine Coon cats that I got one of my own!
Puma was born on August 13th 2012 and got her name because of her wild playing around the apartment. She's very beautiful an I'm seriously thinking of having another "Coonie" :)
---
Meet Soendara
By: Rina Loeve in The Netherlands
This is Soendara and she is 18 years old now.
Comments:
Rina Loeve: Soendara has no problem with her teeth. She eats very good and she is not sick :)
Jayne Brown: What a GORGEOUS CAT Soendara is. I hope my little Palyne looks that beautiful when she gets older..She is only 4 months old! Beautiful....Beautiful Maine Coon.
Mason: She is a beauty! My Gino is 15 and doing well.
Barb: Magnificent and regal, your 18 year old Soendara. How wonderful!!
Barb: Still a beauty at 18-how wonderful!!
Opal Rae: Thank you so much for sharing your 18 years old beauty. Can you tell me if she has ever suffered from dental problems. My nine years old, Horatio, has lost most of his teeth.
February Update From Rina:
I have to tell you that Soendara has died. She died Monday 4-2-2012 at 2:15 PM in her sleep. In the morning she was very good, not ill.
She ate well and cuddled with me, and she cleaned herself on the sofa.
Then Soendara went to sleep and did not wake up. She was 18 years old and not not ill. We miss her very much.
---
Meet Ruben!
By: Kyra in Augusta, Maine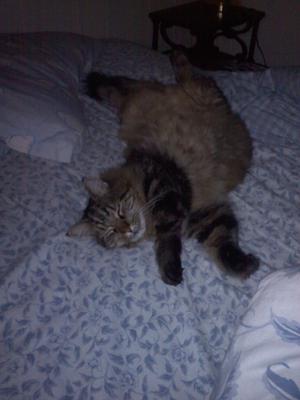 Ruben is very loveable and enjoys the company of dogs and anyone who will love on him.
---
Lynxi Lula-Belle
Lynxi is such a fun loving cat. She's only 9mos old and is already huge!
She has her own personal relationship with everyone in our house, even my husband who claims to not like cats at all yet still cuddles with her every night:-)
She is amazing with my two Elmira like kids and follows me everywhere. She is my 3rd child:-)
---
Jeronimo Apache our Maine Coon
By: Anna Reed in Athens, Greece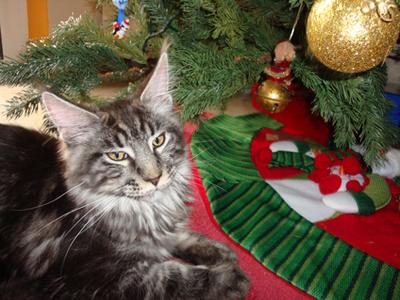 1st christmas
Jeronimo is our 6 month old Black Silver Tabby Maine Coon. He is very playful and funny stealing the bath tub plug to play with.
When I come home from work Jeronimo always runs to me to greet me then he knows my routine and heads for the bedroom where he knows I am going.
Vet visits so far have been easy... he seems to enjoy going on the ride. We take him for visits to friends trying to keep him socialized and so far he is a happy cat.
We have never heard him meow but he always trills like a cricket - VERY CUTE!
What I really enjoy is playing peek-a-boo with him... we both hide I call him and peek out from a door room. He will peek out from another door room / under a chair / box - and slowly moves towards me finding placing to hide and peek.... When he finally gets close to me he runs up to me and we nose to nose, rubbs against me trills and goes to hide in a different place and we start again.
Jeronimo is our new baby of the house.
This is Jeronimo's 1st Christmas and we are happy that it is with us. He is funny, chirping and trying to find way up the tree. Tried the lemon but he just licked it so we then tried the tangerine peels. These work as long as the peels are fresh day later need to put new ones...
Merry Christmas
---
Destined To Be Together
By: Jackie in Stillwater, MN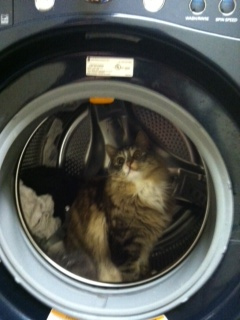 Helping Mom With The Laundry
Princess is a beautiful Maine Coon that blessed our lives 7 yrs ago. He (explain in a moment) climbed into my purse when I was picking up dog food at our local Petsmart.
His crate door had been left open accidentally in the adoption area. When I set down my purse on the ground while looking at a toy close to the floor, Princess snuggled into my big purse. My previous kitty had passed just 6 mos. prior & I had been lonely for feline companionship. He'd been up for adoption for over 9 mos. I knew from that time forward, we'd be best friends for life.
The rescue agency had a pink collar on him, indicating he was a she. After 2 mos with us, "she" began to gain weight quickly. Concerned "she" might be pregnant, we took him to the vet right away. Turned out "she" was a he & was just getting comfortable in his new home & eating better!
Since our sweet guy had already been through so much change, we left his name as "Princess." Today, Princess continues to grace our family with his endless love & enjoys 2 brothers, a 9 yr. old Yellow Lab named "Stitch," & a year old Dachshund named "Beans."
They truly enjoy playing their hearts out & napping together every day!
Comments:
Sarah: my Coonie sits in the sink too!
Barb: Regal and beautiful-great markings.
Peter Marr Manchester UK: A lovely story, and a lovely colour coordinated cat!
---
Catslave Vivian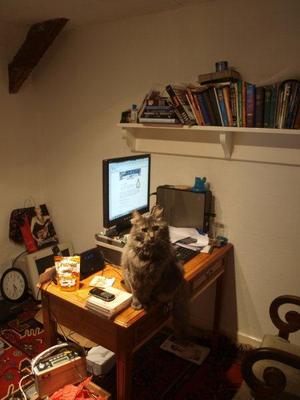 Dashel is named after the Devonshire (England) name for a thistle. That's because he's very very fluffy and a little bit spiky!
He talks to himself all day long, and talks to me, he chirrups, and he's very confident, especially with that fantastic and magnificent tail always up in the air.
He's very loving - on his own terms, of course - and likes to birdwatch from the window. He's also a greedy guts and likes nothing better than Whiskas Temptations. I get woken in the small hours as I'm fool enough to keep these little treats on the bed...I adore him, he's my friend, and I call him my little (not so little) silver lion.
His companion is a gorgeous golden tabby boy called Mark, who's rather shy but loves to wrestle with Dash - all in a playful spirit. My golden boy and my silver boy. Precious, precious, beautiful fellow creatures!
---
Romeo -- 1st Christmas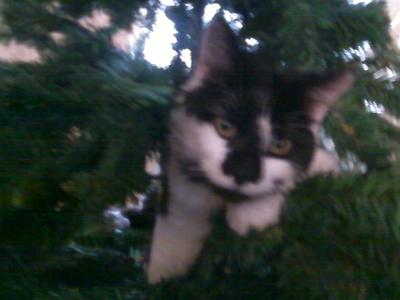 Romeo's first Christmas
I adopted Romeo early November 2012 at 6 months old. He has rapidly become the new man in my life! He is facinated with the Christmas tree!! I am trying to break him from climbing it!!!
Comments:
Maggie: Don't worry too much about Romeo climbing the tree. When we brought our shelter cat home last December he loved the tree and climbed it regularly. This year, he just lays under the tree. We can't plug in the lights because he likes to chew on them.
---
Miss Puff
By: Allison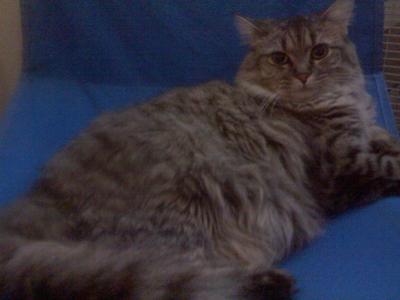 My cats name is Puff, that was her name when we saved her from a shelter.
We didn't know she was a Maine Coon until she was about a year old.
I thought she was too fat at first then I found out she was just right and our big baby.
Comments:
Tricia: After putting up my tree 3 times, I finally made Romeo a bed with extra branches. After that, he was satisfied with his own "tree" bed. Loved the lights still!! No more climbing!!
Vinny Sheehan: Had male Puff, at 22 yrs 1 month, he got sick and we lost him. 1999. He was Very long and 38 lbs. had him from 5 weeks old, his mom killed by car.
---
Angel and Kelley's little girl Bullseye
By: Kelley & Angel in Fontana CA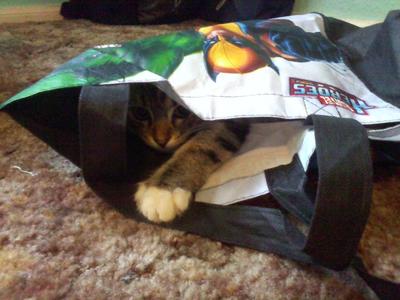 cat in the bag
Bullseye is loving the window and she has a new cat bed she sleeps in. She is a beautiful addition to our family. I had another chance to be a mom and I am glad. She plays fetch and runs around purrrrring with love in her heart.
Note from editor: See Bullseye's
September submission and
November submission
---
Rangi - our first Maine Coon
By: Catherine Crofts in New Zealand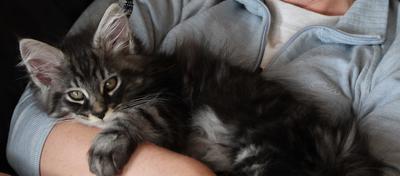 Rangi - feeling at home after 24 hours
Meet Rangi - short for Atarangi. He's a 12 week old Dark Silver Classic Tabby and our first maine coon. We have had him home with us for just over 24 hours and you can see how well he is settling in.
We decided to get a Maine Coon after our beloved moggie Kellan died a few months ago. The vet said that Kellan was probably part Maine Coon - he was a big fluffy boy (7kg) with the ruff around his neck. Looking up features about him, showed that much of his personality was also very "coonish".
Atarangi has a variety of translations in Maori including "dawn light", "dawn sky", "shadow" or "new beginnings" in Maori and Rangi is the name of one of the Maori Gods (Sky father) and can also be translated to "heaven" or "sky". So we think its a good name.
He settled in really quickly - any going under couches has been to explore....not hide! So it is lovely having a confident little boy around the house again.
Comments:
Linda: Absolutely gorgeous, with irresistable 'come-hither' eyes!
Lyndon: I have had my Maine Coon for 7 years now, and it has been a blessing to have him in my home. My coon is 19.2 pounds and his life only consists of him and I, congratulations on having in my mind, THE BEST BREED IN THE WORLD.
Laura: What a lovely lil kitty!! We have 3 huge Maine coons, they are so wonderful!
---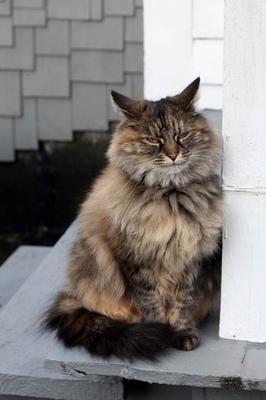 "Gypsy," A Half - Adopted Stray
By: Ray in Massachusetts
"Gypsy" was a neighborhood stray who has since been adopted by one of my neighbors. I named her "Gypsy"because she still roams from house to house in search of food.
Comments:
Khadi: Adorable
---
Misc. Comments:
Jean Buduski: I got my Maine Coon from the shelter and he's beautiful but extremely agressive. He bites, claws and stalks us. Everyone in the house wants to get rid of him but I can't. He's currently on prozac which helps very little. I don't know what else to do. I'm jealous of everyone out there whose cats are loving and affectionate. I wish someone had some answers.
Maybe-Maine Coon Cats For December:
Am I an imposter Maine?
By: Debra in Lawrence, KS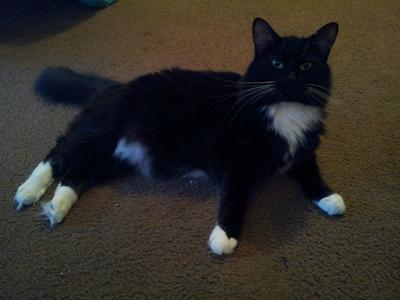 My tufted feet, hairy ears, and soo long whiskers
I adopted Ms. Kitty from my mom's front porch when she was a baby. She greets me at the door, hops on her scratcher throne, then rolls on the floor so I can rub her tummy.
She is very gentle and quiet, chirps when she meows. She likes to roll her kitty ball in the tub and plays hide and seek. She doesn't like to go outside but entertains herself with the squirrels who come to perch on the windowsill.
Sometimes she curls her tail and twitches like a squirrel. When she hears noises, she perks up, stretches her body out and assumes the pointer position. I don't think she knows she is a cat.
Comments:
Debbie: She looks like a tuxedo Maine Coon to me. What a gorgeous girl!
---
Bought from local pet shop in Saudi Arabia
By: Faisal A. in Jeddah, Saudi Arabia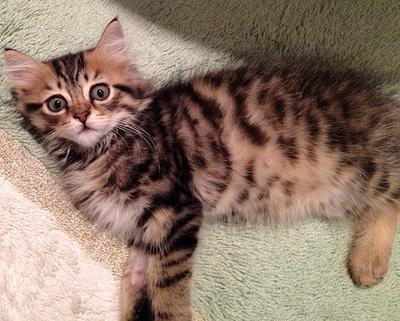 About 3 months old here
I asked the salesman what breed he was and he said American. Now he looks like he might be a mix of Maine Coon and some other breed, I can't be sure.
When he was younger I thought he looked Siberian, but I'm no expert. And I'm finding a hard time finding an expert in this town.
Here are some pictures, I could use your help determining his breed or mixed breeds.
Here's Mr. Lincoln.. :)
Comments:
Rosie P: Hi Faisal, couldn't be sure if he is MC, but he sure is very beautiful :)
---
My Cat, Bear
By: Jeff in Milan, Michigan
I was given Bear by my cousin who found him laying in the snow when he was roughly two weeks old. This was 7 years ago. I took him home and raised him. He has grown into a wonderful cat.
Highly intelligent. He shakes hands on command, high fives, jumps in my arms on command, plays fetch, knows when you spell out certain words like food, treat, snack.
He also does other tricks and seems to enjoy doing them for me.
He also loves car rides.
(Note from editor: Jeff, your pictures didn't come through - This happens when they are large files, meaning high quality photos. There are tips on our Contact Page for editing photos for the web, if you'd like to try again.)
---
My Romeo
By: Juliene in Lake Mary, FL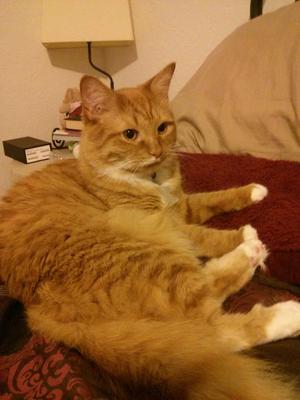 Romeo
My Romeo is very loving.
His tail is bushy and his coat is as soft as silk. His hair is shaggy especially on his belly.
I am wondering if he is a Main coon mix.
---
Mr. Whiskers
By: L. Curran in Moses Lake, WA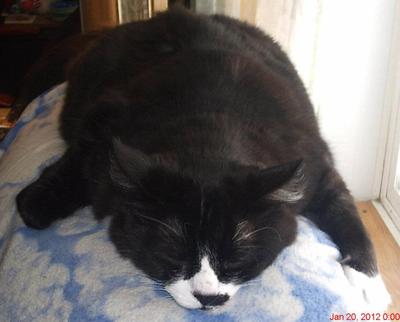 Mr. Whiskers, a Black and White....one person said he looked like a tuxedo, maybe in color. He has always been a unique cat in my area and in my 68 years of owning cats.
I was given him as a birthday gift 12 years ago. He was living wild on a farm with lots of cats and his mother had a Siamese type head, so I assumed Mr. Whiskers was part or probably part Siamese. I did not see the father of Mr. Whiskers.
Mr. Whiskers was 4 months of old when I brought him home from the farm he was born on. He was skinny, small and the vet argued with me that he was only maybe 2 months old. When I asked the vet to look at his privates, he had to admit ...Read More
---
Our Maybe Maine Coon Cat Bear
By: Lois Eckstrom in Williamson, NY, USA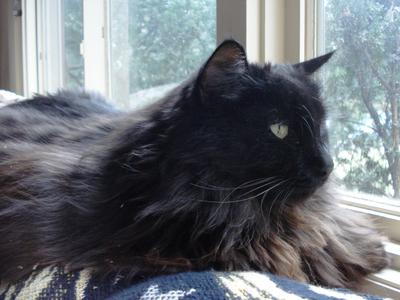 Bear talking to the birds
Bear came into our yard and our lives, emaciated and almost dead in July 2011, yowling loudly. We fed him, he let us close and we realized he was a house cat with no claws.
He had almost no hair and had several wounds - some similar to being thrown out of a moving car, some like he was in a fight with other animals. He was so thin, he could barely walk and his hips popped out of joint with each step. We fed him fish, chicken, beef, eggs.... and he ate voraciously.
As his health improved, his eyes brightened and his personality began to emerge. He caught mice and brought them to us when we sat down at the picnic table for dinner most nights.
After a few days, and gone for a while, he returned with a mouse that was stiff and dead for a long time. Bear had a dead mouse stashed under the deck to parade around when he couldn't find a fresh one! Manipulative, but smart, Bear brought that dead rigamortis mouse out often to entertain and impress us.
In short order, Bear ran the show in our home. His favorite activities are eating, napping, belly rubs, eating, playing hide and seek, napping, head scratches, eating, chasing, napping, eating.... He is sweet and usually runs to the door to greet us home. If he's not in the same room, he comes running when we call his name. He is clever at opening the cupboards and is extremely nosey. He loves to be in the room near us and in the middle of the action.
Bear's fur grew in luxurious and silky. He is quite regal. We can not understand why someone threw him out. The vets believe he is 3-4 years old. Bear has odd quirks that make us think he was previously abused. He is terrified of toilet paper, and every time he pukes, he hides and cowers.
He is smart, loving, and a pure joy (except maybe for the hairballs.....) He has us pretty well trained, but we do scuffle over food, as he tends toward overweight. He ranges between 17# (ideal weight - trim and firm) and 23# (pudgy and not able to jump from the floor to the back of the couch... he has to do it in 2 jumps).
We're happy Bear chose our home. He is part of our family and a delight.
Comments:
Alesha Bondy: I was so excited to see Bear. My Tyrone is identicle to Bear. My daughter couldn't tell the difference :). The colour of his fur is so beautiful.
Debra: Bear is absolutely gorgeous!
Barb: Bear is a beautiful Maine Coon. So glad you took him in--lucky Bear-lucky you.
Linda: For people who didn't think you had time for a pet, you've changed your tunes pretty quickly! Bear is a good trainer.
---
Thinking of adopting, is he part Maine Coon?
By: Bonnie in Scottsdale, AZ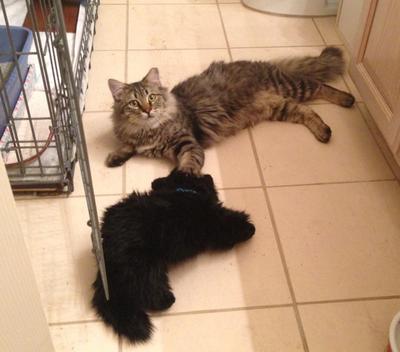 I'm hoping to adopt a full or part Maine Coon. This young cat is up for adoption nearby and I am wondering if he's part Maine Coon. The vet that fixed him thinks he's about 9 months old. Thanks for your help!
Comments:
Carole Stofira: He/She sure looks like part Maine Coon to me! Adorable!! I got my 3 yr. old Maine Coon just a few month's ago at Pet Smart. She was brought there from Paws & Prayers as a rescue and they had on her card she was a Domestic Short Hair/Maine Coon/tabby, and this cat looks just like my Lyla, except (being older) she's much more filled out , a bit bigger, and her fur is llonger. But all the other characteristics are the same. I'd sure take him/her in a minute!!
Sarah: He looks like a coonie! The only way to be sure is to look for some personal traits.one major sign is his voice. I have always had Coonies and one tell tail sign is a call that is like high pitched trill kind of like a purr kind of cooing sound. Hope you choose to get him either way!
Cheryl Locklear: Looks very Maine Coon to me. Has all of the physical traits.
---
We bought a Lynx Point but got a Giant
By: Connie Volkman in Wichita, Kansas
I was owned by two registered Maine Coon Lovlies that have gone to the Rainbow Ridge for all beautiful Kitties.
I just rescued a Siamese Lynx Point Baby that is now larger than my full grown Siamese Lynx Points ages 2 and 3 years. London is only 7 months but he is now getting long hair in places that only coons get and he has that coon nose and tail with the coloring of a Lynx.
He's a doll with his beautiful blue eyes but can tackle a dog. He chirps and eats his food with his paws just like my other large M.Coons always did.
Having raised Sadie Hawcoons and Maggie for 21 1/2 years (a long time for cats). I feel I really got to know the traits and when London started growing so big so fast and his paws were so huge, I knew I had another darling Main Coon in our home.
We couldn't be happier but I'm not so sure about the other cats who feel like a giant is looming over them. Our camera is on the blitz but I will take photos soon.
Connie In Kansas
Comments:
Barb: Would love to see a picture of "Looming" London.
---
Chewbacca The Kitty!
By: Lindsay Perry in Louisville, KY
We got Chewbacca from the humane society when he was 2 months old. At the time we got him, he was very malnourished and required bottle feeding with kitty formula.
Now he is 5 months old and HUGE! He still has relatively short legs but a very large midsection. He has a very fluffy tail and a collar of fluffy fur... Is it possible this beauty has any Maine coon in him? The first picture is from when we first got him, the others are more recent.
Chewy has got a very unique personality... He is very playful and uses his paws to do all kinds of things (even get food out of his bowl and into his mouth!) We have 3 other cats and Chewy's personality so unique!
(Note from editor: Lindsay, your pictures didn't come through - This happens when they are large files, meaning high quality photos. There are tips on our Contact Page for editing photos for the web, if you'd like to try again.)
---
Could He Be A Coon Mix?
By: Melissa Scasntlebury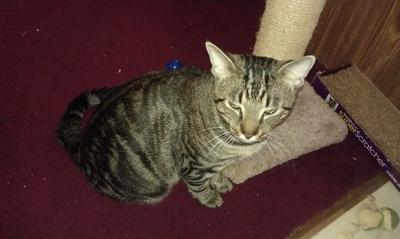 We got this cat from my mother in law when he was 7 weeks old. She has an outdoor female calico and there is a Coon in the neighborhood that gets out.
We think he may be mixed but not sure. He is an indoor cat that is a very jealous cat when it comes to our outside cats. If he even smells them on my kids, who come over in the weekends, he hisses at them.
He follows me everywhere I go and even sleeps with me. He's a good cat and loves to play. His favorite this to play with has feathers all over it.
---
Is our sweet Masie a Maine Coon?
By: Elizabeth in Michigan
We drove by a 'Free kitten' sign and stopped. I planned on getting my kitty fix and walking away. What I didn't expect was this wonderful fluff ball with a huge, sweet personality to greet me.
The ppl said someone dropped a pregnant mama kitty off at their door and they needed to get rid of the kittens as they already had six strays they adopted. So sad. I went home and BEGGED my husband, who doesn't like cats, and he let me bring Masie home.
He's a perfect fit for our family that even my husband has come to like him!! Masie is very friendly, smart and let's the kids tote him around all over the house. (Even tho he was an outdoor kitten, we're keeping him exclusively indoors). He follows us around everywhere we go and cries at the door when I leave him to go to the bathroom.
Even I'd he's not a Maine, we have fallen deeply on live with him and wouldn't sell him for a million bucks!
---
Rascal
By: Amy in Long Beach, CA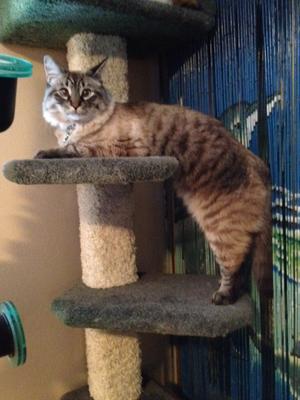 Rascal is my rescue cat. I got him last September when he was about two months old. The shelter said he was a Lynx-point Siamese. But now we thing there's some Maine Coon in him.
He doesn't have all of the MC qualities...he's not the most affectionate boy, but he sure is funny.
He's got rather large feet and bones and he's already 14 pounds! He's not even 1 1/2 yet!
He's not the most loving of cats. He bites quite often (no blood, luckily). That's why his name fits. I hope he grows out of this attitude he has. But I still love the little bugger!
He's definitely Siamese, as you may be able to tell from his crazy, cross eyes. But he also definitely looks like a MC at times.
So what do you think? Maine Coon??
---
Tyrone
By: Alesha Bondy in Canada
This is Ty. We rescued him from an acreage when he was 7weeks old. He is 2 years old and now weighs 17pounds and has a tail length of about 16inches and a body length of about 36inches. He is a black smokey colour.
He has big paws and ruffs between each nail, and lots of extra fur on the bottom of his paws. He has longer hair around his neck and chest, and under his belly and tail. He has ruffs of fur from his ears and on the tips. His fur texture is feathery and light, but also kind of thicker deeper down. I've always thought he was different.
He makes weird chirping noises, climbs walls, lays at your feet, especially when you are doing things around the house. When he lays down, he stretches his whole body out and his back legs too. He lays on his back with all his limbs in opposite directions. Quite a funny sight, lol!
He loves water, like a lot. He would climb in the tub if he wasn't so big, loves drinking out of his water dish and tips it over trying to feel and splash the water inside.
He is always around us anywhere we are in the house and is rarely missing. He gets along famously with children and will sit and watch them play. It's funny because he doesn't necessarily want to be picked up, but loves the attention. He loves to chase us around the house.
My family members and visitors have always noted that he is different from house cats that they have or have normally seen. I never knew about main coons, but when I was told about them I started researching.
Mostly I've read that Maine Coons are pure breed. Is it possible that we lucked out and found this beauty in a barn, or is it possible that he is a Maine Coon mix? Thanks so much.
These pics are of him recently, at a year old, and the one with him and the pumpkin is him when he was 3months old.
(Note from editor: Alesha, your pictures didn't come through - This happens when they are large files, meaning high quality photos. There are tips on our Contact Page for editing photos for the web, if you'd like to try again.)
---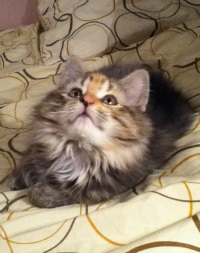 Cricket
By: Nicole in Minnesota, US
I got my kitten Cricket on October 20 when she was ten weeks old. She is just over four months now, and very meddlesome! :P We picked her up after a wild goose chase all over the sites looking for long haired kittens.
My mom was intent on getting one that looked very similar to my sister's kitten, who I believe definitely has Maine Coon blood in her (she shows all the traits except for the ear tufts!). So after weeks of looking, I had resorted to Craigslist, which I wasn't too keen on searching for kittens there, but lo and behold, I came across an ad that showed my darling Cricket and her siblings... Read More About Cricket
---
Our Max - Do You Think He Is a Maine Coon Mix?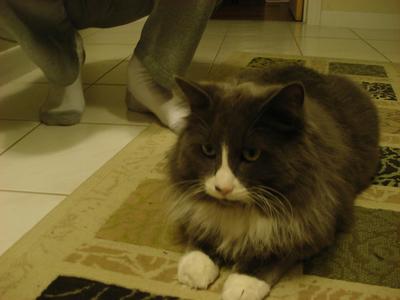 Our Gentle Giant Max
Hi, this is Max, he 22 lbs, has the ruff around his neck, tuffs on his feet, and chirps/small meow. He follows us around like a dog, and rounds us up to sleep with him at night.
We got him from the Humane Society where he stood out amongst the other cats because of his gentle giant persona.
He is 2 1/2 yrs, and loves to be wherever you are. You could pat him all day and he would love it.
What do you think?
Comments:
Andy Mathisen: Looks (and sounds!) like a Maine Coon to me. Lots of fun, fur..and purrs ahead?
Barb: Probably a full Maine Coon or mostly Maine. Beautiful!
---
My Little Mittens
By: Heather in Baltimore
I have a kitty named mittens she was a rescue. A guy had a litter and he swore they were Persian kittens. She was also the runt according to him. When I got her she was just 10 weeks old.
I always thought she was a mixed breed but not with Persian. She has always been big to me. Bigger than other cats I've had in the past. She loves to play peek-a-boo, and tag with the kids, she loves the cold, and she can eat. She has a really fluffy coat giving her a bath is hard cause. Her fur never fully gets wet.
---
This is Murphy. Maine Coon? Mix?
By: Bill in Shreveport, LA, USA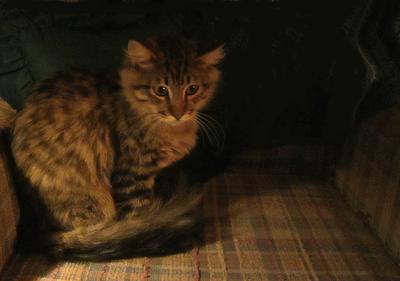 Murphy suddenly appeared at the courthouse where I work and approached everyone eagerly - very gregarious. After seeing him narrowly escape death on the adjacent, busy thouroghfare, I took him home. Murphy immediately put the other cats in their place and charmed the dogs.
And speaking of dogs, He acts more like a canine than any other cat we've known - following us from room to room and just napping in the middle of the room on the floor. Honestly, in the month he's been with us, he seems to actually know his name, and usually comes when called.
He'll drink from a running faucet evry time he has the opportunity. His meow is more like a high-pitched squeak. He has tufts of hair between his toes and and very heavy tufts in his ears. Ear-tips are not dramatically lynx-like, but the look is there.
The vet says that he is in good health, well-fed, 8 to 10 months old, and, weighs in at 12.5 pounds. He has not been neutered. The Dr.'s first comment was, "Ahhh, a Coonie, maybe."
So what do you Maine Coon experts think? Could he be part "Coonie"? Regardless, he has captured our hearts!
Thanks!!!
Comments:
RanLeen: What a beauty...they ARE as special.... as everyone says !!!
suzg9: I'm not an expert, but he looks Coonie to me. My calico coon is similar. Same high pitched squeak for a meow. Vet says that could come from hairballs over time. Got her when she was 2.5 yrs. old. Now she's twelve and still adorable. Enjoy Murphy, sounds like he loves it there. :-)
---
Maine Coon mix kittens?
By: Cheryl in Toronto, Canada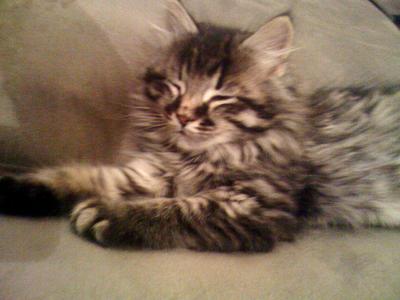 I've only had these little guys for 4 days, they are 8 wks. old and came from a rescue ctr. Can't comment too much on their personalities at this point but they are both sweethearts so far.
One is a bit shy with people but the other is a purr machine. They both greet me at the door when I come home. I'm guessing they are a mix but am a bit unsure about their tails, as they're not particularly long or bushy at this point... wondering if they're still too young and the tail does fill out?
Comments:
Cheryl: Oh I didn't know anyone had commented - thanks for the feedback. Well they are definitely not full MC but I'm pretty confident that they have some mix. Their tails are not comparable to full MC but are getting bushier every day. One is slowly showing more coon traits than the other. Otherwise they are an absolute delight! Loyal, affectionate, look into my eyes, follow me around, clowns I'm very lucky.
Barb: wow-you lucked out-looks like 2 full Maine Coon kittens!!
Cheryl Locklear: They look like our Little Man when he was a baby. Must have more Maine Coon in them than not.
Lia: They look like full Maine Coon.. the tails are just like that that young, they get bigger and bushier as they grow.. the lynx tips on the ears, the markings, the tufts on the ears are a good indicator. What do you plan to do with the kittens????? are they up for adoption??
Jessy: Yes, the tail will fill in.
Sylvia: They are definately whole lot part Maine Coon!!! lucky You!!!
---
Buster, A Little Bit Coonie??
By: Kim in Eureka Springs, AR, USA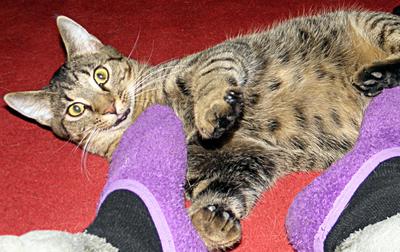 Buster 6 months
My beautiful Elvie was a Maine Coon, and passed away from old age. I was so lonely as I have had cats my entire adult life. When I felt the time was right, I went to the local shelter to pick out a new cat.
Just inside the door of the shelter was a cat that the Animal Control officer had just brought to the shelter. He looked full grown, but upon inspection by the resident vet, he was aged at 12 to 14 weeks, and had giant feet.
I immediately took him to my vet who looked at his teeth and genitals, and pronounced him 12 to 14 wks also. At that time, Buster weighed in at 5.5 pounds. One month later when he was neutered, he weighed 7.5 pounds. Buster is now 23 wks old, and weighs 10 pounds, and is 32 inches long (11/30/12), paw to paw.
He has ear tufts and long ear hair, but this is all regrowing as he had ringworm on his whole head when I got him. It looks like he has two distinctive coats of hair, long and medium.
His belly and britches have long hair, and his mane is just now starting to fill out. His hair feels "slick". BUT, he has every personality trait of a coonie. I can't leave the room without him following. He is very vocal, makes trilling sounds, and meows like a tiny kitten. He fetches his "mousie", and even throws it in the air and catches it if no one is able to play with him. He keeps his "mousie" in his water bowl when not playing, and drinks by licking the mousie. He even knows what "mousie" is, and when I ask, he brings it to me.
I know it sounds crazy, but I love Buster like he was a child. He loves the dogs, and pets them by rubbing his head on them. He rides in the car like a pro.
Can he be part Maine coon in your opinion? It doesn't matter, because I adore him no matter what he is. He is so very loveable! My vet calls him "little cougar". lol! Thanks for your advice and wonderful website!
Buster, a Maine Coon mix?? - Additional Submission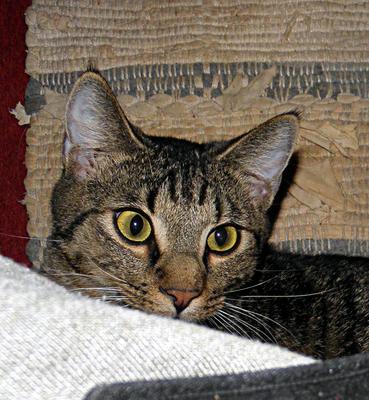 Buster face shot 6 mos
Buster came to me from the local shelter. He was only 12 weeks old, and weighed 5 pounds. I won't bore you with all of his traits, but let's just say he has "every single personality trait of the Maine coon" IMO.
He has a medium length coat all over, except for his belly and britches which are long-haired/shaggy. It is difficult to tell in the 6 mo. pics, but his neck hair(mane) is getting longer now. His coat is so soft and slick, I just want to bury my face in it.
He had long hair in his ears and big ear tufts, but got ringworm at the shelter, especially on his ears. His hair is now growing back, and the ear tufts are reappearing. He is now 6-1/2 mos. old(12/7/12), weighs 11-12 pounds, and paw-to-paw is 33-34 inches long.
Two different vets aged him when I first got him, and agree on his age based on his tooth development and genital size. So his current age of 6-1.2 mos. is correct. Buster is absolutely the light of my life, & YES, he is more easily trained to do tricks than my AKC Doberman.
I love my little clown, and am convinced he is at least a Maine Coon mix. He is so smart and loveable! My husband was skeptical at first, but now totally agrees Buster is at least a Coonie mix. What do you think? Thanks and Happy Holidays!
Comments:
Susan: Appropriate name. From his looks he could go a few rounds with Tyson and win!
---
Bistro the Maybe Maine Coon?
By: Molly and Dave in Fredericton, NB, Canada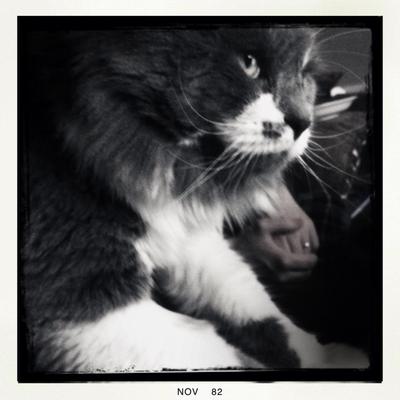 My husband and I adopted Bistro from our local animal shelter in July of 2012.
He was 3.5 years old when we got him and he is such a gem. He was found wondering in down the street outside of town. He had been sick from the time he came into the shelter until shortly before we adopted him so he had been isolated.
He was quite lean when we got him but once he started filling out, the Maine Coon features really started to come out! He's super adorable and hilarious. He took over the spare bedroom and it's now referred to as "Bistro's bedroom." He's a little shy around new people but that seems to get better with time.
He loves chasing moths. He purrs like a fiend and loves to be brushed. His favourite snack is sliced turkey. He's pretty much amazing in every way. I love our cozy family of 3.
Comments:
Barb: Love his white "cheeks" and his name. A big boy!!
Kim: I love Bistro. He is gorgeous. I love his colour!!!
---
Niko - is he a Maine Coon
By: Micke in Austin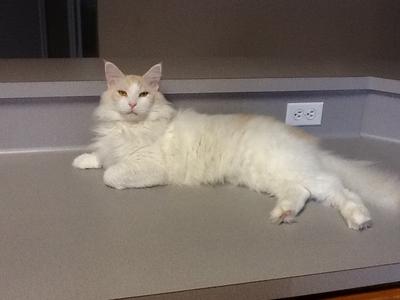 I adopted Niko from a local shelter a couple of months ago. He weighs over 15 pounds and about 23 inches long or longer.
I went to the shelter to look at another cat but Niko kept coming up to me. I sat down and he jumped on my lap and was very affectionate. Trip home was good. I took him out of box and he just laid in my friends lap the entire way home. He felt at home right way.
He follows me around and he is very vocal. When I get home he greets me at the door then jumps on the counter meowing like crazy. He likes to be held. He is showing an interest in water. He doesn't play with it but when I am done bathing he will get into shower or tub interested in water. However if I turn water on he will run.
---
Arby-part Maine Coon?
By: Kelsey in Nebraska
He shows all the signs of being a Coon. He is very large with a fluffy tail. He is very vocal.
Comments:
Tina: You bet he is! Looks a lot like my Jazz - the talking and the eyes give it away