December 2012 Album
Welcome to the December Photo Album of Maine Coon Cat pictures!  It was a very merry month!

Meet Bobby Kennedy!
By: Kemal Faruquee in Harrisburg, Pennsylvania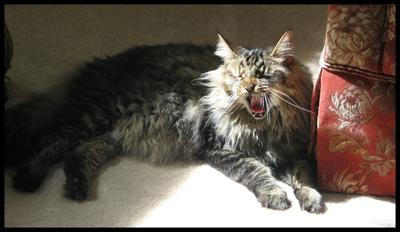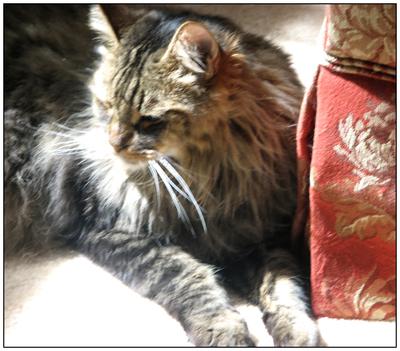 Meet Bobby Kennedy!
Bobby Kennedy is a 12 year-old Maine Coon who likes following me around while complaining about something.
I've yet to figure out what the actual source of the complaint is. When Bobby Kennedy isn't busy making a lot of noise, he likes wagging his huge tail around and waiting for the ice cubes to be dropped into his water bowl.
He's a great cat (although sometimes it seems like he's a dog).
---
Merry Xmas from Chicki
From: Campbell, CA USA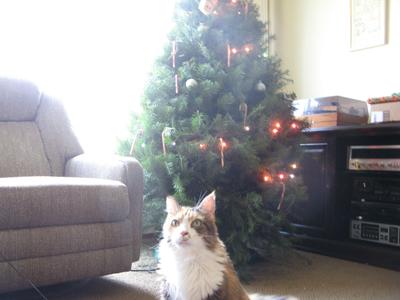 Hi, I'm Chicki a 12 year old mackerel tabby.
Today, I am just hanging around the XMAS tree in the living room with my family.
The best part about XMAS is chewing on the wrapping paper and new boxes to play in!
I'd like to wish everyone a Merry XMAS at Maine Coon Cat Nation!
---
Miss Scarlett "O'Haira"
By: Victoria Coleman in Hamilton, Ohio
I rescued her from work last August...I heard she had been hanging around, begging for food.
When I saw that she was just a skeleton with fur (you could pet her back and count the vertabrae), I had to bring her home.
We named her Miss Scarlett "O'Haira" ("...I will never be hungry again!") It amazes us how much she's grown the last 4 1/2 months.
Comments:
Jodie: She needs a "Red" Butler....
Barbara McBride: Beautiful Cat, Brilliantly clever name.
Barb: Kudos to you for taking in this beautiful cat. May you and Scarlett enjoy a great life together.
Jeannou: She is absolutely gorgeous!
---
Mystic
By: Karissa Kendall in Parkland, FL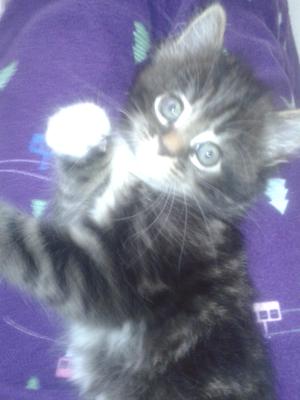 Mysti Blue
This is my newly adopted kitten Mystic (love at first sight with those mystic blue eyes), we call her Mysti for short. She is 2 months old! We just got her on 12/16/12. She also had a little bit of fluff to her face. She isn't as fluffy as the ones I see online.
I never heard of Maine Coons, have seen them before and always wanted one. The shelter's paper said she was a brown tabby with white domestic short hair mix. When I went to the vet for Mysti's wellness exam they told me she was a Maine Coon.
She is has the opposite of the my last cat Sunshine (RIP 2008/09) that I've had before (who didn't go near anyone and bit and hissed at everyone). I am so excited to find they are loving and playful since I wanted a companion ever since being bedridden for months after a traumatic car accident.
She is so purrrrty!
Comments:
Tracy: This kitty is sooooo darn adorable... I can't stand it! She is like a Kitty Super Model!
Dawn: What a gorgeous cat! Looks just like my little guy Socks. Don't worry...it may be few months before the Maine Coon fur and that ridiculous tail come in...didn't happen till almost 6 months old for Socks and his sister Gabrielle!
Barb: great name! she is very pretty-love her paws.
Laura: Many true Maine Coons do not get their true Coonie look for awhile. My Maine Coon was well over a year before his hair grew long. He is now a georgous 2 year old!! Just give her time,
---
My Ninja!
By: Suzanne in Scottsdale, AZ, USA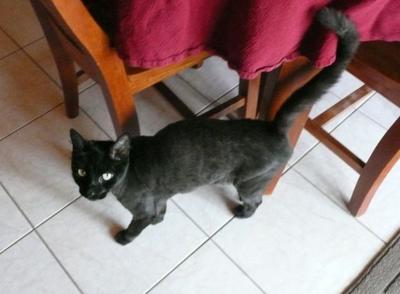 Skinny and shaved - August 2012
Ninja came to me by way of bait and switch in August - I was not a cat person, LOL! I lost my little Tibetan Spaniel in June, and after a period of grieving, I set out to find another dog.
I went on Petfinder, and found two little dogs that had to be adopted together. The lady who had been fostering them was very cautious about who she would adopt them to, so she wanted to see my house and make sure it was safe.
She was to come over on Sunday, and called me at the last minute to say she was planning to come but had to find a foster home for a cat who had been found wandering around in her neighborhood, starving and dehydrated.
I had to do some minor repairs to my fence and doggy door and replace my carpet with hard floors before taking in the dogs, so I wasn't planning to take them for a couple of weeks. So, I told her I would take the kitty for a week or so until she could find him a better home.
Three days later I was in love with this big black love bug with a white spot on his belly, and told her I wanted to adopt him.
He was so skinny (only about 9 lbs) and had to be shaved because he was very matted from living on the street, he was already neutered, but unfortunately he had also been mutilated (declawed) so he does sometimes bite when he gets stressed (for example when he saw another cat out the window).
Everyone who sees him is amazed at how big he is, so I really think he is part Maine Coon. Now that his hair has grown in, he has the ruff around his neck, the fluffy tail, feathery ears and furry feet. He's a very long, tall cat - over 3 feet fully stretched out.
He has a tiny meow like a kitten, but also does this funny trilling sound when he is excited, and loves to cuddle and rolls over for belly rubs.
In the last 4 months, he's put on almost 6 lbs and he gets bigger and fluffier all the time. I love him to pieces!
---
Say hi to Boomer!
By: Shannon in Mesa, Arizona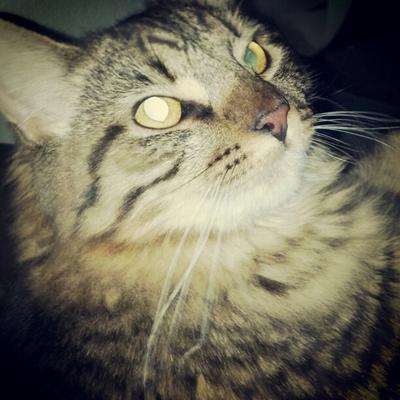 Boomer's story would have been a tragic one if not for me stumbling upon the situation. I took her from a lady who's husband wanted to 'throw her to the dogs' in the literal form... all because she hadn't had the proper time put in to her litter training.
I found she hadn't been fed in two days and for a two month old kitten that's HARD on them. Despite me already having two cats I took her home and have had her ever since. She litter box trained within the first 24hrs of me having her home.. so I don't see what the issue was... *rolls eyes*
As of the uploaded pictures (Dec. 19th, 2012) Boomer is almost 8 months old, spayed, and getting up on 9 lbs. I think she's going to be a big one!
Comments:
Eva's mom: I hope she reported the guy who wanted to throw the cat to the dogs to the local Humane Society.
---
My Story
By: Linda Barnett in Lexington, Ky. USA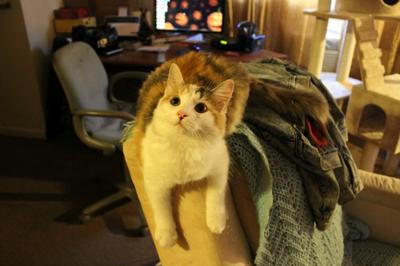 She was adopted from the Lexington Humane Society in Lexington,Ky. She was 8 weeks old when I adopted her, she is now 6 months old.
She is sweet and very lovable, she sleeps with me every night and she loves to cuddle with me. She loves to eat but I am trying to cut her back on her food so she don't get so heavy.
She loves to run and play especially with a shoe string. She has really been a blessing to me and I love her so, so much, she is my baby.
---
Harry
By: Maureen Bentley in Melbourne, Australia
My first red Maine Coon Harry. Love him to bits. He gives me lots of hugs and kisses and stalks me and my family. You have to look for him in our house he has many places he likes to hide.
He loves sleeping on our bed and loves coming in our room first thing in the morning before we get out of bed. He comes when we call him because we give him a treat, when I can't find him in our house I just call him and he comes.
He is four months old and we love him and he knows it.
(Note from editor: Maureen, your pictures didn't come through - This happens when they are large files, meaning high quality photos. There are tips on our Contact Page for editing photos for the web, if you'd like to try again. Since you didn't leave your email with your submission I wasn't able to email you with this info.)
---
Meet Mr. Ziggy
By: Patt Lambert in Mebane, NC
We found Ziggy at about 8 weeks old and now he's almost 3 years. He rules our house and gets anything he wants whenever he wants it.
He can he the sweetest baby in the world and then a little devil. He acts more like a dog than a cat. I love him but my husband loves him more. That's his Baby!
Comments:
Maggie: He is the spitting image of my cat, Tiger. Sounds like his twin too. Sweet one minute and naughty the next.
---
Lucy at 5 months
By: Chris in Indpls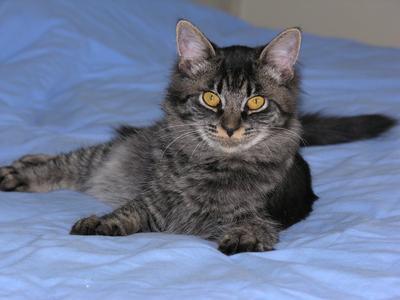 Got her from the local Humane Society thru my vet. Didn't know what she was until she grew a little and I did some research. Couldn't be happier with my find.
---
Kekoa In His Life Vest
By: Diane in Half Moon Bay, CA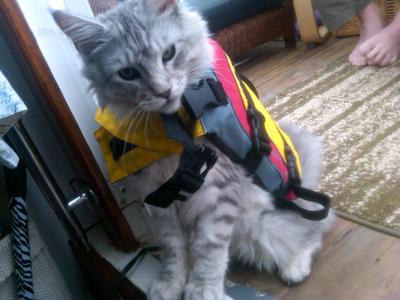 Kekoa is my kitty love :-) He has made the treck from Redwood City, CA... to San Francisco, and under the Golden Gate Bridge to Half Moon Bay where he now lives with us on our yacht.
He is a very good "Boat Cat" and everyone loves to see him in his harness on the dock, or going for a walk with his dogs, Annabelle and Matilda, up to Jeff Clarks Maverics Surf Shop.
He always has time for a bit of love from the folks that meet him.
In this picture he is sporting his new life vest for his next adventure a kayak trip in HMB :-)
He is now 6 months old and weighs 13 lbs.
(Kekoa was also in the October pics as a baby)
---
Our Cool Coon Cat Sammy
By: Donald Lee in Bend Or. U.S.A.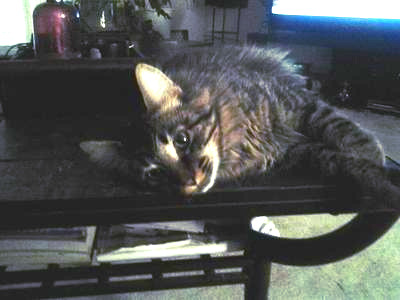 He is like no other cat we've ever known, he talks and makes the cutest sounds. He likes to play hide and seek, he shadows our every move.
He growls when someone knocks on the door. He demands playtime, he is the king of the house. he is very smart, and loving, we love our Sammy, he's one Awesome Coon cat :-)
---
Djamo & Eros
By: Christa Heyvaert in Belgium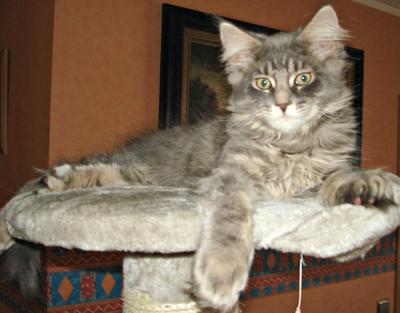 Our Maine Coons were born on Sept 14, 2012 in cattery Matanny. Djamo is a Blue Tabby male, and Eros is a Black male. They came to live with us on Dec 8, 2012 and felt at home from the first moment.
We have 4 Pyrenean mountain dogs and who now have to get used to the Maine Coons because they have never had a cat in their midst. Djamo is a very sweet boy, compared to Eros, who is a real devil!
---
Club Aquamarine Coonie
By: Connie Bednar in Gulf Breeze, Florida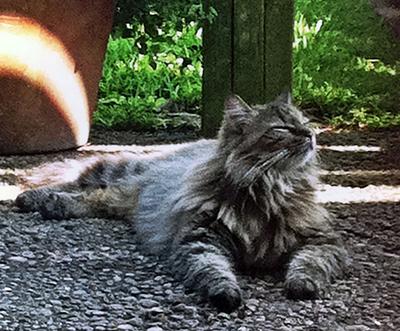 Florida Coonie
Our Coonie "found" us after we returned from a trip to the Keys.
There were some abandoned, hurricane damaged houses across the canal from our home, and our neighbor, who took her grandson for walks every day, told us about this "cute little kitty" living in one of the houses.
We had very recently and unexpectedly lost our dog, Sarah and weren't in the market for another pet just yet. Then one day the neighbor brought the kitten over in a carrier just so I could "take a look". That's about all it took.
Putz (yes, her name is Putz) has been running our lives ever since. On any given day you will find her sitting on the dock, watching pelicans and sea gulls fly by and dip for fish or roaming through the citrus grove, surveying her kingdom. Occasionally you will see a big bundle of fur zoom up a palm tree, only to zoom back down - lots of energy!
Her favorite place of all, however, is on the lap of my husband, all curled up and being petted until both ZzZzzzZ
Comments:
Susan: Love the name. To have a Coon means to have a sense of humor!
Judy UK: What a great story and even greater cat - a stunner - looks very proud
---
Meet Quatchi!
By: Madeleine Dahl in Victoria, BC, Canada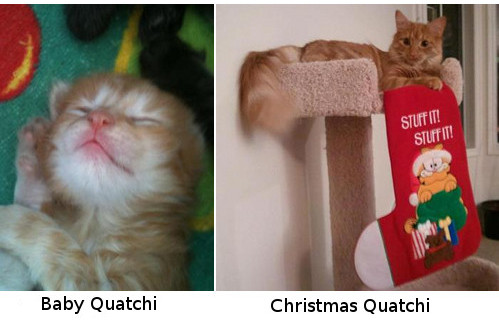 Quatchi was born in a litter of 7 Maine Coons and was the only female and the only ginger. So she is one of a kind!!!
She is very loving, playful, affectionate and loves to attack your pant legs when you walk by. Quatchi was born on April 4th, 2012 and is now 9 months old.
Quatchi was named after one of the 2010 Vancouver Winter Olympic mascots (The big orange sasquatch).
---
Max A Million from rags to riches
By: Patricia Lawrence in Shingletown, CA, USA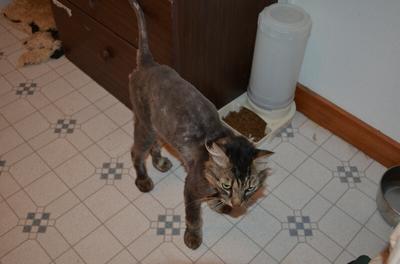 Max A Million the day he moved in.
We live in the country, on a main highway: in the last four years we have had four stray cats wander onto our property. We found a home for one, the next one was feral we adopted her and now she's mostly a house cat. Another one was feral and we had it 'rendered' at the vet.
Max A Million started showing up in the far edges of our yard, over a year ago. I put out wet cat food hoping it was domesticated. It would eat the food, but not get near us. It would show up once in a while all winter, and into the spring...then at the end of spring he came round again, and I could tell he was very weak, his fur was very matted.
This time I put the food in a live trap. It took about one minute for him to get to the food and spring the door shut. Now that I was close to him, he looked me in the eyes, not like the feral cats we had caught. We wisked him off to the vet and she told us he was three days away from death. (see photo)
He had sores inside and outside his body, she did what she could, shaved his matted fur, found no chip, and sent us home with antibiotics. It was so apparent that we didn't have an ordinary cat. Max kept bumping his head against me and salivating profusely, I knew it was in apprecation for saving his life. He doesn't do it as much now.
Every few days he gained a few more pounds. And he ventured out of the small room we turned into his recovery room. The first day out of his special room he found the bed. (see photo) A few days later he's in the living room, the first stuffed toy he sees he wants to play with it. (see photo)
Max gained 5 pounds the first month. When I took him back to the vet for that check up, I asked her what kind of cat this was with big tuffs of hair growing from his ears and his size and friendliness. She told me he was a Maine Coon. I had never heard of them before. Here is Max today. He is the best cat I have every known!
Comments:
Susan: Thank you for taking him in when you did. Angels do exist and Max found one in you.
Khadi: all what I can say God bless you. I love cats I took 2 in and I care about them like my eyes I love them so much.
Marilyn Meissner: my cat looks like your Max, his name is Mc Coy he is about 3 and a half, we adopted him a month ago he was a rescue found in a live trap. He weighed 8 lbs. now has gained 2 lbs and looking much better, loves his morning brushing and wakes me each morning by wraping his paws around my wrist and making me get up.I retired the end of june and was so lonesome when my hubby left fo deer hunting, upon his return I showed hi a picture of Mc Coy, and ask if we should adopt him, did the paper work, and brought him home that saurday. he is a maine coon also looks just about like Max. We had a cat ten years ago, her name was Missy she lived with us 18 years , if mc coy stays with me that will leave me at 78 hope we enjoy these times together
---
Nala
By: Dawn in New York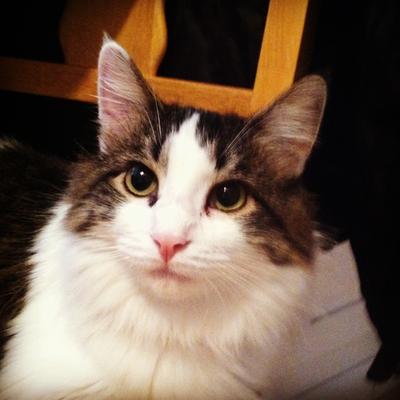 Nala is a 9 month old tabby and white Maine Coon Mix. She loves hair ties, small wads of paper and laying on the keyboard.
---
Menjou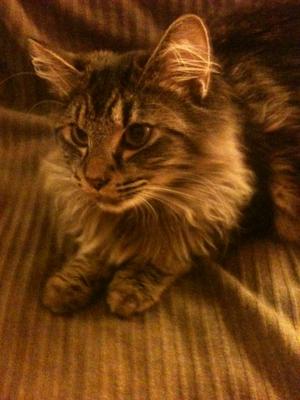 His name is Menjou. He is six months old. A very beautiful personality.
He loves his human brothers. Loves playing in the bathtub with just enough water to wet his paws. (Never before have I ever seen a cat love playing in water.)
He acts more like a dog than a cat. I have never been to big on cats I have always been a dog lover. Since I have had him he has changed my heart forever. I would not trade him for anything.
Comments:
Anonymous: Your kitty verrry special!! He reminds me of my maine coon!!! Let him look out a window by birds? I guarantee he wil talk to them!!! Lol
---
Puma
By: Adela Sajn in Ljubljana, Slovenia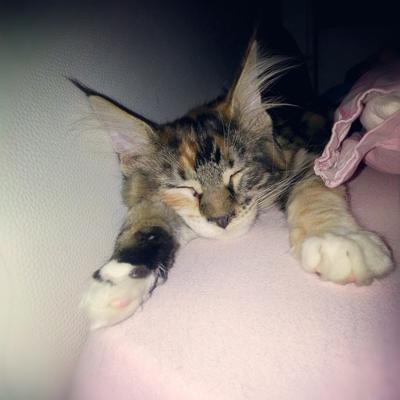 My enthusiasm for Maine Coons started when I was looking for a cat for my mom after her Persian cats passed away... I was so impressed by Maine Coon cats that I got one of my own!
Puma was born on August 13th 2012 and got her name because of her wild playing around the apartment. She's very beautiful an I'm seriously thinking of having another "Coonie" :)
---
Meet Soendara
By: Rina Loeve in The Netherlands
This is Soendara and she is 18 years old now.
Comments:
Rina Loeve: Soendara has no problem with her teeth. She eats very good and she is not sick :)
Jayne Brown: What a GORGEOUS CAT Soendara is. I hope my little Palyne looks that beautiful when she gets older..She is only 4 months old! Beautiful....Beautiful Maine Coon.
Mason: She is a beauty! My Gino is 15 and doing well.
Barb: Magnificent and regal, your 18 year old Soendara. How wonderful!!
Barb: Still a beauty at 18-how wonderful!!
Opal Rae: Thank you so much for sharing your 18 years old beauty. Can you tell me if she has ever suffered from dental problems. My nine years old, Horatio, has lost most of his teeth.
February Update From Rina:
I have to tell you that Soendara has died. She died Monday 4-2-2012 at 2:15 PM in her sleep. In the morning she was very good, not ill.
She ate well and cuddled with me, and she cleaned herself on the sofa.
Then Soendara went to sleep and did not wake up. She was 18 years old and not not ill. We miss her very much.
---
Meet Ruben!
By: Kyra in Augusta, Maine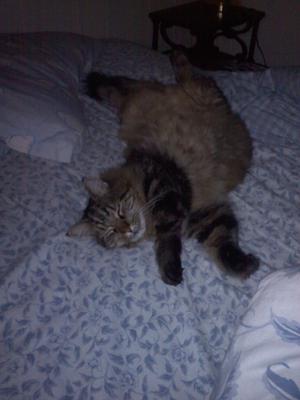 Ruben is very lovable and enjoys the company of dogs and anyone who will love on him.
---
Lynxi Lula-Belle
Lynxi is such a fun loving cat. She's only 9mos old and is already huge!
She has her own personal relationship with everyone in our house, even my husband who claims to not like cats at all yet still cuddles with her every night:-)
She is amazing with my two Elmira like kids and follows me everywhere. She is my 3rd child:-)
---
Jeronimo Apache our Maine Coon
By: Anna Reed in Athens, Greece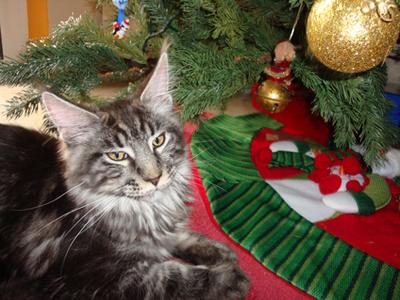 1st christmas
Jeronimo is our 6 month old Black Silver Tabby Maine Coon. He is very playful and funny stealing the bath tub plug to play with.
When I come home from work Jeronimo always runs to me to greet me then he knows my routine and heads for the bedroom where he knows I am going.
Vet visits so far have been easy... he seems to enjoy going on the ride. We take him for visits to friends trying to keep him socialized and so far he is a happy cat.
We have never heard him meow but he always trills like a cricket - VERY CUTE!
What I really enjoy is playing peek-a-boo with him... we both hide I call him and peek out from a door room. He will peek out from another door room / under a chair / box - and slowly moves towards me finding placing to hide and peek.... When he finally gets close to me he runs up to me and we nose to nose, rubbs against me trills and goes to hide in a different place and we start again.
Jeronimo is our new baby of the house.
This is Jeronimo's 1st Christmas and we are happy that it is with us. He is funny, chirping and trying to find way up the tree. Tried the lemon but he just licked it so we then tried the tangerine peels. These work as long as the peels are fresh day later need to put new ones...
Merry Christmas
---
Destined To Be Together
By: Jackie in Stillwater, MN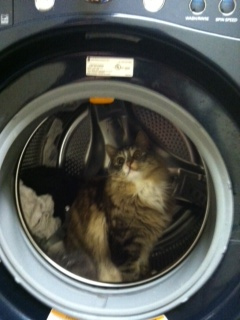 Helping Mom With The Laundry
Princess is a beautiful Maine Coon that blessed our lives 7 yrs ago. He (explain in a moment) climbed into my purse when I was picking up dog food at our local Petsmart.
His crate door had been left open accidentally in the adoption area. When I set down my purse on the ground while looking at a toy close to the floor, Princess snuggled into my big purse. My previous kitty had passed just 6 mos. prior & I had been lonely for feline companionship. He'd been up for adoption for over 9 mos. I knew from that time forward, we'd be best friends for life.
The rescue agency had a pink collar on him, indicating he was a she. After 2 mos with us, "she" began to gain weight quickly. Concerned "she" might be pregnant, we took him to the vet right away. Turned out "she" was a he & was just getting comfortable in his new home & eating better!
Since our sweet guy had already been through so much change, we left his name as "Princess." Today, Princess continues to grace our family with his endless love & enjoys 2 brothers, a 9 yr. old Yellow Lab named "Stitch," & a year old Dachshund named "Beans."
They truly enjoy playing their hearts out & napping together every day!
Comments:
Sarah: my Coonie sits in the sink too!
Barb: Regal and beautiful-great markings.
Peter Marr Manchester UK: A lovely story, and a lovely colour coordinated cat!
---
Catslave Vivian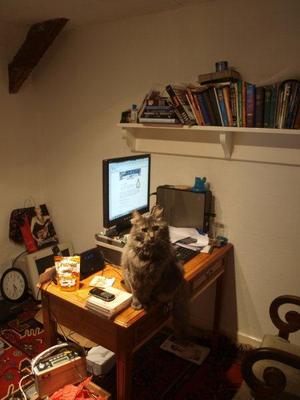 Dashel is named after the Devonshire (England) name for a thistle. That's because he's very very fluffy and a little bit spiky!
He talks to himself all day long, and talks to me, he chirrups, and he's very confident, especially with that fantastic and magnificent tail always up in the air.
He's very loving - on his own terms, of course - and likes to birdwatch from the window. He's also a greedy guts and likes nothing better than Whiskas Temptations. I get woken in the small hours as I'm fool enough to keep these little treats on the bed...I adore him, he's my friend, and I call him my little (not so little) silver lion.
His companion is a gorgeous golden tabby boy called Mark, who's rather shy but loves to wrestle with Dash - all in a playful spirit. My golden boy and my silver boy. Precious, precious, beautiful fellow creatures!
---
Romeo -- 1st Christmas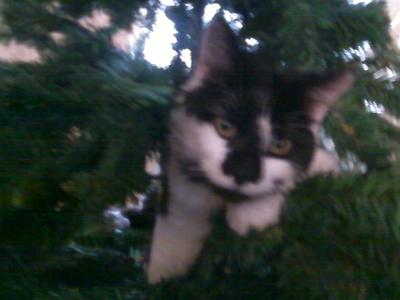 Romeo's first Christmas
I adopted Romeo early November 2012 at 6 months old. He has rapidly become the new man in my life! He is facinated with the Christmas tree!! I am trying to break him from climbing it!!!
Comments:
Maggie: Don't worry too much about Romeo climbing the tree. When we brought our shelter cat home last December he loved the tree and climbed it regularly. This year, he just lays under the tree. We can't plug in the lights because he likes to chew on them.
---
Miss Puff
By: Allison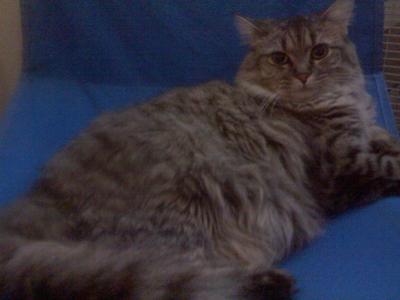 My cats name is Puff, that was her name when we saved her from a shelter.
We didn't know she was a Maine Coon until she was about a year old.
I thought she was too fat at first then I found out she was just right and our big baby.
Comments:
Tricia: After putting up my tree 3 times, I finally made Romeo a bed with extra branches. After that, he was satisfied with his own "tree" bed. Loved the lights still!! No more climbing!!
Vinny Sheehan: Had male Puff, at 22 yrs 1 month, he got sick and we lost him. 1999. He was Very long and 38 lbs. had him from 5 weeks old, his mom killed by car.
---
Angel and Kelley's little girl Bullseye
By: Kelley & Angel in Fontana CA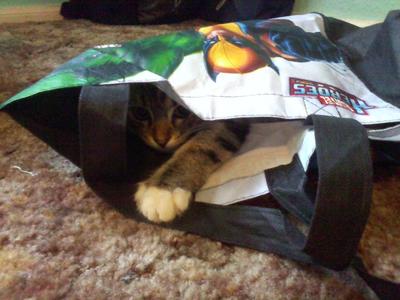 cat in the bag
Bullseye is loving the window and she has a new cat bed she sleeps in. She is a beautiful addition to our family. I had another chance to be a mom and I am glad. She plays fetch and runs around purrrrring with love in her heart.
Note from editor: See Bullseye's
September submission and
November submission
---
Rangi - our first Maine Coon
By: Catherine Crofts in New Zealand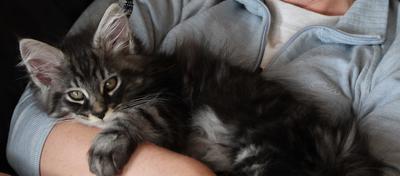 Rangi - feeling at home after 24 hours
Meet Rangi - short for Atarangi. He's a 12 week old Dark Silver Classic Tabby and our first maine coon. We have had him home with us for just over 24 hours and you can see how well he is settling in.
We decided to get a Maine Coon after our beloved moggie Kellan died a few months ago. The vet said that Kellan was probably part Maine Coon - he was a big fluffy boy (7kg) with the ruff around his neck. Looking up features about him, showed that much of his personality was also very "coonish".
Atarangi has a variety of translations in Maori including "dawn light", "dawn sky", "shadow" or "new beginnings" in Maori and Rangi is the name of one of the Maori Gods (Sky father) and can also be translated to "heaven" or "sky". So we think its a good name.
He settled in really quickly - any going under couches has been to explore....not hide! So it is lovely having a confident little boy around the house again.
Comments:
Linda: Absolutely gorgeous, with irresistable 'come-hither' eyes!
Lyndon: I have had my Maine Coon for 7 years now, and it has been a blessing to have him in my home. My coon is 19.2 pounds and his life only consists of him and I, congratulations on having in my mind, THE BEST BREED IN THE WORLD.
Laura: What a lovely lil kitty!! We have 3 huge Maine coons, they are so wonderful!
---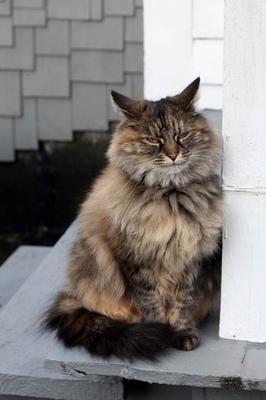 "Gypsy," A Half - Adopted Stray
By: Ray in Massachusetts
"Gypsy" was a neighborhood stray who has since been adopted by one of my neighbors. I named her "Gypsy"because she still roams from house to house in search of food.
Comments:
Khadi: Adorable
---
Misc. Comments:
Jean Buduski: I got my Maine Coon from the shelter and he's beautiful but extremely agressive. He bites, claws and stalks us. Everyone in the house wants to get rid of him but I can't. He's currently on prozac which helps very little. I don't know what else to do. I'm jealous of everyone out there whose cats are loving and affectionate. I wish someone had some answers.
Disclaimer: When you buy through links on our site, we may earn a small commission.
As an Amazon Associate I earn from qualifying purchases.
Our Coonies use and love:
Greenies
4.7 stars; 3.6k ratings
Furminator for Longhaired Cats, Large
4.7 stars; 15k+ ratings
Double Layer Waterproof Cat Litter Trapping Mat
4.5 stars; 56k+ ratings