Cricket
by Nicole in Minnesota, US

I got my kitten Cricket on October 20 when she was ten weeks old. She is just over four months now, and very meddlesome! :P 

We picked her up after a wild goose chase all over the sites looking for long haired kittens.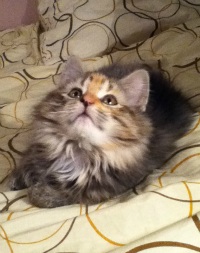 10 Weeks
My mom was intent on getting one that looked very similar to my sister's kitten, who I believe definitely has Maine Coon blood in her (she shows all the traits except for the ear tufts!).

So after weeks of looking, I had resorted to Craigslist, which I wasn't too keen on searching for kittens there, but lo and behold, I came across an ad that showed my darling Cricket and her siblings.
She was the only one in her litter with fluffy long hair. So after much talking with the friendly owner, we decided to drive the two hours to see her. I loved her on the spot. My mom decided she was definitely fluffy enough and we brought her home. After a week she was settled in and not so afraid of everything anymore (she was very timid at first!).
A week before Thanksgiving
4+ months (most recent)
Playing with string, 4+ months (most recent)
After a couple weeks I started to wonder what breed(s) she was. I very much love Maine Coons, so I decided to do my research.
The research hasn't helped me much. I found this website and realized I need other people's opinions.
I know she's still a young kitten and it may be hard to decide if she is part coon or not. But I do hope I can get at least a hair closer to her breed! :)
Some traits she has:
Cricket is a very talkative kitten. If she doesn't get her way, she certainly makes that fact known! She cries at the bedroom door for at least twenty minutes before giving up and leaving.
She cries when she's even a tad hungry. She cries if you pick her up while she's in play mode. Heck, she was crying earlier because she couldn't get a string that I hung too high!
She doesn't care too much for strangers. She runs and hides right away. But if she sees someone multiple times she warms up.
She was just starting to make friends with my sister's kitten after the second over night visit.
Although they're not very visible in the pics, Cricket does have slight ear tufts. They are black, so when she sits in front of a light colored background they are more visible.
She also has a slight mane that definitely sticks out more then the fur on her body. Her tail isn't extremely fluffy yet, but it is certainly more fluffy then when we first got her.
And now that I think about it, she does have very slight tufts of fur in her toes. Im thinking her fur will continue to get longer as she gets older, but I'm not sure.
She is very spazzy! Loves to play, especially with things that can be thrown. Likes to chew on my feet, much to my displeasure. X)
We were told by the vet that her coloring is called 'Tabbyco', or a mix of tabby and calico. But I think that's obvious.
So what do you think?
(long description, sorry XD)
Disclaimer: When you buy through links on our site, we may earn a small commission.
As an Amazon Associate I earn from qualifying purchases.
Our Coonies use and love:
Greenies
4.7 stars; 3.6k ratings
Furminator for Longhaired Cats, Large
4.7 stars; 15k+ ratings
Double Layer Waterproof Cat Litter Trapping Mat
4.5 stars; 56k+ ratings